Peony season is a favorite of mine. Read my peony tips and tricks for a beautiful arrangement. Including how to make peonies last longer and my favorite place to buy them too!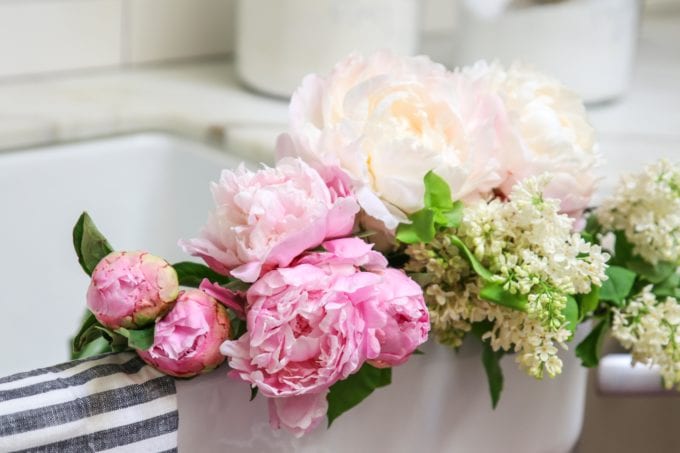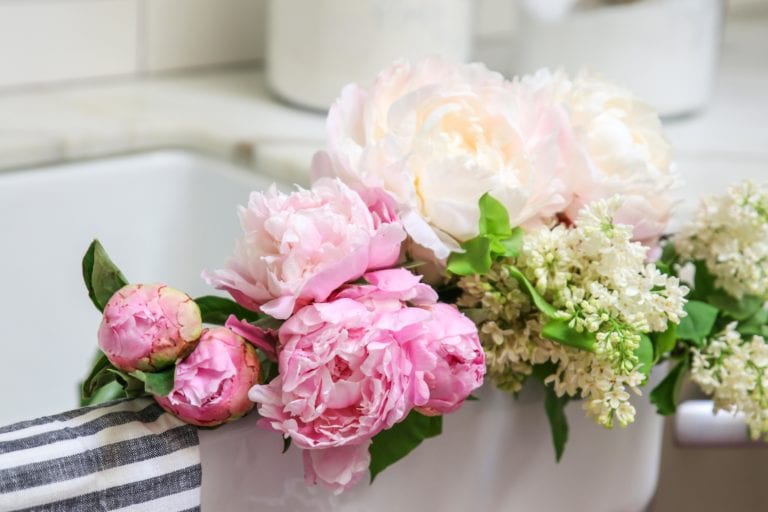 Peonies are probably one of the most popular flowers. Their gorgeous, delicate petals are romantic and they open up to be such a beautiful flower. I love all the different colors and varieties and I look forward to peony season each year!
Peony Tips and Tricks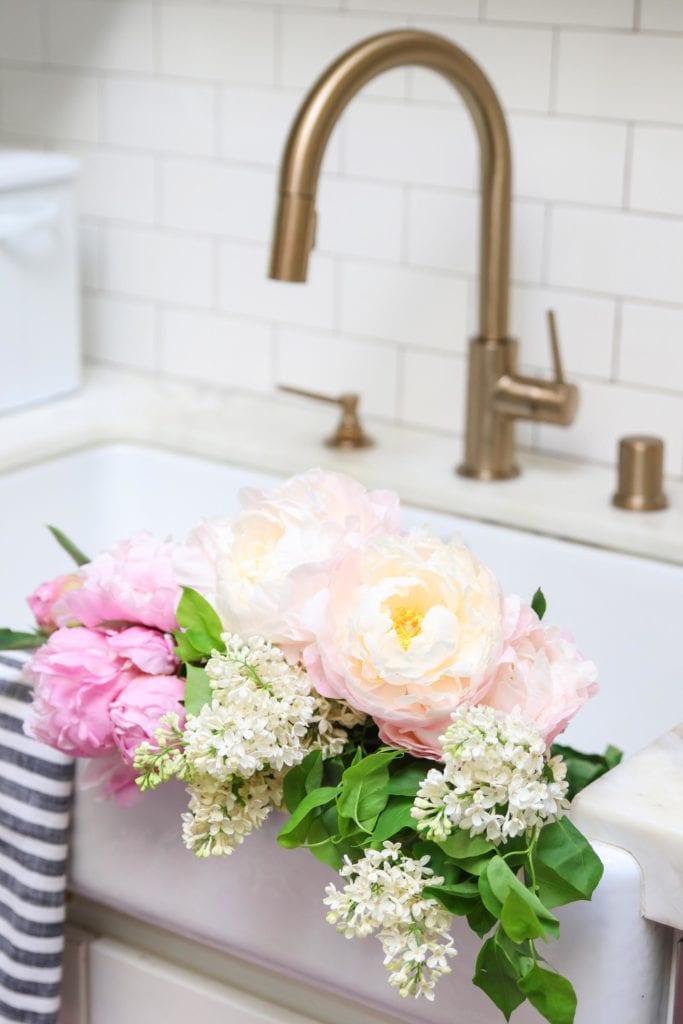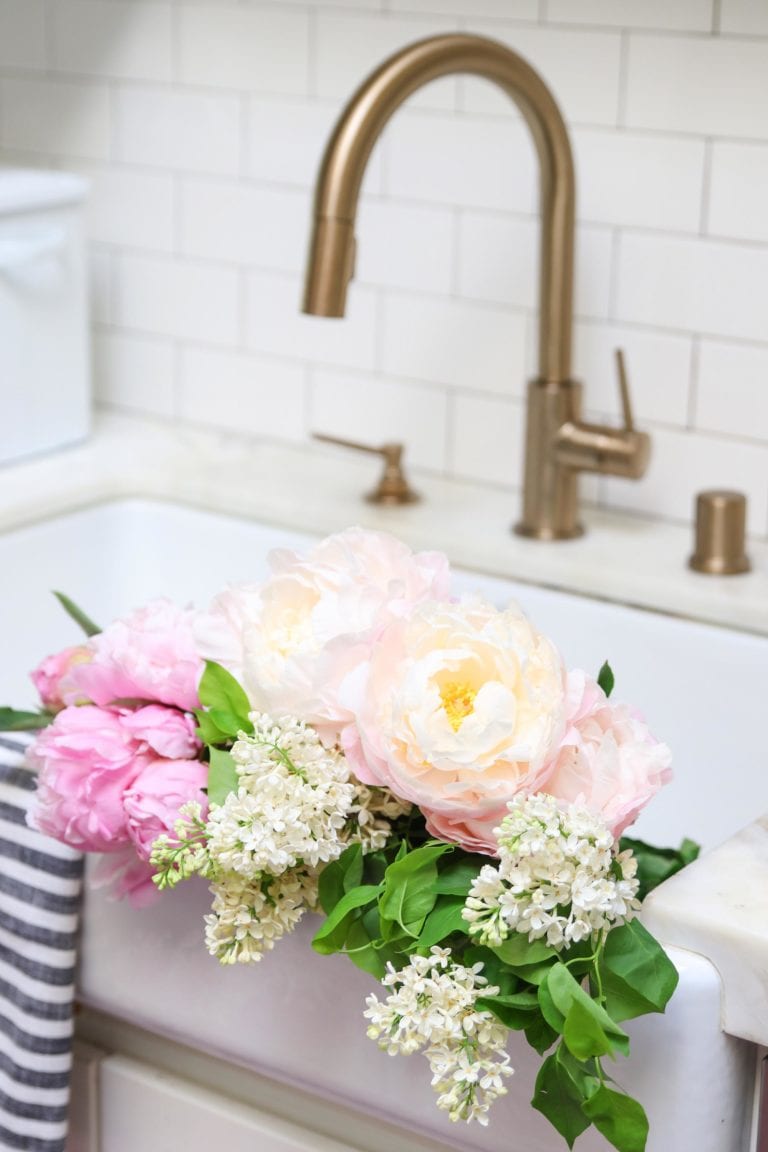 Since peony season is a highly anticipated event, wouldn't it be great if we could make the most of these beautiful blooms?
These peony tips and tricks will give you all the answers for making a beautiful arrangement or bouquet!
How To Force Peonies Open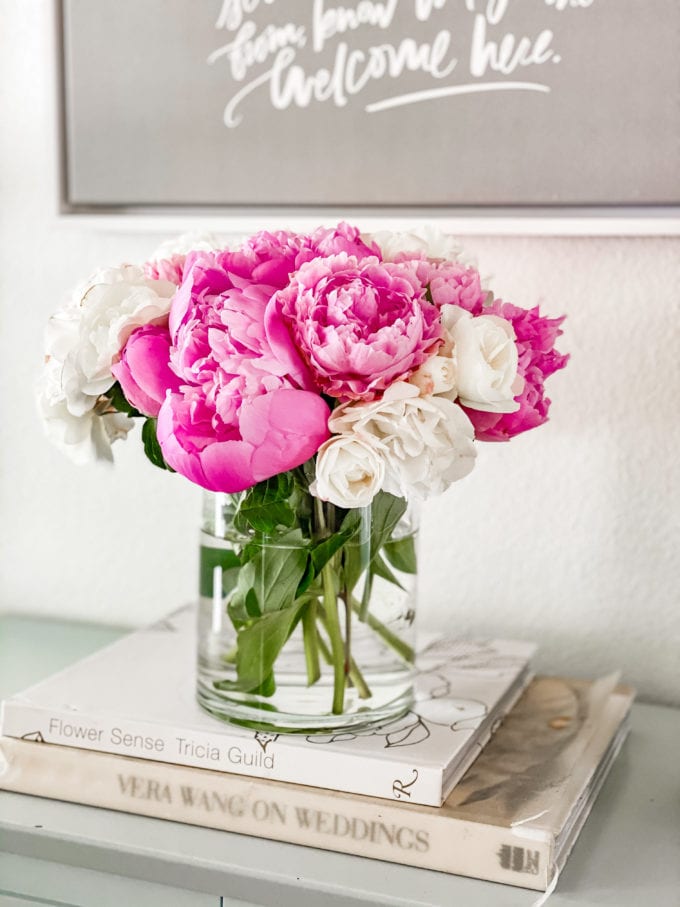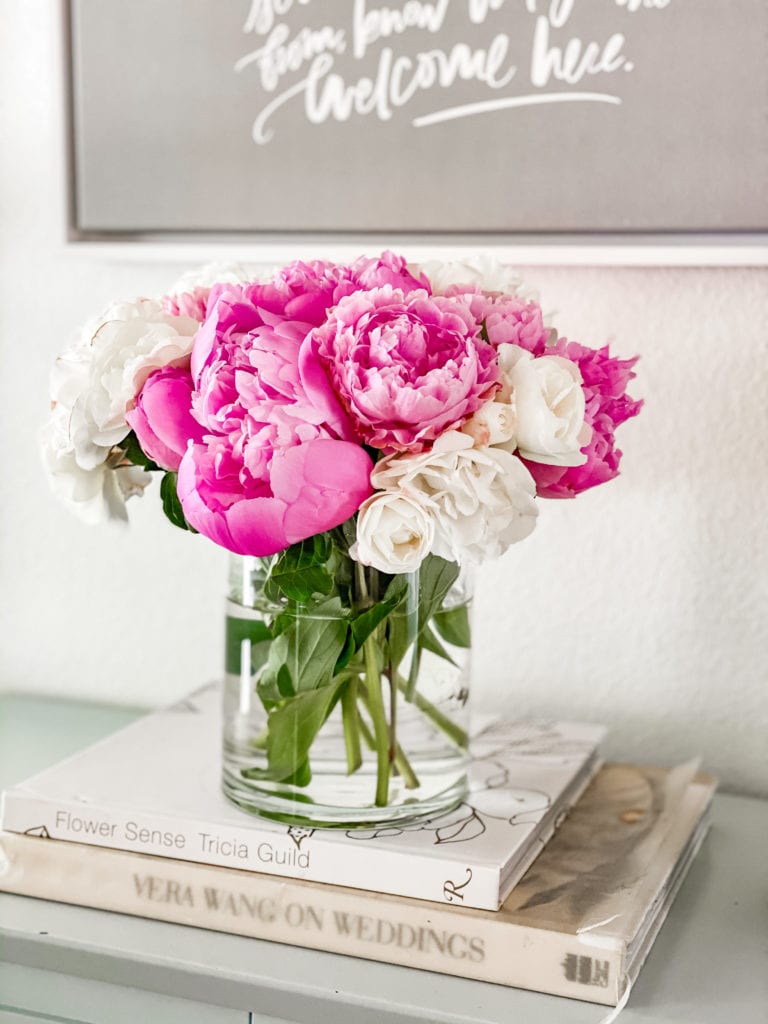 When you buy peonies at the grocery store, they are usually still in their bud form. These tight buds can take a few days to open up. If you want to force your peonies open sooner, here is a simple trick to get them to bloom faster.
Remove outer leaves that are covering the tight buds.
Cut the stems at an angle to allow as much water in the stem as possible. You can continue cutting the stem every few hours to encourage a faster bloom.
Place in warm water.
Place stems in a warm, bright room so they will open faster.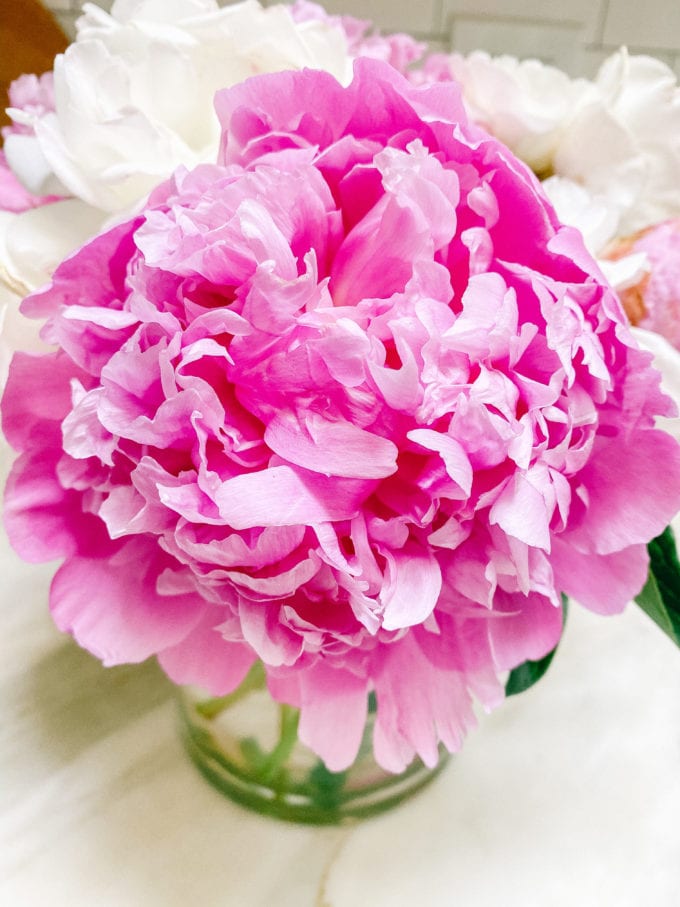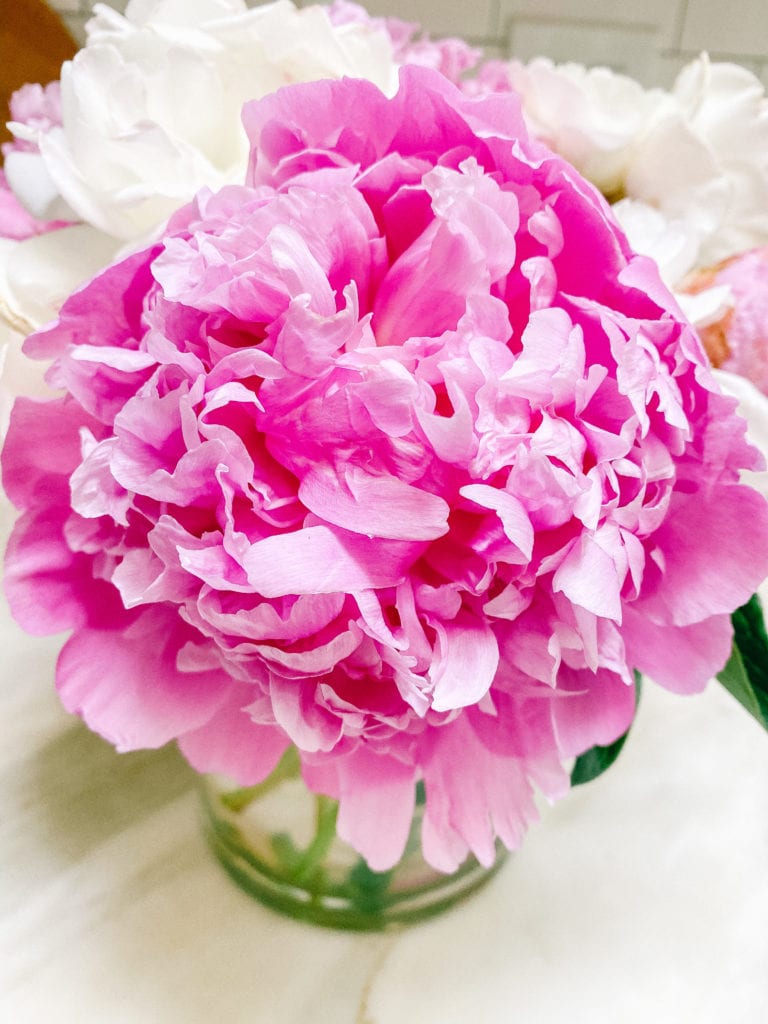 Once the blooms have opened to your liking, replace the water they are in with cool water and follow my tips below for making your peonies last longer.
Tip: How To Make Peonies Last Longer
Peony blooms usually last about 7-10 days in your flower arrangement. But, if you want to extend the life of your blooms, check out my favorite peony tips and tricks to make your peonies last longer!
Place peonies in cool, clean water. Add flower food.
Replace the water every other day.
Cut the stems under running water every day or two.
If you notice your peonies drooping, do all of the above steps then place them (in the vase) inside your fridge until they perk up!
How Long Do Peonies Bloom For?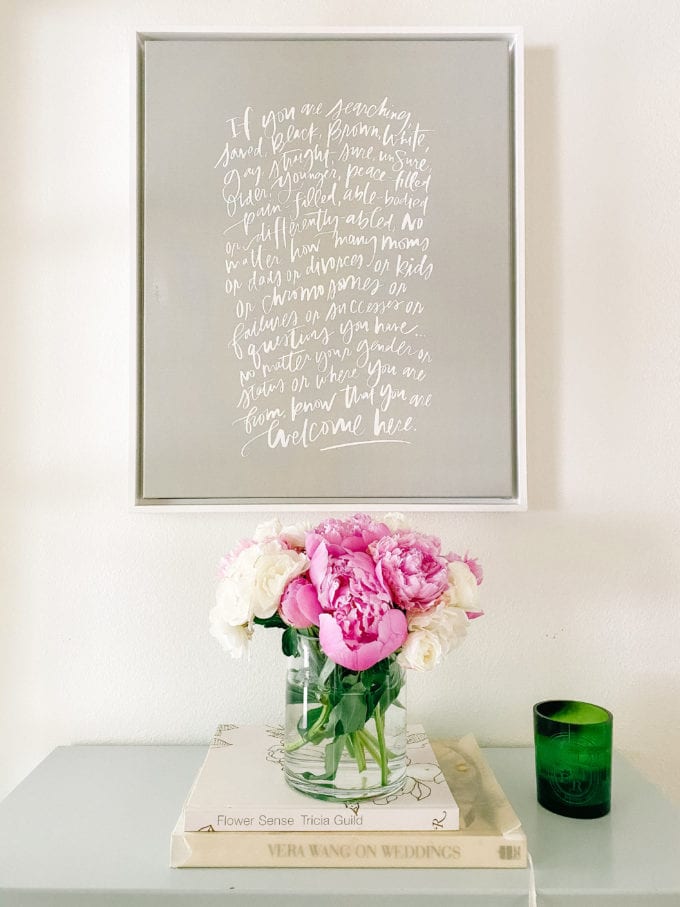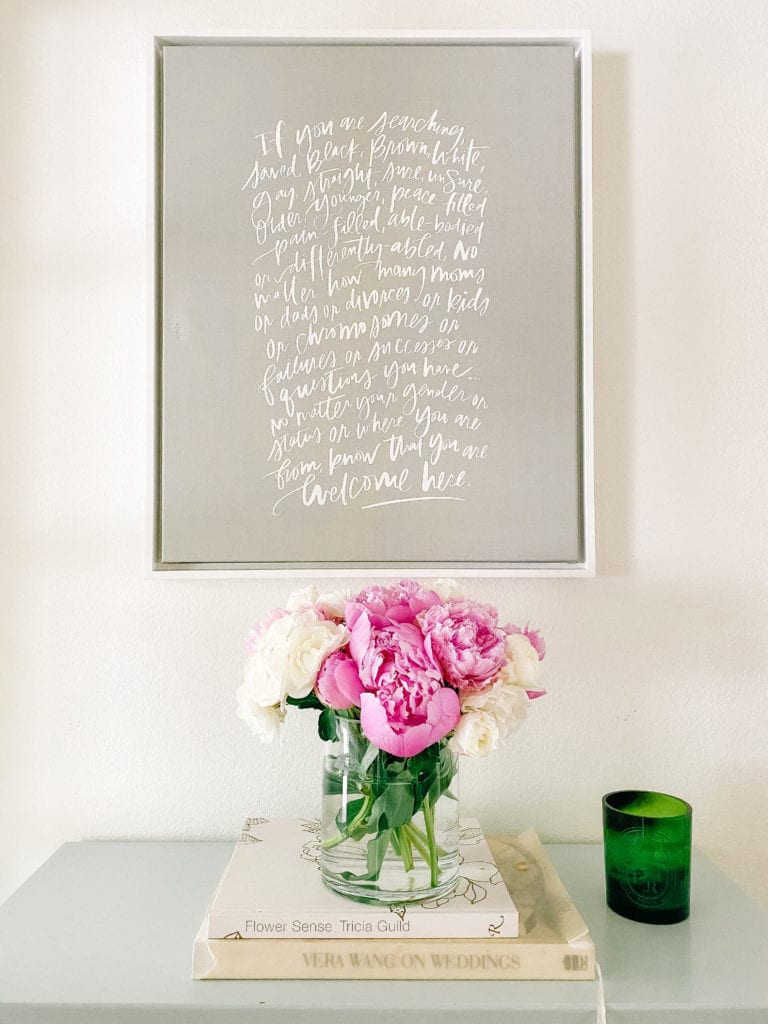 Peony season can be so short, but it is always worth the wait! Peonies are in season from late April until the beginning of June. So, for about 6 weeks. During this time you can find the blooms in grocery stores and florists.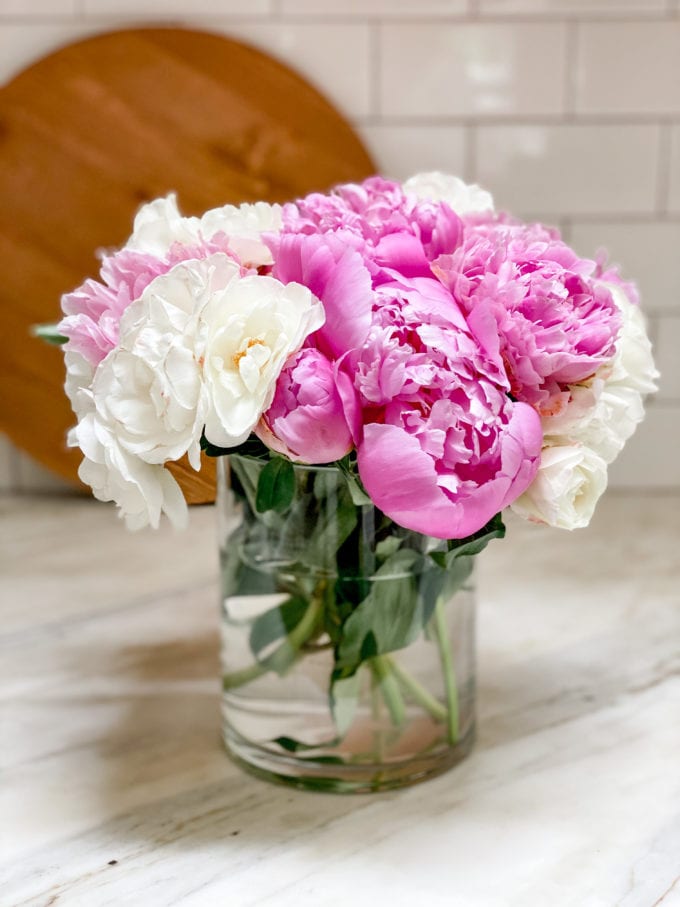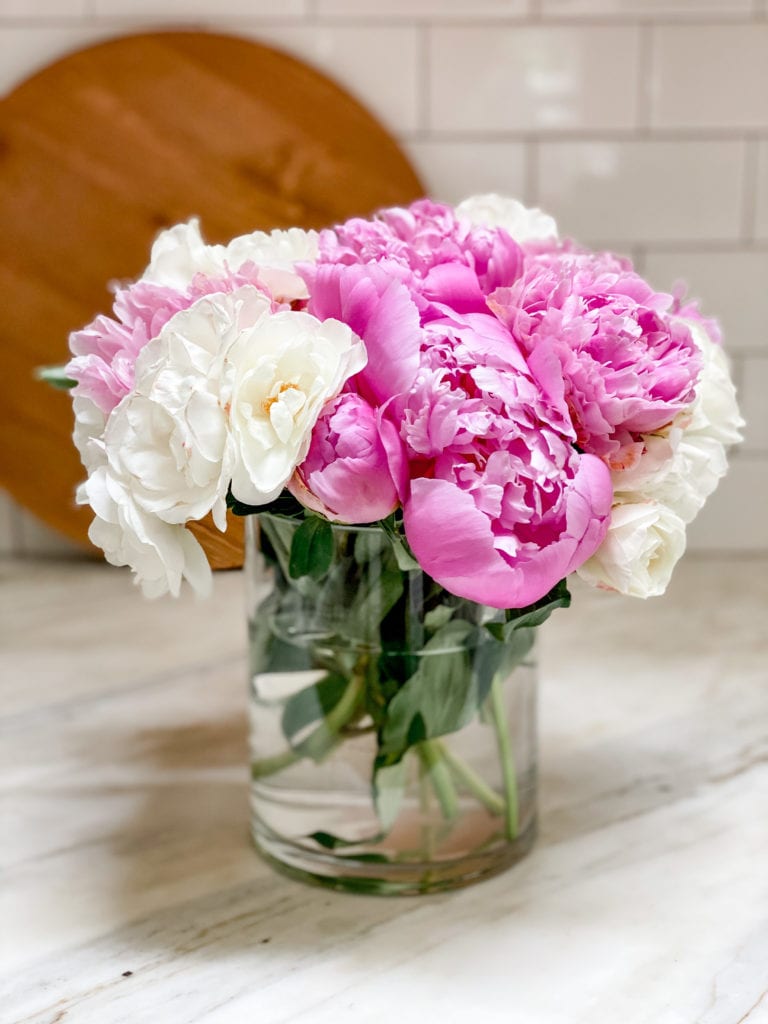 Peonies bloom for about a week. If you are making a flower arrangement using peonies, be sure to use my peony tips and tricks above to make them last longer!
My Favorite Place To Buy Peonies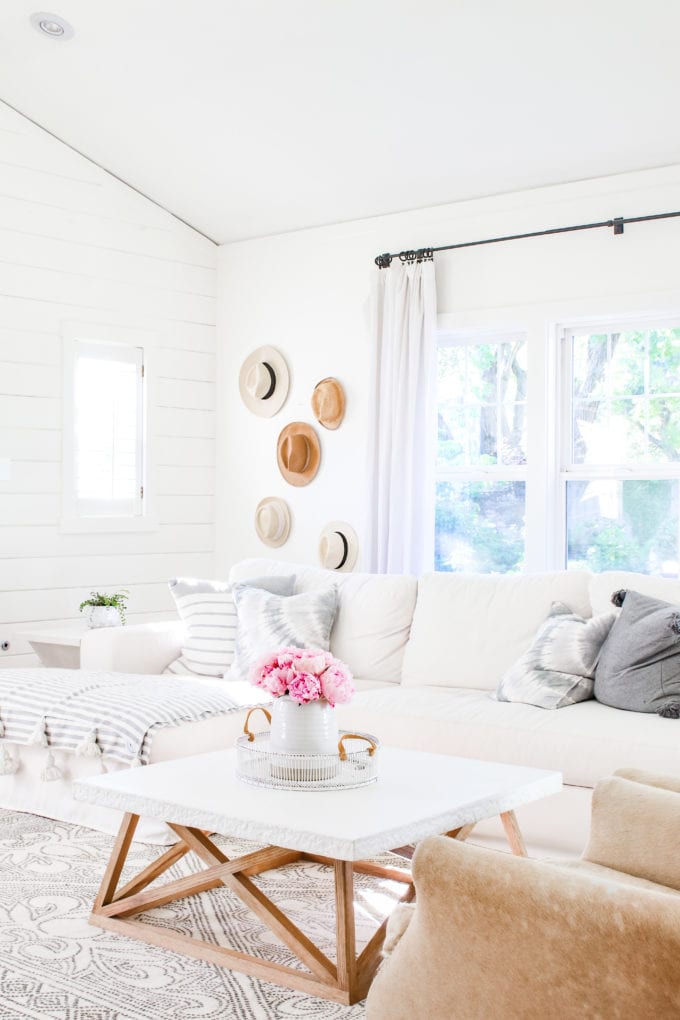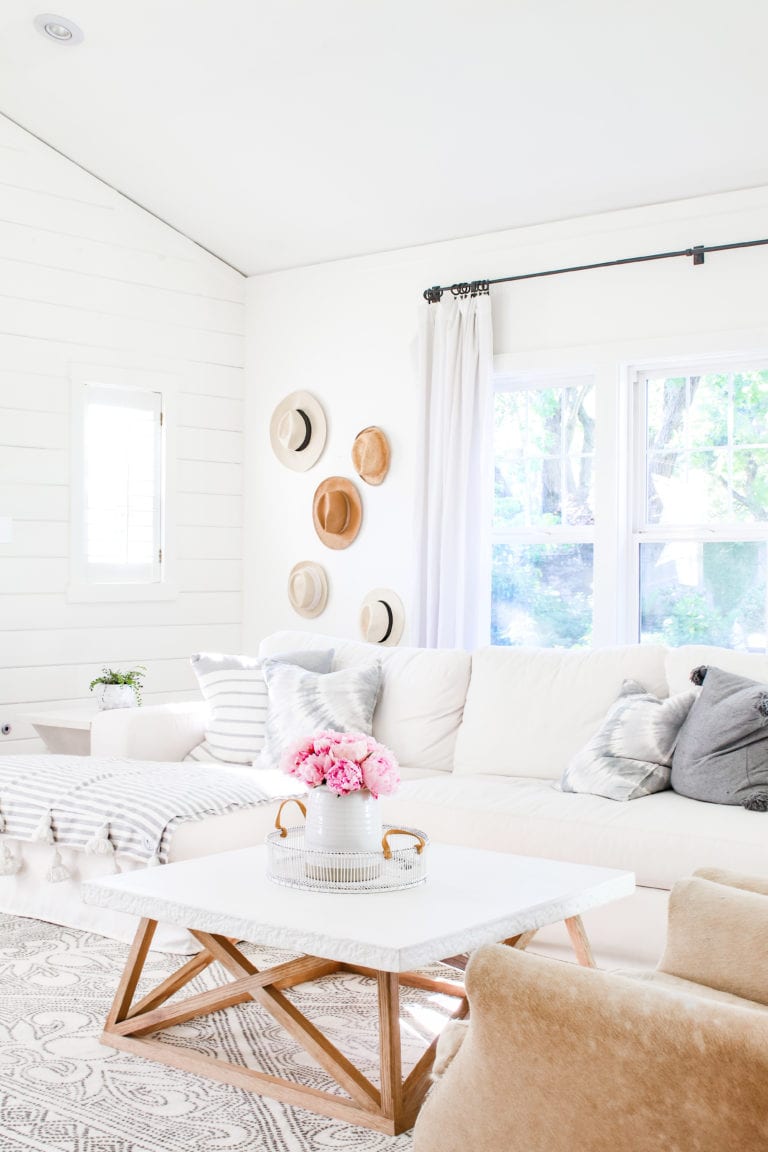 During peony season, you can find bundles of stems at your local grocery stores. I love the selection at Trader Joe's because they are very affordable and you can find a unique variety.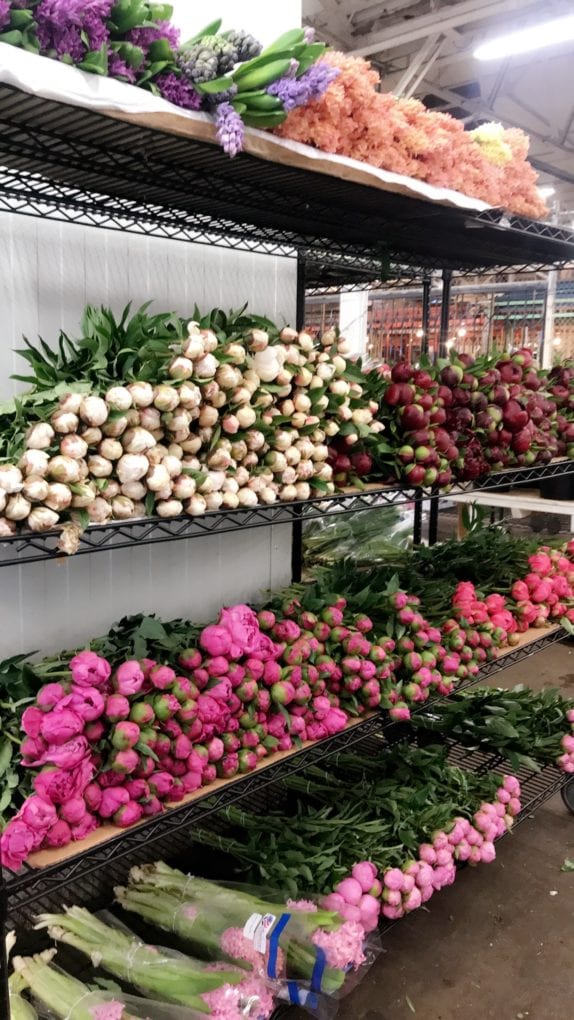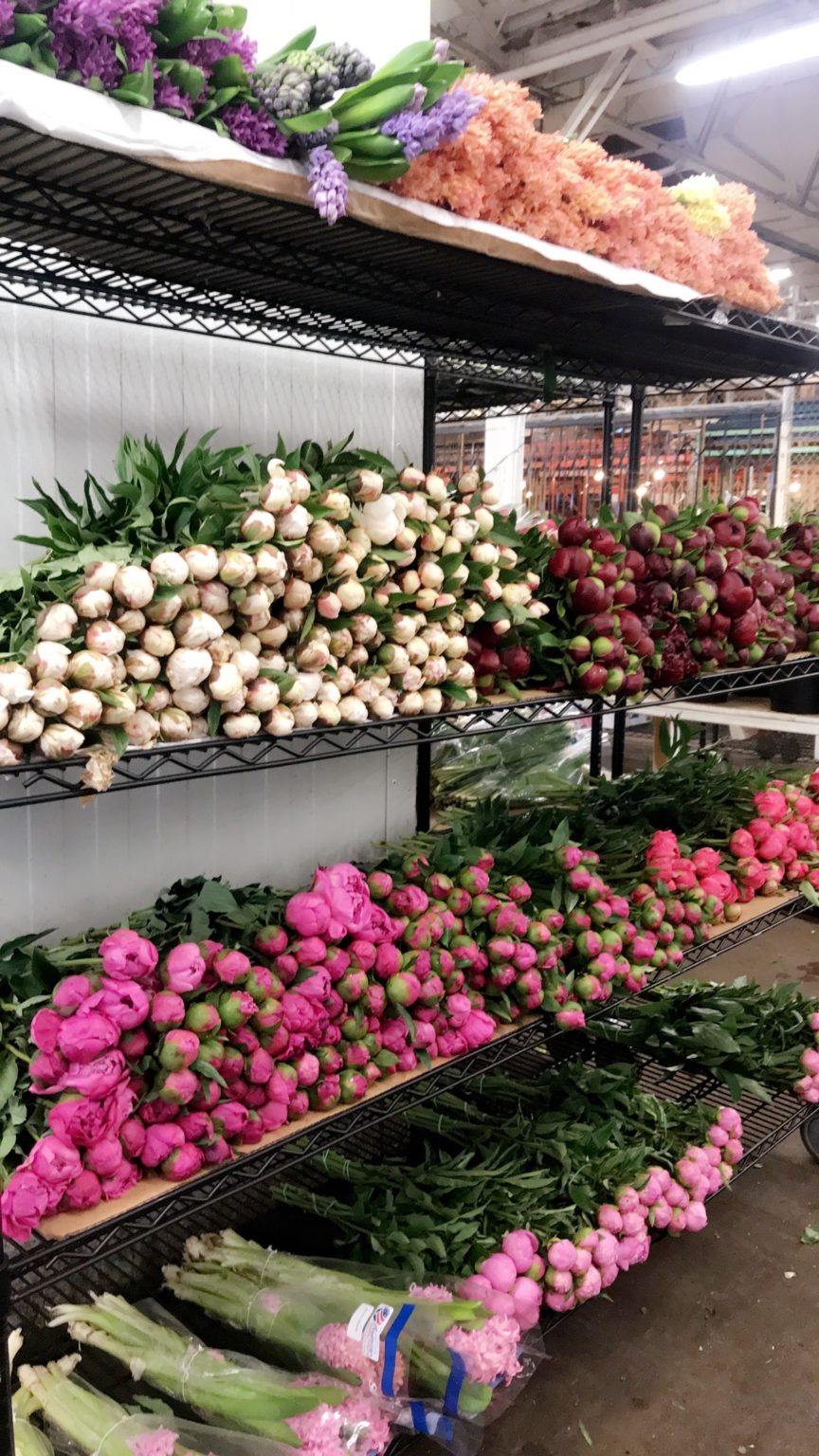 But, my absolute favorite place to buy peonies is from the flower market. As you can see, they have the most beautiful selection of blooms. And the quality is straight from the grower.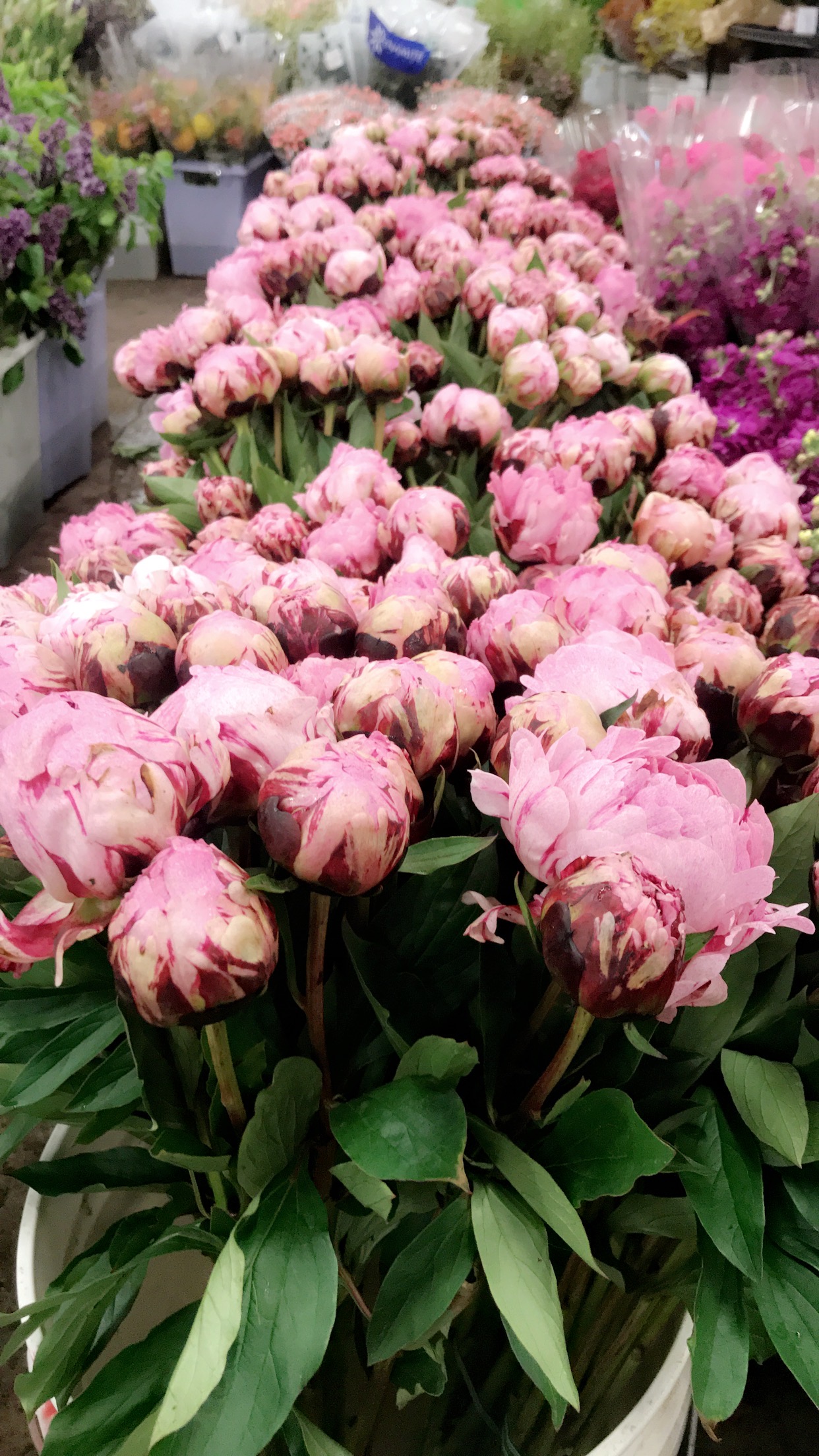 These images are from last year, and I came home with a bundle of peonies and lilacs and made this simple yet stunning arrangement.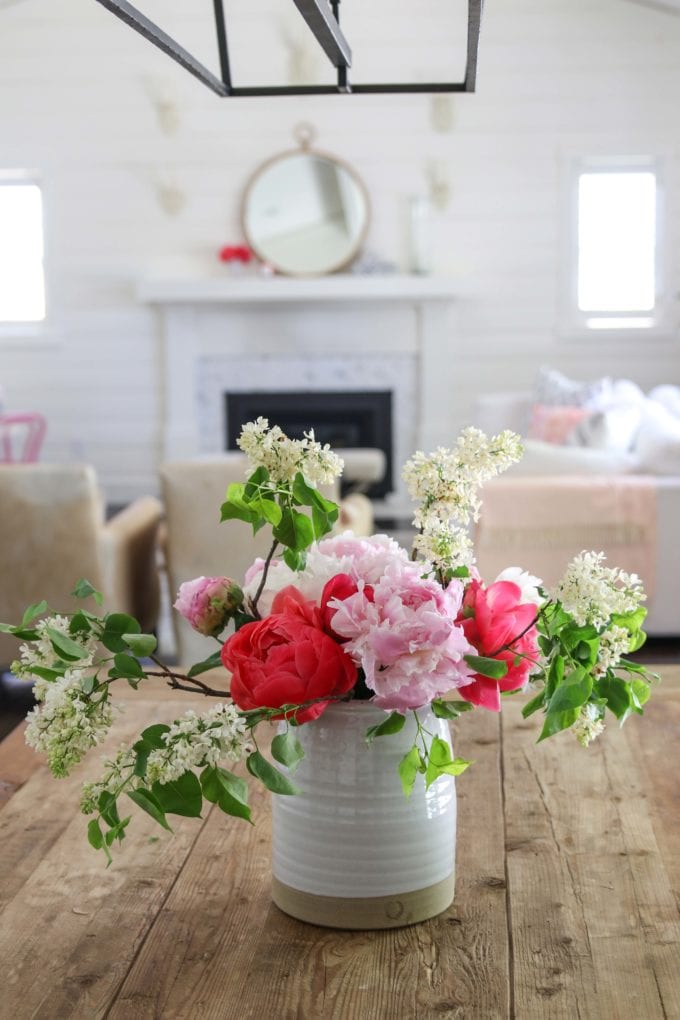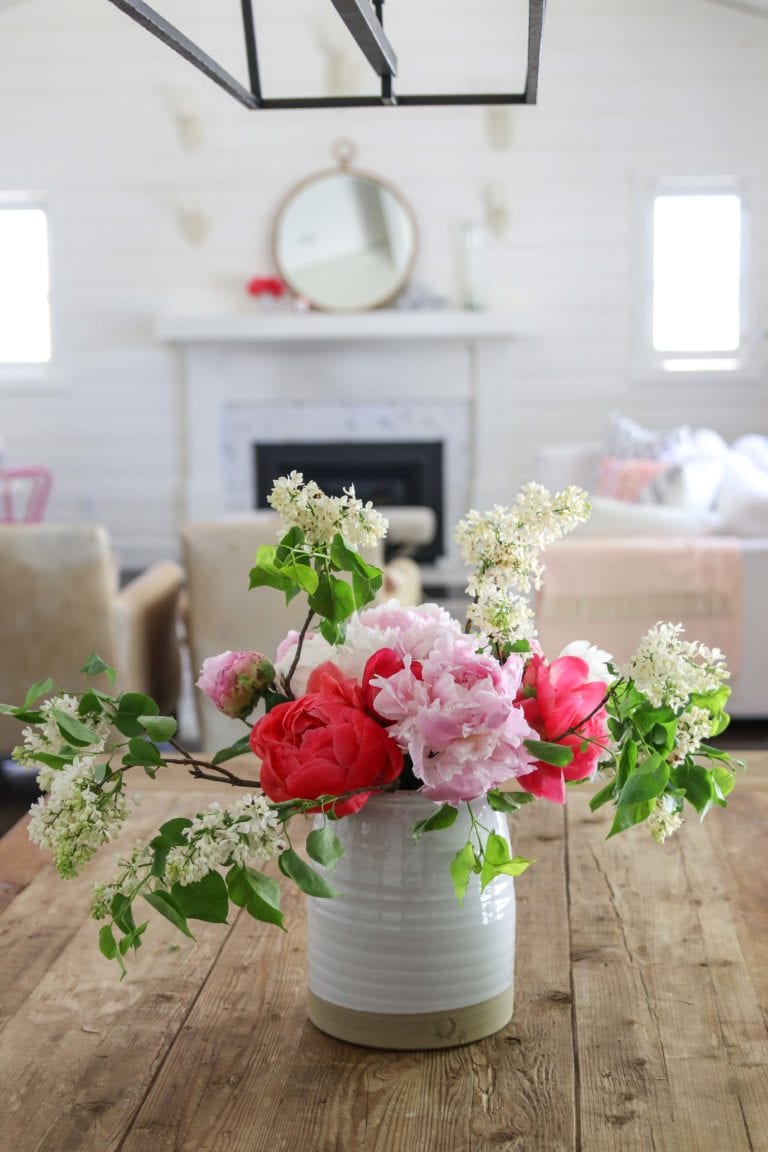 Peonies are so fun to work with because the petals explode into such a magnificent display. Really not much else is needed to make an impressive bouquet!
I hope these peony tips and tricks help you make the most of peony season! Leave me a note if you try any of them and how they work.
And if you love peonies as much as I do, check out all these fabulous peony posts below!
15 Peony Floral Ideas

How to Make a Simple Floral Arrangement – Happy Happy Nester
Free Peony Printable Art & Lock Screen Download – The DIY Mommy
DIY Potted Peonies in Milk Glass – Life Is Better At Home
How to Make a Felt Peony Basket – My 100 Year Old Home

Peony Tips & Tricks – Modern Glam
DIY Peony Line Drawing with a Sharpie – The Happy Housie
Tips for Creating a Peony Arrangement – A Blue Nest
How To Make Paper Peonies – The Handmade Home

Watercolor Peonies in Ginger Jar Art – Craftberry Bush
Easy Foraged Peony Arrangement – Zevy Joy
DIY Peony Canvas Art – My Sweet Savannah
Easy Peony and Lilac Arrangement – Inspiration For Moms
Iced Peonies: How to Make Buttercream Flowers – Jennifer Maune
DIY Paper Peonies – Taryn Whiteaker Designs
Easy Summer Mantel Styling With Florals – She Gave It A Go
Check Out These Peony Ideas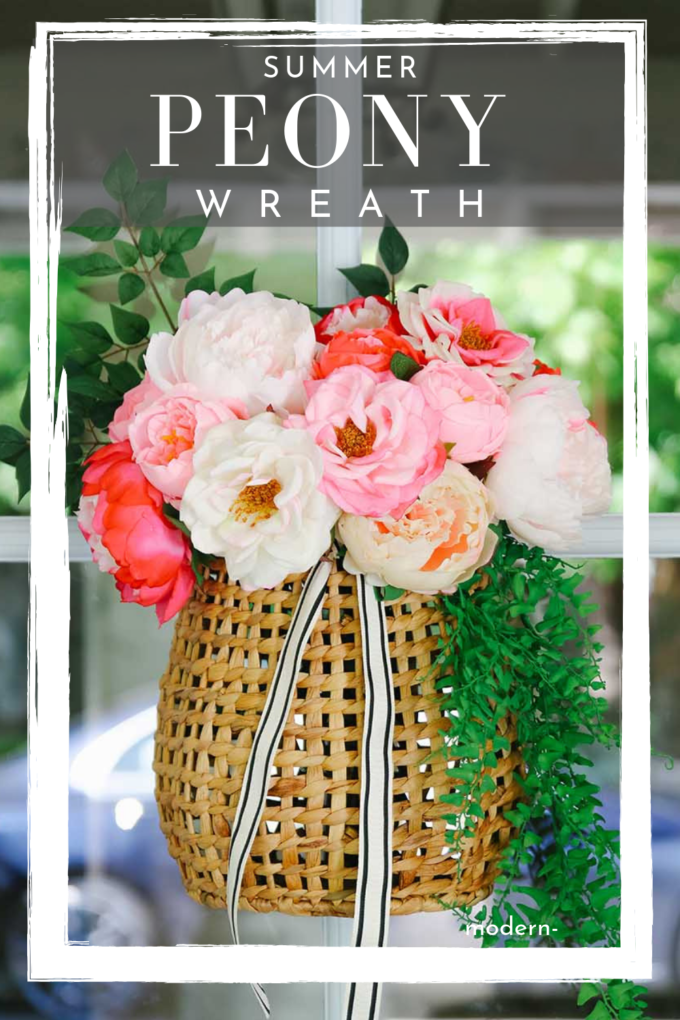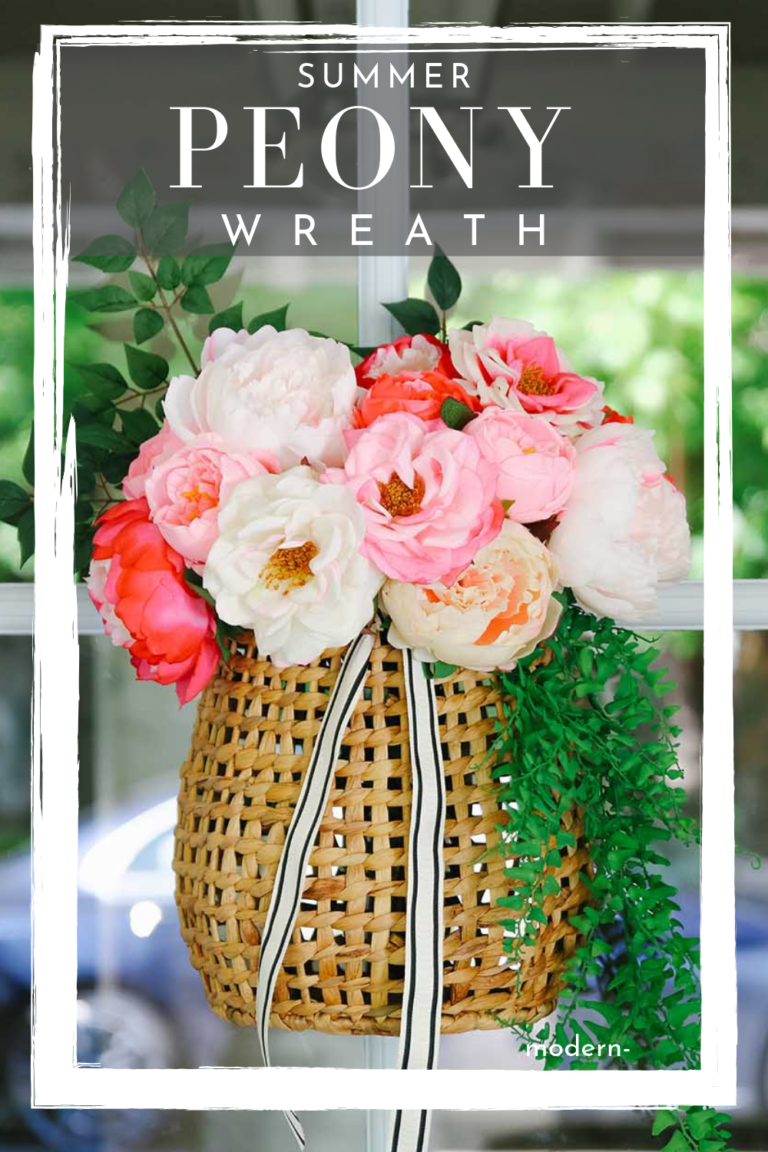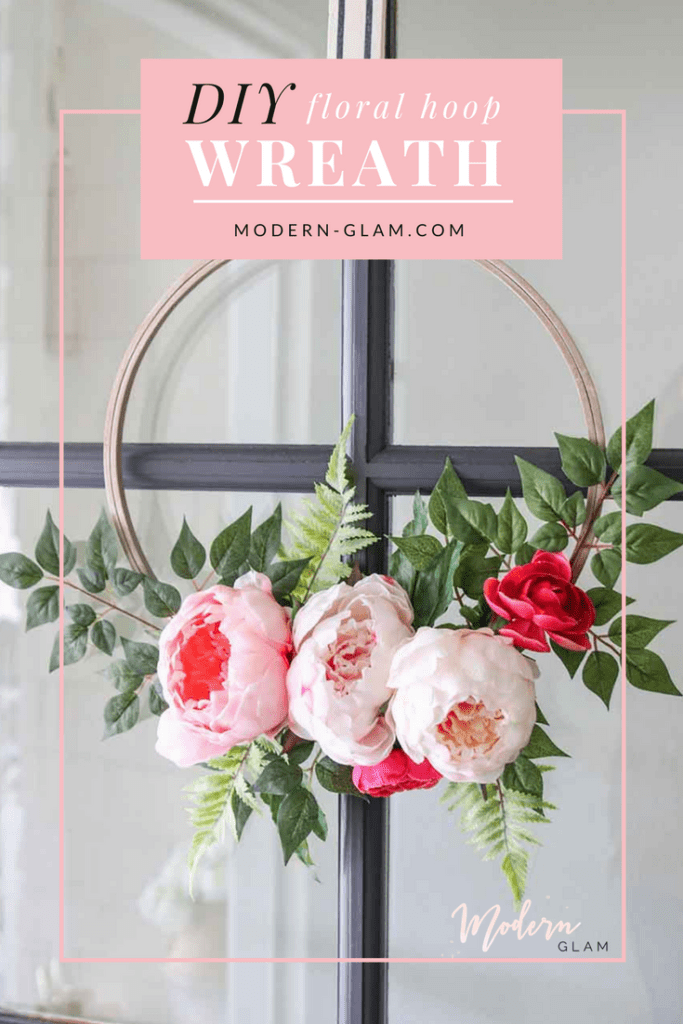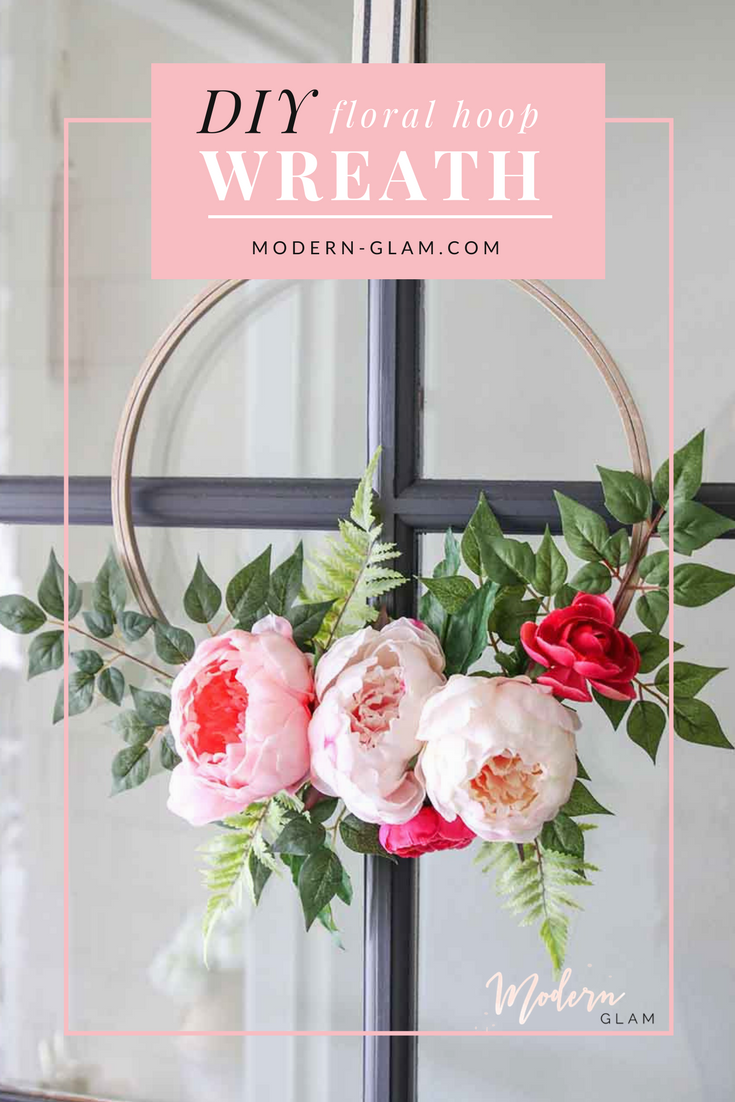 Pin It
Save this post for later and save to your favorite pinterest board. And be sure to follow me for more inspiration and ideas!