Restyle on a Budget
I recently helped my sister, Wendy update her family room. She wanted to add more style to the most used room in her home without doing a complete overhaul. And I was happy to help her restyle the space on a budget!
The Project
Many times I find that clients have a hard time figuring out what their style is. It can be overwhelming when offered so many different options from catalogues you receive in the mail and when out shopping. And one of my favorite parts of my job is helping clients find their style and designing a room that feels uniquely "them".
I love when a client walks into a room and breathes a sigh of relief, as their space finally feels like a pulled together version of everything they love.
The Before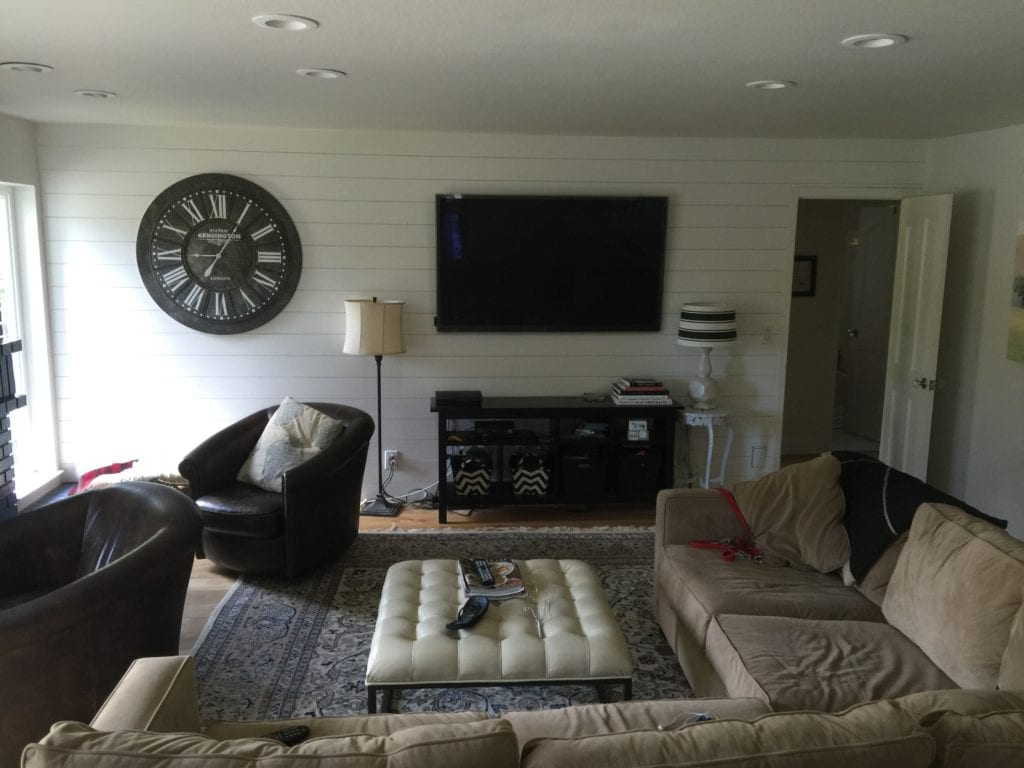 Luckily Wendy's family room started with a good foundation. Great shiplap walls, beautiful flooring and some nice furniture to work with. I felt that the room didn't truly reflect Wendy's style, which is more coastal traditional. I wanted to pull in some elements that were more indicative of her style.
My sister only had 2 musts for the new space: she needed a new media console and to find a better solution for the task lighting that flanks the TV. With a budget of $1000 for the entire room I was able to get both those items taken care of. And I had money leftover for accessories.
The Reveal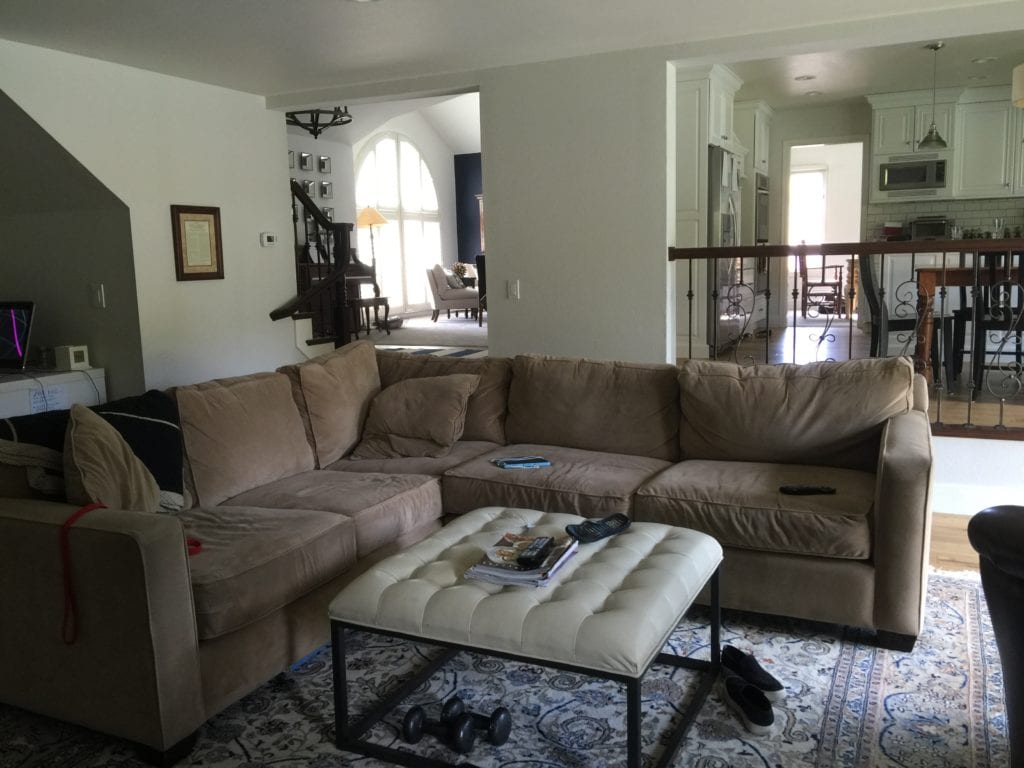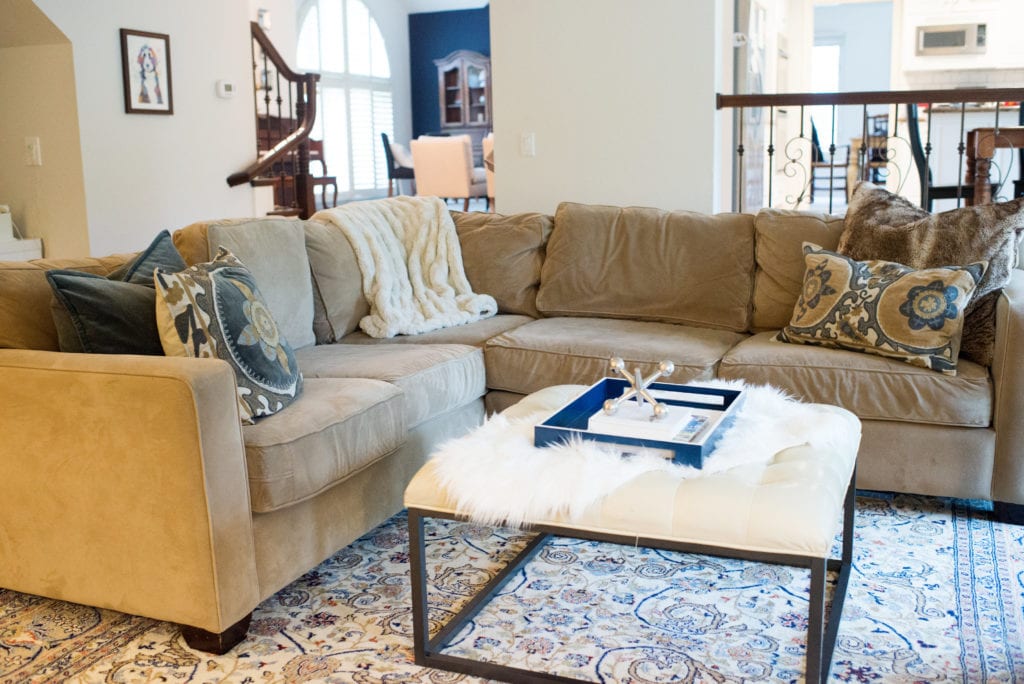 Wendy and I went shopping together at Pottery Barn and found some pillows that went nicely with her Persian rug and couch. I added in the faux fur throw and pillow to add texture.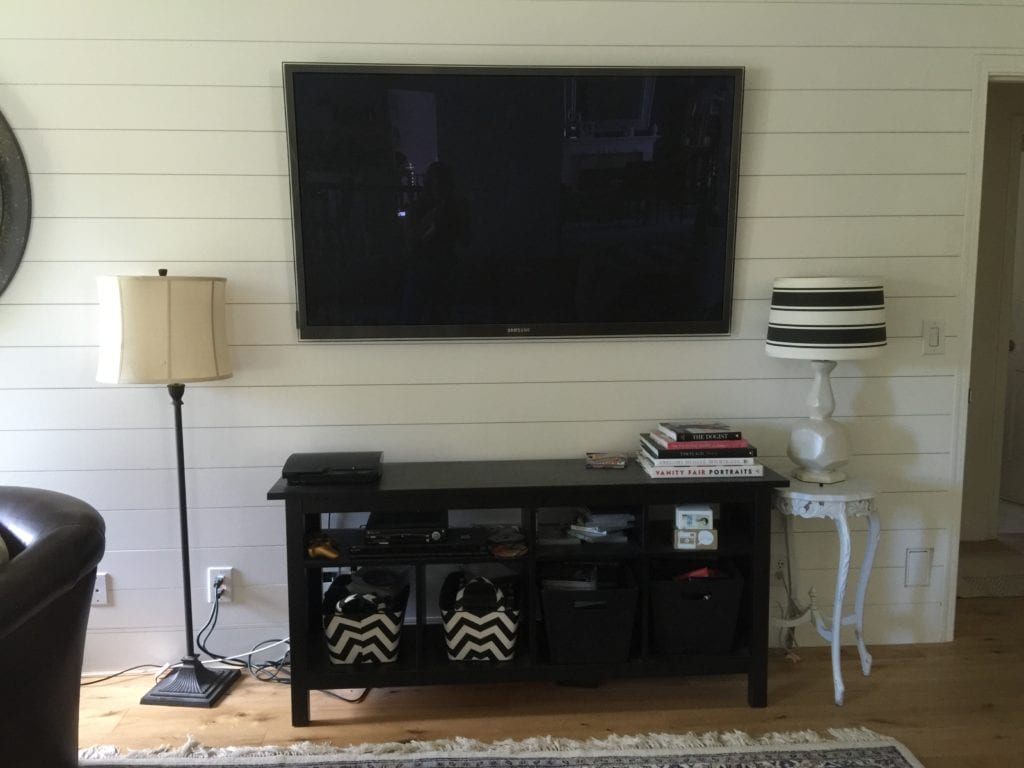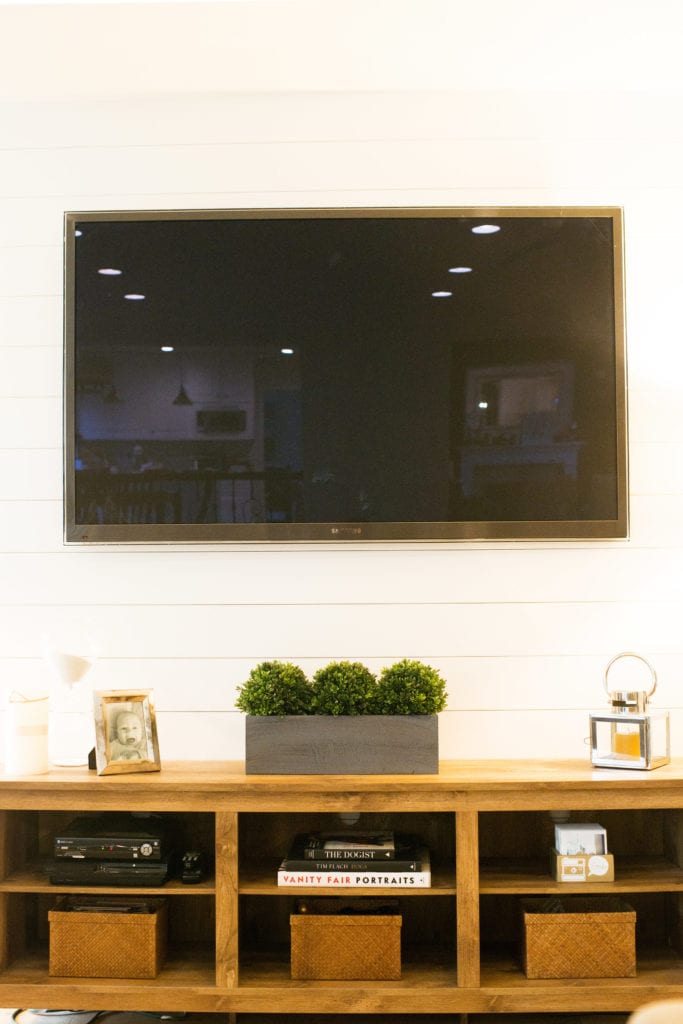 Now with a budget of $1000 for an entire room, finding furniture that fits in that budget can be a challenge but it's not impossible. From Wayfair we found this great TV console. The lighter color wood and open shelves are fun!
I accessorized the piece with finds from my local Homegoods. I love the trio of faux boxwood. Zero maintenance greens are always a win! I added in a large clear hourglass and great silver lantern to add to the coastal vibes in the room.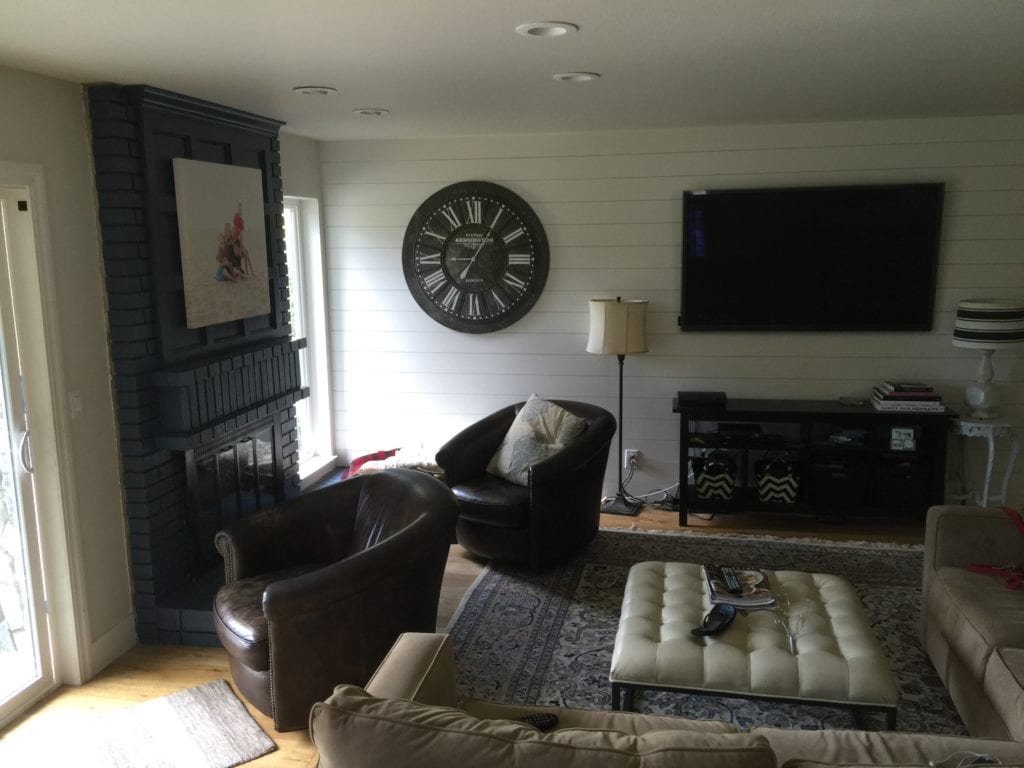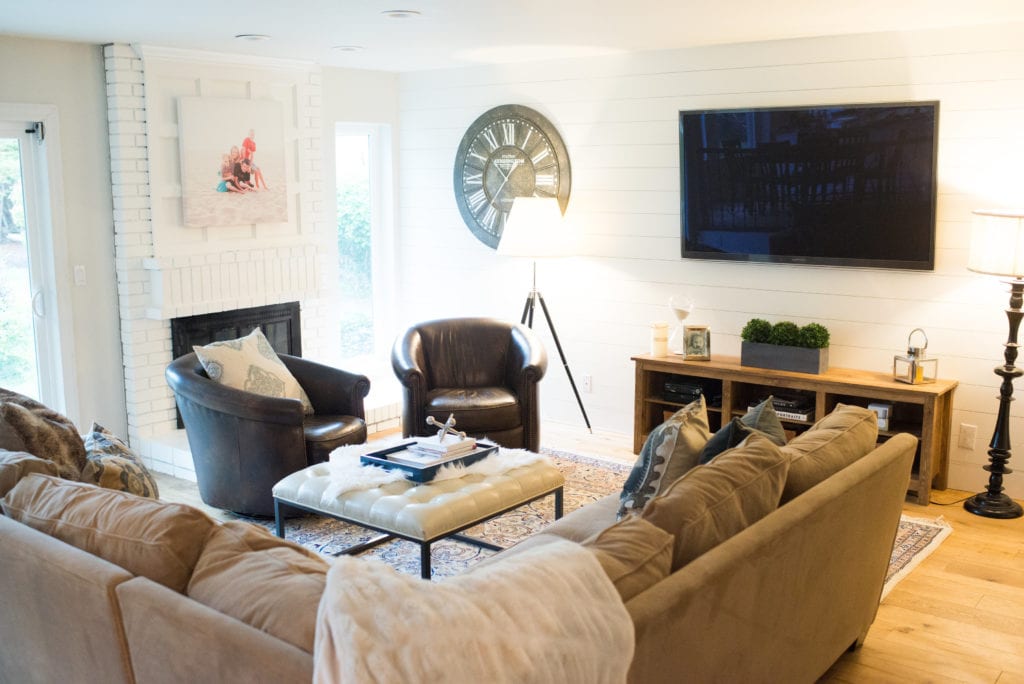 The lighting in this room was tricky! She needed two task lamps to add to the ambience and the only spots for them were on both sides of the TV. Aside from installing two hanging lights, I needed to find lamps that looked good together without them matching. I found an amazing deal at Homegoods. A beautiful Ralph Lauren home tripod lamp for $129, originally $1800!!! I love how it feels so glam with it's large shade and polished nickel finish.
TIP
Find out what day your local Homegoods get their shipments in and plan on finding the best deals the next morning. The Homegoods near my house gets their shipments on Monday evenings and I always find the best items on Tuesday when they open at 9:30!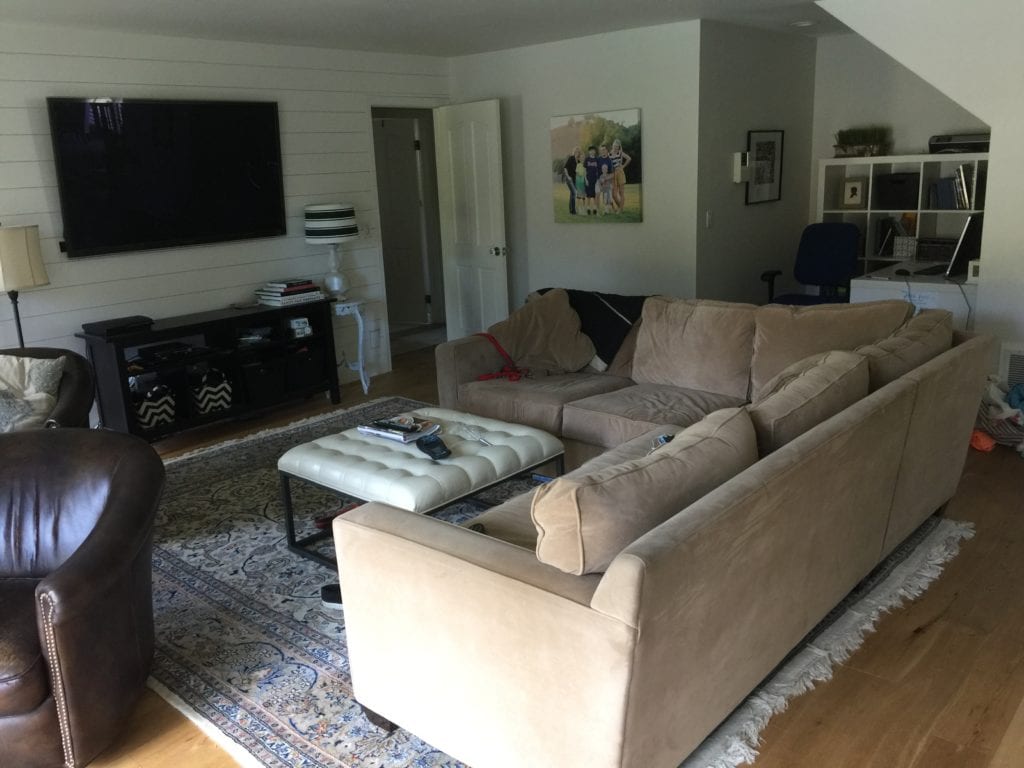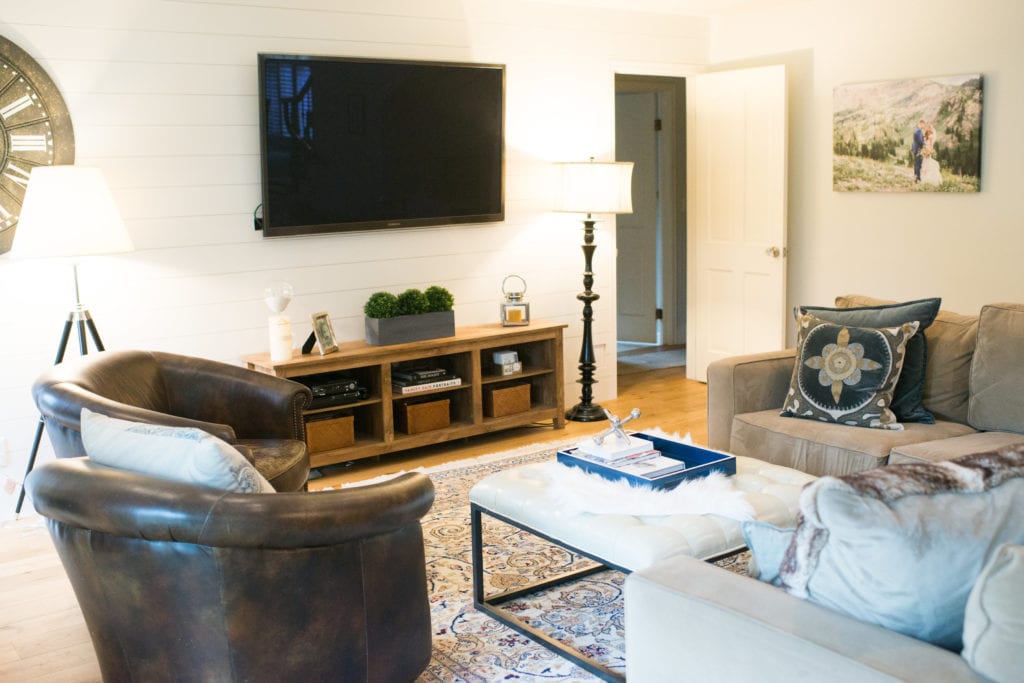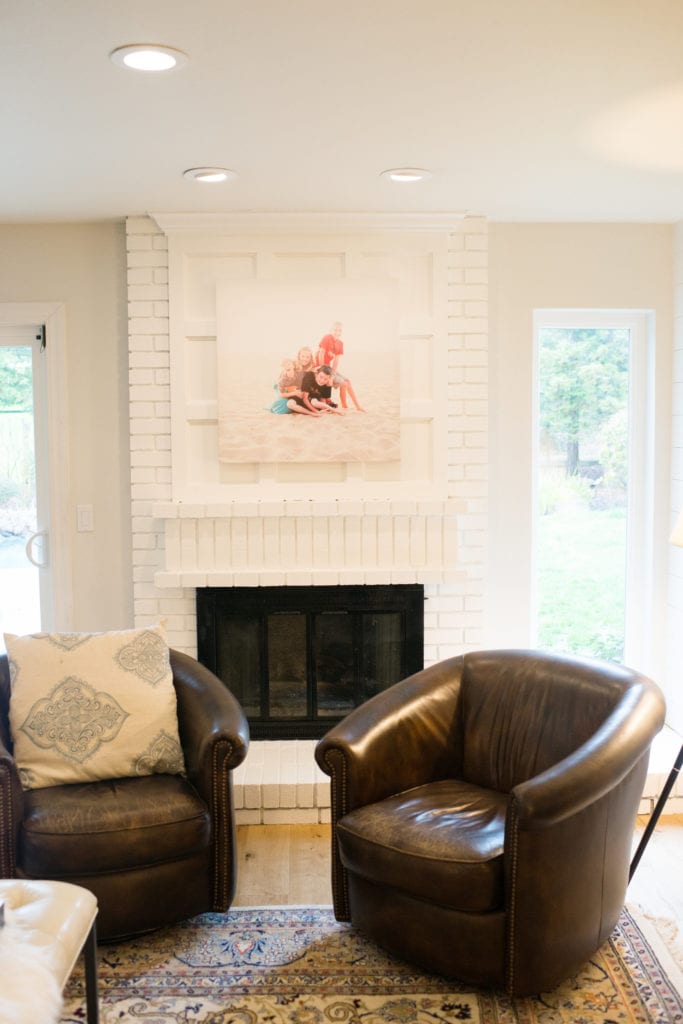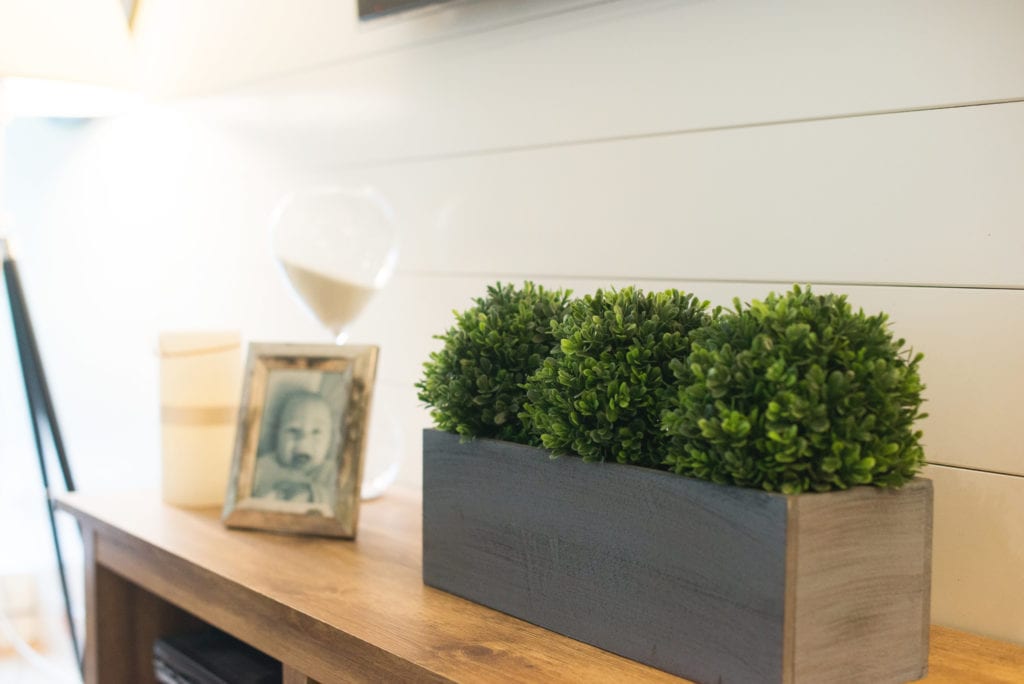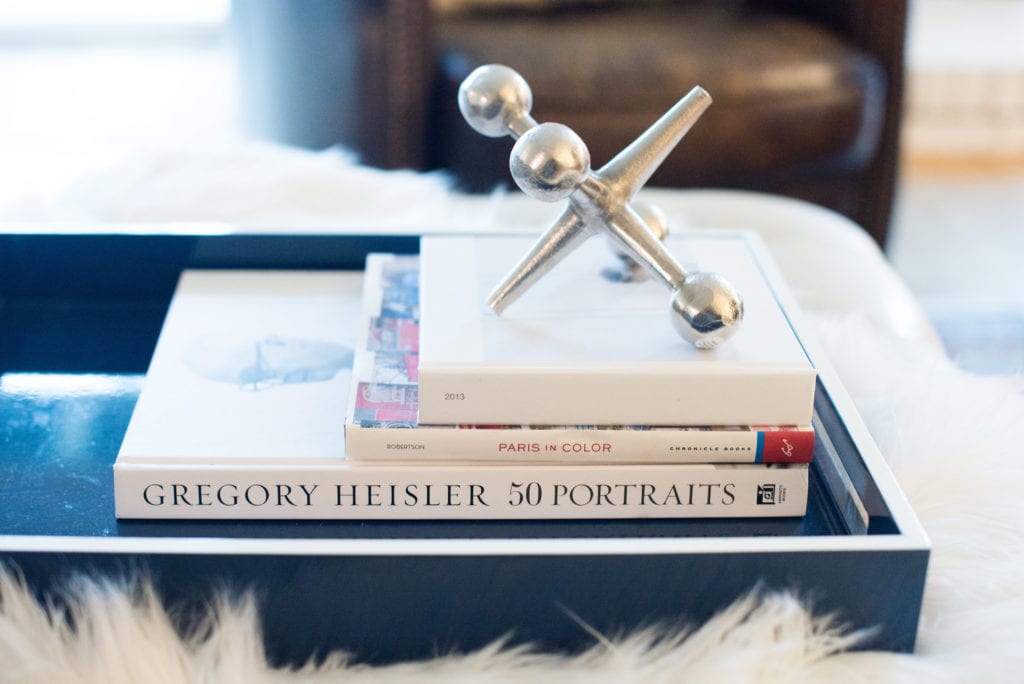 To the ottoman I added a great lacquered tray that I found at Homegoods. The beautiful blue color gives a nod to the nautical feel that I wanted for the room. And I found lots of great coffee table books around her house, perfect for nestling in the tray. This was a fun and easy project to add some style to Wendy's home. What do you think?