It's back to school time! I've created a fabulous meal planner that gives you school lunch ideas for a whole month! Just pick one item from each category and you have a packed lunch.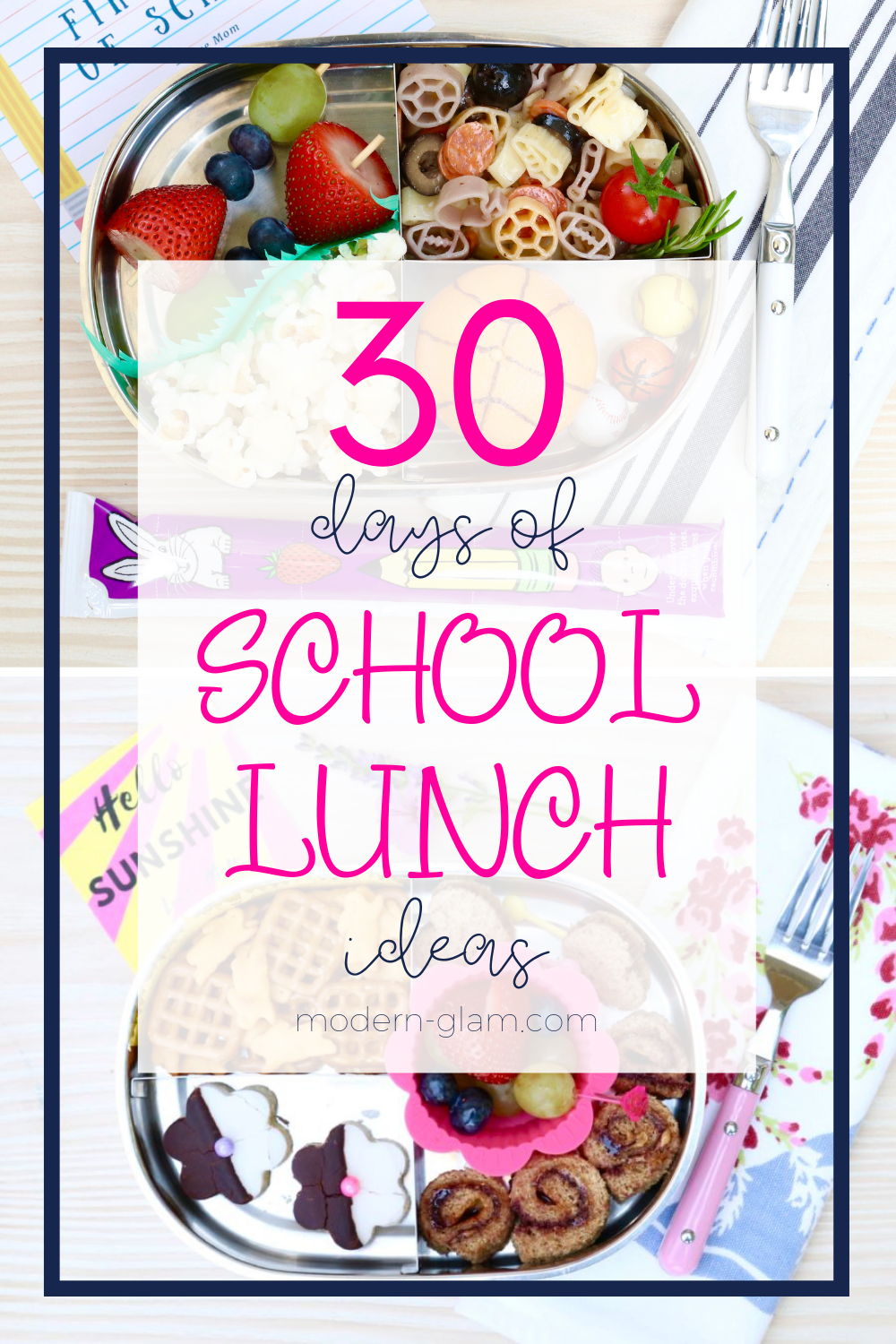 Summer is winding down and school is about to start for my kids! I am both parts excited and overwhelmed. One of my biggest stresses during the school year is trying to figure out what to pack my kids for school lunch!
To get organized, I created this school lunch ideas planner and test drove some creative packed lunch options. Come check it out!
School Lunch Ideas for a Whole Month!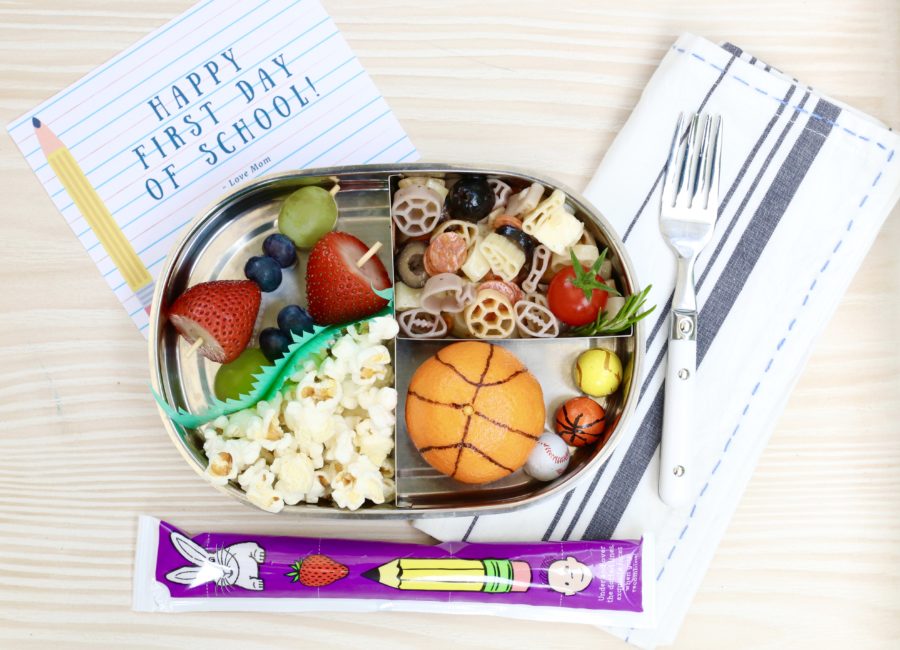 My kids are super picky. And it always seems that what they liked yesterday they will not like today. So I came up with the perfect solution. A printable meal planner that gives you packed lunch ideas for a whole month! Just pick one item from each category and you have a packed lunch! Printable planner at bottom of post.
Healthy School Lunch Ideas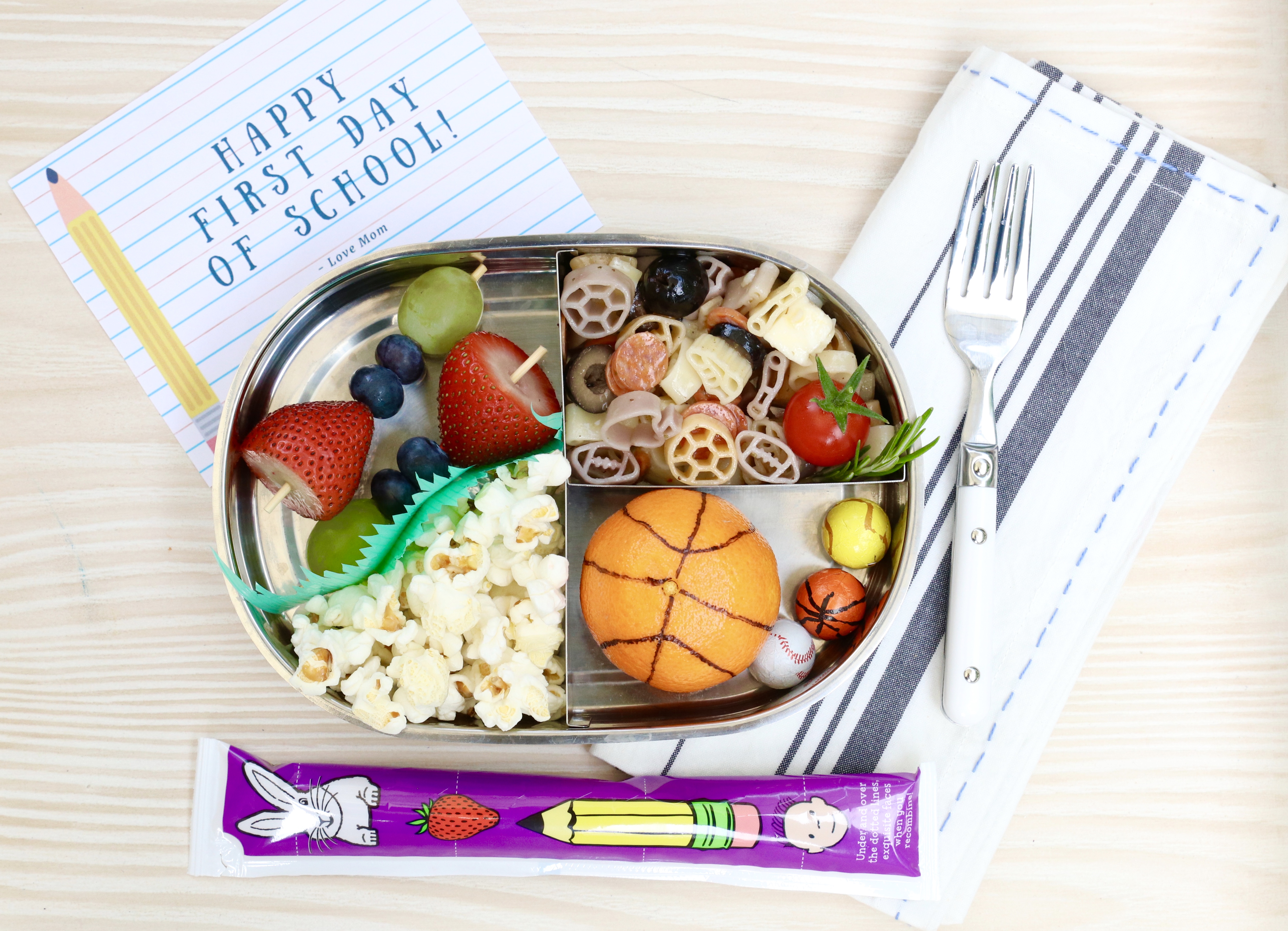 Don't be afraid to get creative with the school lunch ideas! I test drove some of the lunches last week on my kids and they were impressed!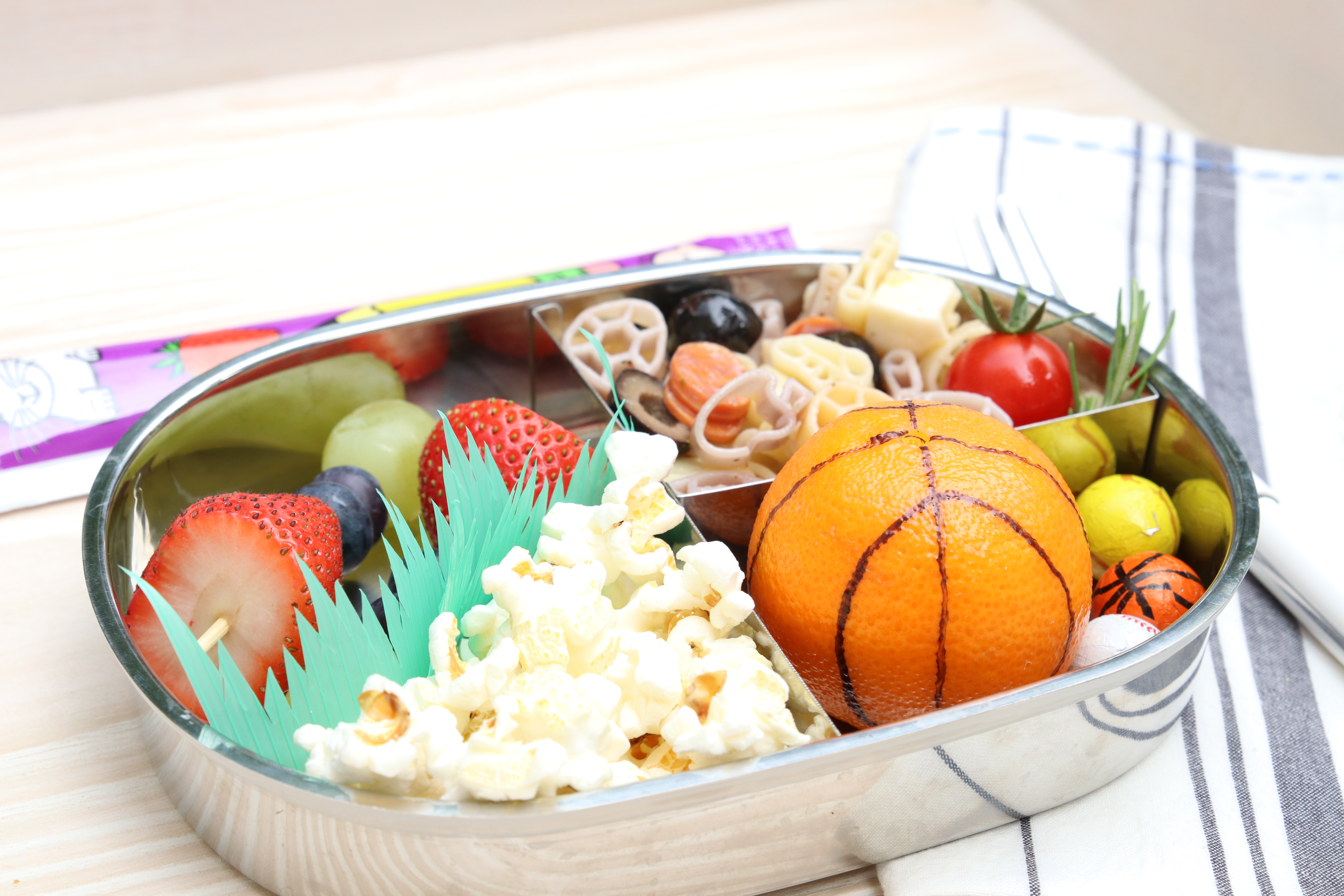 My son Hudson is obsessed with sports so I created this sports themed lunch for him. And I found sports shaped pasta at World Market and decided to make an easy pasta salad for his main course.
A simple sharpie drawing on an orange makes the perfect basketball! Because he is a chocoholic I added some cute ball themed chocolates to his lunch.
If you are looking for more school lunch ideas, be sure to check out these Back To School Lunch Ideas from Bon Appetit. And if you need more ideas, check out my Packed School Lunch Ideas!
School Lunch Ideas for Picky Eaters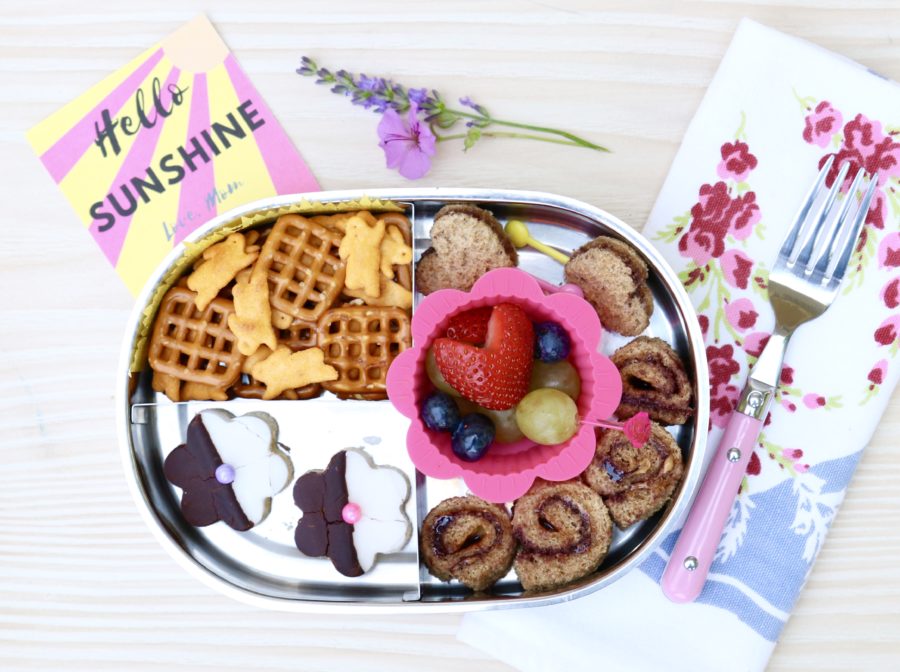 My daughter, Charley is a girly girl and loves flowers, hearts and pink, of course!
On a recent trip to Daiso I picked up some cute silicone flower cupcake liners and they are the perfect reusable container for fruit salad.
This school lunch idea has a definite garden theme to it with it's flower cookies, pinwheel sandwiches and bunny crackers.
And to make the strawberry hearts is so much simpler than you can imagine! Just cut the stem off creating a v shape at top and slice!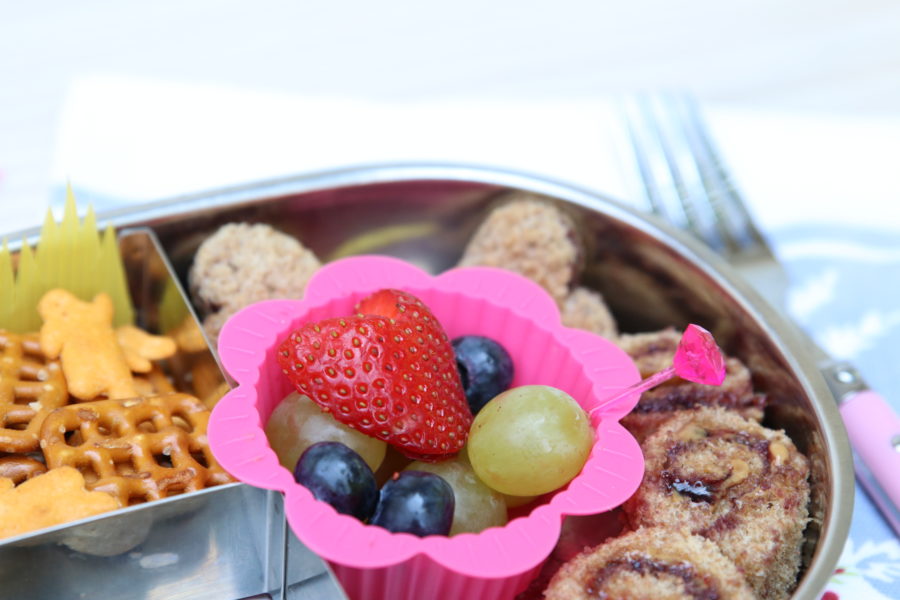 The peanut butter and jelly sushi rolls are so cute and my kids were obsessed. All it takes is a rolling pin to roll the bread thin and the rest is a piece of cake!
Bite sized food is so much more fun, right? And I also picked up the cutest food picks at Daiso. I swear, everything in that store is makes my creativity go nuts! Um, hello pastel colored sushi grass! I'm pretty sure I'm more excited about this than the kids are, lol!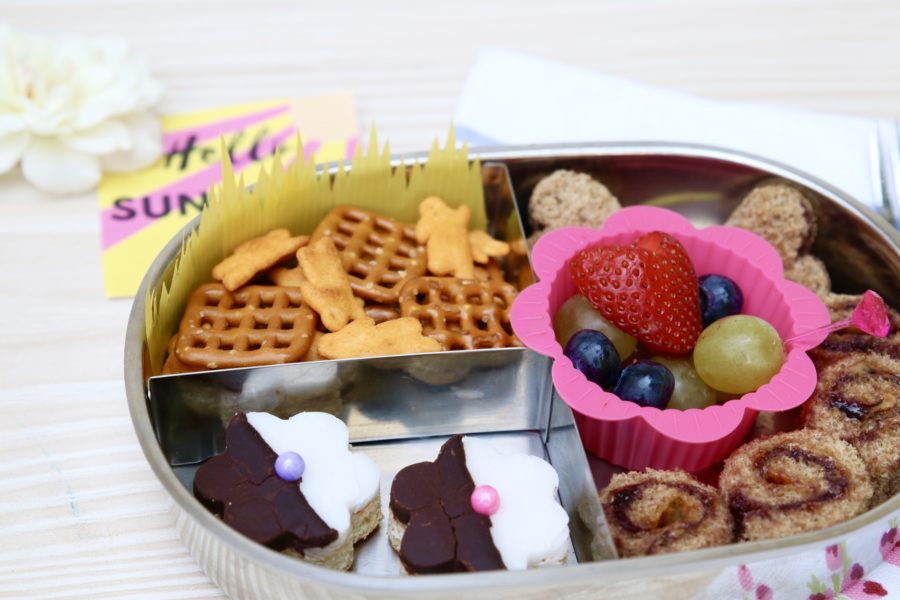 A mixture of pretzels and cheddar bunnies is an easy snack. And the flower shaped cookies top off the garden theme! Charley loved how creative I got with this school lunch idea. I mean after a long summer of pretzels, hummus and strawberries everyday for lunch she was impressed!
Printable School Lunch Planner
Having this school lunch meal planner is going to make my mornings so much easier! And it will save me some time so I can get more creative with their lunches this year!
Just pick one item from each category and you have a healthy school lunch!