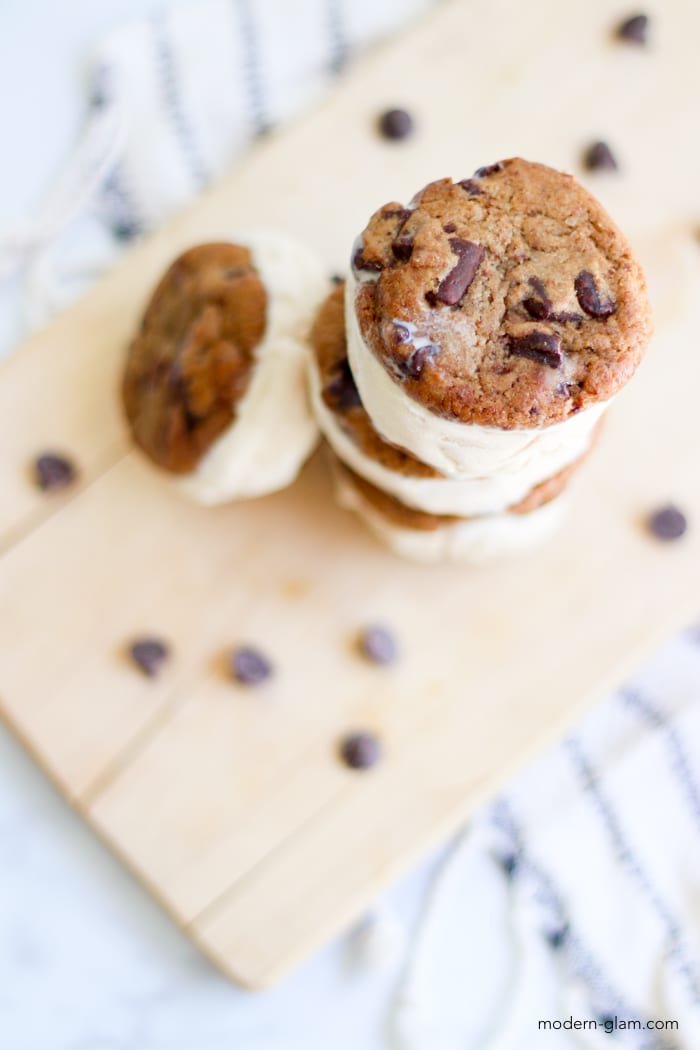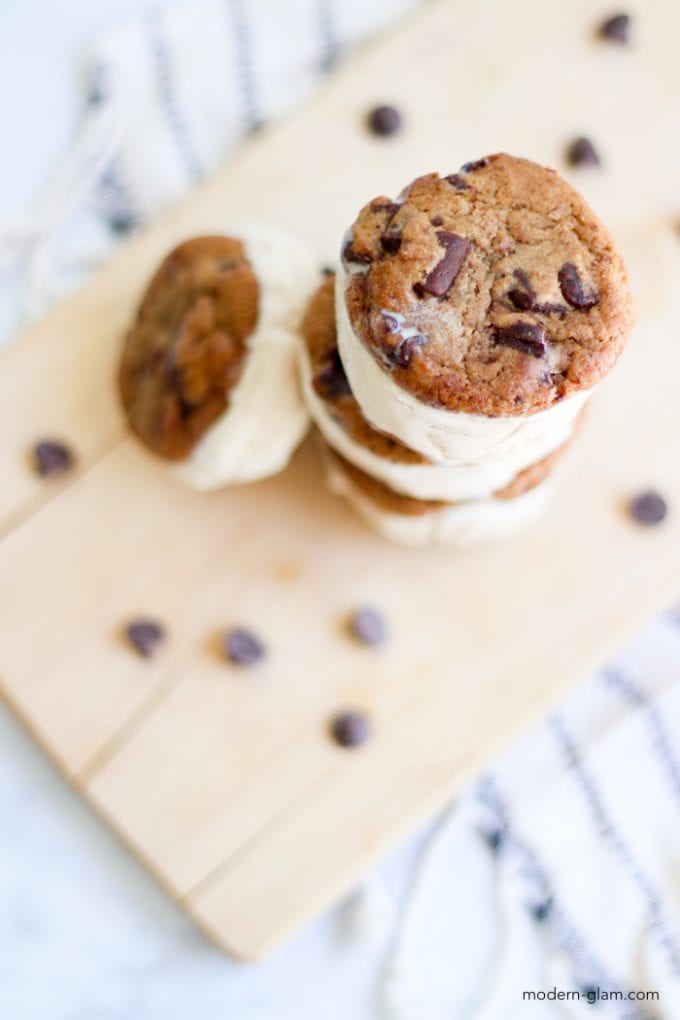 Tips for making the perfect homemade ice cream cookie sandwiches. From flavor combinations to freezing and packaging, check out this guide to making this all-time classic dessert.
Tips for Making Homemade Ice Cream Cookie Sandwiches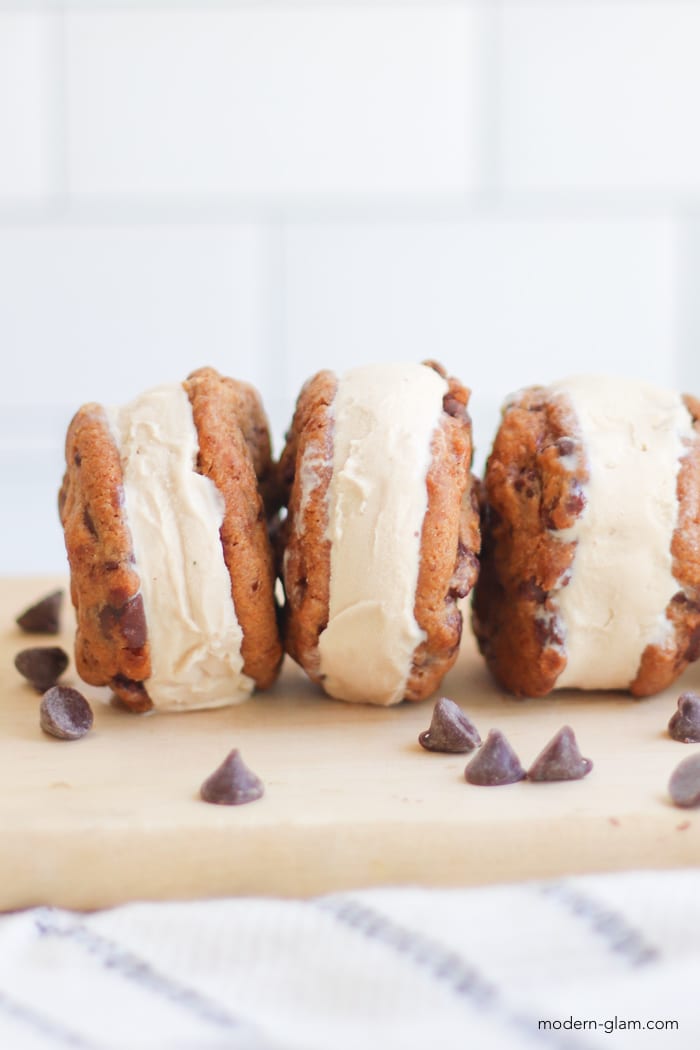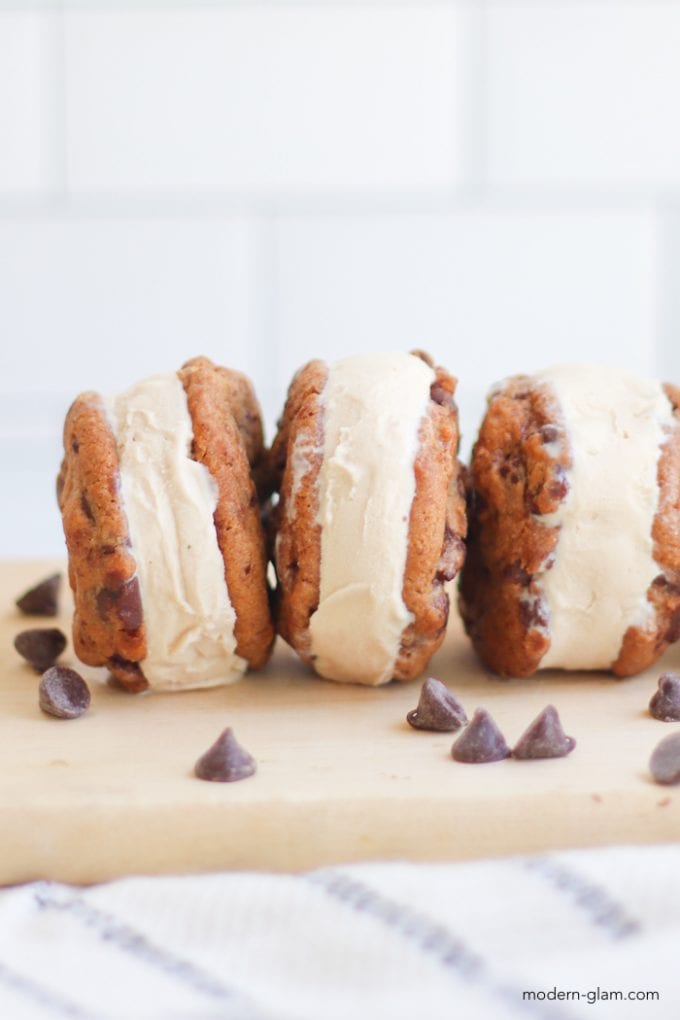 The Components of an Ice Cream Sandwich
There are just two simple components to the perfect homemade ice cream sandwich. Decadent ice cream and two chewy cookies! So, with that being said, I like to use quality ingredient that make this indulgent treat worth the time, effort…and calories too!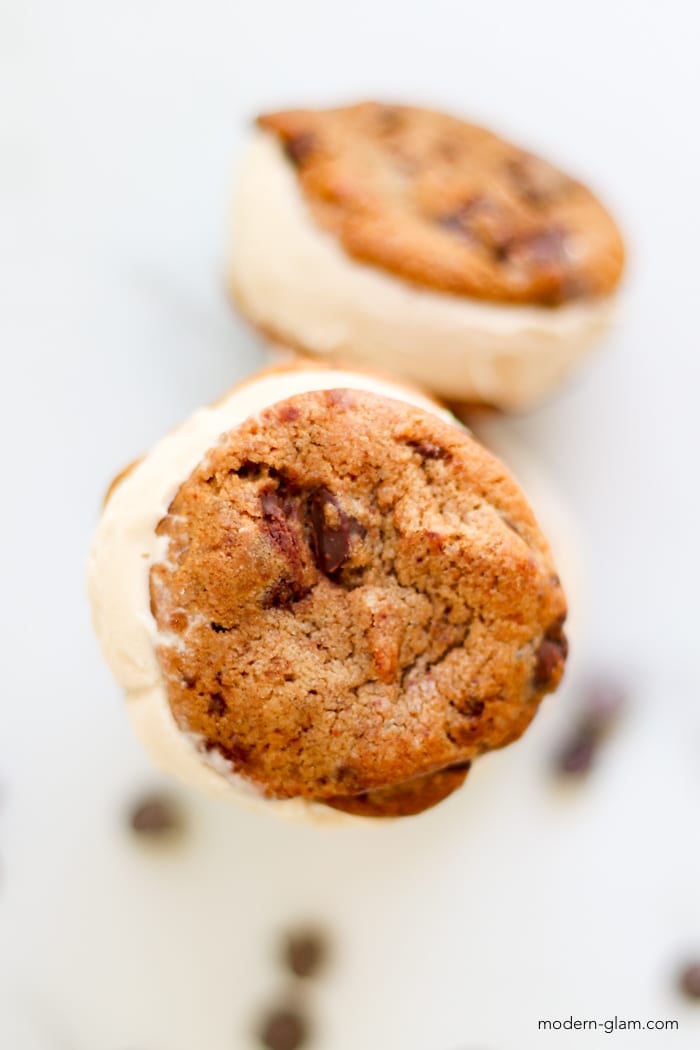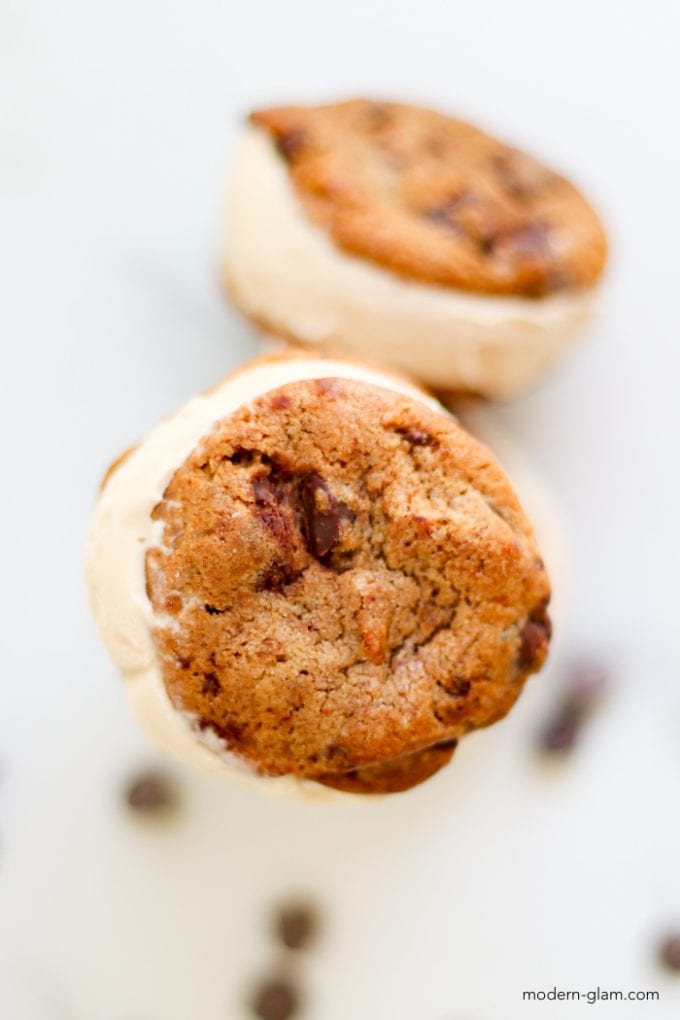 You can make your own ice cream for this frozen treat, or my one of my favorite tips for making homemade ice cream cookie sandwiches is to buy a high-quality ice cream from the store. The time and effort that it takes to make your own ice cream may not be worth it when you can purchase such delicious flavors at the store.
And for the cookies, you want to choose cookies that are chewy or soft. While I love a good crunchy cookie, for homemade ice cream sandwiches, you want cookies that you can sink your teeth into – literally! I used my favorite Chocolate Chip Cookie recipe.
Ice Cream Sandwich Flavor Combinations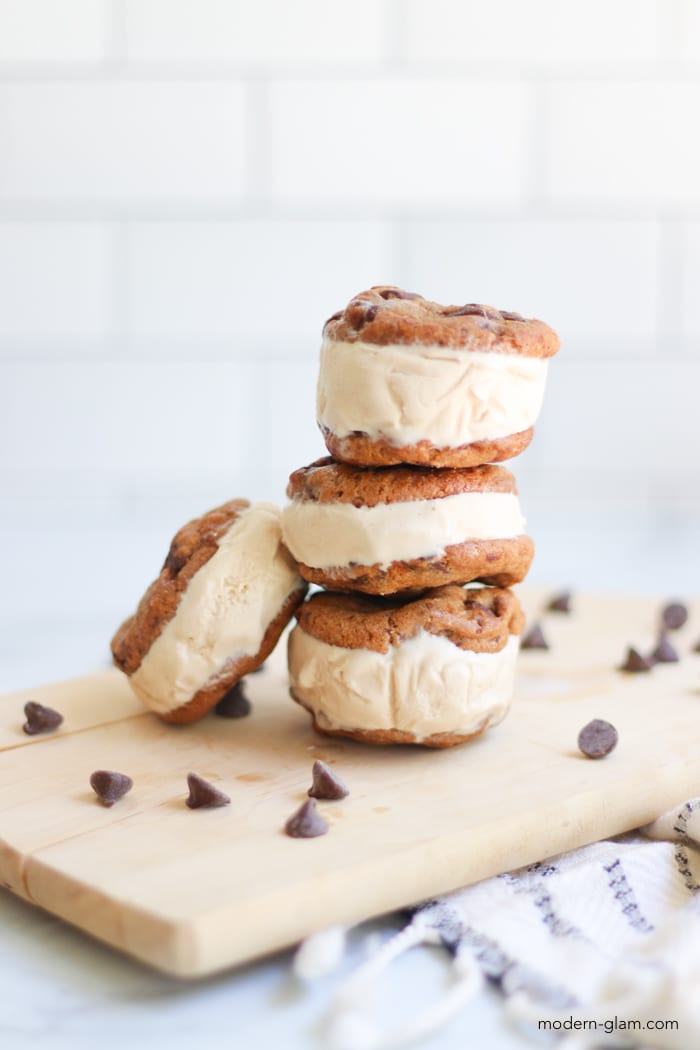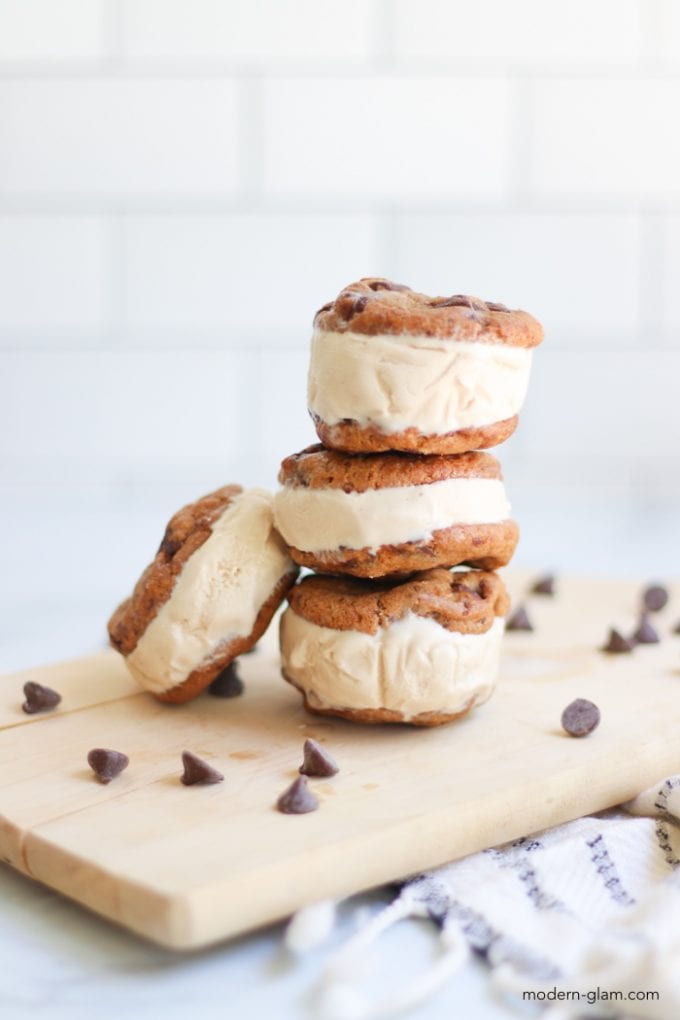 When it comes to ice cream sandwiches, there are so many incredible flavor combinations that make my mouth water! We have a local shop that specializes in these sandwiches and features homemade cookies and rich ice cream. The flavor combinations seem to be endless there.
Here are few popular and a couple of unexpected homemade ice cream sandwich flavor combinations to get your wheels turning:
Classic Vanilla Ice Cream and Chocolate Chip Cookies
Chocolate Chip Cookie Dough Ice Cream and Chocolate Fudge Cookies
Cookies and Cream Ice Cream with Sugar Cookies
Pumpkin Pie Ice Cream with Snickerdoodle Cookies
Peppermint Ice Cream with Dark Chocolate Shortbread Cookies
Peanut Butter Cup Ice Cream with Peanut Butter Cookies
Coffee Ice Cream with Chocolate Chip Cookies
I went with this last combination for these Homemade Ice Cream Cookie Sandwiches and the result is one of my favorites! Because, I think you can't go wrong with the classic coffee and chocolate flavor combination!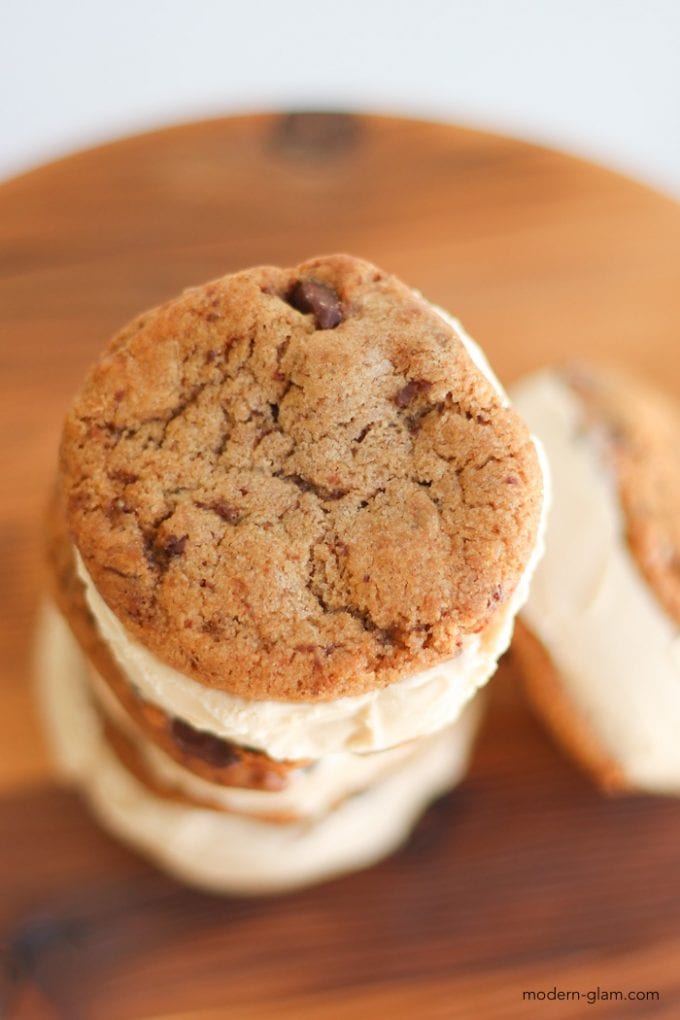 And I used my favorite Chocolate Chip Cookie recipe for these homemade ice cream cookie sandwiches.
How To Soften Ice Cream For Sandwiches
Like I said, I chose to use store bought ice cream to skip one long and lengthy step in the process of making these sandwiches. But, if you'd like to make your own ice cream, that can be fun too!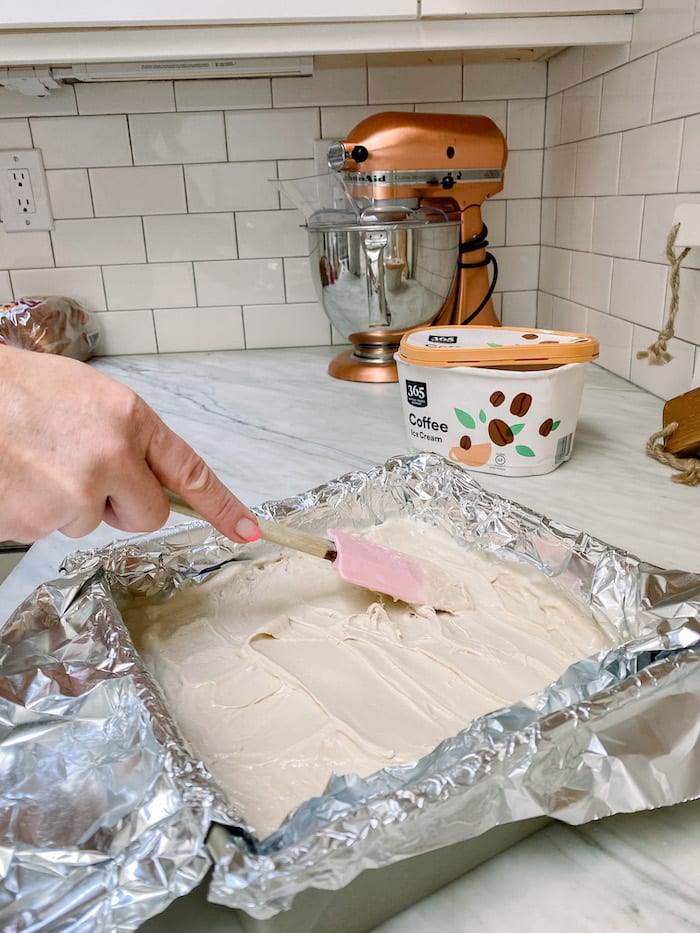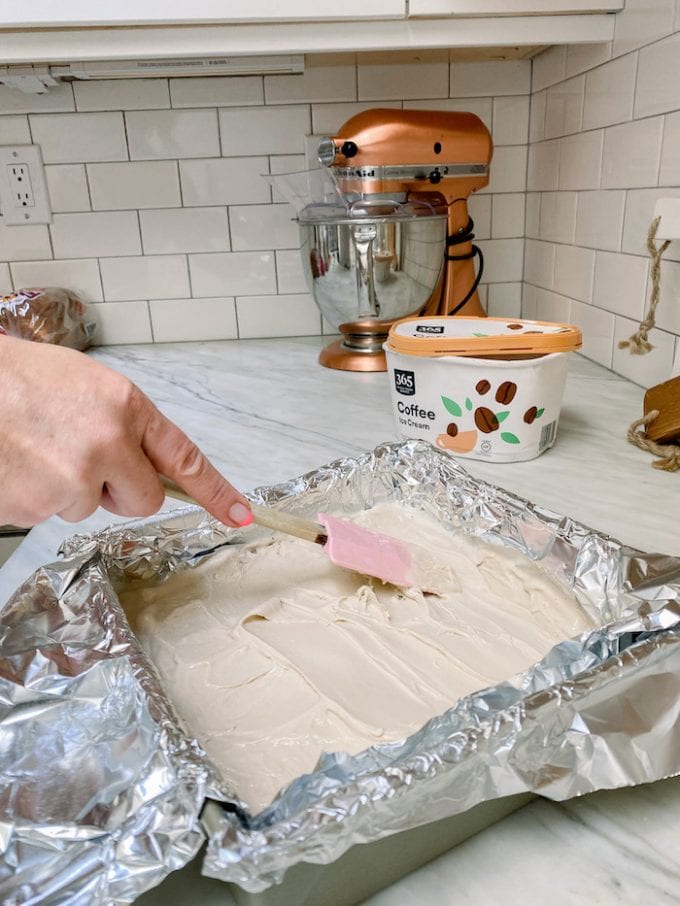 In order to spread the ice cream and prepare it for cutting out into cute circles for our sandwiches, we need to soften it first. Depending on the size of your ice cream, this could take up to 30 minutes. Let it sit on the counter and when it feels like it's soft enough, scoop it out into a wax paper lined baking pan. You want the ice cream to be about 2″ thick for your sandwiches. So, spread the ice cream out evenly onto the pan and then place back in the freezer for at least 1-2 hours.
Note: do NOT use tin foil like I did. I ran out of parchment and wax paper and improvised with tin foil, but this proved to be a disaster as the foil ripped when scooping the ice cream! Ugh. You live and learn, right?
Tips For Scooping Ice Cream For Sandwiches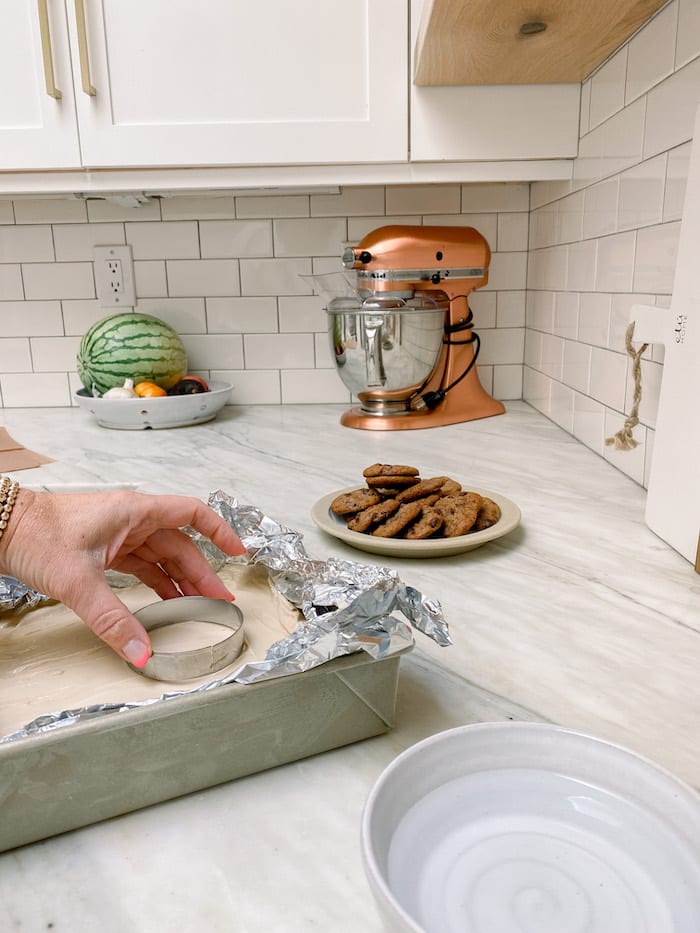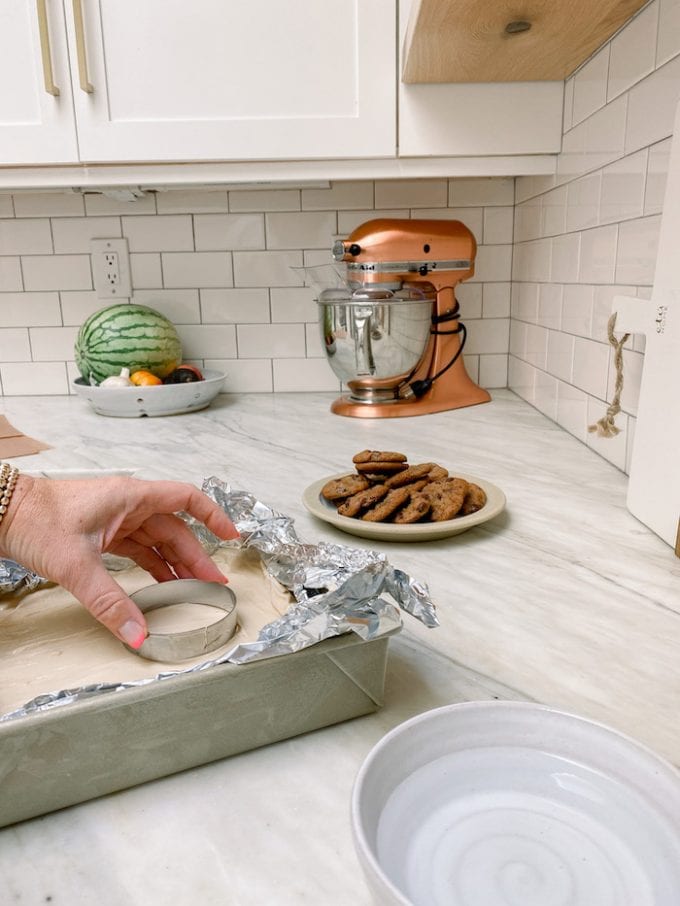 Once the ice cream is hard and frozen again, take it out of the freezer and use a biscuit or circular cookie cutter to cut out your ice cream centers. TIP: Dip the cookie cutter in water to get a clean sphere with every cut.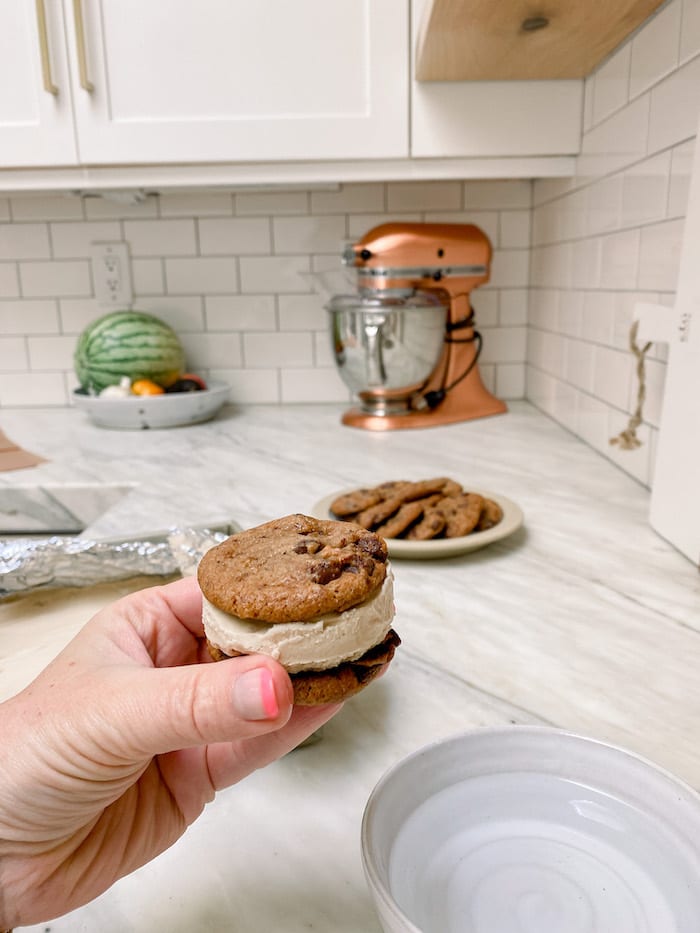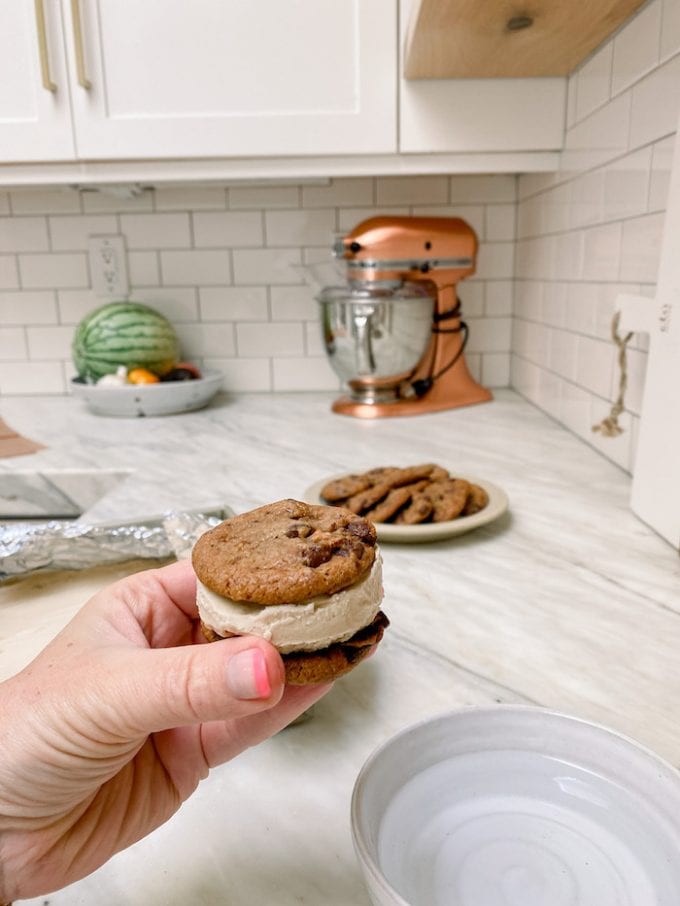 Place the ice cream discs in between two cookies that are similar in size. Smooth out the ice cream with the edge of a butter knife if you want smooth sides. Then, individually wrap the cookie in parchment or wax paper and place in the freezer on a baking sheet. Continue assembling the ice cream cookies in batches, re-freezing the ice cream as necessary.
How To Freeze Ice Cream Sandwiches
Once your homemade ice cream sandwiches are wrapped in parchment paper, you can place in an airtight container and freeze for up to two months (if they don't get eaten before!).
After assembling the cookies, you want to quickly place them back in the freezer in a single layer on a baking sheet to get them frozen again. After a few hours, you can transfer them to an airtight container for long-term storage.
How To Package Homemade Ice Cream Sandwiches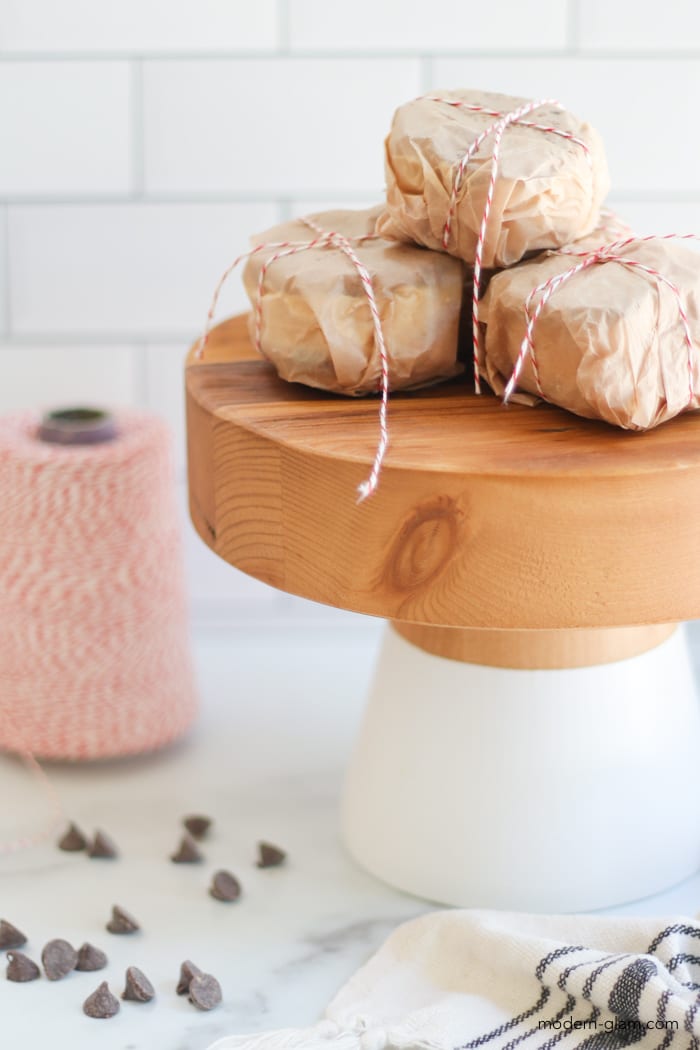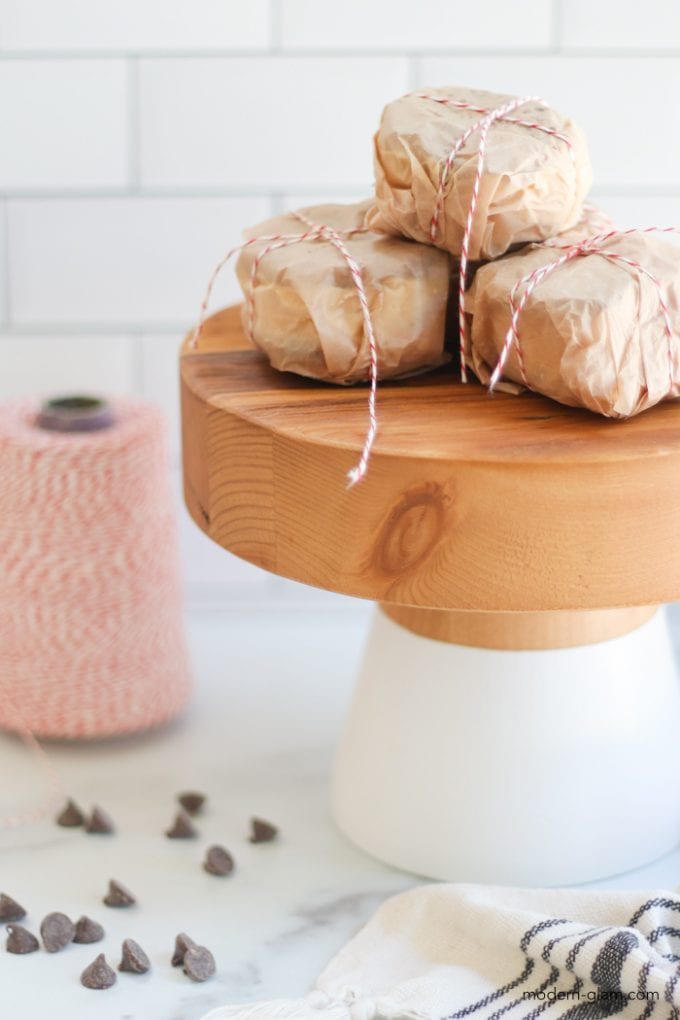 Wrapping your ice cream cookie sandwiches individually not only prolongs the shelf life of your dessert, but it prevents a sticky, gooey mess too! See, when you place your ice cream sandwiches in the freezer after assembling, it may take a few minutes for them to freeze up again. Which means there may be some melting that happens. So, wrapping them individually is the best idea – and they turn out pretty darn cute too!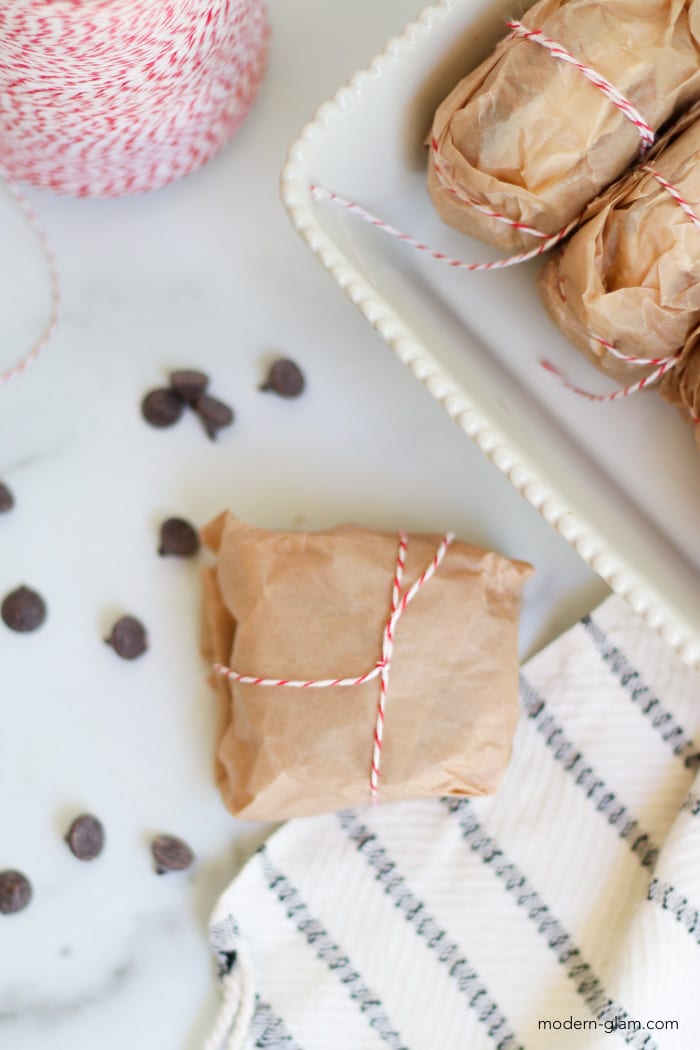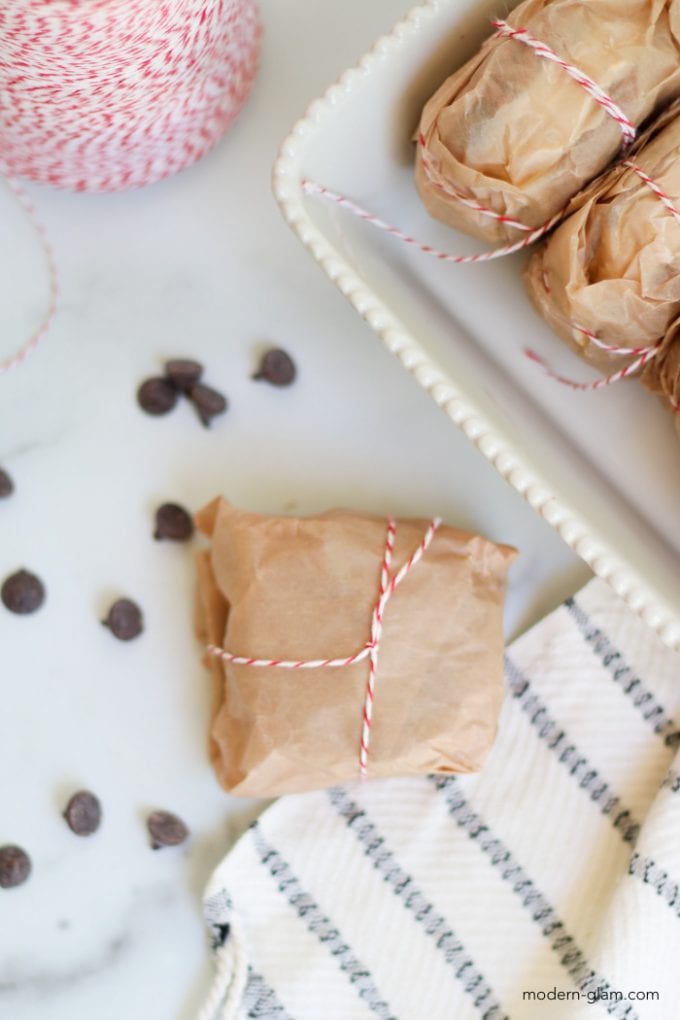 You can get as fancy or simple as you want with this step. But I found that placing the sandwich in the middle of the parchment and wrapping it up like you would a present is the easiest way to go. You can tie them up with bakers twine or simple place them seam side down in the container you will be storing them in.
Happy eating!
Be sure to check out these other delicious frozen dessert ideas being shared today. So many mouth-watering recipes. Click the link below the images to visit their posts and tell them I said 'hi'!
10 Summery Frozen Dessert Recipes

3-Ingredient Keto Strawberry Creamsicle Popsicles // Tatertots & Jello
Easy Strawberry Cheesecake Ice Cream Recipe // Twelve On Main
Mochi Ice Cream Recipe // Happy Happy Nester
Easy Ice Cream Cupcakes // My 100 Year Old Home

Homemade Ice Cream Cookie Sandwiches // Modern Glam
Homemade Mango Ice Cream Recipe // Paint Me Pink
Biscoff Ice Box Cake // Most Lovely Things

Frozen Mini Key Lime Pies // Life Is Better At Home
Frozen S'mores Bars // My Sweet Savannah
Best Ever Chocolate Hazelnut Gelato // Maison De Cinq