After 4 years of having our Serena & Lily Hanging Rattan Chairs, here's my honest review and some tips if you are thinking of purchasing them!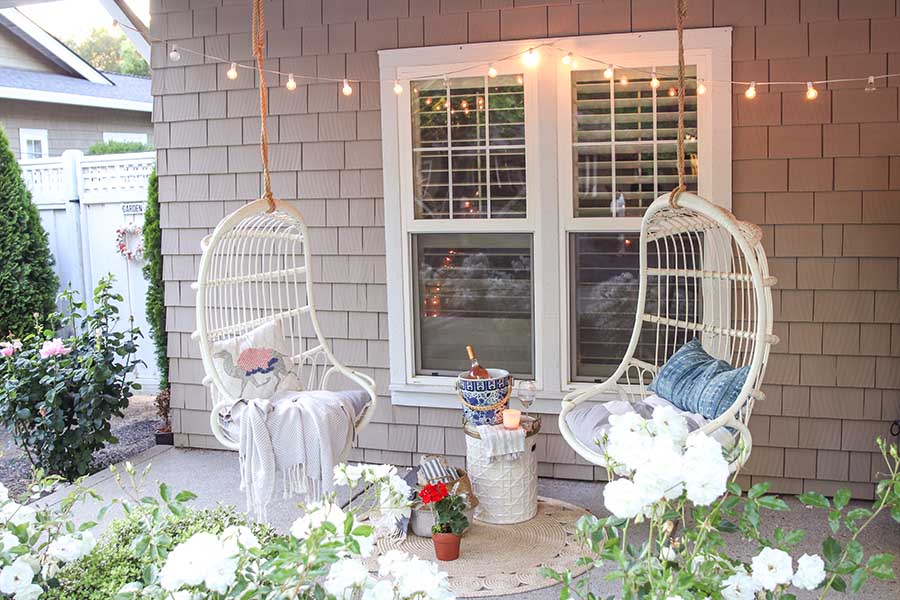 My honest review of our Serena & Lily Hanging Rattan Chairs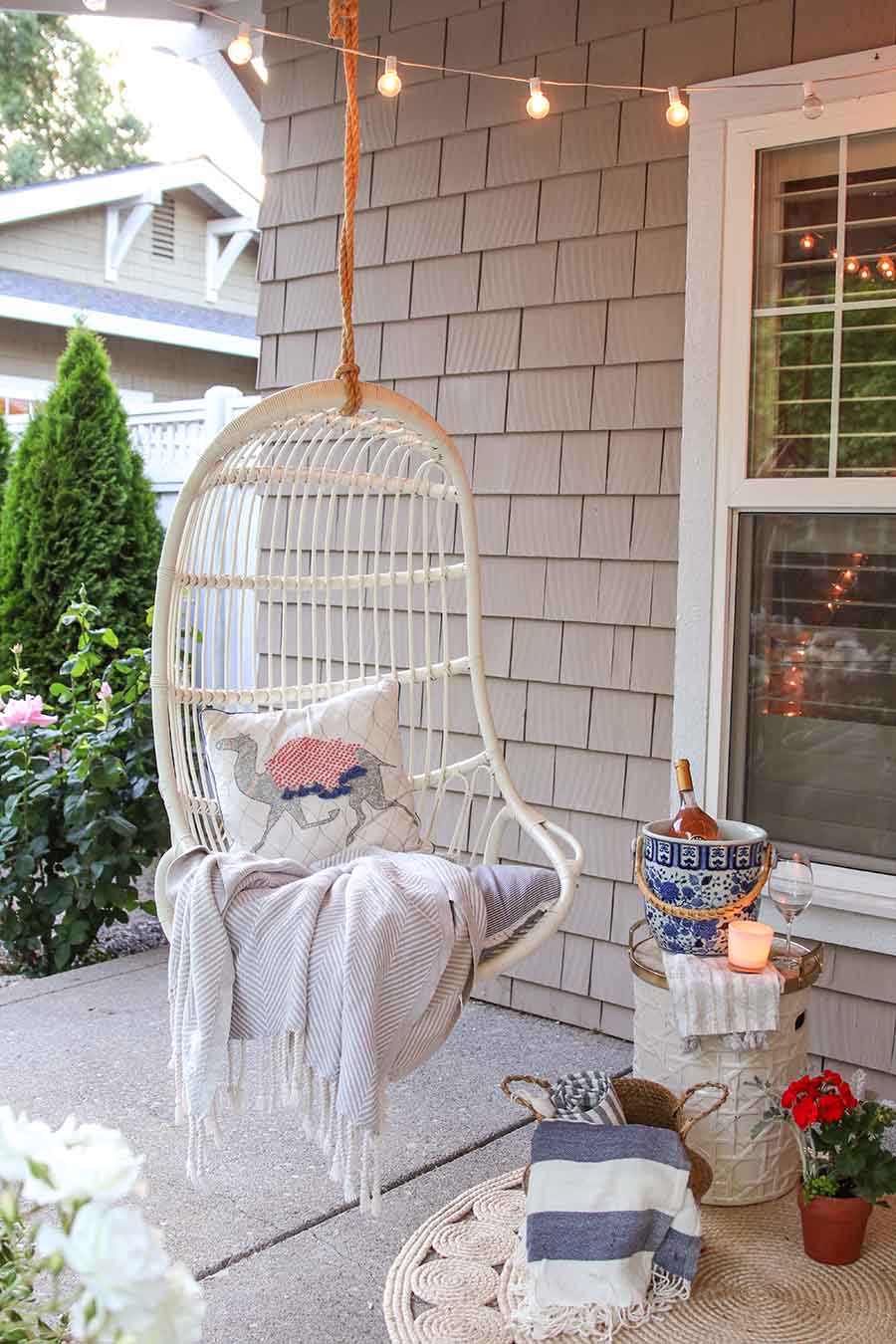 If you are thinking of purchasing these hanging rattan chairs from Serena & Lily, I hope you find this review useful! Let me know if you have any specific questions – I'm happy to answer them to the best of my knowledge!
And, you may find this review of our Serena & Lily Riviera Stools & Chairs useful as well.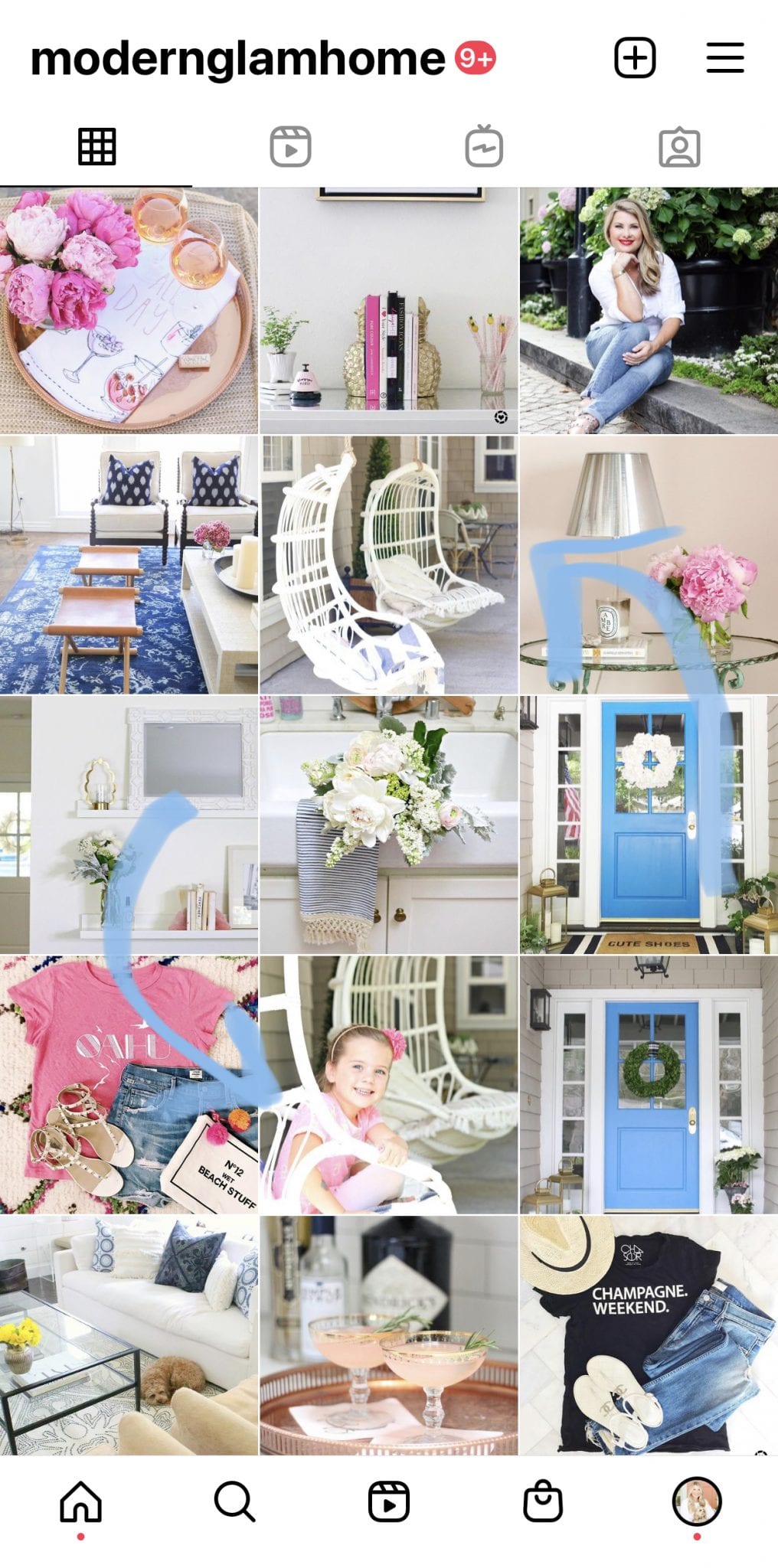 I had to scroll way back in my Instagram Feed to find when I first purchased our hanging rattan chairs. It has been over 4 years!
I will break down all the reasons why we love them, tips for maintaining them and how to install and hang them too. Spoiler alert, we LOVE them.
What We Love About Our Hanging Chairs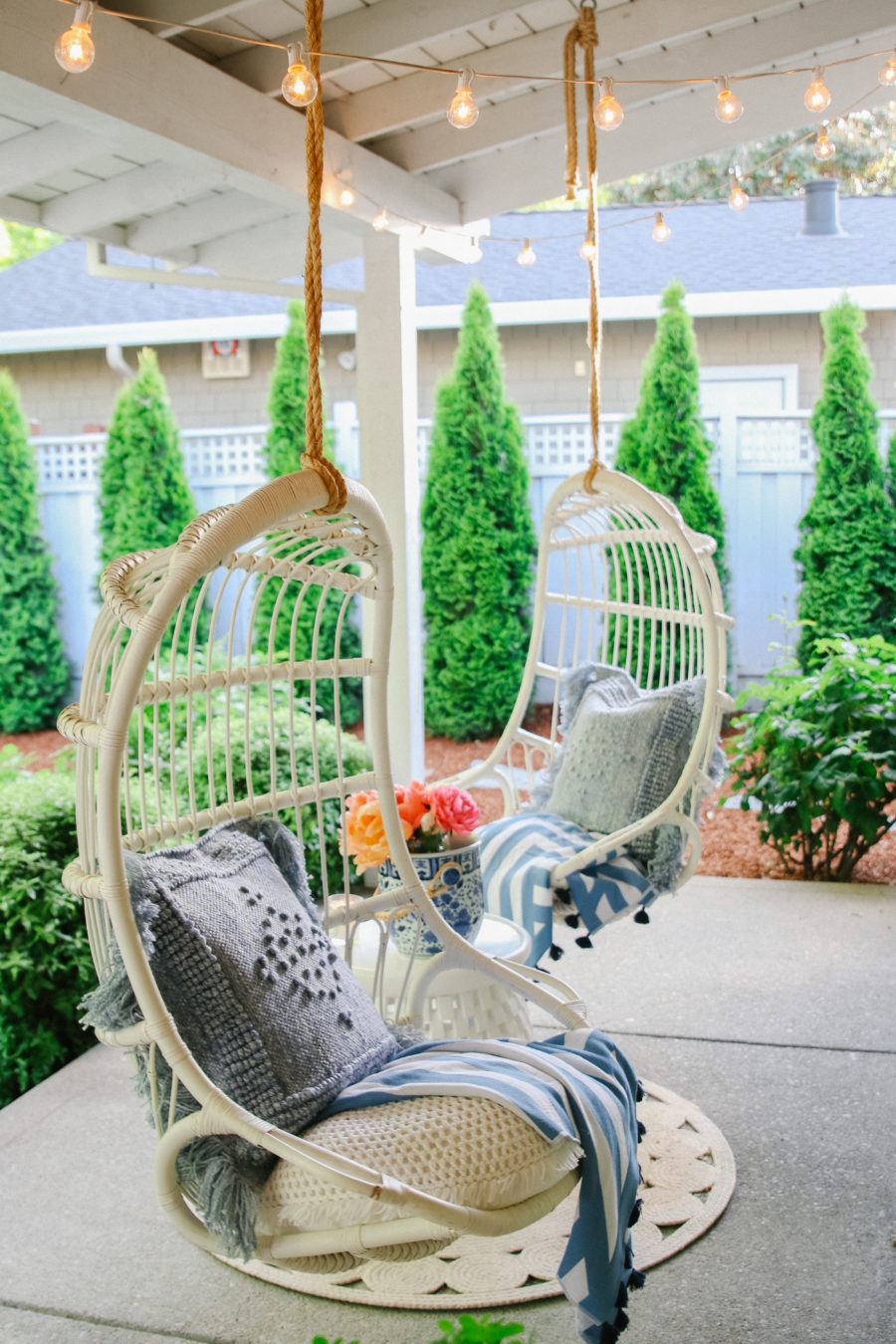 I first fell in love with these hanging chairs because of the beautiful hand bent frame and rattan detailing. See, they are unique with their intricate spindles, wrapped cane seat and thick and chunky rope detail. We have the white color which is painted in a durable matte finish.
I was drawn to the design because it has a slightly nostalgic vibe to it. After all, these Serena & Lily hanging rattan chairs are inspired by a Scandinavian design from the 60's. Paired with the long, chunky rope, I love the organic shape and feel of them!
We installed the chairs on our covered front porch. And we use them every single day, all year round! Because we live in California with a mild and dry climate, we did not buy the Outdoor Version of these Hanging Rattan Chairs. But, if I were to install in an uncovered area or more humid climate, I would definitely go with the outdoor version.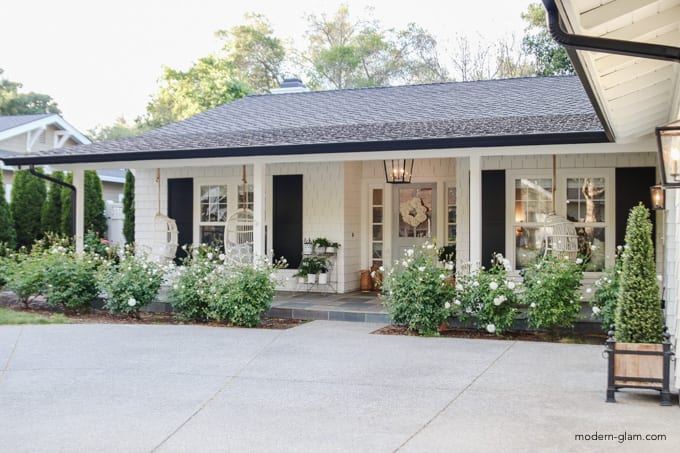 Having these rattan hanging chairs on our front porch adds so much curb appeal and charm to the exterior of our home. Our kids constantly enjoy snacks and weekend lunches out here, swinging away. And our neighbors like to gather on the porch for happy hour and fight over a seat on one of the swings.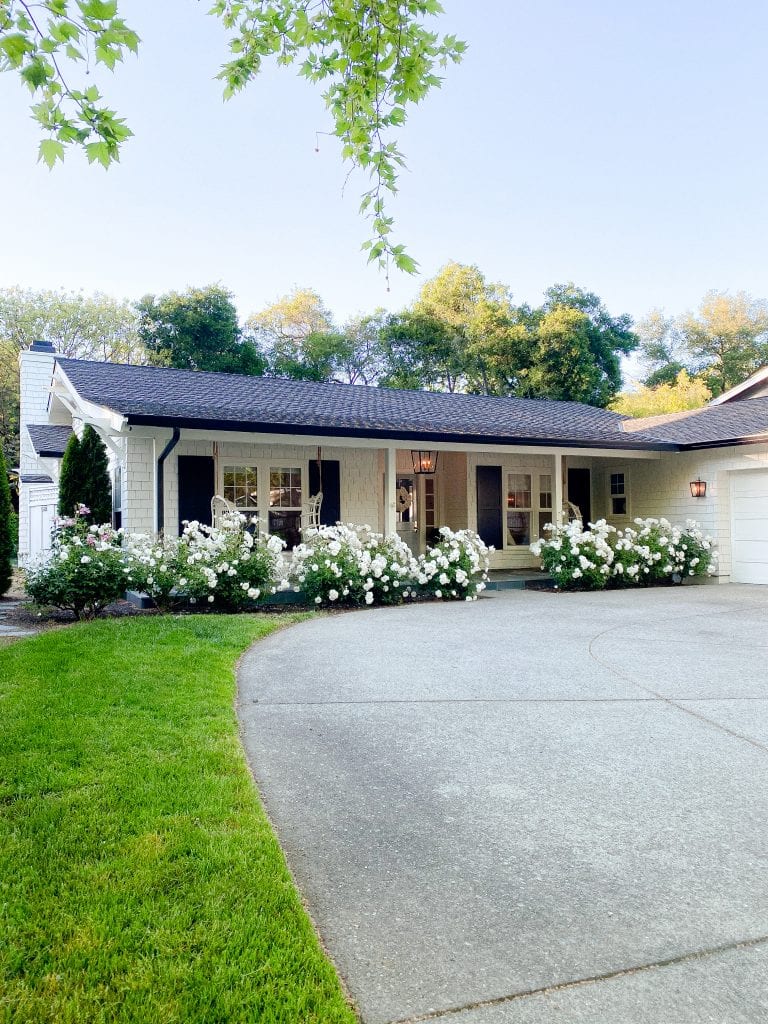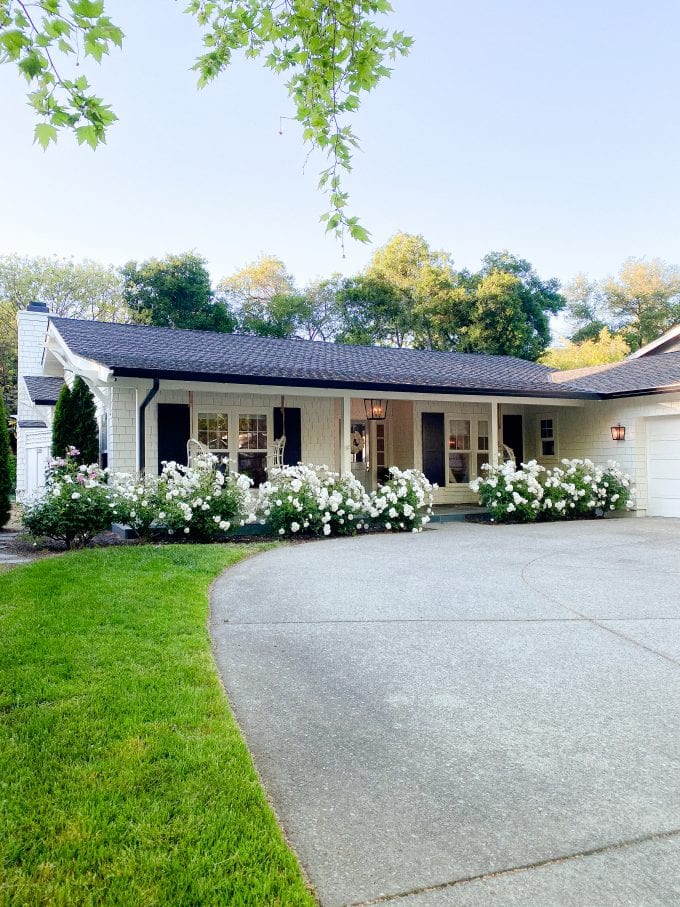 We love these Serena and Lily hanging rattan chairs so much that last year I added a third chair to the other side of the porch! There just wasn't enough room for 4, otherwise I would have added more.
And while, they aren't cheap, I have to say that if you are going to be using these chairs regularly, you will want to invest in a quality product that can last for years to come. After the popularity of this Serena & Lily hanging chair, there are now some dupes on the market. But, after fours years of living with these rattan chairs, I am so happy we decided to go with these S&L hanging rattan chairs.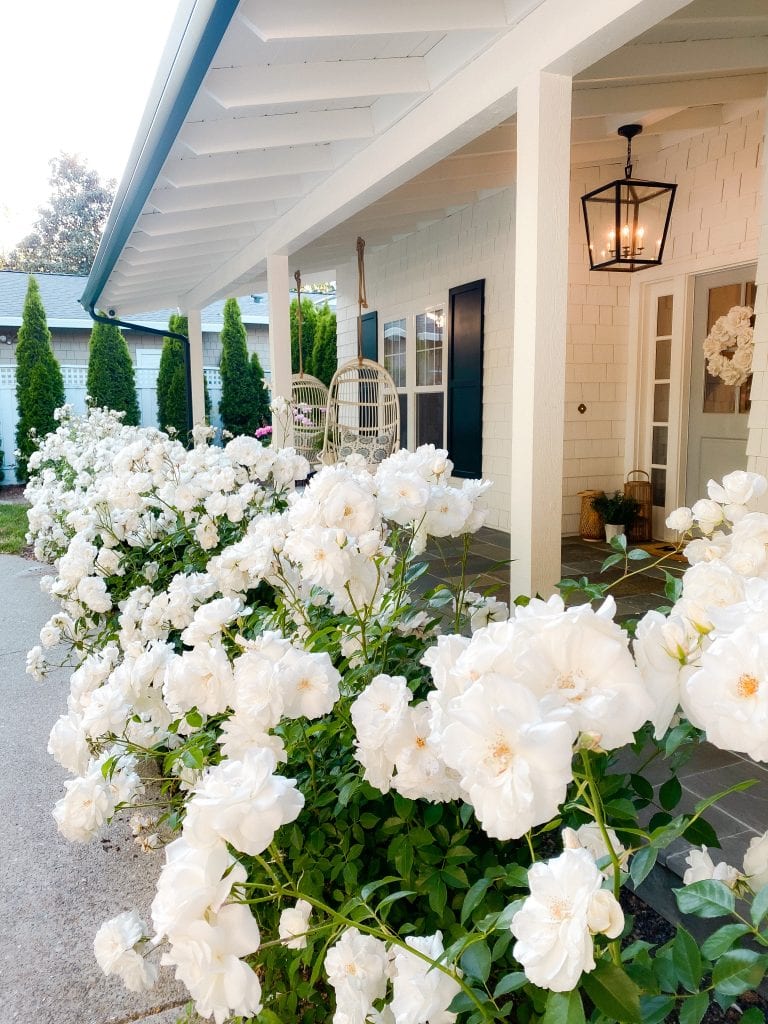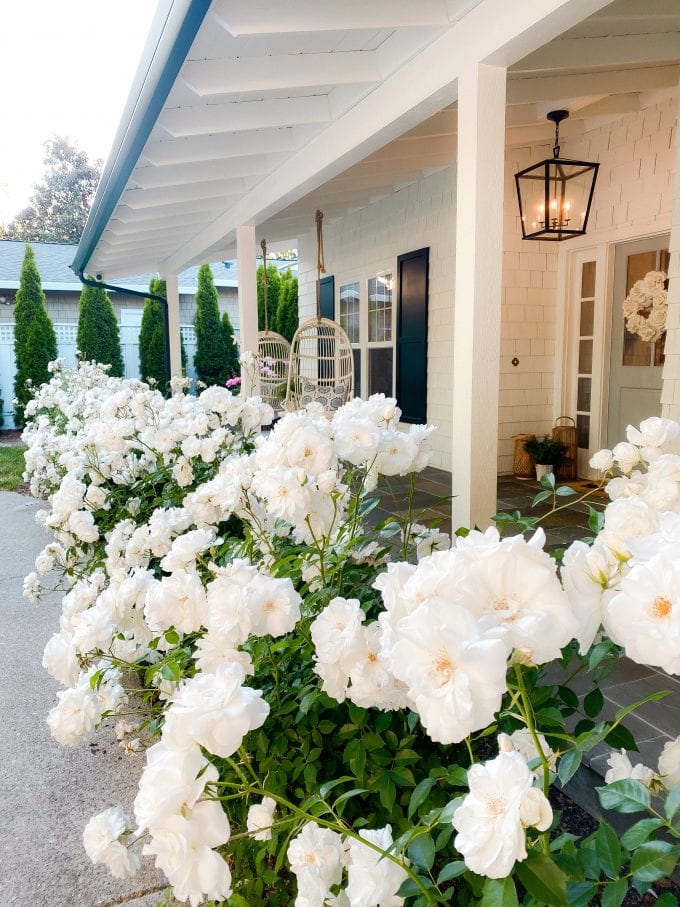 How We Clean and Care For Our Hanging Chairs
Over time, these rattan chairs can get dusty and a bit dirty. The spiders especially like to spin webs in between the caned spindles. Once a month I like to take a soft cloth and duster to the frame. I brush off any dirt and dust that can accumulate on the top and run a duster through the spindles to remove any spiderwebs.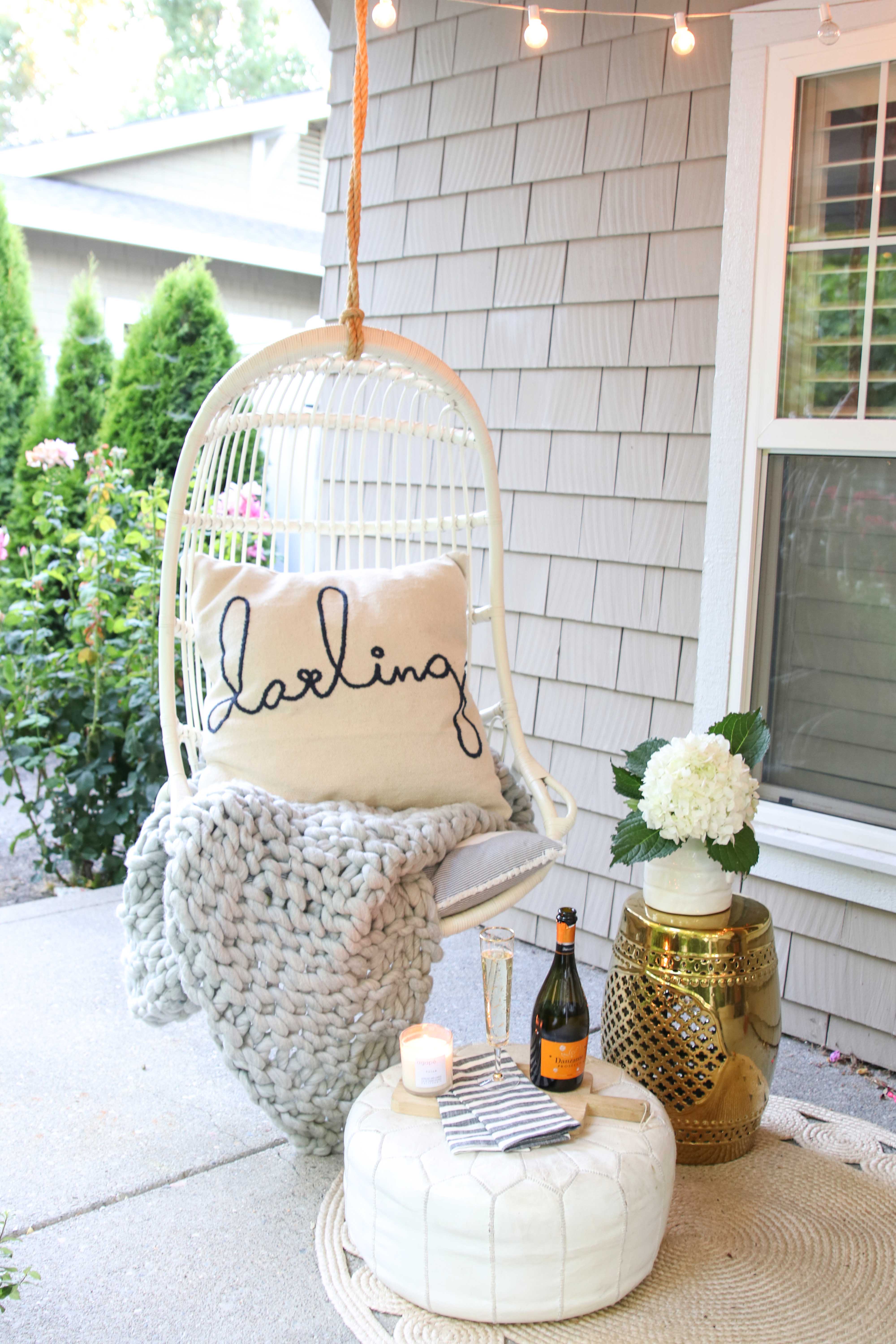 I have not needed to touch up any paint or do anything else to keep up the beautiful look of these chairs. Just a regular cleaning and dusting has helped preserve the original look of the painted rattan.
The most common questions I get asked about our chairs (with answers):
Are Hanging Rattan Chairs Comfortable?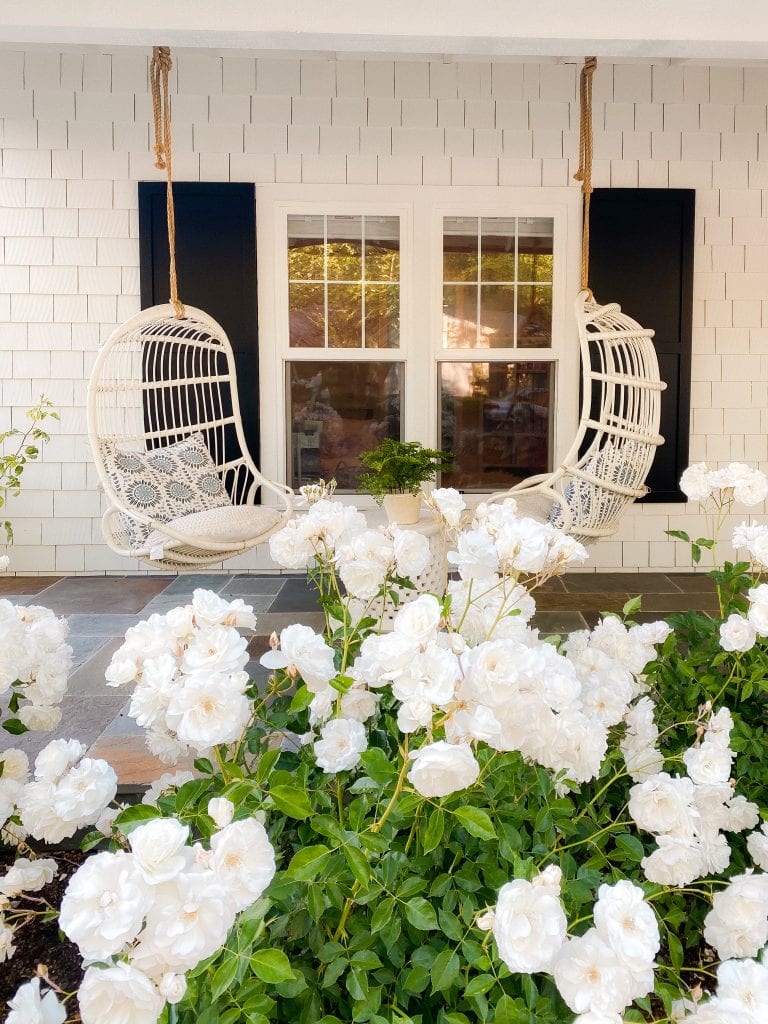 I can honestly say, this Serena & Lily version is soooo comfortable. We generally always have some sort of cushion or pillow on the bottom of the chair. And sometimes I add a pillow in the back, but that is usually more for looks than comfort. These chairs are comfortable for sitting and swinging for HOURS. And they have a deep scooped seat that makes it feel as if you are being cradled.
"From morning coffee to happy hour and beyond, these chairs are one of our favorite seats at our house!"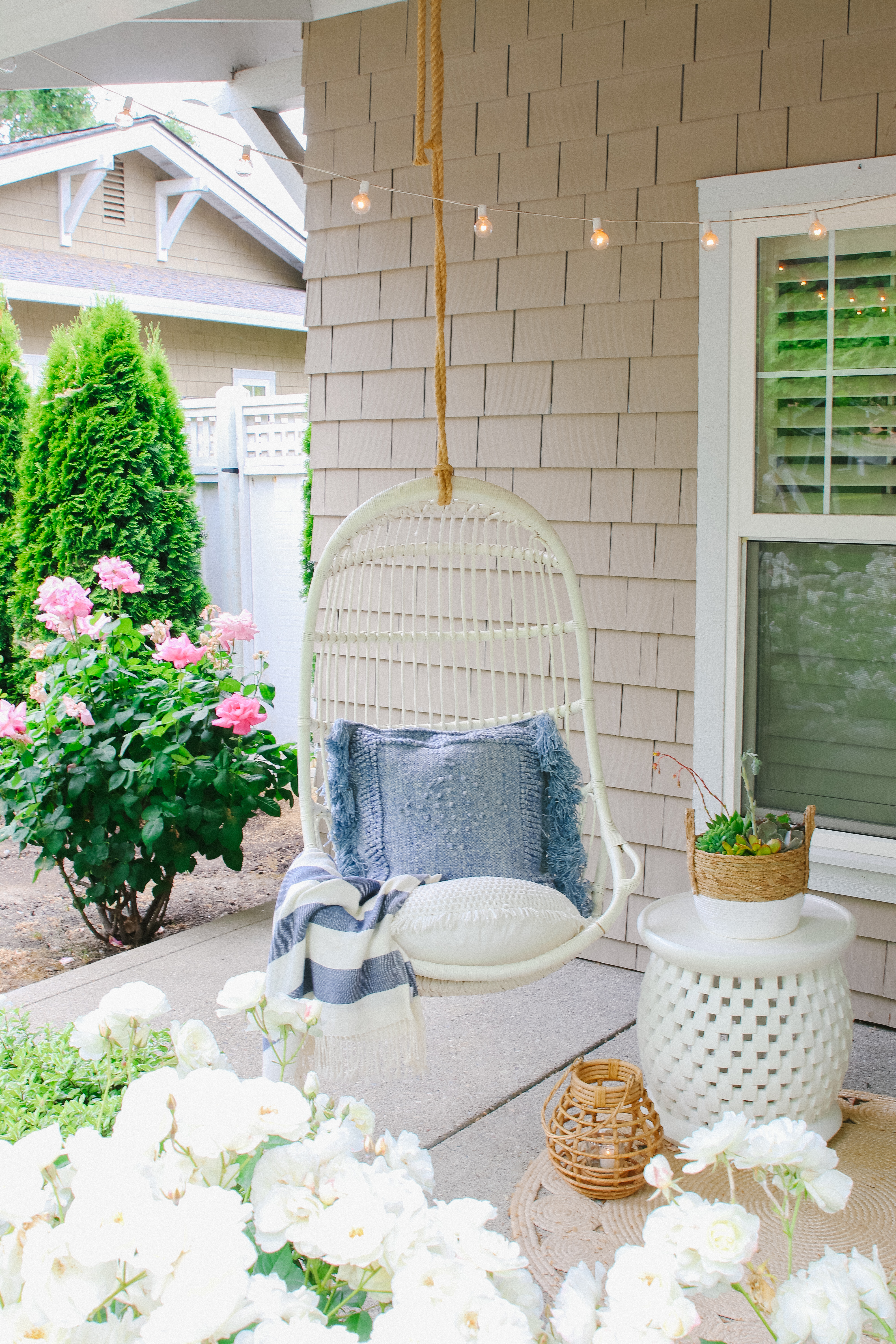 You can place a euro sized (26×26) pillow on the seat for added comfort or a small sheepskin rug. As you can see from these pictures, I like to switch up the pillows on our hanging rattan chairs. I think it's the easiest (and most affordable) way to update the look of your home.
How Much Weight Does A Hanging Chair Hold?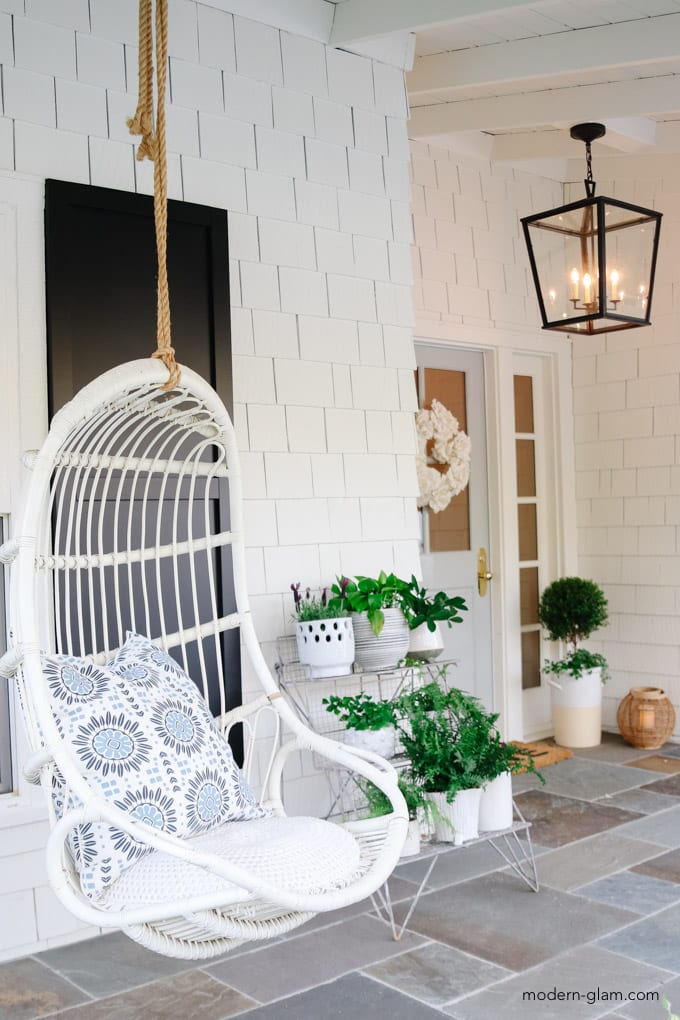 The Serena & Lily single hanging rattan chair can hold up to 300 pounds. If you are looking for a chair that can accommodate more weight, the Double Rattan Chair can hold up to 800 pounds. I love the look of both the chairs!
How To Hang A Serena & Lily Rattan Chair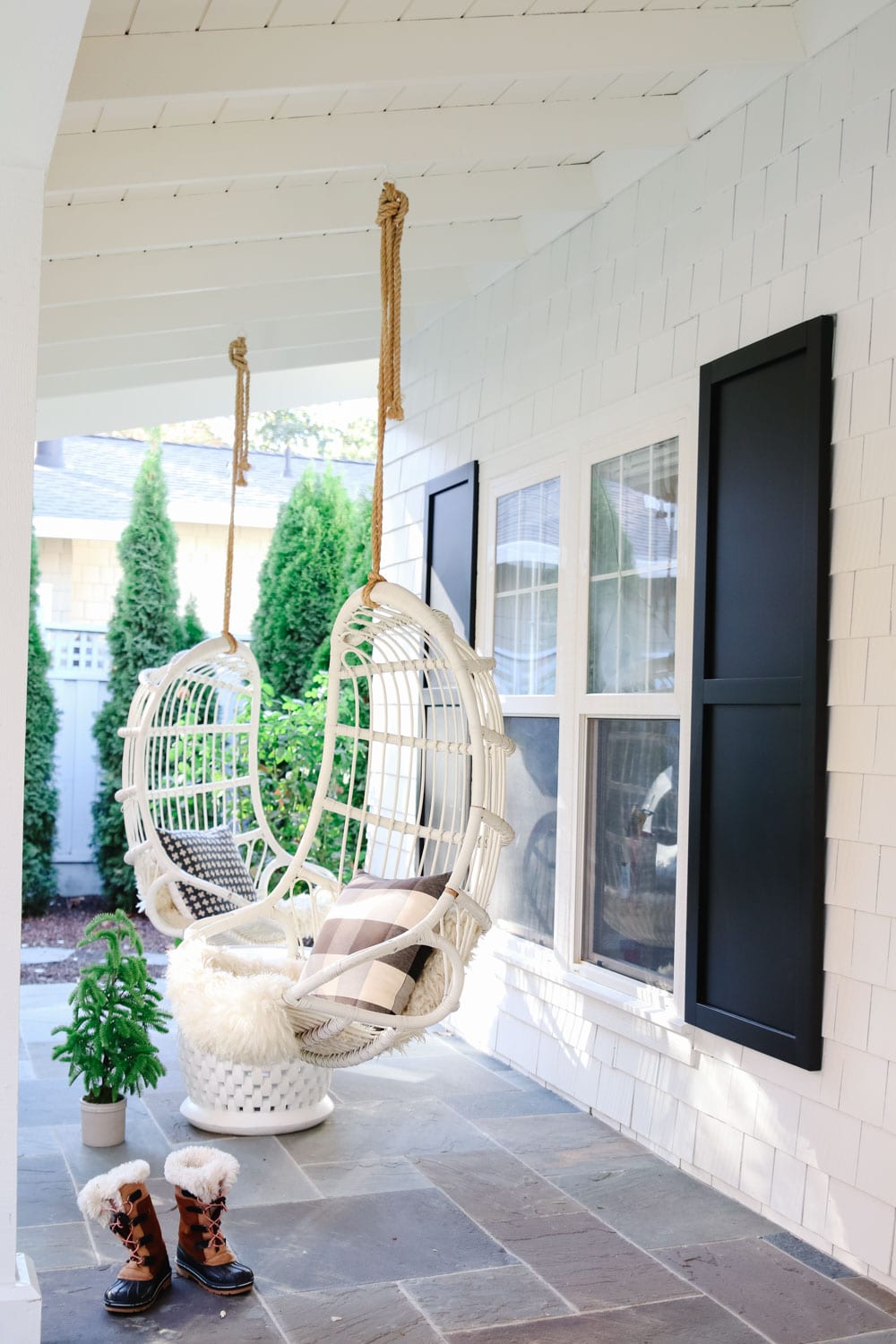 The Serena & Lily hanging rattan chair comes with 13 1/2 feet of rope tied to the top of the frame. We used 5″ Stainless Steel Eye Bolt Screws to hang our chairs. First, we drilled a pilot hole into the wooden beam on our porch ceiling. Then we screwed the eye bolts into the beams. And lastly, threaded the rope through the eye bolt and tied a square knot with the rope and left the ends loose.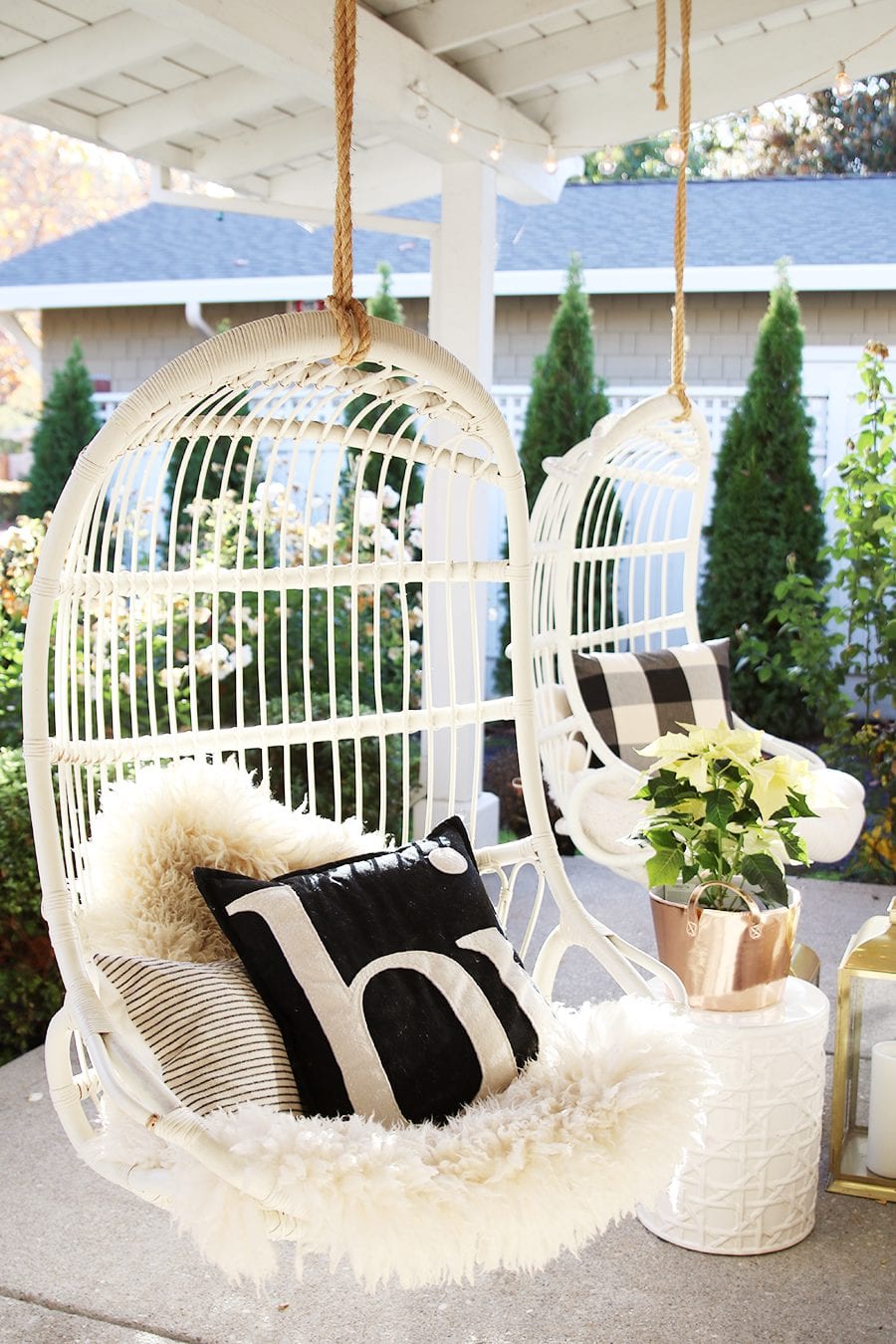 Now, if you are installing indoors or somewhere that you can't attach directly to a wooden beam or joist, I found this article on wiki-how.com that walks you through how to hang a chair or inside.
You will want to start by hanging your chair higher than you want it to be. We have found that after a few sittings the rope loosen a bit (not at the knot but through the length) and the chair ends up coming down about 4-5inches. So, start higher. Also, we have to readjust and tie the knot again about once a year. But, this could be attributed more to our knot tying skills – hehe!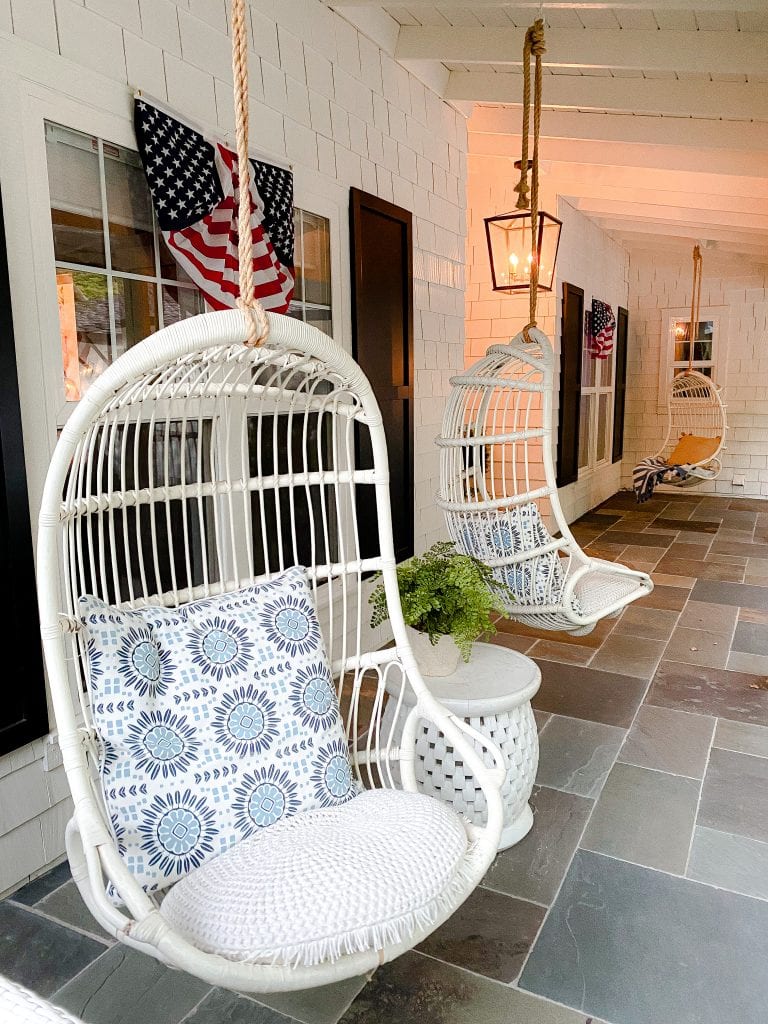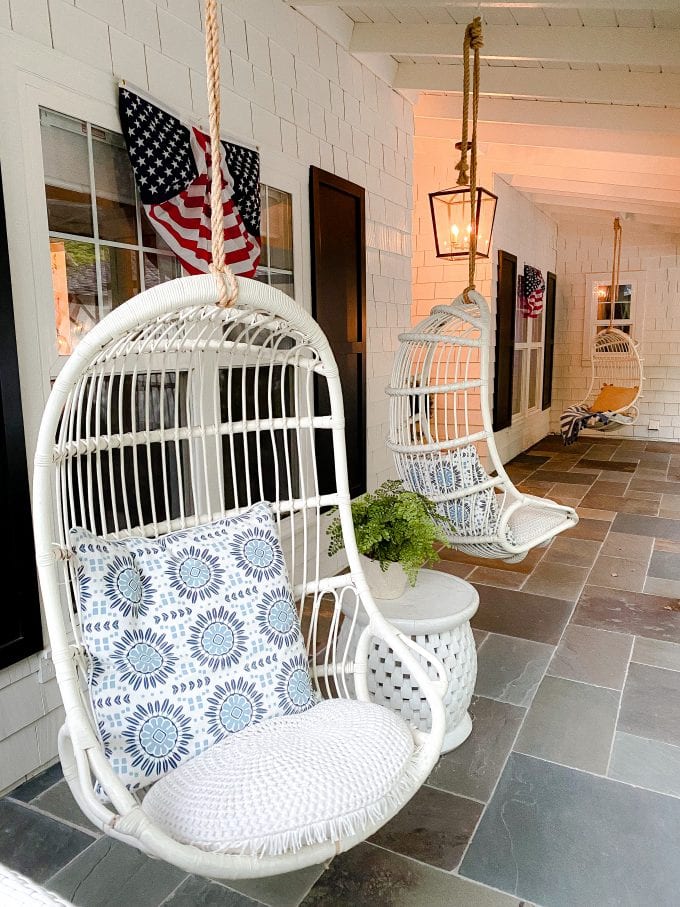 These Serena & Lily hanging rattan chairs have held up very well over the past four years. Not only are they beautiful, but they are comfortable and durable. They get a ton of use, especially by the kids. These hanging rattan chairs have withstood 4 years of climbing, twisting, swinging catapulting and overall general kid funny business by my two kids and their friends!