Thanksgiving is around the corner! Time to think about hosting and gathering together with family and friends!
Come get inspired by this blush and Rose Gold Thanksgiving themed table!
Rose Gold Thanksgiving Table
I keep saying it, but this year has flown by! Can you believe that we are already talking about Christmas and Thanksgiving? The weather here in Northern California just turned to fall this week. So to think about Christmas already has me feeling a little panicky! But to say I don't get a thrill from all the decorating that comes along with the holidays would not be true! I absolutely love it! That's why I couldn't wait to start in on my Thanksgiving table.
Now, if you are looking for a more traditional table that is perfect for Thanksgiving, check out my Glam Farmhouse Table here!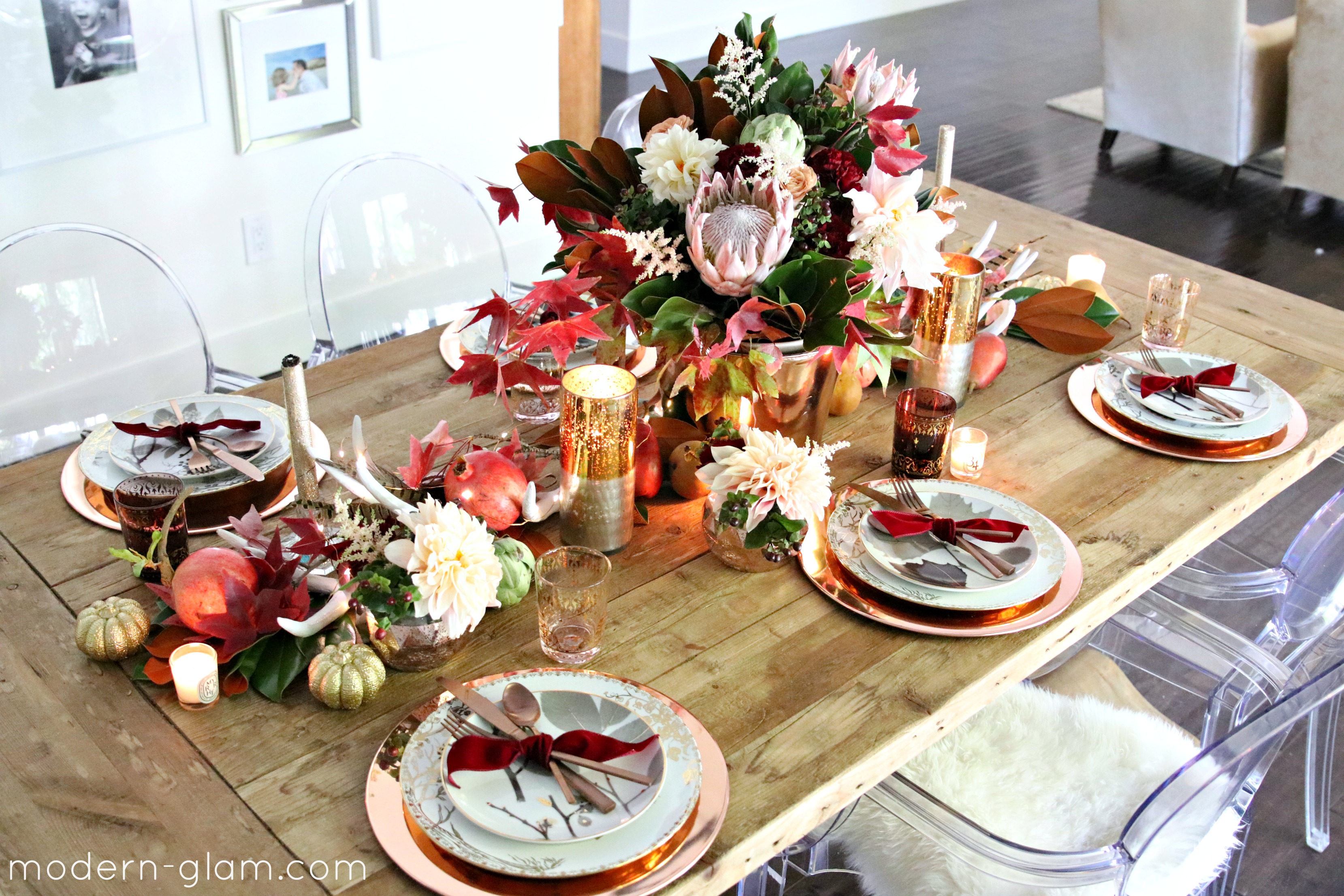 This year I wanted to use more natural elements for my Thanksgiving table. I had a vision of using blush pink flowers and lots of real fruit. I wanted it to feel romantic and moody! So using the plates and rose gold chargers that I already had, I headed to the flower mart and gathered all the beautiful flowers I could find in my color scheme.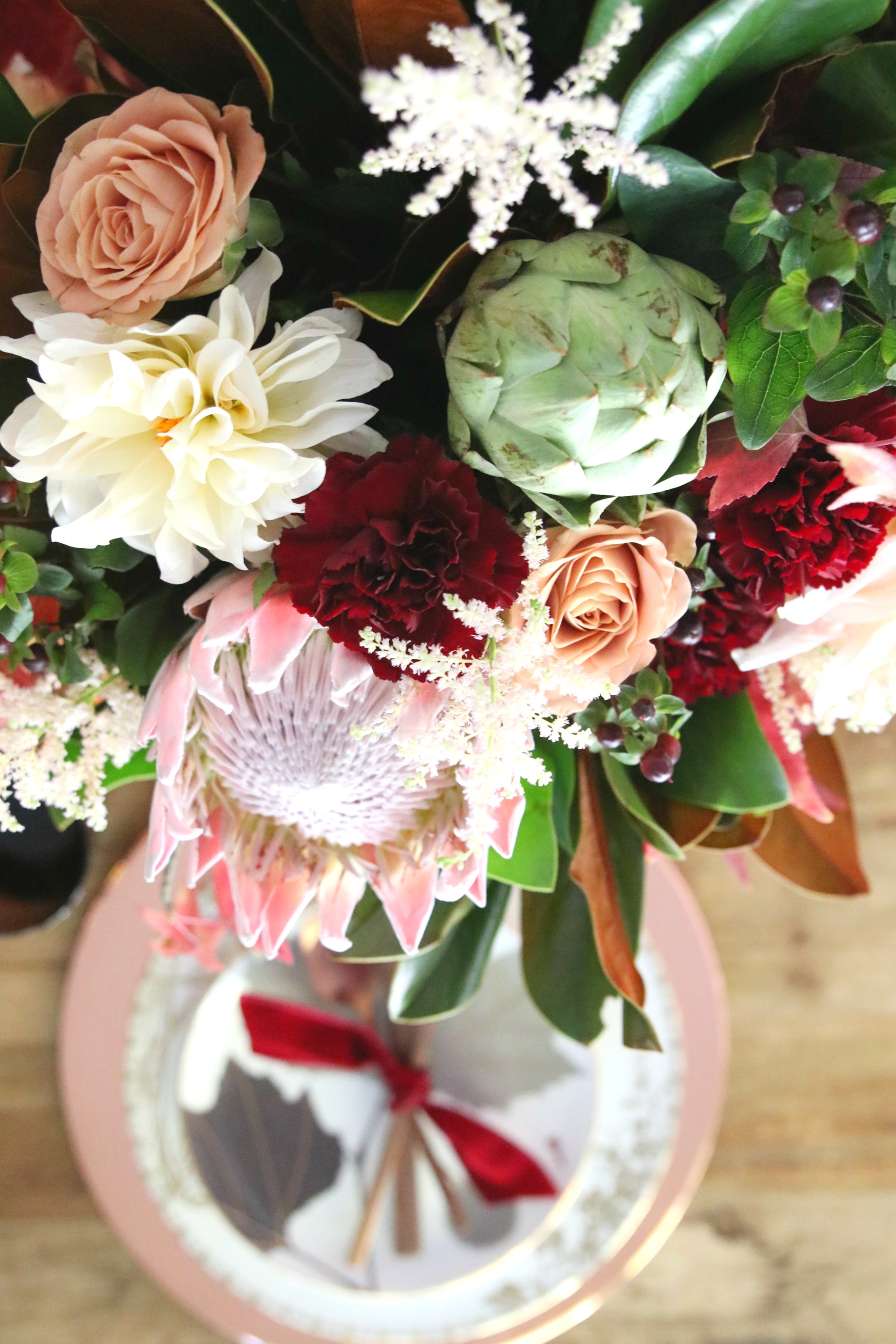 Blush & Rose Gold Thanksgiving Centerpiece
For this rose gold Thanksgiving table, I knew that I wanted to have a mix of fall colors but also some blush flowers to go with the rose gold accents. The roses and dahlias in the perfect shade of blush really fit the bill. I also used a few Protea flowers that added some texture. And I added in magnolia leaves, berries and carnations. The sprigs of maple leaves were the final touch that really made it feel like fall!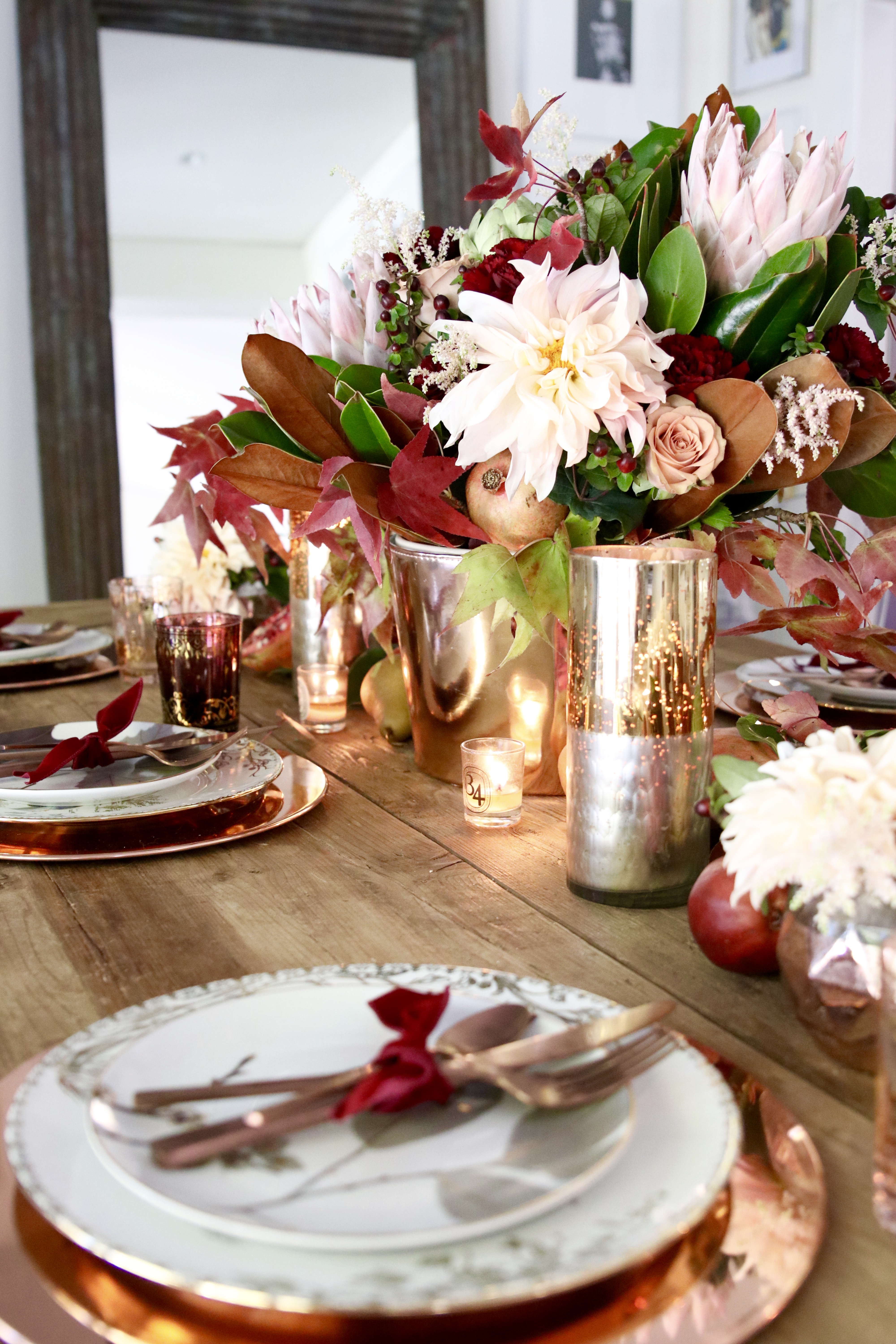 I love the idea of incorporating items from the produce section too! A few pomegranates, pears and artichokes were all I needed to add a little seasonal touch. And I cut the pomegranate in half to really bring out the dark wine colors in the carnations and maple leaves that I had on this rose gold Thanksgiving table. I love doing unexpected things like that!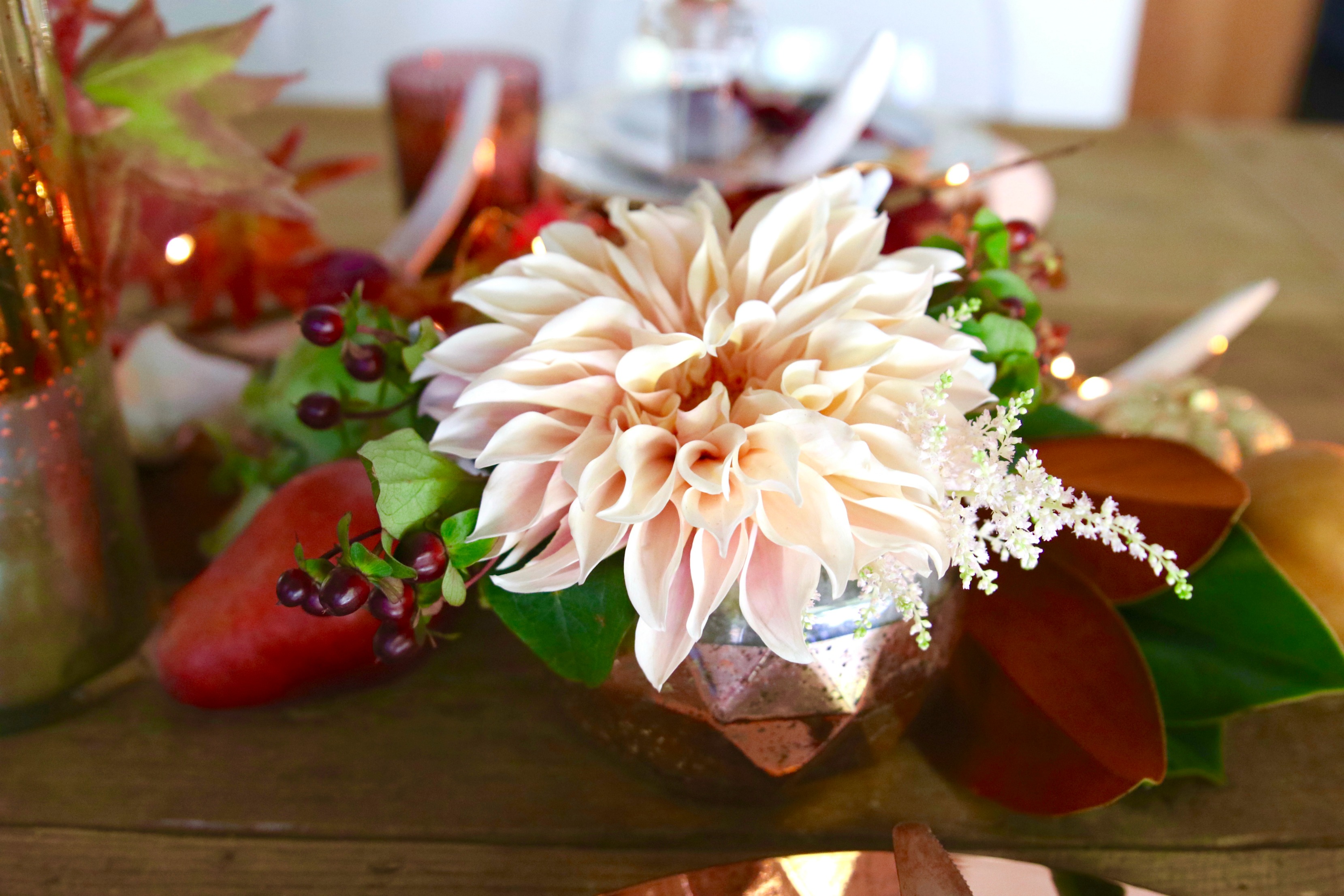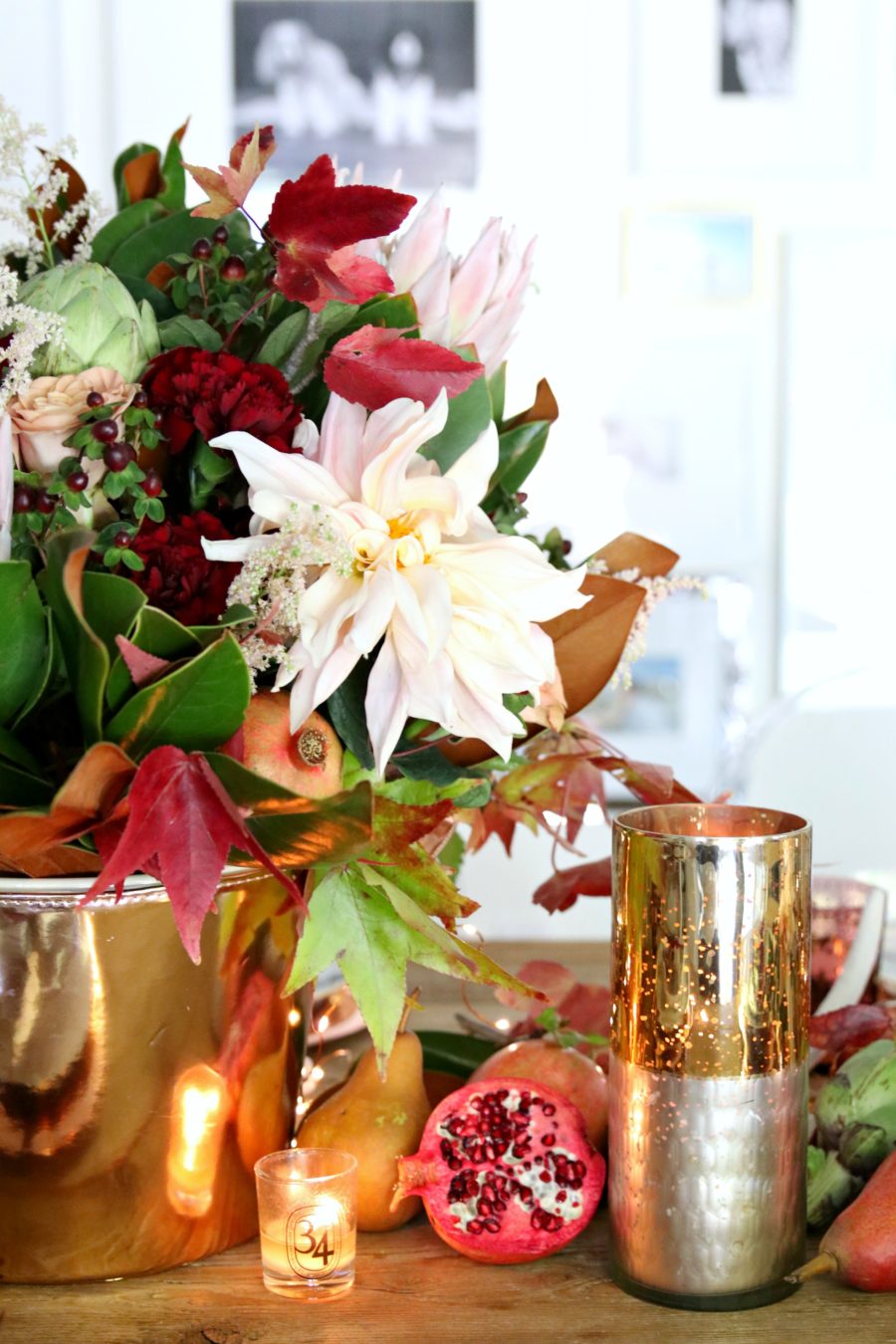 Thanksgiving Table Setting
For the table settings, I kept things pretty simple. I gathered together all my candles and layered them throughout the table. And I used one strand of battery operated twinkle lights to really make the table feel special.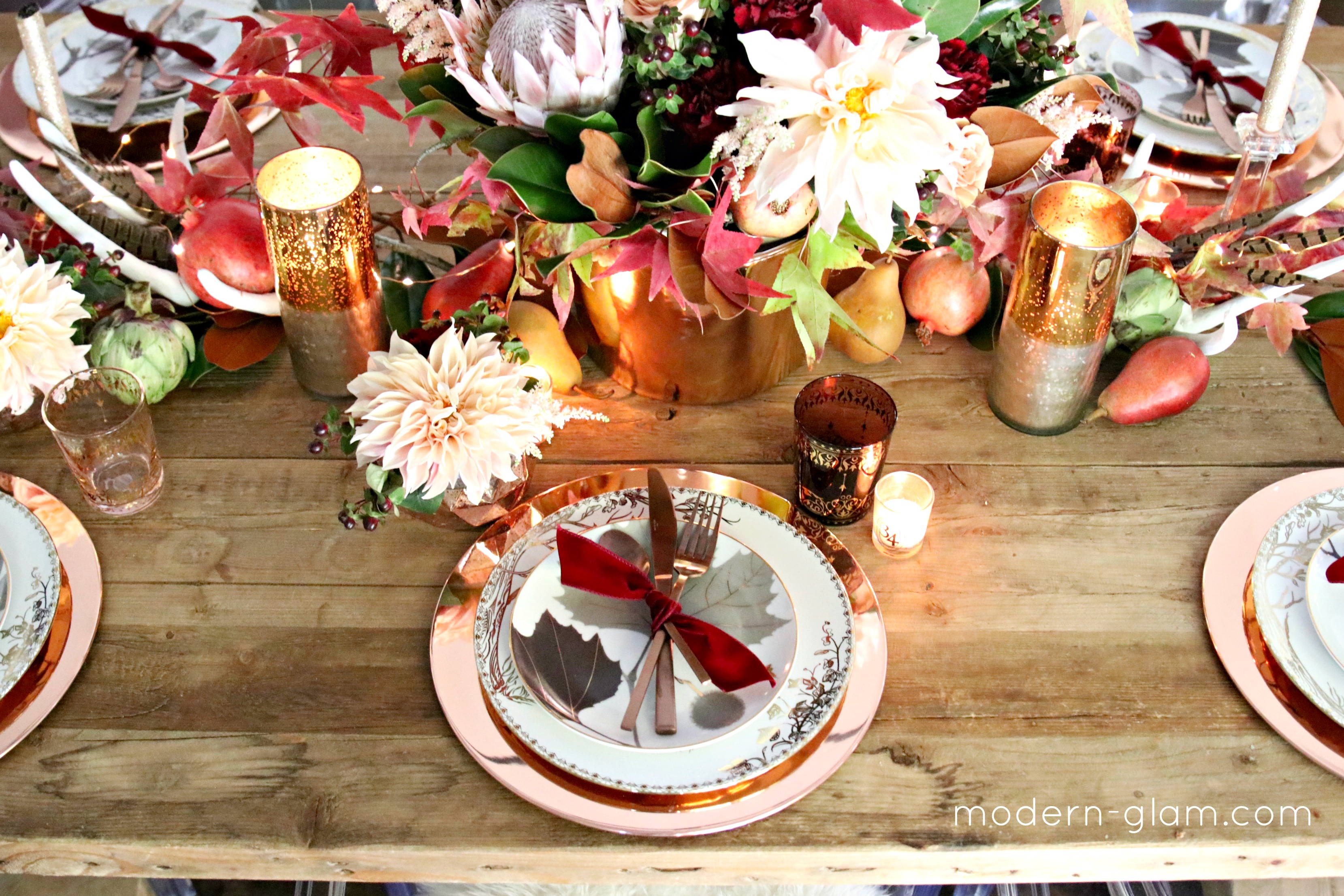 How pretty are these Thanksgiving plates found at Homegoods layered on top of these gorgeous rose gold chargers? The chargers were a bit of an investment for me a few years ago and I don't regret it one bit! They are so pretty and reflective. And I really think they pick up the beautiful glimmer of the candles and set the tone for the table. I use these chargers for all holidays. Easter, Thanksgiving and Christmas!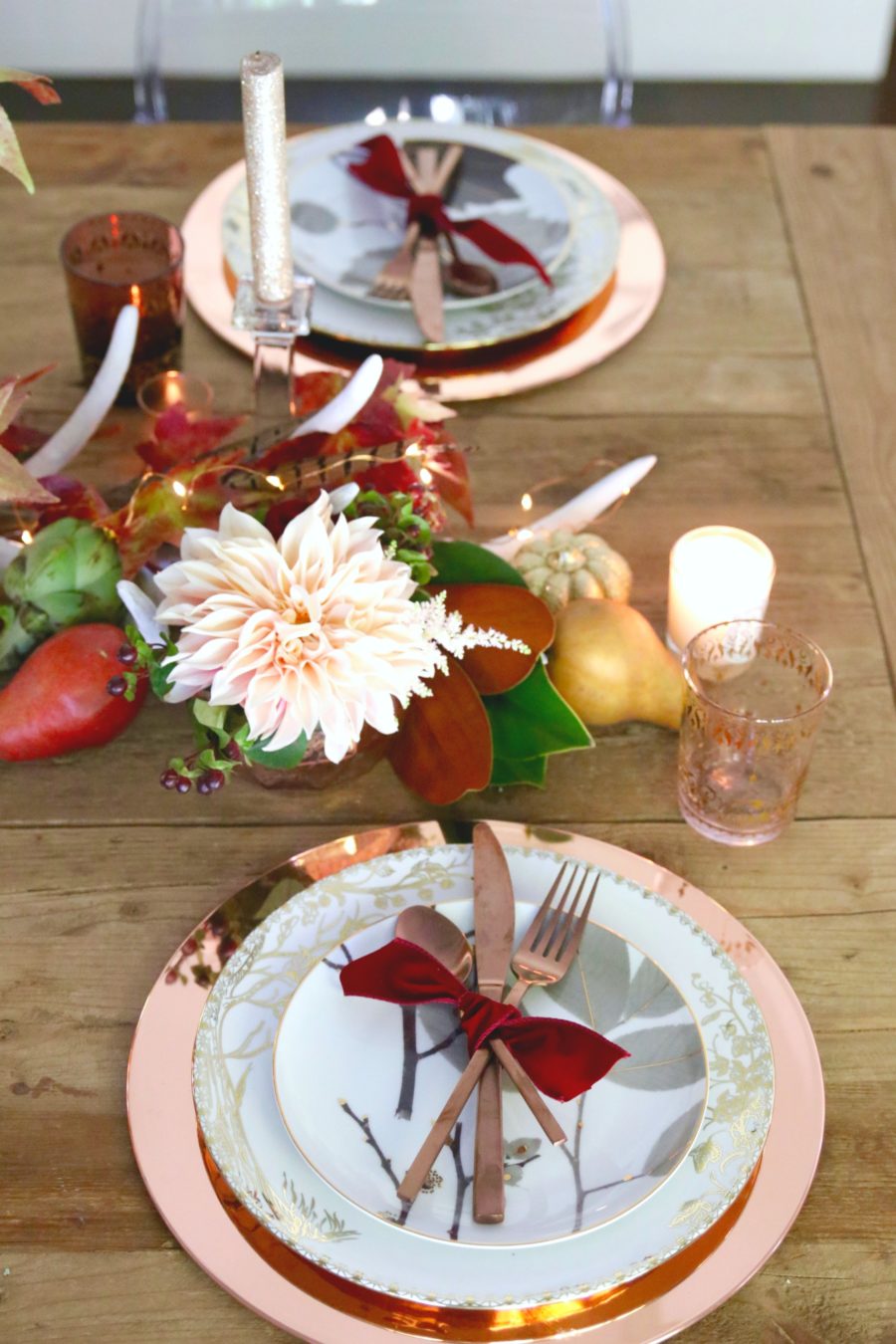 I tied the flatware together with a crimson velvet ribbon that really popped and brought out the dark reds in the flower arrangement.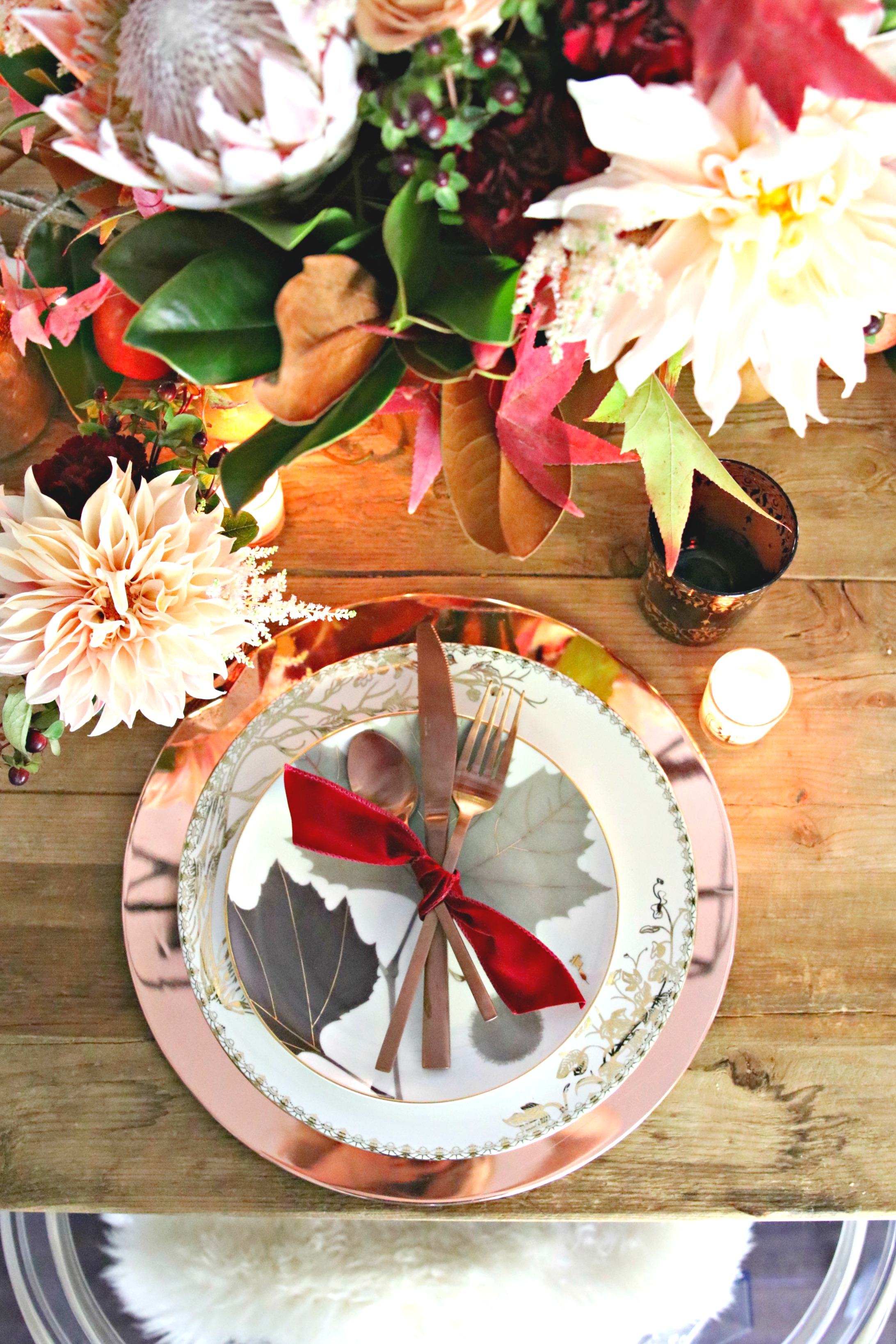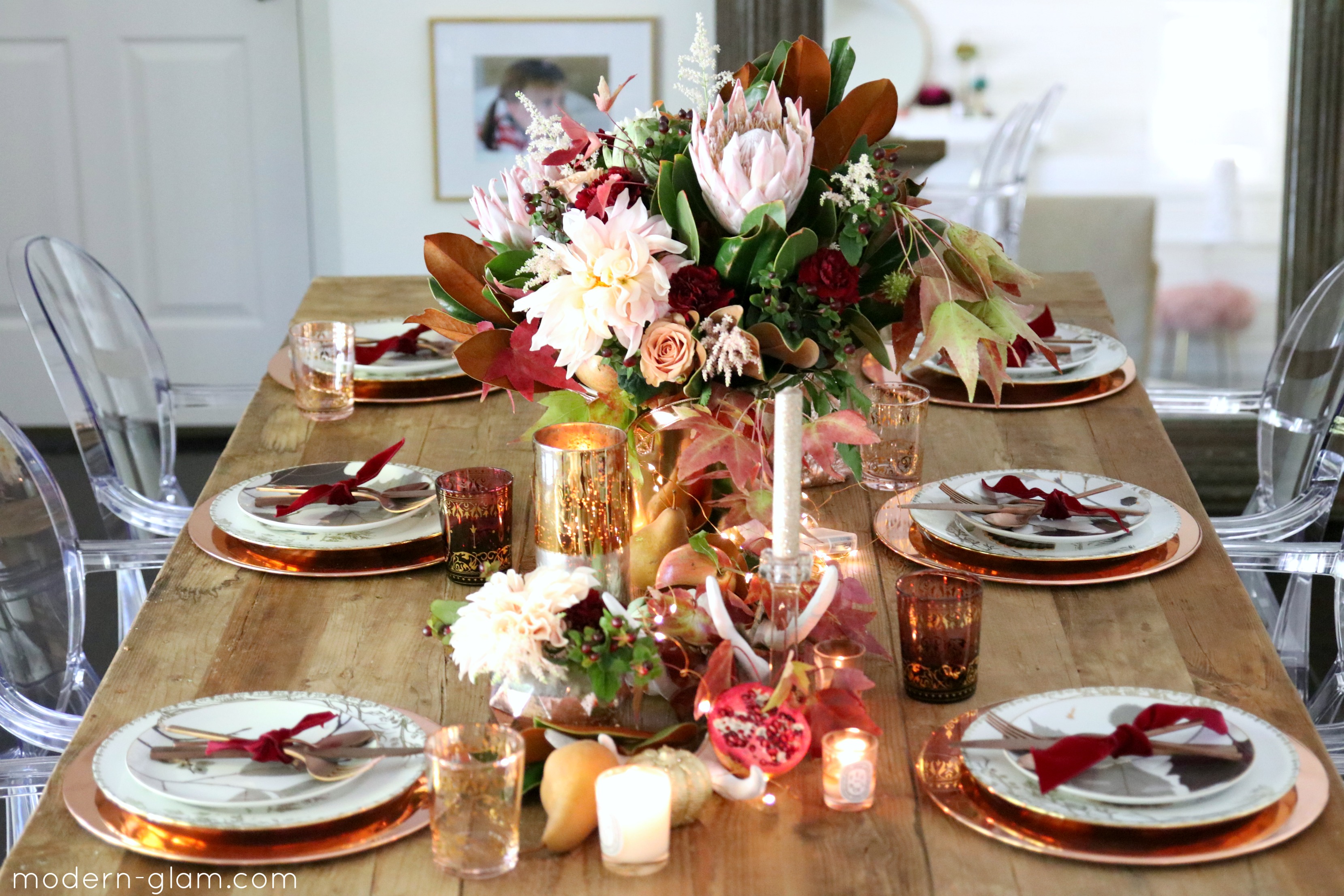 Rose Gold Thanksgiving Bar Cart
And I always have to update my bar cart for the occasion. For Thanksgiving, I added some rose gold accents and my copper bar cart accessories. The copper tray I found at a local antique store. Don't you just love finds like that?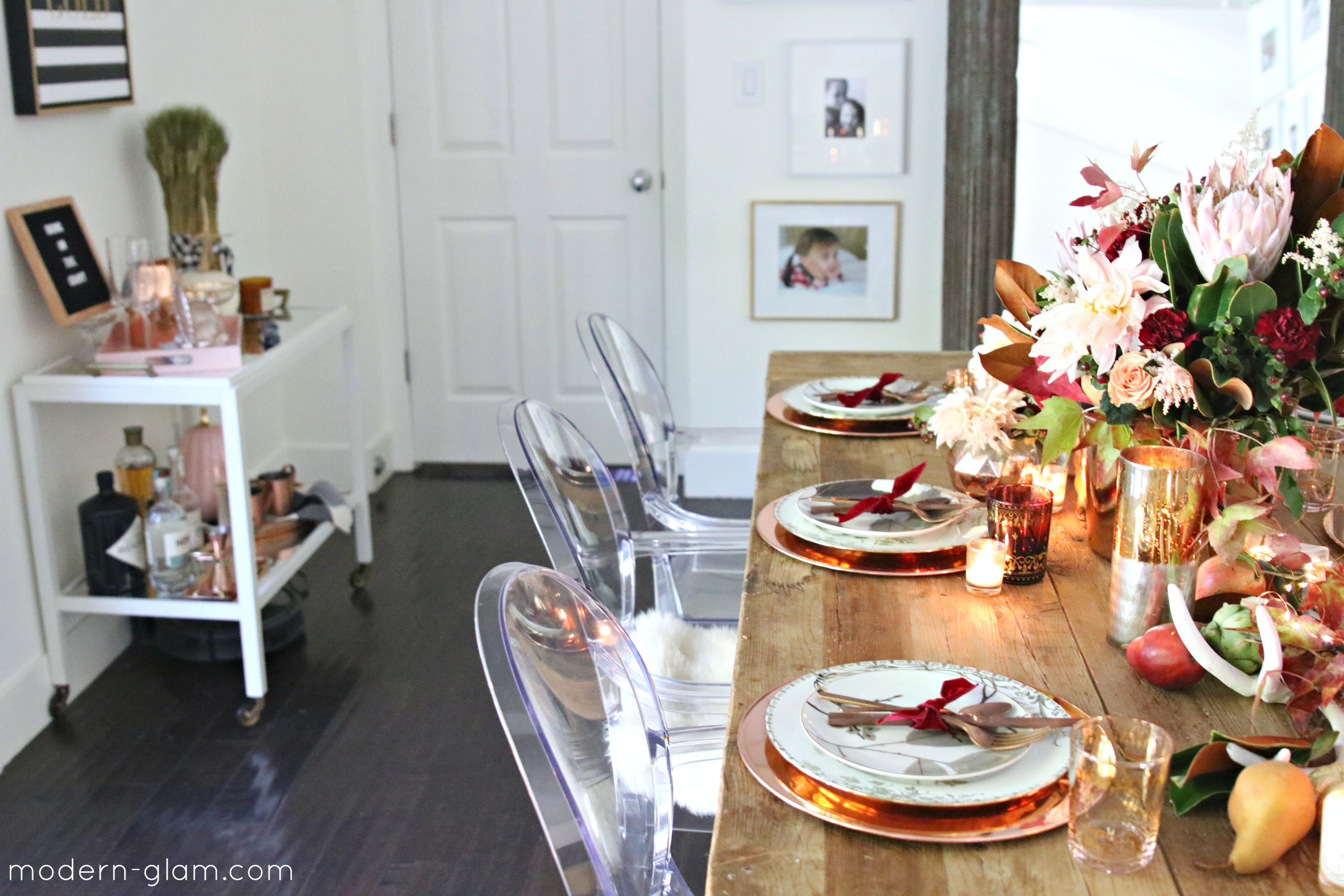 And I love my letter board from Retrogramboards. It's so fun to update it for the season or even the day!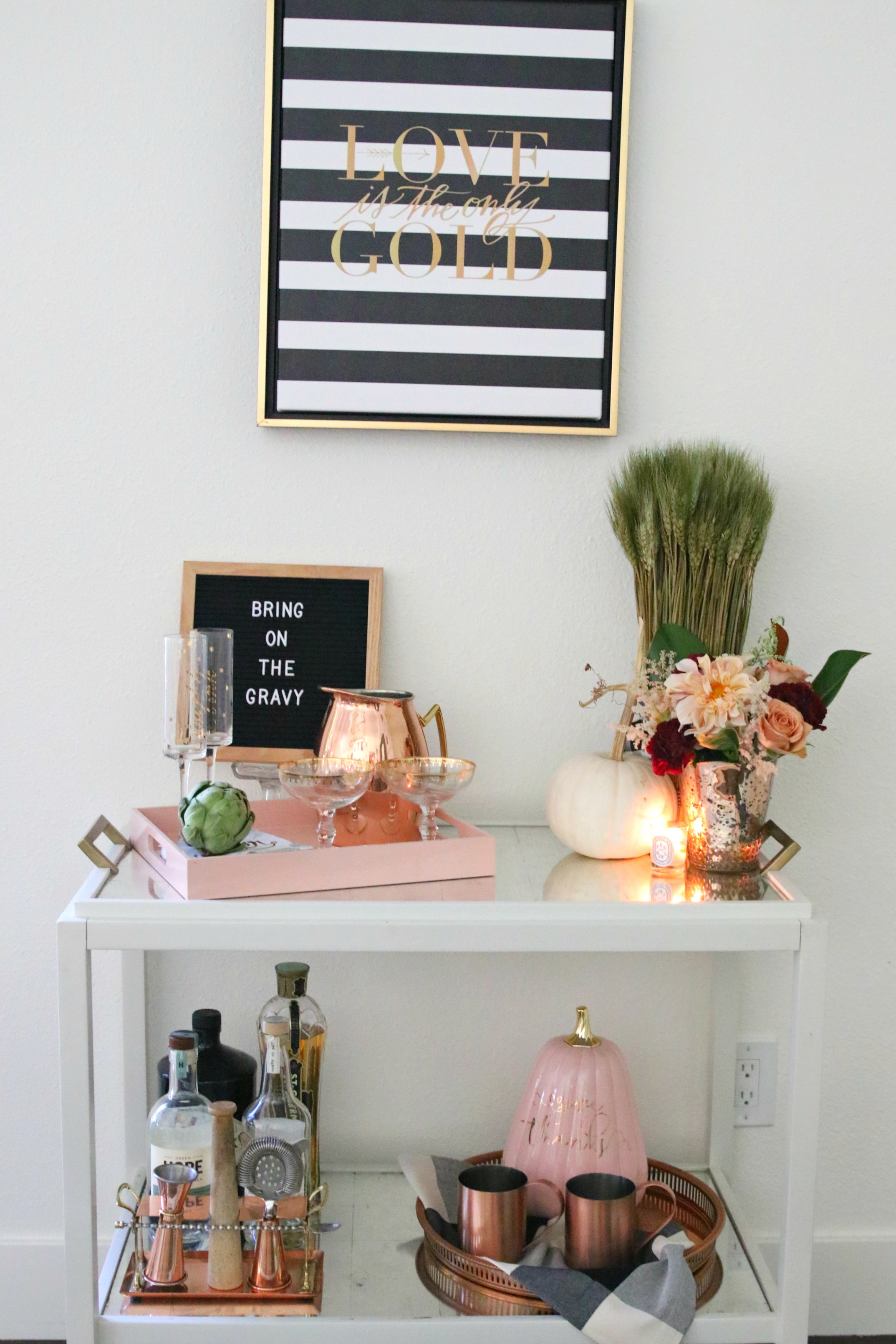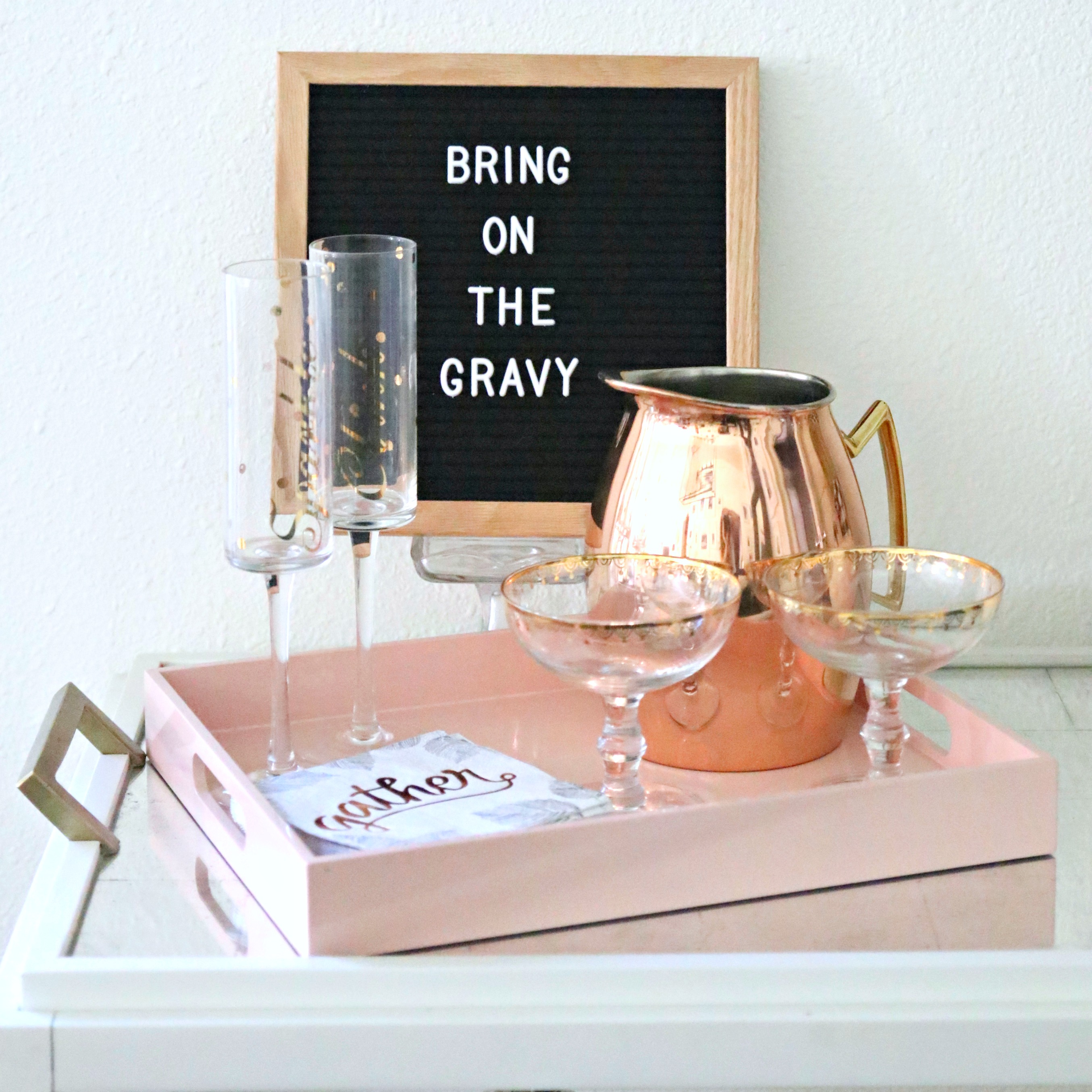 Now I just have to wait for the guests to arrive, lol! I absolutely love the way it turned out, don't you?!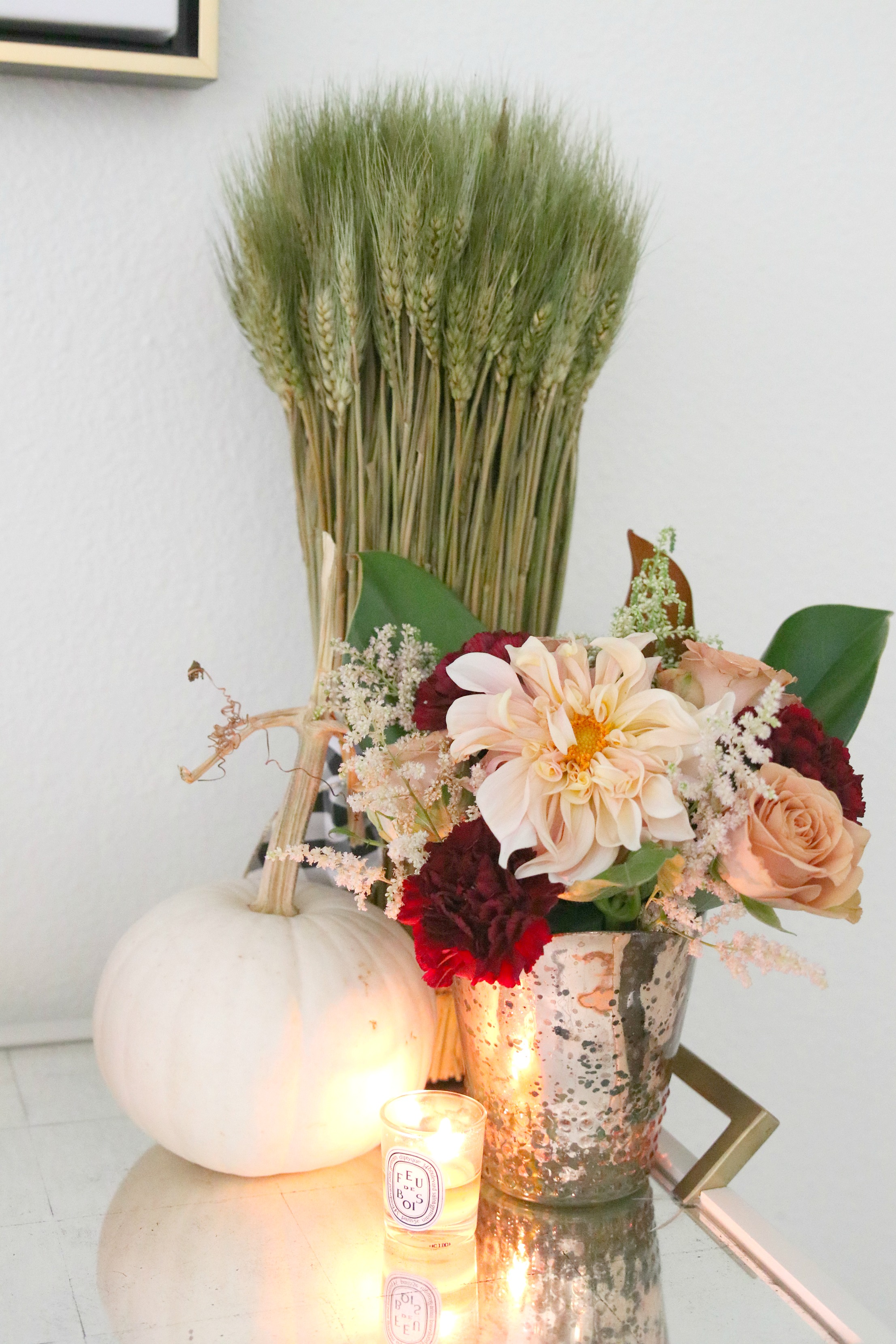 Shop The Post