One of my favorite parts of summer is the emergence of beautiful dahlias. Their jewel tones just speak to my heart and hint towards fall days ahead. This rustic summer centerpiece with dahlias is my version of the perfect flower arrangement to celebrate the end of summer!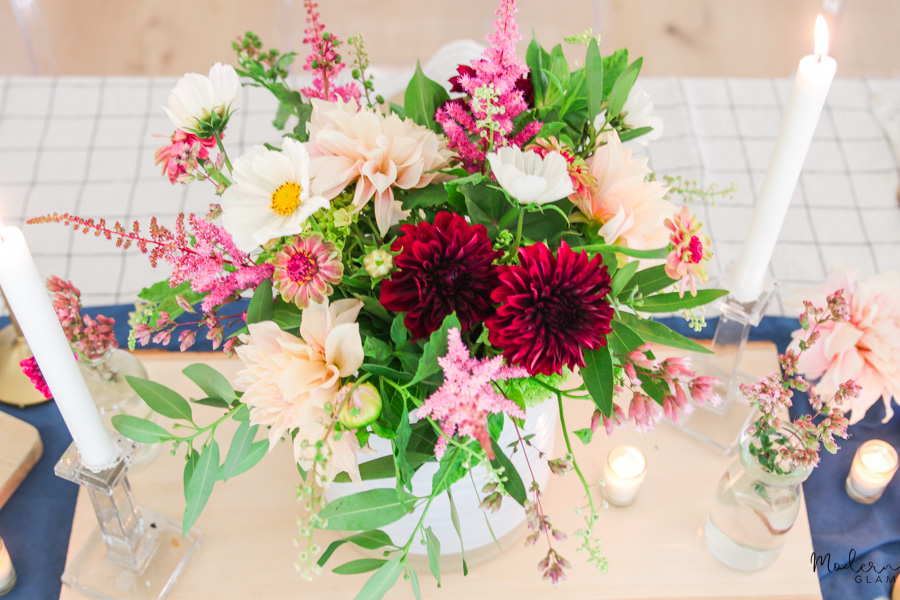 If you love dahlias, be sure to check out my Rose Gold Thanksgiving table, filled with beautiful blush and burgundy flowers.
And if you want to see how easy it is to make a flower arrangement using grocery store flowers, read Supermarket Flower Arrangement that includes a helpful video!
And be sure to visit my friends linked at the bottom of this post to see their inspiring summer centerpiece ideas!
Rustic Summer Centerpiece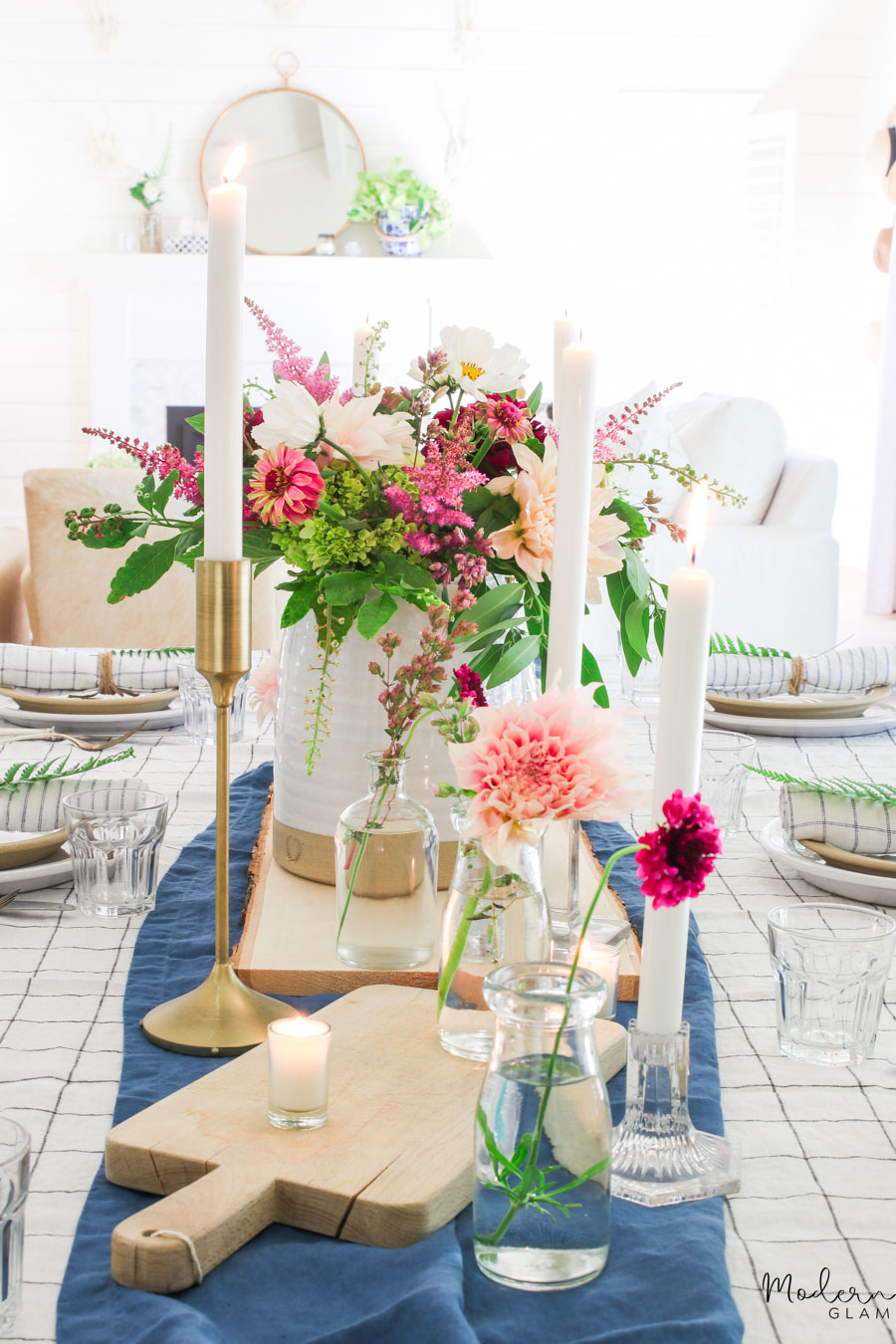 Creating a beautiful, but casual table is one of my favorite things to do. This rustic summer table is filled with wildflowers and candlelight! So, it's perfect for intimate or large gatherings. Pull up a seat and come see all the details.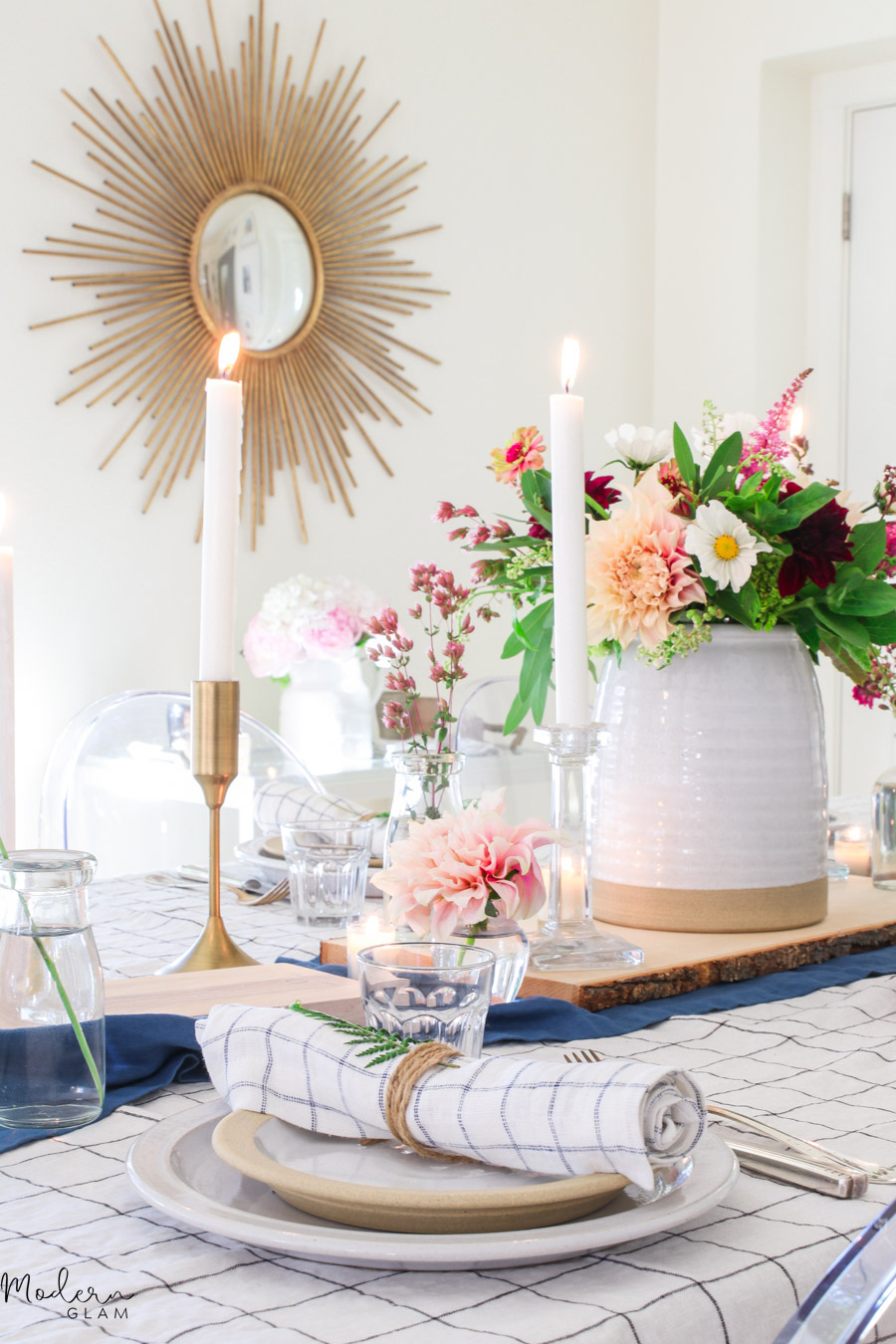 I will be sharing more details on the full tablescape including the cutest rustic table setting next week. Sign up for my newsletter to be notified!
Centerpiece with Dahlias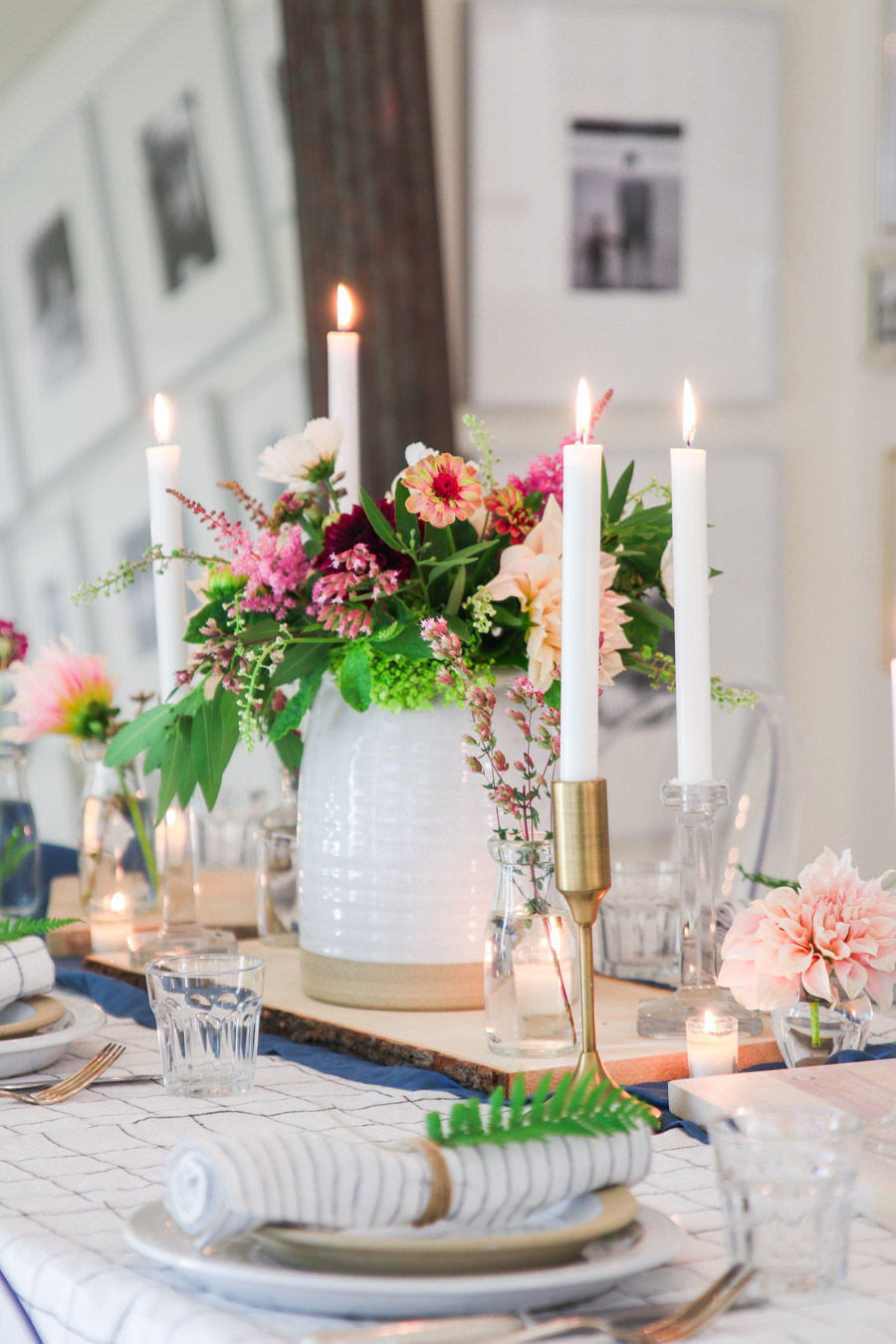 This casual centerpiece was pulled together with just fresh wildflowers and candlelight! Isn't amazing how candles can instantly elevate the mood in a room?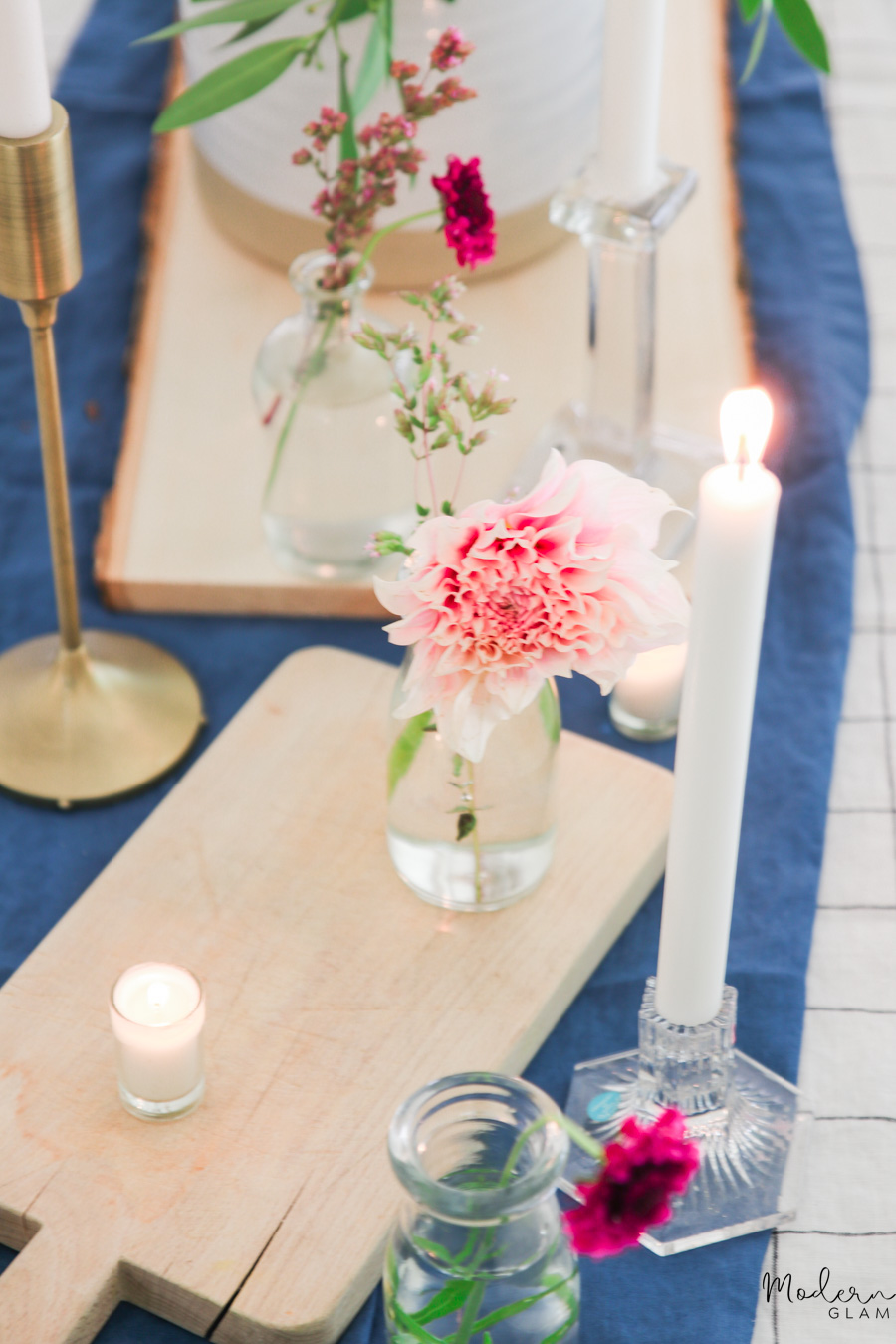 I layered some new and vintage breadboards on top of my linen runner and love the rustic feel it brings to this summer centerpiece. And adding in a few bud vases with sprigs of fresh flowers adds to the casual vibe.
Summer Wildflower Centerpiece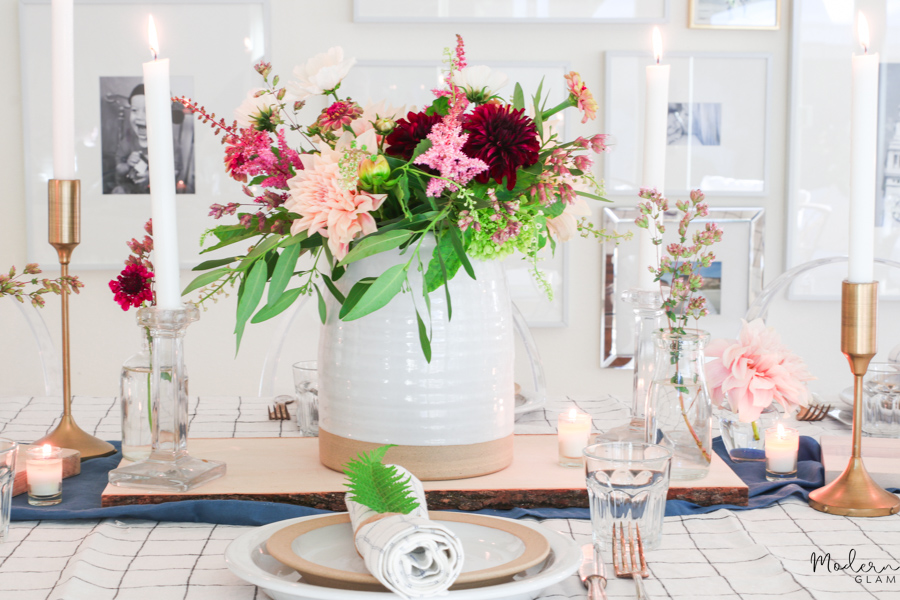 One of my favorite things about this wildflower summer centerpiece is the beautiful jewel tones. I love the dark burgundy color set against the navy runner and the pop of vibrant greens!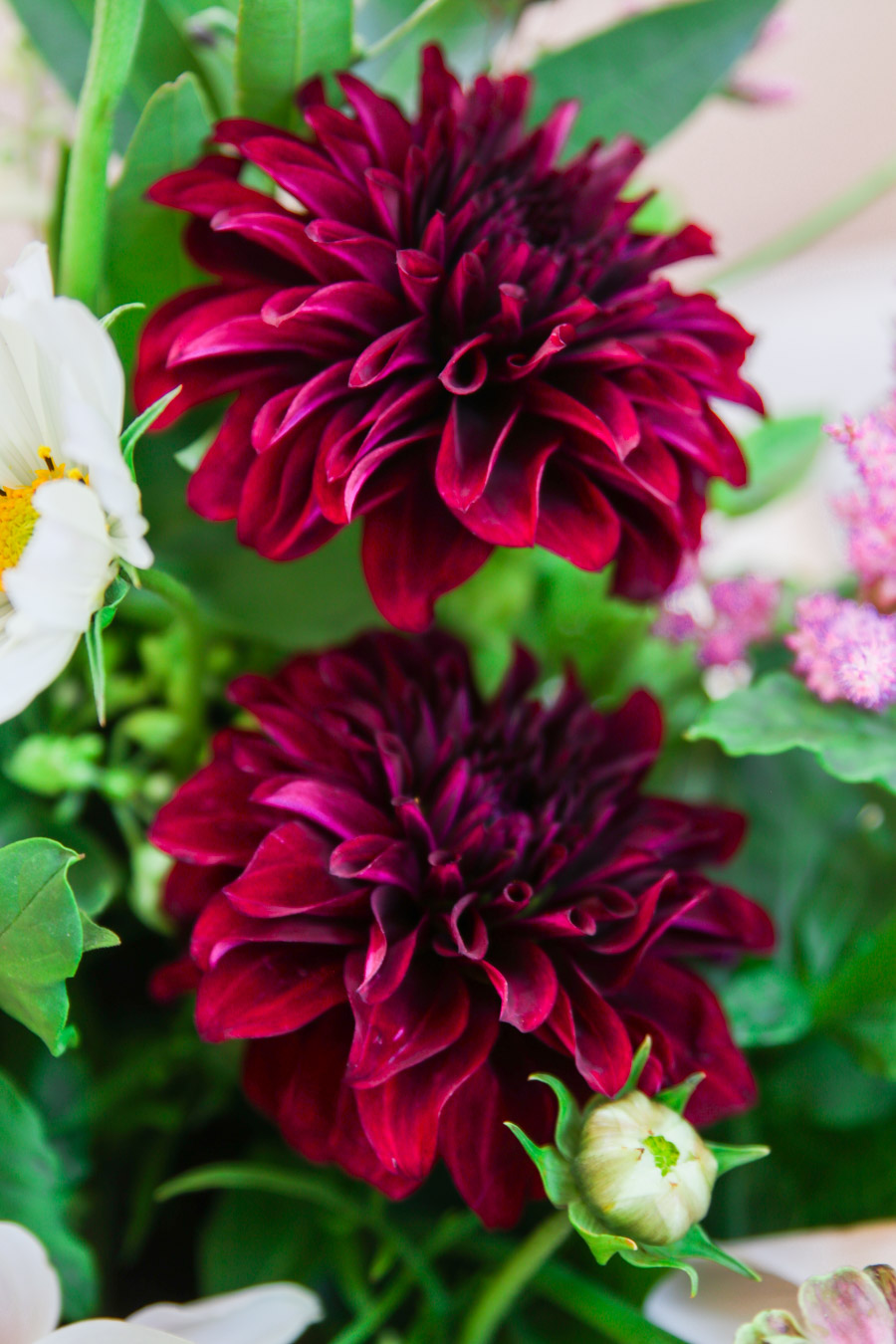 The mums are a great way to add deep, rich hues of magenta and reds.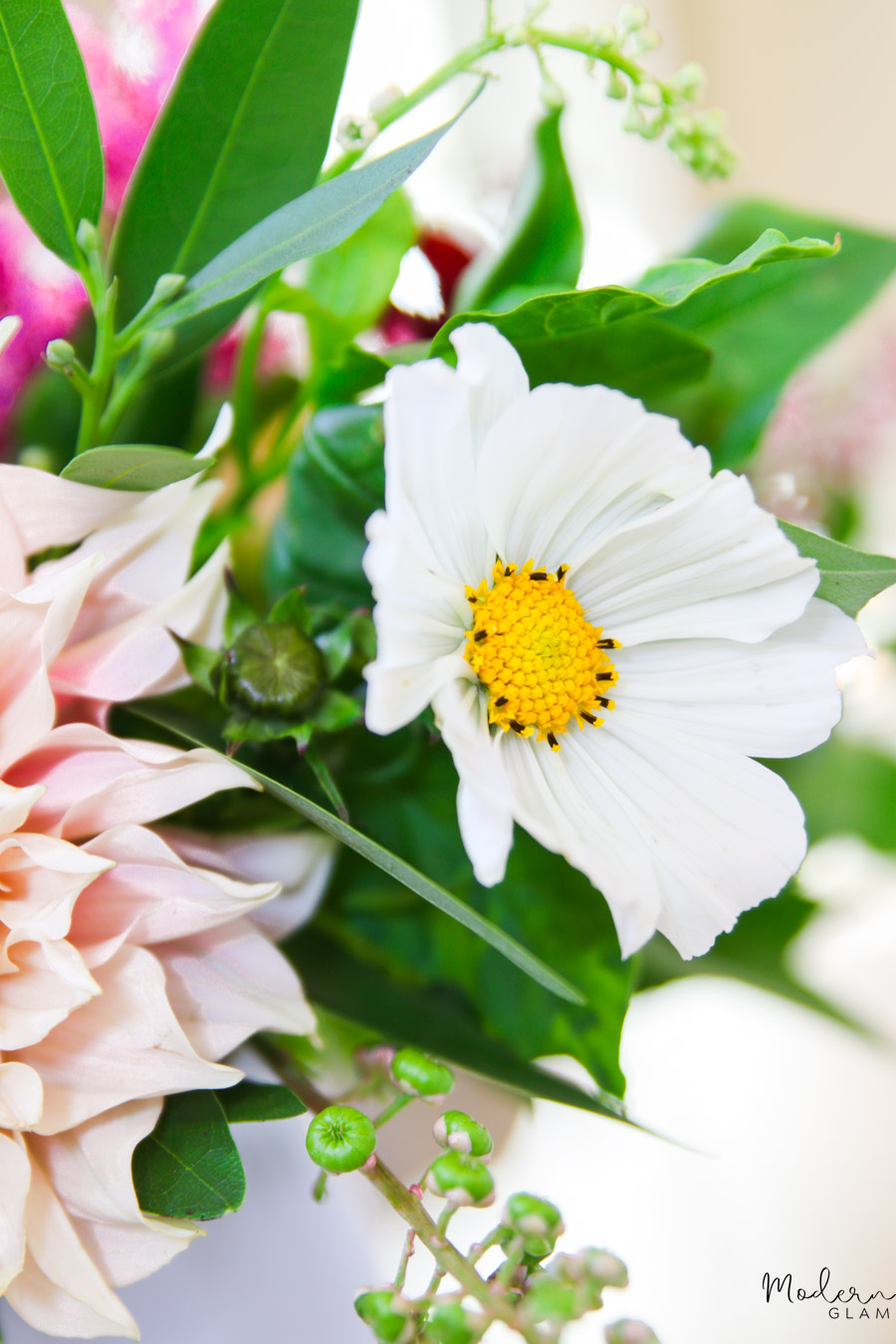 And these cosmos keep this rustic summer centerpiece from feeling too serious. Whimsical and beautiful at the same time, they grow so well here in our California climate.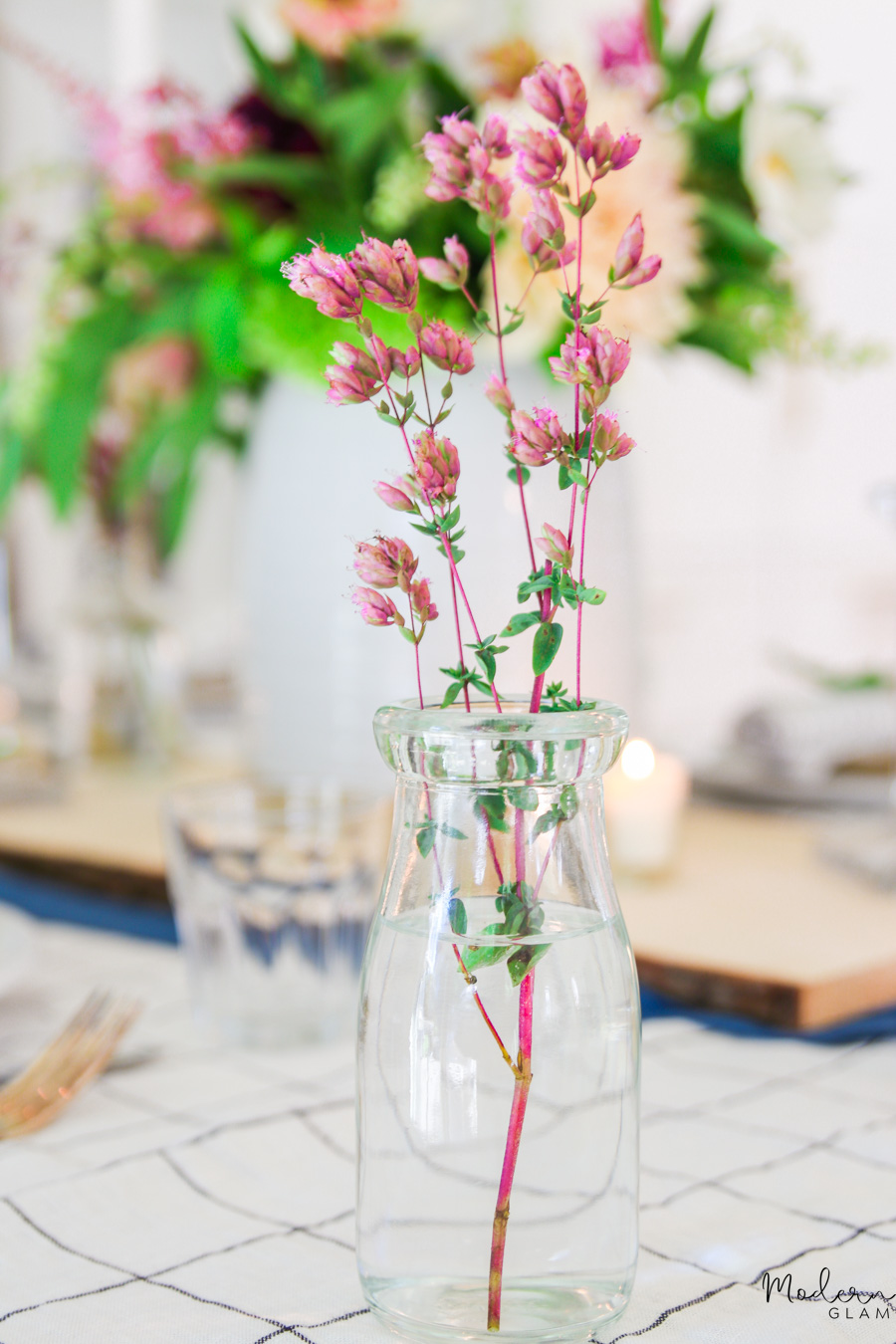 This is flowering oregano and I love the texture it adds to this summer centerpiece. Their pretty pink color also keeps the arrangement from feeling too dark.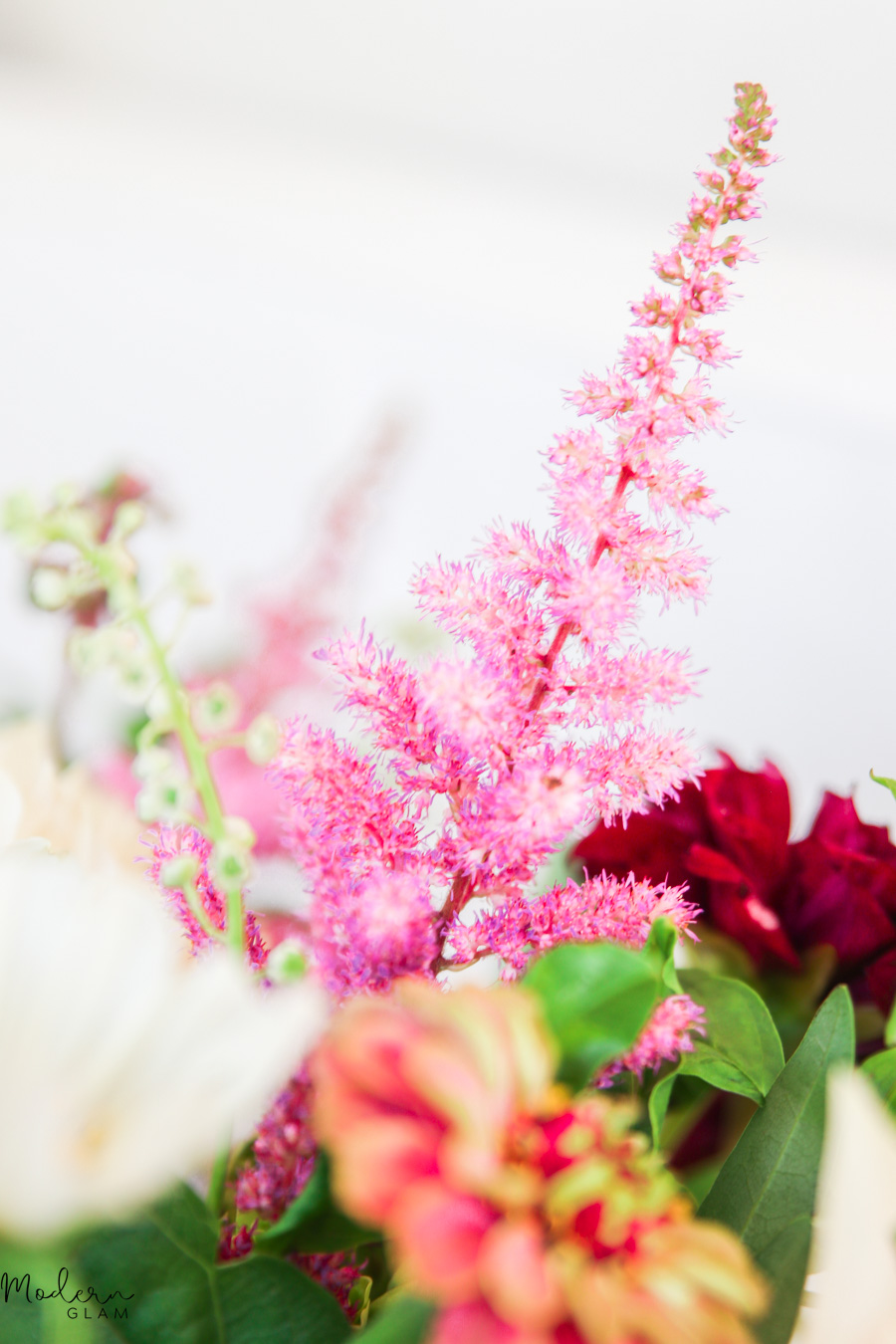 This fuzzy pink flower is called Astilbe, or False Goat's Beard. Side note, I am obsessed with goats! So, it seems fitting that I add some of this cute flower to this whole scene. It lends some pretty fun texture too!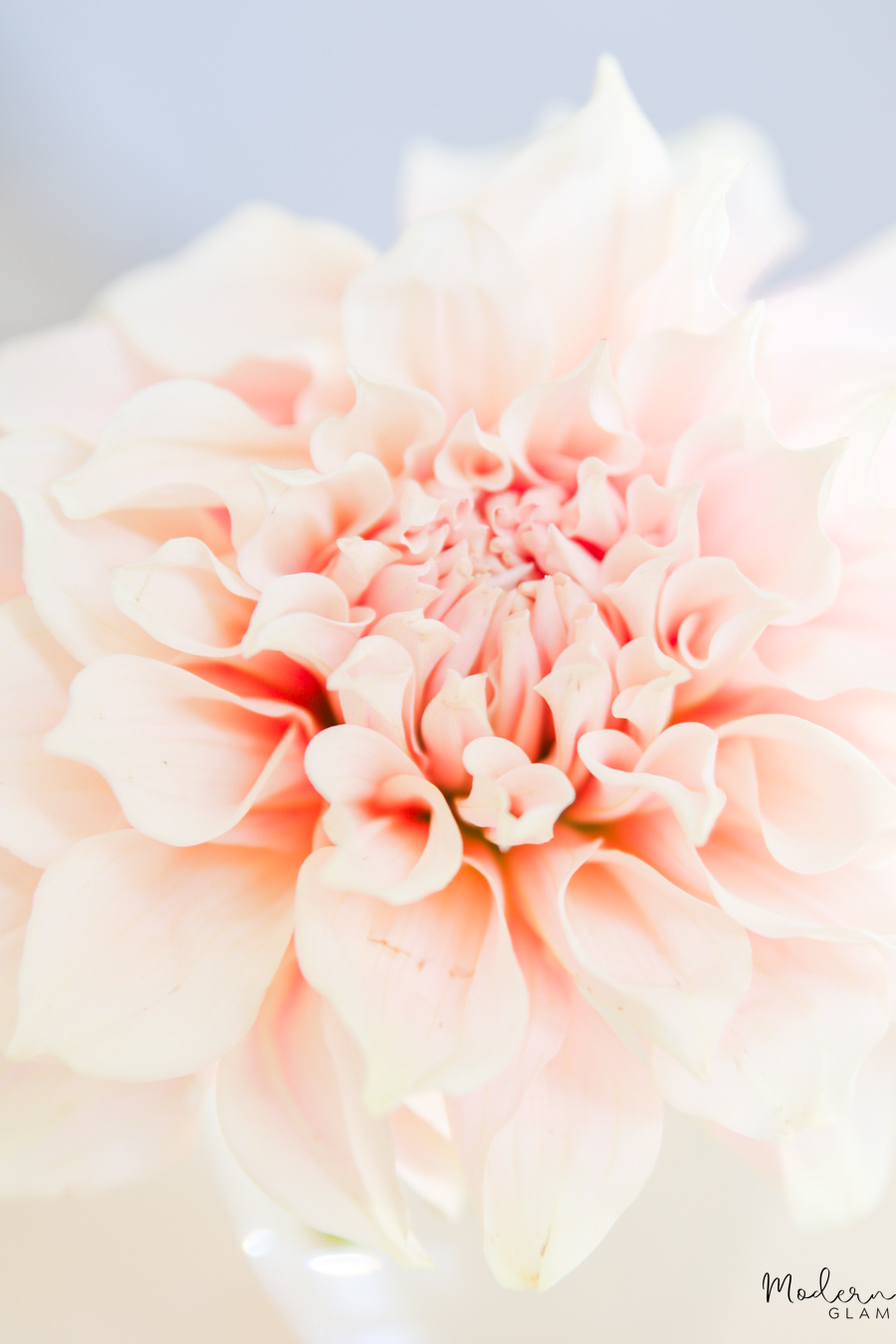 This entire rustic summer centerpiece was created with dahlias in mind. See, when I think of late summer, I think of these beautiful blooms. And this is my favorite color too!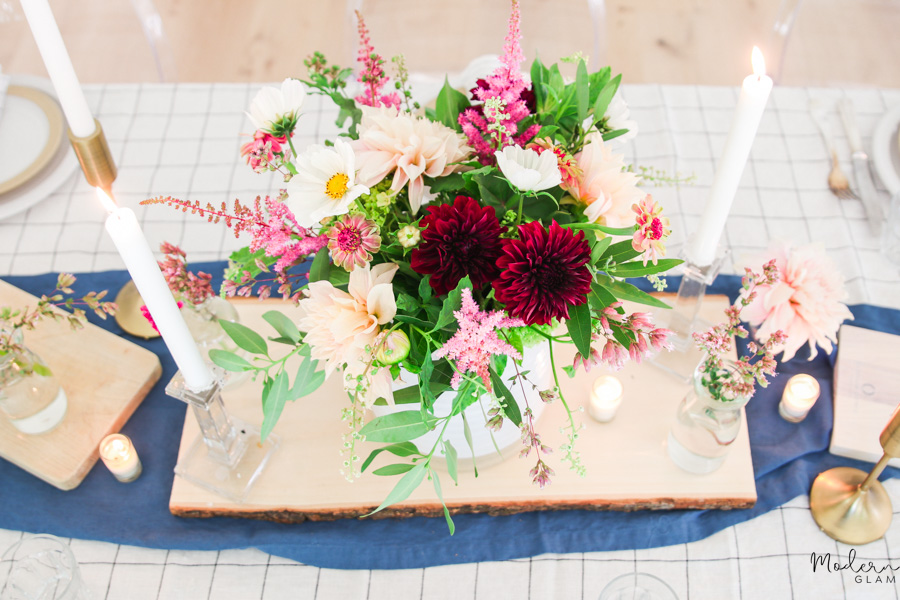 So, to recap, here are the flowers used in this rustic summer centerpiece: Mums, Dahlias, Cosmos, Zinnias, Astilbe, Eucalyptus, Flowering Oregano and Hydrangeas.
Also, be sure to read my tips on how to create a flower arrangement to help get you started!
Stay tuned for the full details on this Rustic Summer Table next week!
More Summer Centerpiece Ideas

Rustic Summer Centerpiece with Dahlias at Modern Glam
Outdoor Summer Centerpiece at My 100 Year Old Home
5 Minute Summer Centerpiece at Happy Happy Nester
Summer Table Decorations at Lolly Jane
French Country Centerpiece at Sanctuary Home Decor

Easy Summer Centerpiece at The Handmade Home
Edible Summer Tablescape at Twelve on Main
Lavender Inspired Centerpiece at Home with Holly J
Simple Summer Centerpieces at The Happy Housie