This bouquet of flowers was so fun to put together. A DIY arrangement made using grocery store flowers! I will show you how to take flowers found at your local supermarket and arrange them into a beautiful bouquet worthy of any boutique florist!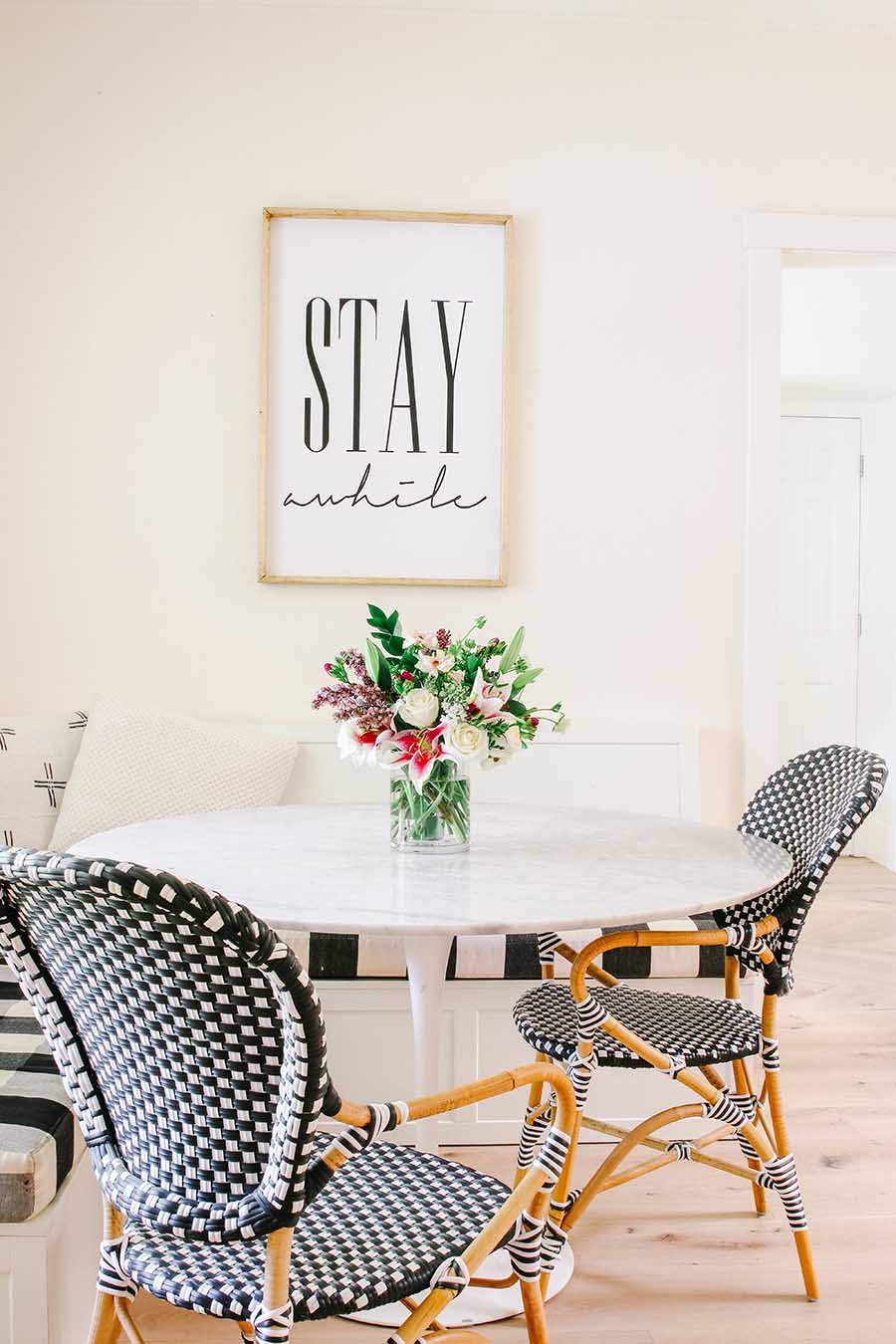 Each time I go to the grocery store I pass by the supermarket flowers thinking they wouldn't look good at home. The other day, I stopped and thought, why not?! Why spend a fortune on boutique florist flowers each time I want some pretty flowers to brighten up my home? I decided to gather a few bunches of flowers from the grocery store and see if I could make my own pinterest-worthy arrangement!
This bouquet of beautiful flowers would be perfect on my Mother's Day brunch table. What do you think?!
Grocery Store Flower Arrangement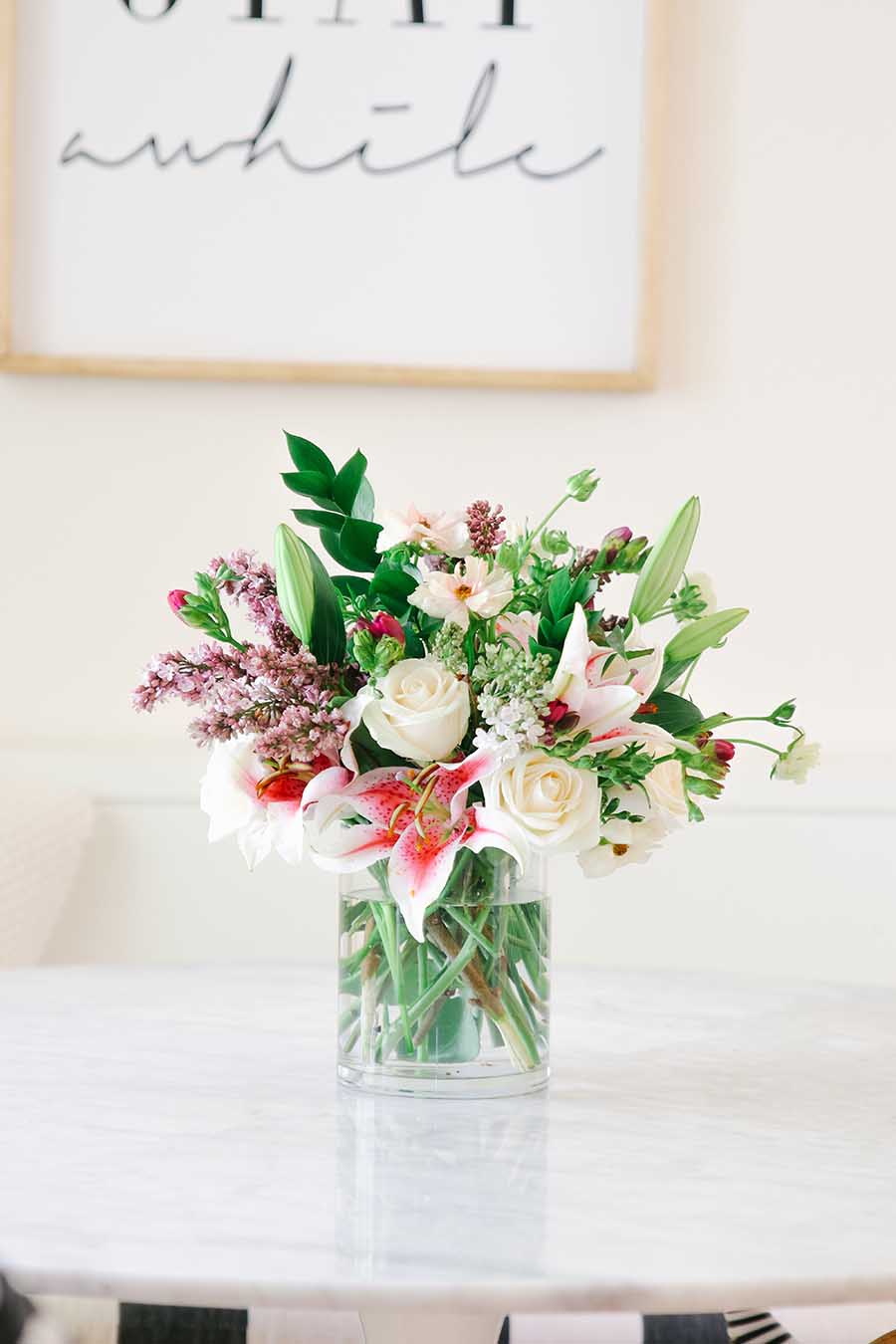 When I do buy flowers from the supermarket, my tendency is to buy a bunch of one type of flower and stick them in a vase and call it a day. Because I'm lazy like that! But, this bouquet filled with 5 different types of flowers has me second guessing myself! I couldn't believe how easy it was to put this arrangement together. I will share with you some tips that definitely helped along the way. And don't miss the video I made showing you how to put together your own grocery store flower arrangement!
Best Supermarket Flowers to buy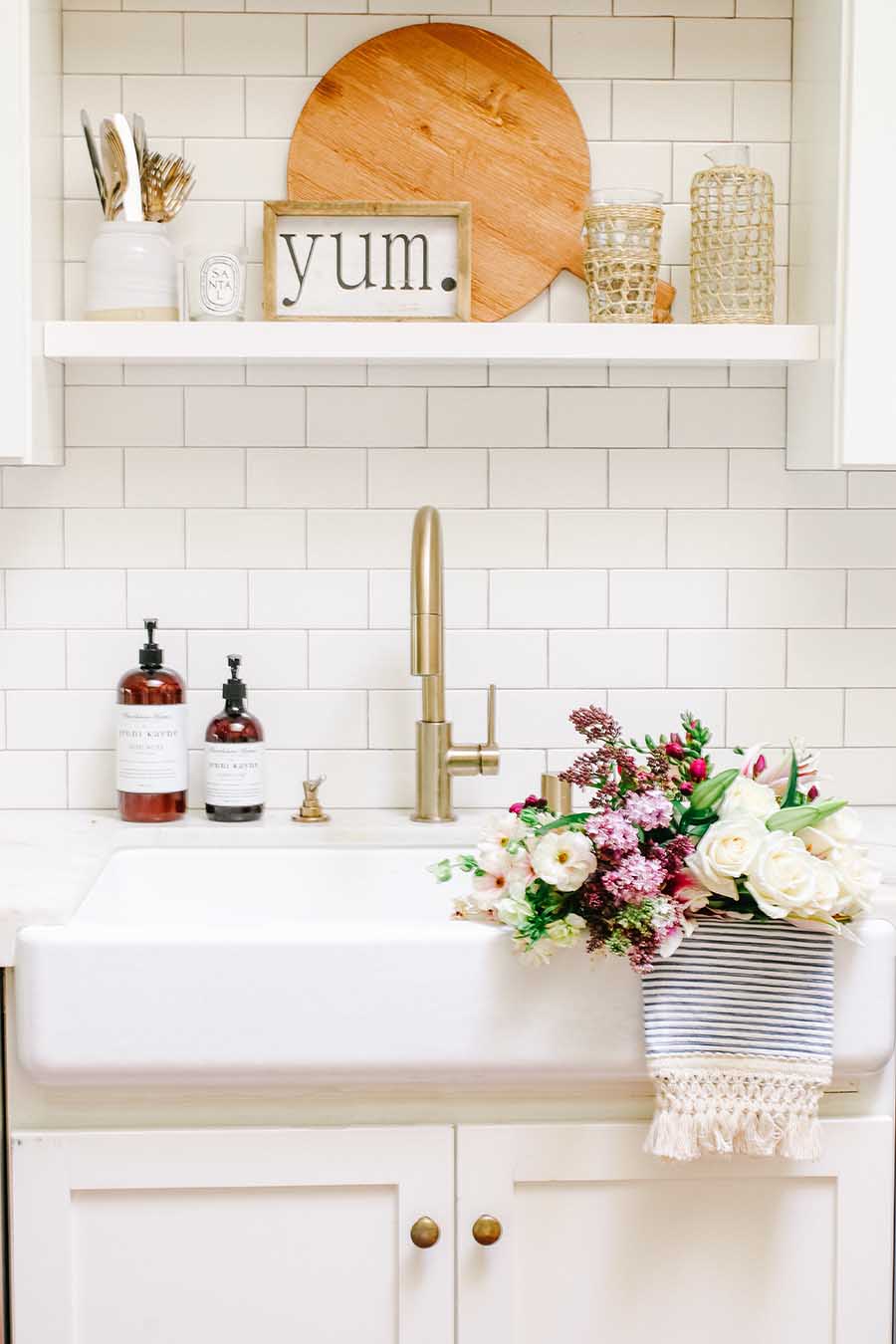 For this flower arrangement I used:
lilies
long-stemmed roses
freesia
lilacs
ranunculus
When choosing flowers for your grocery store flower arrangement be sure to choose a variety of textures and sizes. This will help fill out the bouquet. The lilacs add some height to the arrangement and I also love the beautiful small flowers they have. And did I mention that they smell amazing?!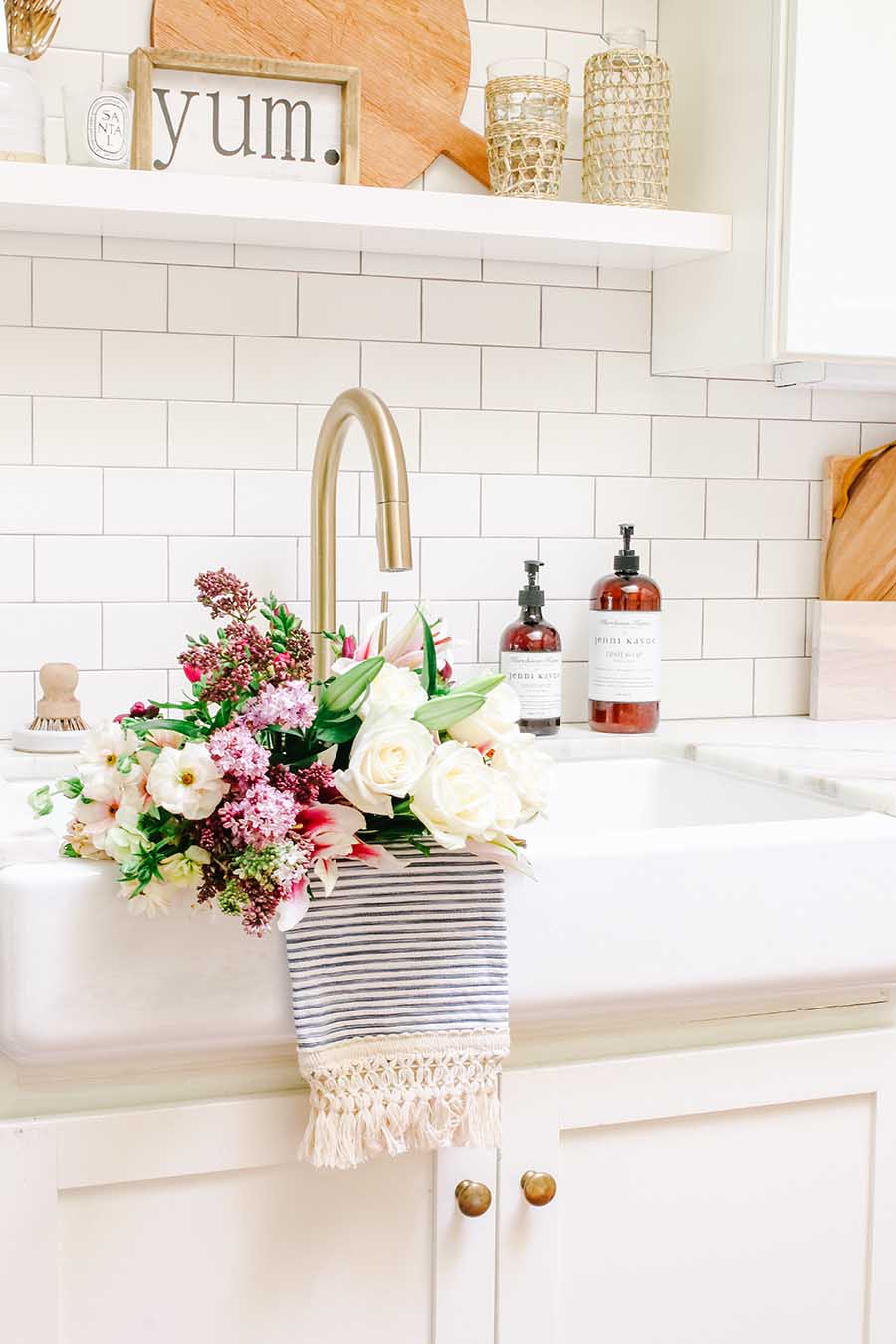 For colors, I chose a color palette that consisted of lilac, fuchsia and creamy white. The lilies were the jumping off point for this grocery store flower arrangement. I love the striping of color they have at the center. There really is no wrong answer when it comes to colors for your flower arrangement. Choose colors depending on the look you want.
How to put store bought flowers in a vase
Here are a few tricks for arranging your store bought flowers in a vase.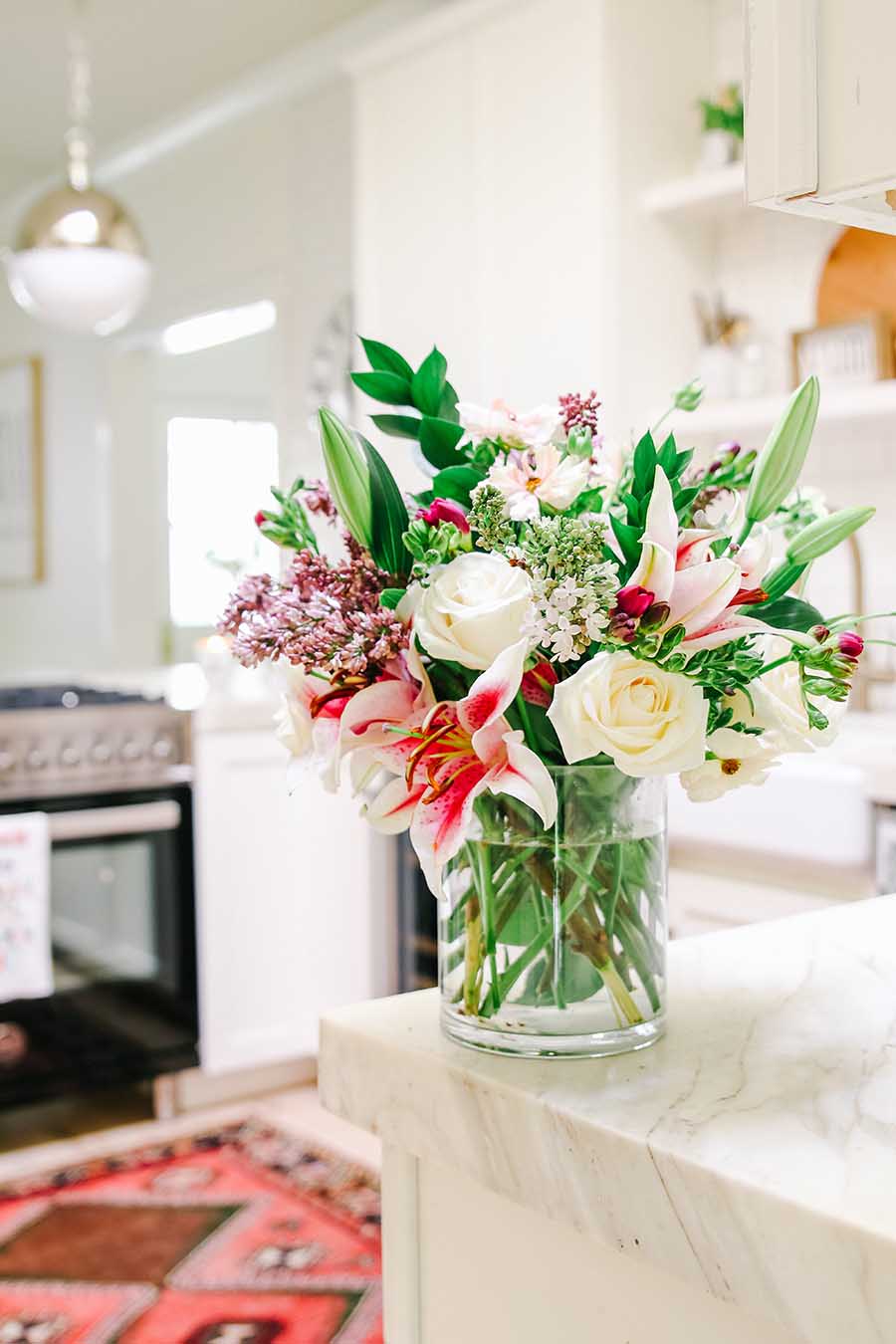 First off, you will want to either use some floral foam or tape off the top of your vase. If your vase is clear, you can take some regular clear tape and tape a grid onto the top of your vase. Leave squares large enough to fit the stems through. For my 6″ vase I used 6 pieces of tape to create a grid on the top of the vase. This is perfect for holding your stems in place and more upright.
Next, start with the larger flowers first. You can watch my video below to get a better idea of the process. But start with the larger flowers and place them evenly in the vase. Then add in the smaller flowers and create a layered look. This will help make an evenly spaced flower arrangement.
Supermarket Flowers Arrangement
Enjoy this high-speed video of me making this fun grocery store flower arrangement! Music by Ed Sheeran.
Tips for making your grocery store flowers last longer
Finally, here are a few tips for making your grocery store flower arrangement last longer.
be sure to trim the ends off all flowers at a diagonal
for woody stems, strip the last 1″ of stem and cut the stem vertically up the center
add 2 drops of bleach to the water to help flowers last longer
use a turkey baster every few days to replace with fresh water. Take the old water out using the turkey baster and pour new water in
More Ideas for Arranging store bought flowers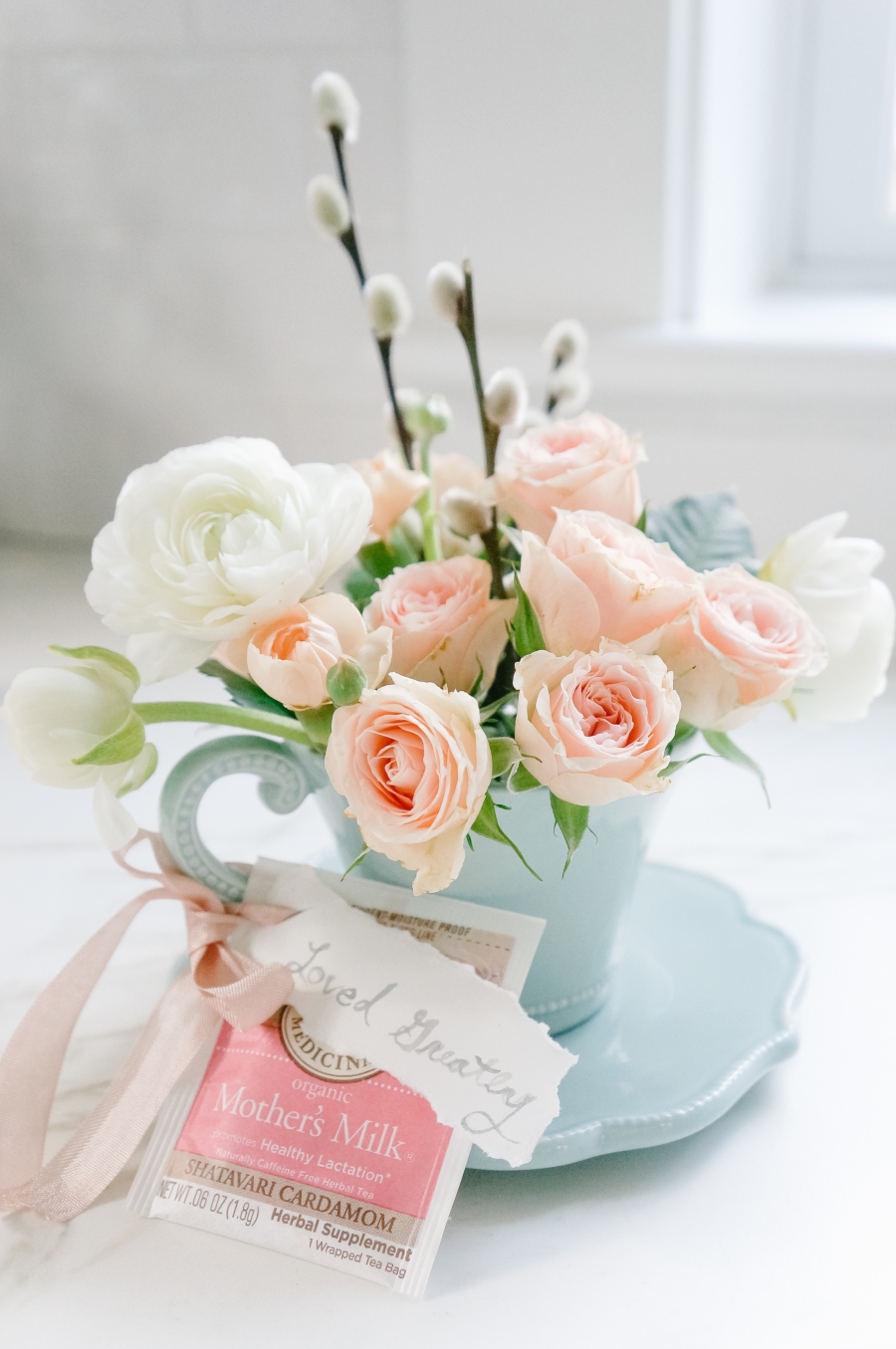 This sweet Mother's Day arrangement is the perfect gift. This color combo just makes me so happy!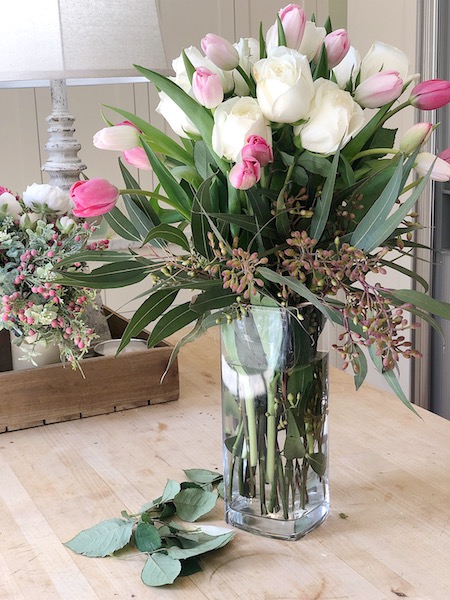 I love this simple but beautiful Mother's Day floral arrangement from Leslie. And I don't know what mom wouldn't love getting this!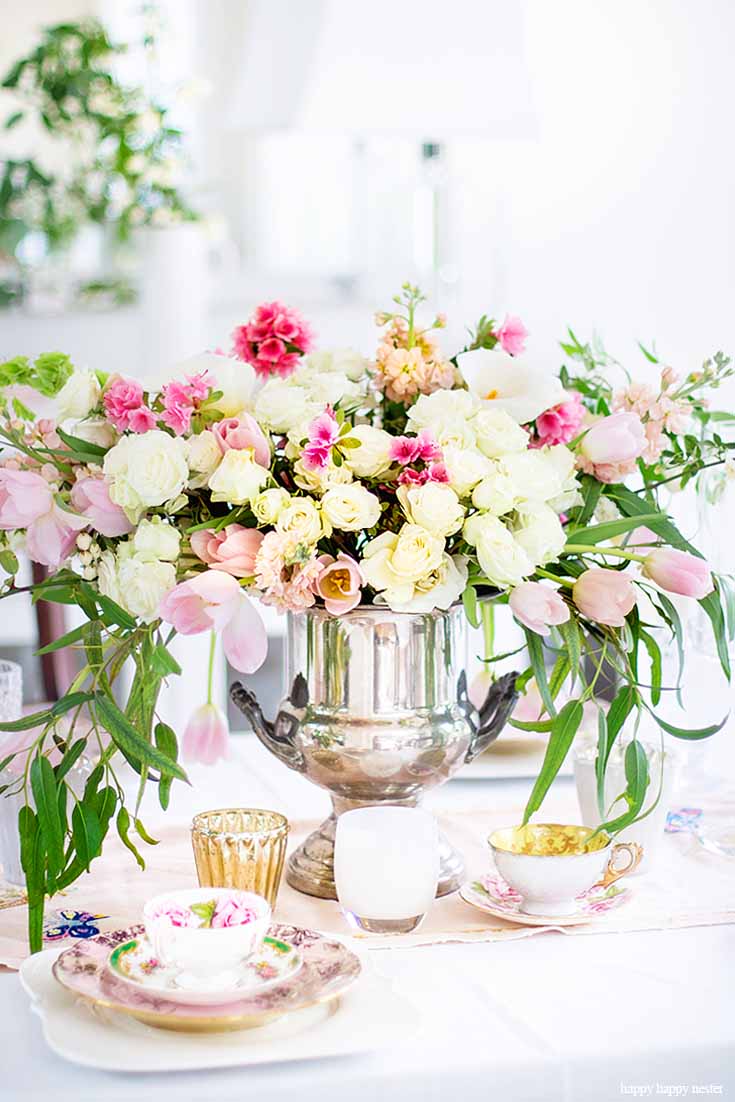 And if you are looking for a drop dead gorgeous Mother's day floral bouquet, Janine always delivers. This is a stunner and I can't believe she made this arrangement using grocery store flowers!
So, the next time you are at the grocery store, don't forget to grab some flowers too and make a beautiful flower arrangement like these!