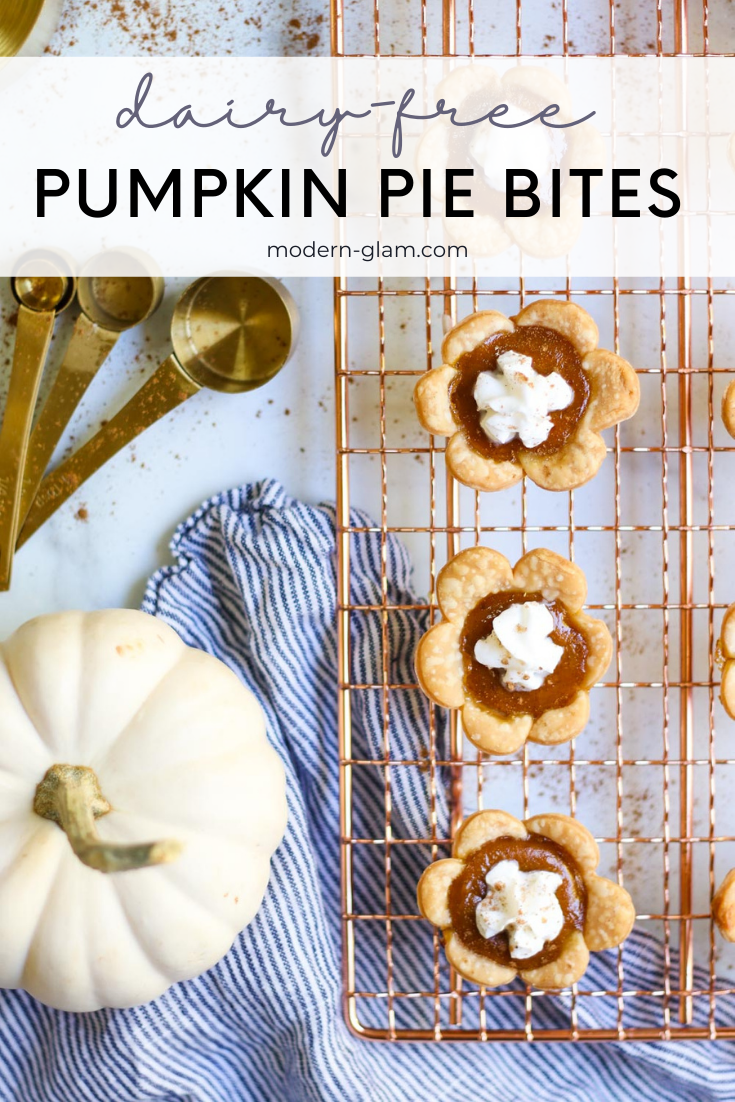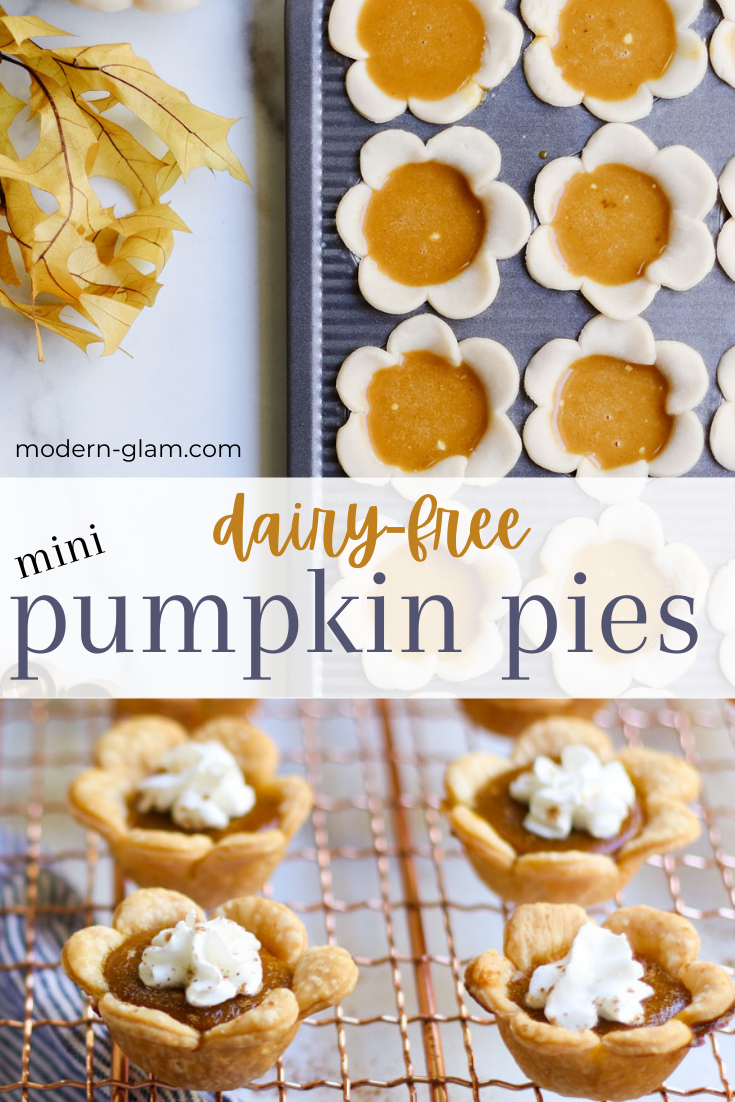 These Dairy-Free Pumpkin Pie Bites taste just like the pumpkin pie you grew up eating! Made with coconut milk, these are the perfect individual serving sized dessert for the holidays.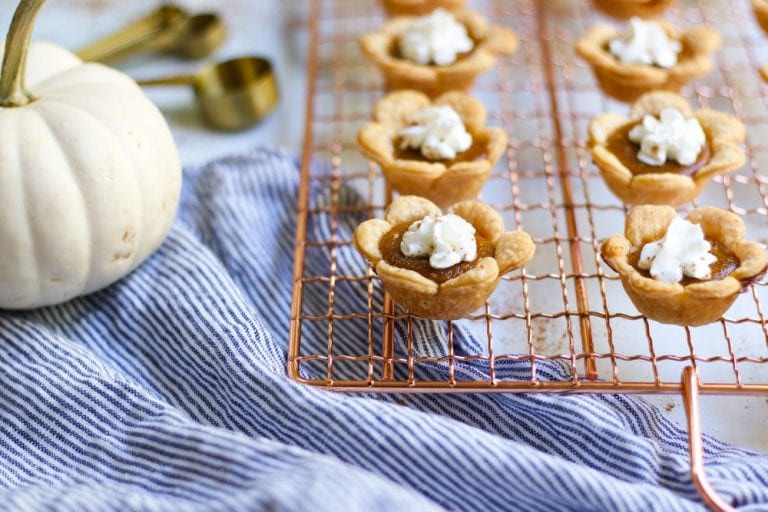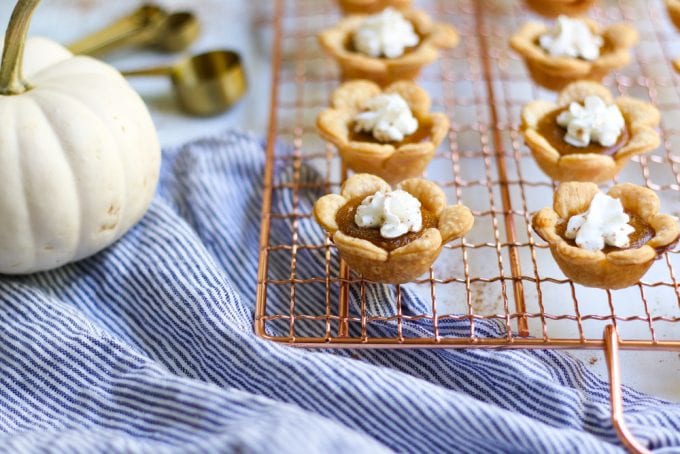 Dairy-Free Pumpkin Pie Bites
The holidays are here and there is nothing I love more than homemade Pumpkin Pie! My Mason Jar Pumpkin Pies are one of my most popular recipes. However, since I am lactose intolerant, I don't indulge in pumpkin pie as much as I would love to.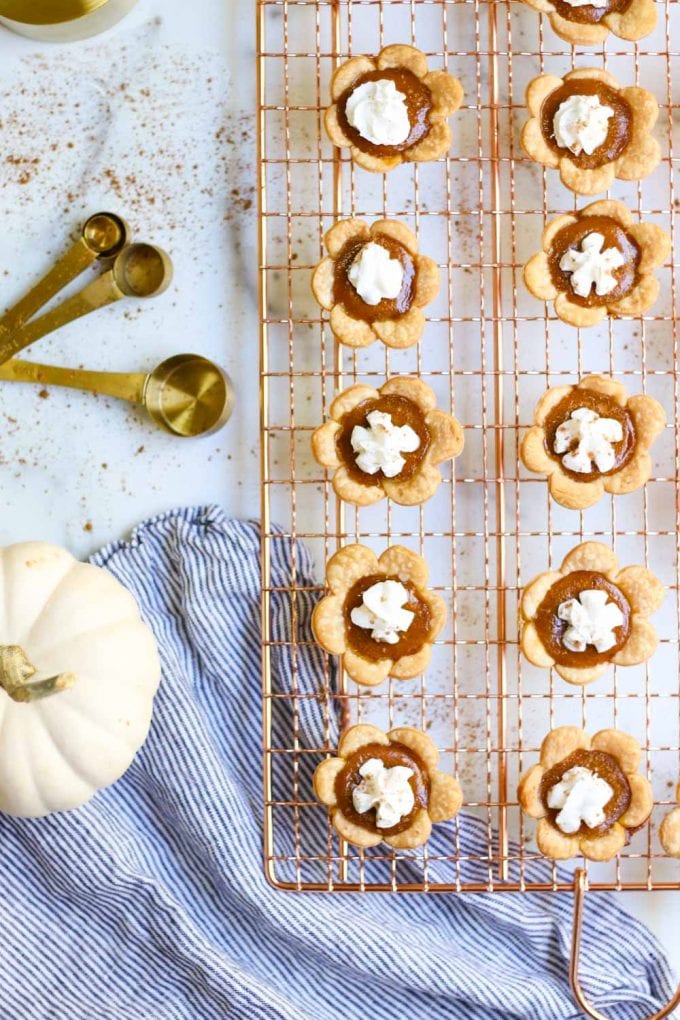 So, this year I decided I would find an alternative to the traditional pumpkin pie recipe. A dairy-free pumpkin pie that still tastes just as good as the one you grew up eating.
Pumpkin Pie With Coconut Milk
This pumpkin pie is made with coconut milk instead of heavy cream and milk. And it tastes just as rich and creamy as the original. Plus, you can't taste the coconut flavor one bit. I promise!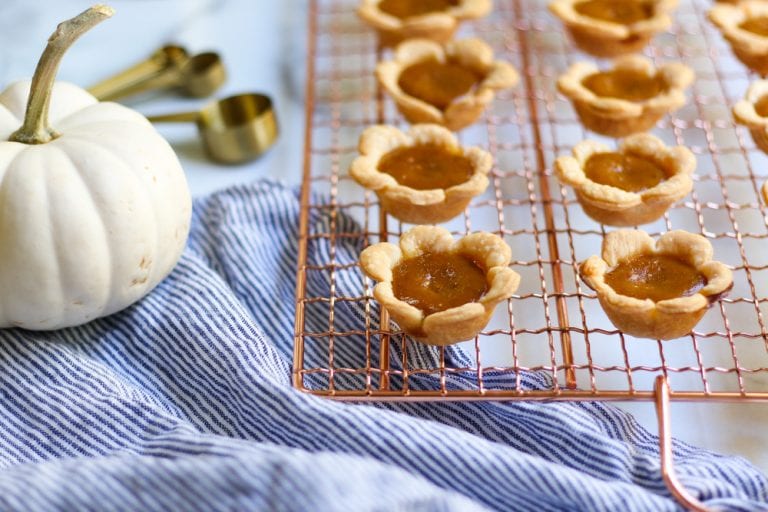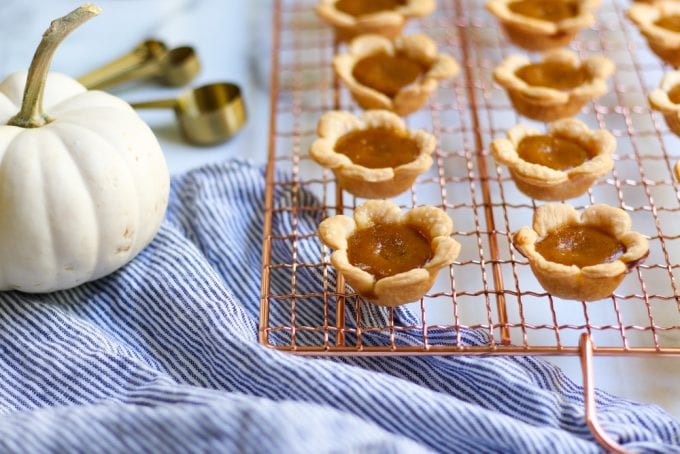 And since, we are living in this new world where germs are a concern, I thought it would be fun to turn my favorite holiday dessert into a bite sized version.
These dairy-free pumpkin pie bites are fun, delicious and healthy if you are looking for an alternative to the dairy-laden desserts that are out there.
Individual Serving Sized Thanksgiving Dessert
These pumpkin pie bites are made using a mini muffin tin. And I saw the cutest Mini Pumpkin Pies over at Lil Luna. She used a flower shaped cookie cutter to cut out the pie dough. The result is *almost too cute to eat!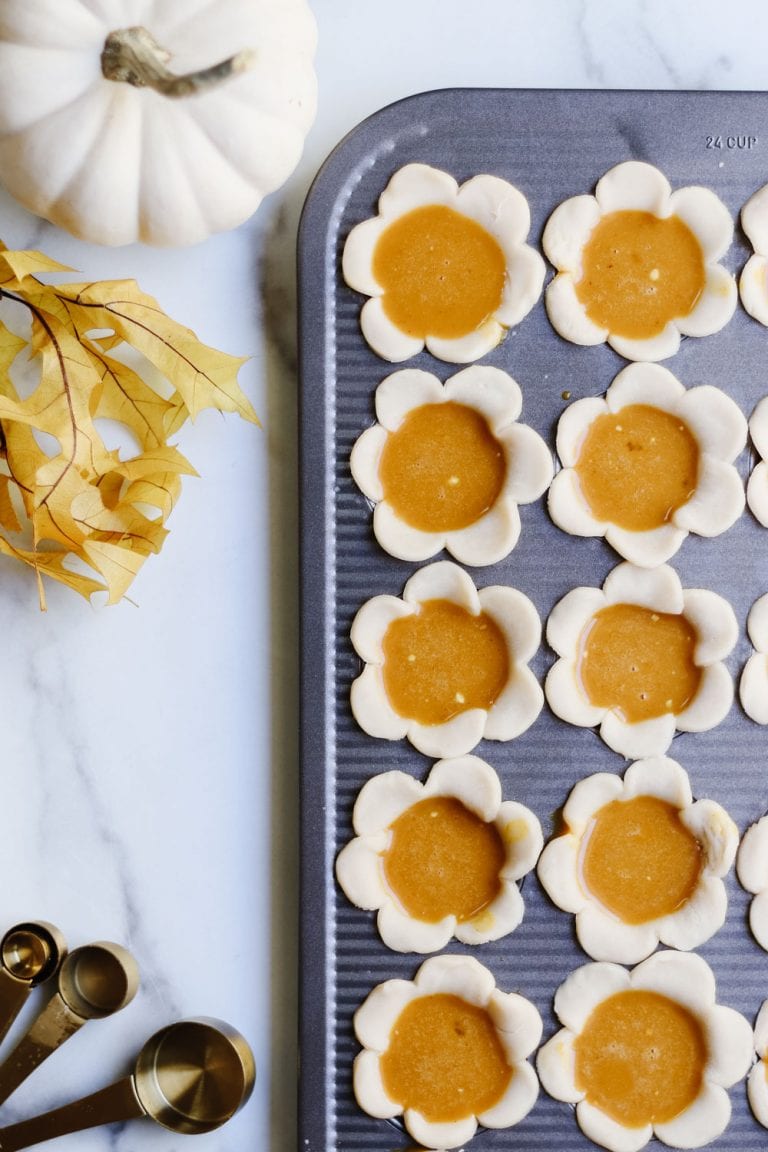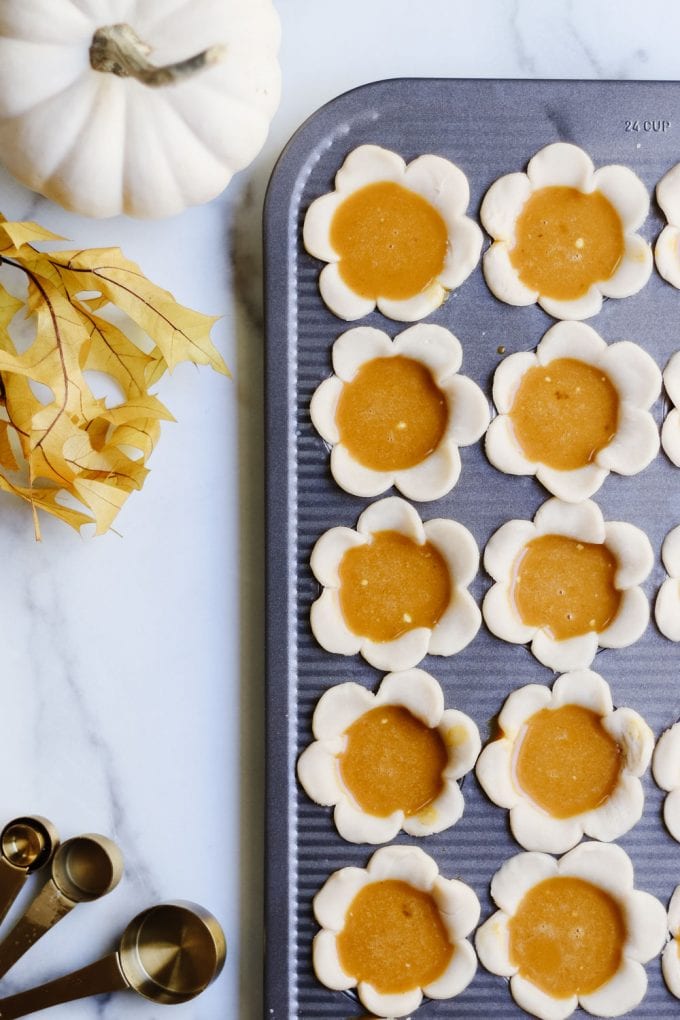 So, I borrowed her idea for this dairy-free pumpkin pie dessert.
I used a 3″ flower shaped cookie cutter to cut the pie dough and popped them into the muffin tins. It took a bit of tweaking to get the petals to not overlap, but the result is so fun!
How To Make Dairy-Free Pumpkin Pie
Our family tends to eat pretty healthy, so when it comes to baking, I always like to use the best ingredients whenever possible. And I like recipes that don't have a ton of ingredients either. Less is always better.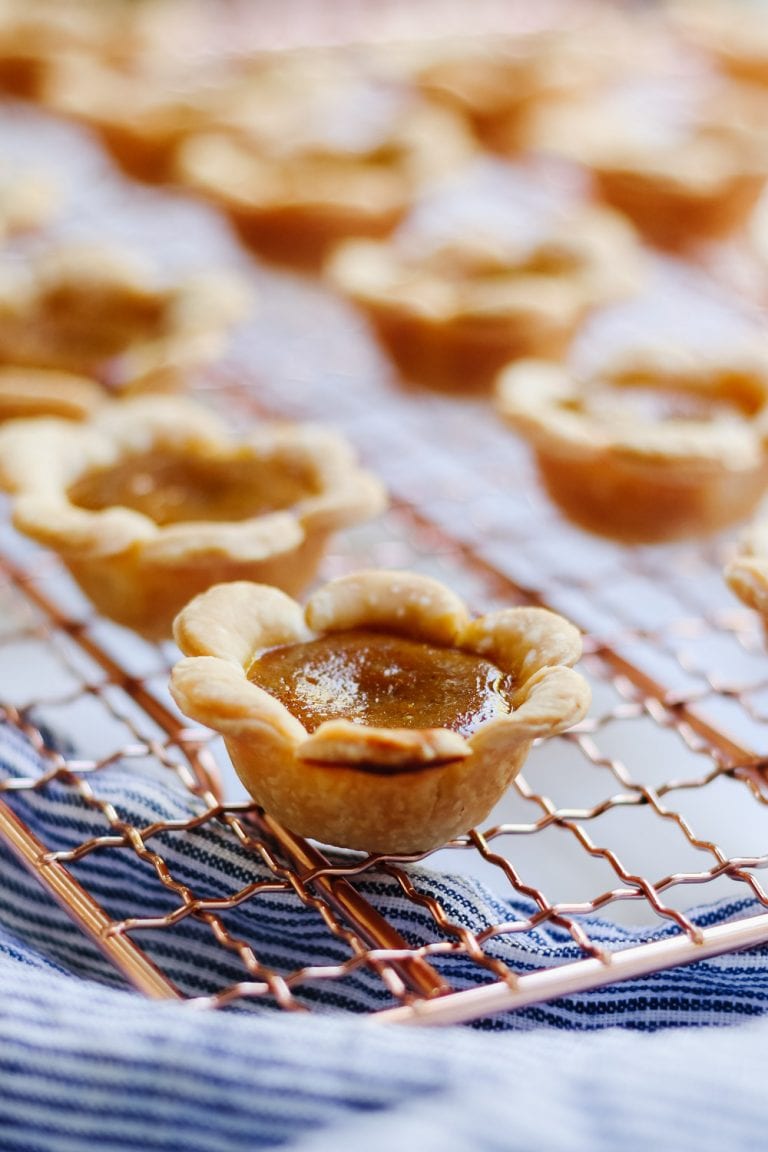 This dairy-free recipe has just seven ingredients. Pumpkin puree, coconut milk, eggs, vanilla, brown sugar, salt and spices. And the result is creamy, spicy and still has that perfect pumpkin flavor.
You can make this recipe in just one bowl. Beat the eggs, add the rest of the ingredients and whisk to combine. Pour into the prepped mini muffin tins and bake. Read and print out the full recipe below, but the point is, this recipe is straight to the point and doesn't require any fussing.
Dairy-Free Pie Crust Options
Now, let's talk about pie crusts. If you are truly going to make this pumpkin pie dairy-free, then you need a pie dough made without butter.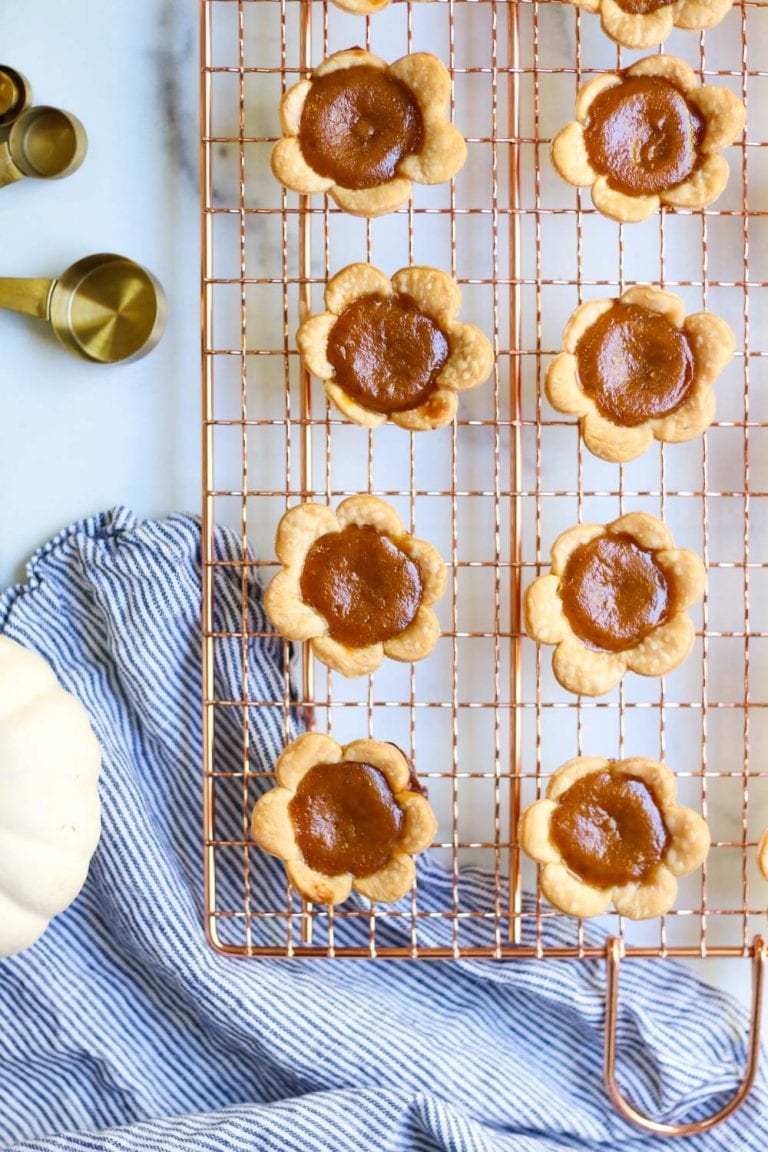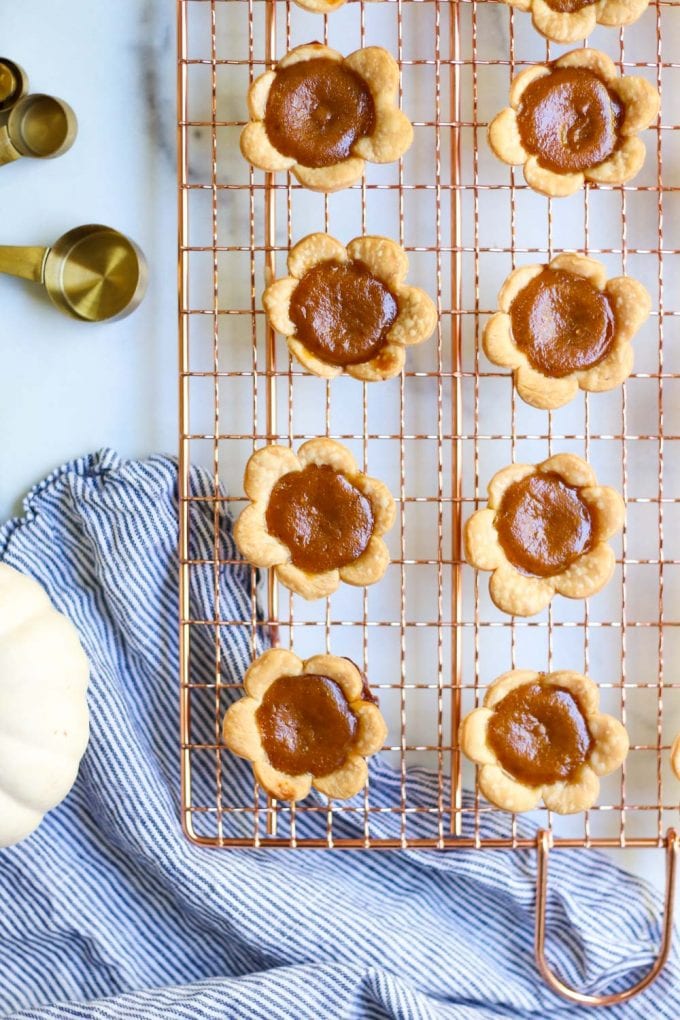 You can use my favorite Martha Stewart Pate Brisee recipe and sub the butter with a vegan butter substitute. Or, you can try a pie crust made with shortening like Tidy Mom's Vegetable Shortening Pie Crust recipe.
Either way, to make this Dairy-Free Pumpkin Pie completely legit, you can't use a butter-based pie crust.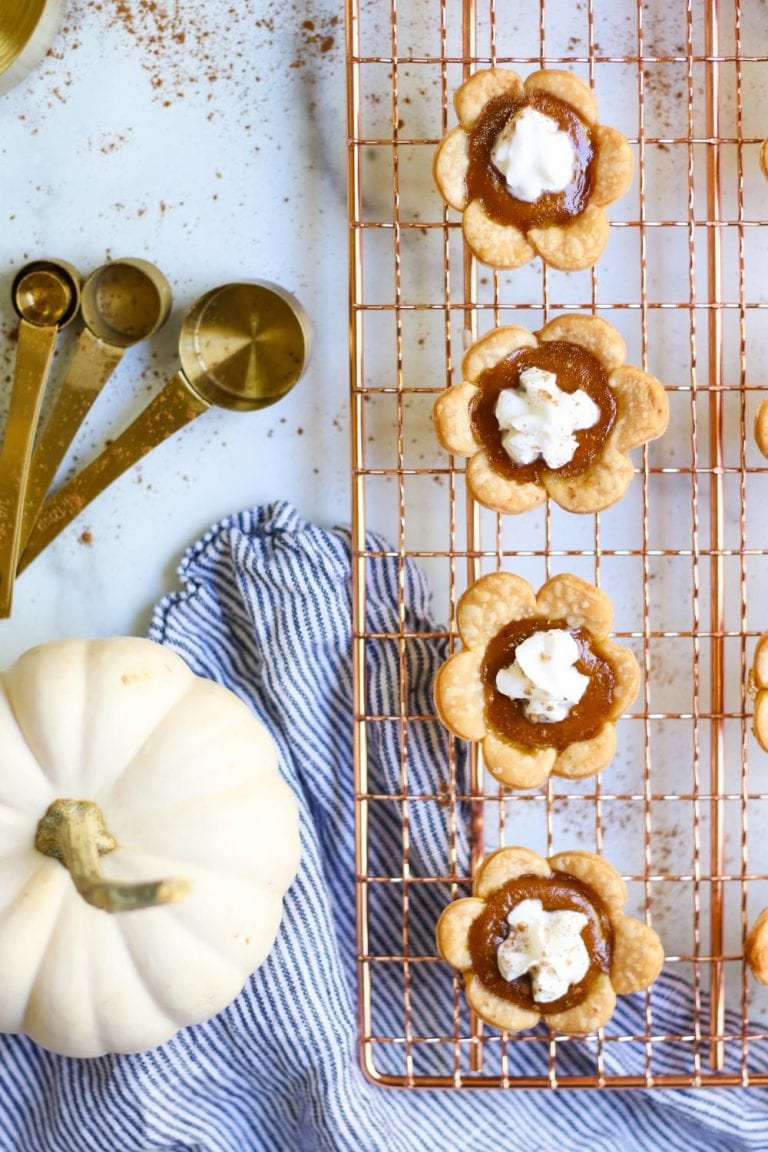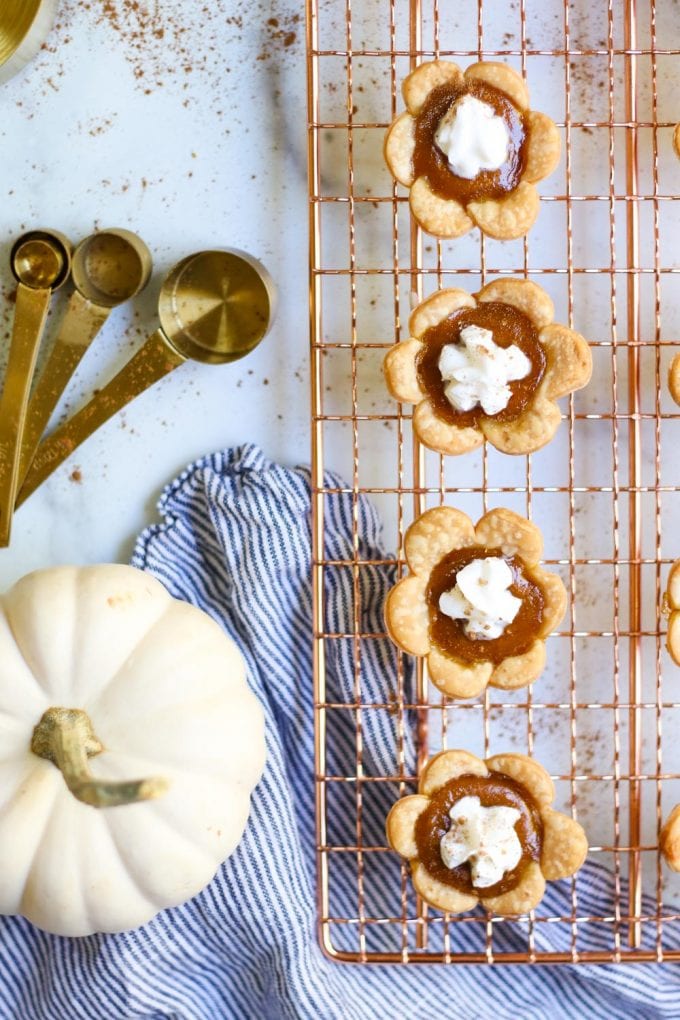 But, if you are just lactose intolerant and simply want to skip the milk and cream in the traditional pumpkin pie, you can use any crust you'd like!
Coconut Milk Whipped Cream
Now, you can't have pumpkin pie without whipped cream, right? Luckily whipped coconut cream is one of the best tasting treats, in my opinion. And it's pretty easy to make! I use this recipe from The Kitchn.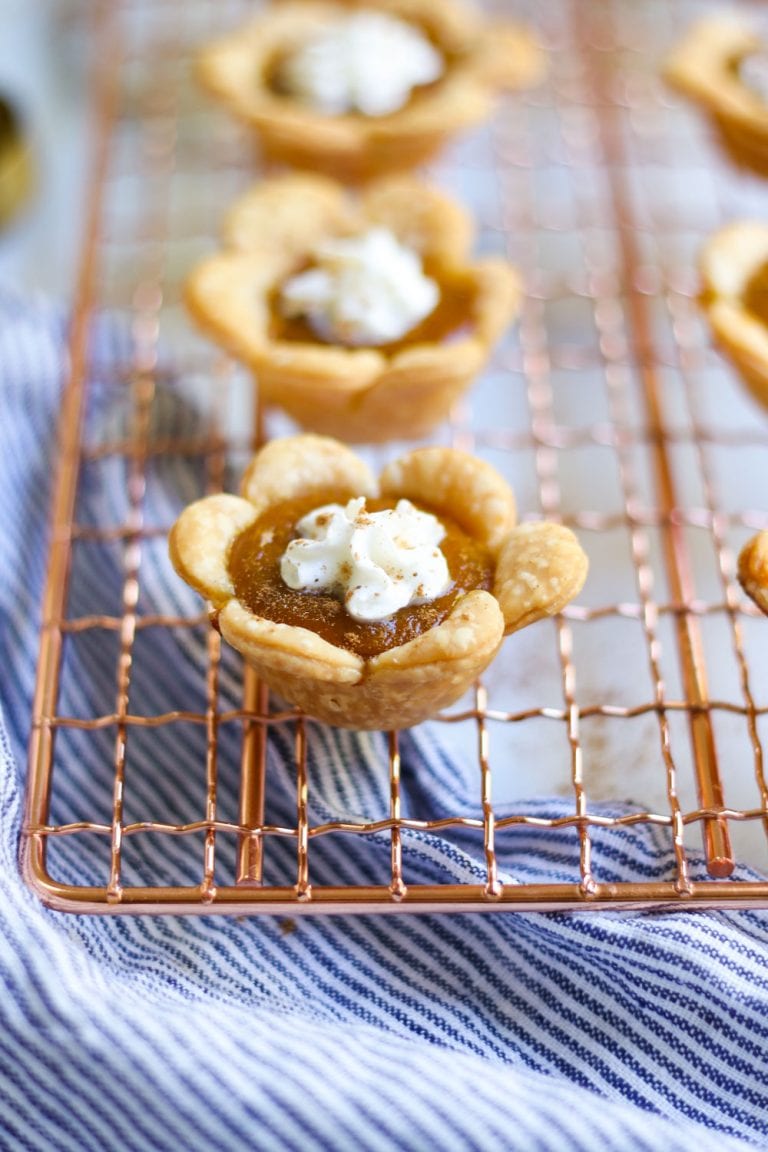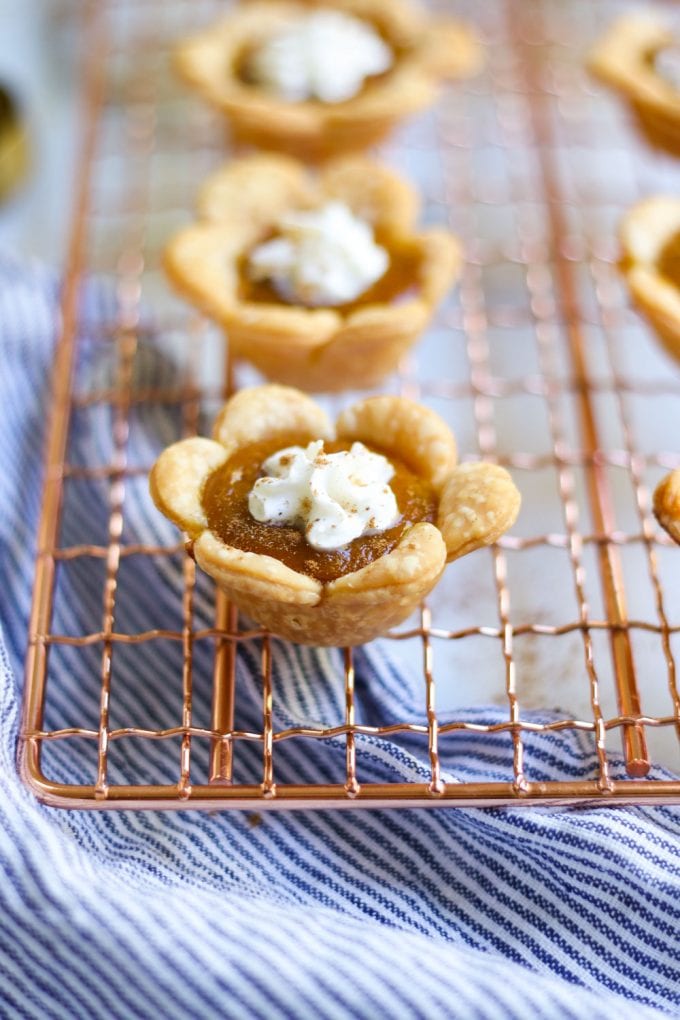 There are also some pretty yummy pre-made options out there too. You know the aerosol cans of the original stuff? Right next to them on the shelf are dairy-free options. Trader Joe's has a great coconut milk whipped cream in a can and I've seen a similar version made with almond milk.
so, if you are looking for a shortcut, check those out!
Ok, so are you ready to make these cutie patootie Dairy-Free Pumpkin Pie Bites? Print out the recipe and then be sure to come back and tell me what you think!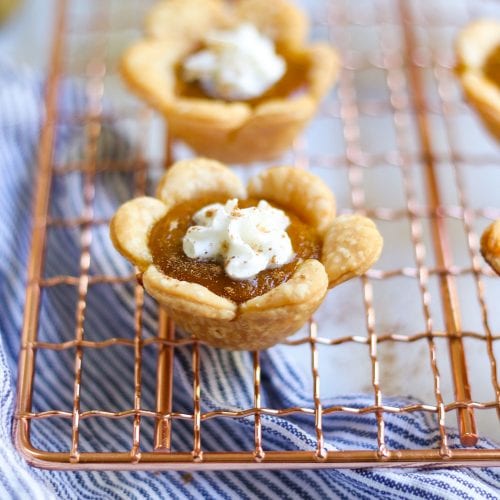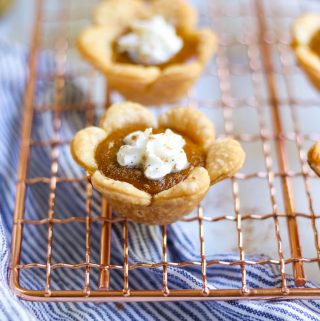 Dairy-Free Pumpkin Pie Bites
Dairy-Free mini pumpkin pies made with coconut milk.
Ingredients
1

15 oz can

pumpkin puree

1

cup

unsweetened coconut milk

full fat

3

large eggs

3/4

cup

brown sugar

1/2

tsp

sea salt

1

tablespoon

pumpkin pie spice

1

recipe Pate Brisee
Instructions
Preheat oven to 350 F degrees

Spray mini muffin tin with non-stick cooking spray. Roll out the pie dough and use a 3" flower or circular shaped cookie cutter to cut out 24 pieces. Place one piece in each well of the muffin tin, pressing down to create space for the pie filling. Refrigerate while you prepare the pie filling.

Beat the eggs in a large bowl. Add in pumpkin puree, coconut milk, brown sugar and vanilla. Whisk until combined. Add the salt and pumpkin pie spice. Whisk until smooth.

Fill each well of the muffin tin to the top with pumpkin pie filling. Place in the oven and bake at 350F for 40-50 minutes. Remove from the oven when a knife inserted comes out clean. Note: since this is a dairy-free recipe, the pies will not be completely set until cool.

Allow pies to cool on a wire rack for 2 hours. Serve or refrigerate until ready to serve. Top with coconut milk whipped cream before serving.

Note: The pie filling recipe makes enough for about 48 mini pies. Repeat the steps for prepping the muffin tins to make the second batch. Or, use the leftover pie filling to make pumpkin custard or my Mini Mason Jar Pumpkin Pies.
Nutrition
Serving:
1
mini pie
Calories:
45
kcal
Carbohydrates:
5
g
Protein:
1
g
Fat:
2
g
Saturated Fat:
1
g
Cholesterol:
10
mg
Sodium:
44
mg
Potassium:
26
mg
Fiber:
1
g
Sugar:
4
g
Vitamin A:
18
IU
Vitamin C:
1
mg
Calcium:
7
mg
Iron:
1
mg