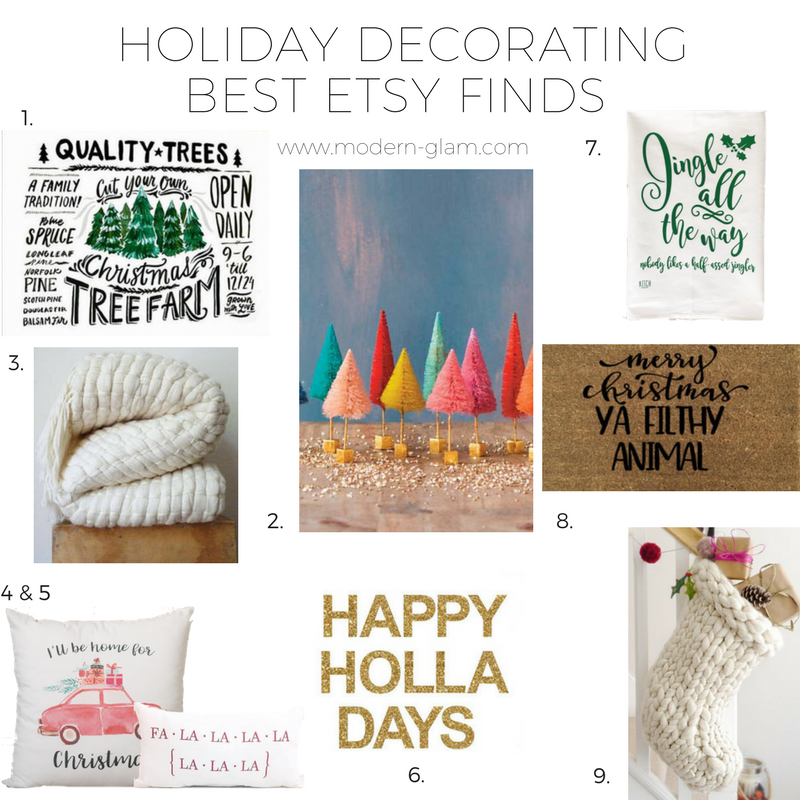 Happy Holidays! 'Tis the season for decorating! If you're anything like me you are always on the lookout for something new. Nothing too costly or dramatic. But something to add to your current holiday decorations to make it feel exciting and new! My favorite place to find these things is Etsy. And like my mom just asked me the other day, "where do you find the good stuff?!". Well I have made it easy for you. Here is my Holiday Decorating: Favorite Etsy Items guide.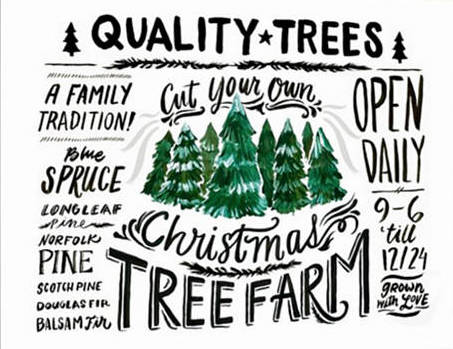 One of my favorite artisans is Lindsay Letters. My home is filled with her framed canvases and I bring the holiday versions out year after year with the same enthusiasm. I love this new canvas that she added this year!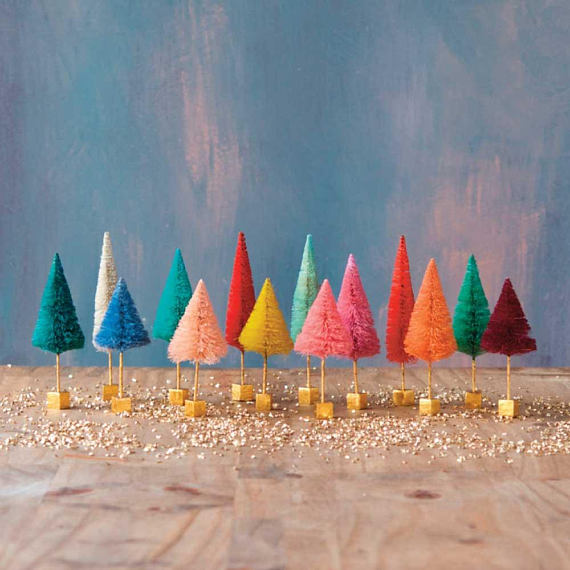 Over the years I have collected quite the collection of bottlebrush trees. These colorful and modern versions are some of my favorites. I love the bright colors and gold stand. You can see my collection in my Holiday Home Tour here.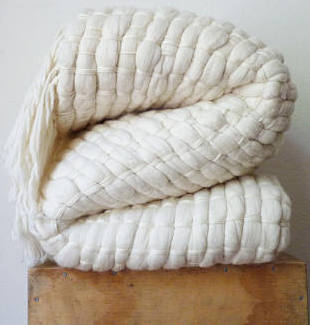 Nothing says cozy winter vibes like a super chunky blanket. What I love about this version is the subtle stitching detail and the oversize fringe. This would be so cute wrapped around your tree as well!
Holiday pillows are the perfect way to update your decor for the season. Easy to change out and relatively inexpensive, they are my go-to! And I love these versions. Simple yet, fun!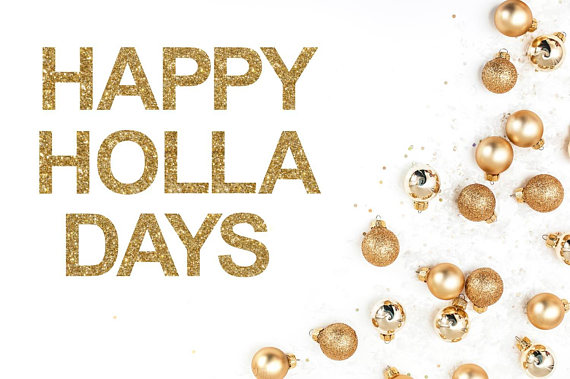 If you saw my Holiday Home Tour (link here), you saw my entryway tree. I used this cheeky banner to decorate that untraditional tree. And I think this would be so cute as part of your mantel decor or even on your front porch. She also has other unique sayings to fit your holiday mood!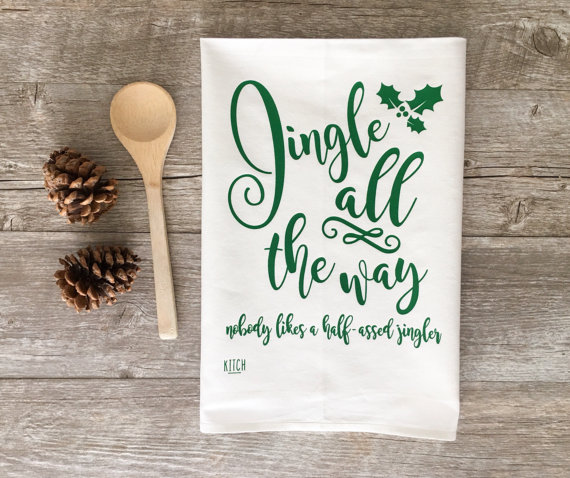 These quirky holiday tea towels make a fun statement in the kitchen. Last year I ordered enough to give to my neighbors with a batch of holiday cookies. They loved them! The seller also offers these with a more traditional sentiment.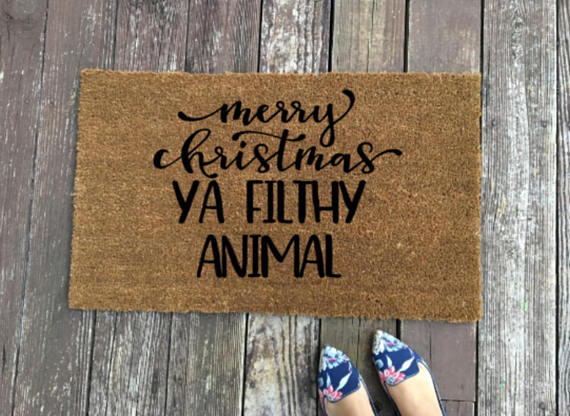 Home Alone is a favorite movie in our house. So when I saw this doormat that has one of my favorite quotes from the movie on it, I knew I had to have it! Updating your doormat with the season is such an inexpensive way to add interest to your outdoor decor. Other funny versions this seller has are "Sleigh girl, sleigh" and "Jolliest Bunch of A**holes". I'm sure the UPS driver appreciates my sarcastic front door decor, lol!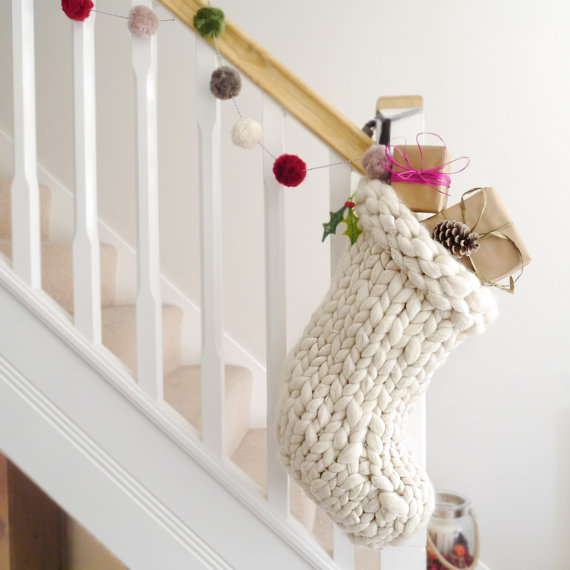 One of my favorite things that I added this year were some chunky stockings. I love the texture that it adds without adding any color to my pretty neutral color scheme. These chunky stockings are handmade and look so beautiful!
Shop The Post

Nordstrom Gift Card Giveaway
'Tis the season to give back!
I've teamed up with an amazing group of bloggers
to give YOU a chance to win:
a $1,000 Nordstrom Gift Card, to make your holidays just a little bit sweeter!
Simply enter below by completing the rafflecopter.
You'll receive one entry per completion.
This giveaway is open internationally and runs until end of day 12/18.
Winner will be announced here. Good Luck!
*this giveaway is in no way sponsored by Nordstrom.