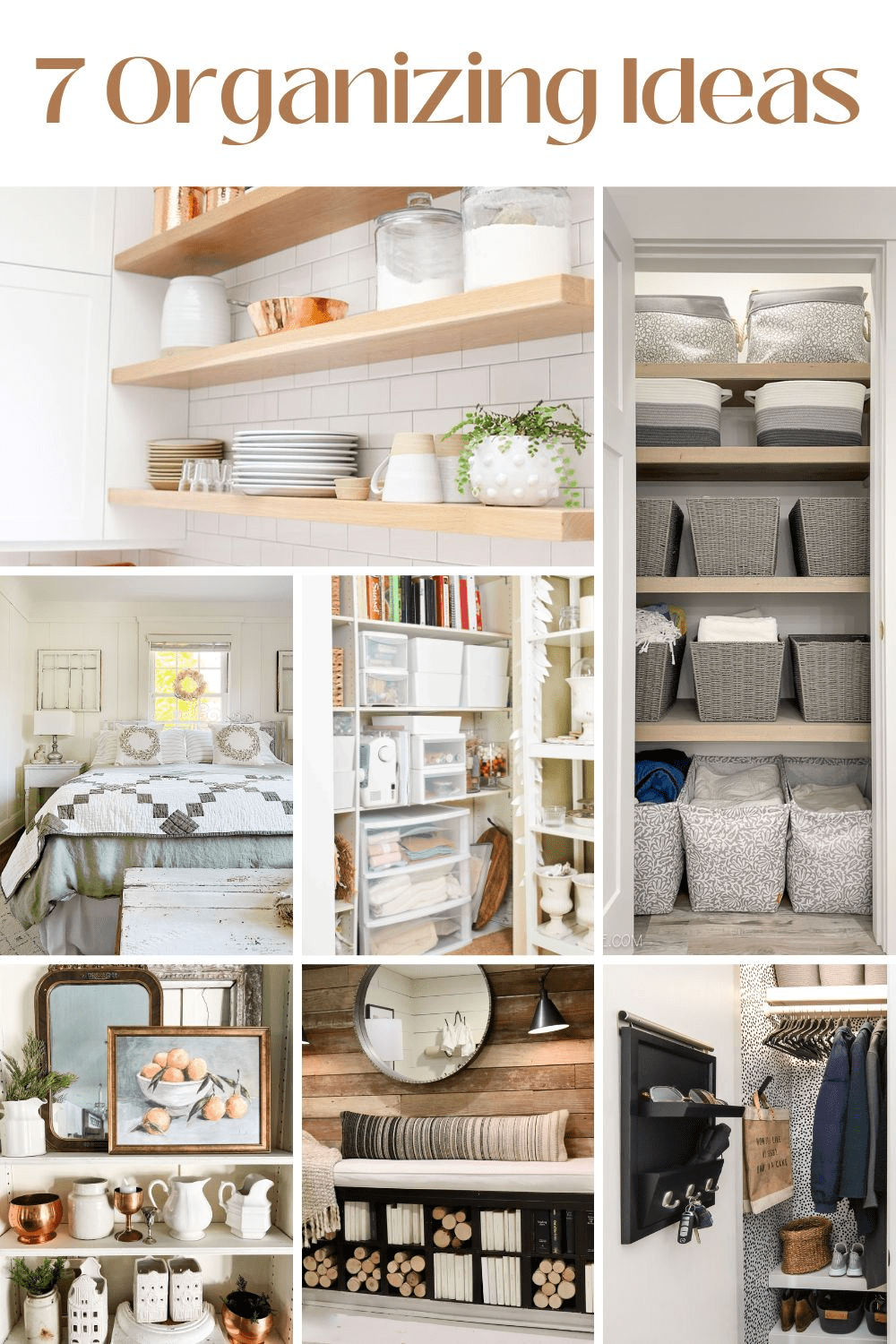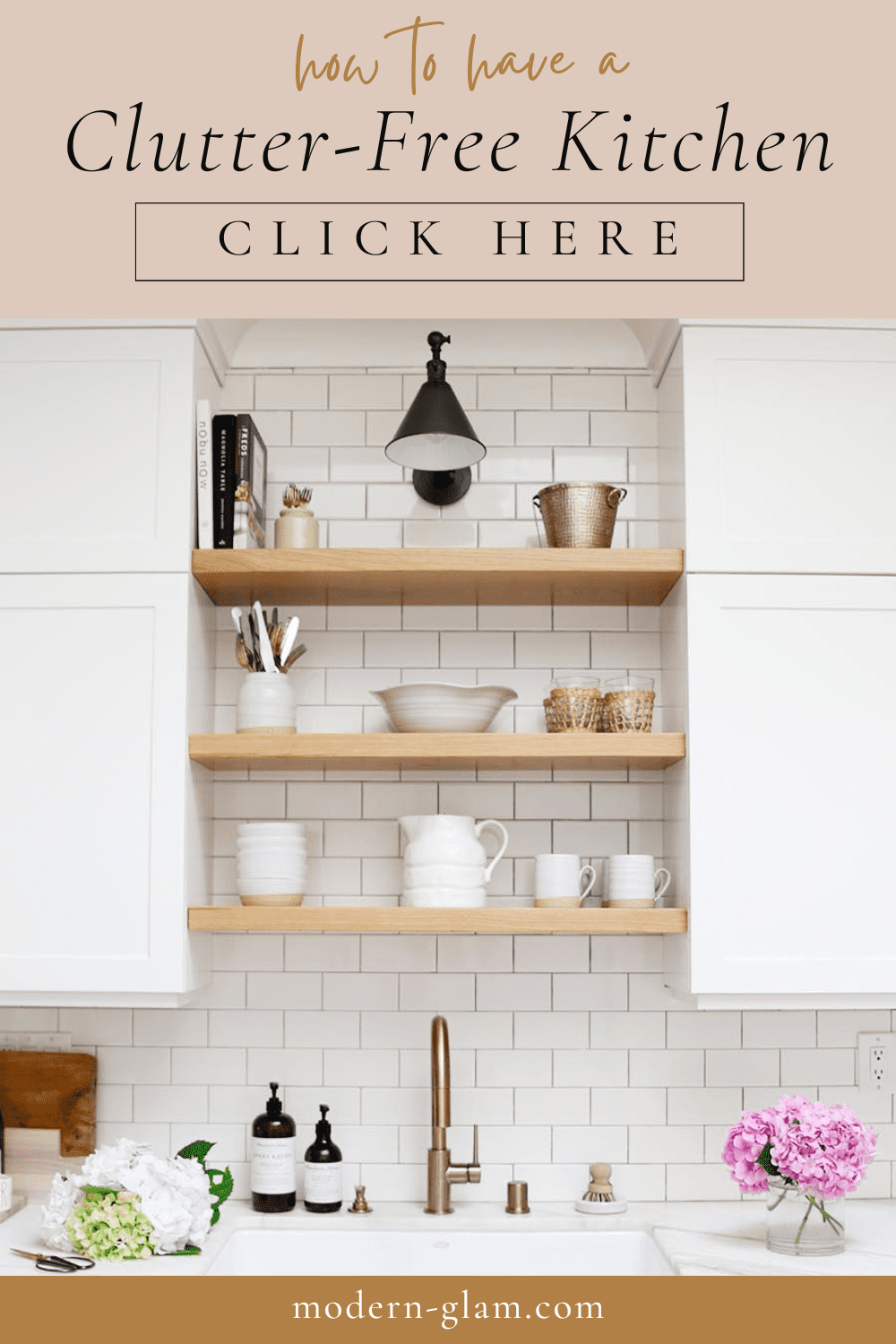 Easy and approachable tips for creating an organized and clutter-free kitchen and countertops. With these ideas, you can have a kitchen that looks and feels organized and is more functional too!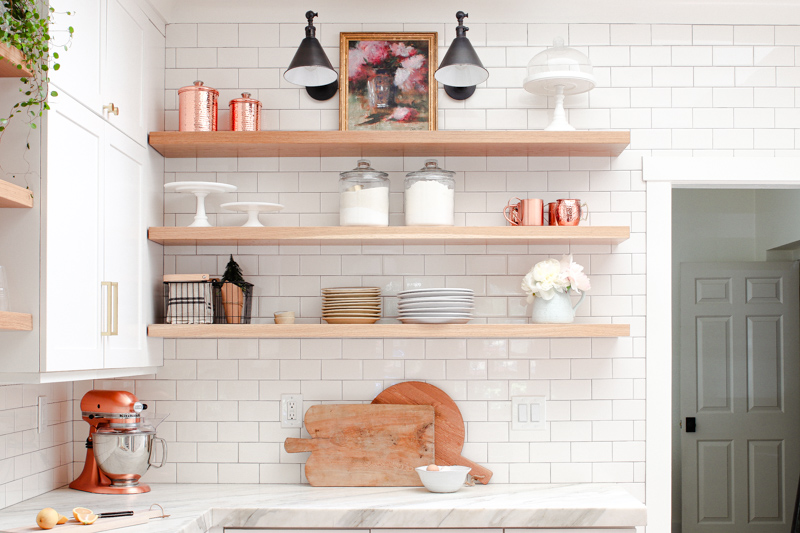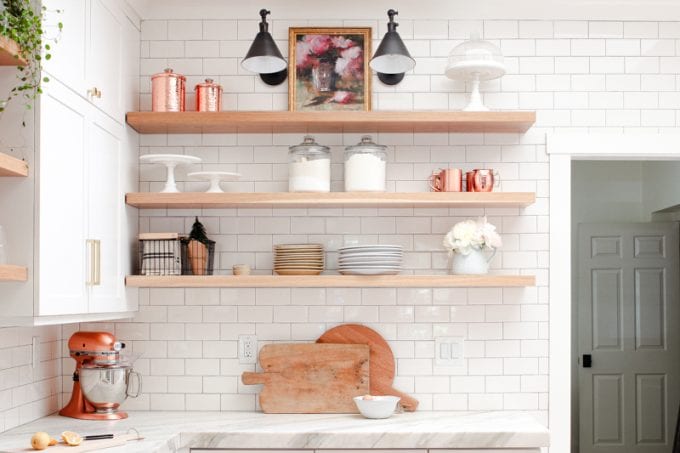 Four years ago we remodeled our kitchen and one of the biggest goals I had for our new kitchen was to create an organized and clutter-free space. Since the kitchen is the heart of the home, it can easily become the dumping ground for a lot of clutter and items that seem to not have a home.
And having a kitchen that looks and feels organized makes it not only look cleaner, but it also makes it more functional and definitely more enjoyable to spend time in.
How To Create An Organized and Clutter-Free Kitchen
Here are some tips I have learned that I think you may find helpful. And if you have any ideas or ways you create a clutter-free kitchen, please let me know! Leave a comment at the bottom so we can share our tips with each other.
1. Have A Place For Everything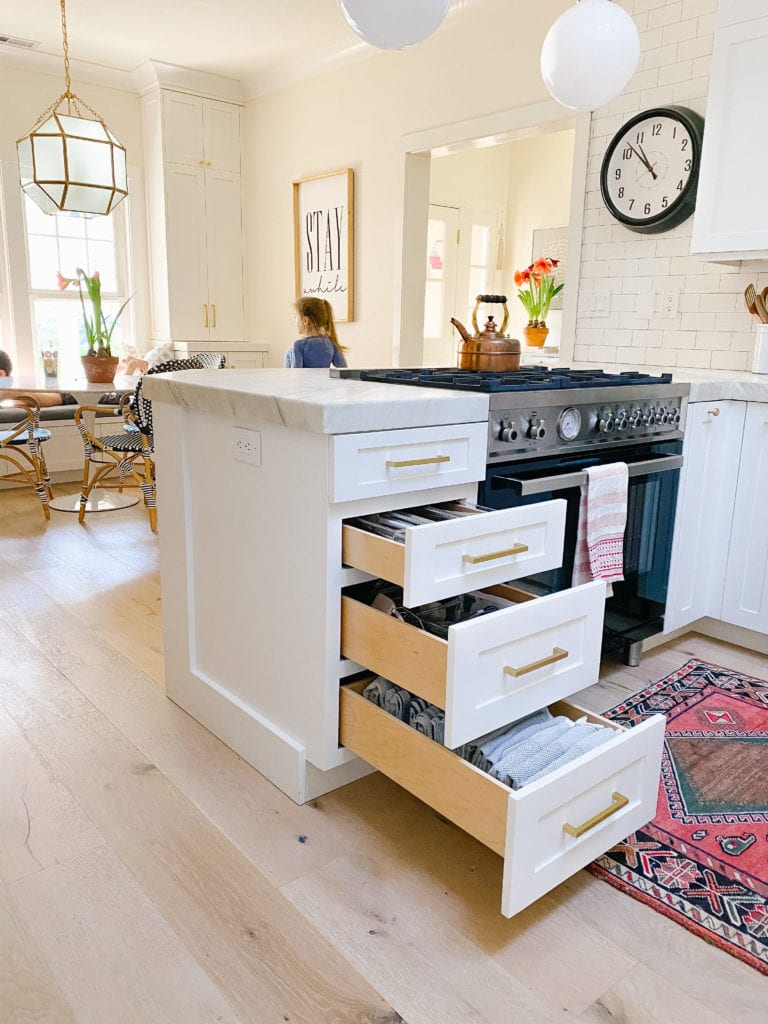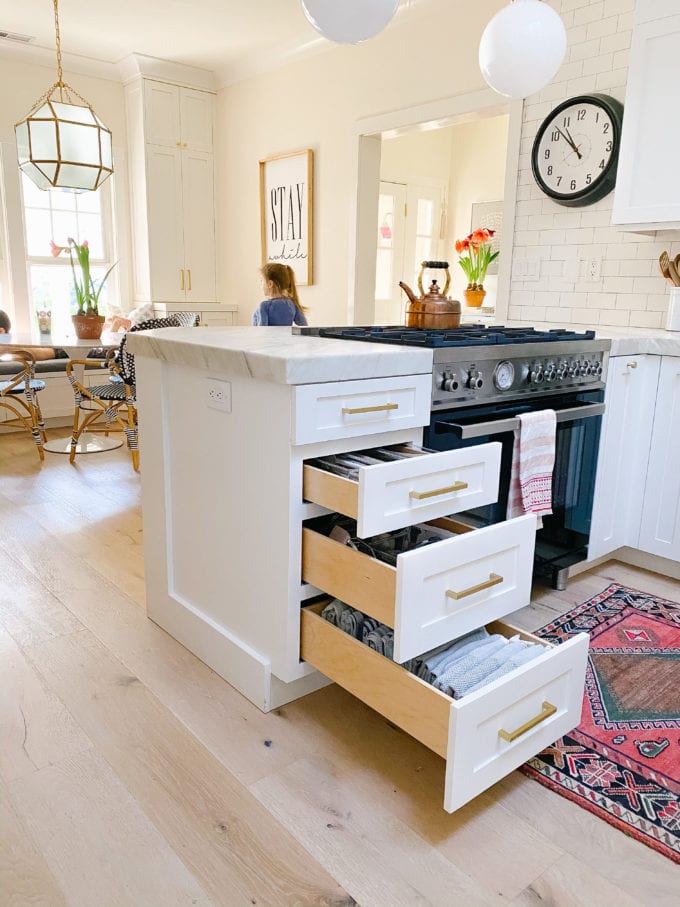 One of the quickest ways the kitchen can become cluttered and disorganized is not having a designated place for items. So, you may want to start with THIS POST and learn how to organize your kitchen drawers and create places for all items in your kitchen. Then, when it comes time for a quick pick-up, you aren't just shoving items in the first available spot you can find.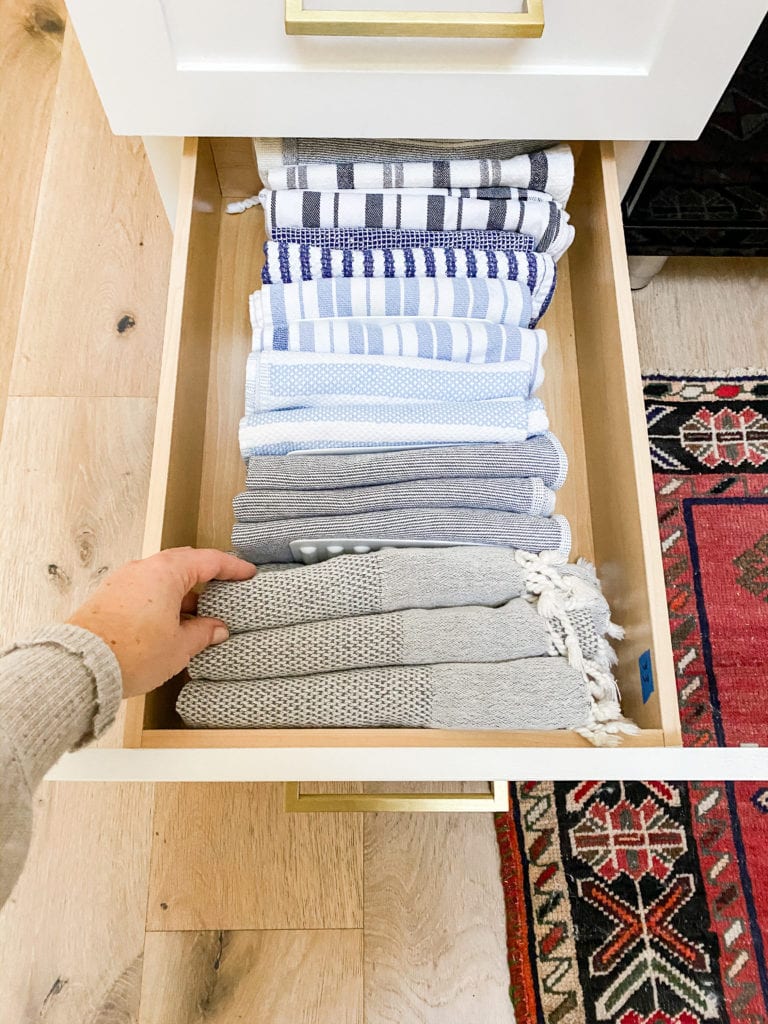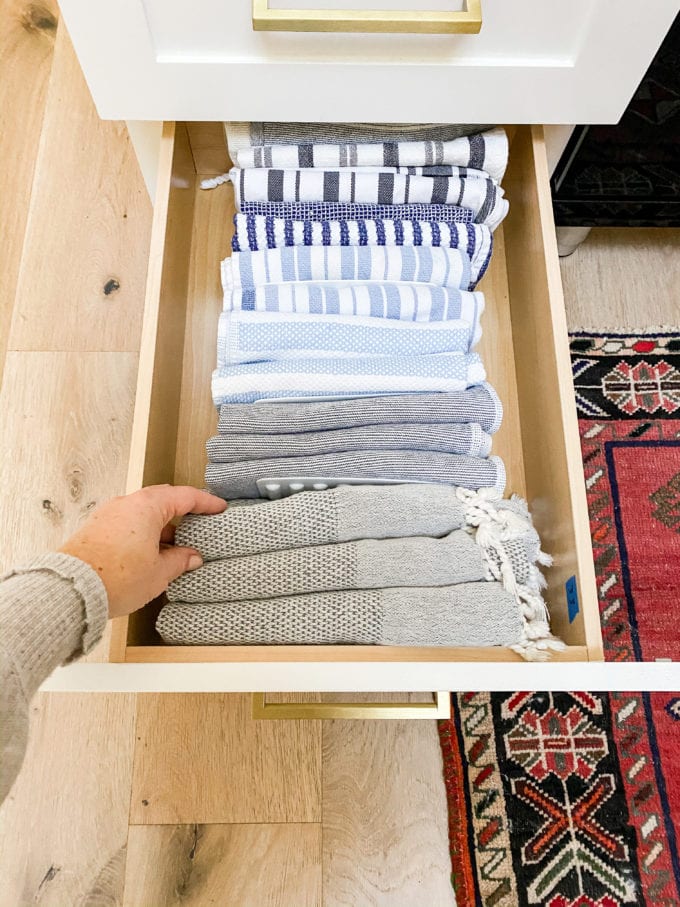 In our kitchen, not only do we have places to put the regular items like dishes and appliances, but I also have a spot for mail, paperwork and other items that seem to accumulate and not have a home.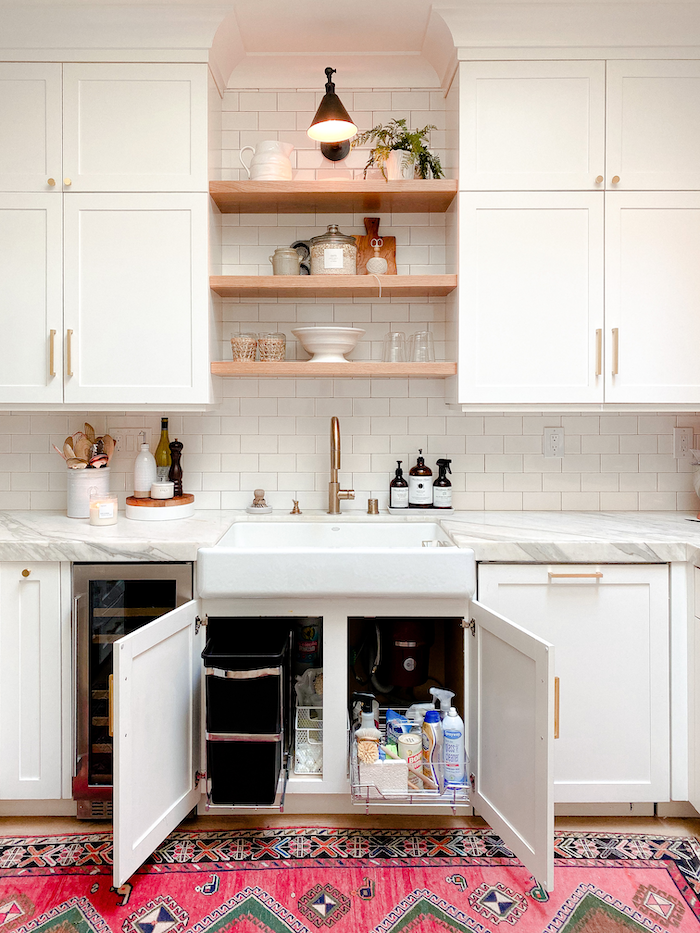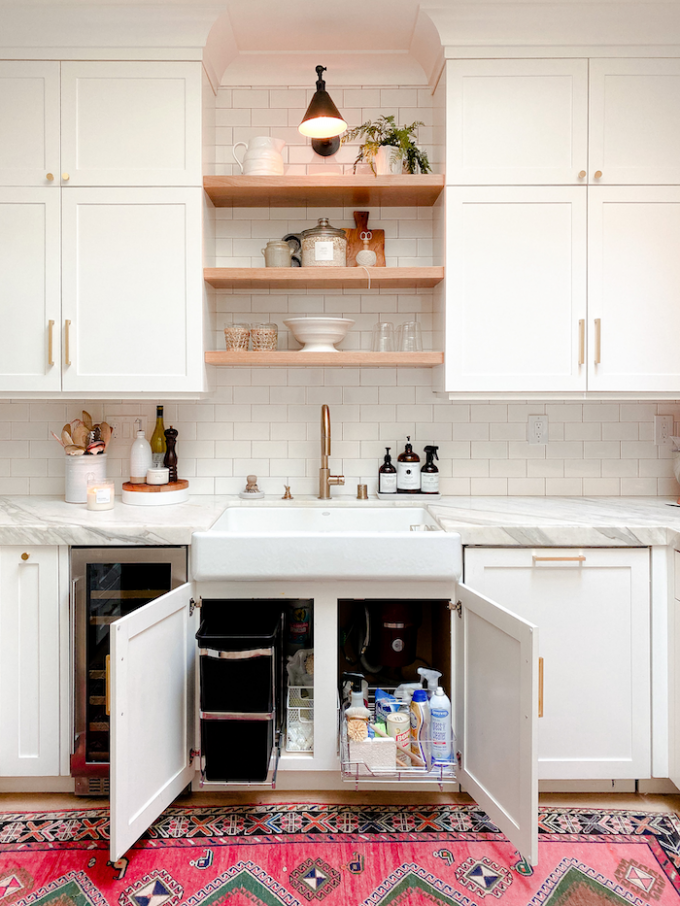 You may also be interested in reading about Kitchen Sink Organizing Ideas And Solutions. This was one of my most favorite and effective organizing projects last year.
2. Store Small Appliances In A Cabinet For A Clutter-Free Kitchen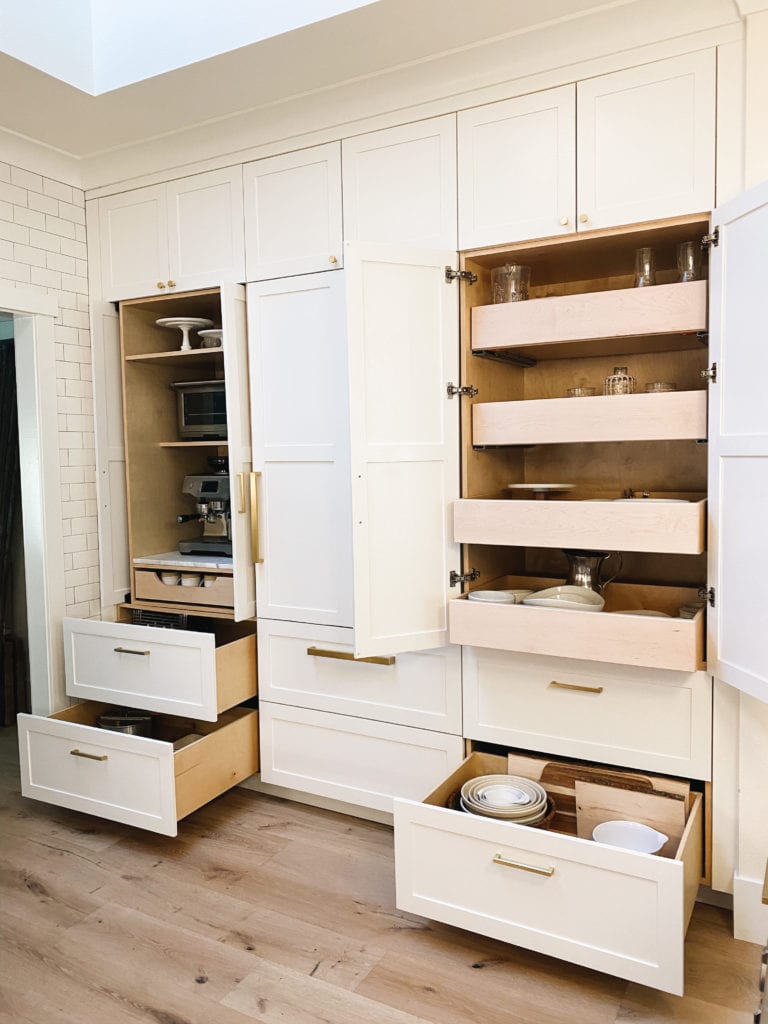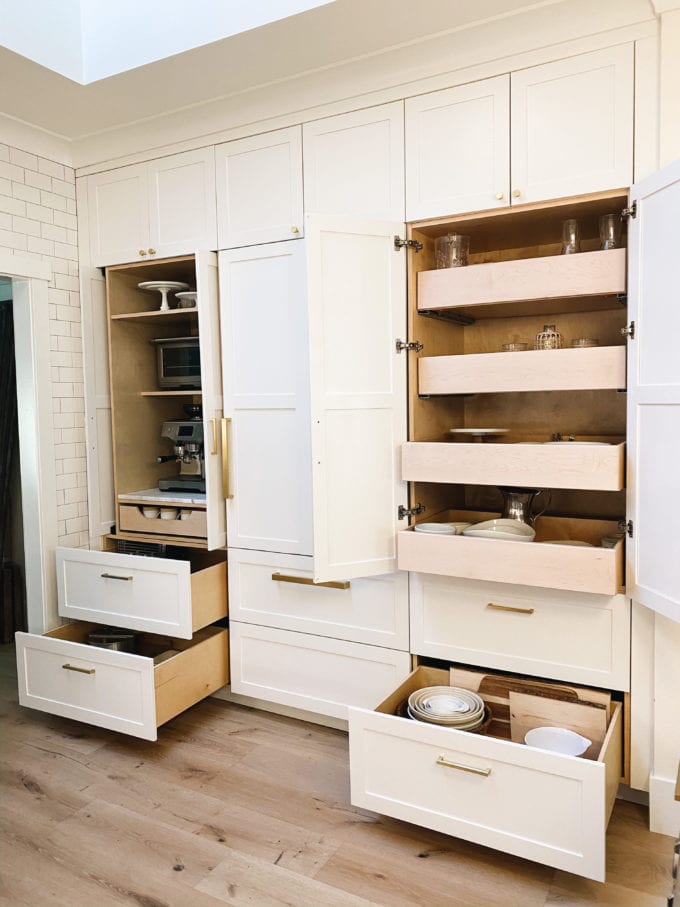 If you are lucky enough to have an appliance garage, I'm jealous! But if you're like me, create a spot for those small appliances like the toaster, waffle maker, blender, etc. We store our blender in a cabinet below along with other small appliances.
Having appliances sit on the counter creates instant visual clutter and also makes it harder to clean your counters daily.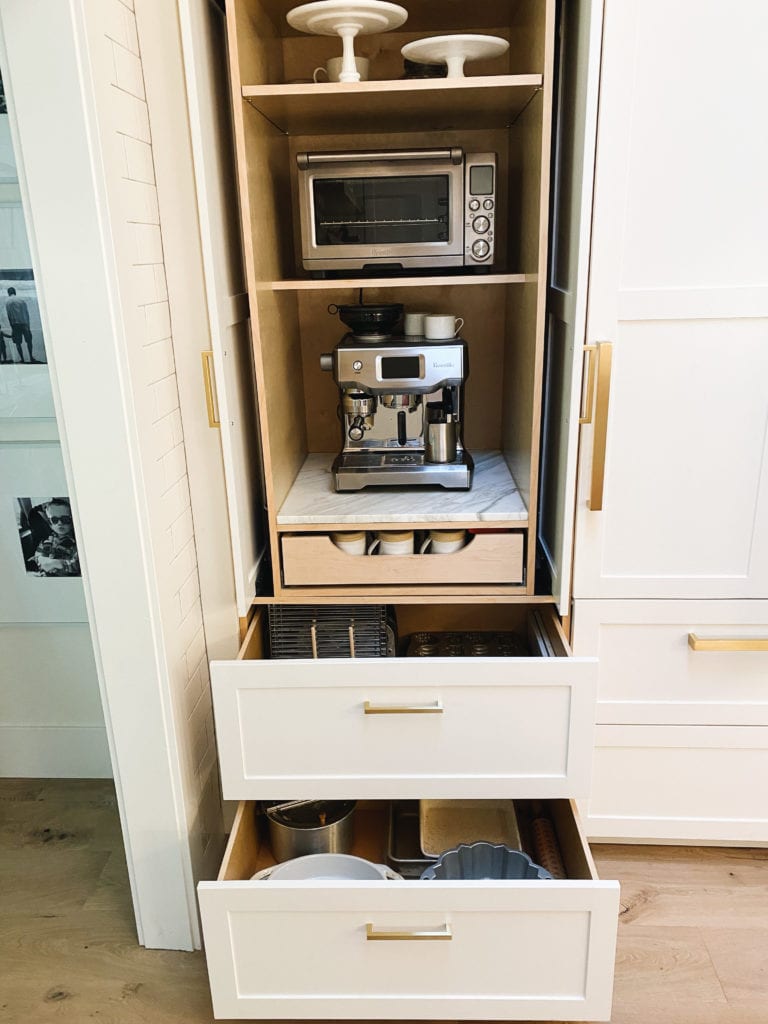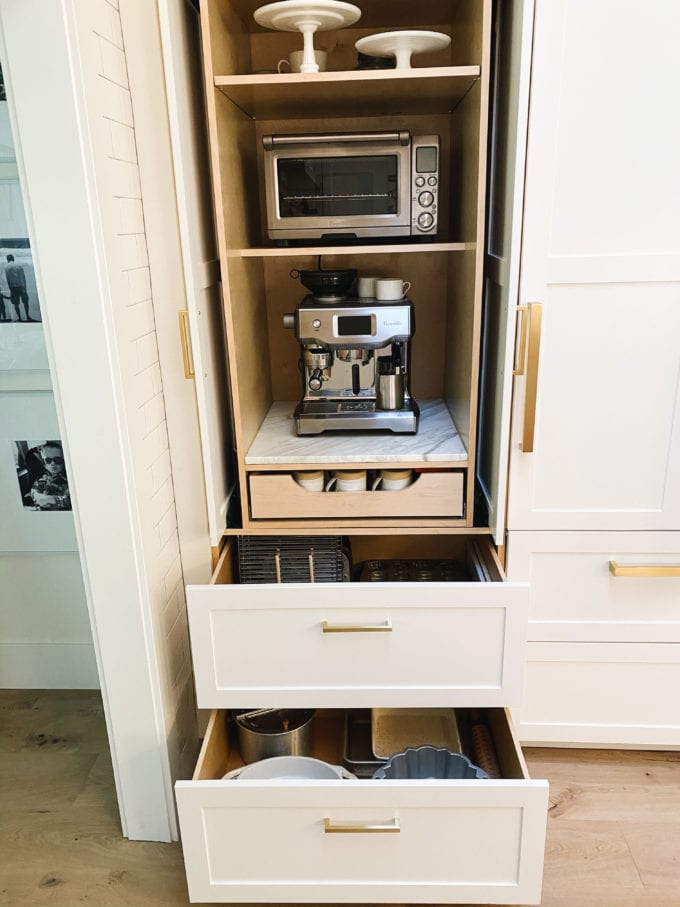 When we did our kitchen remodel, we created this coffee bar that we love. Since our coffee maker is quite large and we use it daily, I knew it could not be stored away. So, we got creative and I love the result.
Having a dedicated space for your morning coffee routine creates a more organized kitchen and is pretty to look at too!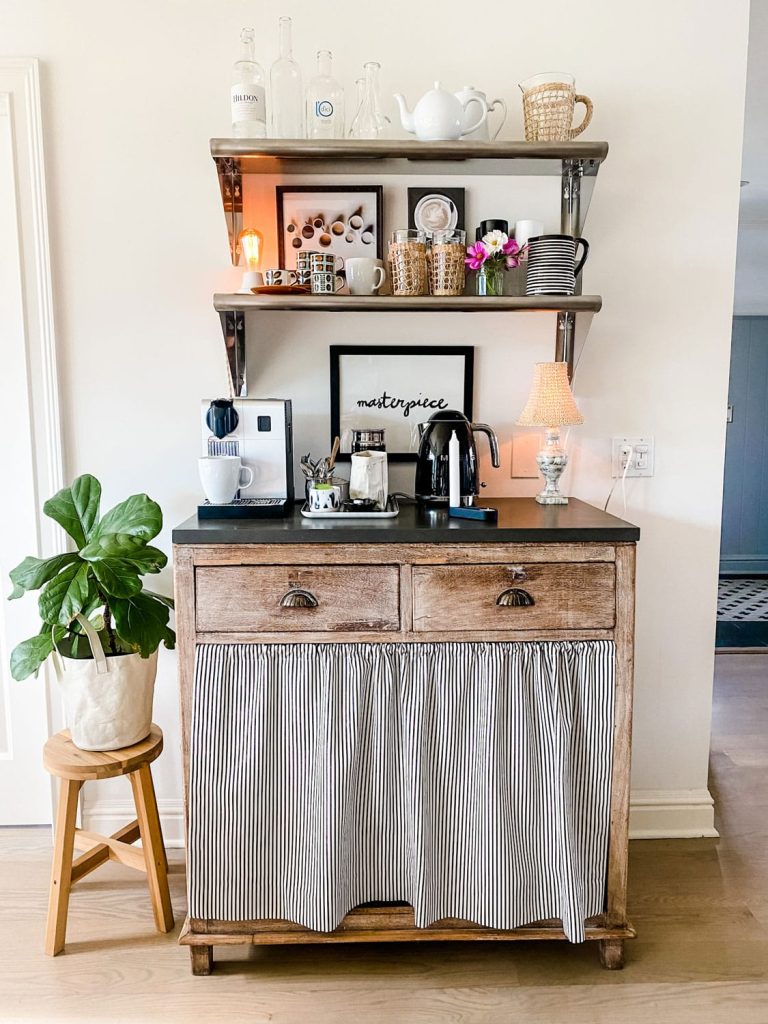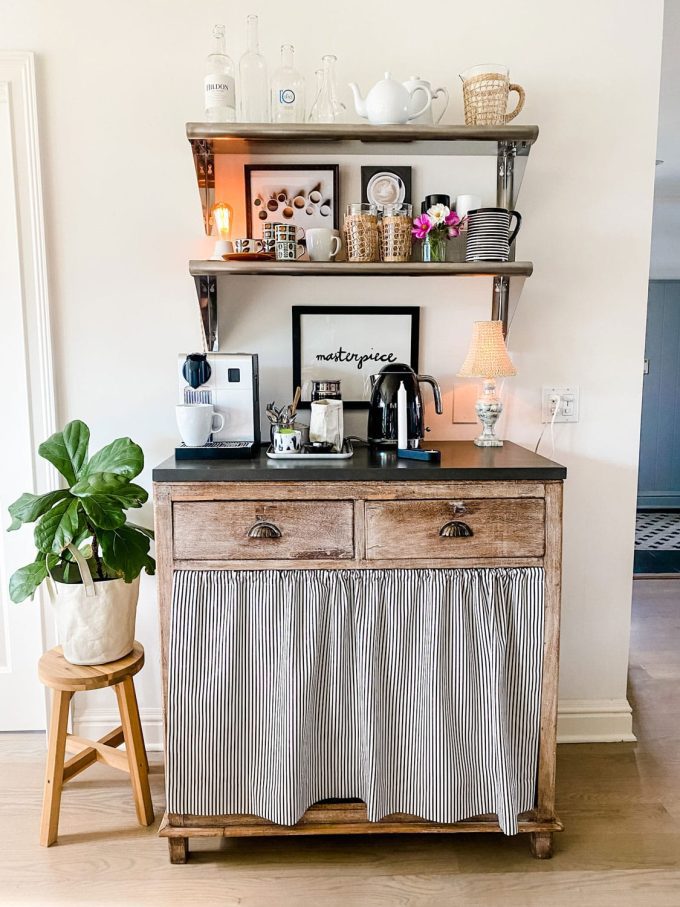 Now, I know this is not realistic if you are looking for ways to create a clutter-free kitchen today. But, get creative and think outside the box. You could create a coffee bar using an otherwise unused buffet or cabinet. My friend Annie, Most Lovely Things did just that and I love the way it looks! You can read how she did it HERE.
3. Upgrade Your Everyday Items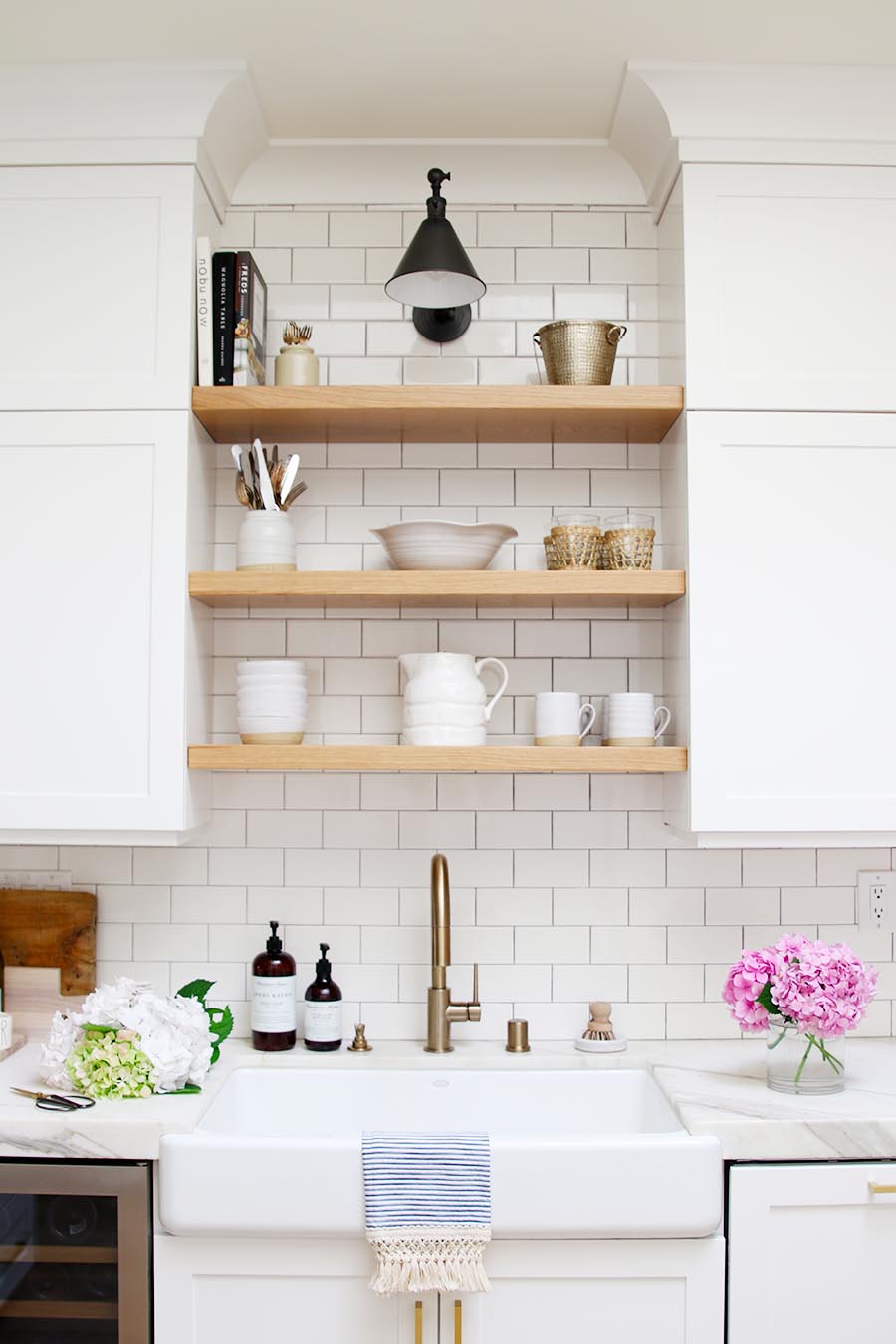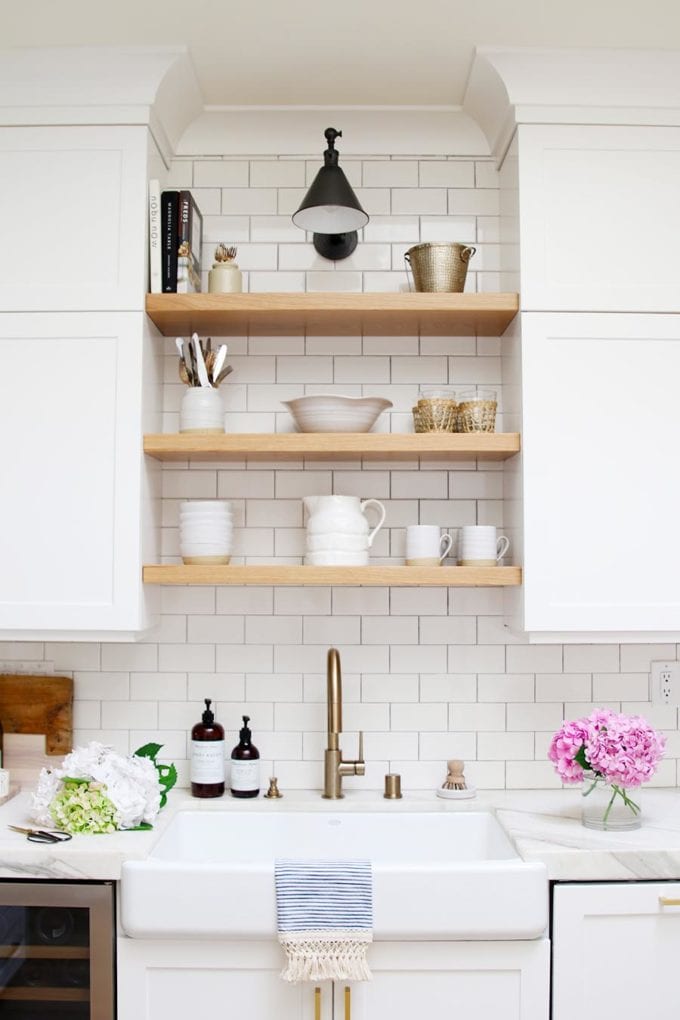 Some items in evidently will be left on the countertops. Because, the reality is, we live in our homes! So, for items that you want to keep out, like olive oil, salt and pepper or dish soap, upgrade them!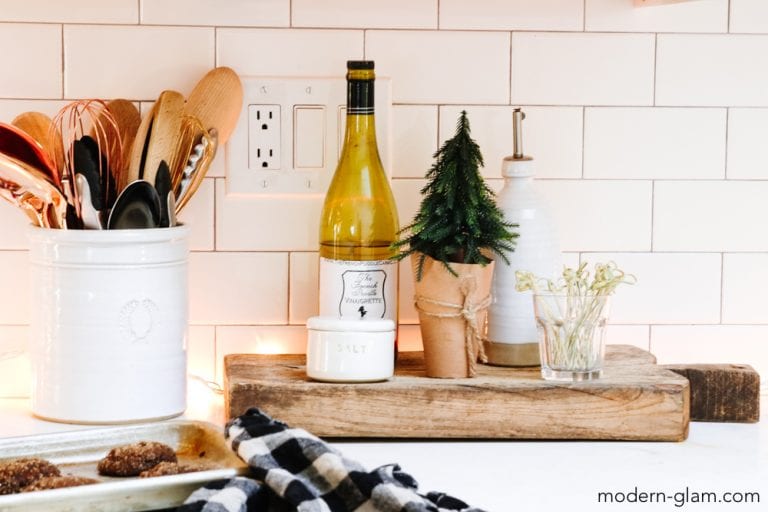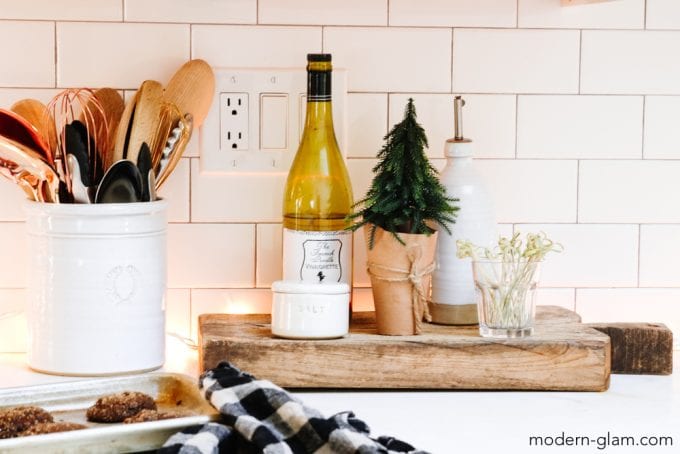 Buy a beautiful olive oil bottle that you love. Keep your salt in a pretty vessel and use amber colored bottles to store your dish soap. These little things will make your kitchen feel less ordinary and more beautiful.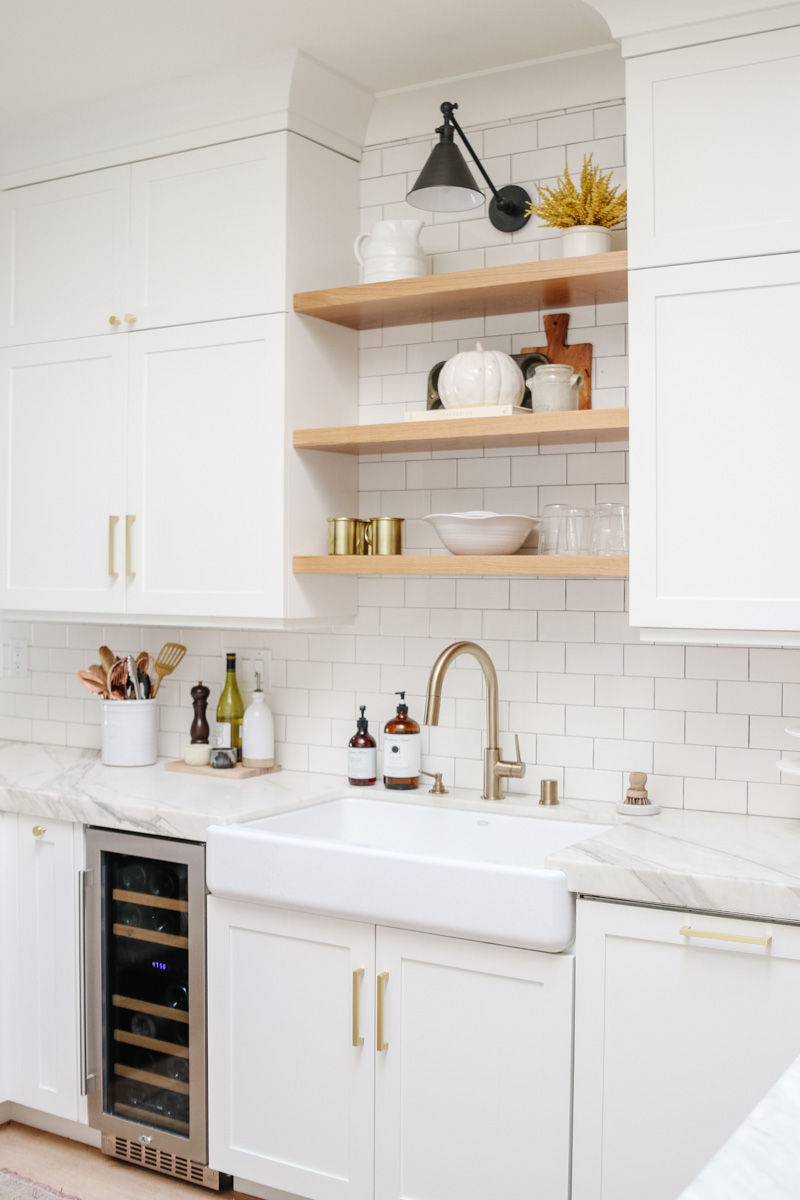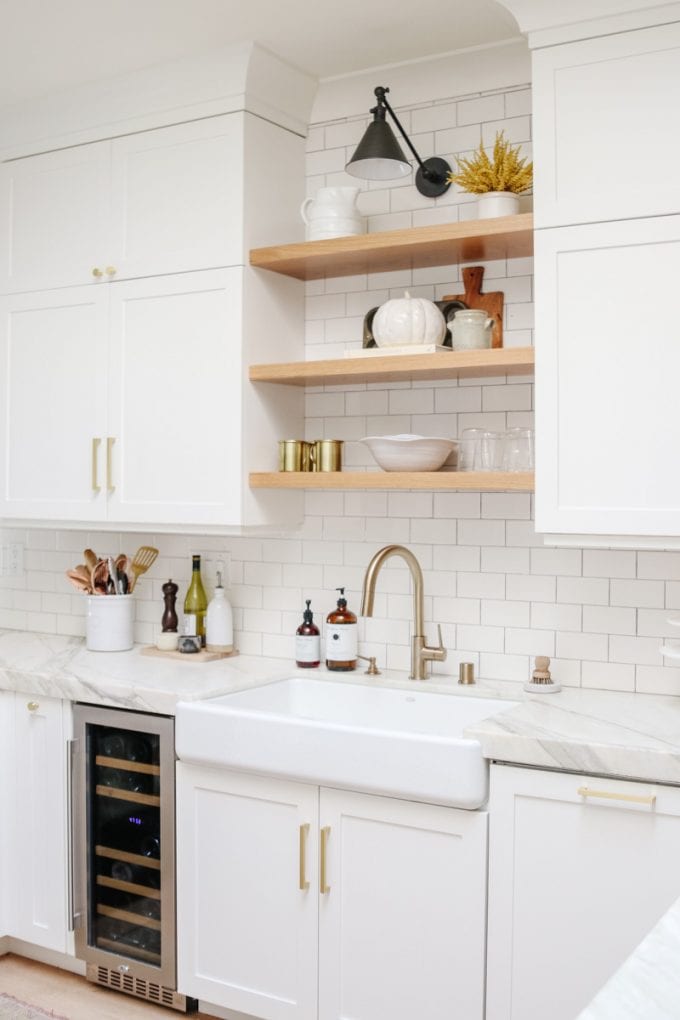 I also like to use a pretty tray, lazy susan or pedestal to gather these items on and make it feel more organized and clutter-free in your kitchen.
4. Keep Only Large Items Out For A Clutter-Free Kitchen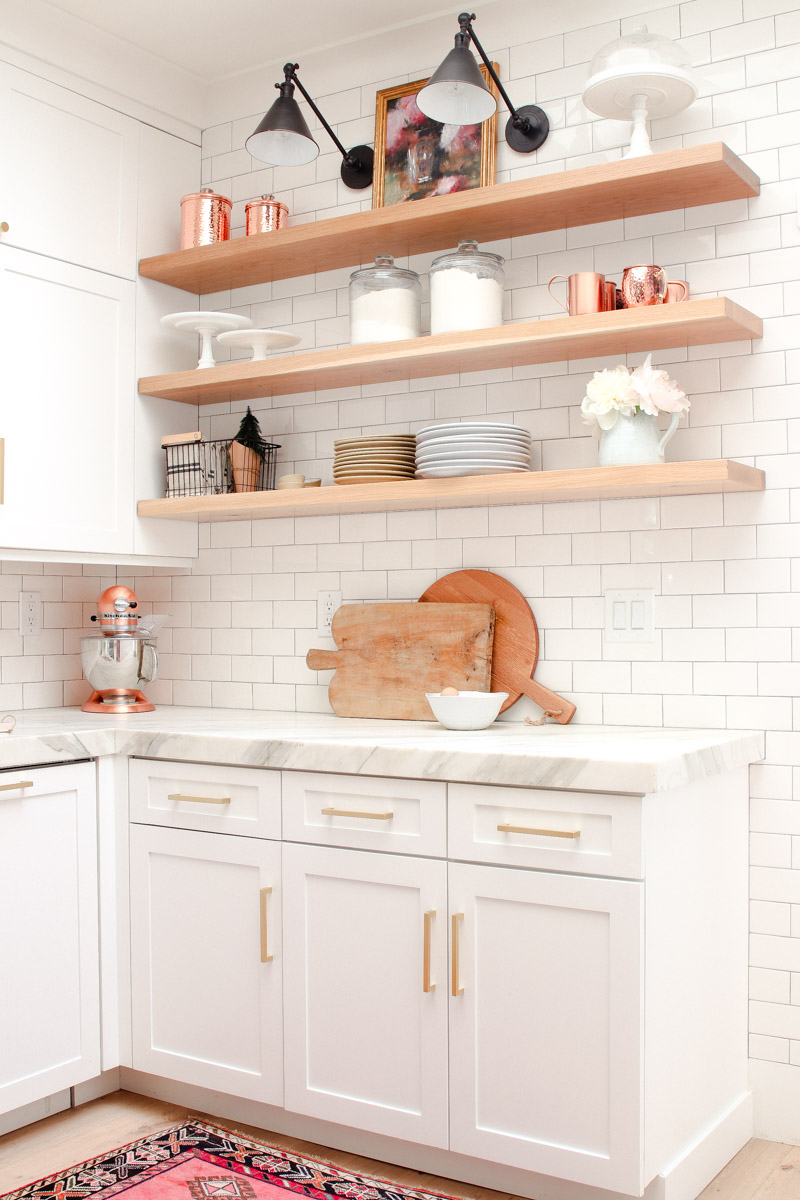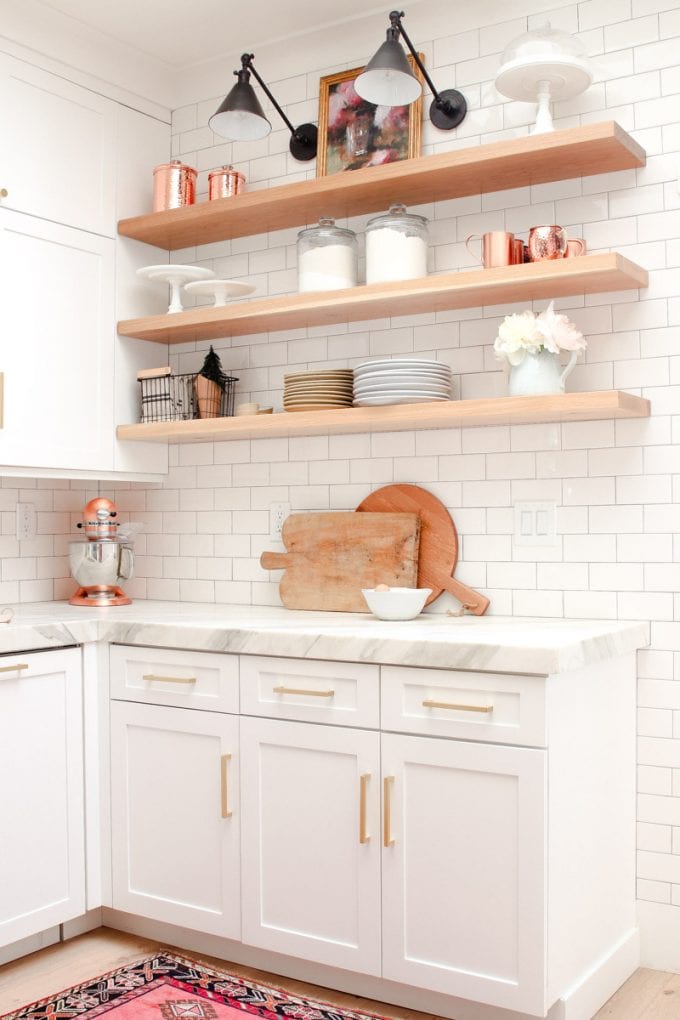 Some kitchen appliances in evidently have to be kept out. We keep our mixer on the counter because it makes it easier to use and also because it goes with our kitchen.
There are so many beautiful kitchen appliances now. Like this toaster and this microwave that make it easier to love seeing them on your counters! Rethink those boring appliances and maybe make an upgrade for the ones that you want to keep out.
How To Decorate Kitchen Counters Without Cluttering Them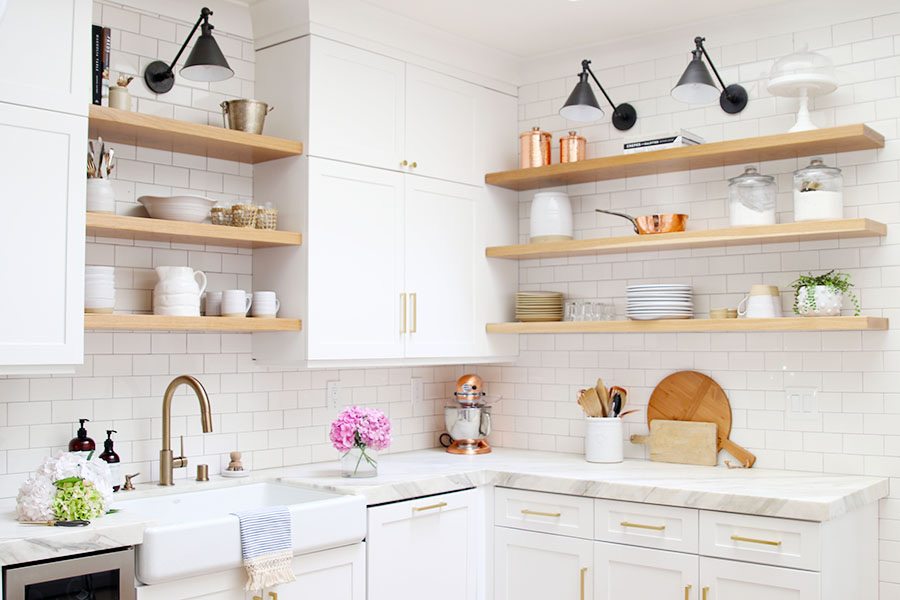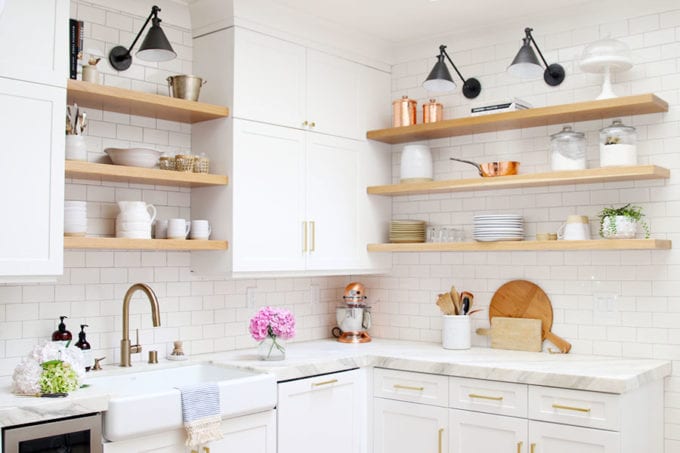 Having a decluttered and organized kitchen doesn't mean it has to look like no one lives there. After all, the kitchen is the heart of the home and it should be warm, welcoming and inviting. But, you can also have an organized kitchen at the same time.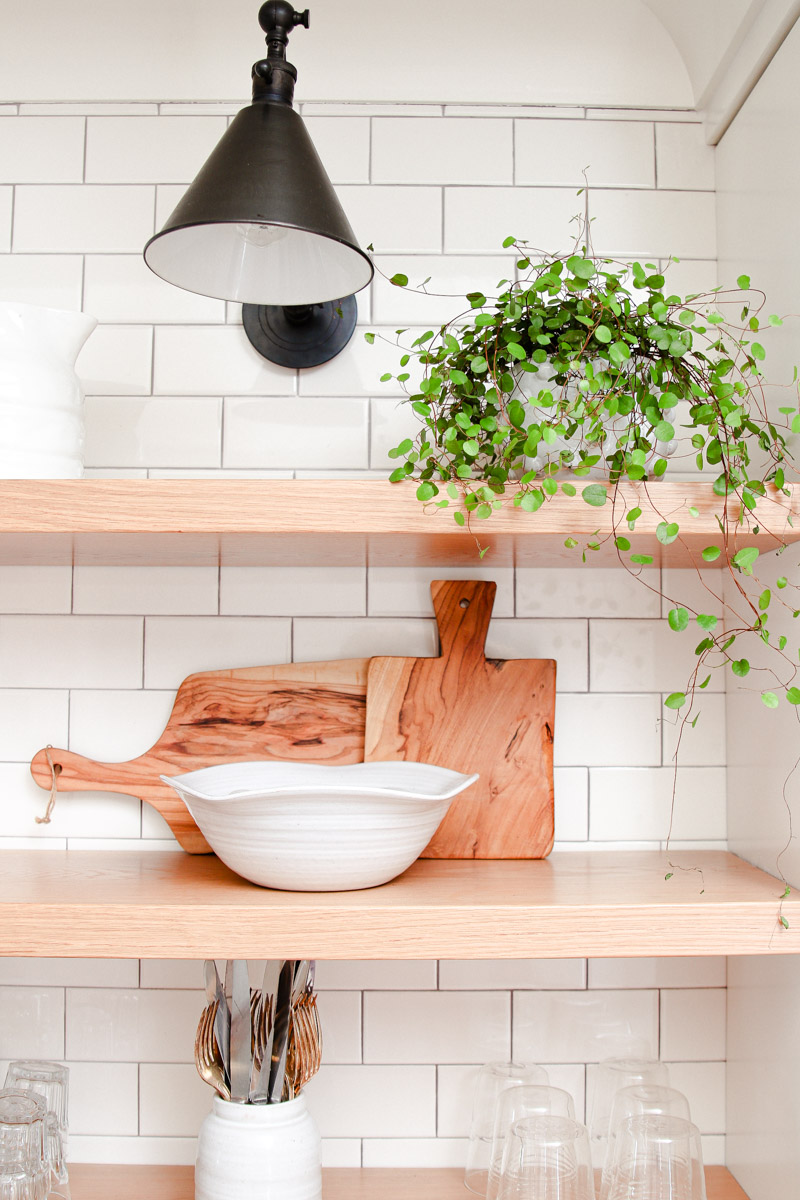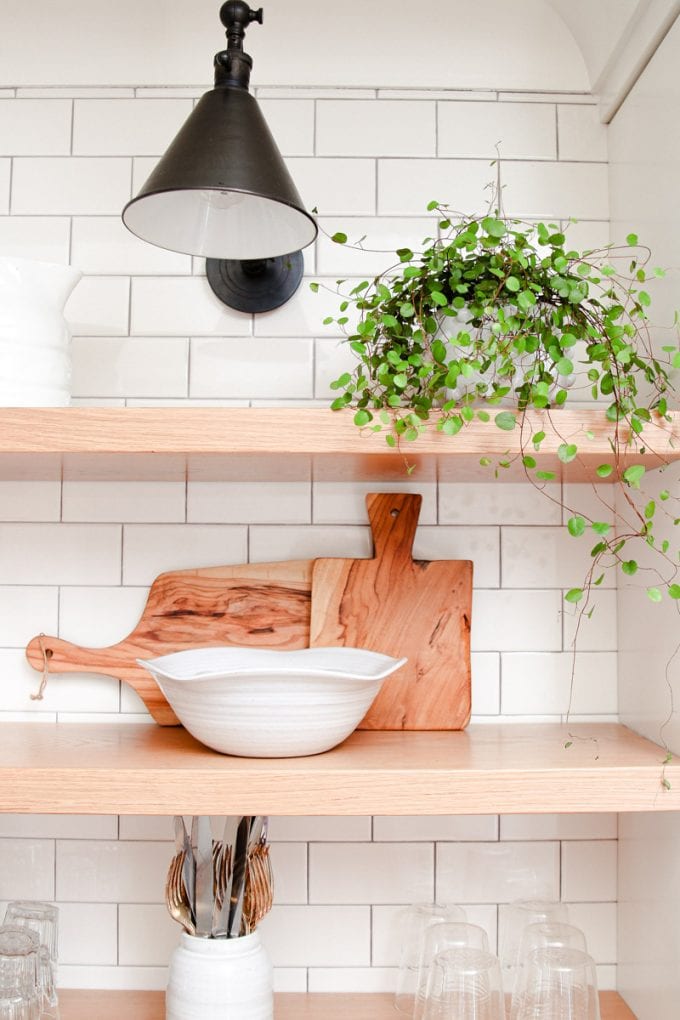 Here are some ideas to add character and decor to your kitchen counters in a clutter-free way:
Keep fruit in a beautiful bowl or container
Add flowers and plants
If you have open shelving, decorate with a simple color scheme
Think Minimalistic and limit the amount of decor
Add a small lamp to create coziness
Create a coffee station
Organizing Ideas For Your Whole Home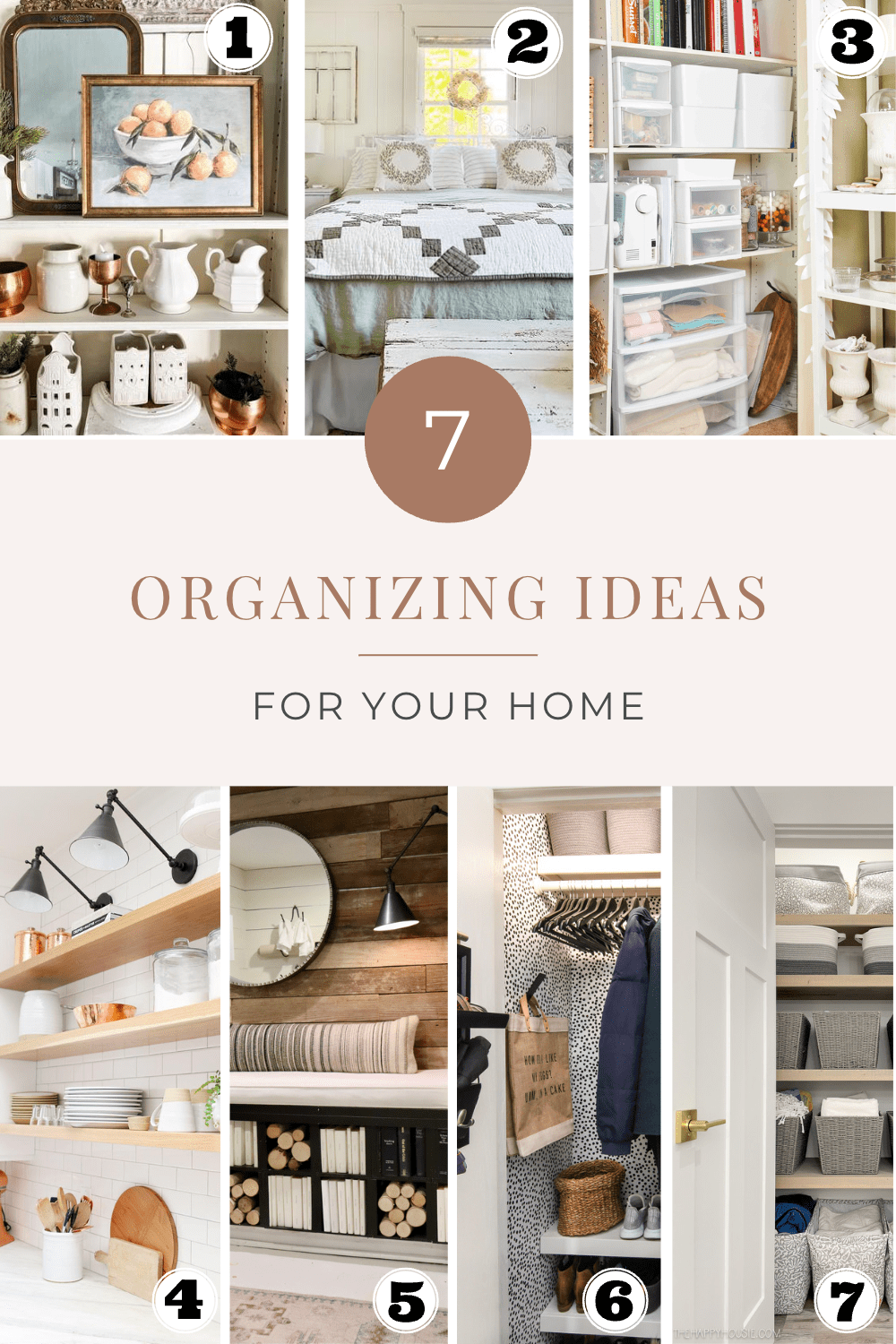 How to Organize a Dining Room in 3 Easy Steps // Robyn's French Nest
How to Organize a Small Bedroom for Guests // My 100 Year Old Home
DIY Storage Closet Ideas to Double Your Storage // Happy Happy Nester
How To Create A Clutter-Free Kitchen // Modern Glam
Basement Organization // My Sweet Savannah
Easy DIY Hall Closet Makeover // Inspiration For Moms
Organizing Your Whole Home // The Happy Housie
And You May Like These Organizing Ideas From The Archives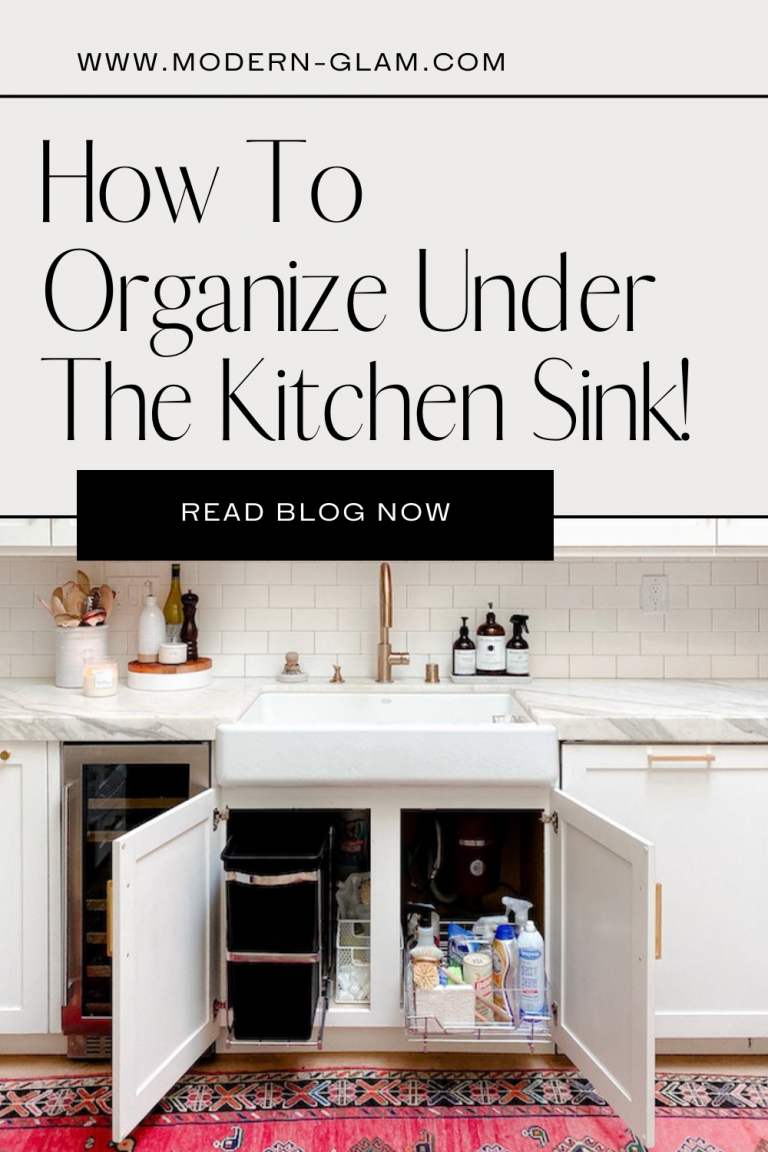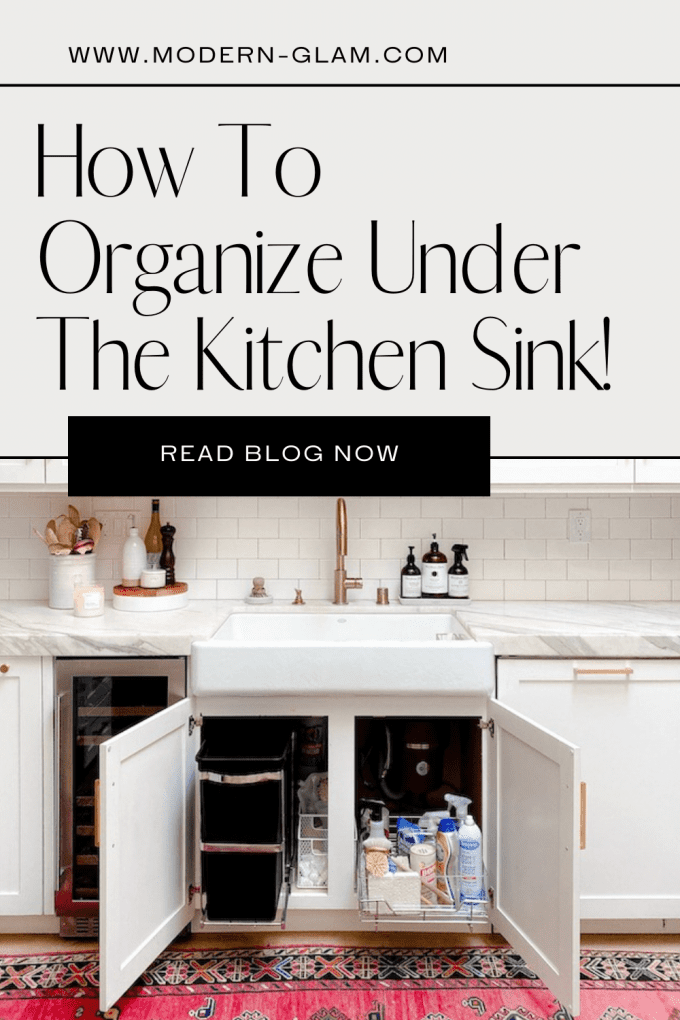 In this post, I share how I tackled the dreaded Kitchen Sink cabinet and used pull-out shelf inserts to create an organized kitchen and this is one of my favorite projects to date!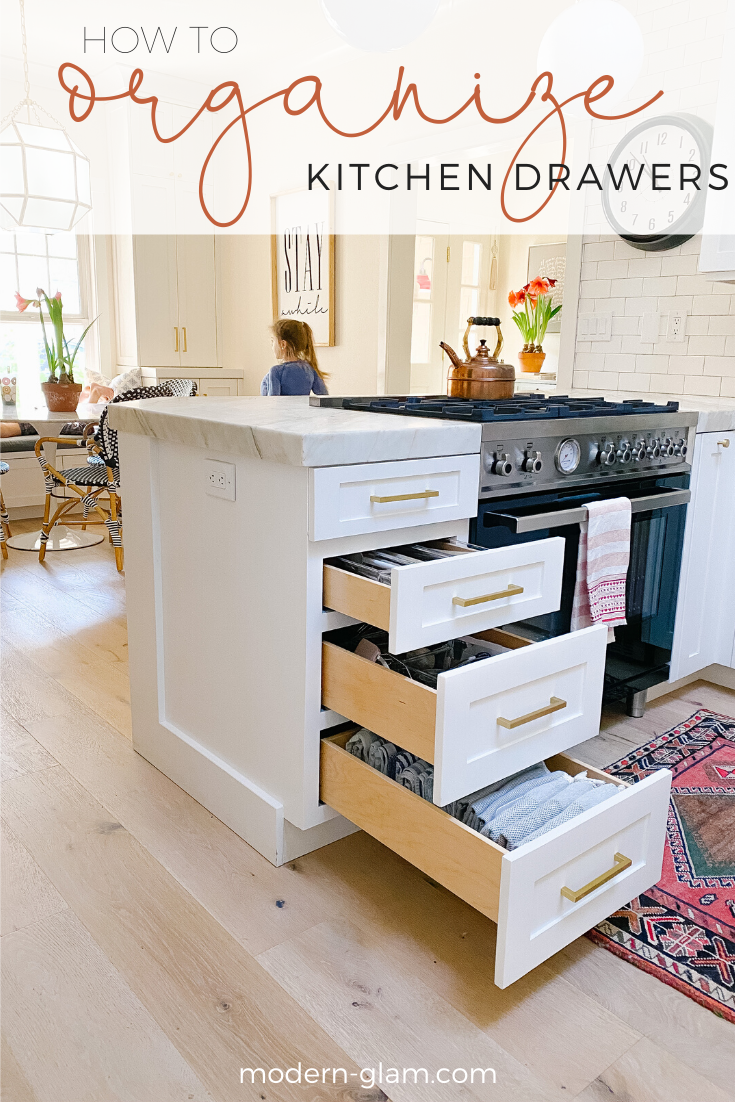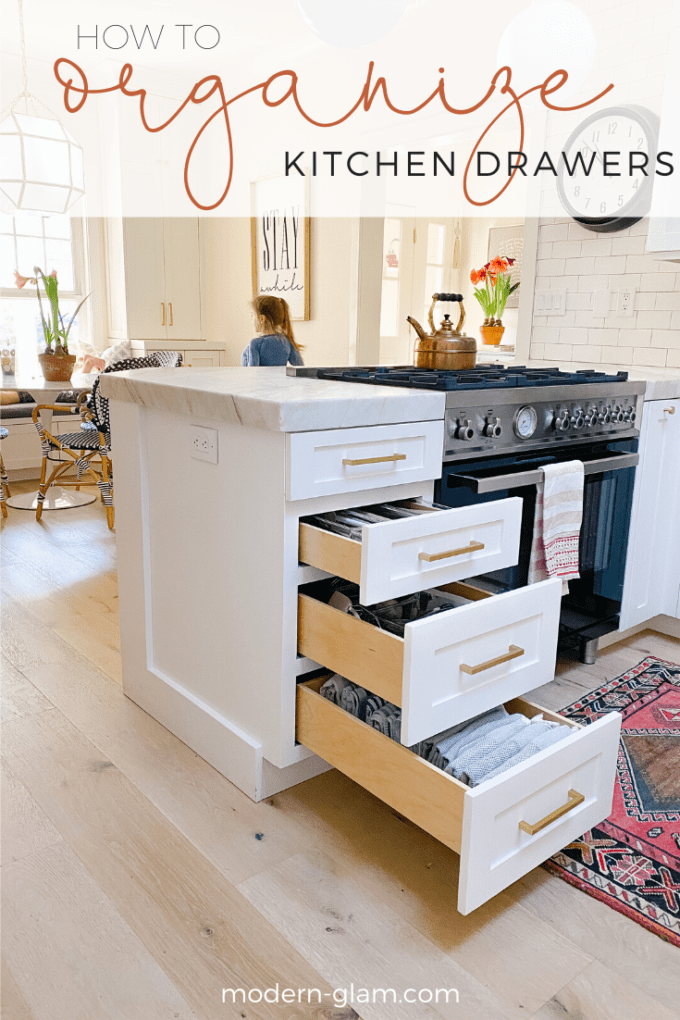 Two years ago, I tackled our kitchen drawers and found some pretty cool products that make an organized and efficient kitchen. See all the details HERE.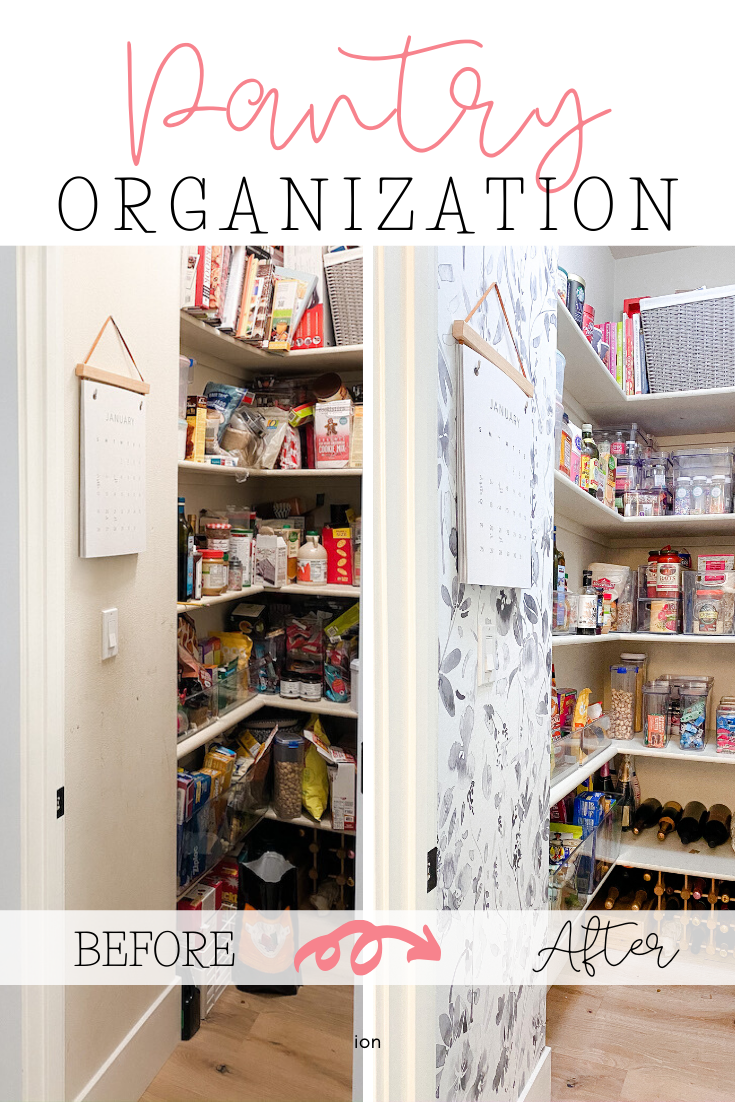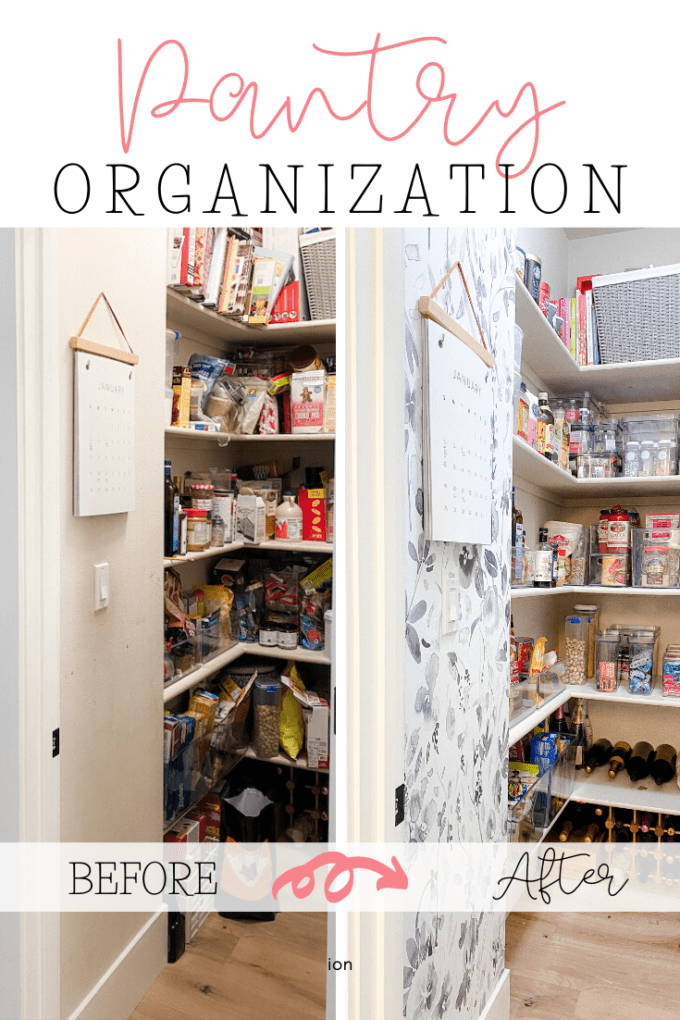 Every January I do a big pantry overhaul and I created this checklist that makes it easier to keep your pantry clean and organized. See the details HERE.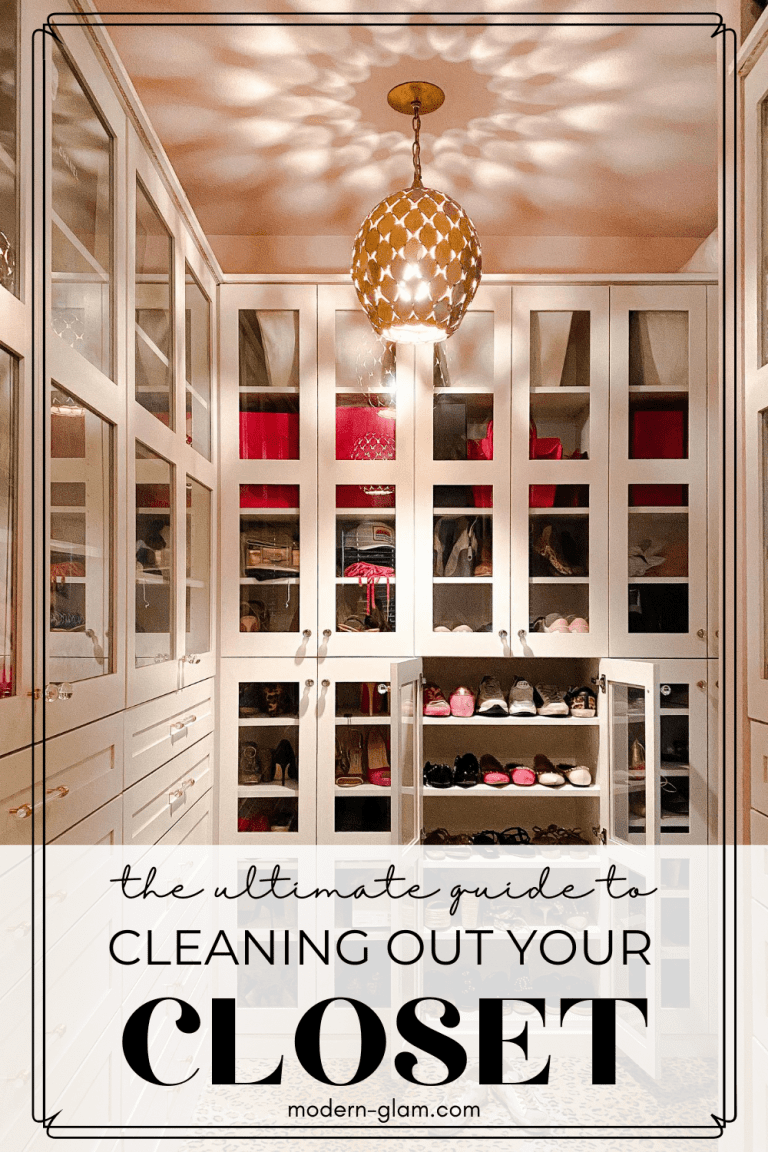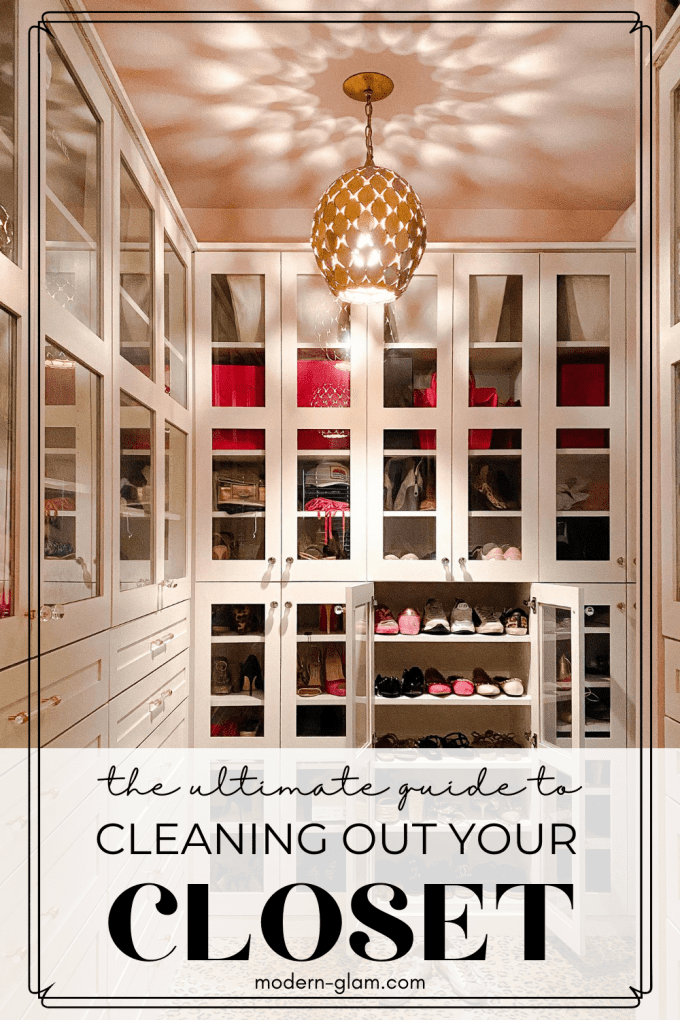 And here is the Ultimate Guide To Cleaning Out Your Closet. In fact, this is what I will be doing next week!