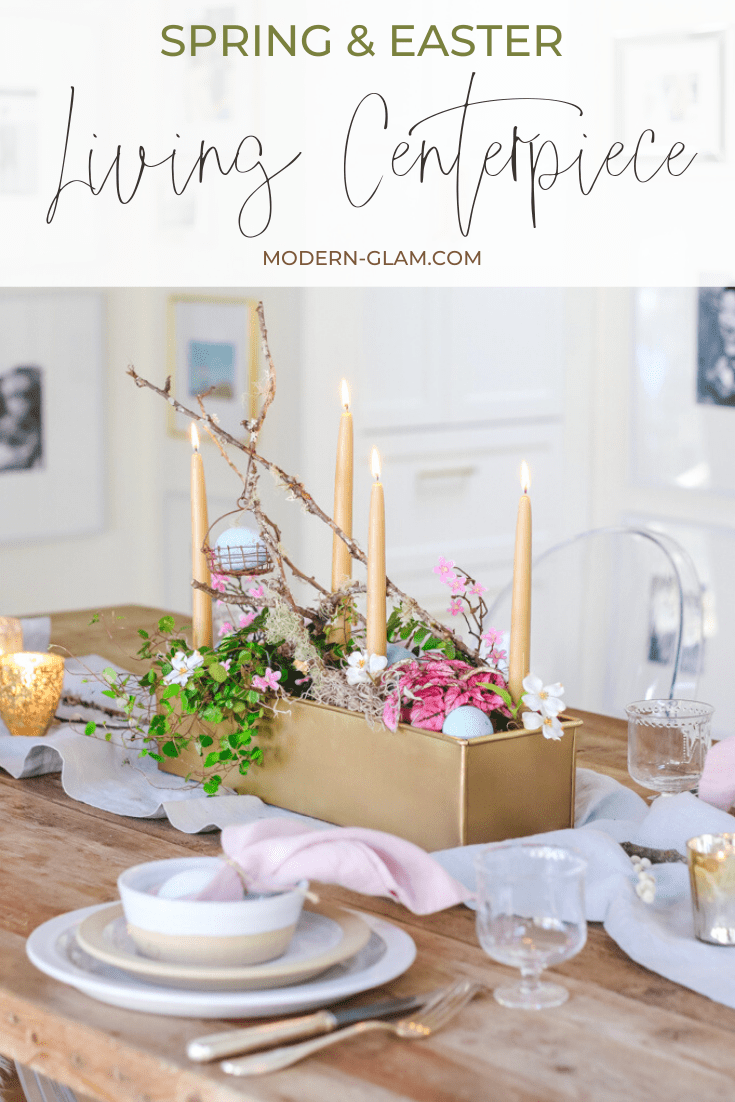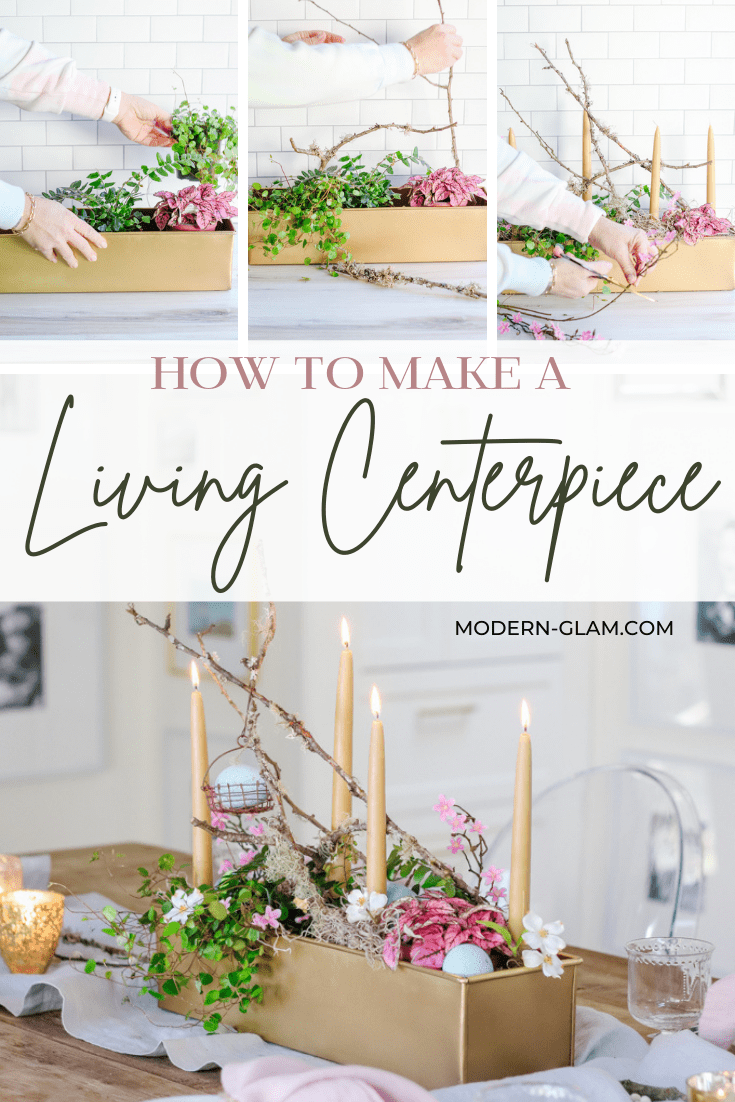 Create this Living Centerpiece for your Easter or spring table. Greenery, faux flowers and foraged branches create a beautiful arrangement that can grace your table for weeks to come.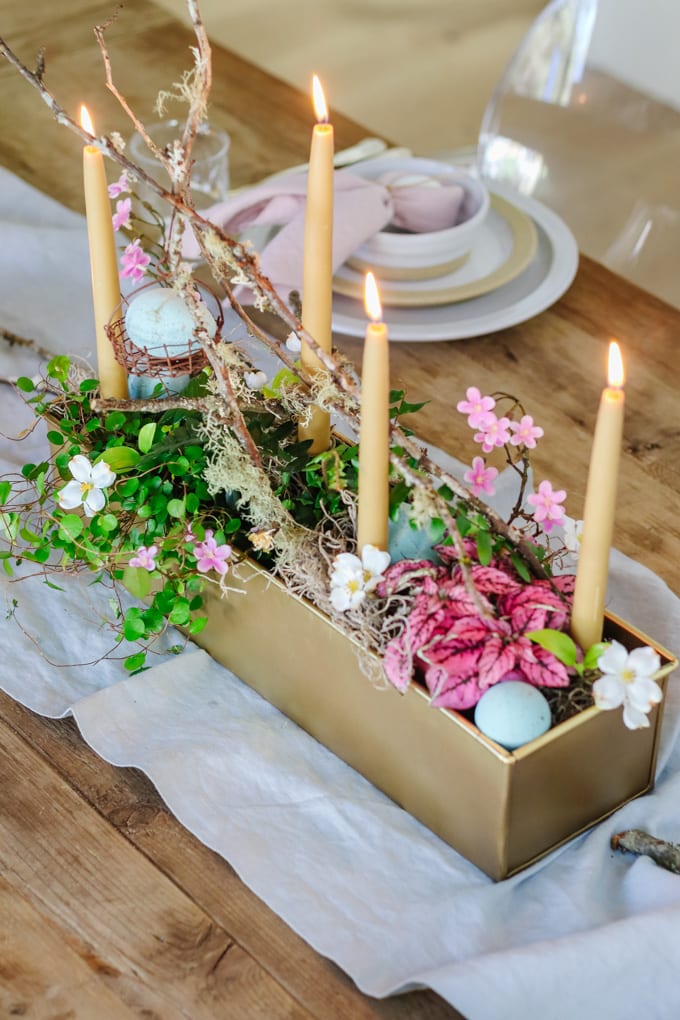 A living centerpiece is one of my favorite ways to decorate the table. To be honest, I don't usually buy fresh cut flowers. They seem to die before I even get to enjoy them!
A living centerpiece is an arrangement that is made up of potted plants and flowers, rather than cut stems. The idea is that you can keep it alive for a long time to come.
So, this Easter centerpiece allows me to have fresh flowers and greenery that with a little TLC can last a long time!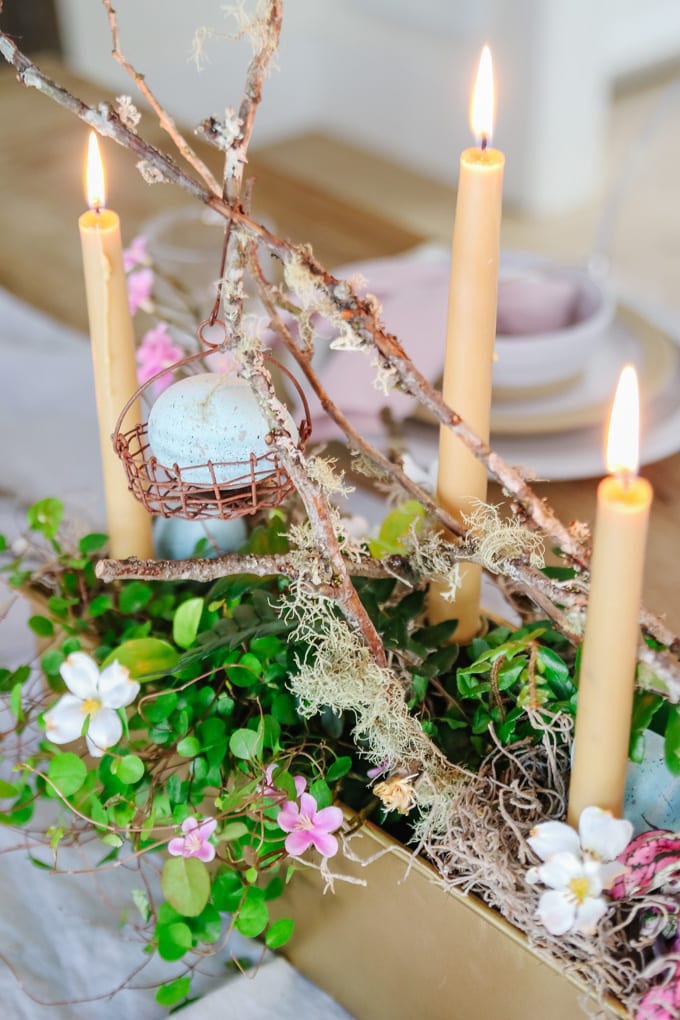 And creating this Easter centerpiece for my Natural Style Spring table was super simple. I will show you how I put it together!
You Will Love This Easter Centerpiece!
Spring is a time when the trees are blooming and the bulbs are beginning to peek through the dirt. I love the vibrant greenery this time of year brought on by the spring rains.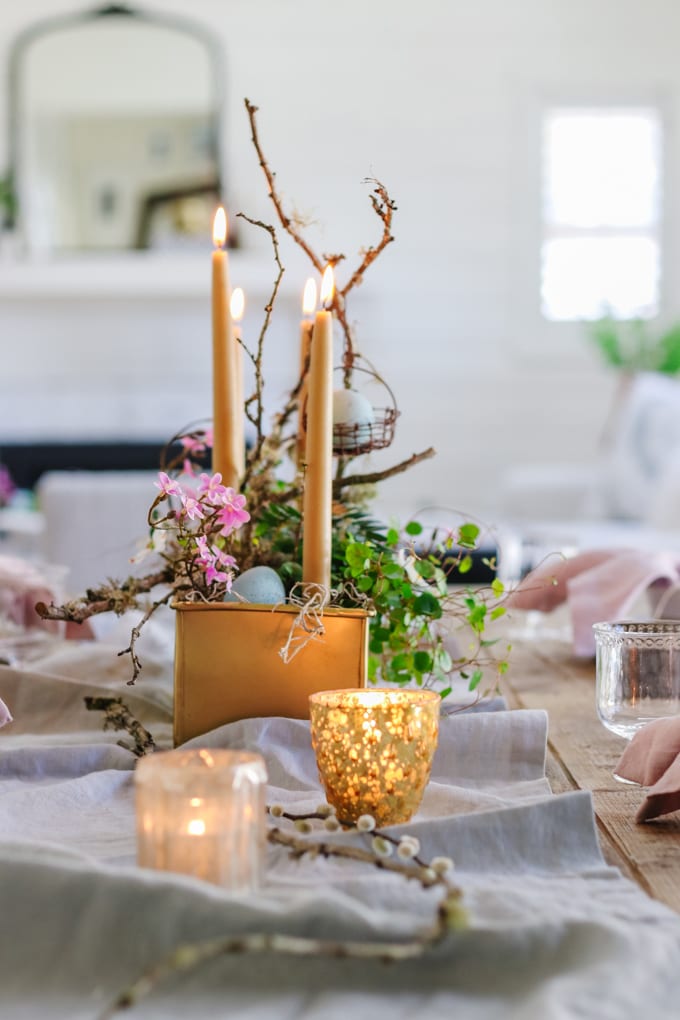 So, this living centerpiece seems absolutely fitting to grace my spring table. A vibrant Easter arrangement with natural elements and a totally organic feel.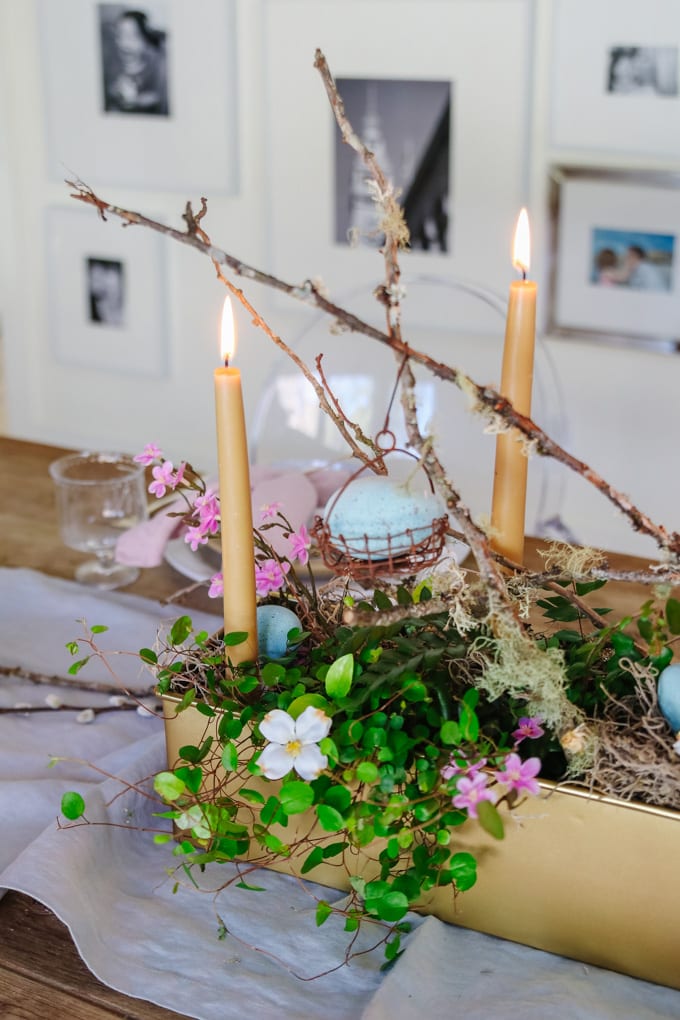 I was totally inspired by Terrain for this centerpiece. I love going into that shop and browsing all their beautiful wares.
They create such fun planters, but they come with a pretty hefty price tag. So, I picked up this brass trough and decided to create my own version of the gorgeous arrangements!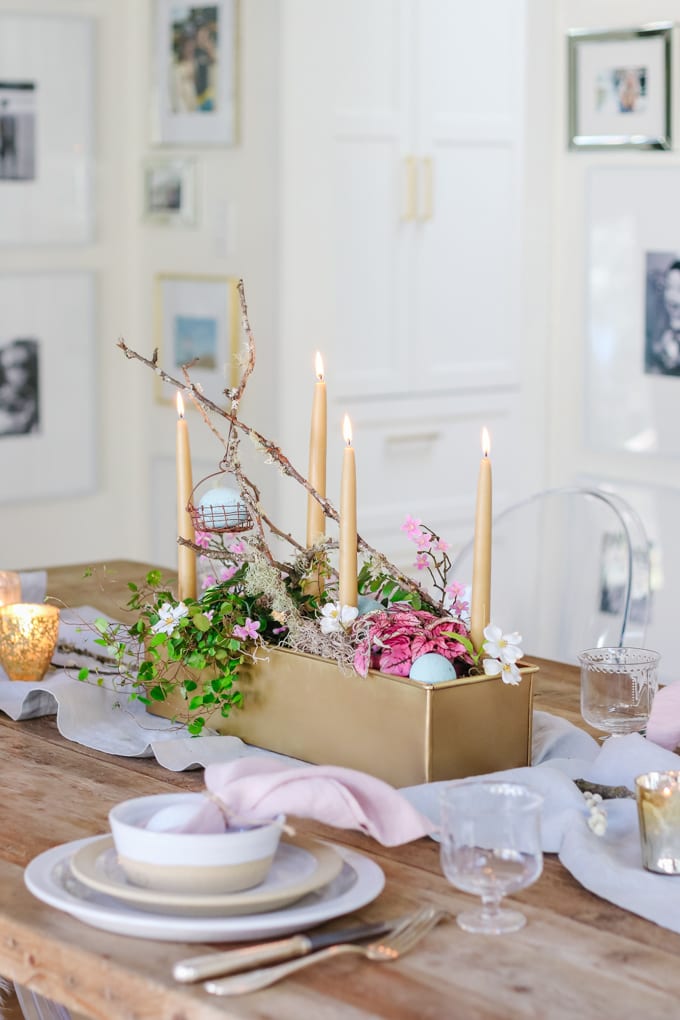 How To Make A Living Centerpiece
Creating this Easter centerpiece was really quite easy. Once you realize how simple this arrangement came together, I think you will want to make one too!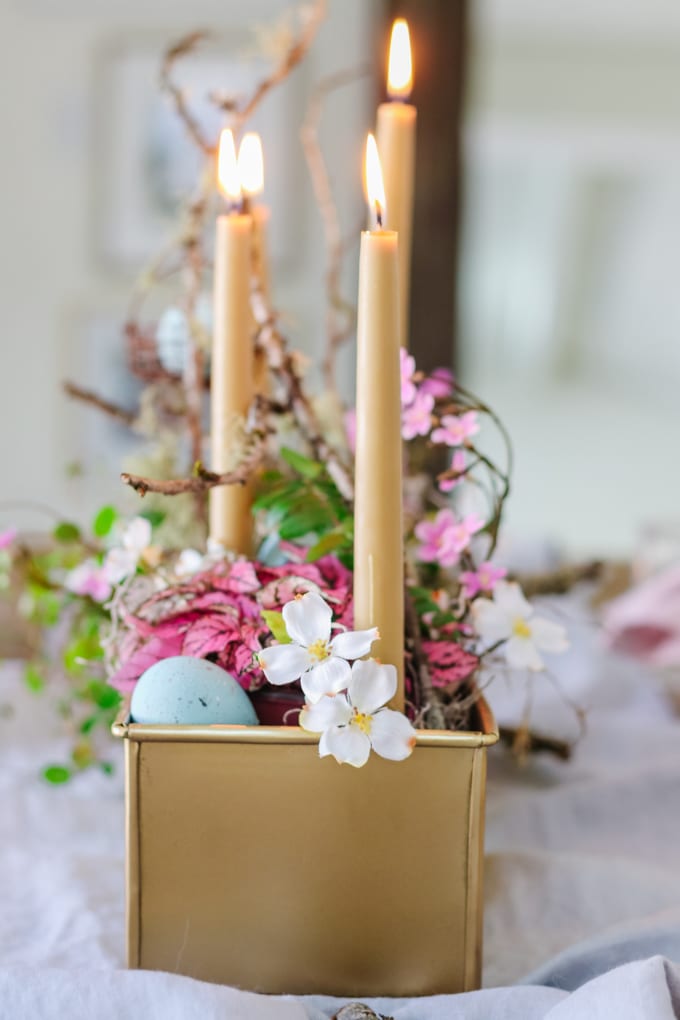 Check out the materials and instructions and then be sure to let me know if you make one too!
Living Centerpiece Supplies:
Three 6″ Potted Plants
Foraged Branches
Taper Candles and low candlesticks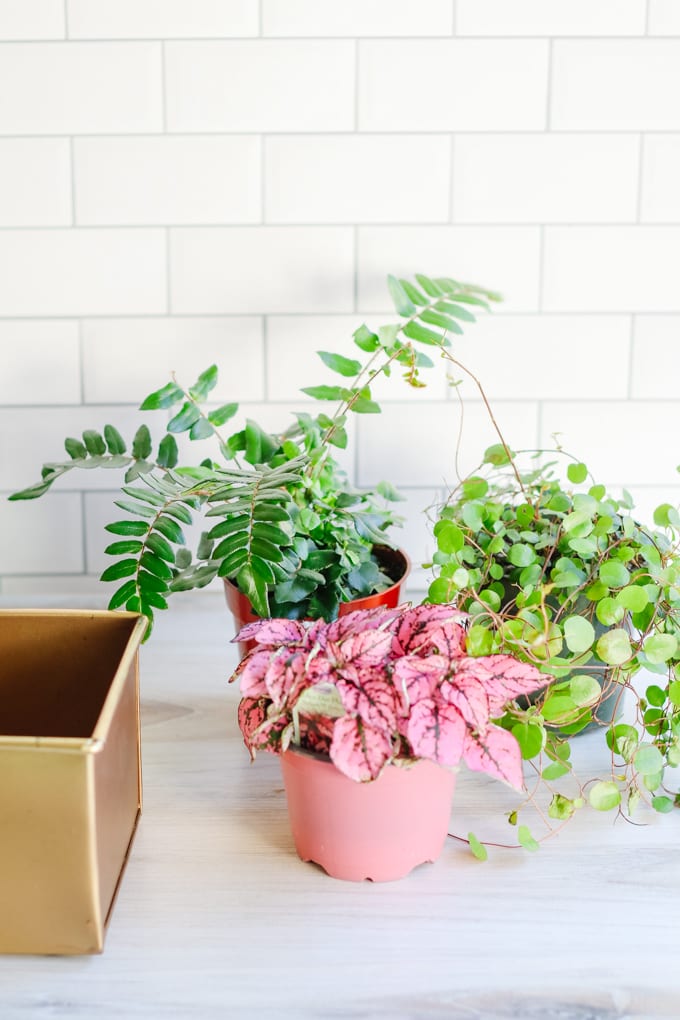 How To Assemble This Living Easter Centerpiece
For this Easter centerpiece I used a combination of three type of plants. A Fern, a pink variety of Coleus and an Angel Vine.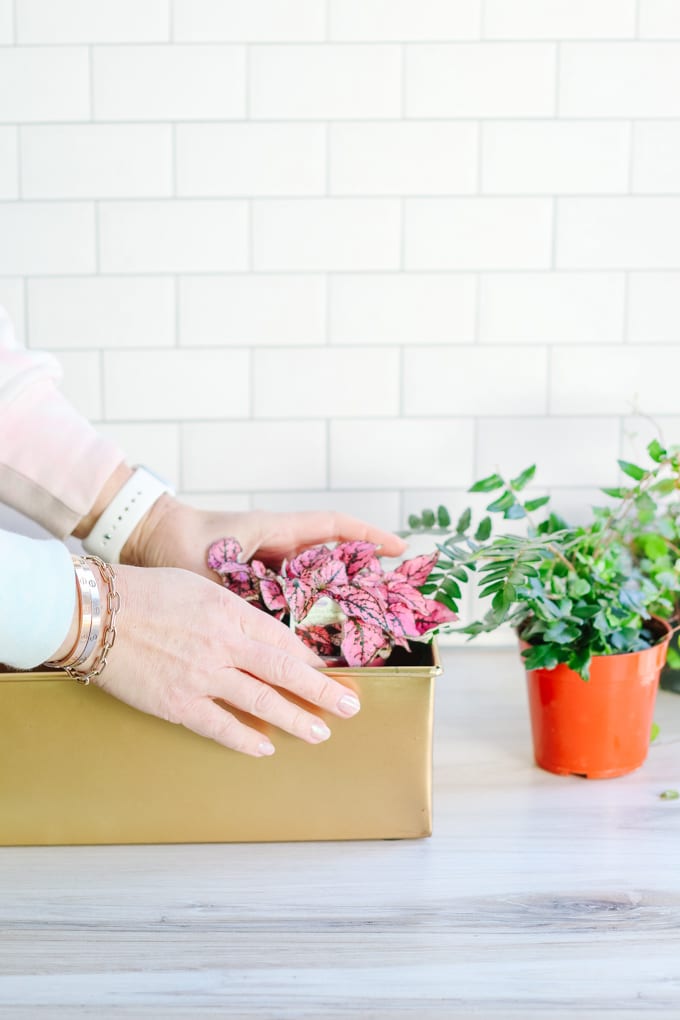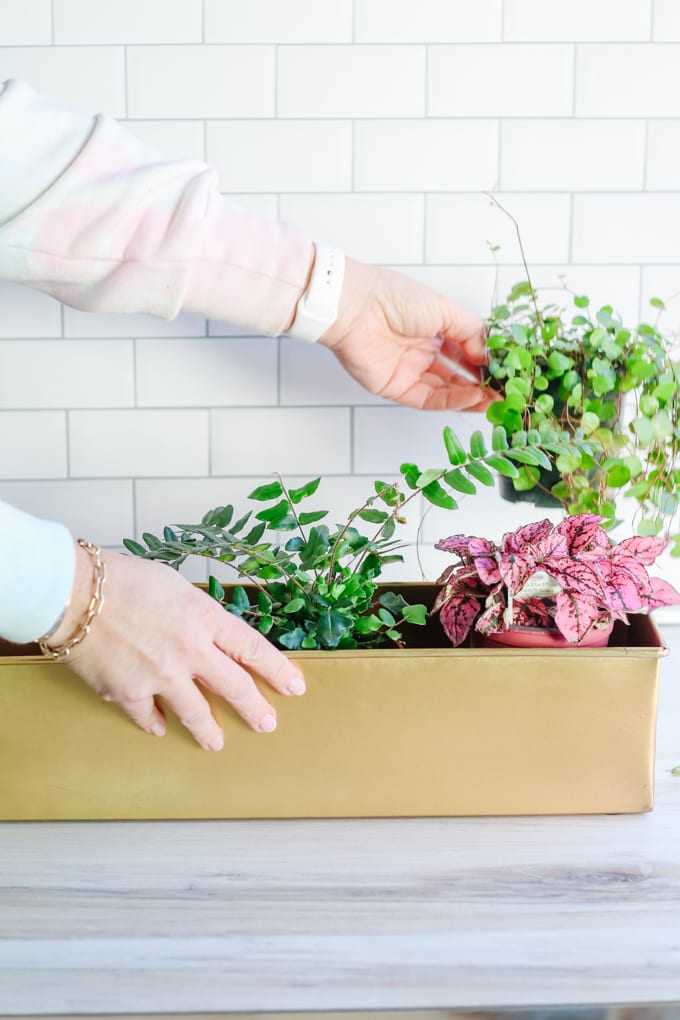 Place the three pots inside your 18″ brass trough (or similar container). I did not "plant" the pots inside the container. Rather, I placed them directly into the trough still in their pot which makes them easy to remove for watering.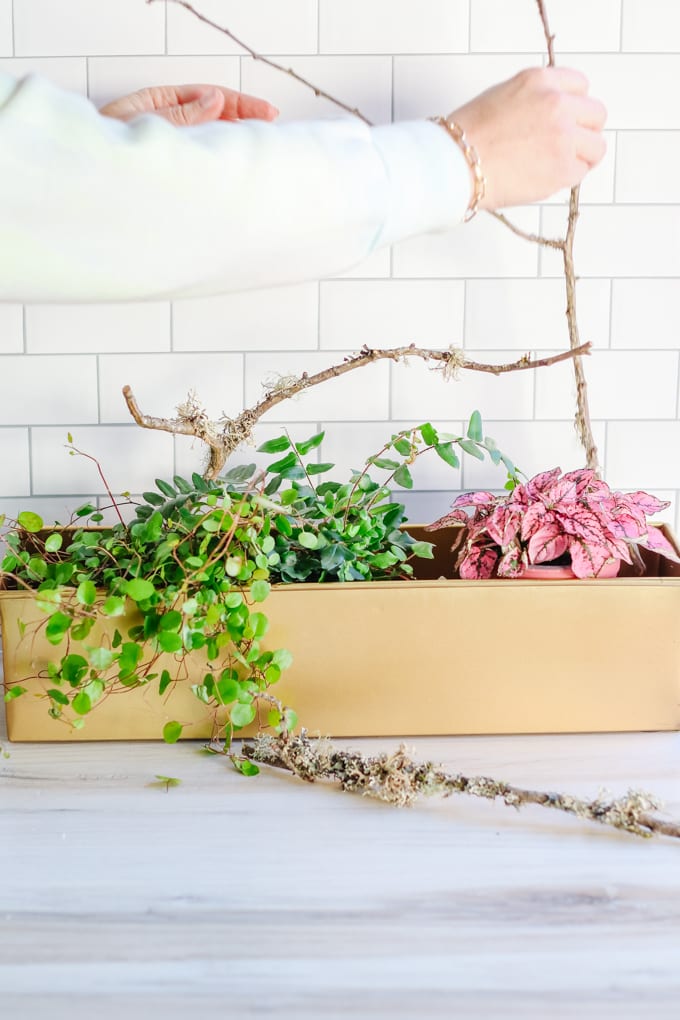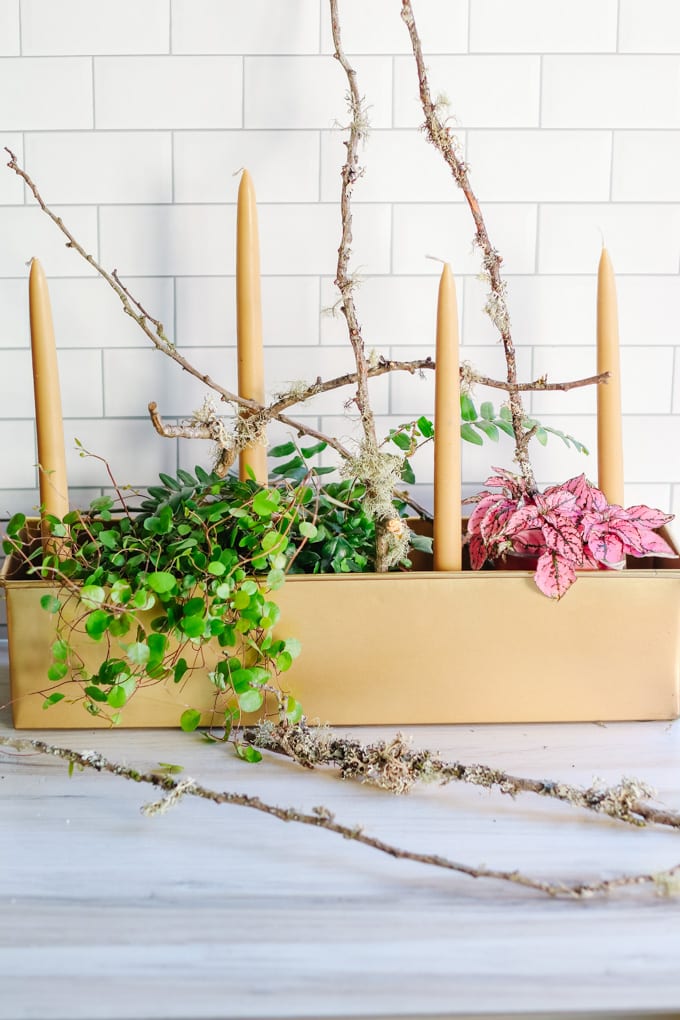 Next, cut sections of your foraged branch and place them in your arrangement. Play around with it. I wanted the branches to bring an organic and natural feel to this Easter centerpiece.
Now, place the candlesticks in between the pots. I used 4 low candlesticks of varying height. Then pop your taper candles into the holders.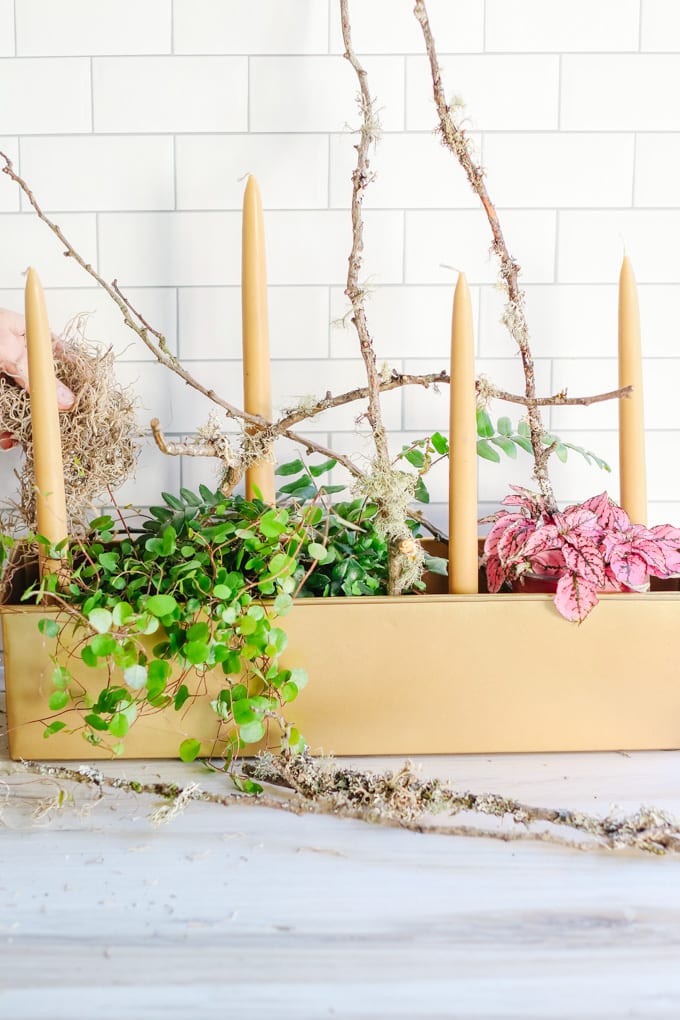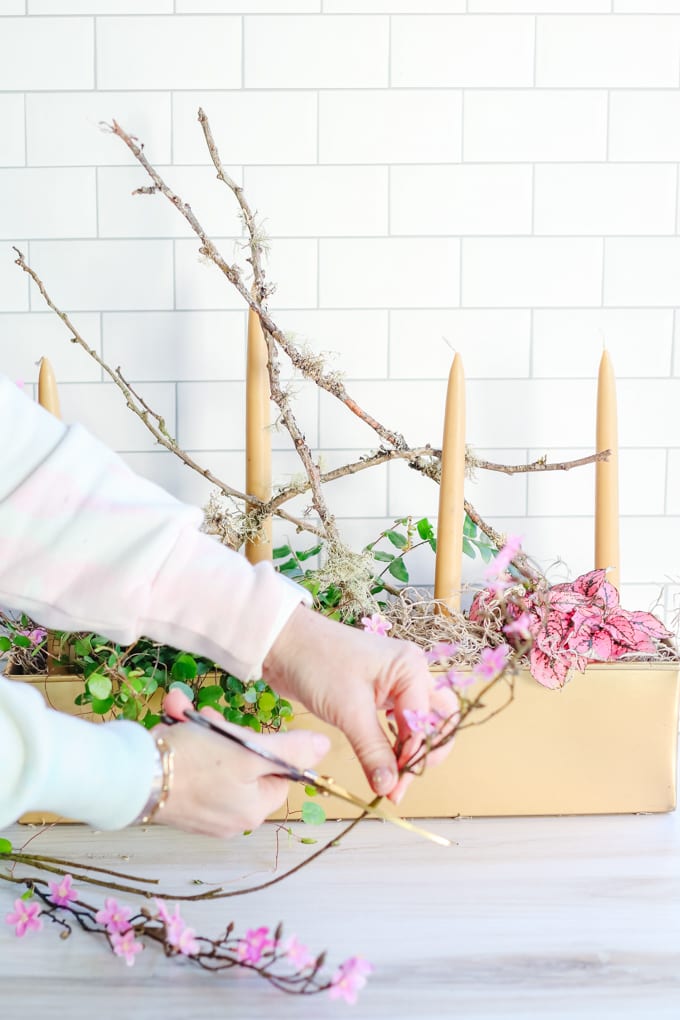 After you have the pots, branches and candles placed, fill in the gaps with Spanish Moss. You won't need much, but this not only finishes the centerpiece, but adds to the natural and organic look.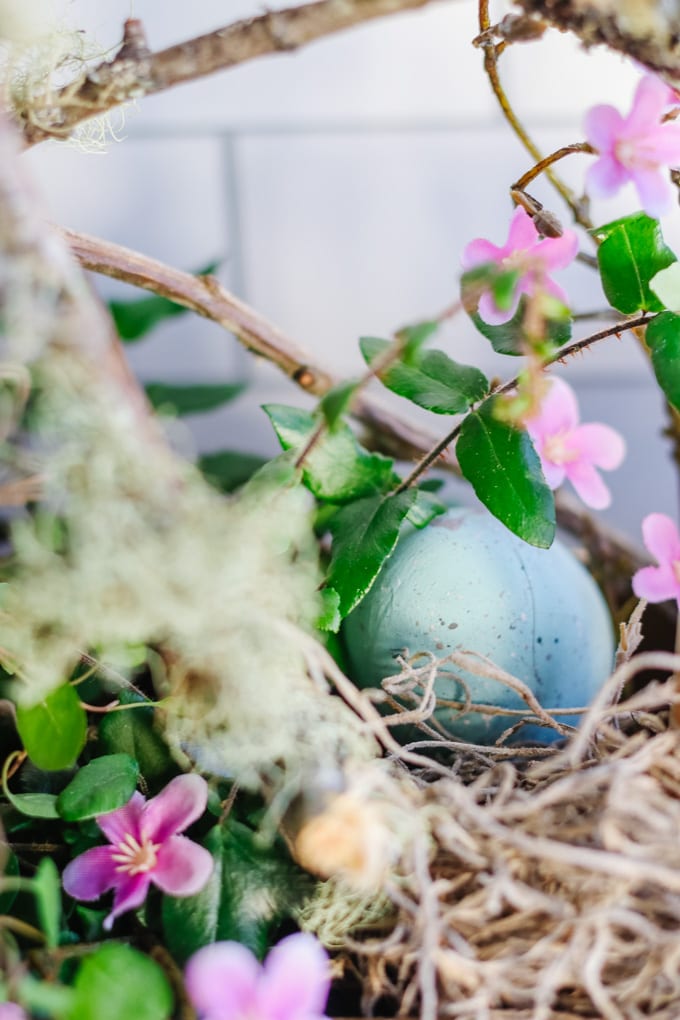 Finish off the Easter centerpiece by placing a few sprigs of faux flowers and the DIY Painted Robins Eggs. I chose this pink blossom because it tied in the pink coleus. I cut off sections and tucked them into the greenery and moss.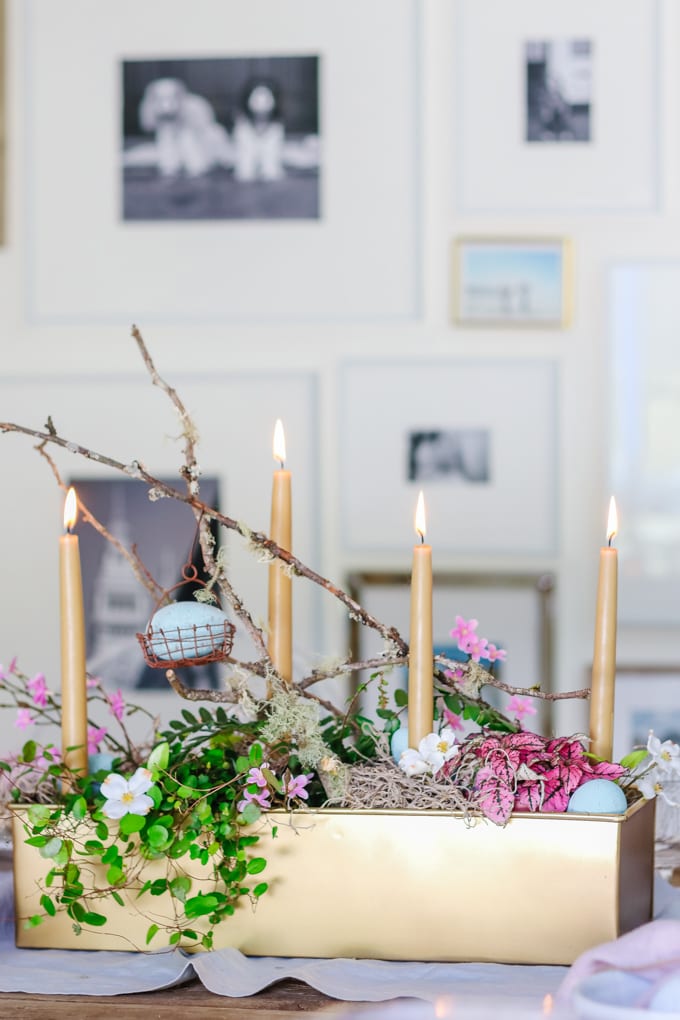 Place a few of the eggs throughout the arrangement and nestle them into the moss and greenery. The pop of blue against the other colors is perfect for spring.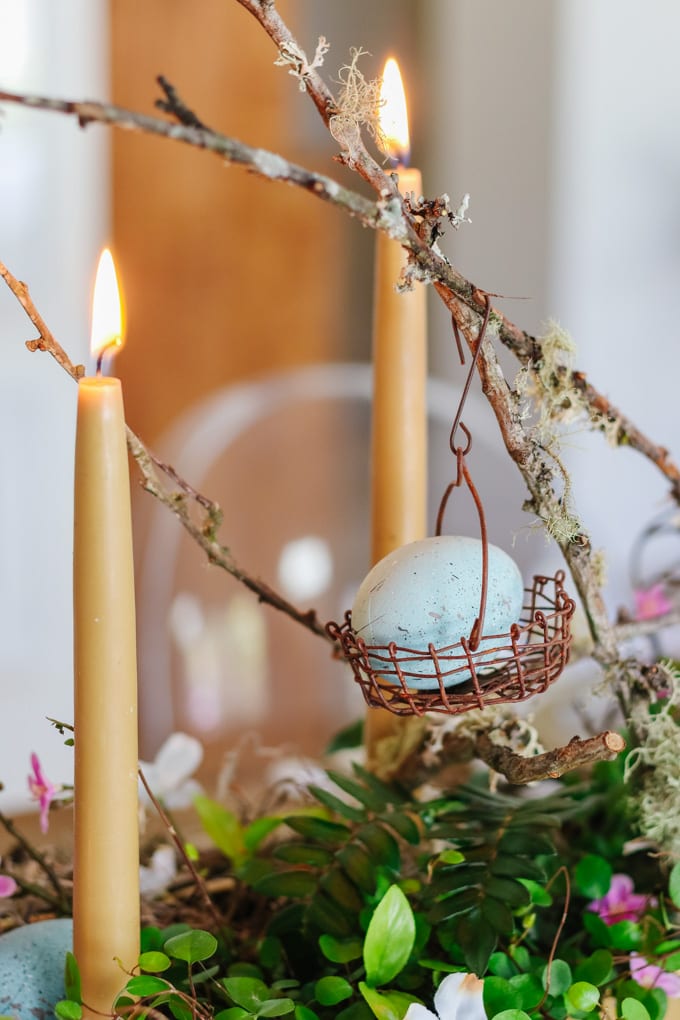 This wire basket ornament is hung from the branches and adds some height and is a tiny nod to Easter, especially with the pretty egg sitting inside.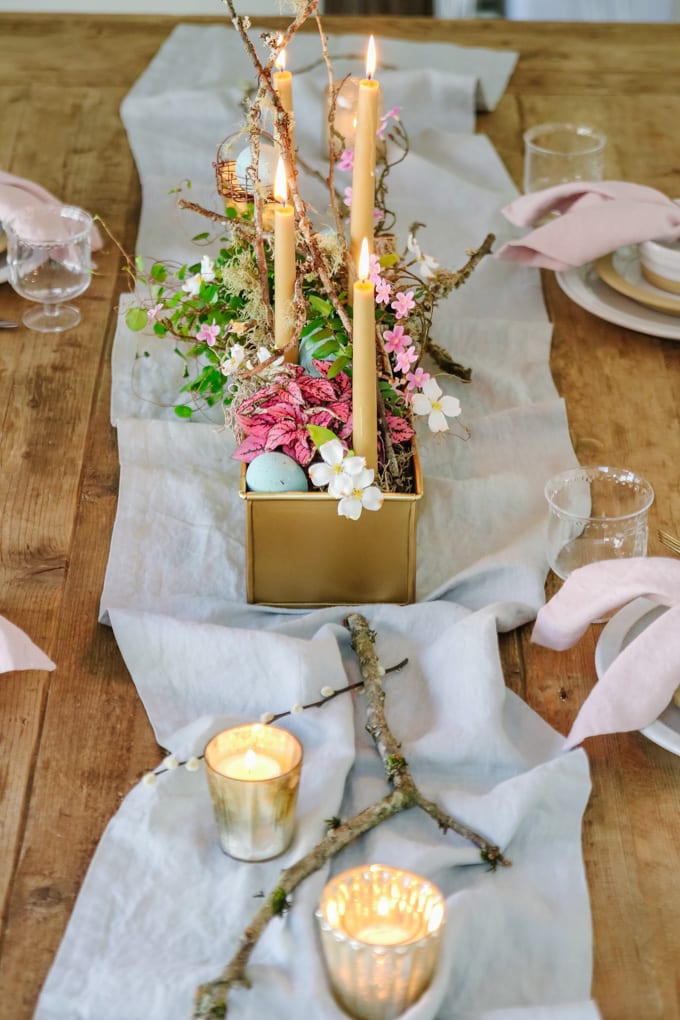 I love this Easter Centerpiece idea. I hope you do too!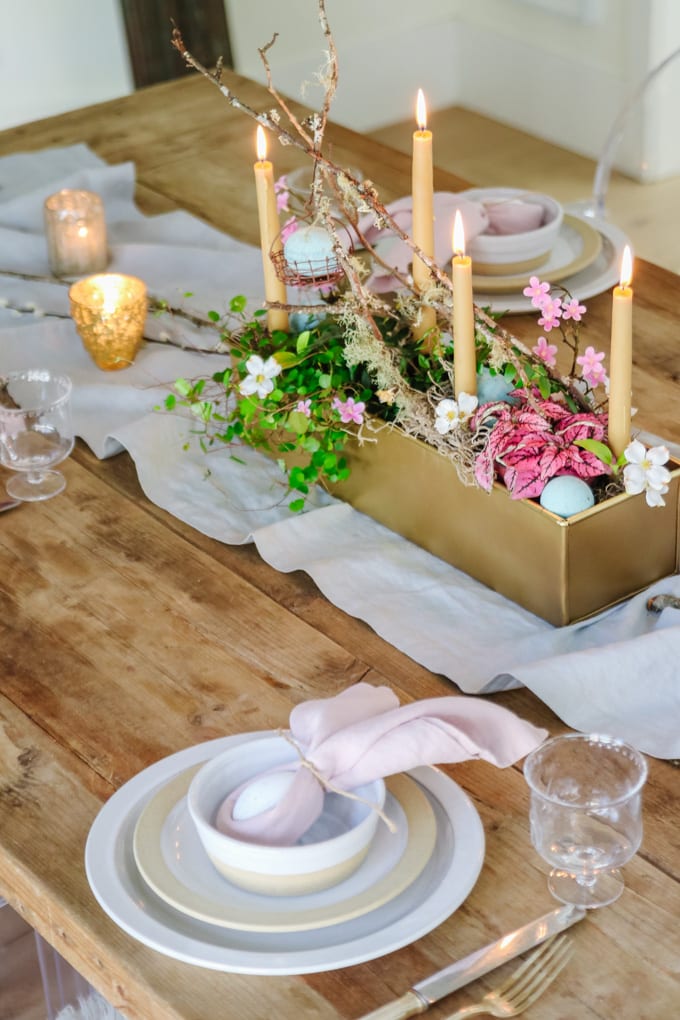 And to see more of this Natural Style Easter Table click HERE!
9 Elegant Easter DIY Ideas
Now, my friends are sharing their incredibly talented ideas for Easter. 9 Elegant Easter DIY ideas that I know you are going to love! Click the links below the images to visit their posts and tell them I said hi!

The DIY Mommy | Fuzzy Crochet Chain DIY Easter Eggs
Happy Happy Nester | Decoupage Easter Eggs
Finding Lovely | Wooden Easter Egg Bunnies DIY
Zevy Joy | Vintage Inspired DIY Painted Easter Eggs

Craftberry Bush | Hand Painted Easter Eggs
Modern Glam | Living Centerpiece for Your Easter Table
Twelve on Main | Easy Bunny Art Using Scrap Fabric
Tatertots and Jello | Easter Basket Living Floral Centerpiece
My 100 Year Old Home | How to Make Easy Paper Flower Daffodils
If you liked this Easter centerpiece, I think you'll like…