One of my favorite things to shop for is my kitchen. The items are not only decorative but also so useful. And the kitchen is so easy to accessorize and add character to. After all, it only takes a few pieces to accomplish this! Take a look at my Nordstrom Anniversary Sale 2017 – Best of Kitchen guide. I've scoured the site for the best pieces to add to your kitchen or dining room space! And be sure to check out my picks for Bed & Bath and Best Items Under $50!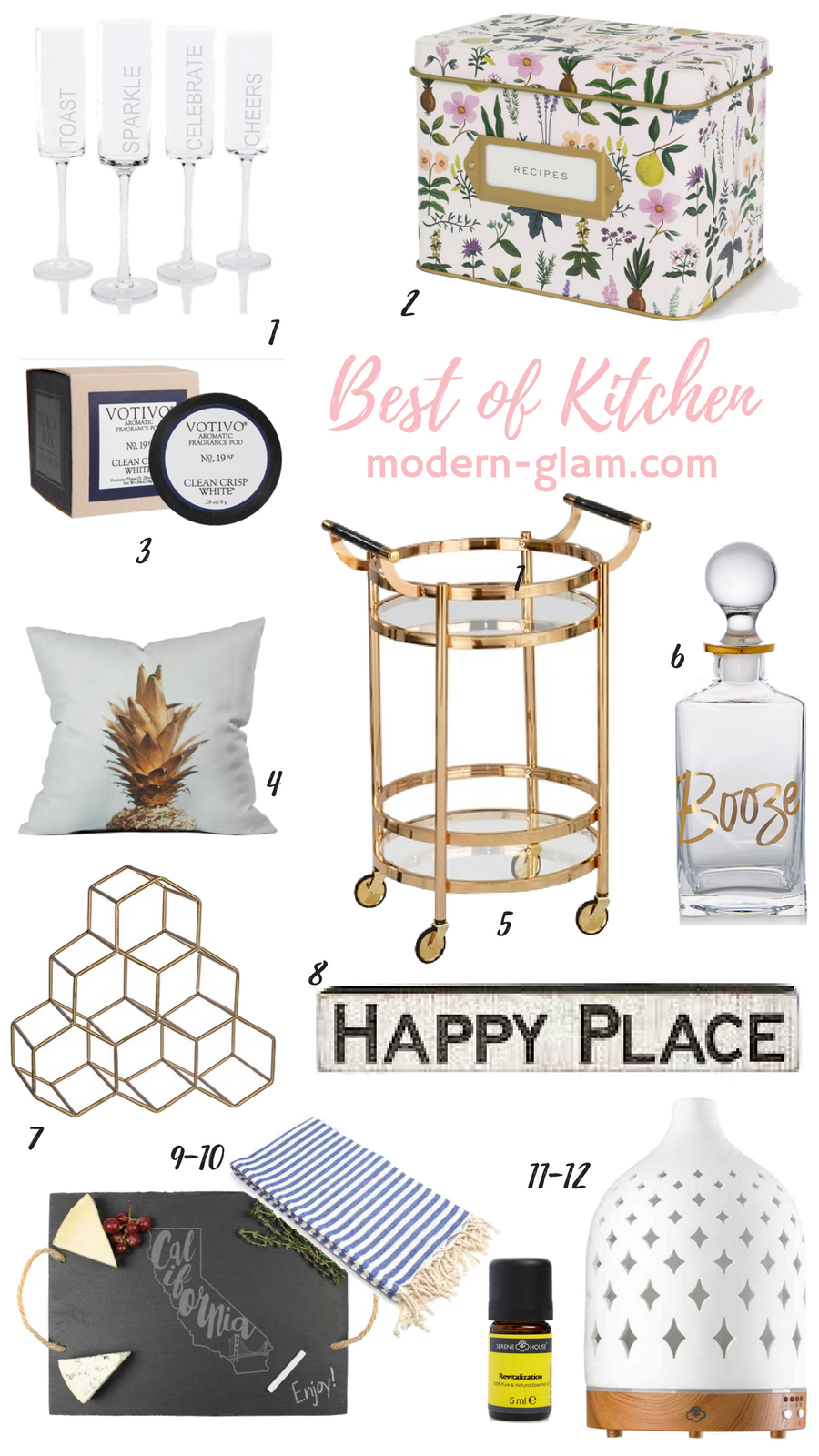 1 / 2 / 3 / 4 / 5 / 6 / 7 / 8 / 9 / 10 / 11 / 12
1
These champagne flutes are modern and a perfect gift for a wedding or just for yourself!
2
If you follow me on Instagram, then you know I'm obsessed with this recipe box! I love the print and it's so cute on my open kitchen shelves.
3
I love a good scent, especially in the kitchen. These fragrance pods are perfect for clearing up any smells leftover from last nights meal!
4
This pineapple pillow is so cute! Perfect propped on a kitchen chair to add a little character to your breakfast nook!
5
One of my favorite pieces to style in my home is our bar cart. I use it for more than just a bar. It serves as an impromptu buffet, a place to showcase my fresh blooms or to simply hold presents during my daughter's birthday party. This one is under $150! And so chic.
6
A pink decanter is perfectly at home on any bar cart or shelf! I'm obsessed with the pink glass, of course!
7
This cute wine rack is updated with it's unusual octagon shape. It would make a great gift too!
8
I love this cute rustic sign. The perfect sentiment and it's add a touch of farmhouse to your kitchen space!
9-10
A cute cheeseboard and striped towel would make the perfect wedding or hostess gift. And I love that you can personalize the cheeseboard with your favorite state!
11-12
One of my favorite things in my kitchen are my essential oils and diffuser. The perfect way to make the space smell great and cleanse the air too!
What home items have you picked up from the Nordstrom Anniversary Sale?