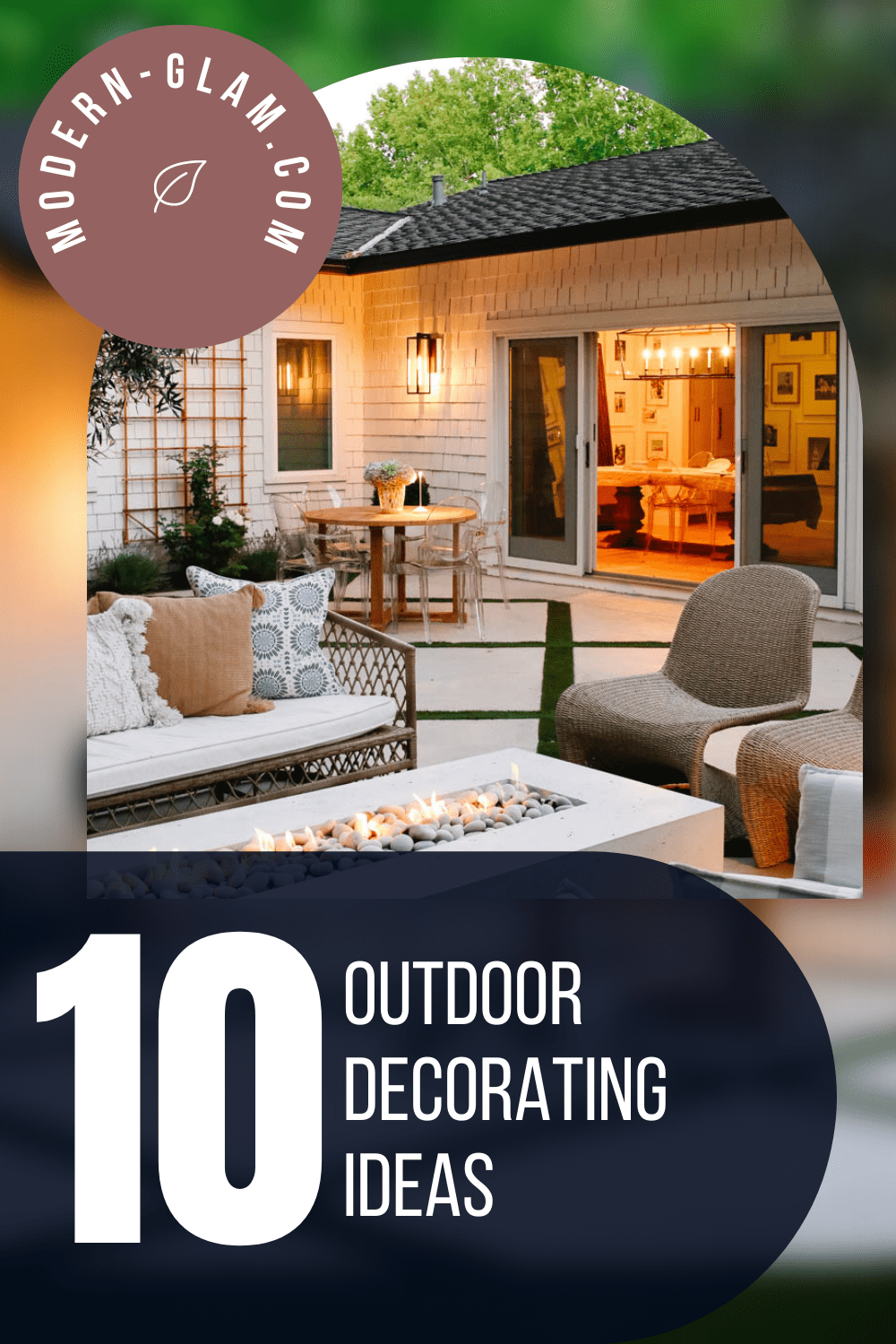 Today I'm spilling all the details on our big Backyard Patio Makeover! Come by for a tour and get inspiration, ideas and sources for our new outdoor living space.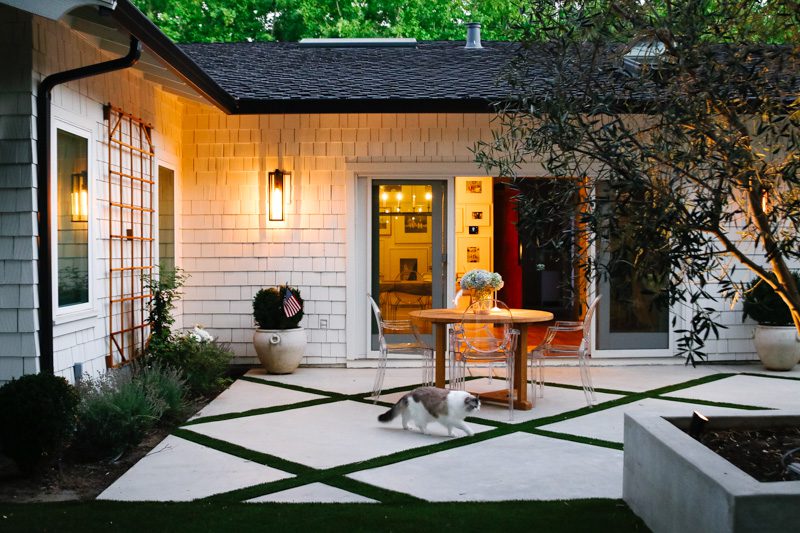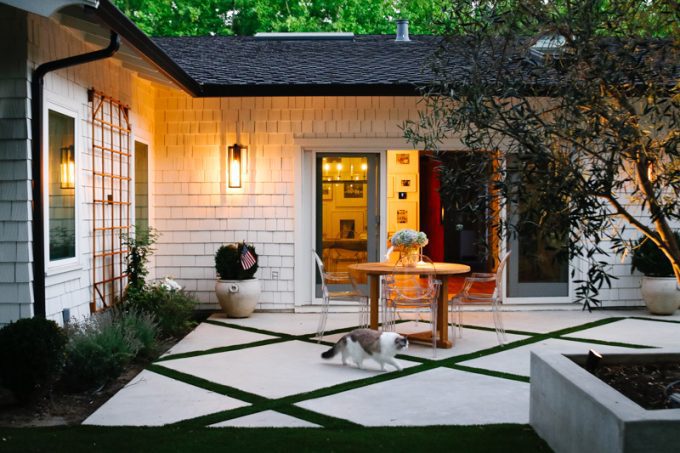 Backyard Patio Makeover & Tour
We have been working on our backyard design for a little over a year. It all started back in 2020 when we decided to make better use of our backyard space. Because we live in California and can enjoy outdoor living for 8-9 months of the year, we wanted to expand our hardscape and add an ADU.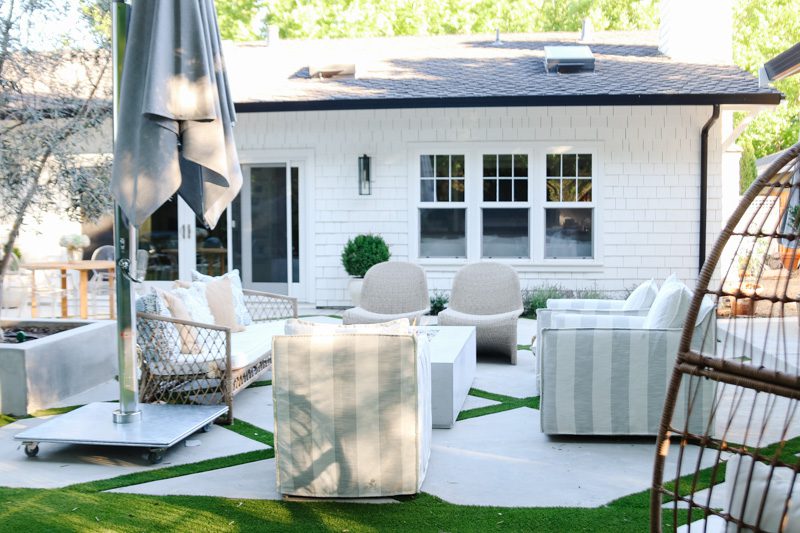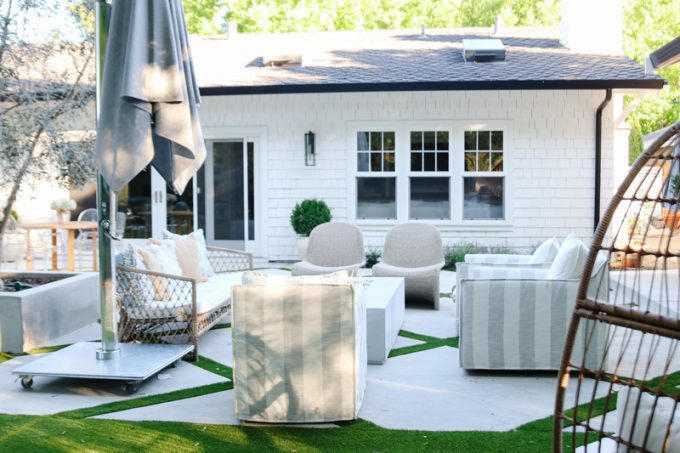 The ADU (or accessible dwelling unit) has been quite an ordeal and time consuming! It still needs to be painted and finished on the inside. But, I wanted to share with you our backyard patio makeover since we are 90% finished with it.
Backyard: Before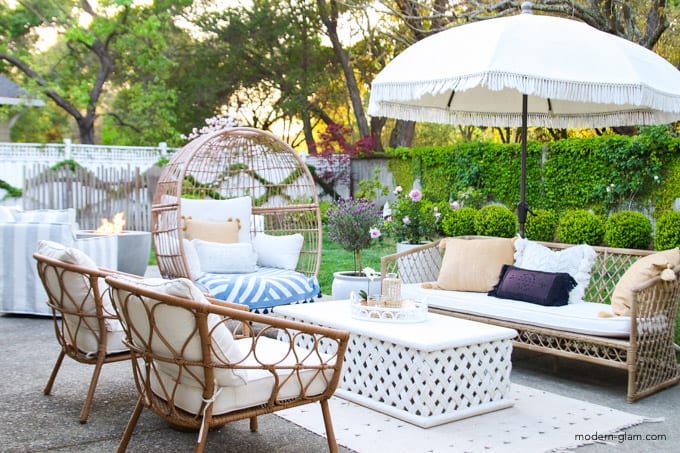 You can see more "before" pics of our backyard in this post and this post.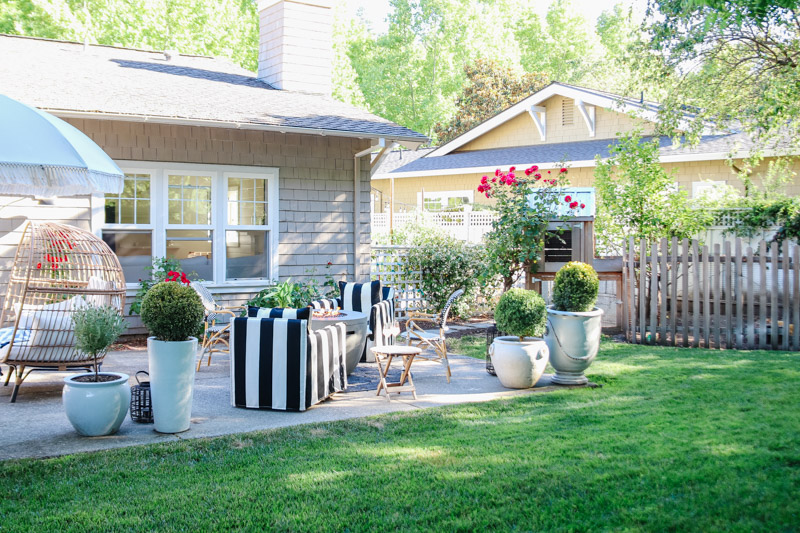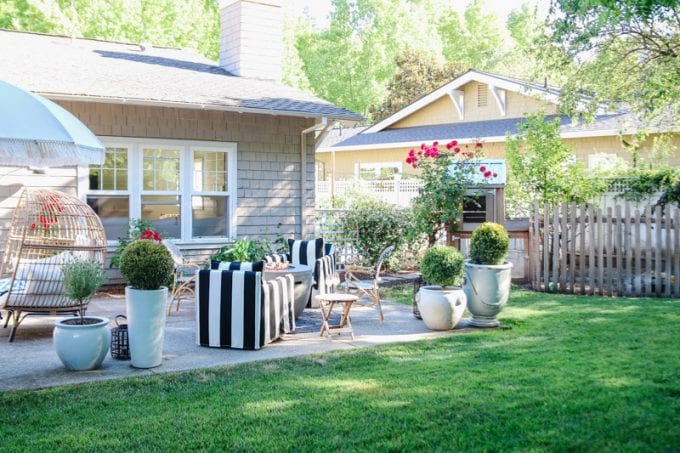 Before, our backyard was a 18×25 slab of cement with grass. This was original to our house that was built in 1996. With the drought in California and longer summer months, we wanted to eliminate the grass and have a larger area for entertaining and enjoying our backyard.
Concrete Slab Patio Makeover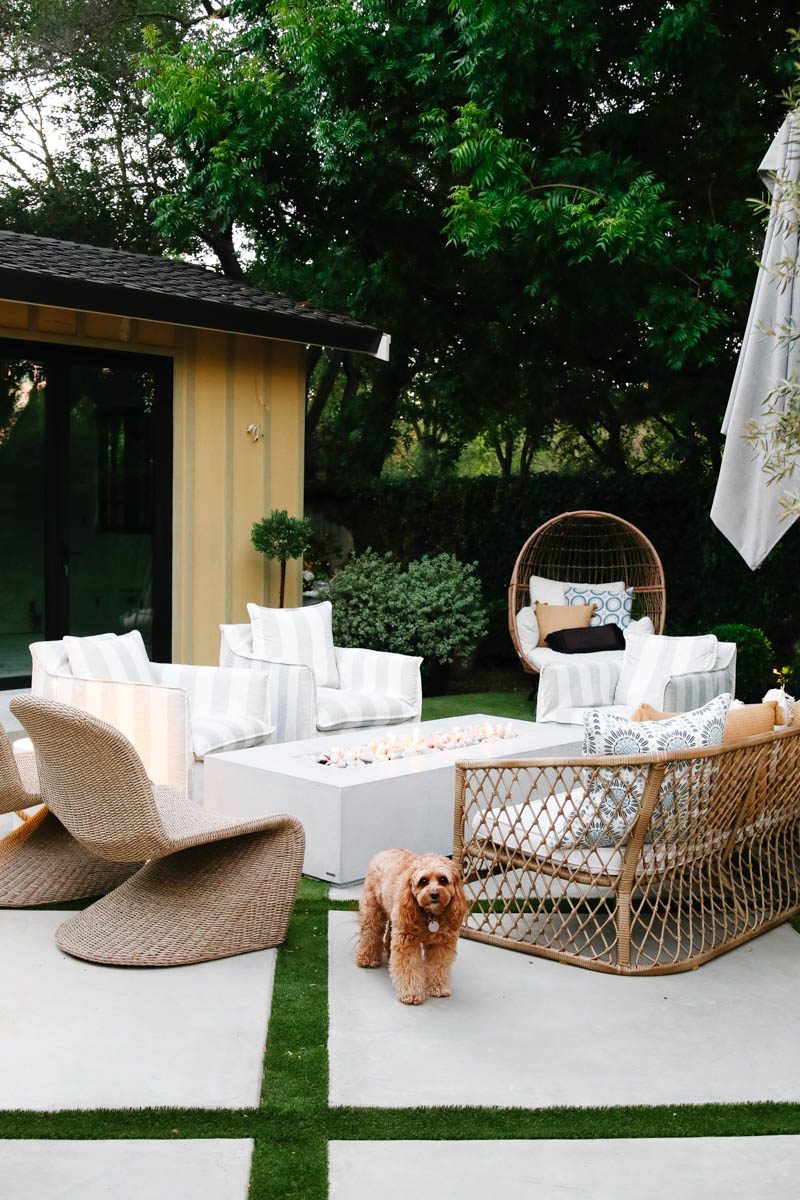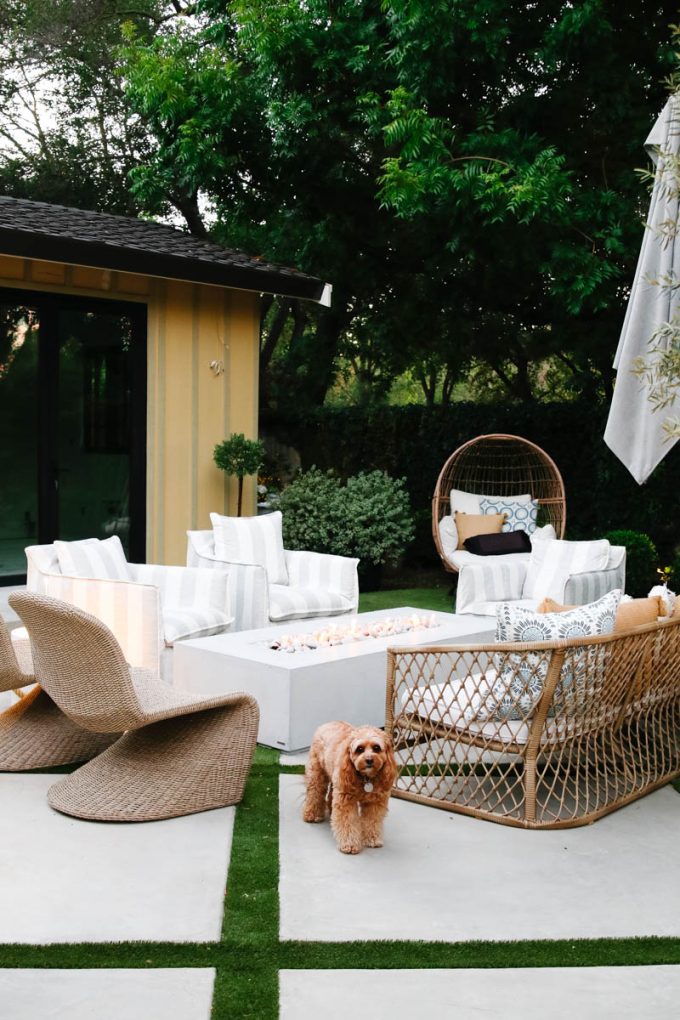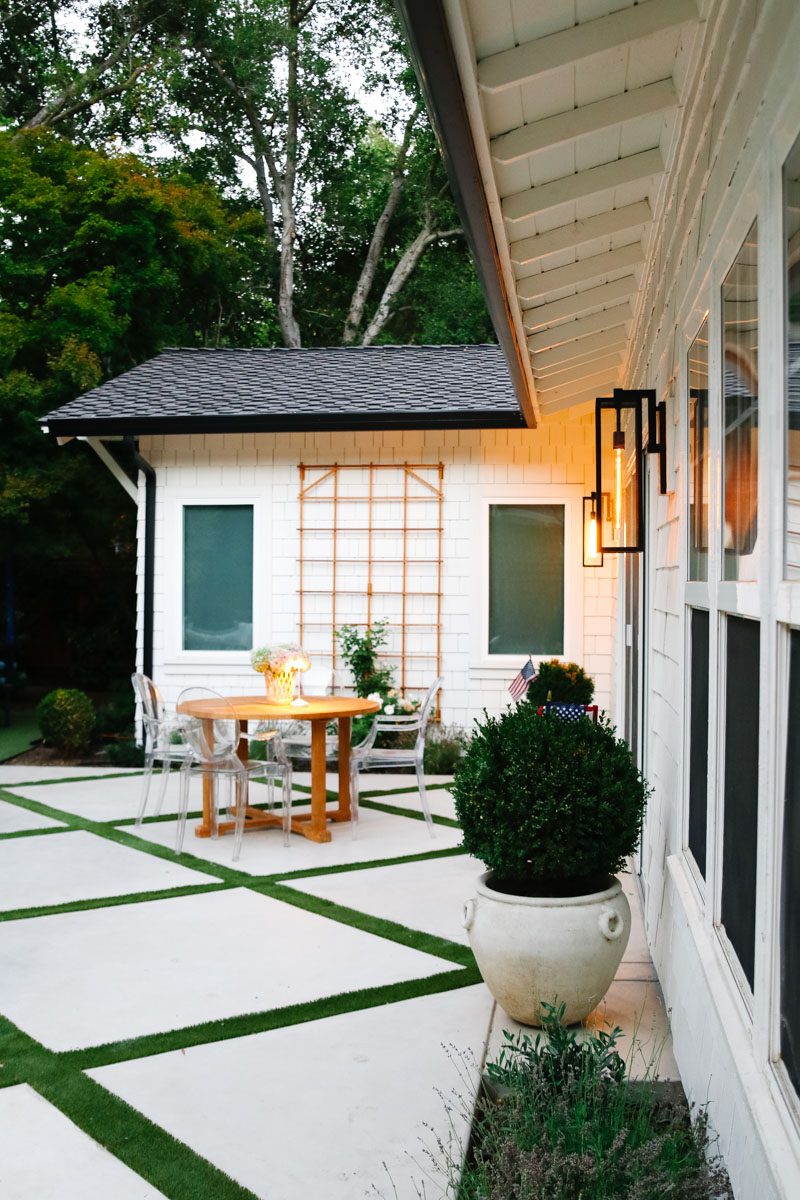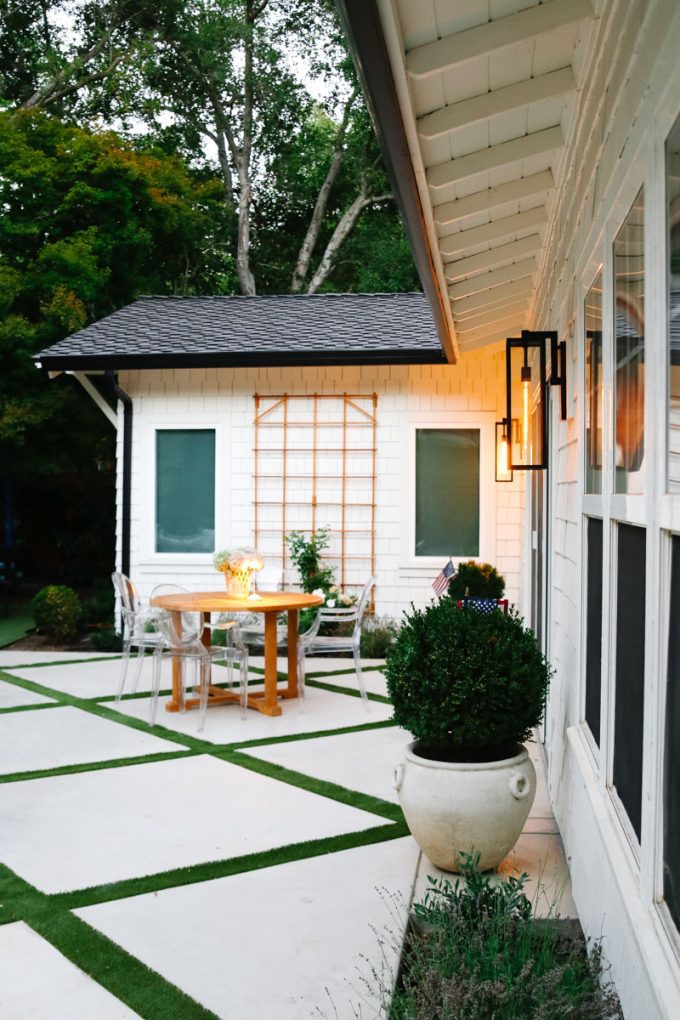 So, the first thing we did with our backyard patio makeover was to remove the cement slab. Not only did the new studio build need to be tied in to our hardscape, but we wanted a design that was more imaginative than the rectangle design that our house came with.
We worked with a landscape architect who provided a hardscape plan that would connect our new studio to our existing home. I highly advise having a professional design plans for your space. This will help with scale and will provide a detailed plan for whoever does the installation. We used Susan Morrison of Creative Exteriors.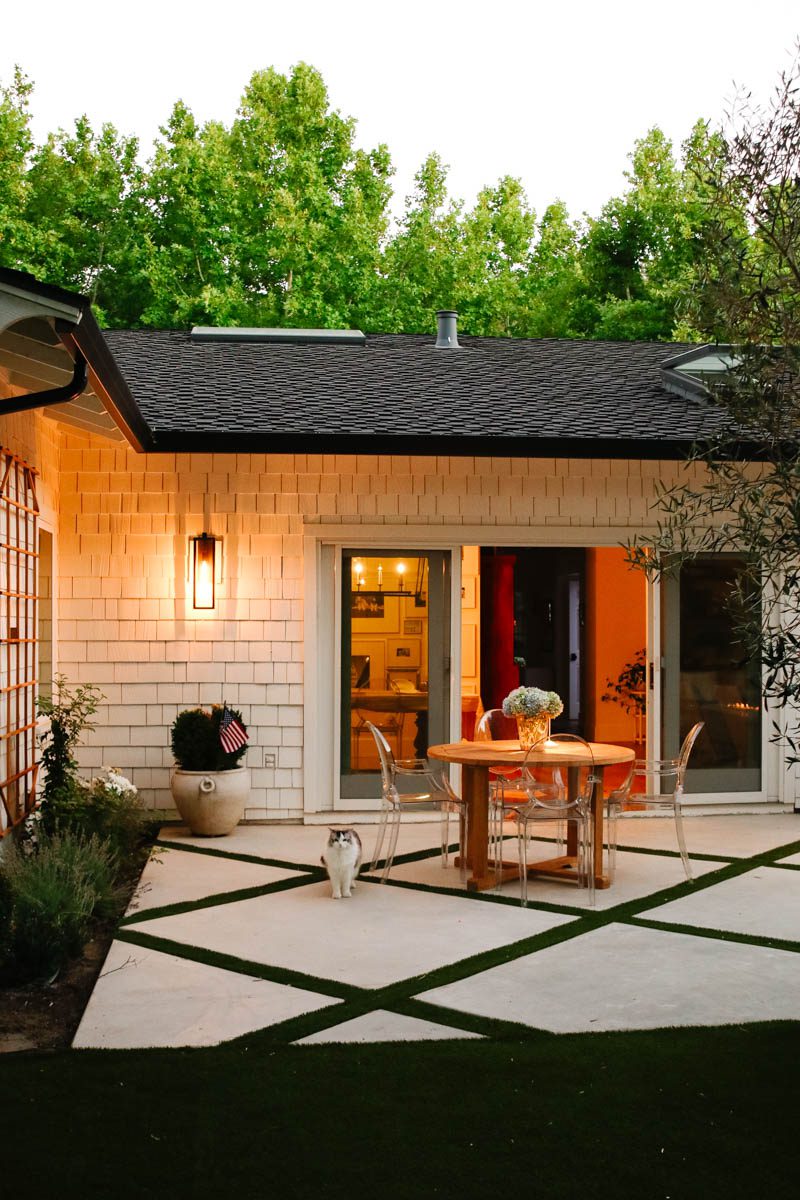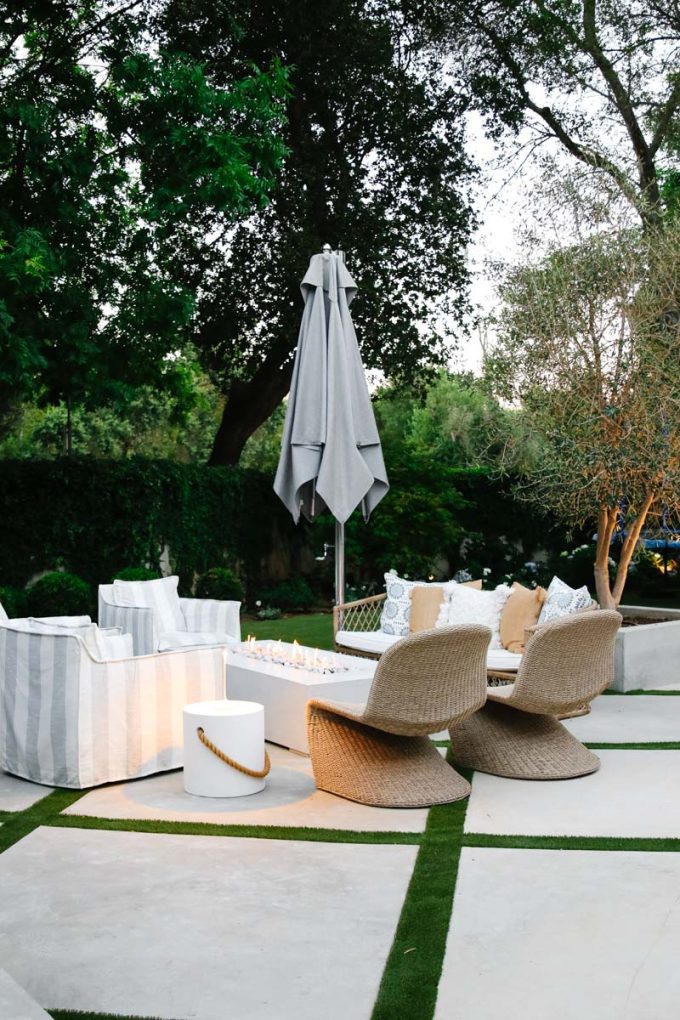 Our cement pavers are 5.5′ square with 6″ of fake grass in-between. And we did a smooth finish on the cement for a cleaner, more modern feel.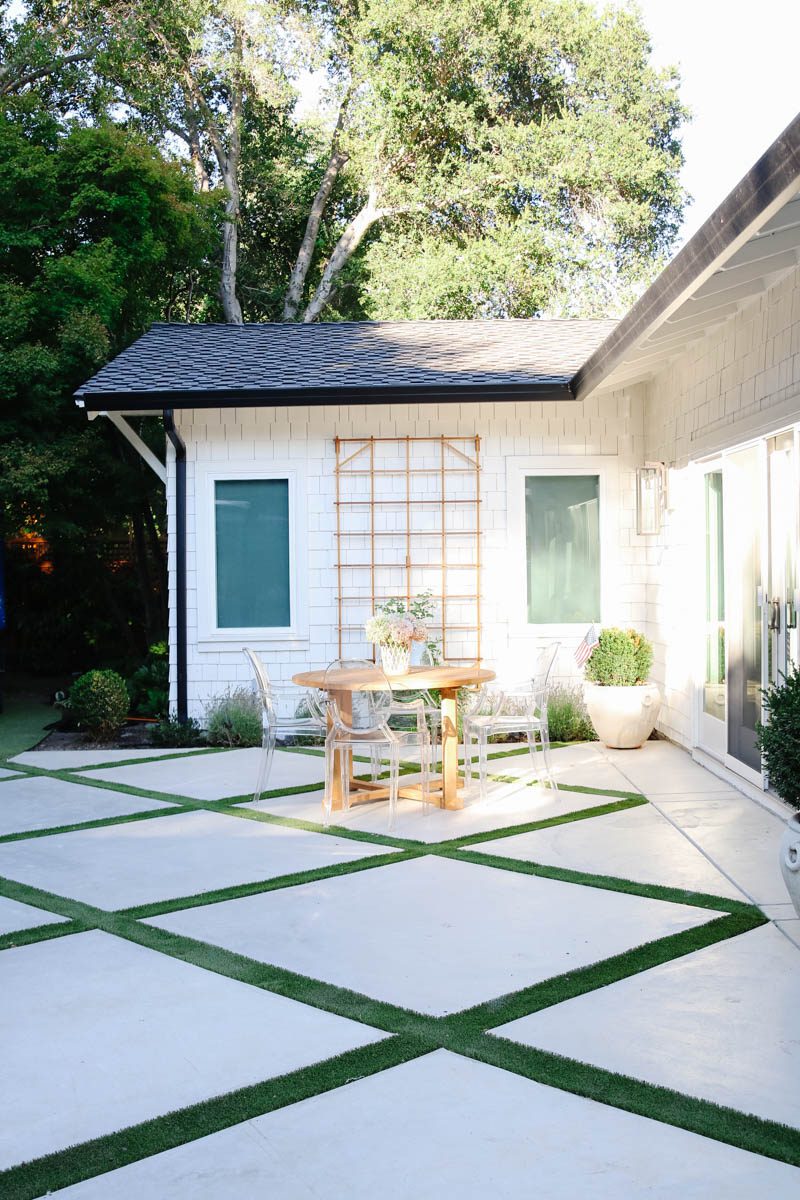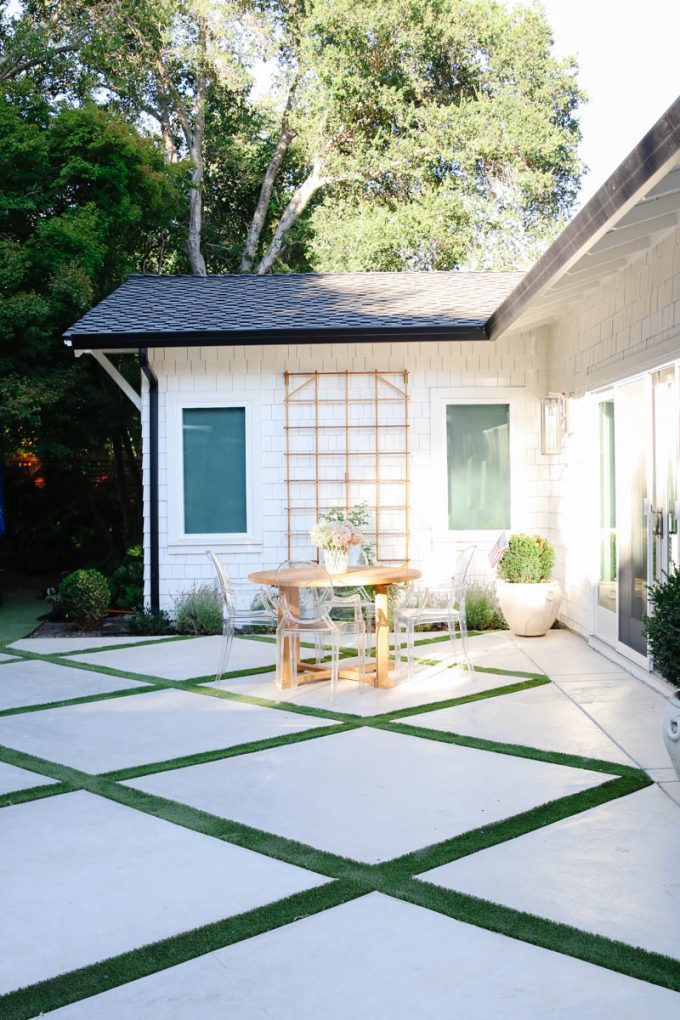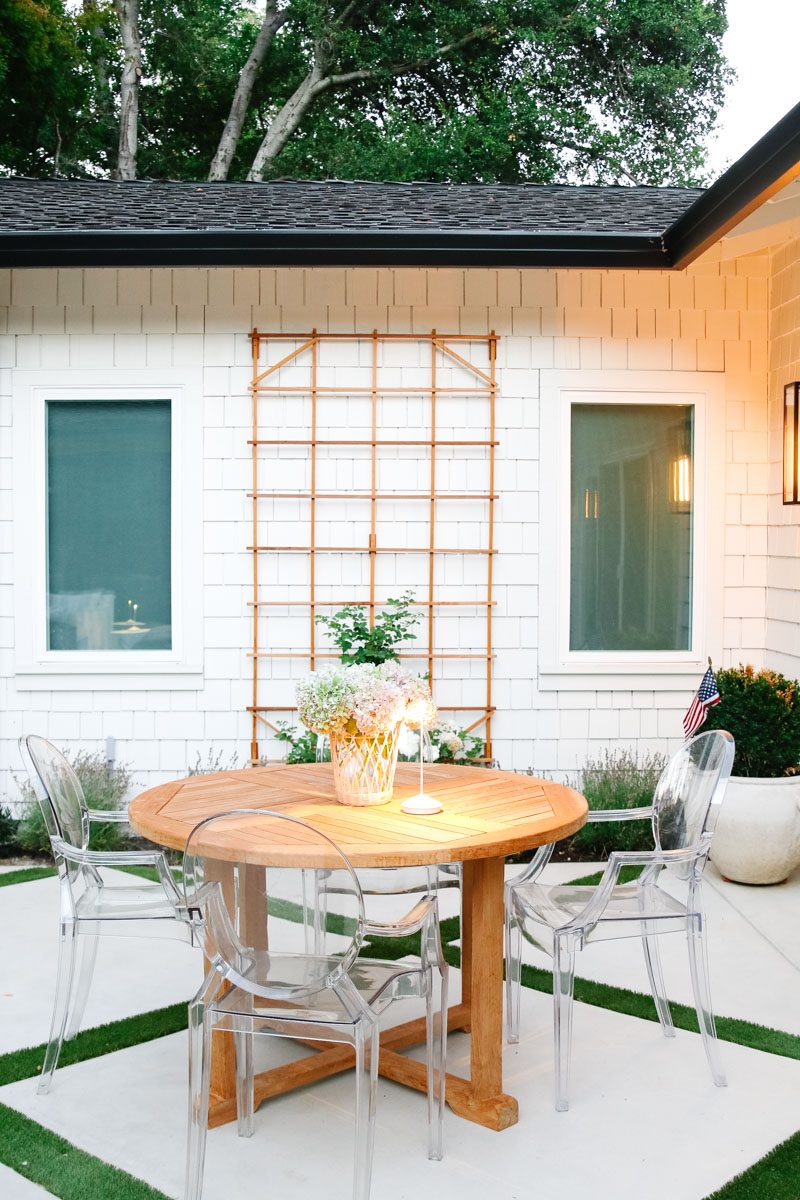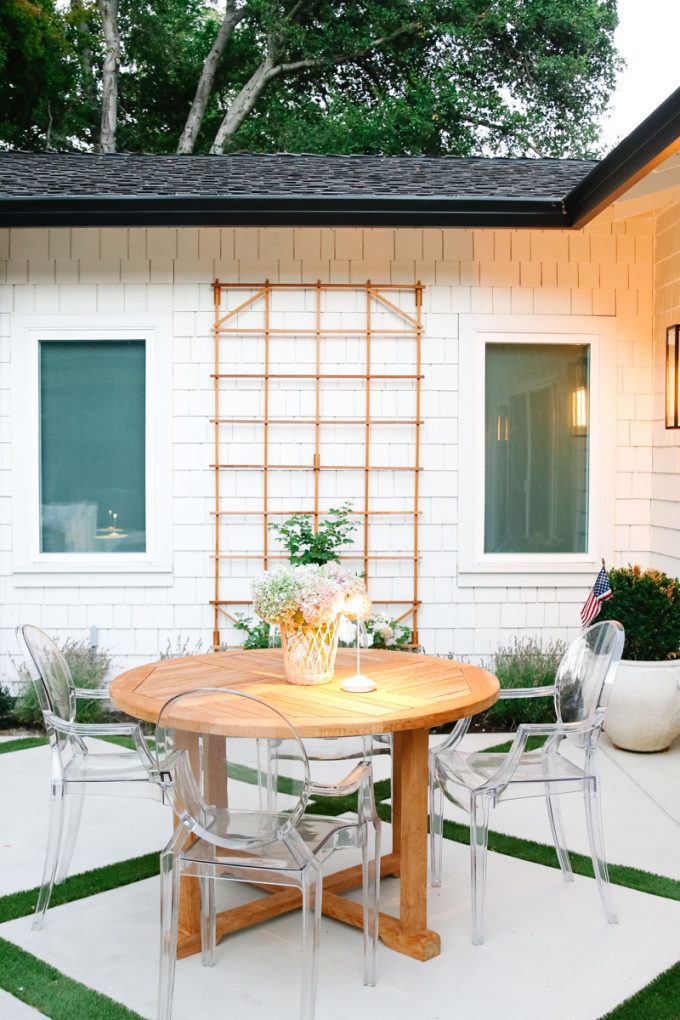 And while the original plans laid the cement squares in a grid, we chose to position them on the diagonal. This draws your eye out and adds more visual interest.
Fake Grass Backyard Idea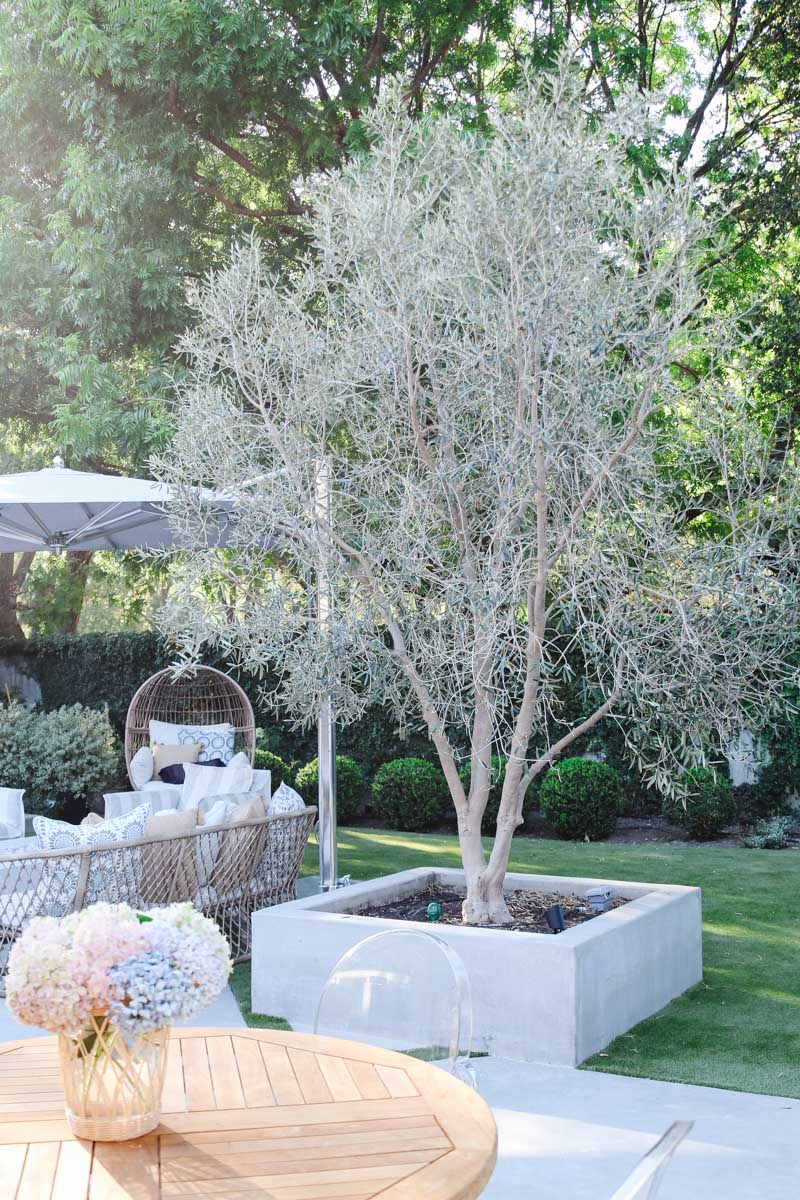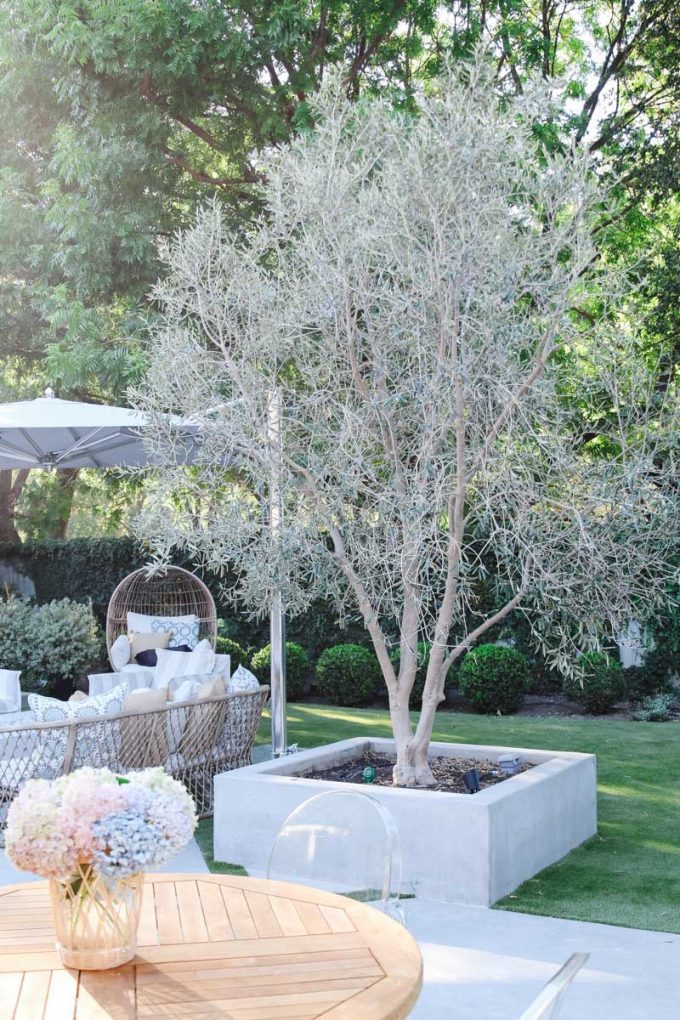 As you can see from the plan, we removed all our of grass and replaced it with fake grass. We LOVE it! Not only does it save a ton of water, but it is always green and is so much less maintenance.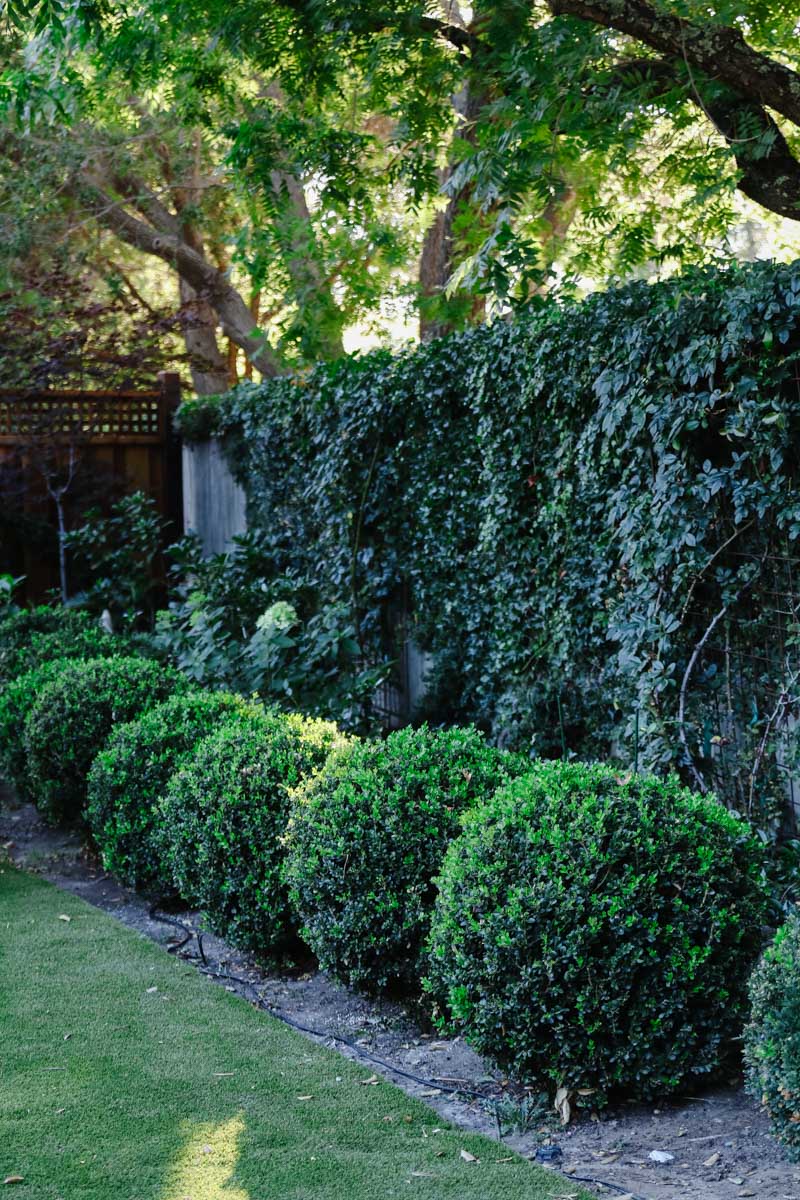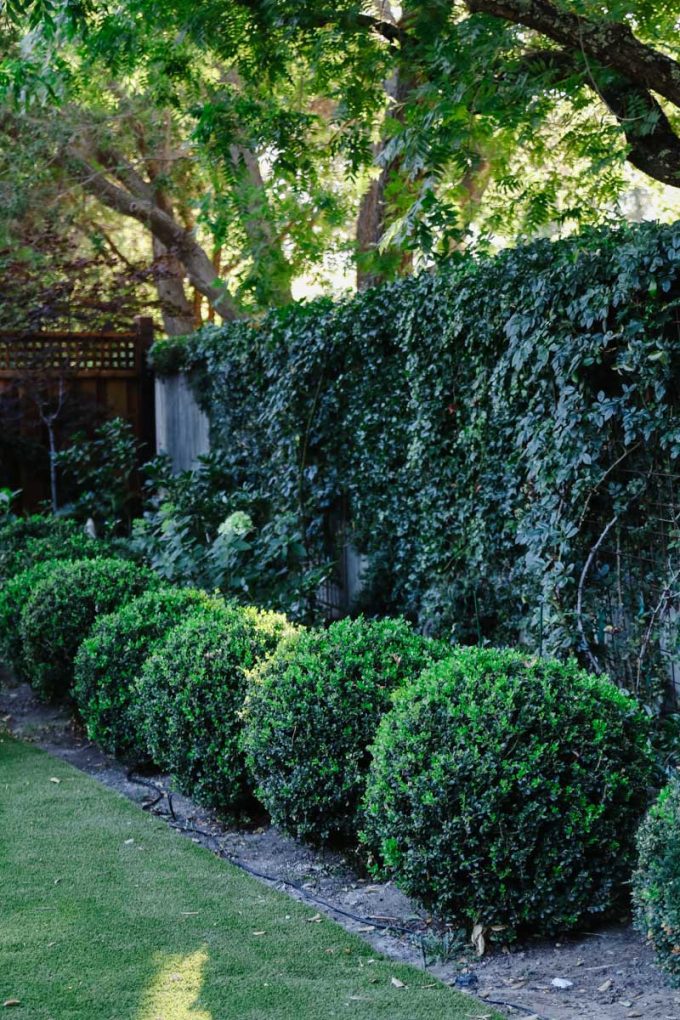 Because we have pets, we chose a type that is meant for dogs. With a shorter blade and better drainage, you eliminate most of the smell that can occur from urine and feces.
Small Patio Design Ideas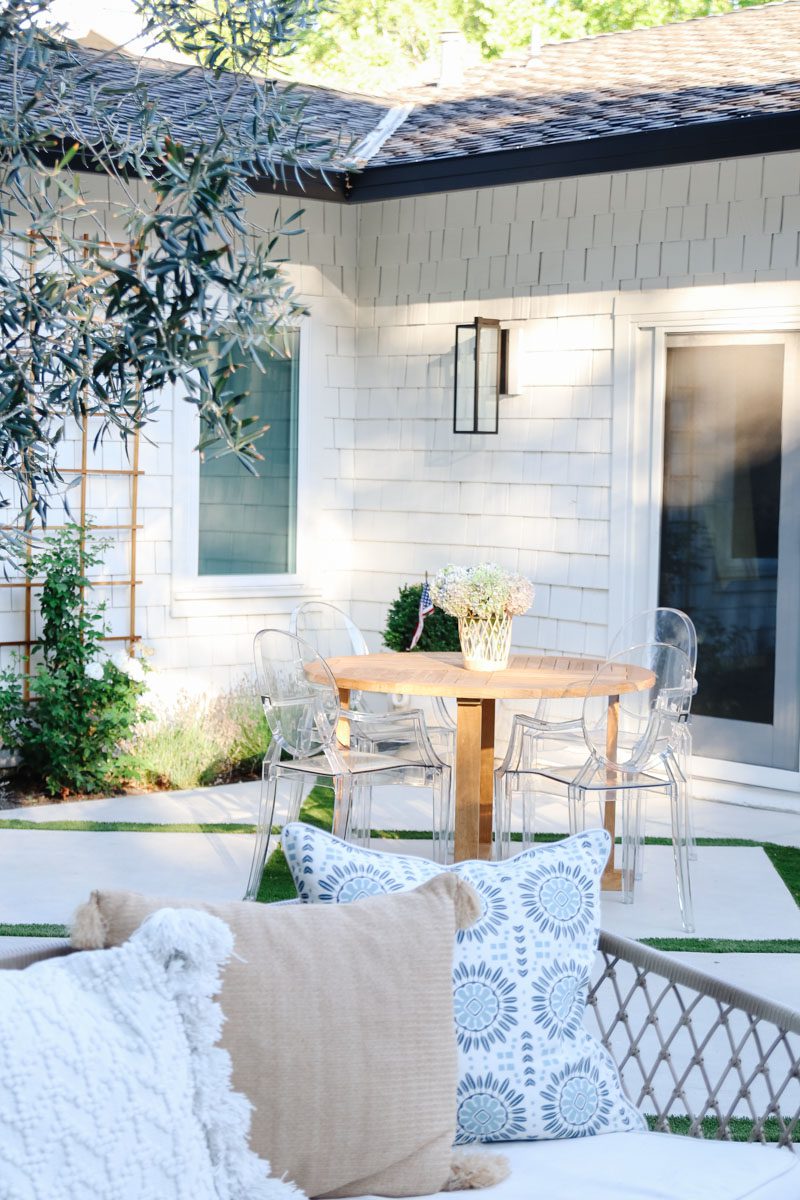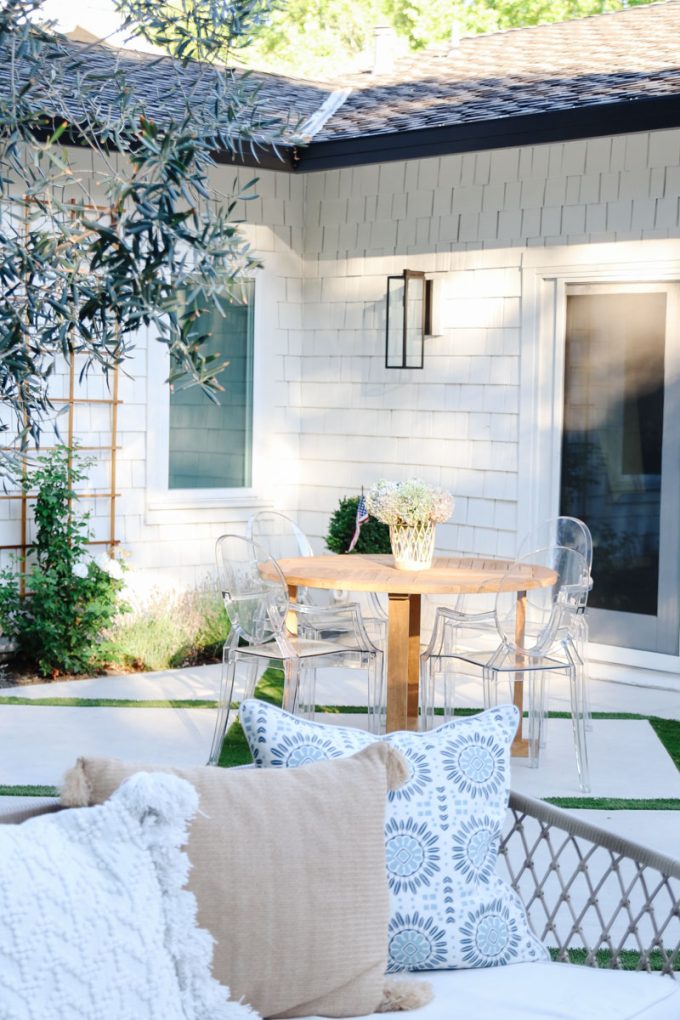 When designing a small backyard patio, you want to mindful of your space and what your intentions are for using it. We knew we wanted our patio to be a place to entertain, hang out with friends and eat outdoors.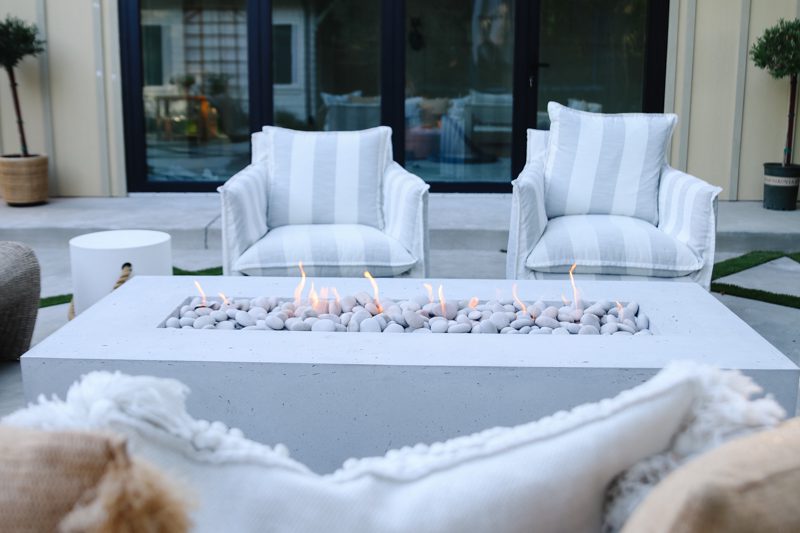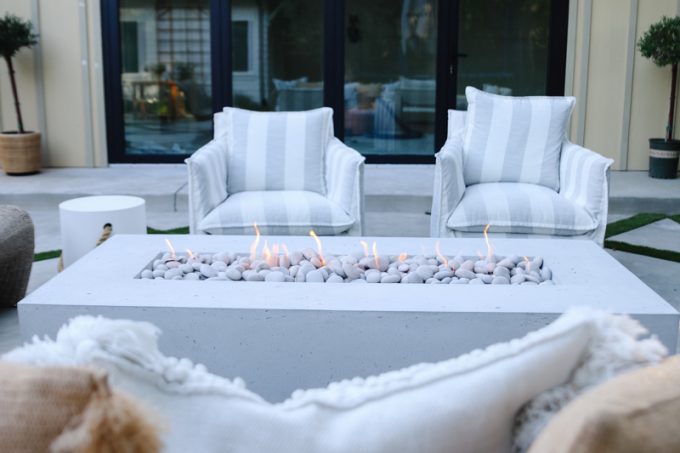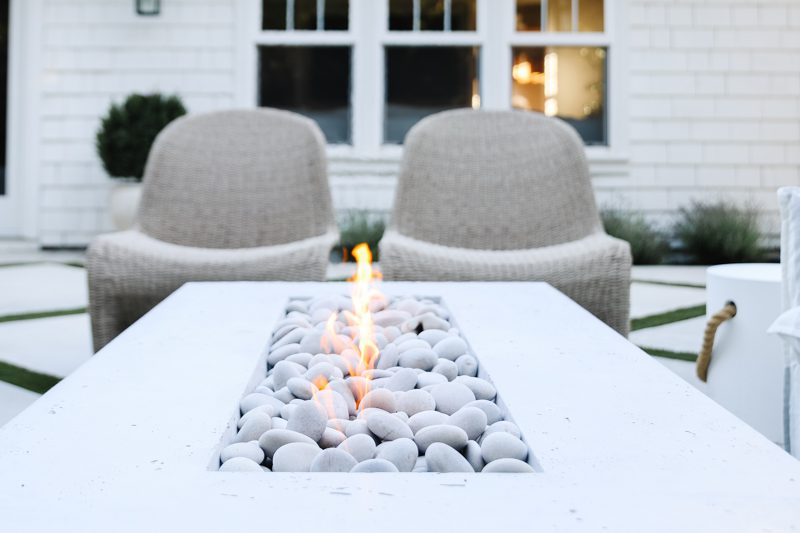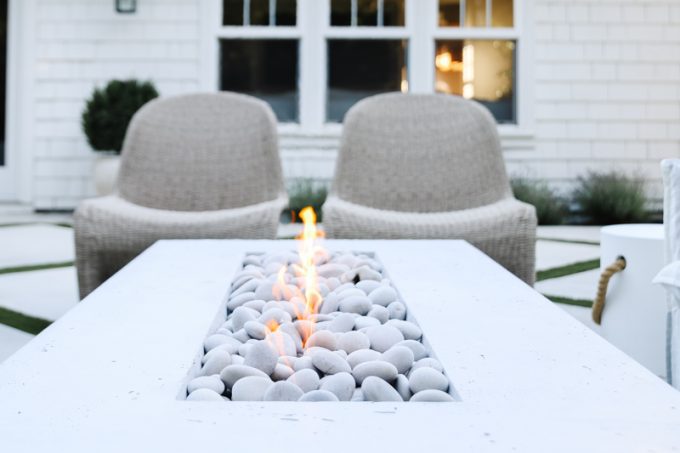 So, when planning the hardscape, we made a designated area for lounging and also for dining.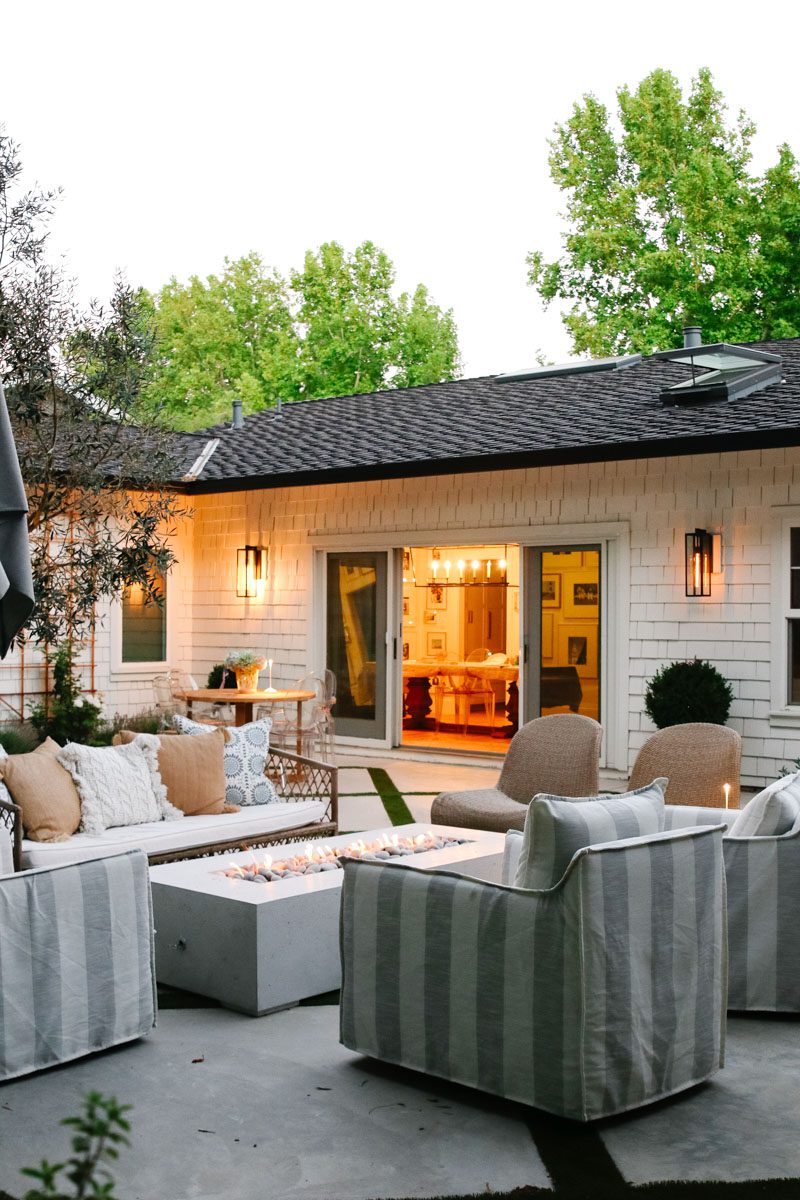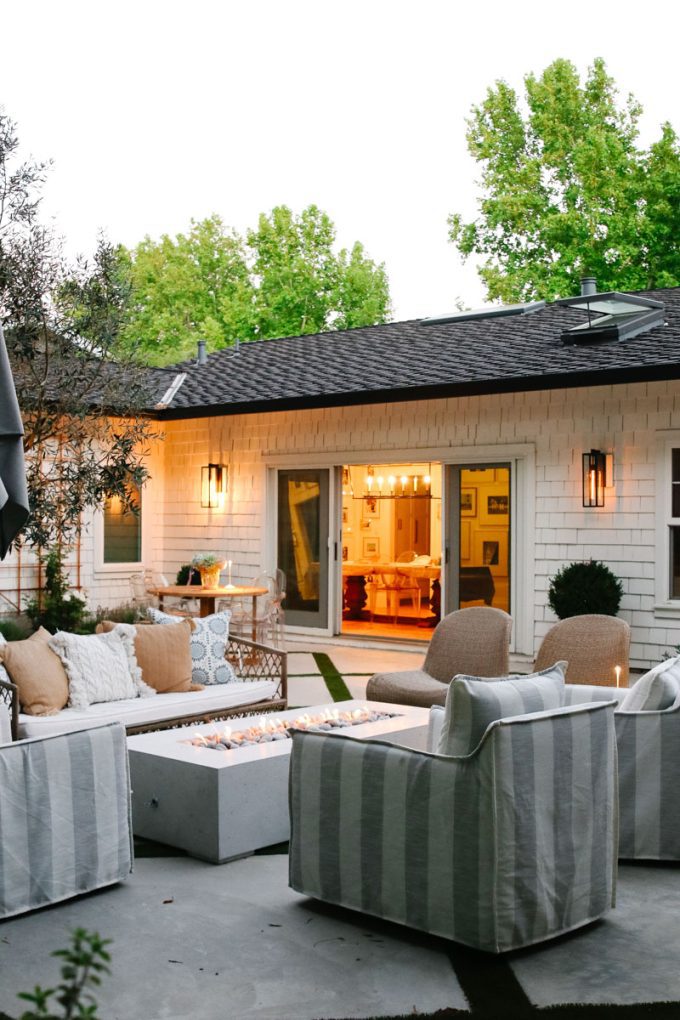 And having the firetable outside the new studio build will allow for gathering. And it will also provide a focal point from both our existing house and the studio.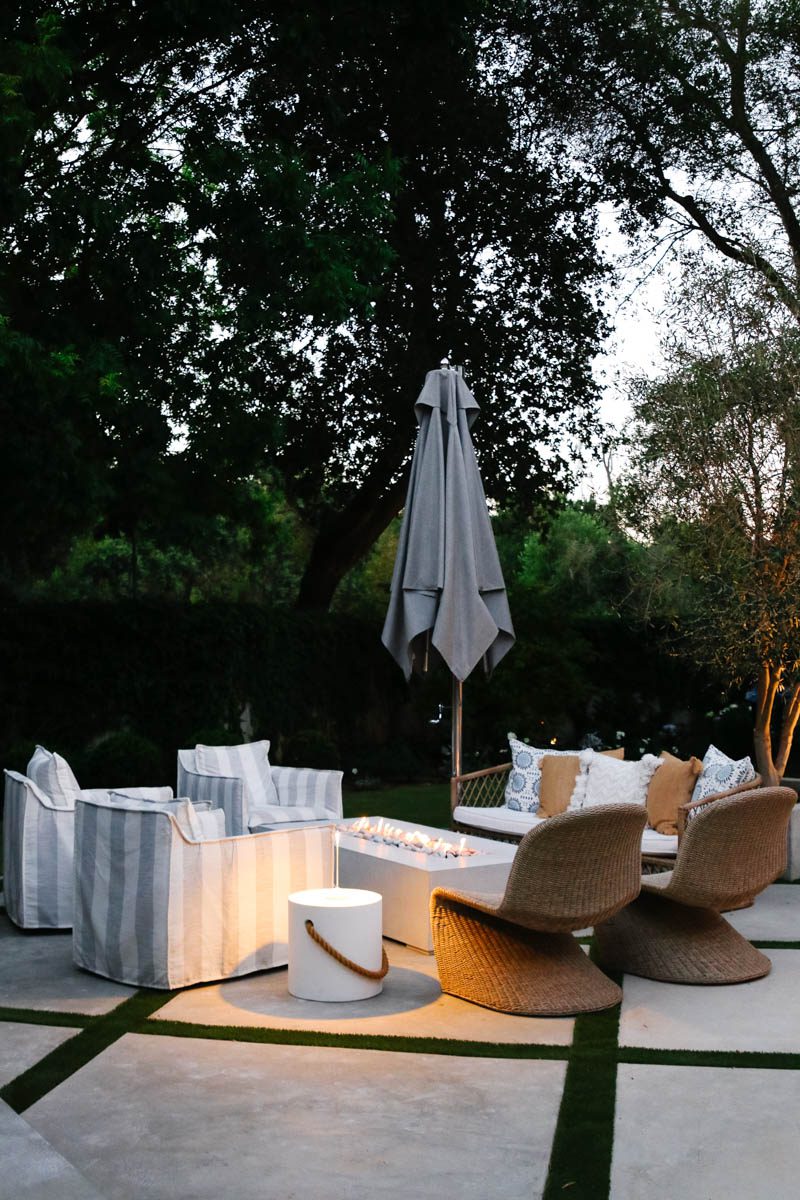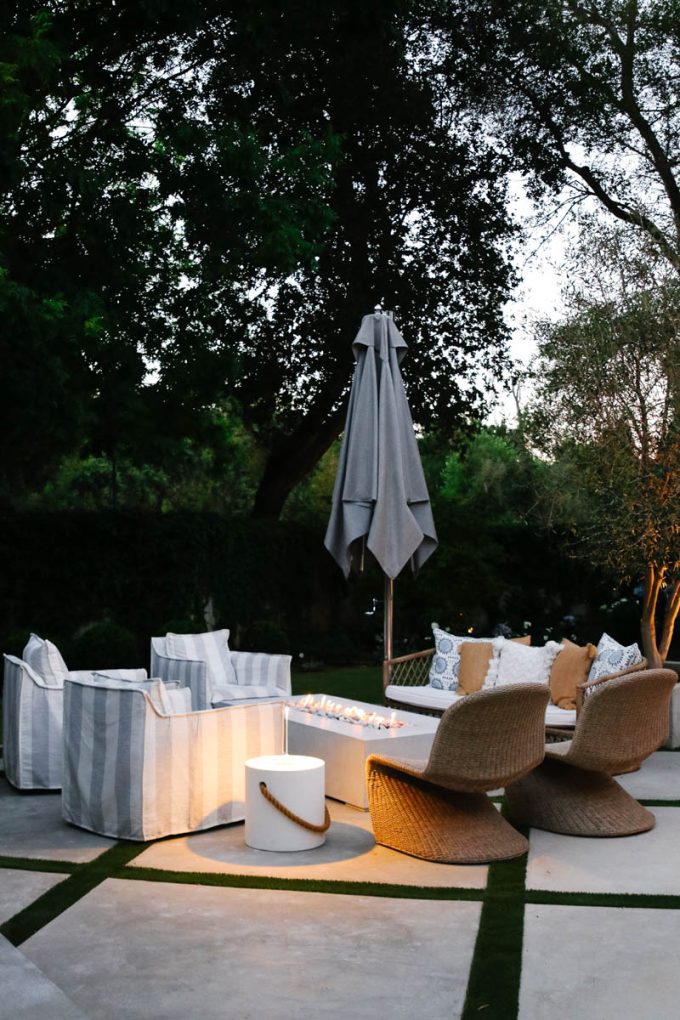 Simple Mediterranean Landscaping Plan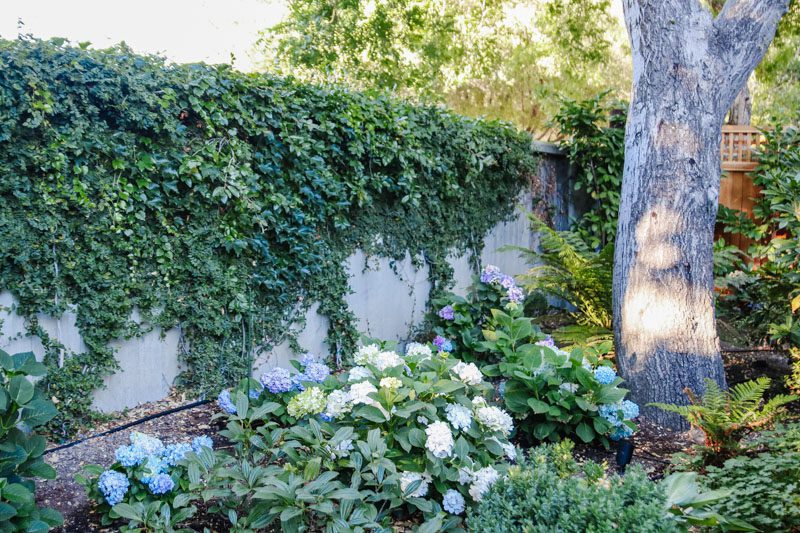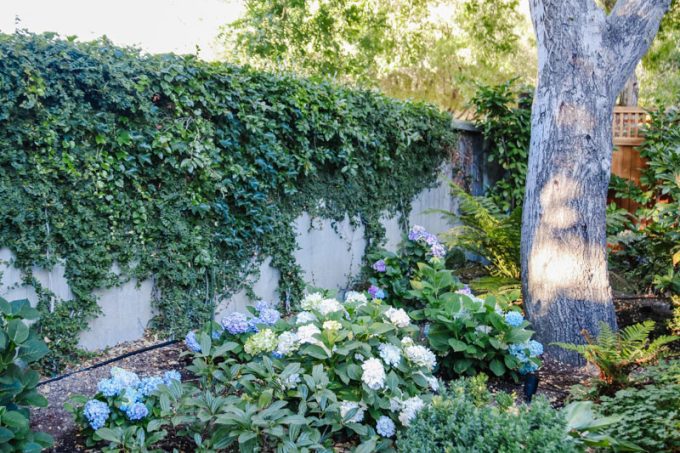 When designing our landscape, I knew I wanted it to feel lush, beautiful and filled with my favorite flowers: roses and hydrangeas.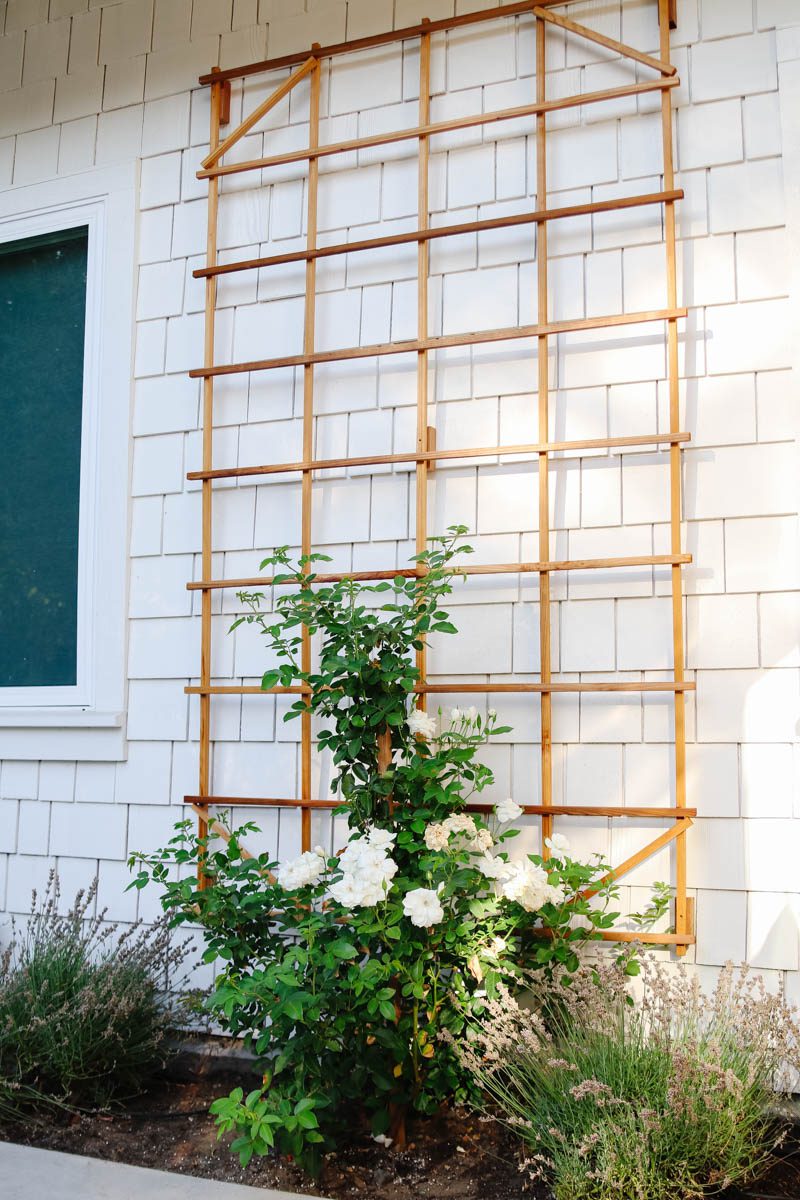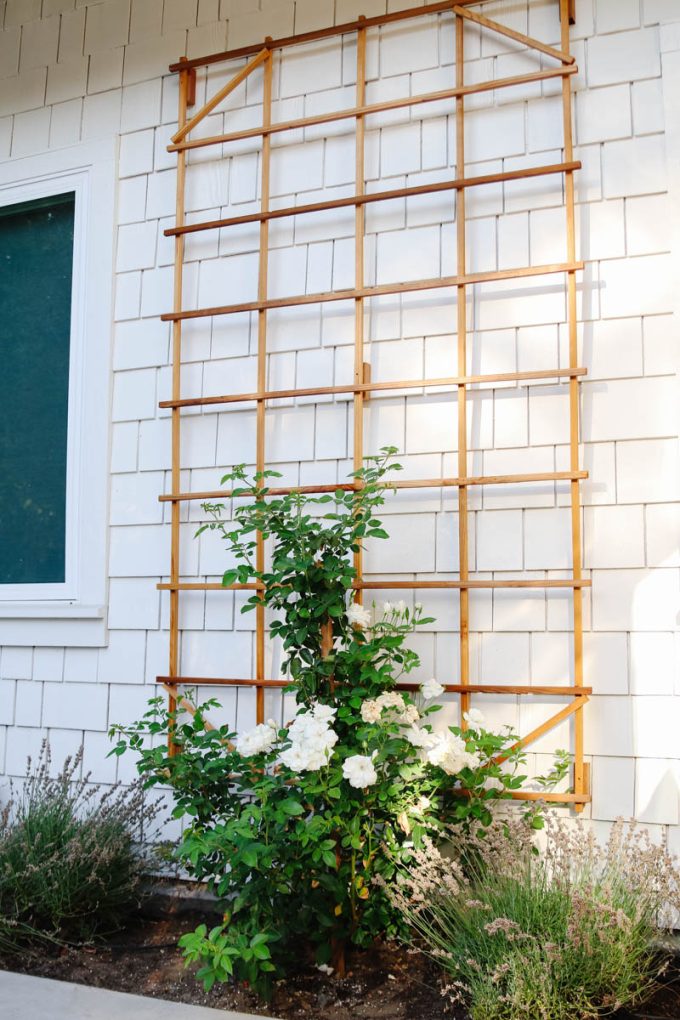 We added to our existing landscaping and layered in mini olive bushes, lots of lavender and two climbing iceberg roses.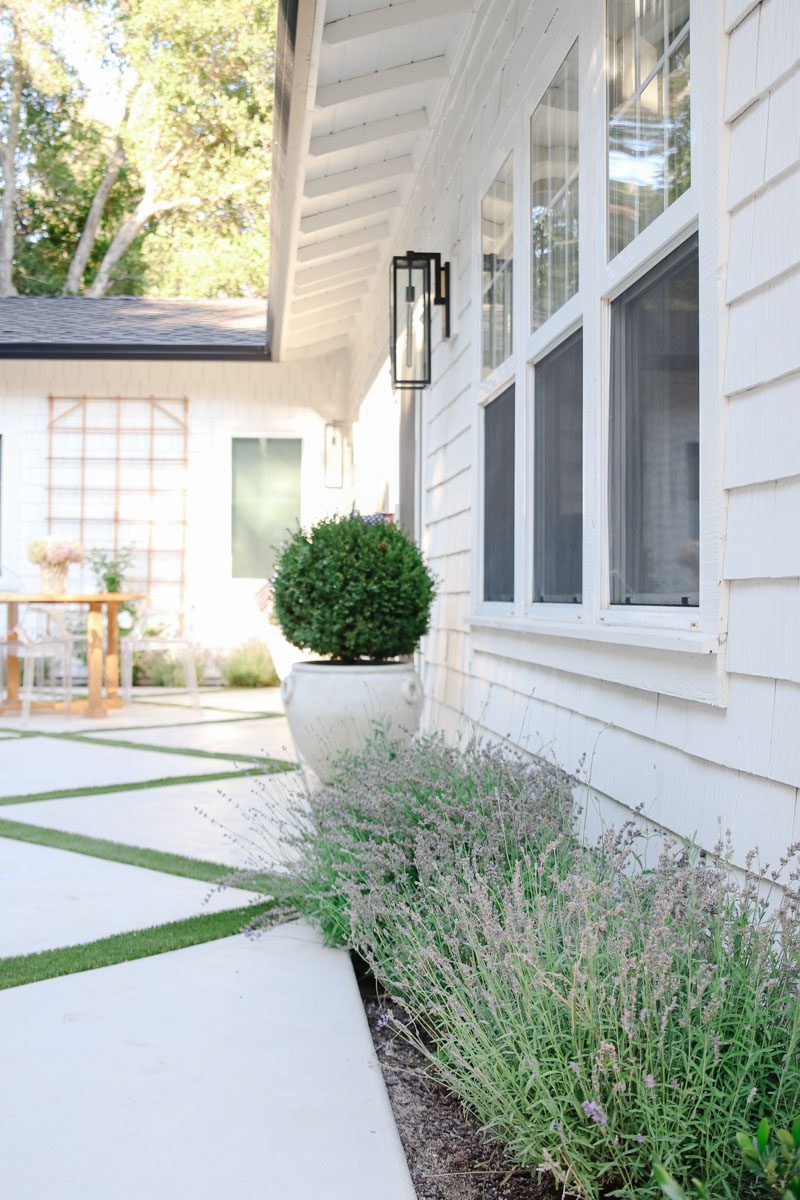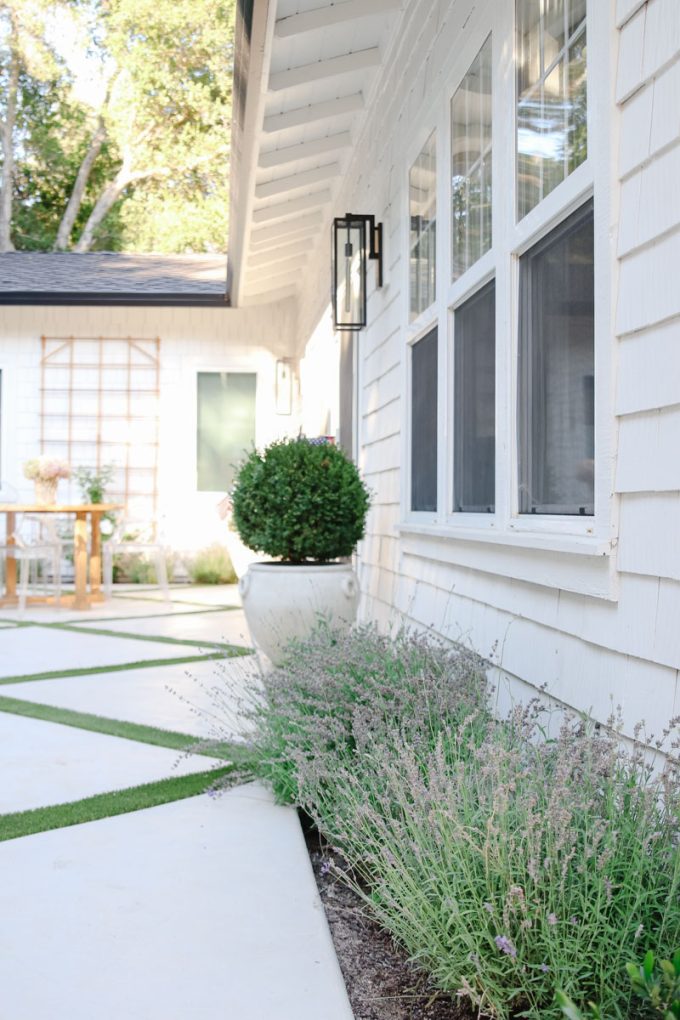 One of my favorite features of our backyard patio makeover is this fruitless Swan Hill Olive Tree. It's about 20′ in height and over 30 years old. I love the focal point it provides and also the shade.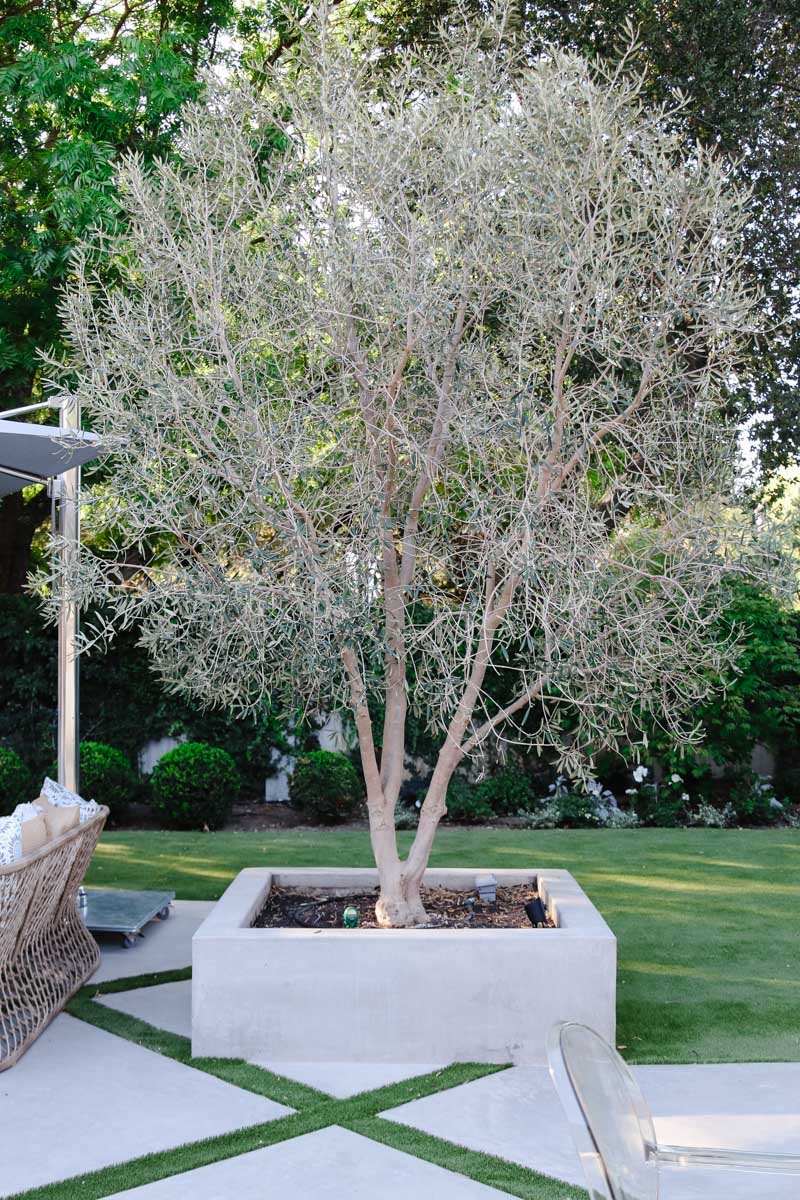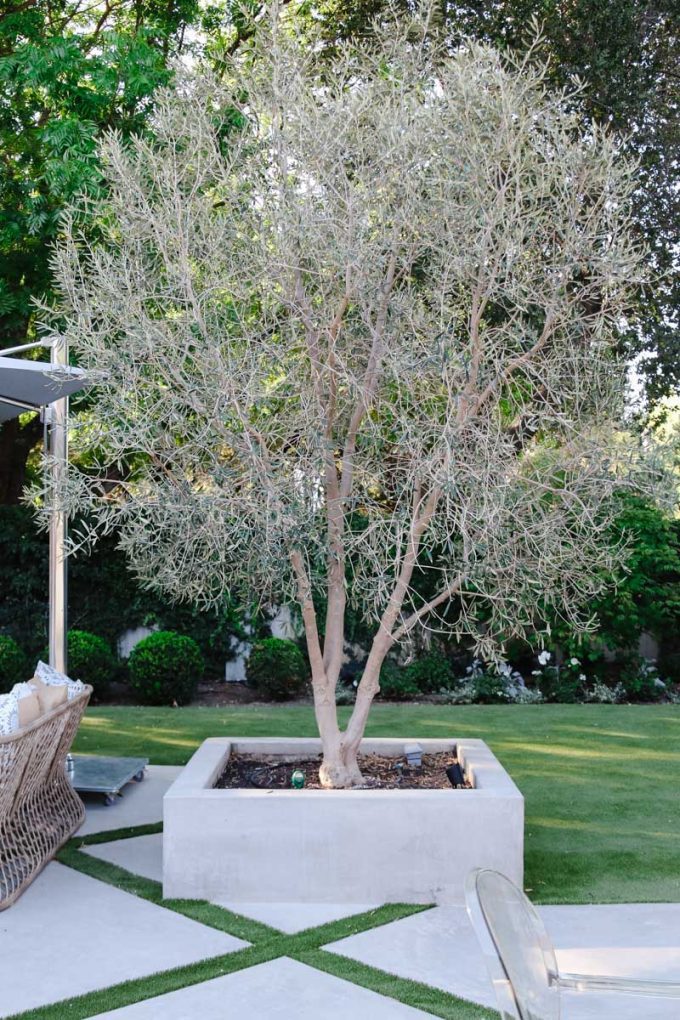 Breaking up the cement with the fake grass and greenery brings life and character to an otherwise plain backyard.
Backyard ADU Studio Space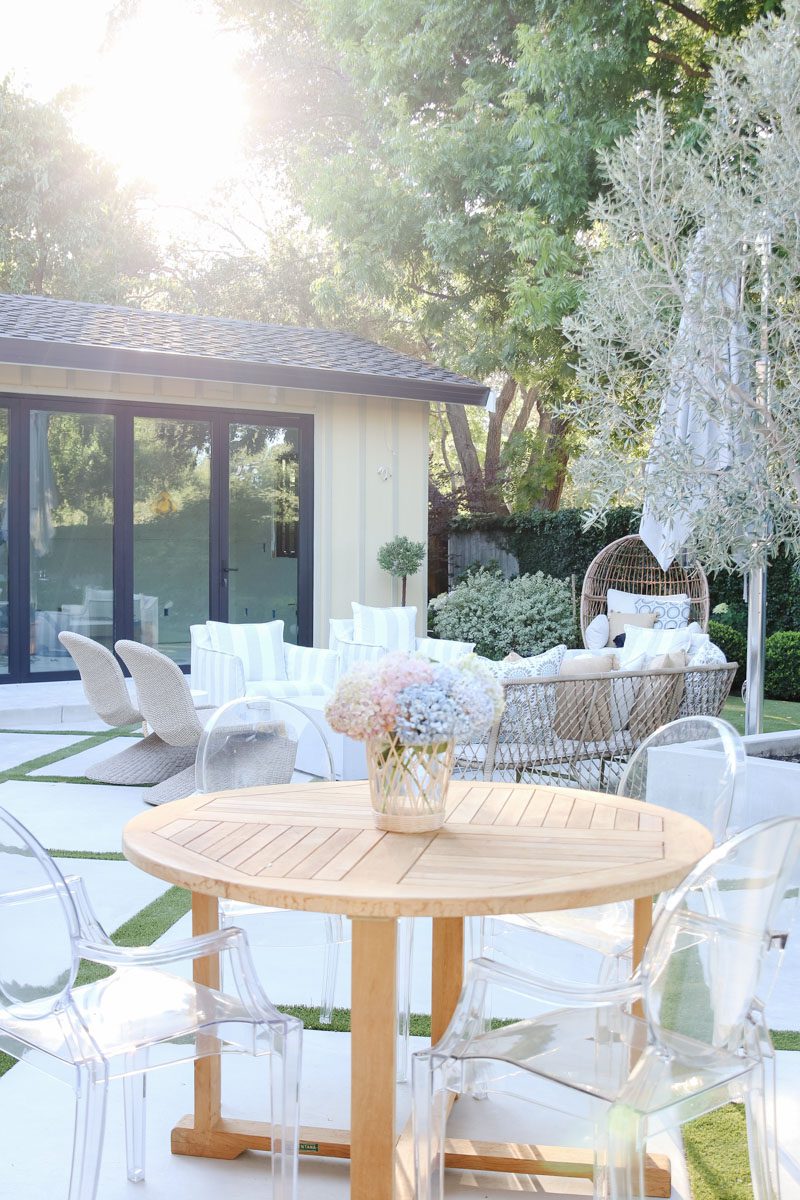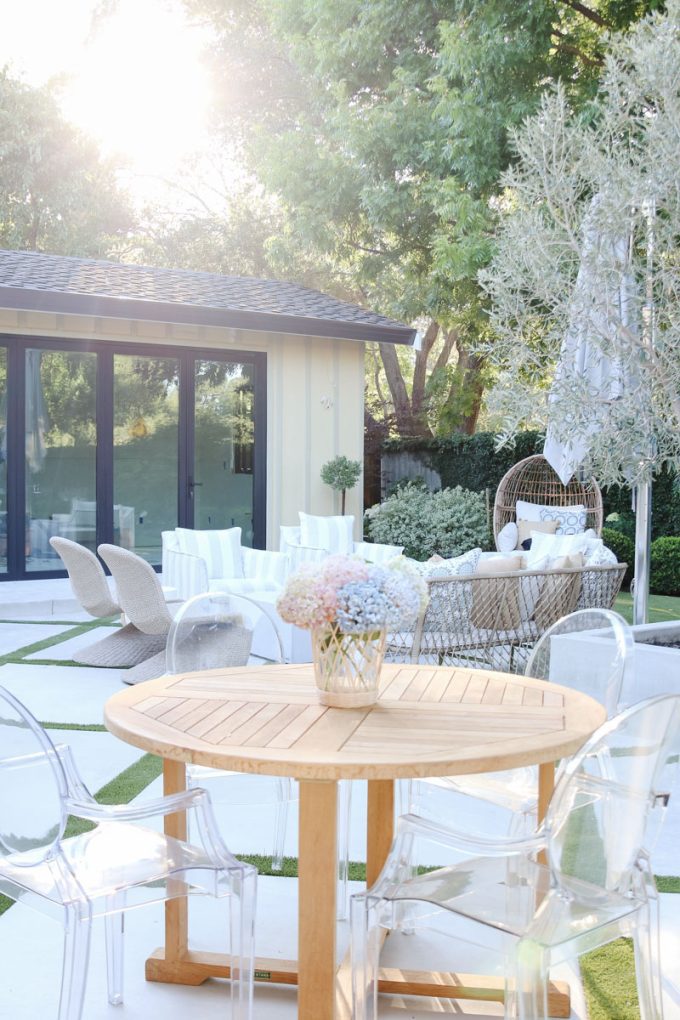 Now, if you've been following along on Instagram, you know that we have been working on completing our studio for A LONG time. Due to covid delays and other sourcing issues, we have had a lot of set backs. But, the windows went in last week. And we can finally paint the exterior, finish the landscaping around the perimeter and start the finish work inside.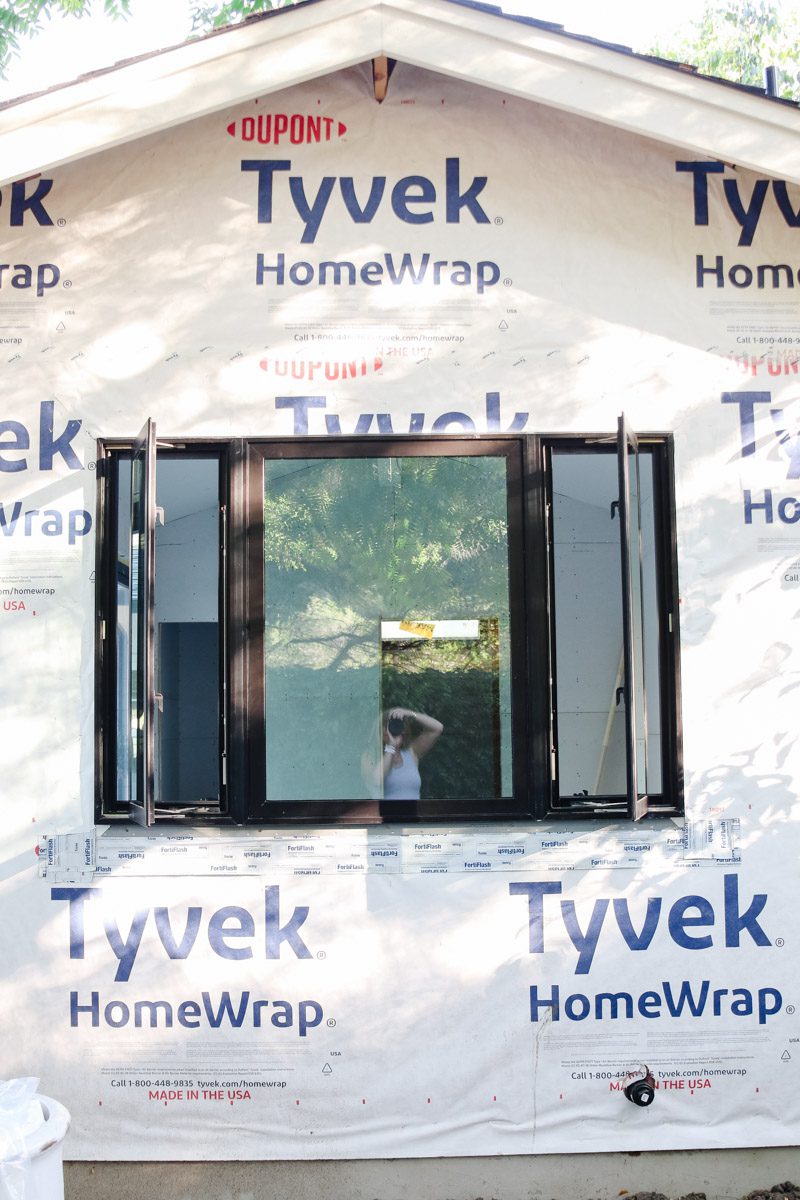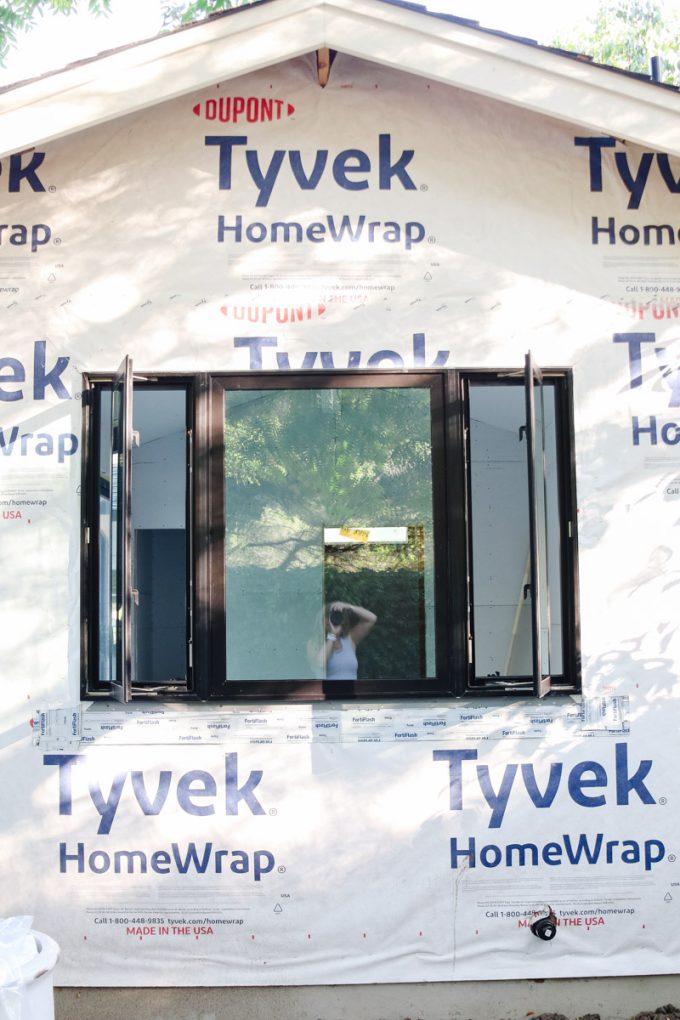 I will be sure to share a final when we are done with the space. But this studio will be a space we use for entertaining and another area that our kids can spend time with friends. So, stay tuned for more reveals!
Backyard Patio Makeover Sources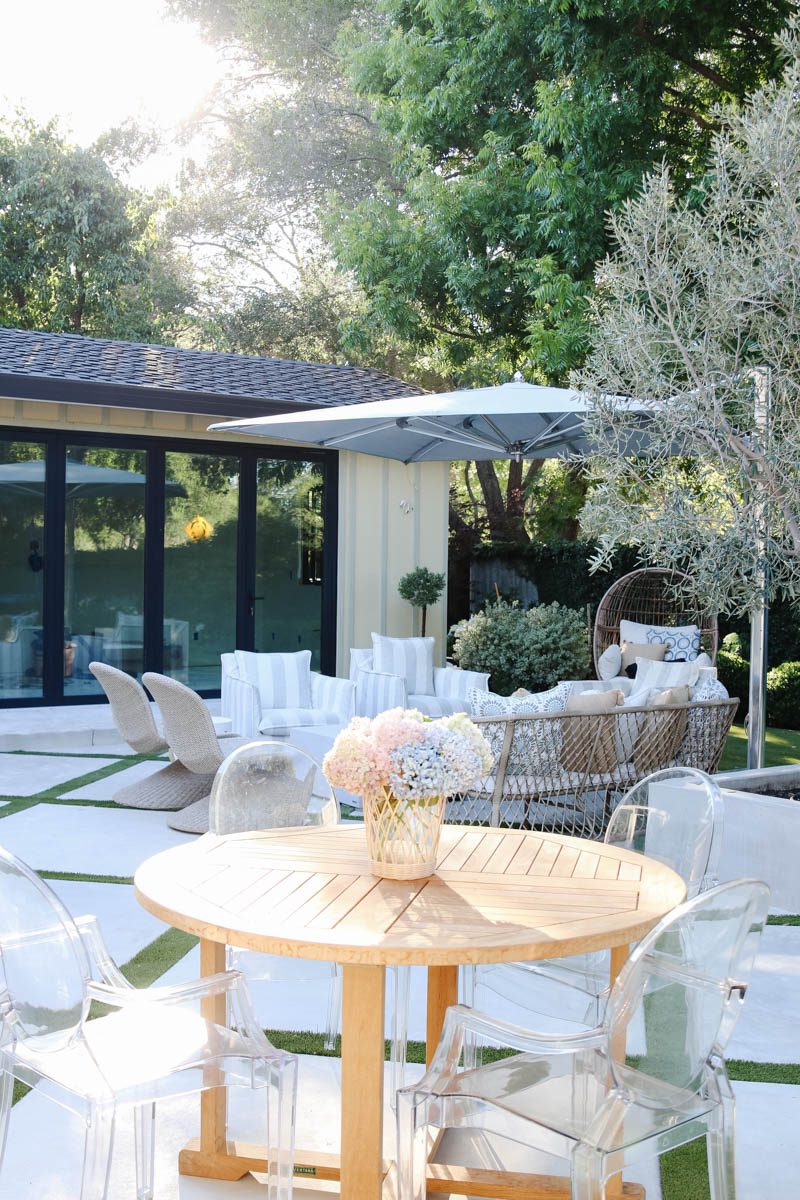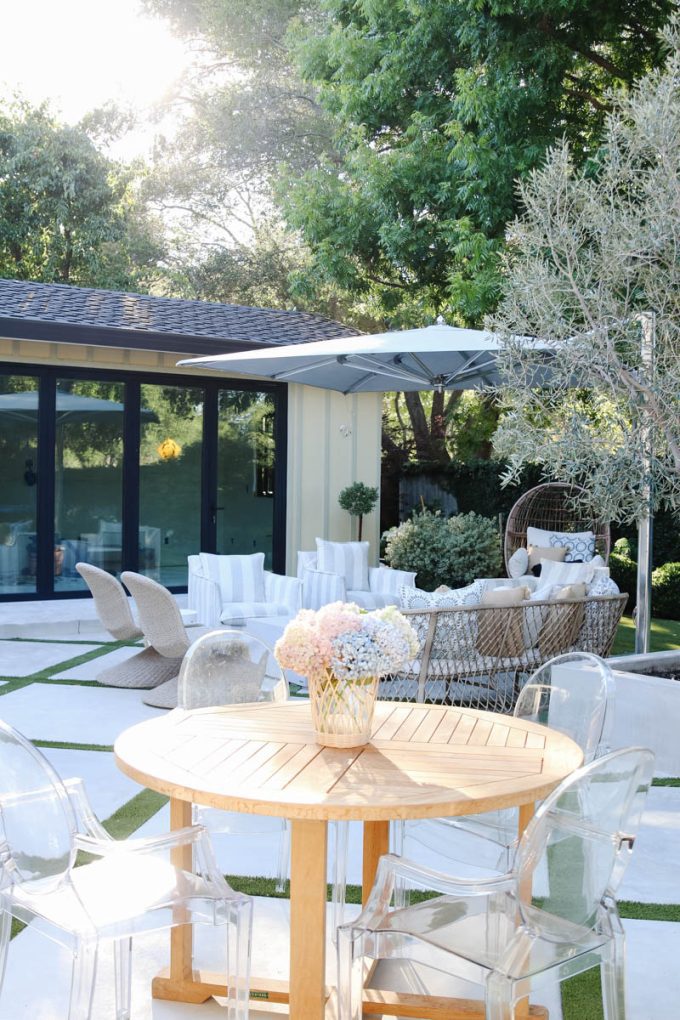 4′ Round Teak Table: Terra Outdoor Living (similar HERE)
Striped Swivel Chairs: Serena & Lily
Umbrella: Tucci 10′ Ocean Master Max
Outdoor Sofa: Serena & Lily
Rattan Chairs: Lulu & Georgia
Fire Table: Dekko Sonoma Fire Table
Plants & Landscaping: Lavender Hidcote, Climbing Iceberg Rose, Mini Olive Bushes, Swan Hill Olive Tree, Limelight Hydrangeas, Endless Summer Hydrangeas, assorted boxwood bushes, Large Chain Ferns, carpet Iceberg Roses, Loropetlum. All plants are from Orchard Nursery – Lafayette, CA.
Cement and Grass: 5 1/2 ft. plain cement pavers with 6 inches of fake grass in between. Grass is Ewing EPS Pet Turf II.
Outdoor Decorating Ideas
Be sure to check out these ideas being shared today from my friends. So many ideas for decorating for summer outdoors!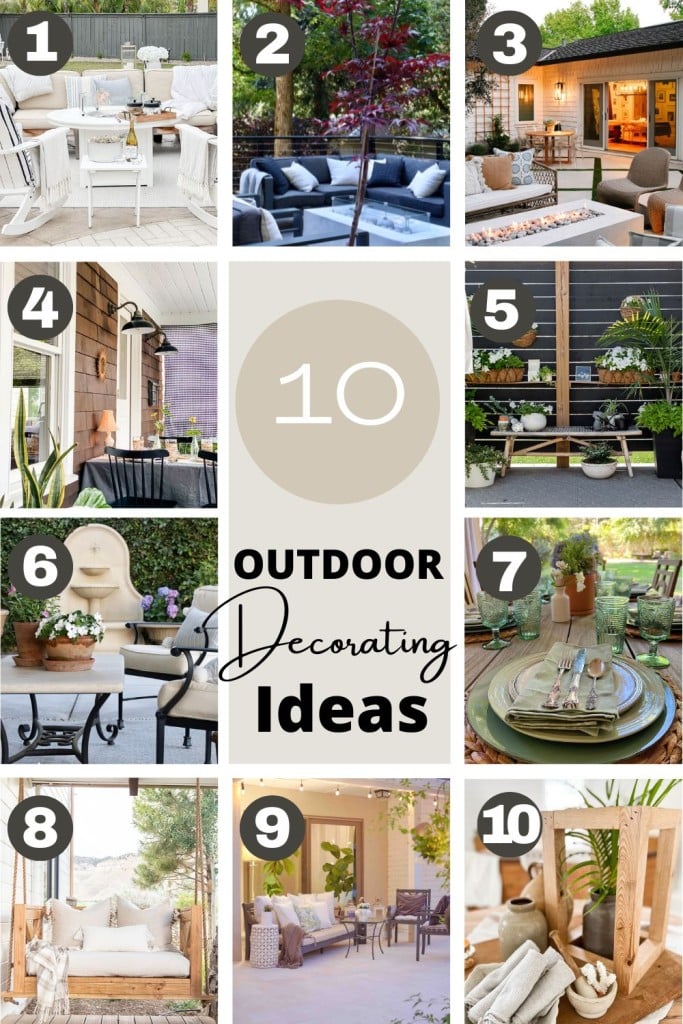 Save This Pin For Later