Effortless outdoor entertaining tips and ideas for your next backyard get together. Everything from menu ideas to the perfect summer playlist.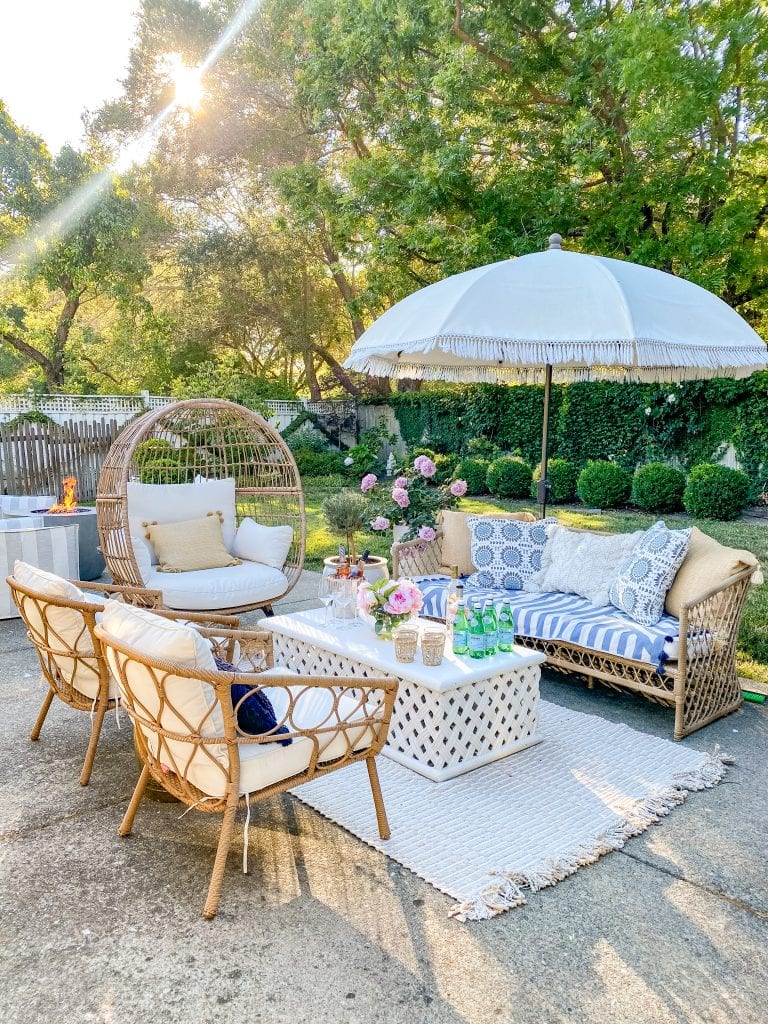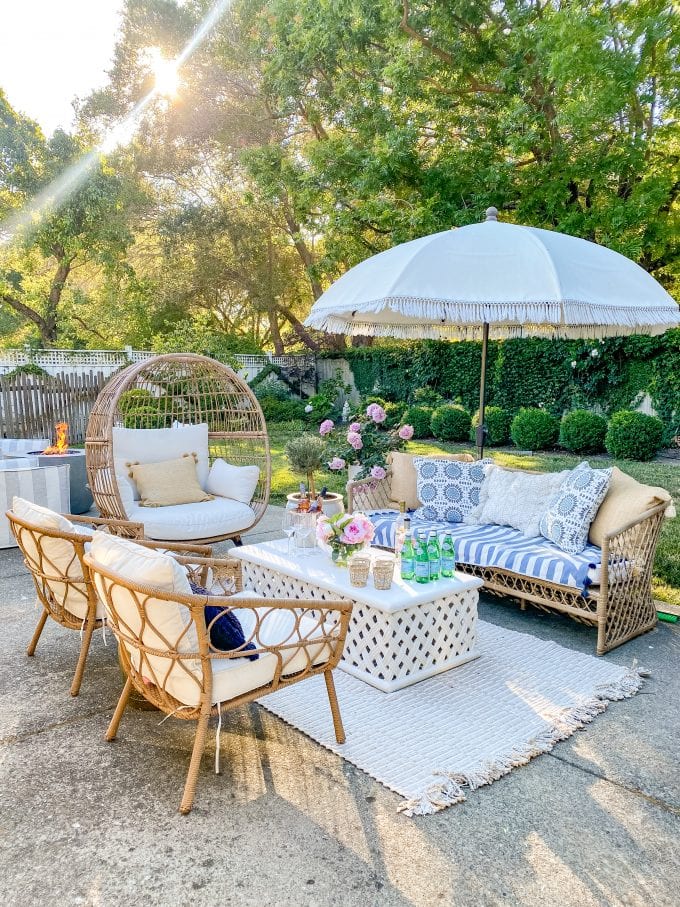 Effortless Outdoor Entertaining Tips and Ideas
Summer is in full swing and we are doing more entertaining and gathering with friends and family this year. A few weeks ago, I shared with you how to Create An Outdoor Living Space. Once you this great extension of your home, it's the perfect place for a get together in your backyard!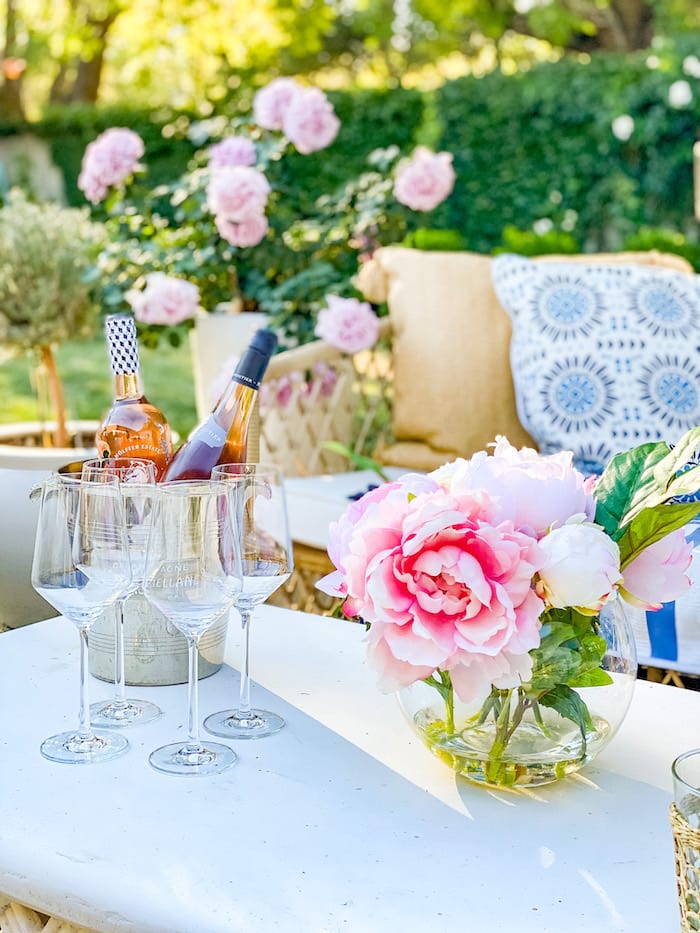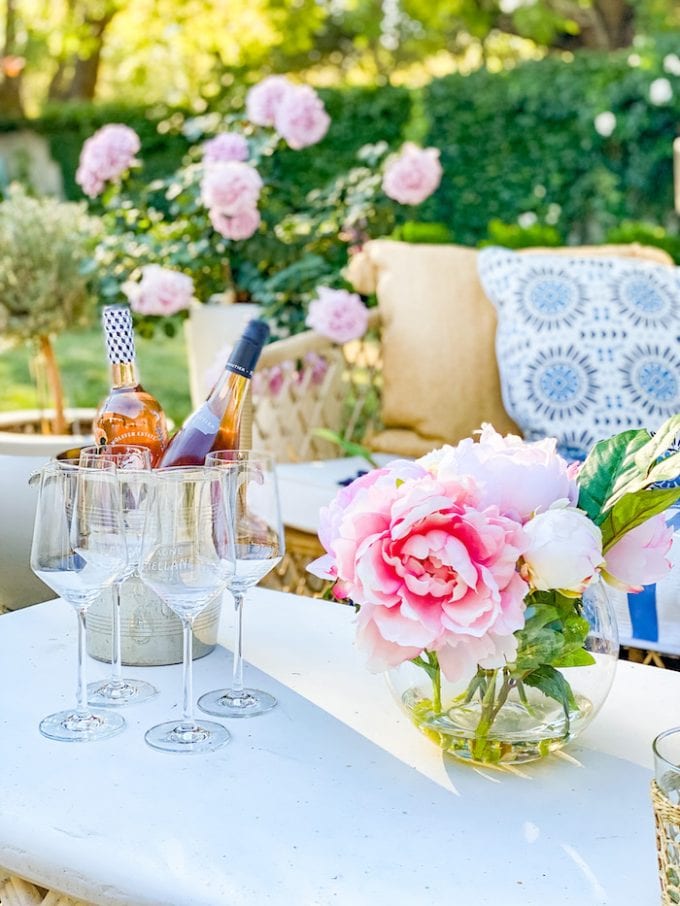 Today I'm sharing some easy outdoor entertaining ideas with a ton of tips and unique ideas. Whether your get together is big or small, these tips will make your soiree look effortless and ensure your guests will feel comfortable and welcome!
Table of Contents
And be sure to check out all of my friends ideas that are linked at the bottom. So many fun, creative and seasonal ideas for outdoor entertaining this summer!
How To Set Up Your Home For Outdoor Entertaining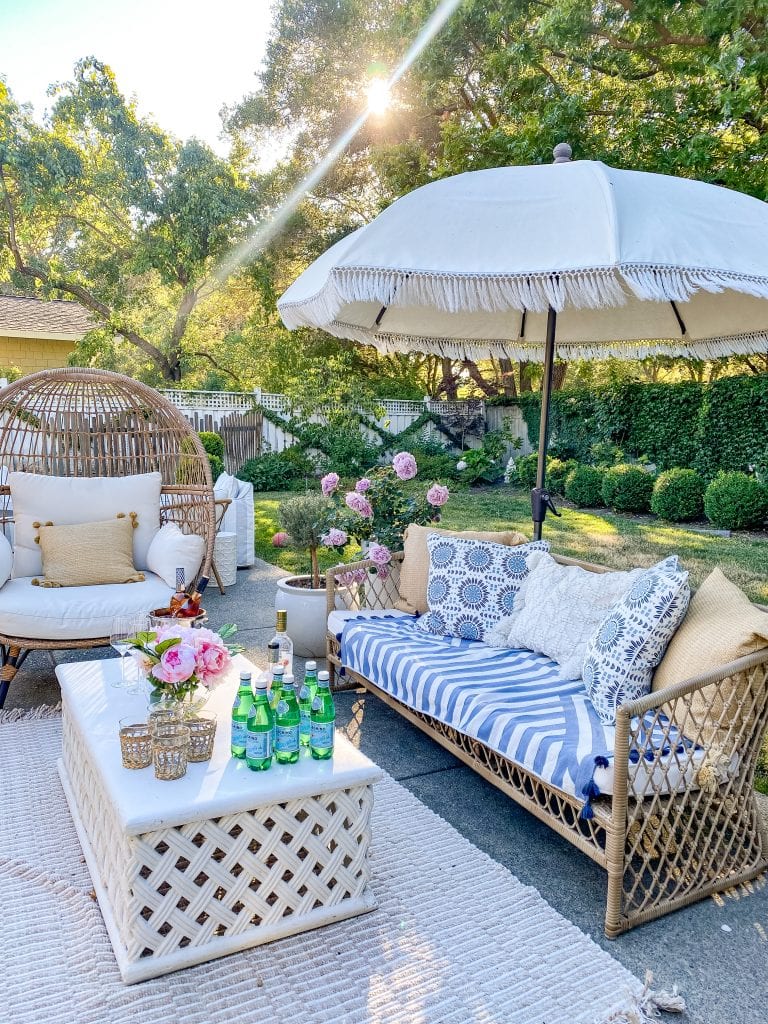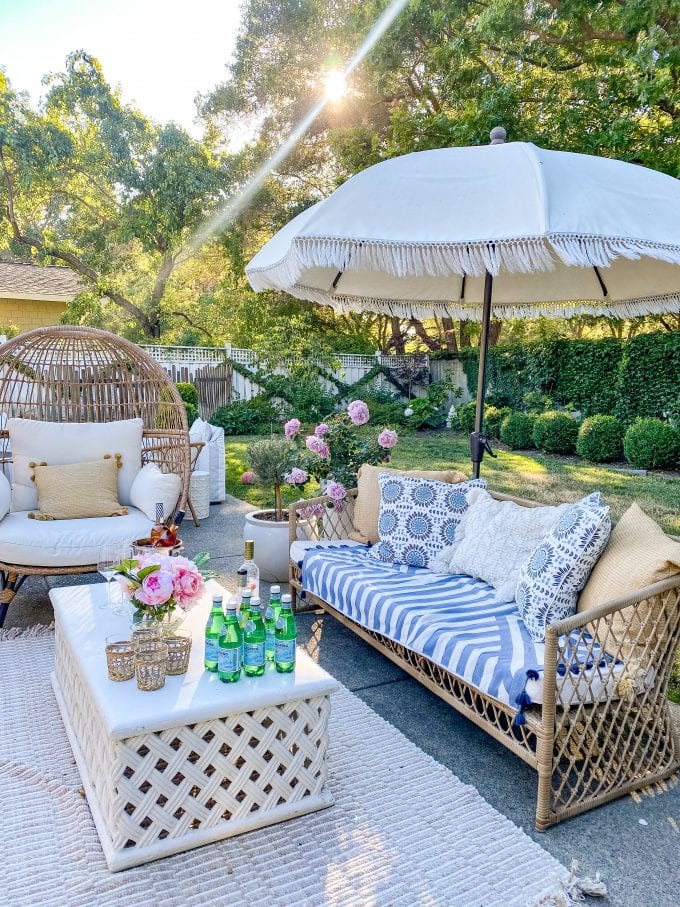 Ensuring your guests feel welcome and comfortable in your home is all about the ambiance and providing a few special things that will set your get together apart from the crowd.
Provide Plenty of Seating Areas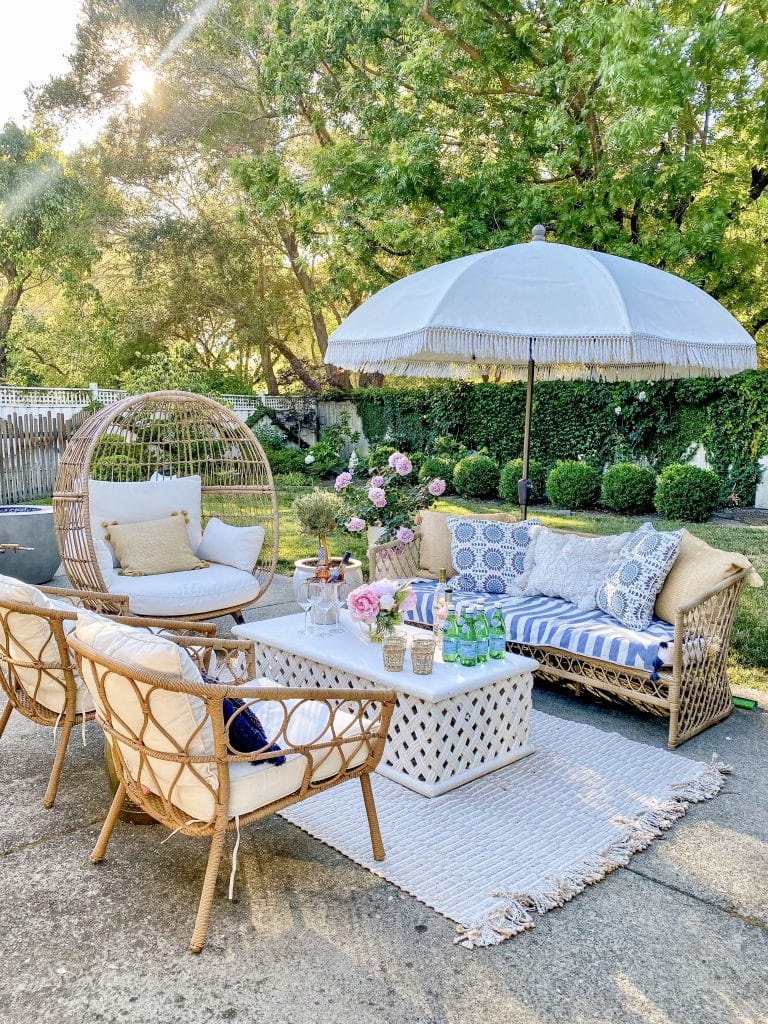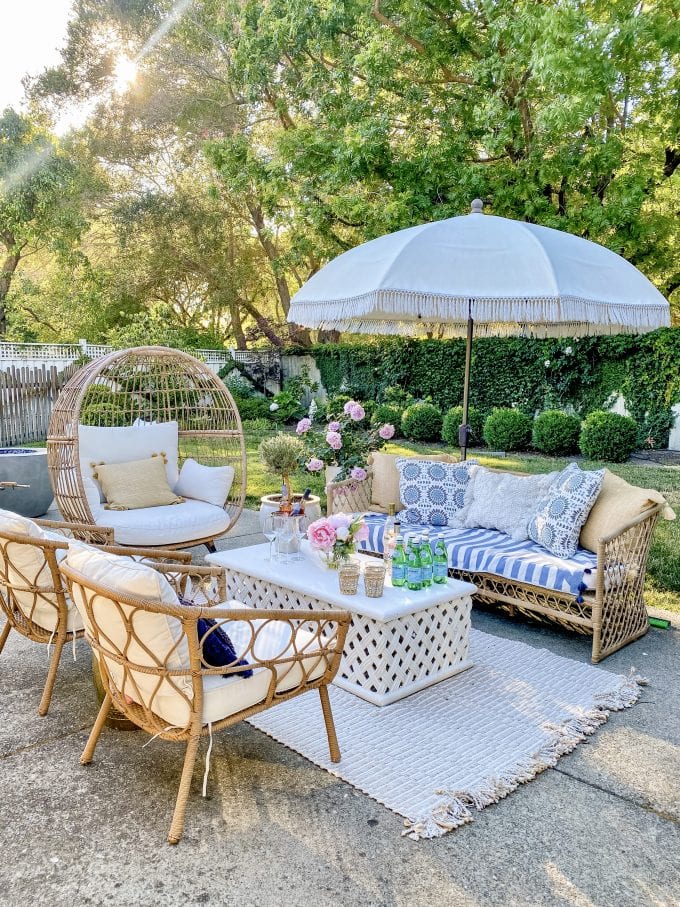 Make sure you have enough seating for all guests to sit in the same area. I like to start the evening off with different clusters of seating arrangements. When guests arrive, smaller, more intimate conversations allow people to unwind and get comfortable. But as the night goes on, you may end up all sitting around the fire or table together.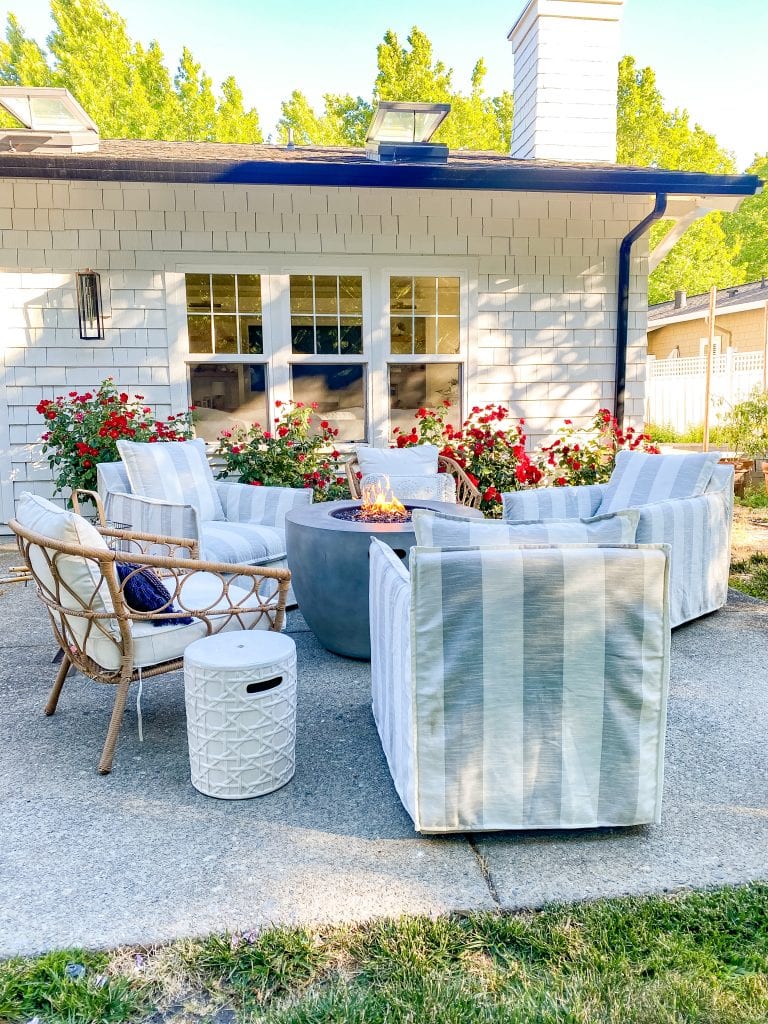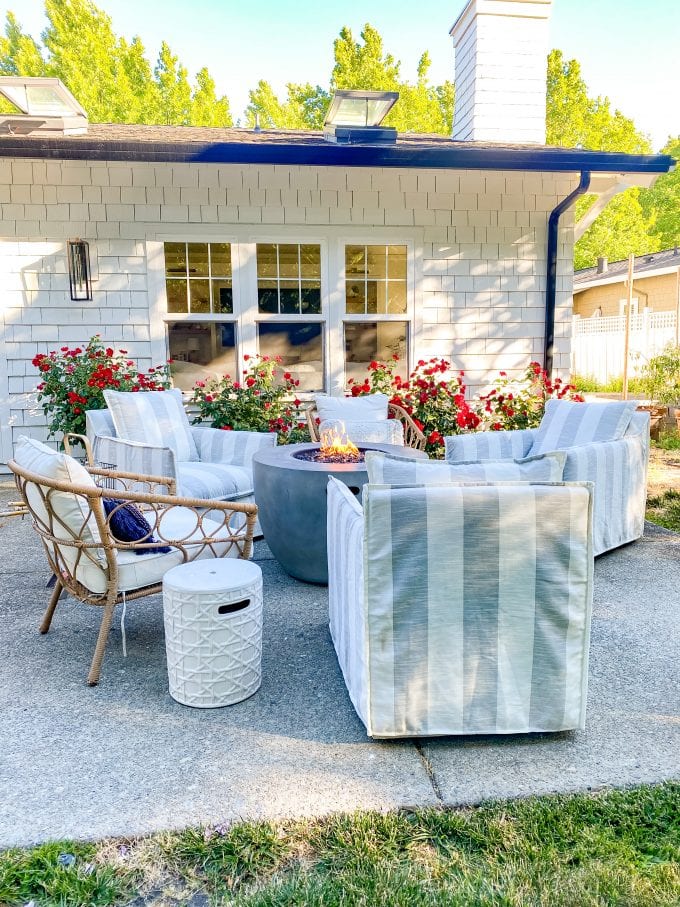 We have these chairs that are usually a part of this sofa and egg chair. But, when we have people over, inevitably the chairs get moved over to the fire pit later in the evening.
Set Up An Outdoor Bar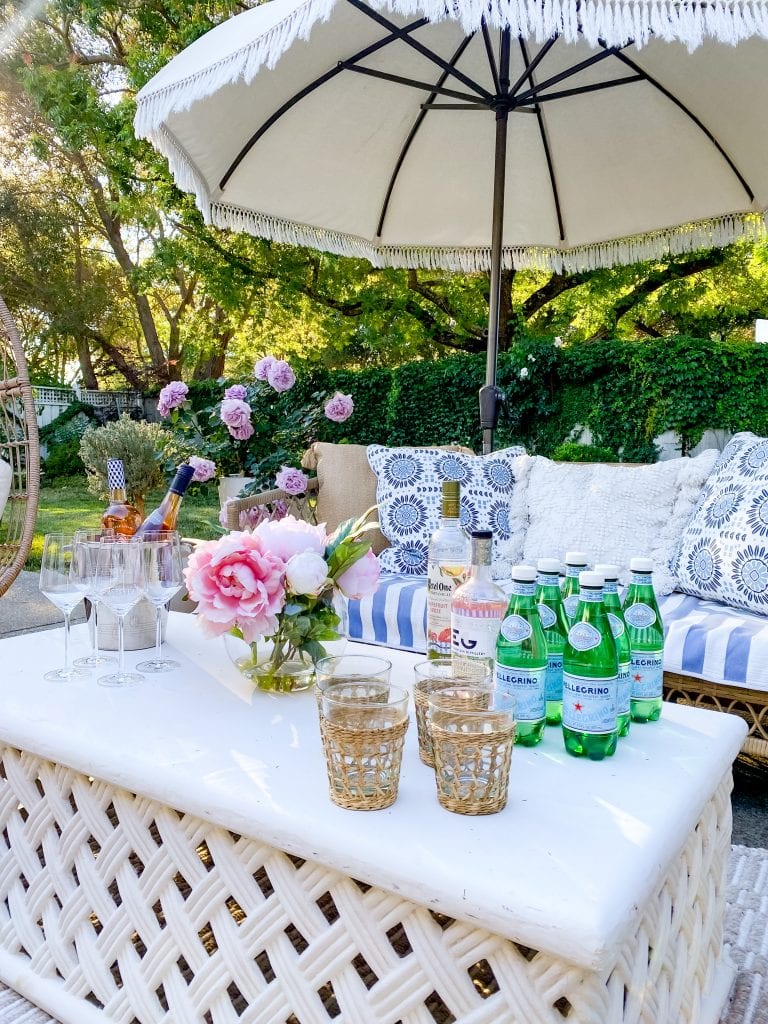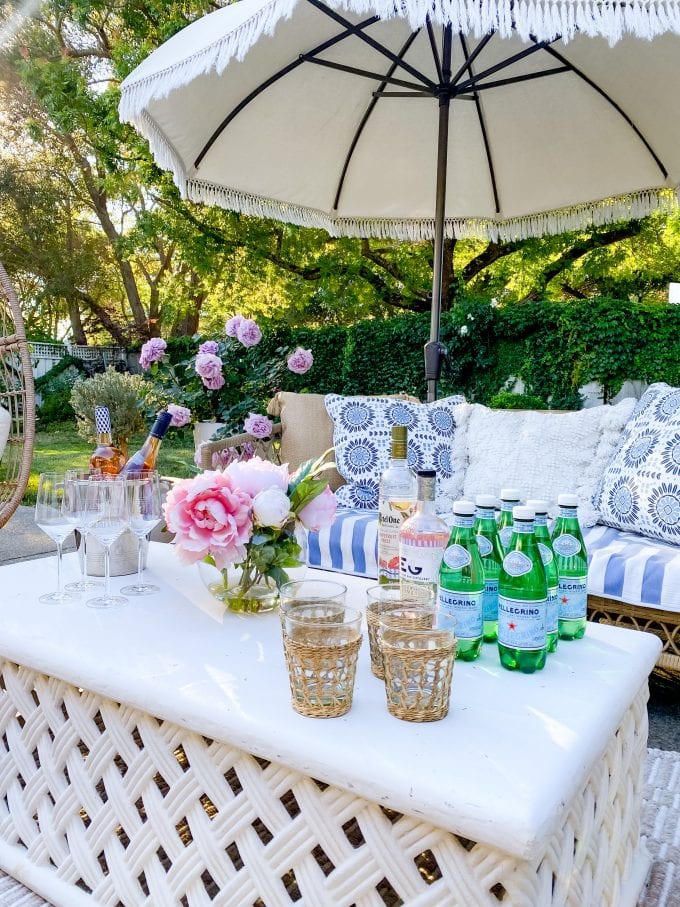 Consider moving the bar outside. Guests don't want to have to go inside to get a cocktail. Set up a table, bar cart or other area as an impromptu outdoor bar for entertaining during your get together.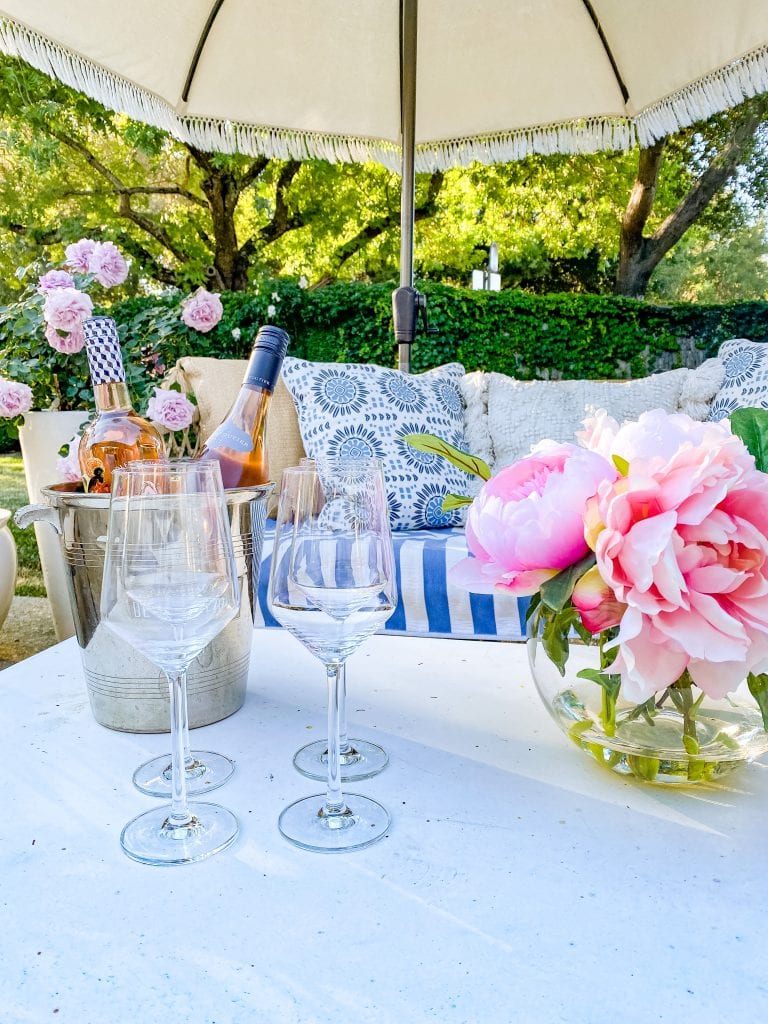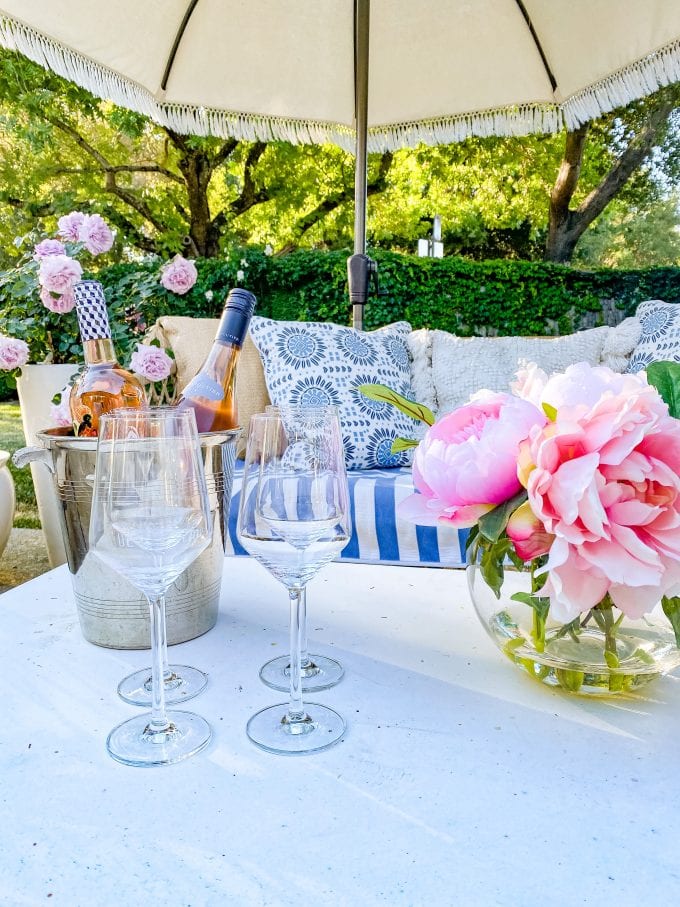 Here are some things you want to stock the bar with:
Vodka or Gin
Whiskey
Tonic Water & Club Soda
Ice
Lemons & Limes
Wine & Beer
Drink Stirrers and Straws
Glasses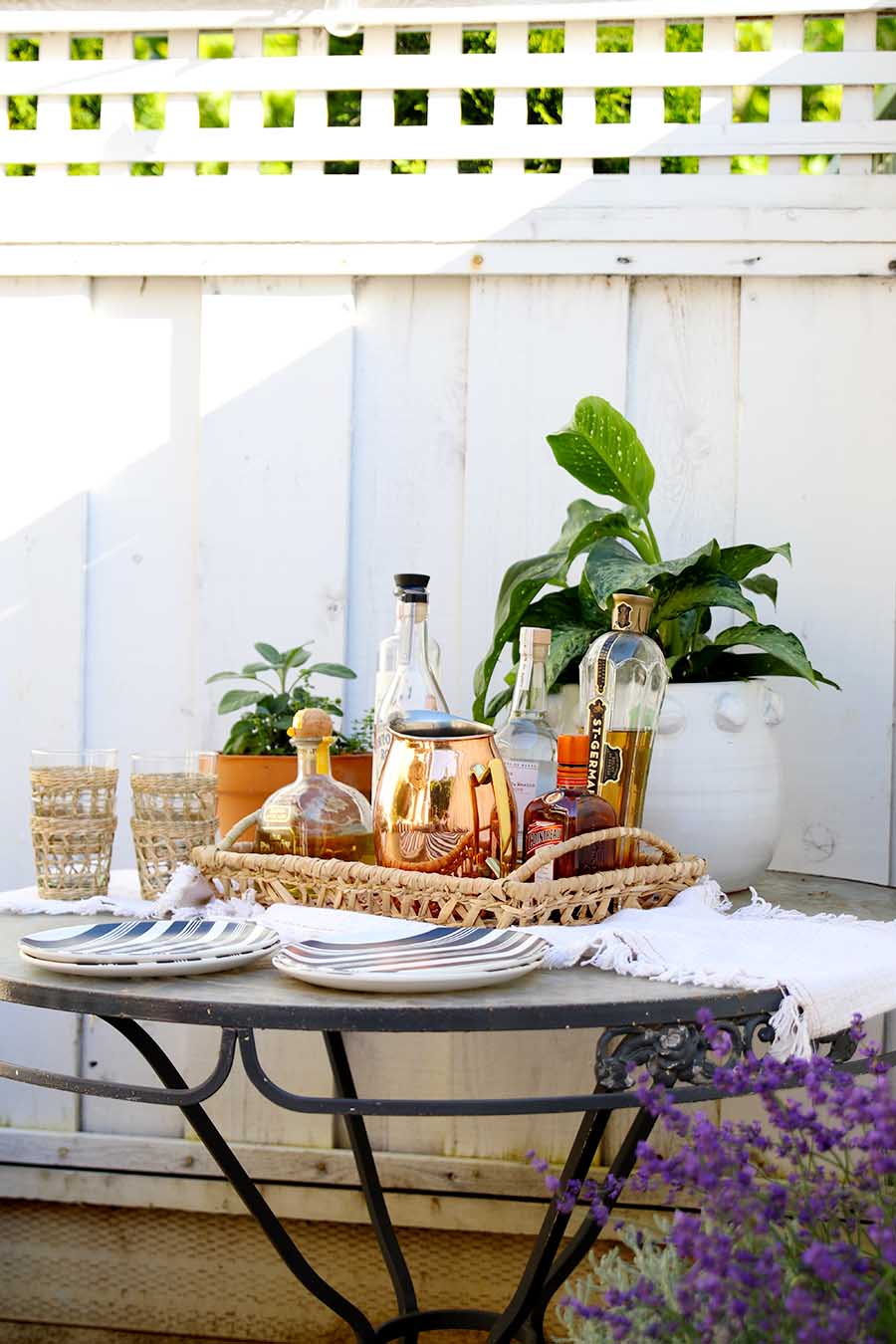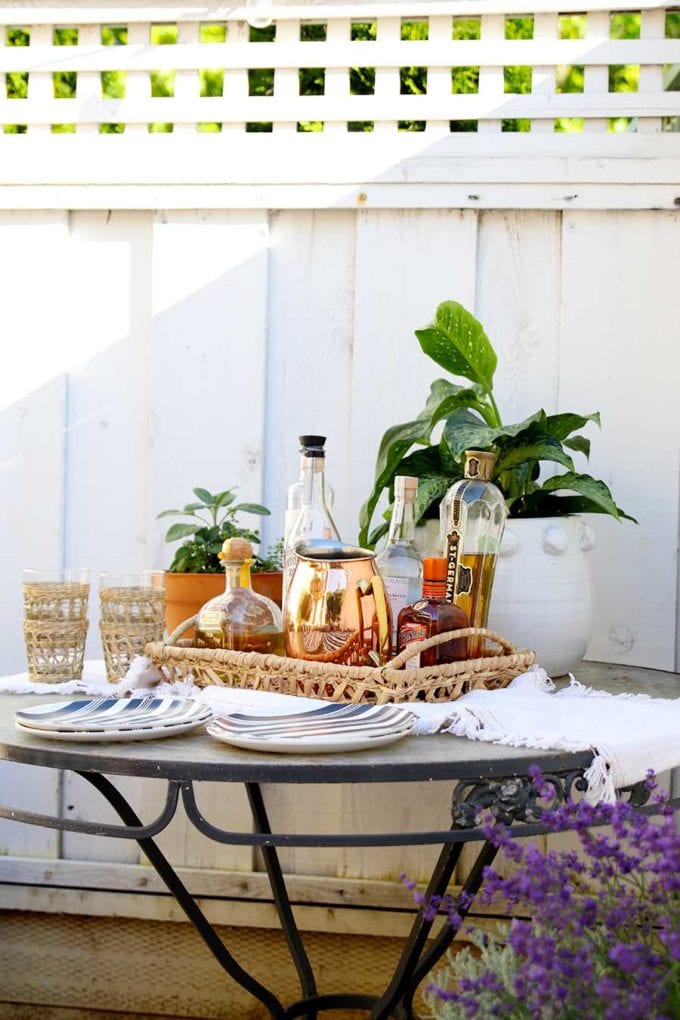 It's also nice to provide a pre-mixed cocktail or punch that guests can easily pour if they don't feel like making their own drink. I have so many drink recipes that are perfect for this and I'll share them in just a bit!
Add Ambiance With Candles & Lights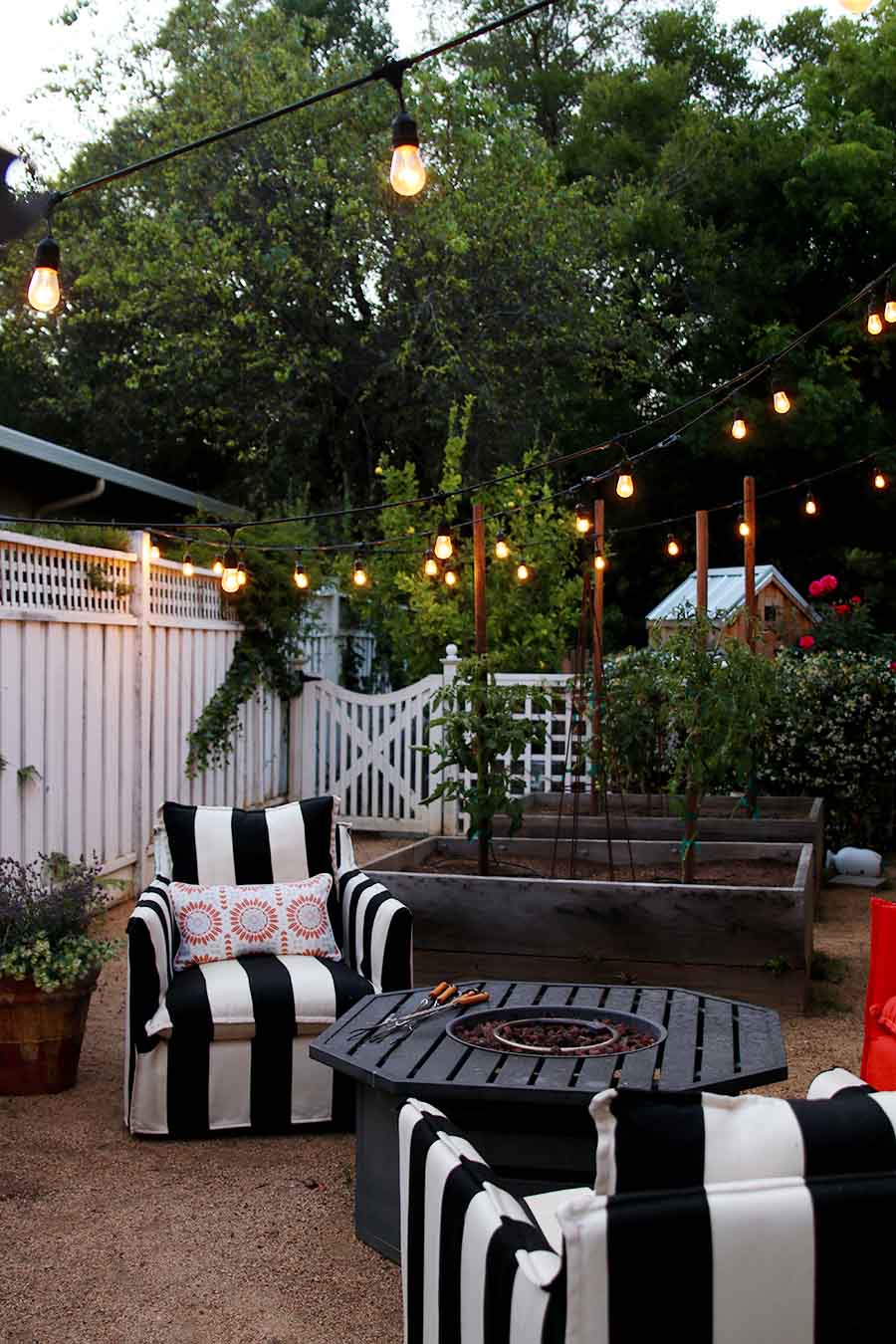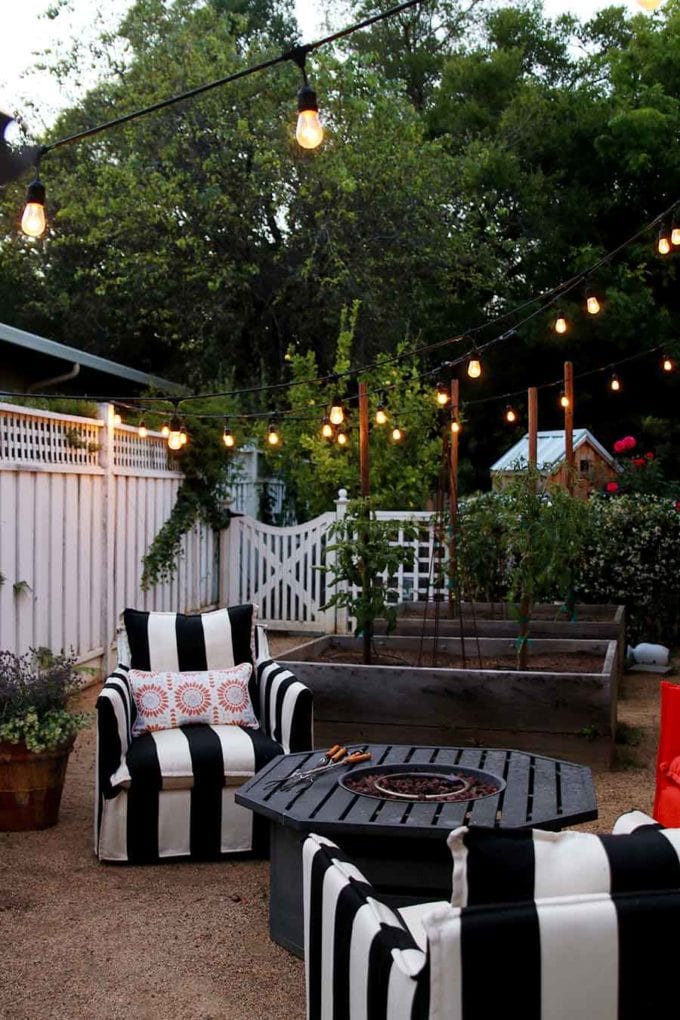 Bring the candles out, light them up and provide soft, ambient lighting with string lights.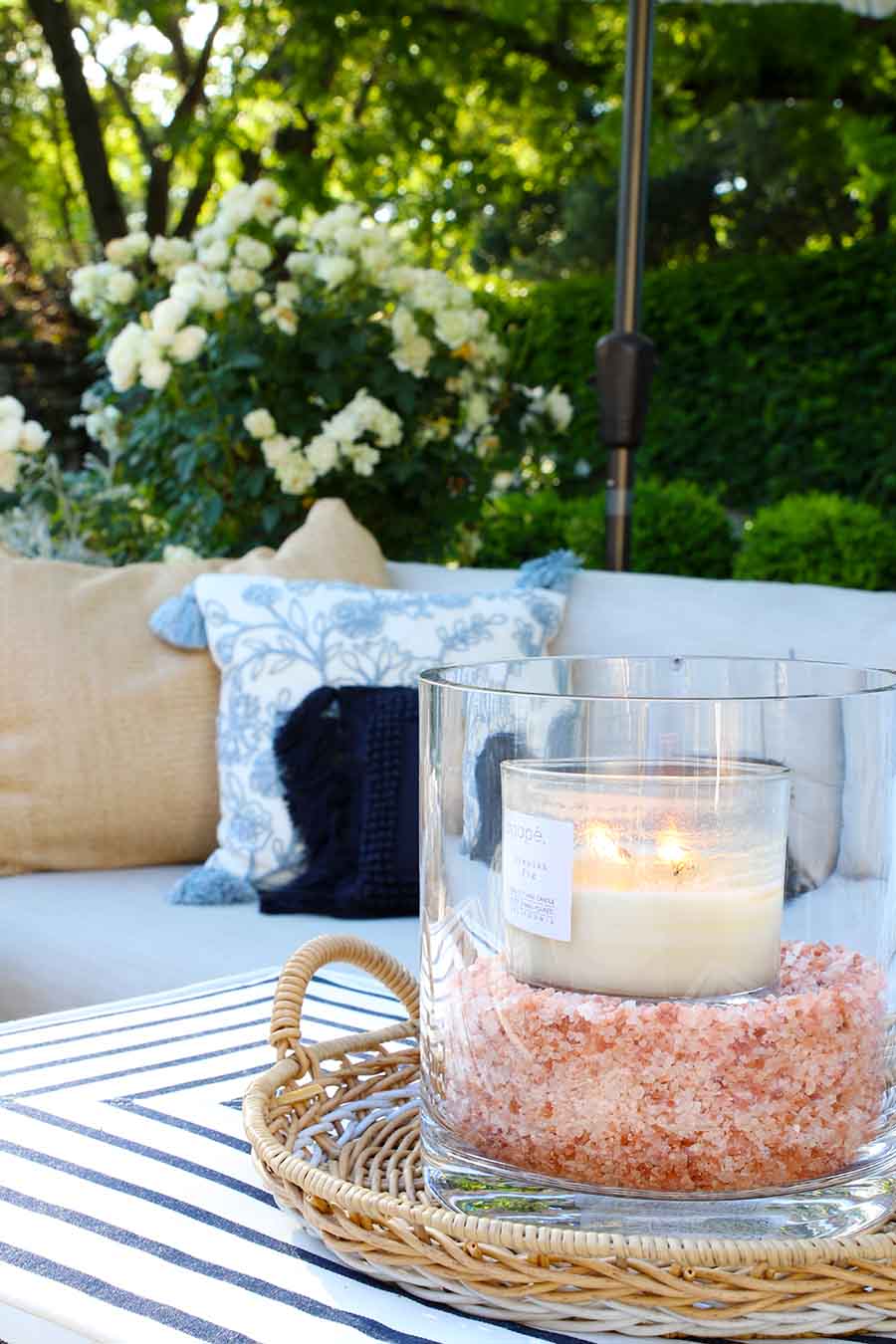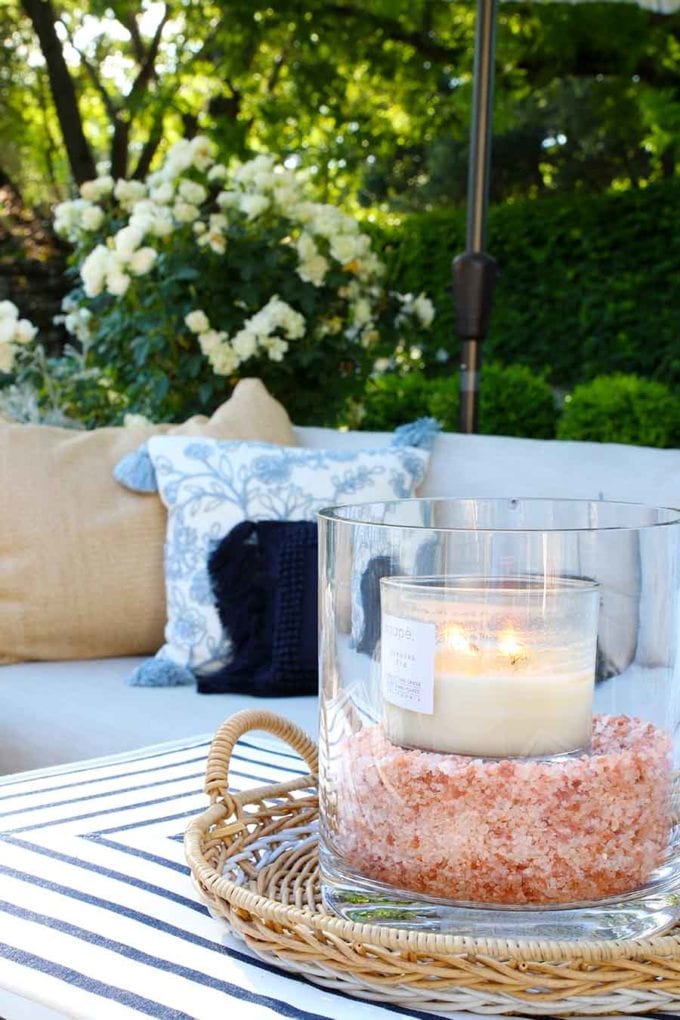 This is so easy and really sets the mood for your outdoor party and makes entertaining feel easy and effortless.
Provide A Few Activities and Backyard Games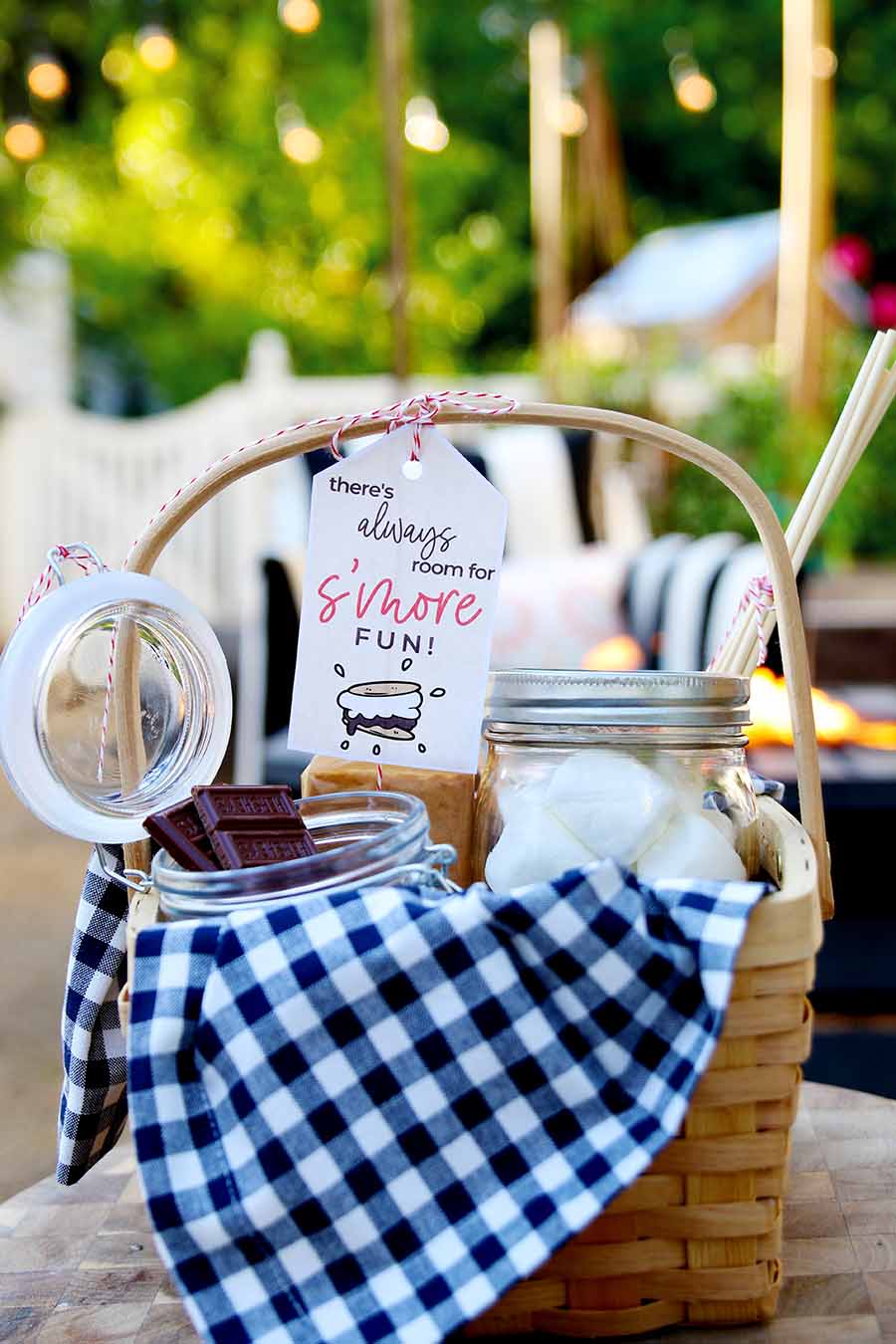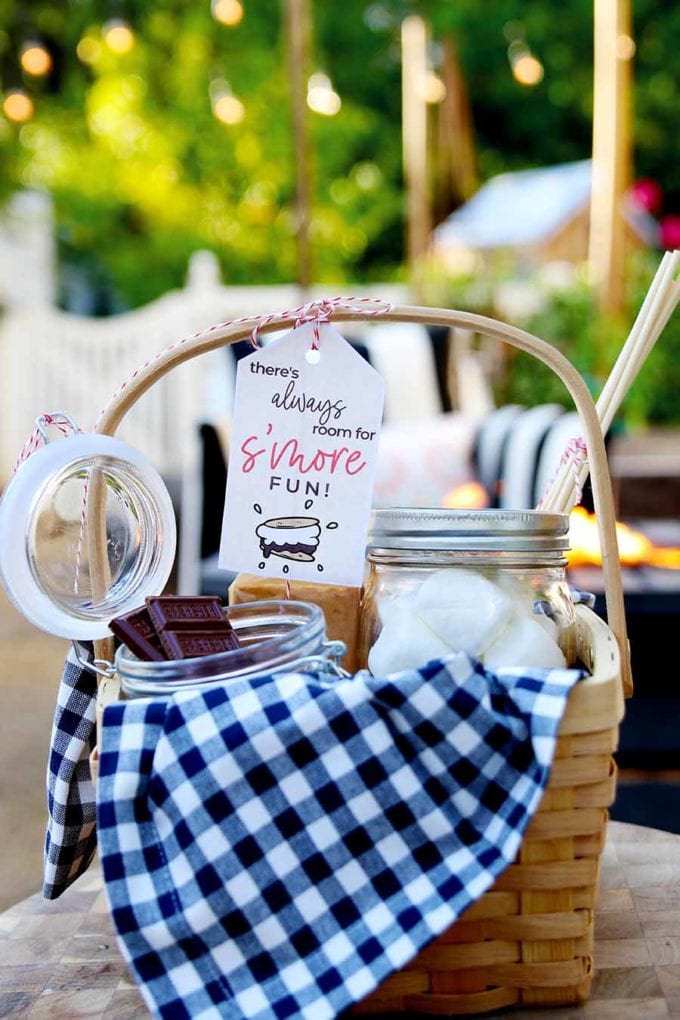 Having bored guests is the worst thing that can happen to your backyard party! Provide an activity or game they can play if they find themselves with nothing to do. I love to provide a basket filled with all the fixings for s'mores next to the fire pit. Everyone loves s'mores!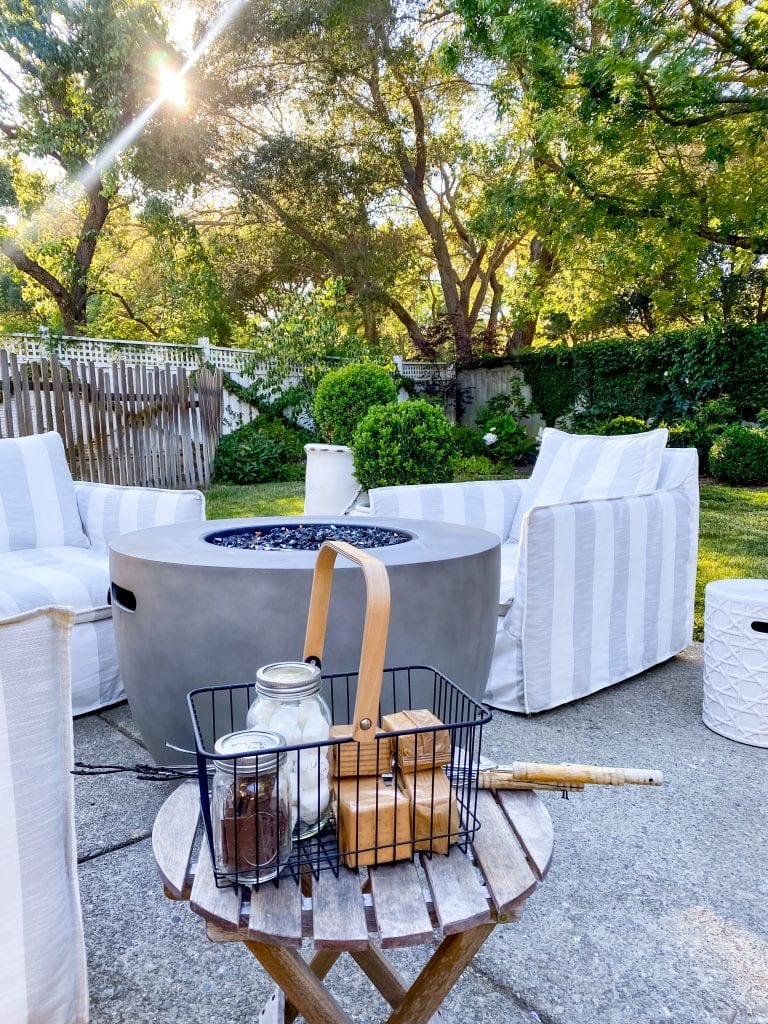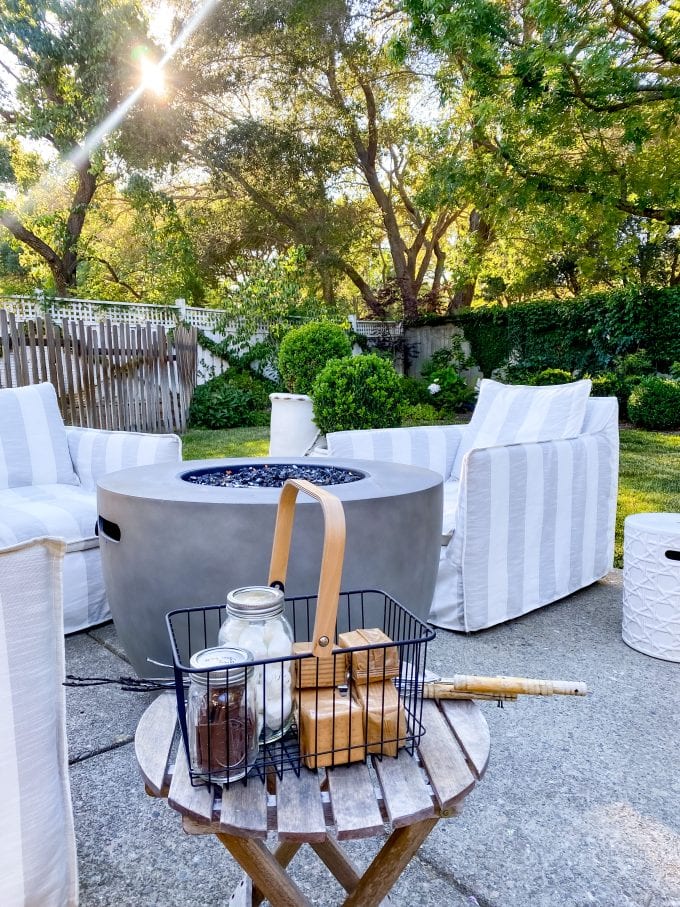 Other activities perfect for backyard entertaining are:
Summer Playlists for A Backyard Party
Music can totally set the tone and mood for your get together. Taking time to choose a playlist that works for your crowd is pretty important!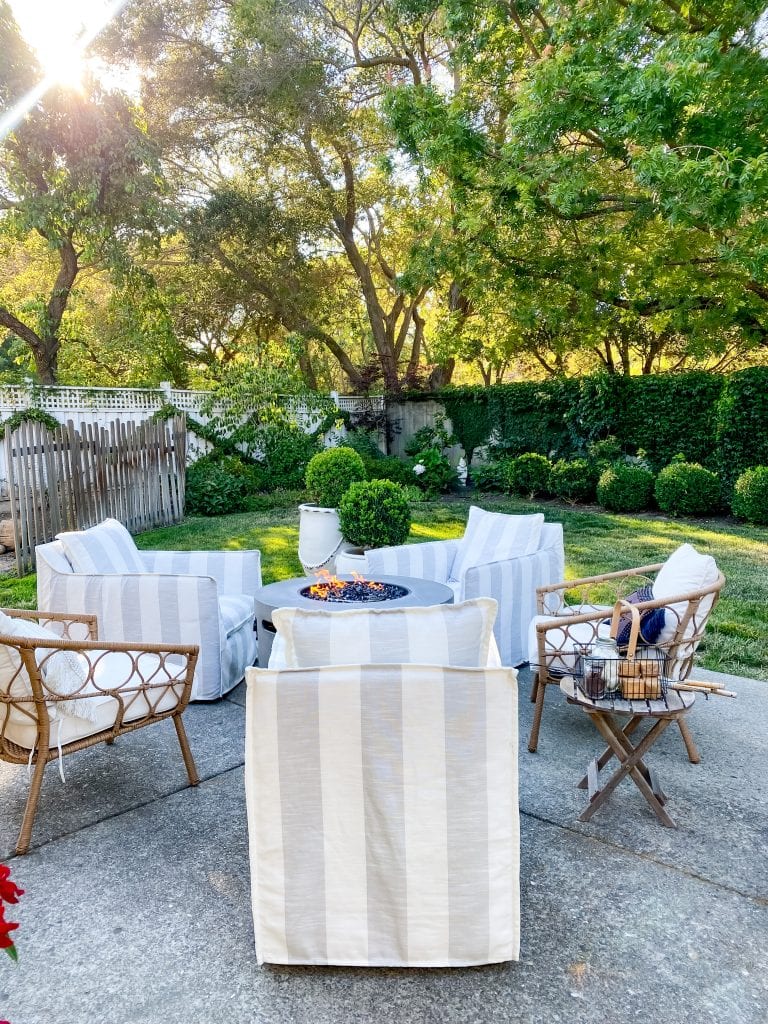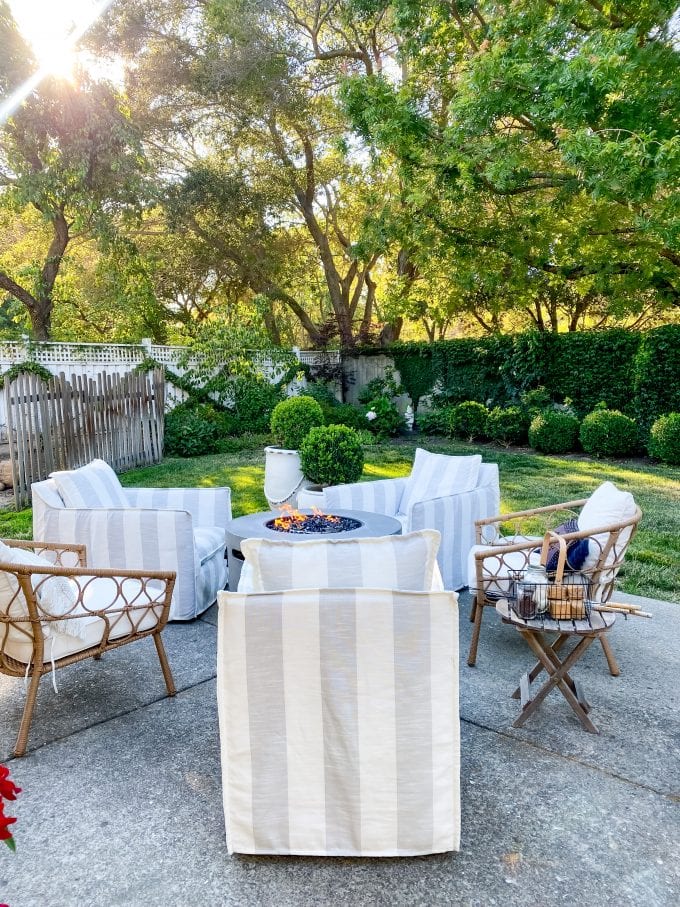 I am always on the search for a great music set and here are some playlists that I am loving right now:
Summer Party Playlist – Spotify
Best Beach Music – Marie Claire
Yacht Rock Playlist – Spotify
Laid Back After Party – Spotify
Top 50 Songs for Entertaining – Bloomberg
Best Songs of Summer – Oprah
Outdoor Party Recipe Ideas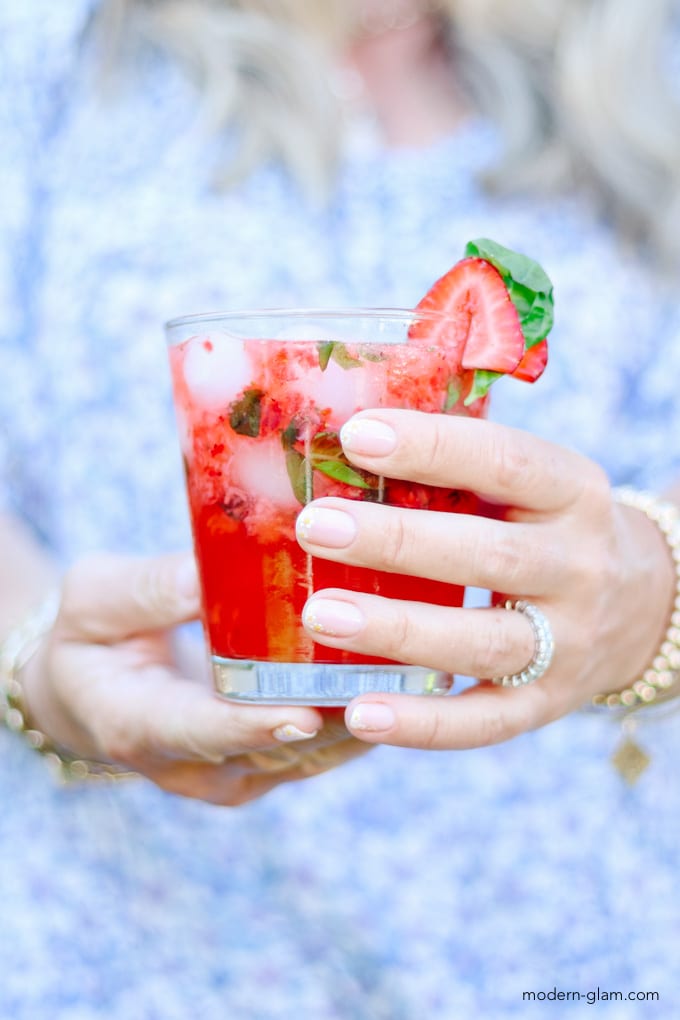 Once you have your backyard setup for outdoor entertaining and your music set up, it's time to start thinking about what to serve.
I don't know about you, but when I entertain, I like it to be easy and stress-free! These recipes are perfect for a backyard party and a most of them can be made ahead of time!
Cocktails Perfect For A Party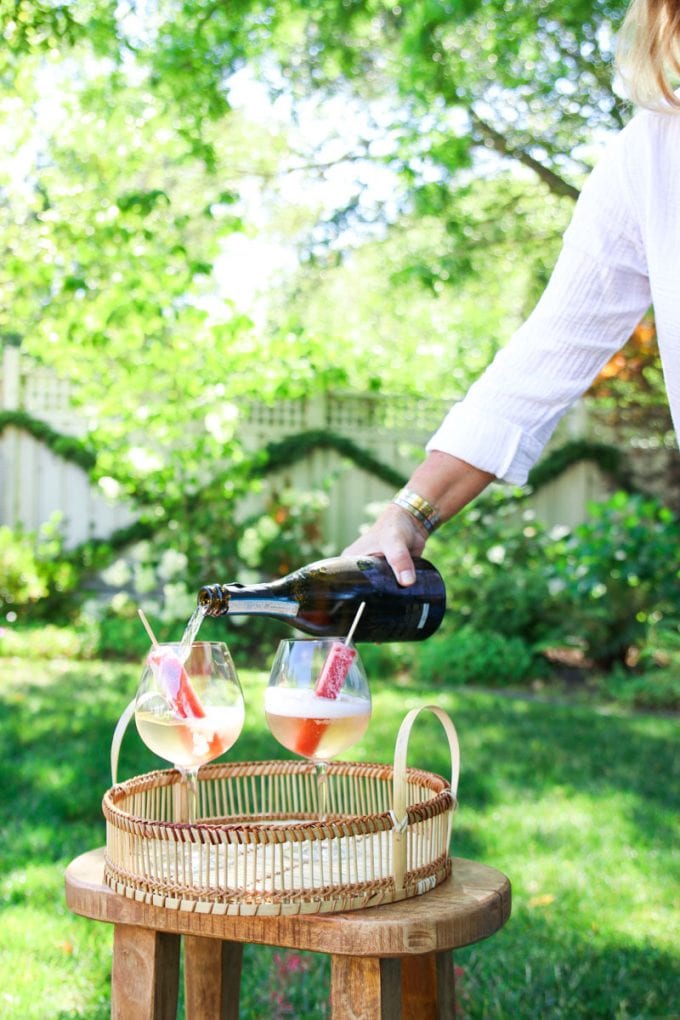 I love a good cocktail and providing an easy to mix drink for your backyard get together will make your job as hostess so much easier! Here are some recipes that perfect for backyard entertaining.
Muddled Strawberry Basil Cocktail with Basil
Elderflower Rosé Wine Spritzer
Easy Summer Cocktail with Vodka
The Best Appetizers For A Crowd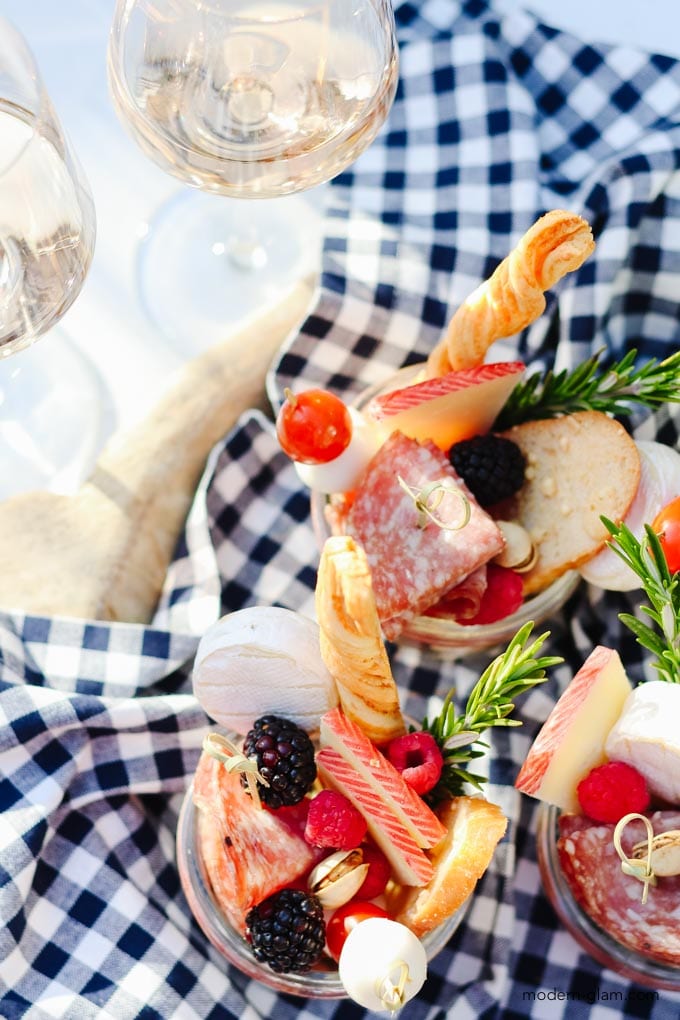 Providing appetizers or small bites for your backyard get together doesn't have to mean a lot of work. These recipes can all be made ahead of time!
Jarcuteries: Individual Charcuterie Jars
Outdoor Entertaining: Dessert Recipes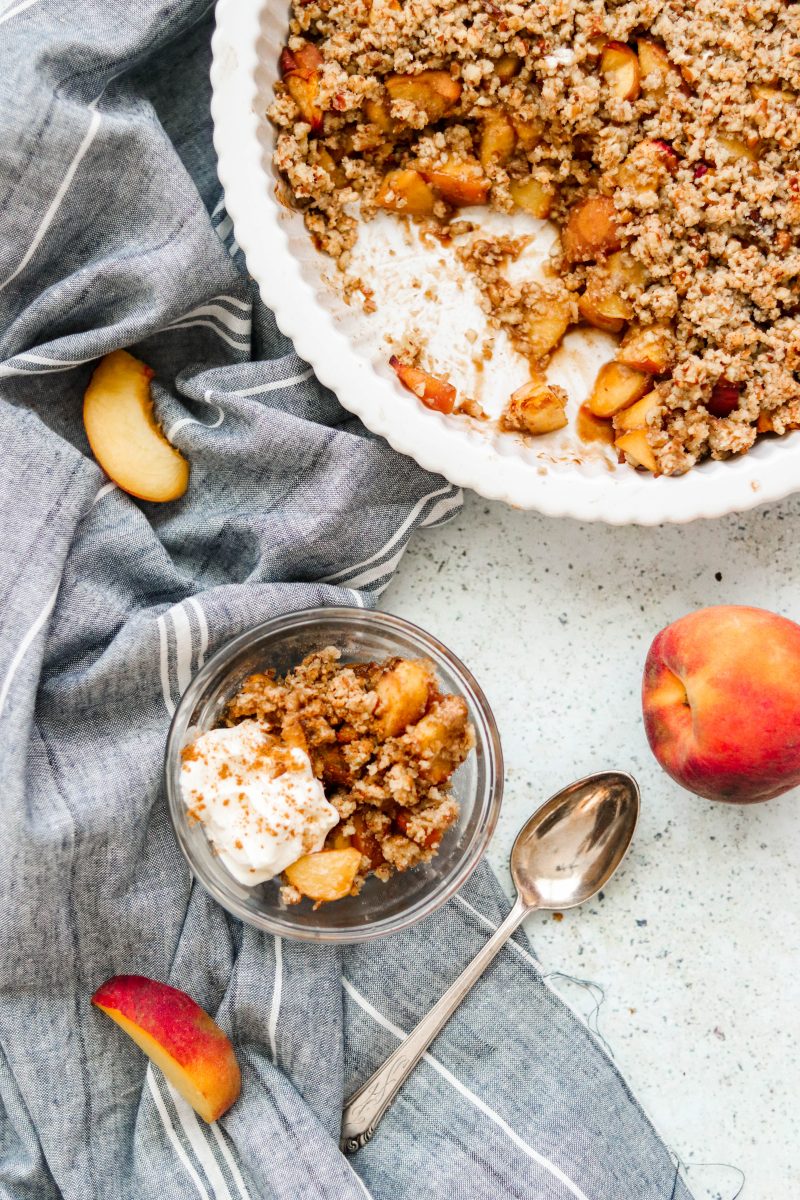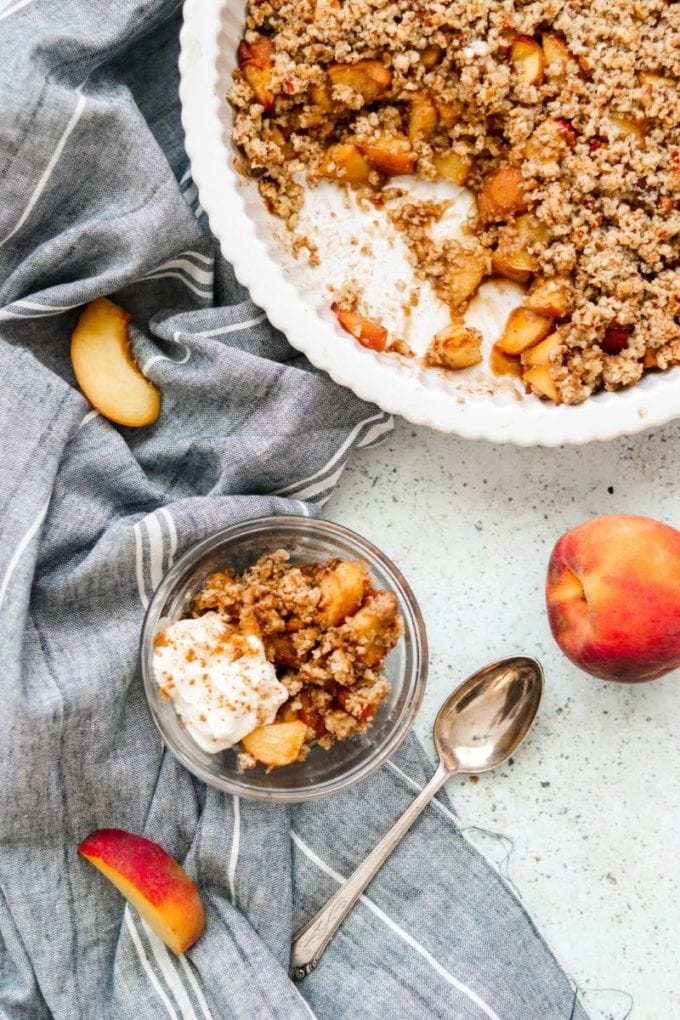 Everyone saves room for dessert, right?! These summery dessert recipes are perfect for a party!
Rosemary Lemon Shortbread Bars
Outdoor Entertaining Must Haves
To ensure you are ready for your guests, here are some of my must have items for outdoor entertaining.

And if you're looking for sources for items seen in these photos, I've linked my backyard furniture and accessories for you here:

Additional Outdoor Dining & Entertaining Tips
Now, be sure to check out these other beautiful and inspiring ideas being shared by some of my blogging friends. Click the links below the images to view their posts for more deets!

Make Simple Pizzas On The Grill // Most Lovely Things
24 Outdoor Dining and Entertaining Tips For Your Backyard // Twelve On Main
Creating An Outdoor Dining Experience // My Sweet Savannah

Summer Outdoor Dining Ideas // My 100 Year Old Home
Outdoor Entertaining Ideas For Your Backyard // Modern Glam
Easy Tips For Outdoor Entertaining // Inspiration For Moms

Fruity Sangria Recipe // Happy Happy Nester
Poolside Happy Hour Entertaining Ideas // Life Is Better At Home
Refreshing Summer Drink Recipes & Summer Entertaining Ideas // The Happy Housie