Create an outdoor living space that's as comfy and stylish as the inside of your home! Today I'm sharing a few tips for planning, decorating and using your spring & summer patio.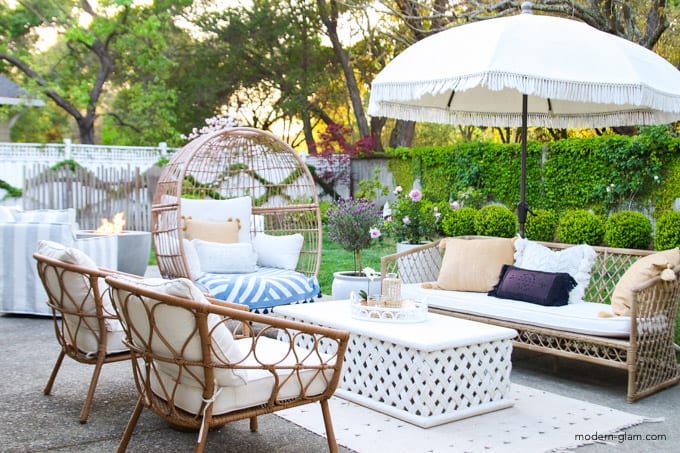 It seems like all of a sudden the warm weather is upon us. I moved all our furniture, cushions and pillows out from storage last weekend and starting working on this year's summer patio.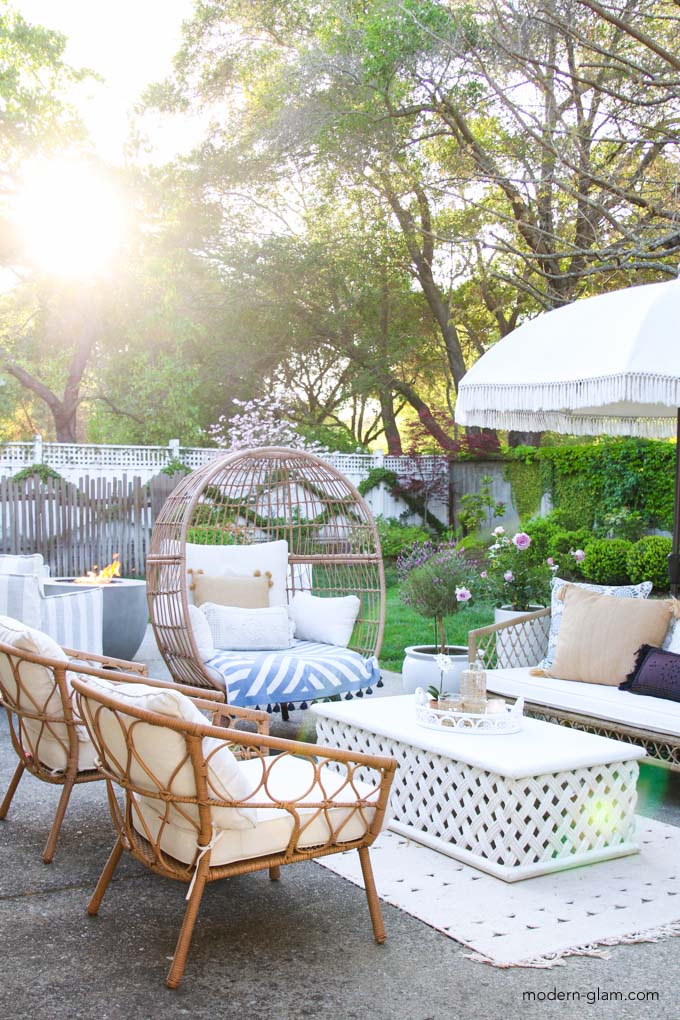 This time of year is my favorite here. The days aren't too hot and the evenings are cool. Perfect for sitting around the fire pit!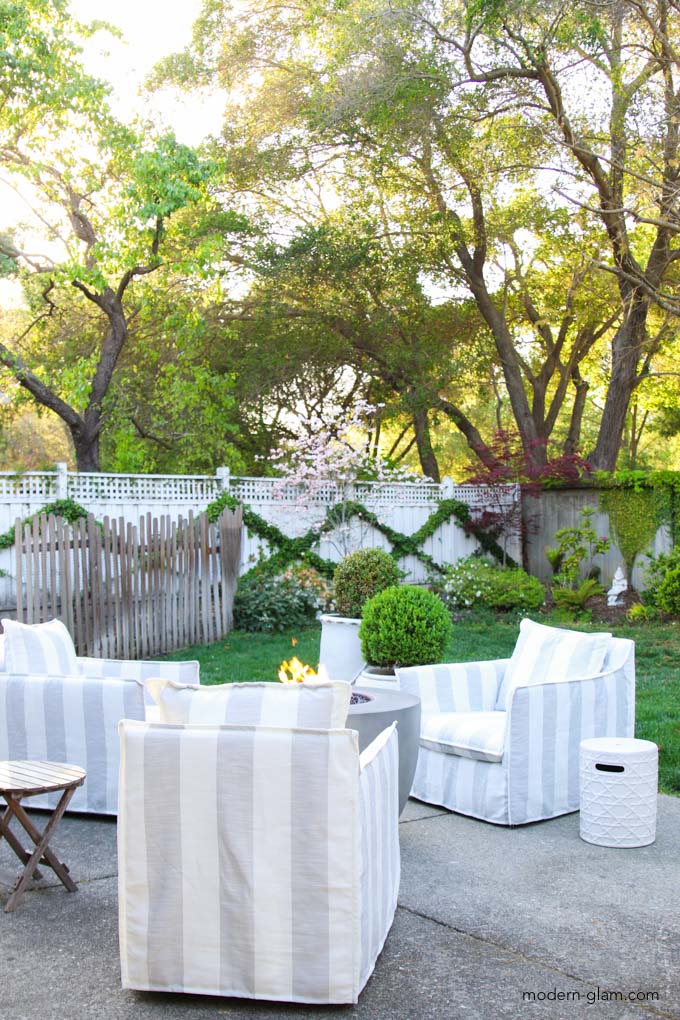 As I was planning and arranging our patio, I thought I'd share a few of the tips I have learned over the years.
And if you want to see how this patio has been decorated in years past, check out these posts:
Summer Outdoor Decorating Ideas
How To Create An Outdoor Room That Feels Like An Extension of Your Home
Creating an Outdoor Living Space You Will Love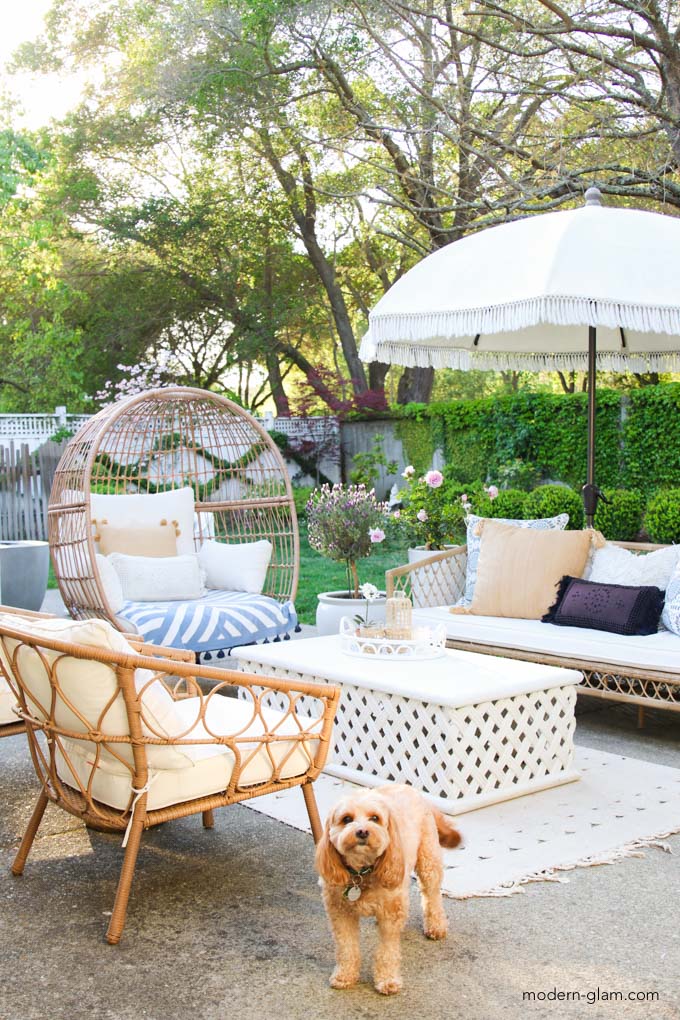 Now, if the past year has taught us anything, it is that our homes are our sanctuaries. So, as the weather warms up and we start to spend more time outside, you may be wondering how to create an outdoor living space that feels like an extension of your home.
Make your porch, patio or deck feel like an outdoor living room and a soft place to land at the end of the day. There's nothing better than spending time with family outdoors – away from the television, video games and other distractions.
How To Plan An Outdoor Living Space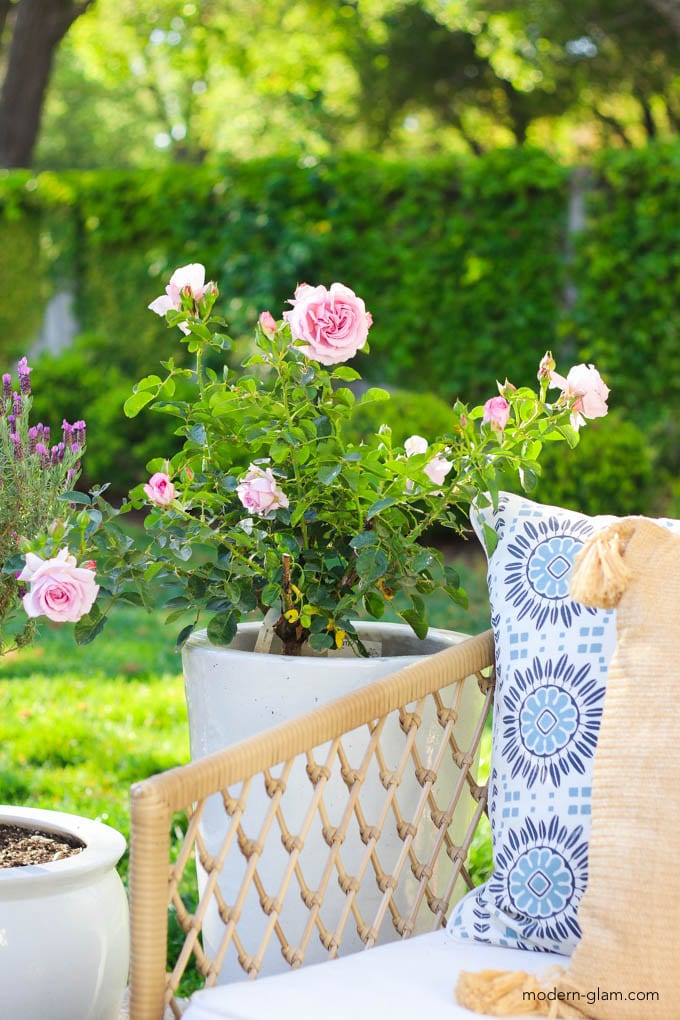 When thinking about designing and planning your backyard, it can seem overwhelming. Usually our patios are a blank slate at the start of the season. And creating an outdoor living space can seem like an insurmountable task. But here are a few tips when thinking about how to best tackle the space.
Determine How You Want To Use Your Patio
How do you want to spend time outdoors this summer in your backyard? It could be some quiet time reading a book, entertaining family and friends or dining al fresco. Once you decide how you want to enjoy your backyard, you can start planning and designing your outdoor living space.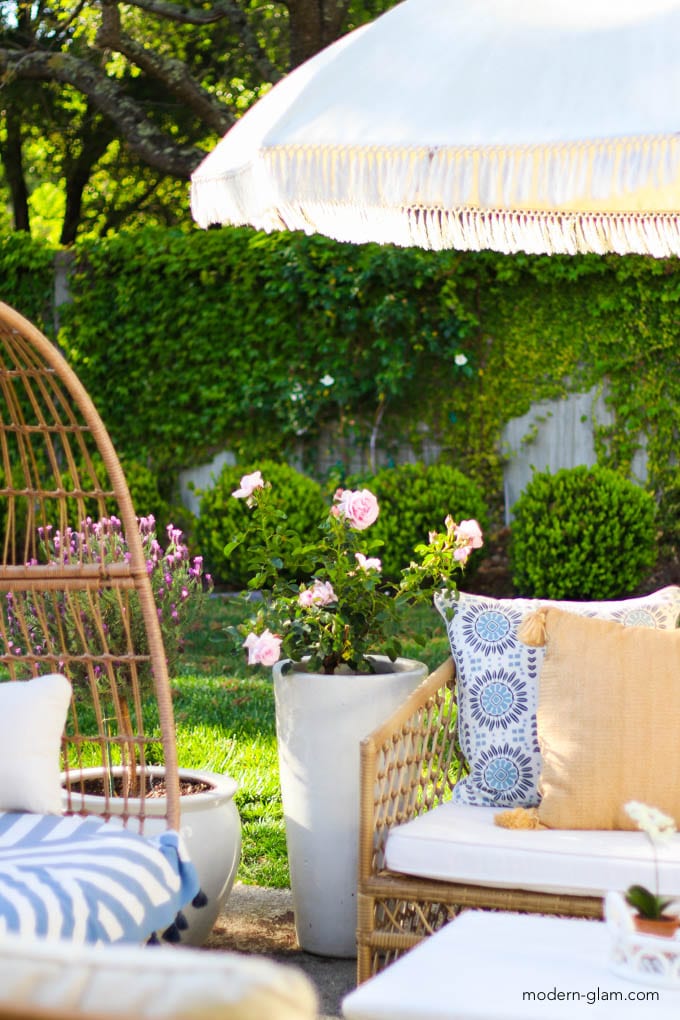 But, most importantly, make it work for you and your family and be a place that you look forward spending time in.
Divide the space to serve multiple functions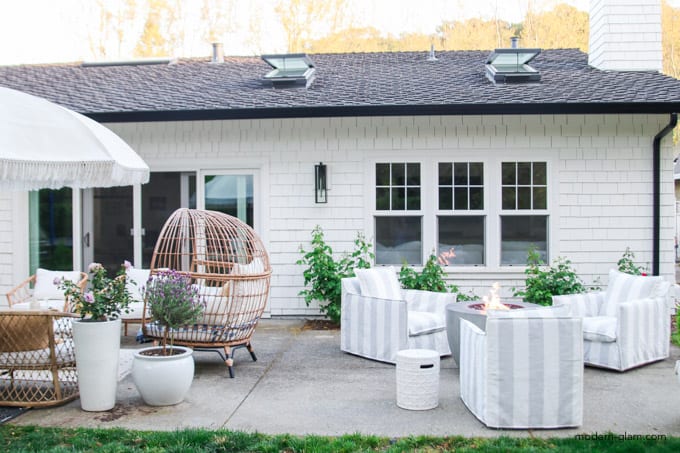 When planning our outdoor living space, I chose to split the patio into two sections. One serves as soft seating and a space for gathering with a larger group of friends. And to the other side we have our fire pit surrounded by 3 swivel chairs.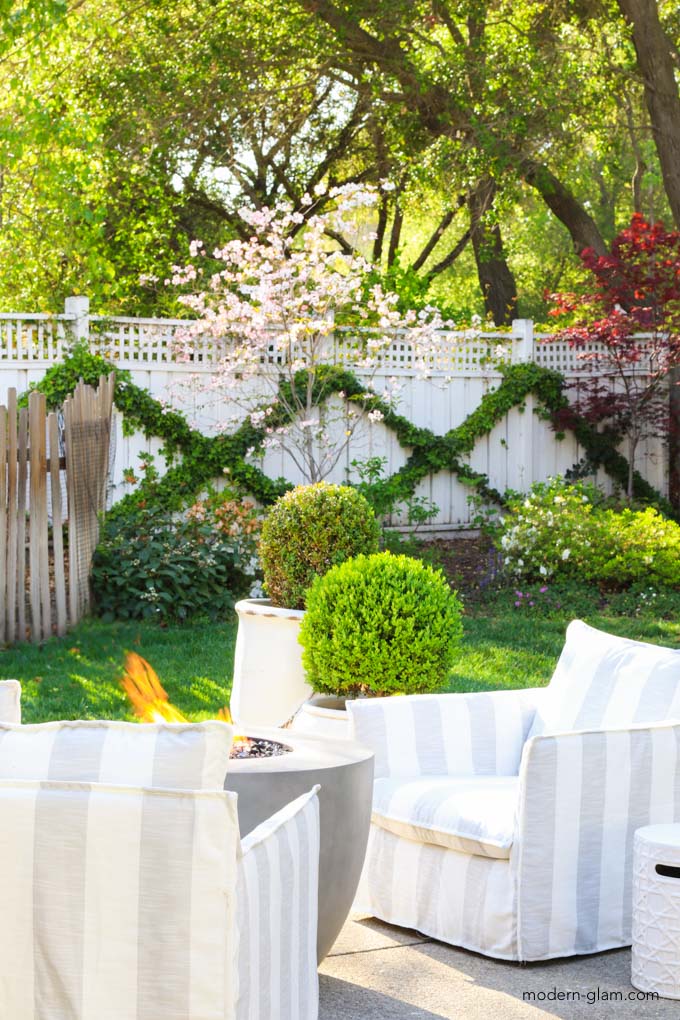 These chairs are probably the number one question I get asked on Instagram. They are from Serena & Lily and were expensive but worth every penny. They are incredibly comfortable and I just ordered new slip covers for them this year. I also ordered a fourth chair that will finish off this seating arrangement perfectly!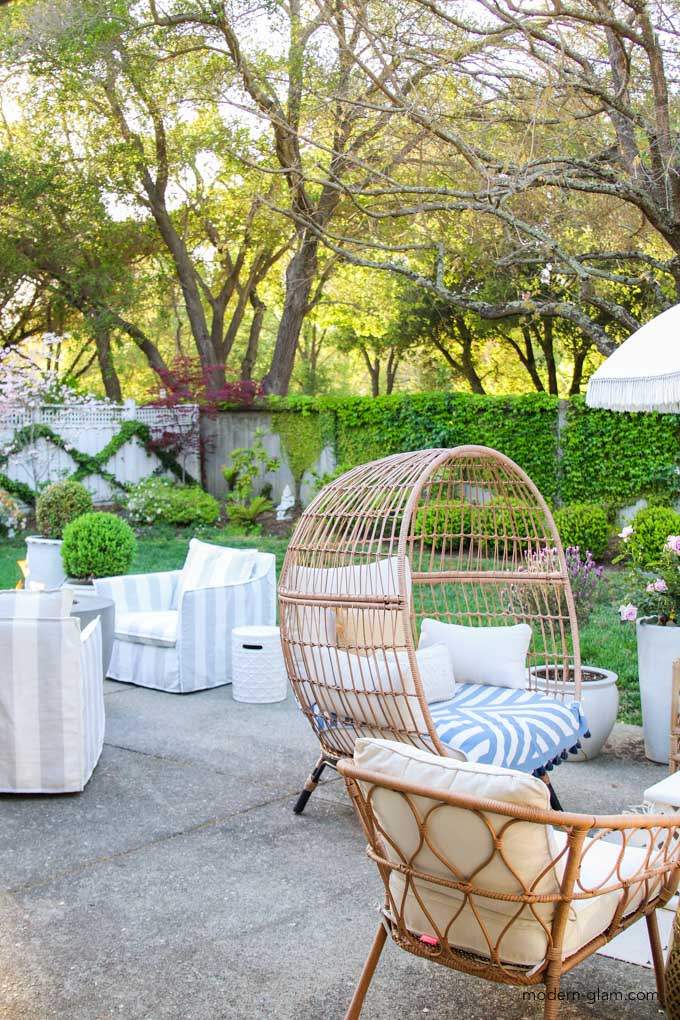 Separating the two areas not only makes great use of the space, but allows for more intimate conversations and groupings when having friends and family over.
Creating AN Outdoor Room
Ok! Now that you have decided how you will design and use your patio, it's time to talk about creating a cozy and inviting outdoor living space.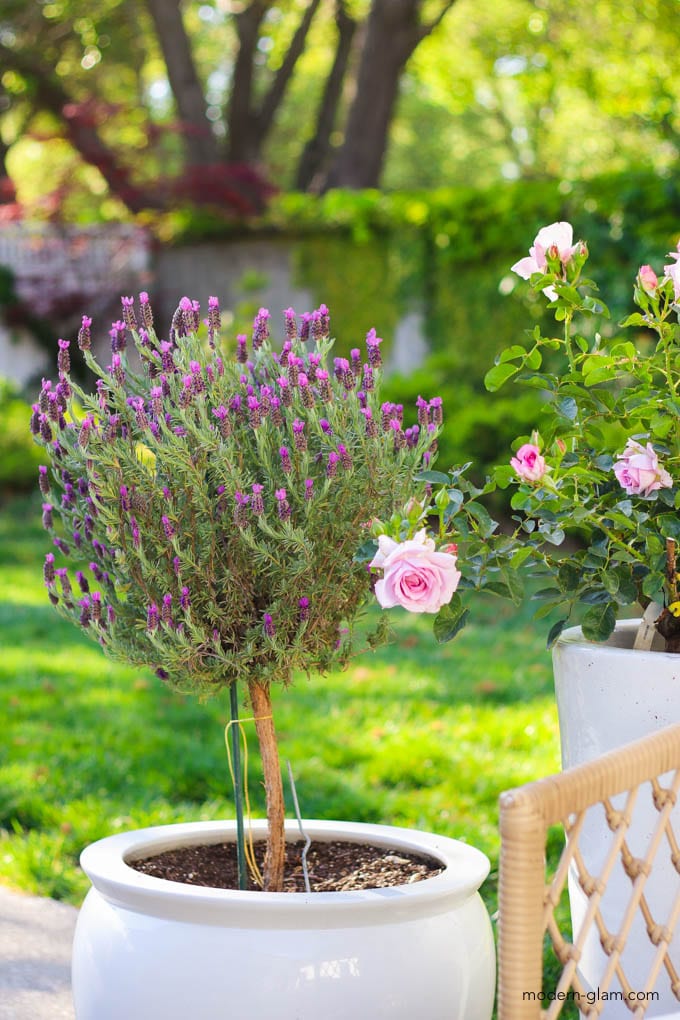 Here are the key items you will want to incorporate when decorating your space.
Outdoor Rugs
Pillows
Soft Seating
Plants and Flowers
Lighting
Outdoor rugs are key to grounding a space and making your furniture placement feel soft and grounded. There are so many amazing outdoor rugs available right now.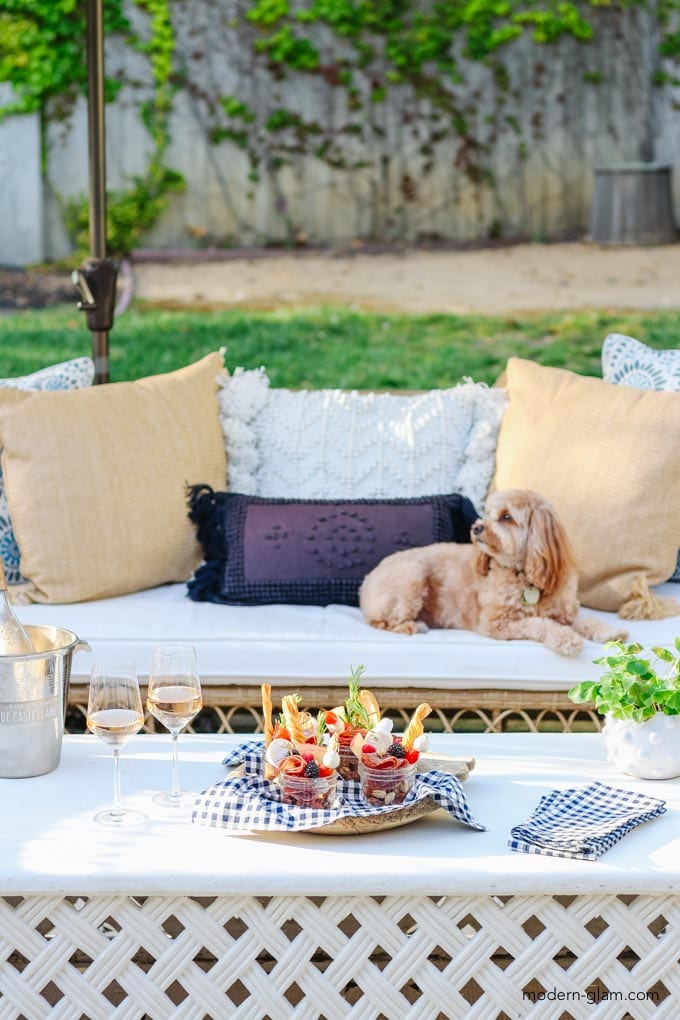 Pillows not only provide function, but they are a great way to infuse your outdoor living space with your own personal style and taste.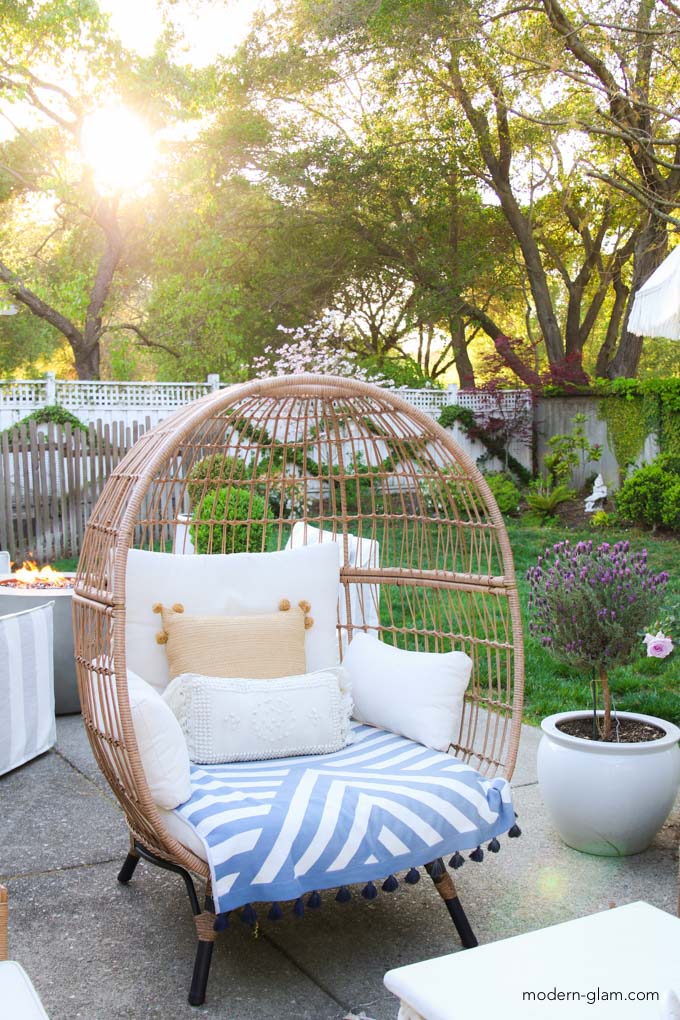 Soft Seating includes outdoor sofas, armchairs and cozy items like this Egg Chair. And in my opinion, these are the most important pieces for creating an outdoor living space that feels like an extension of your home.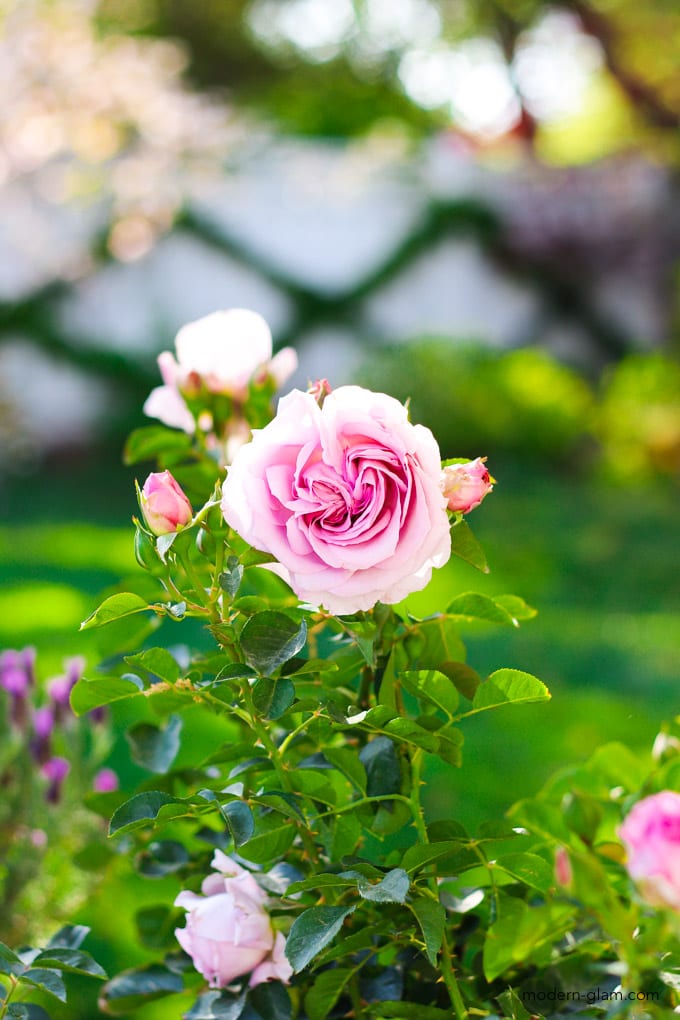 Flowers and Plants help soften the edges of your seating arrangements and also are a great way to add color to your patio.
Lighting adds ambiance just like inside your home! Add a few lanterns or citronella candles to your summer patio to make it feel warm and inviting
Front Porch Living Idea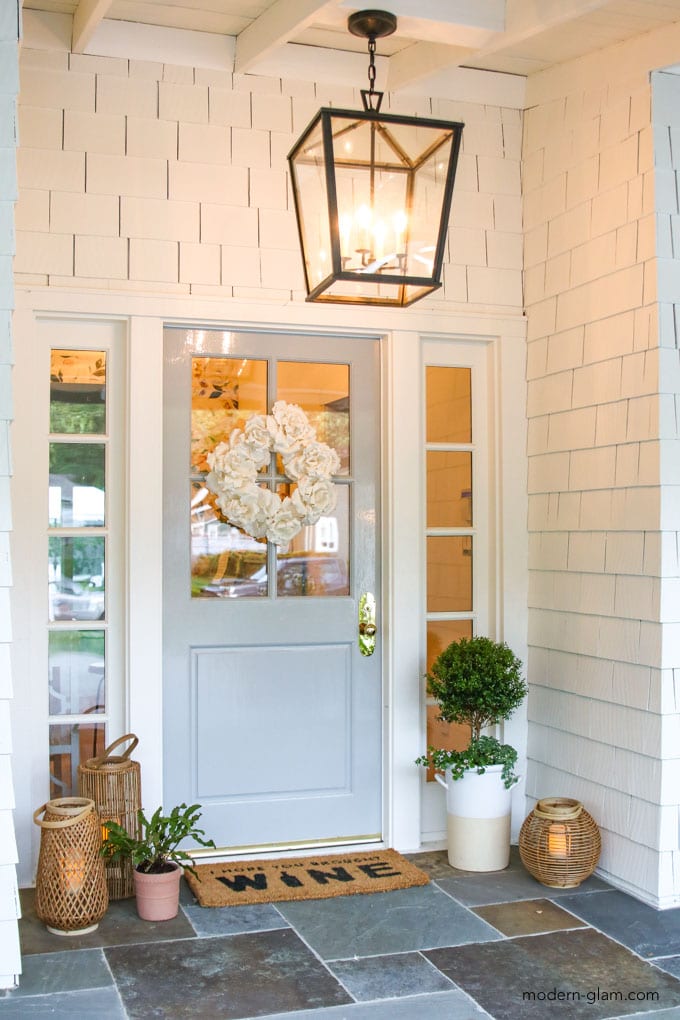 Outdoor living spaces don't have to just be in your backyard. If you have a lot of real estate in the front of our home, consider creating seating that allows you to enjoy that area as well.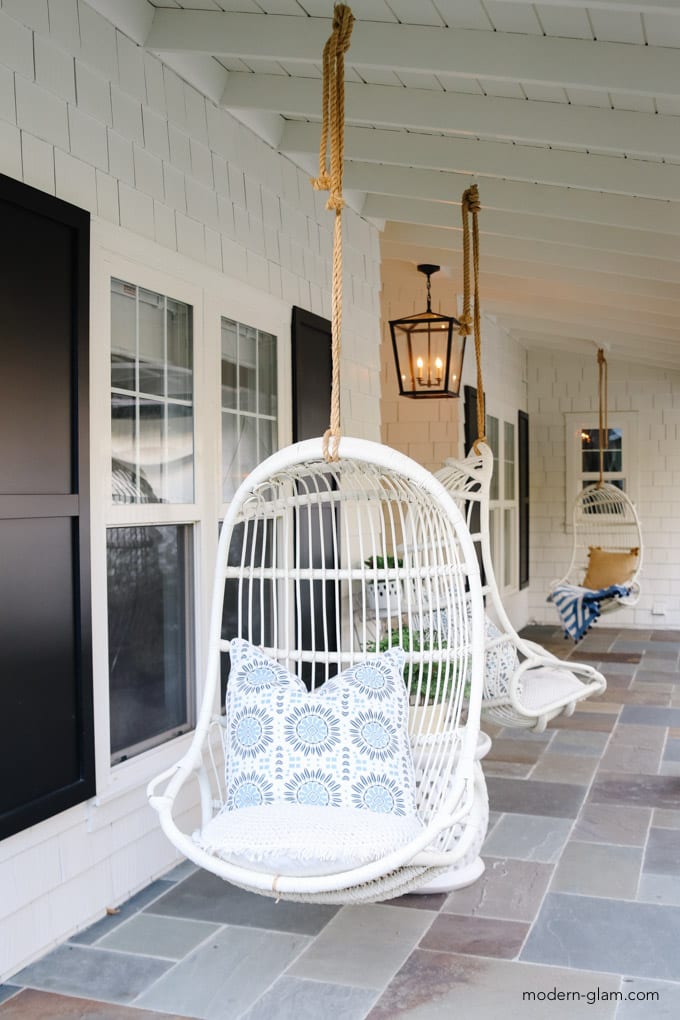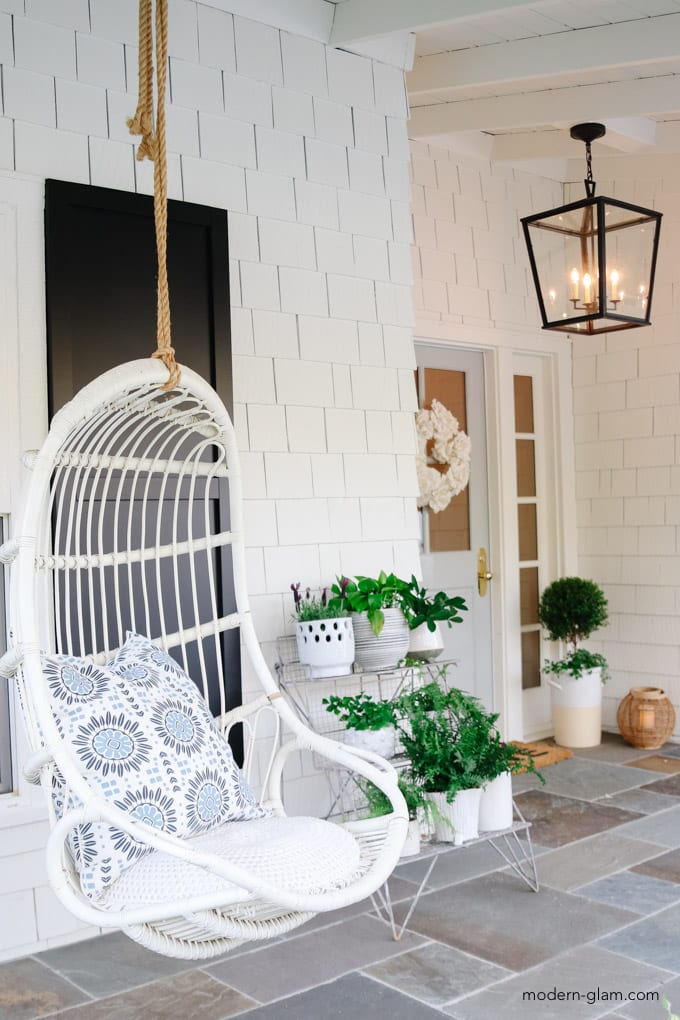 We have these hanging chairs that we use all year long. We love to sit out here in the mornings or evenings and chat with neighbors. I can almost always be found out here working on my laptop at some point during the day too!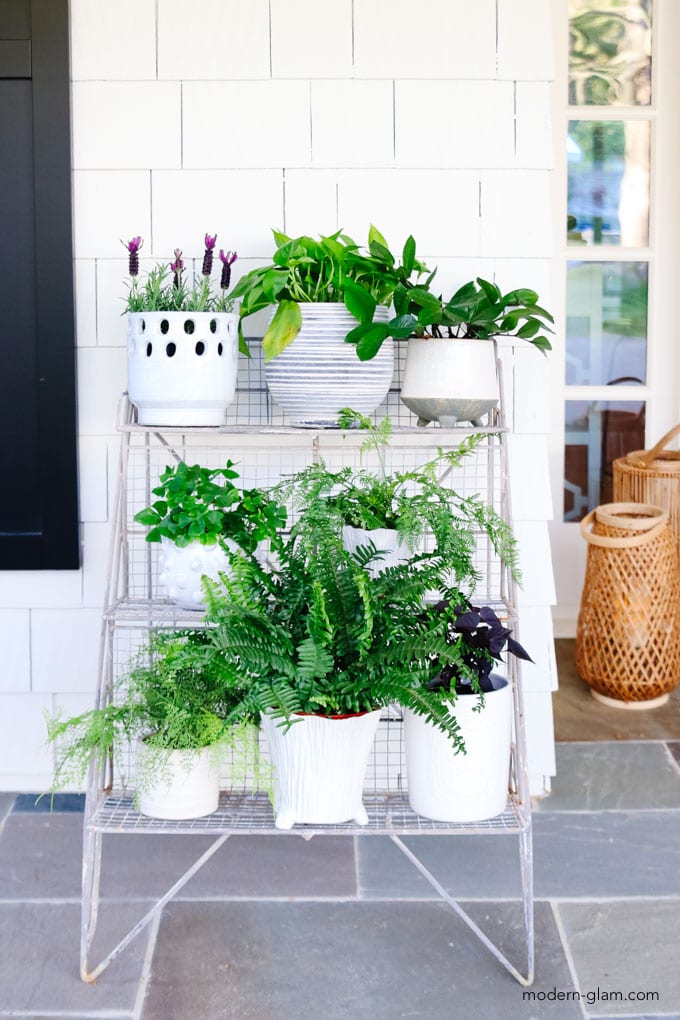 I brought out my indoor plants and placed this vintage metal plant stand off to the side of this sitting area. Not only do the plants love to get a little vitamin d, but I like the way it looks as you walk up to our home.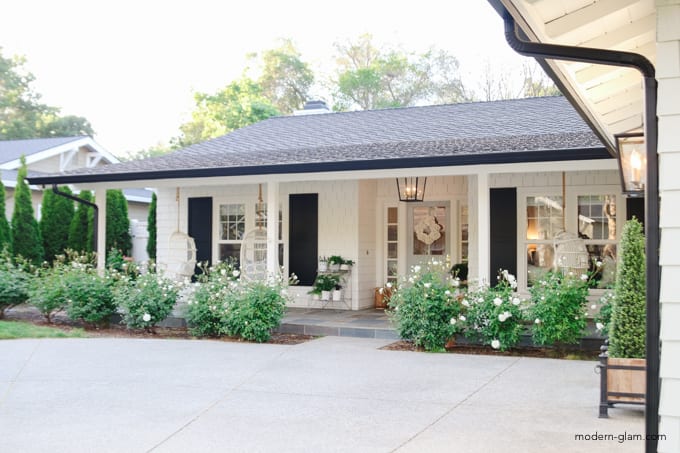 I hope this gives your some ideas and inspiration when planning your outdoor living spaces. Be sure to leave me a comment or let me know if you have any questions!
SHOP MY SUMMER PORCH AND PATIO

10 Gorgeous Patio Decor Ideas

How To Create An Outdoor Living Space // Modern Glam
Simple Garden Flower Arrangement // Happy Happy Nester
How to Ready Your Porch for Spring // Twelve On Main
Hanging Basket DIY // Finding Lovely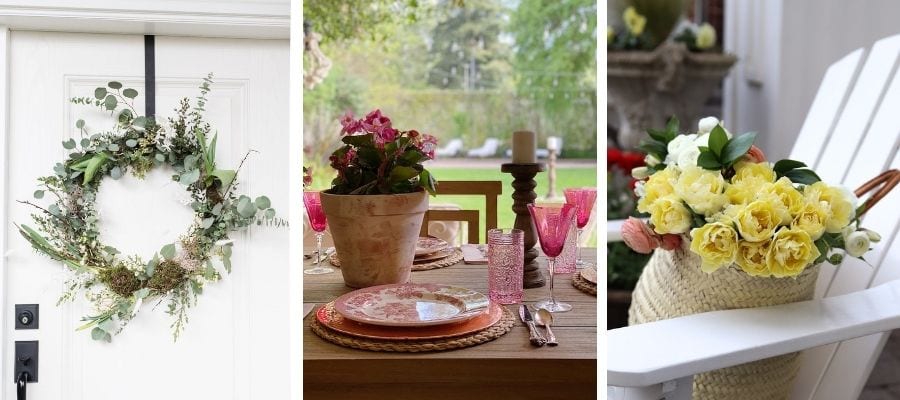 How to Refresh Your Front Door for Spring // Life Is Better At Home
How to Decorate Your Back Porch for Spring // My 100 Year Old Home
10+ Inspiring Front Porch Decorating Ideas // Lemon Grove Lane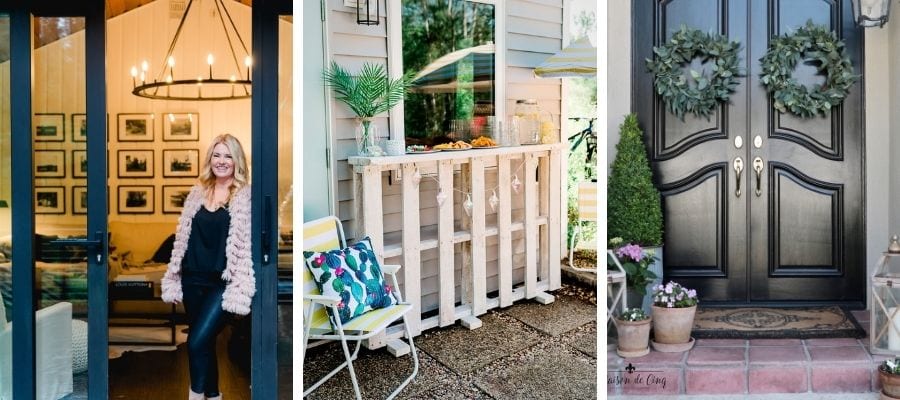 How I Decorate Our Deck For Function and Beauty // My Sweet Savannah
Easy DIY Pallet Bar // The DIY Mommy
How to Decorate a Spring Front Porch // Maison De Cinq