This is my favorite healthy Blueberry Spinach Smoothie Recipe that I make every morning for breakfast. Filled with superfoods, antioxidants and protein, this shake will give you energy and nutrients to last throughout the day!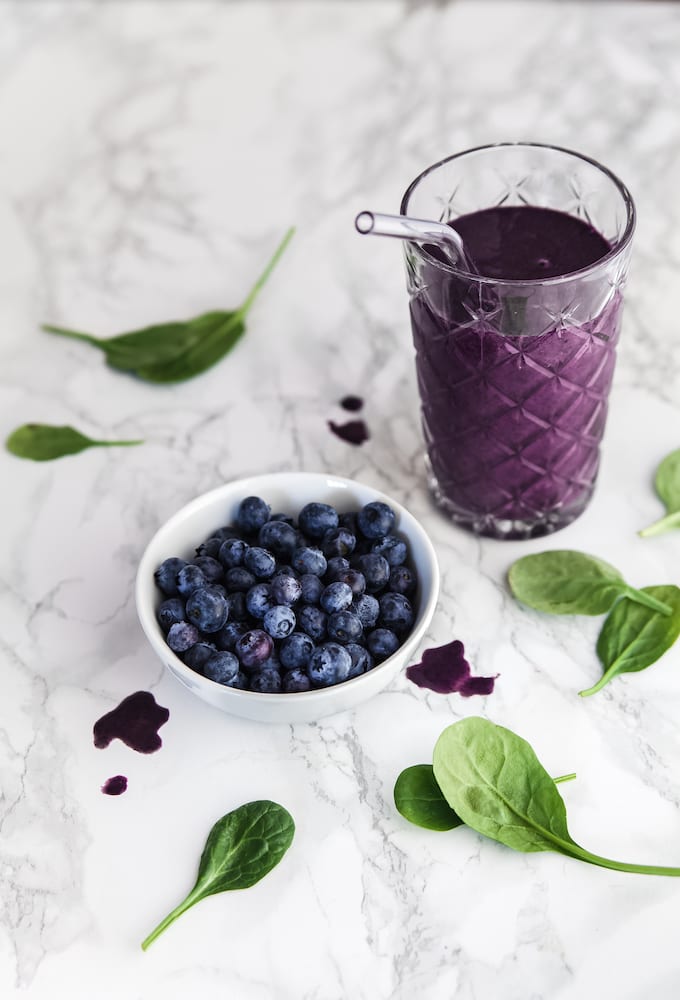 It's the end of April and time to get ready for short and dress season! This time of year I usually give my diet a bit of an overhaul and start cooking and eating healthier. Today, I am joining a few bloggers and sharing our favorite healthy recipes. Be sure to check their recipes at the bottom!
The Blueberry Spinach Smoothie I Drink Every Morning
When I am eating healthy, I always start my day off with this blueberry spinach smoothie recipe. This drink is filled with antioxidants and superfoods to give your body a boost first thing in the morning. You can adjust the ingredients to fit your dietary restrictions or tastes, but I will share what I put in this vegan smoothie and drink every single morning.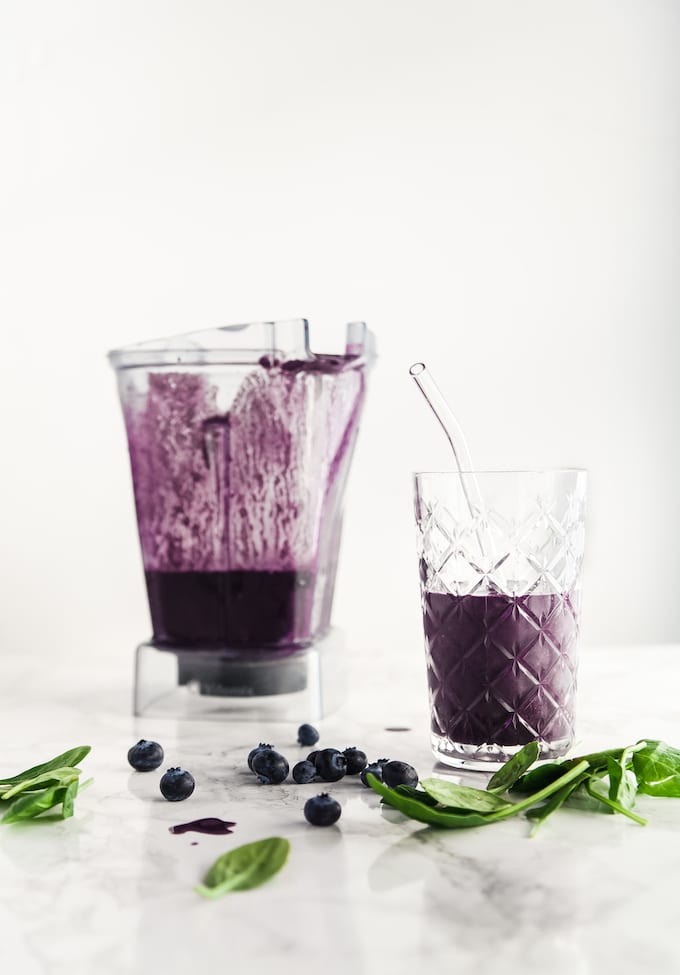 And I'll tell you what. When I start my day with this superfood smoothie, I always lose weight. Starting the morning with this nutrient-dense shake not only keeps me full until lunch, but starting the day with a healthy meal always helps me make healthy choices for lunch and dinner too.
Now, if weight loss is not your goal, I will give you a few ingredients to add. Because not only do I make this for myself when I am dieting, but I also make it for my son, who is underweight and short for his age. I boost the ingredients in his glass with healthy fats and extra calories to support his growing mind and body!
What Makes This The Best Blueberry Spinach Smoothie?
The ingredients that I choose to put in this vegan smoothie are all carefully chosen for their health benefits and also for weight loss. After all, this smoothie has only 130 calories and it keeps me full until lunchtime!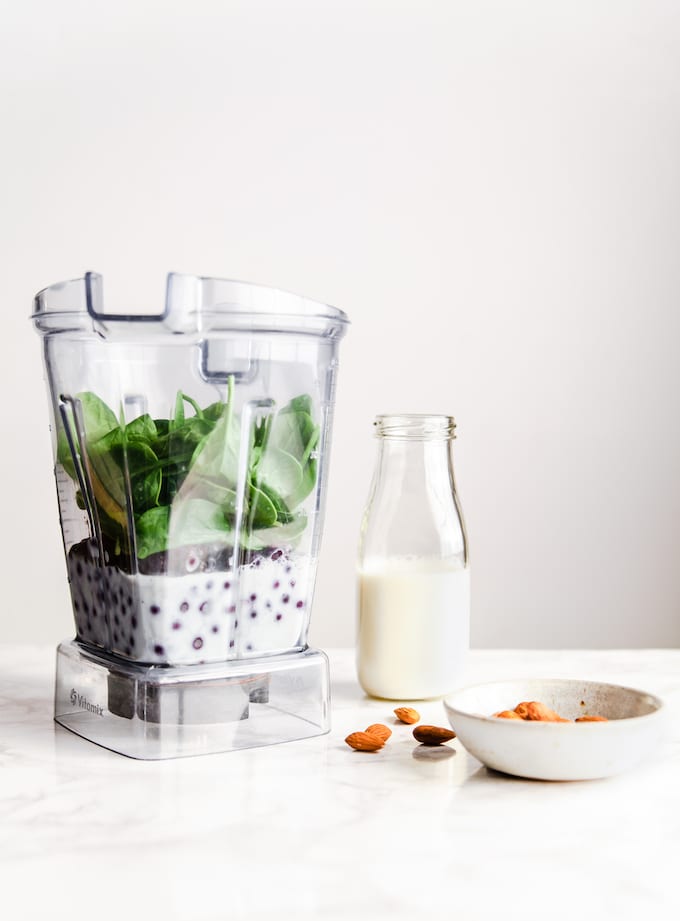 If you are making this blueberry spinach smoothie for weight loss you will want to use cold, filtered water as the base. You can save at least 50 calories straight off the bat. But, if you are looking for something a little creamier, I love to use oatmilk, coconut water or almond milk as the base for this shake.
Next, I use wild, organic frozen blueberries. Wild blueberries have more antioxidants and nutrients than regular blueberries. They are readily available at the supermarket and are an easy choice to boost the nutrients of your morning smoothie. And according to WildBlueberries.com "Wild blueberries have higher anthocyanin content than ordinary blueberries. So when you eat wild blueberries, you gain the extra antioxidant protection of a hardy, wild fruit."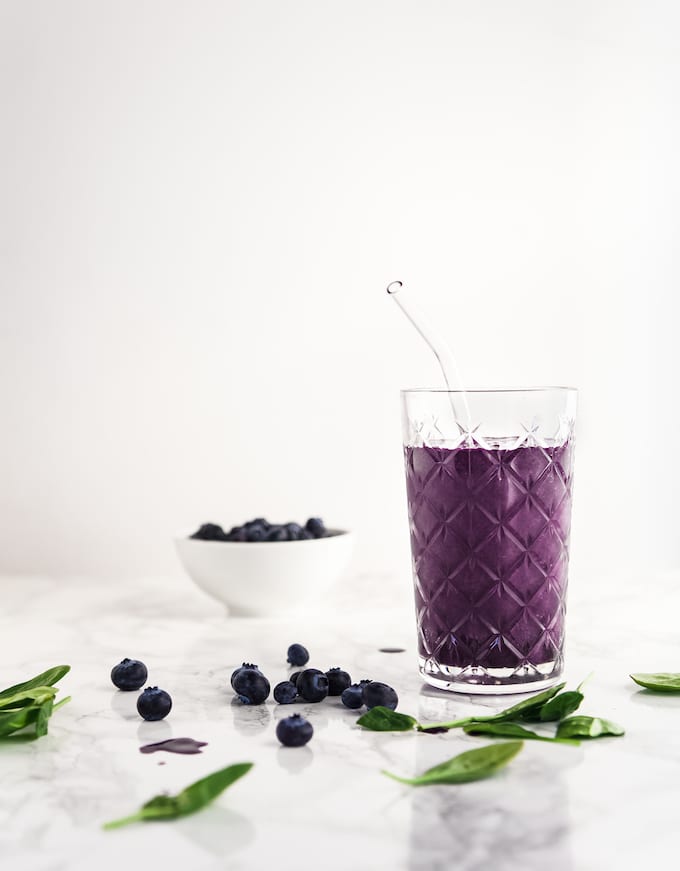 Another superfood that I include in this vegan breakfast smoothie is fresh, organic baby spinach. Two handfuls adds a serving of dark leafy greens to your day and fiber to keep your energy sustained too! I will talk more about other superfoods you can add to this recipe next.
Lastly, I use a high quality vegan protein powder to add plant-based protein and energy to my breakfast. This one from Sakara is my go-to right now because it also has spirulina, wheatgrass and chlorella.

Best Superfoods To Add To Smoothies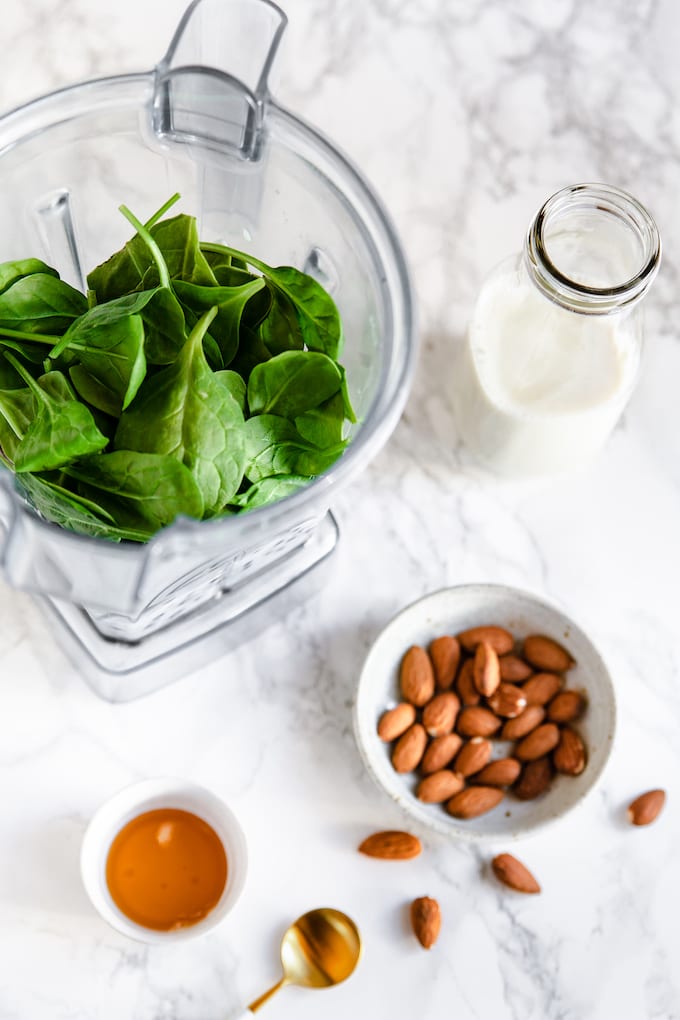 Now, if you are looking for some superfoods to add to this blueberry spinach smoothie, here are some great options. Filled with antioxidants and anti-inflammatories, these ingredients will help your body perform at its best ability.
Hemp Seeds
Dark Leafy Greens (such as spinach or kale)
Spirulina
Chia Seeds
Ground Flax Seeds
Matcha Powder
These superfoods are readily available at most supermarkets or healthy food stores and you only need a small amount to add to your morning shake in order to boost your daily nutrient intake. If you are using a high-powered blender such as a Vitamix, you can simply add these to your smoothie and blend in.
Like I said earlier, I like to add this high-quality vegan protein powder to my morning smoothie to give me sustained energy. And it has a lot of these superfoods already included in the powder. So, be sure you check your ingredients before adding more nutrients to your smoothie.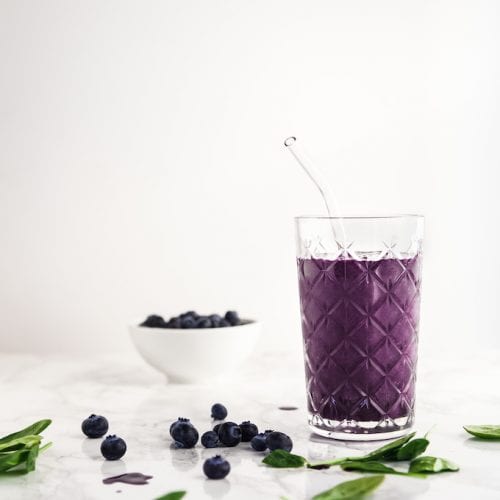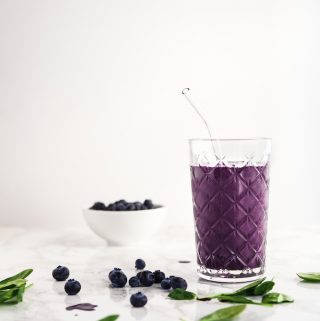 Healthy Blueberry Spinach Smoothie Recipe
Healthy blueberry spinach smoothie recipe filled with powerful superfoods and antioxidants.
Ingredients
1

cup

liquid of choice

either plant-based milk, water or coconut water

1/2

cup

frozen wild blueberrries

1

cup

fresh baby spinach

about 2 handfuls

1

serving

vegan vanilla protein powder of choice
Optional Add-Ins
1

tsp

ground flax seeds

1

tsp

chia seeds

1

tsp

matcha powder

1

tsp

spirulina
Instructions
Fill your blender with 1 cup of liquid of choice, either plant-based milk, filtered water or coconut water.

Add about 2 handfuls of spinach and vanilla protein powder and any optional add-ins. Pulse to combine.

Add 1/2 cup of frozen wild blueberries and blend until combined. Add ice, if desired and blend well. Pour into glass and enjoy!
Notes
Be sure to check your protein powder before adding any additional supplements. If adding any of the optional additions, add these in step 1 along with the protein powder and spinach.
Nutrition
Serving:
1
smoothie
Calories:
129
kcal
Carbohydrates:
15
g
Protein:
13
g
Fat:
1
g
Saturated Fat:
1
g
Polyunsaturated Fat:
1
g
Monounsaturated Fat:
1
g
Trans Fat:
1
g
Cholesterol:
1
mg
Sodium:
129
mg
Potassium:
284
mg
Fiber:
4
g
Sugar:
9
g
Vitamin A:
2853
IU
Vitamin C:
16
mg
Calcium:
34
mg
Iron:
6
mg
Blueberry Spinach Smoothie For Kids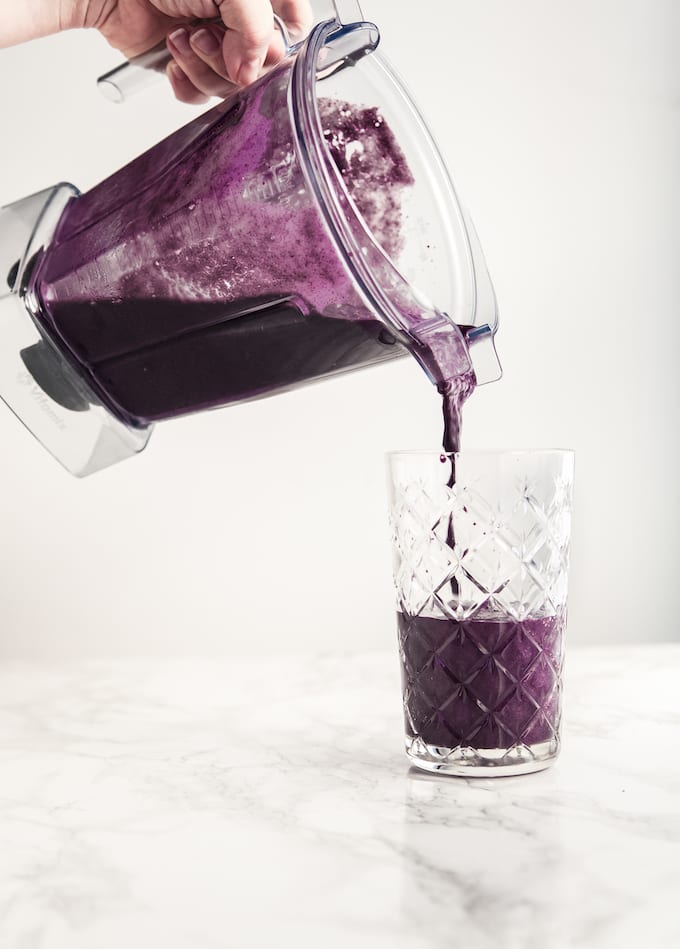 Remember how I told you that I make this same blueberry spinach protein smoothie for my son every morning? I use this recipe, but I add more healthy fats and calories to help him grow and fuel his brain for a full day of school.
Here are some things you can add to this recipe for kids (or adults):
Full fat Oat Milk or Cashew Milk (in place of water)
1-2 tablespoons of almond butter
half of a medium avocado
1/2 banana
1/2 cup oats (blended into the smoothie)
Do you start your day with a superfood smoothie? Leave me a comment and let me know what you put in your breakfast shake. I love hearing what works for other people!
9 Healthy Recipes Ideas

Kale Ranch Salad // Finding Lovely
My Favorite Blueberry Spinach Smoothie // Modern Glam
Cinnamon Apple Granola Recipe // Zevy Joy

Easy Cod Fish Tacos with Homemade Taco Sauce // Happy Happy Nester
Easy Healthy Snack – Protein Balls with Peanut Butter // My 100 Year Old Home
How to Make Overnight Oats // The DIY Mommy


Turkey Picnic Sandwiches // Lemon Grove Lane
A Colorful Healthy Main Dish Featuring Salmon with Dill // Most Lovely Things
Healthy Homemade Meatballs // My Sweet Savannah
Egg Roll In A Bowl // Twelve On Main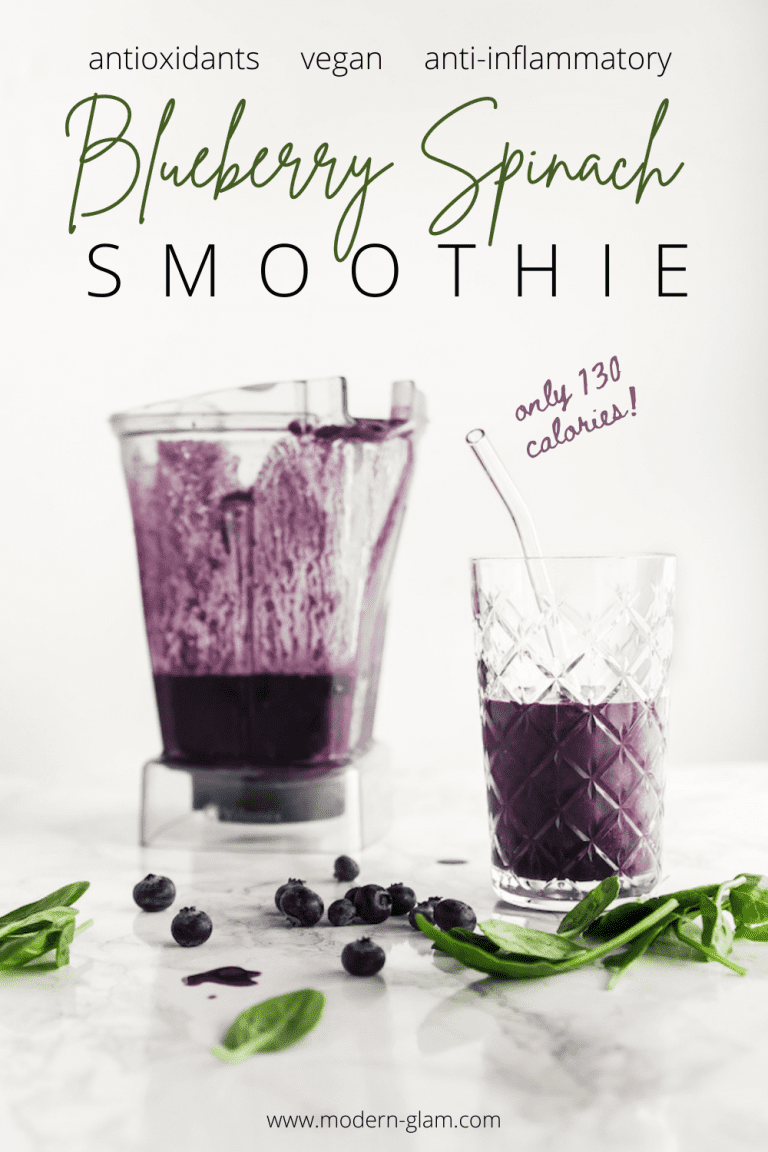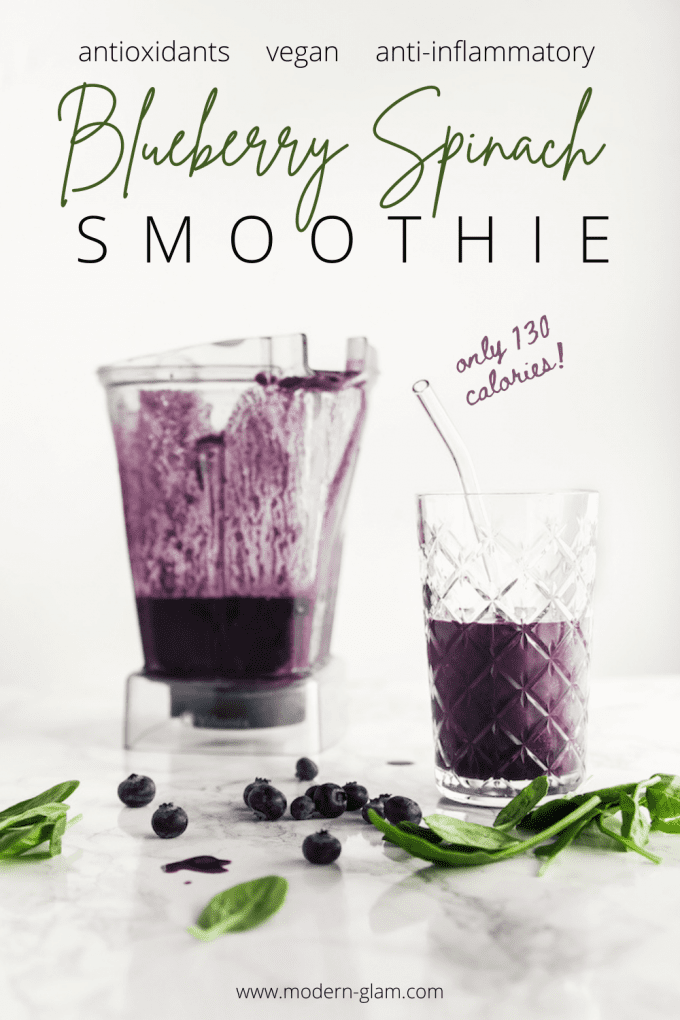 And check out these other Healthy Eating Recipes from The MG Archives