Make this DIY Faux Peony Arrangement for an everlasting bouquet of everyone's favorite flower. I will show you how to create a very real looking flower arrangement filled with pretty silk peonies.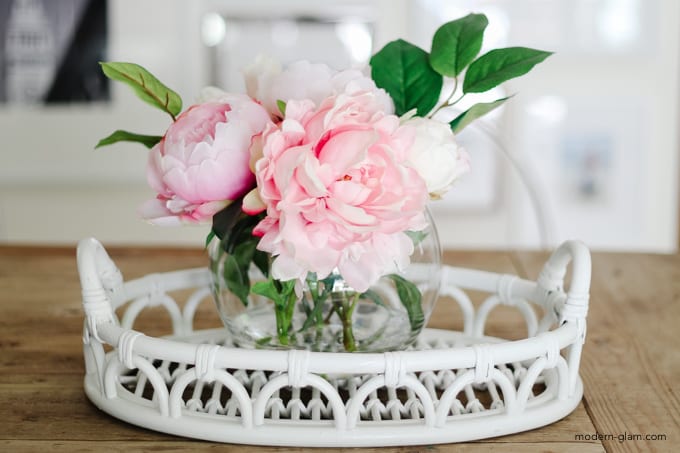 I love peony season, but it never lasts long enough! Somehow, I always feel like I missed out and didn't get my fill of these beautiful summer blooms.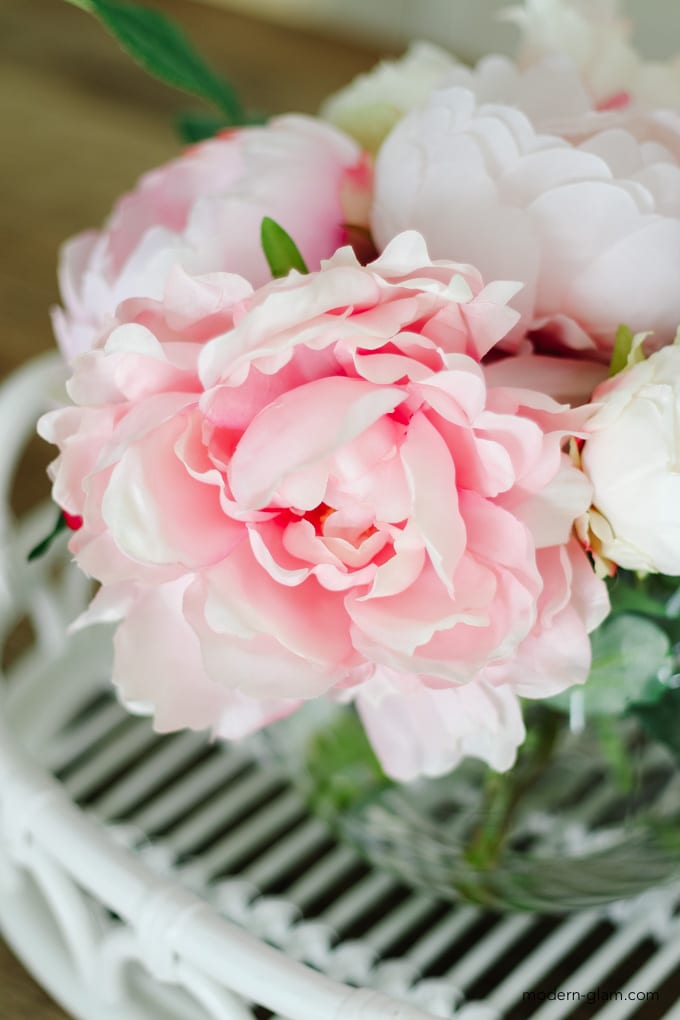 So, this year I created a DIY faux peony arrangement that looks like the real deal! And it's super simple to make your own as well. I will share with you how I created this pretty bouquet of flowers and a few tips that I learned along the way!
And if you are a peony lover like me, be sure to check out these other peony posts from the archives.
Peony Tips and Tricks For A Beautiful Arrangement
Hanging Basket Wreath With Peonies
DIY Faux Peony Arrangement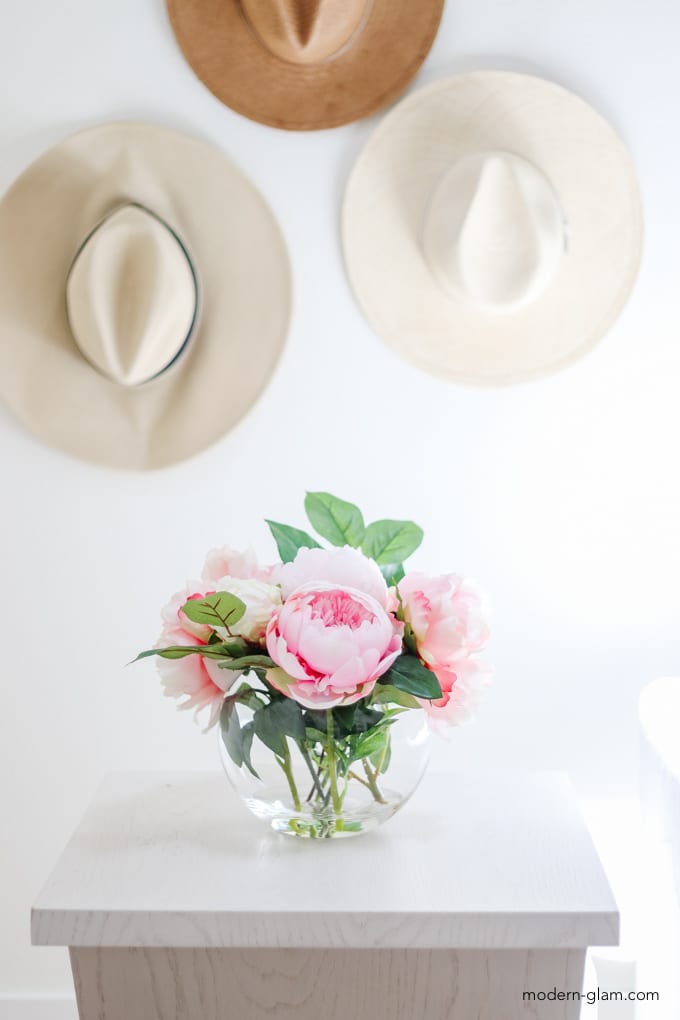 A few years ago I purchased a faux tulip arrangement from Homegoods where the flowers were artfully arranged in a pretty glass vase and the bottom was filled with what looked like water. I have always loved that faux arrangement and it comes in handy when decorating in the spring.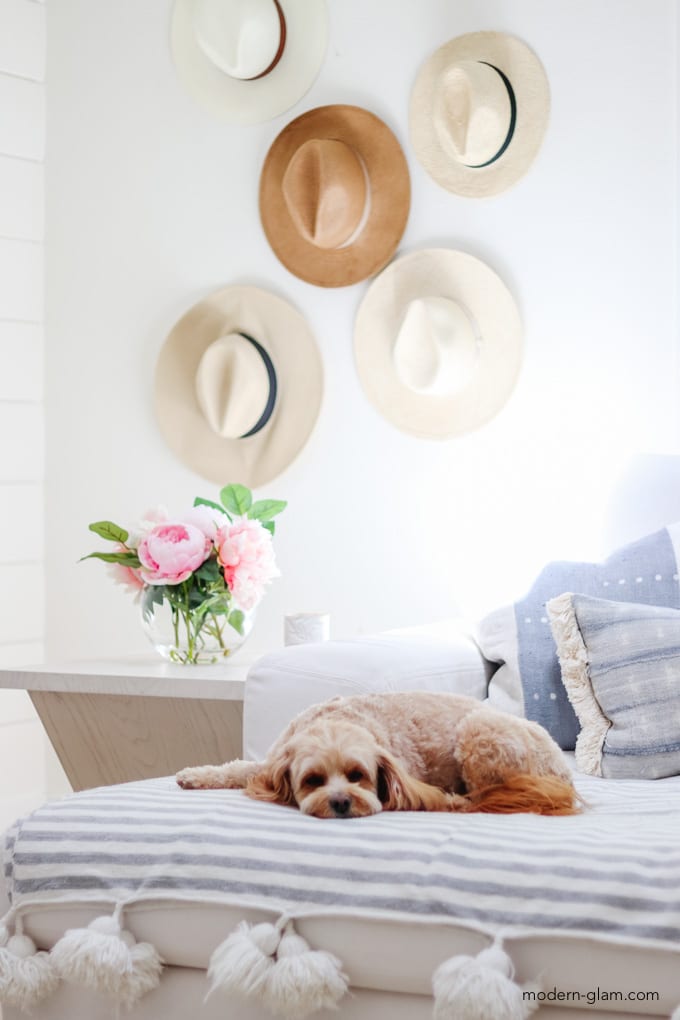 I decided this year I would replicate that bouquet and make it with peonies. A quick google search told me that I could purchase the acrylic "water" off amazon to fill the vase and secure the stems in place. Genius!
So, I ordered some pretty, high-quality peonies, the acrylic water and got started on this DIY faux peony arrangement.
Faux Peony Arrangement Supplies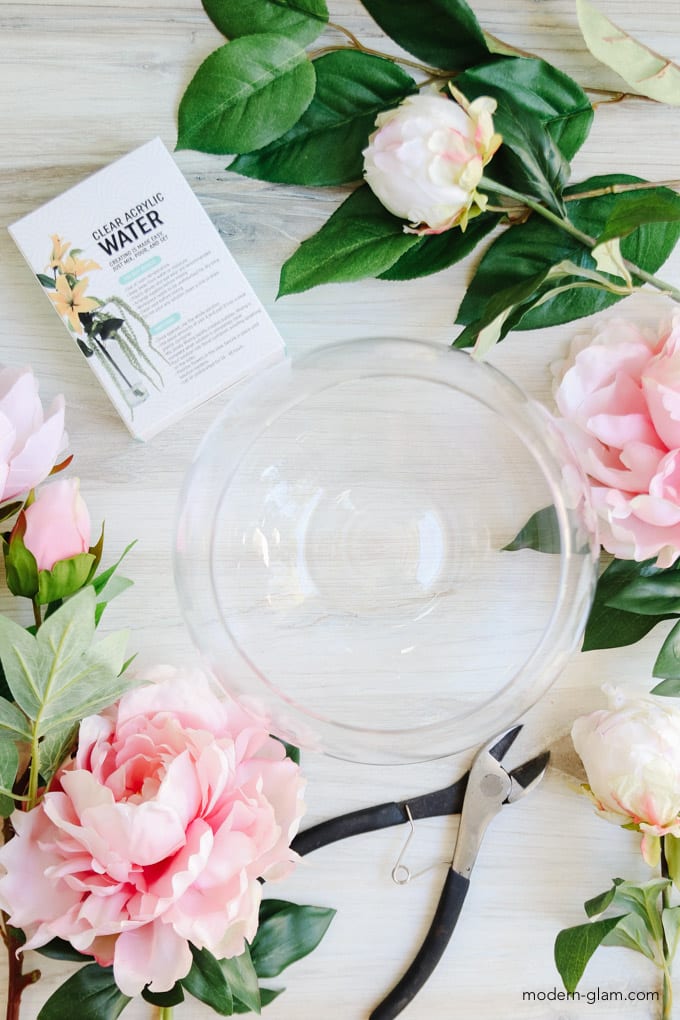 Here is everything you will need for this easy DIY project.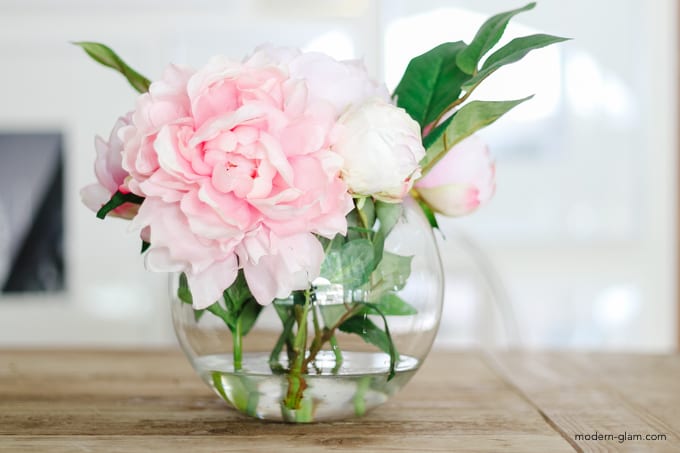 Notes:
I like to get my silk flowers from afloral.com. I have found their products to be the best quality. And if you want your faux arrangement to look realistic, this is a great place to go. I used 8 stems for this medium sized arrangement.
For the vase, I used a 8″ round glass vessel that I had leftover from a previous flower arrangement. You could use any glass vase that you have on hand.
The clear acrylic water that is placed at the bottom of the vase not only looks real, but it secures the blooms in place. I ended up using 2 packages for my size vase.

How To Make A Faux Pink Peony Arrangement
Step 1: Cut Stems To Desired Length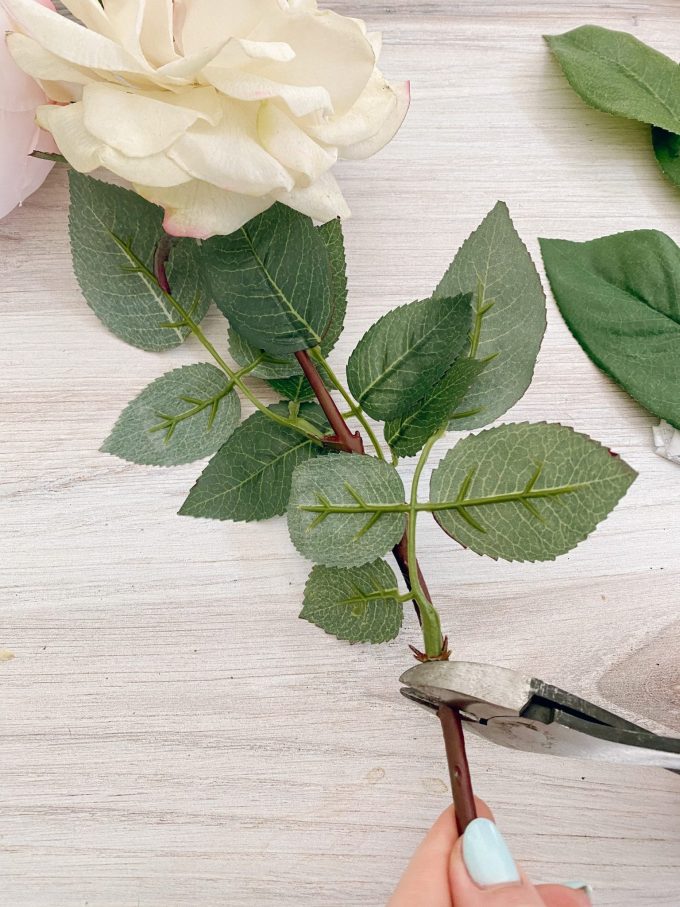 Depending on the size of your vessel, you want to cut the stems accordingly. Cut off any low lying leaves as well.
Step 2: Arrange The Stems In Your Vase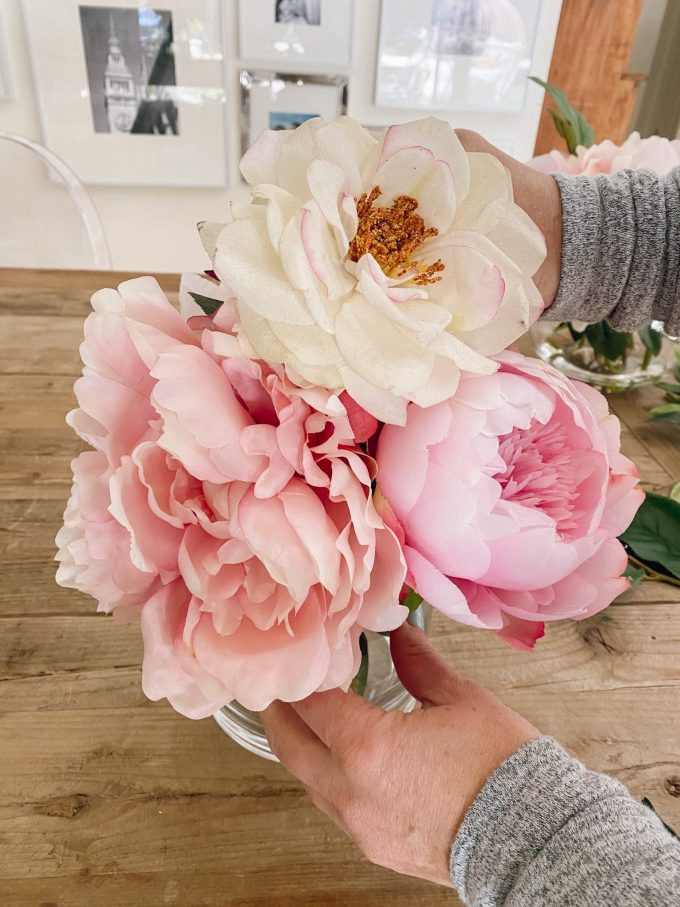 Next, you want to play around with the arrangement of your peonies before placing the acrylic water in the bottom. Make sure you like where the flowers are and how they look.
Step 3: Mix Up the Acrylic Water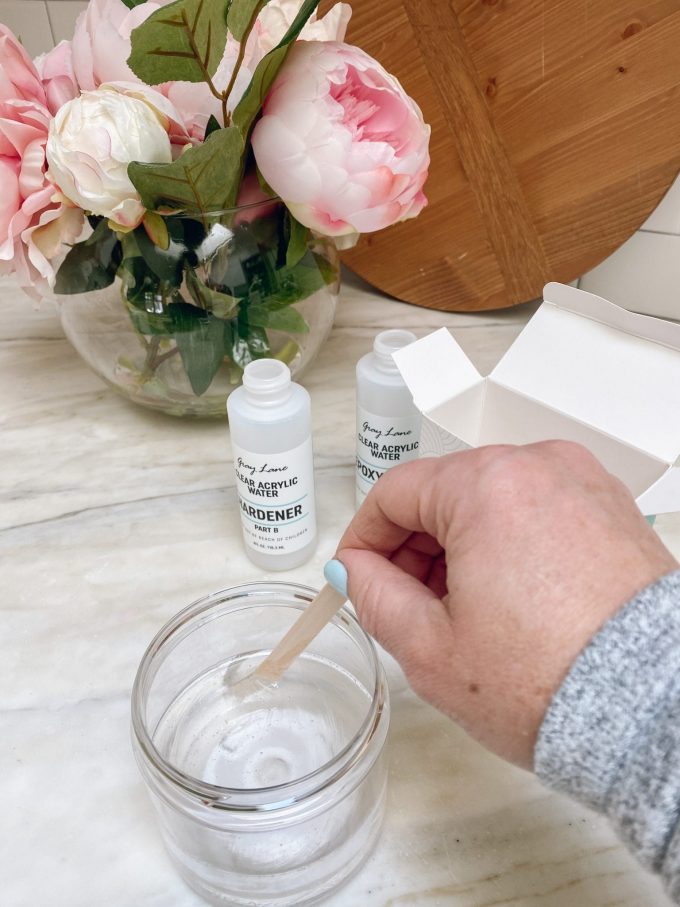 Now, mix up the acrylic water according to the package directions. We will be placing this in the bottom of the DIY faux peony arrangement so it looks like the bouquet is sitting in actual water. This is what makes this arrangement spectacular!
Step 4: Pour In the "Water" And Arrange Flowers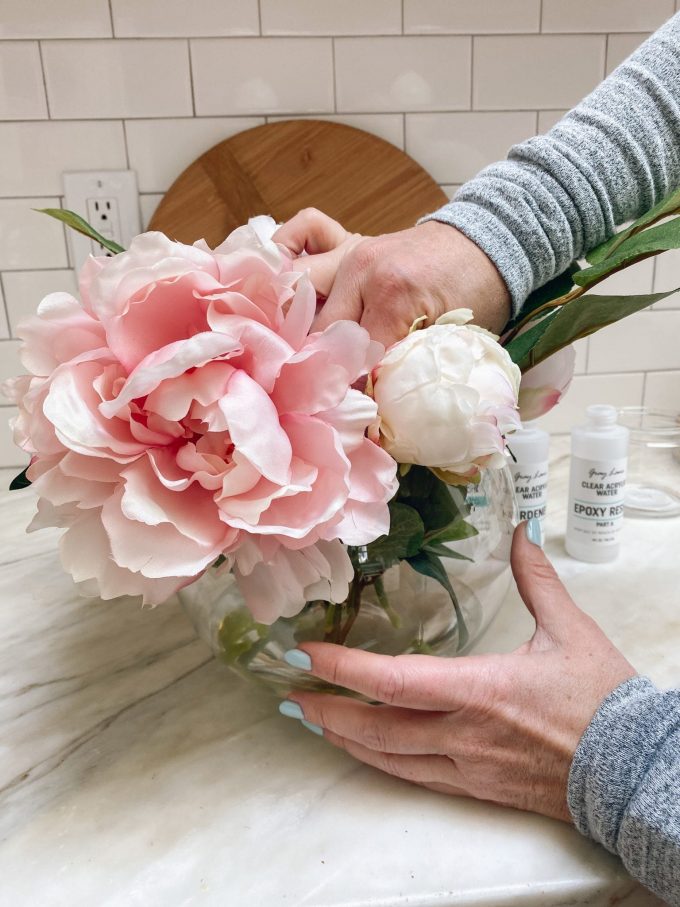 Carefully pour in the acrylic liquid and do one final arrangement of the flowers. How you arrange the flowers in this step is how they will look after the acrylic has hardened. Finally, place the vase somewhere that it can sit untouched for 24-48 hours.
Once the "water" has hardened, you will have a beautiful, everlasting DIY faux peony arrangement!
More Peony Ideas You Will Love!
Today my friends are also sharing their favorite peony project. Click the links below the images to visit their blogs and see more!
Peony Cake (with Fresh Flowers) // Happy Happy Nester
How to Enjoy Peonies Season All Year Long // My 100 Year Old Home
Watercolor Peony Printable // Twelve On Main
DIY Dollar Store Faux Cane Vase with Peonies // The Happy Housie

DIY Faux Peony Arrangement // Modern Glam
Peony Arrangements & Vase Finds // Finding Lovely
Peony Tips for the Most Gorgeous Arrangements // Inspiration For Moms
Three Free Peony Prints // Tatertots & Jello
Peony Floral Arrangement // Zevy Joy
How To Make Your Own Coloring Book // My Sweet Savannah