How To Style A Bar Cart Without Alcohol: three unique ideas. Create a coffee station bar cart, use your bar cart as a side table and make a summer drink station. Come see all the details!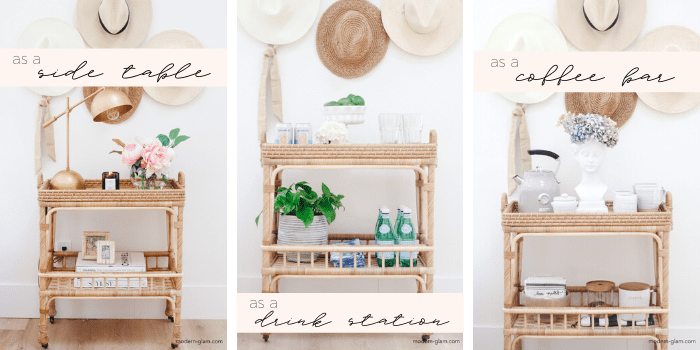 Bar Cart Styling Without Alcohol
I received product from Serena & Lily in exchange for this post, but as always, all thoughts, opinions and words are my own.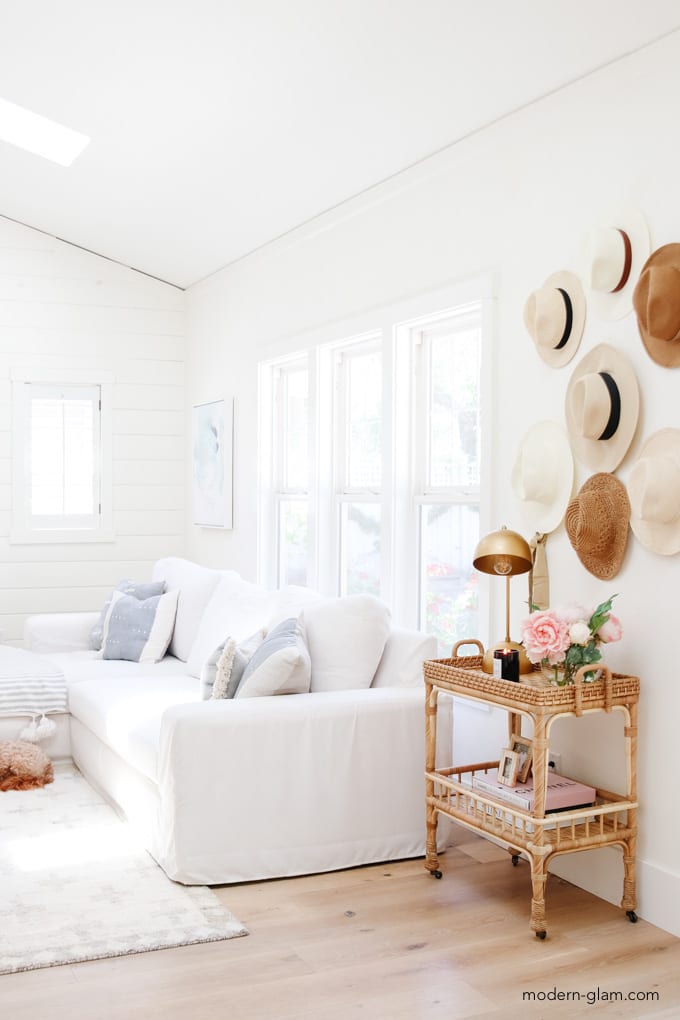 I am so excited for my new bar cart! If you have been following along for awhile, then you know I am a huge fan of Serena & Lily. So, when they reached out and asked if I wanted to style one of their products, I jumped at the chance! Because, there's nothing I love more than their quality furniture and timeless design.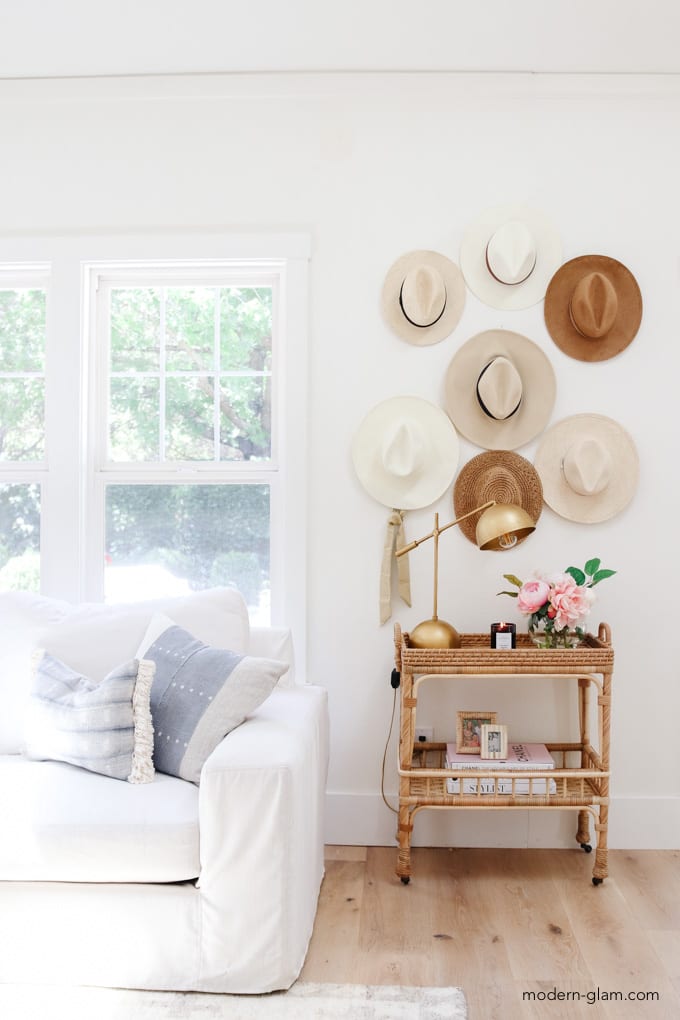 I chose this South Seas Side Cart. I absolutely love the color and beautiful hand-made rattan details of this piece. The style is inspired by a mid-century antique, which is my favorite part!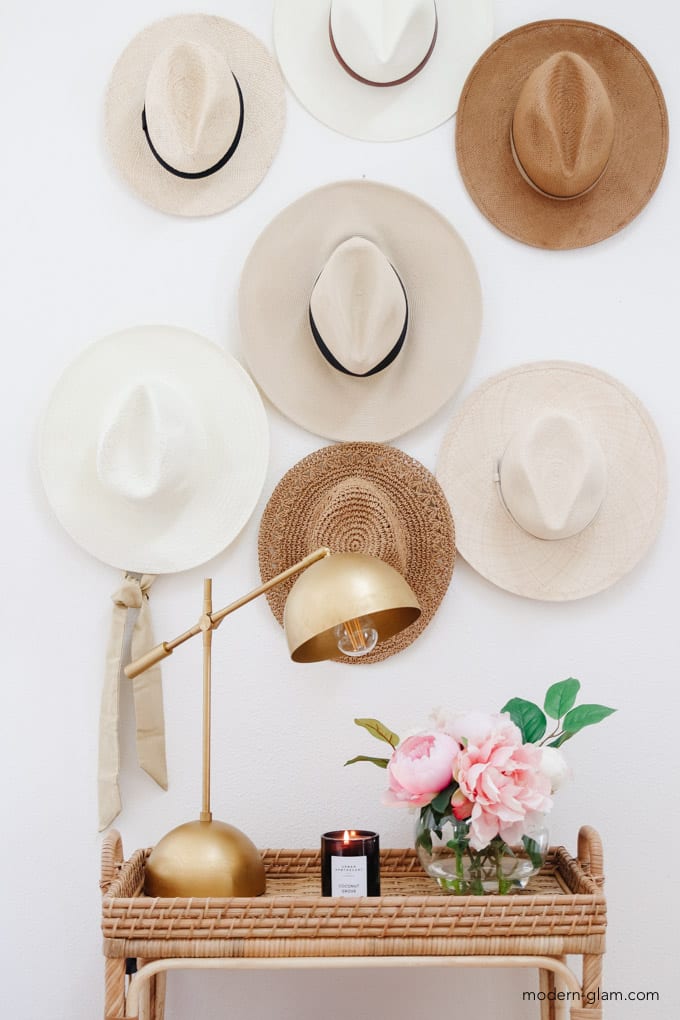 Now, since I already have two of their other bar carts in my home (haha!), I knew I wanted to use this new one for something a little more creative than to store our liquor and pretty glasses.
I have styled this piece three different ways that I hope will give you some great ideas. Now you can see how you can style a bar cart without alcohol. So, if you aren't a big drinker (or don't drink at all) now you too can have that pretty bar cart in your home and put it to good use!
Bar Cart As A Side Table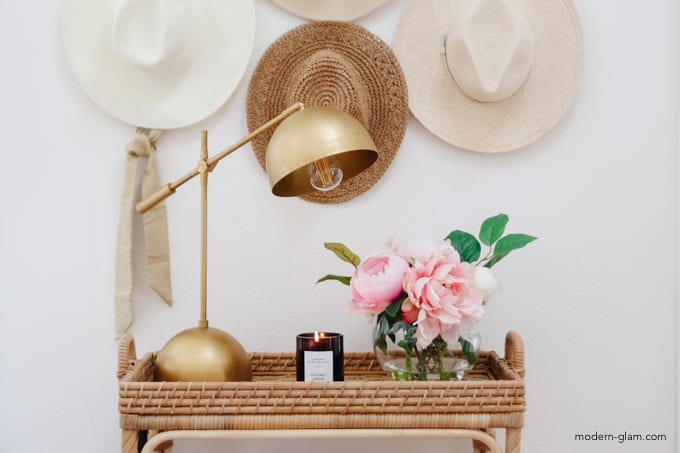 Bar carts work beautifully as side tables. The size and height of them work well next to, or near a sofa or chair. And they are much more interesting than any plain old table, ha!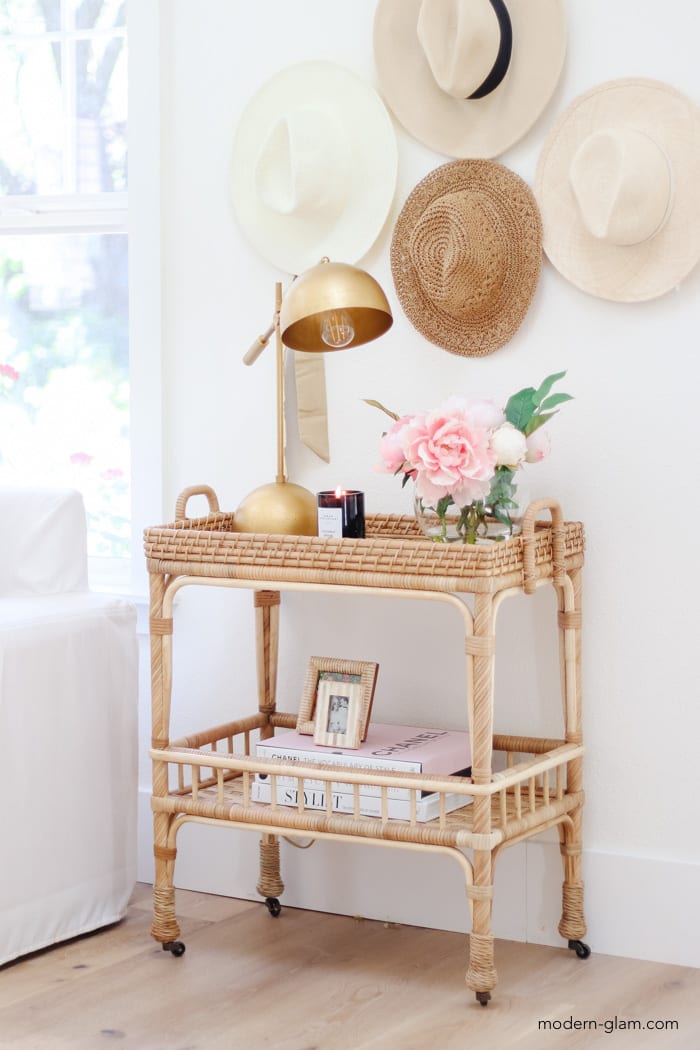 This South Seas Side Cart is styled with my DIY Faux Peony Arrangement, a lamp, candle, stack of coffee table books and some family pictures.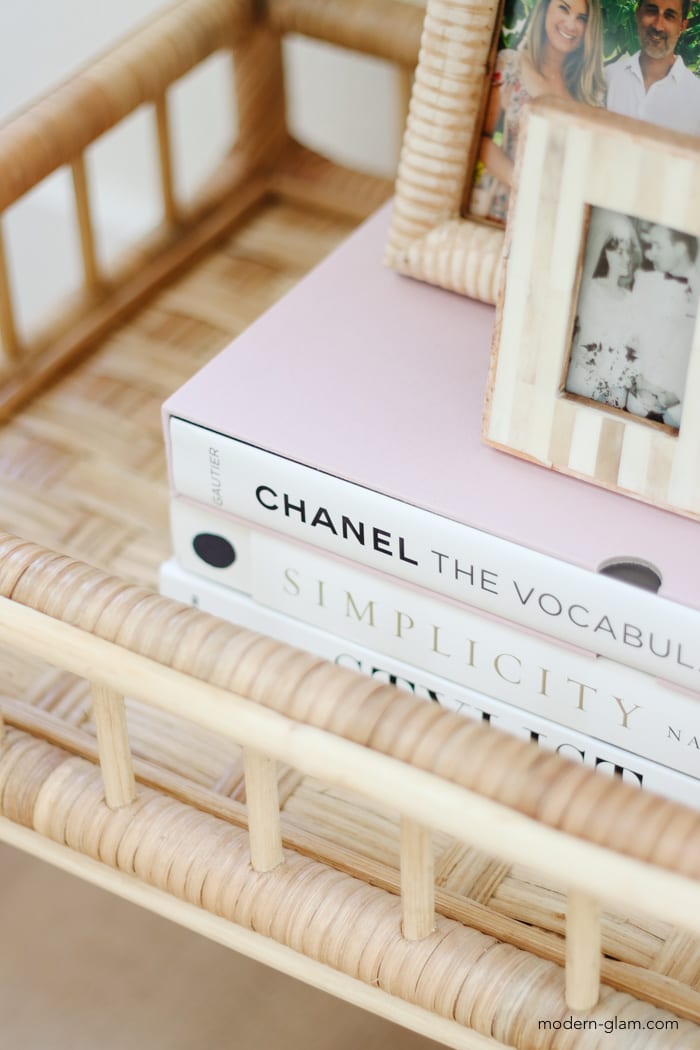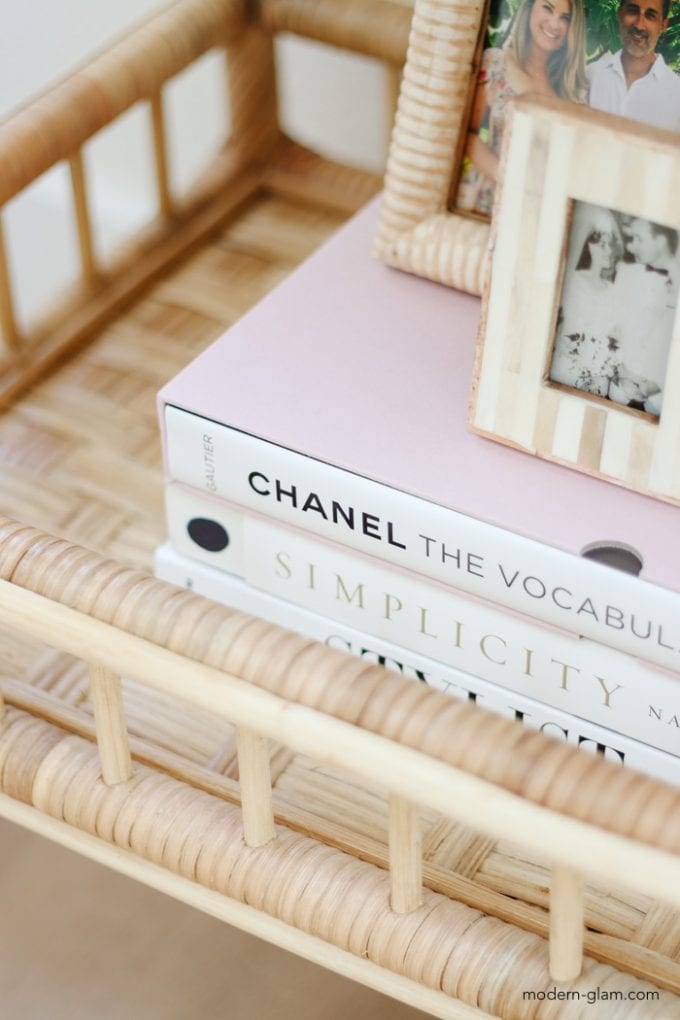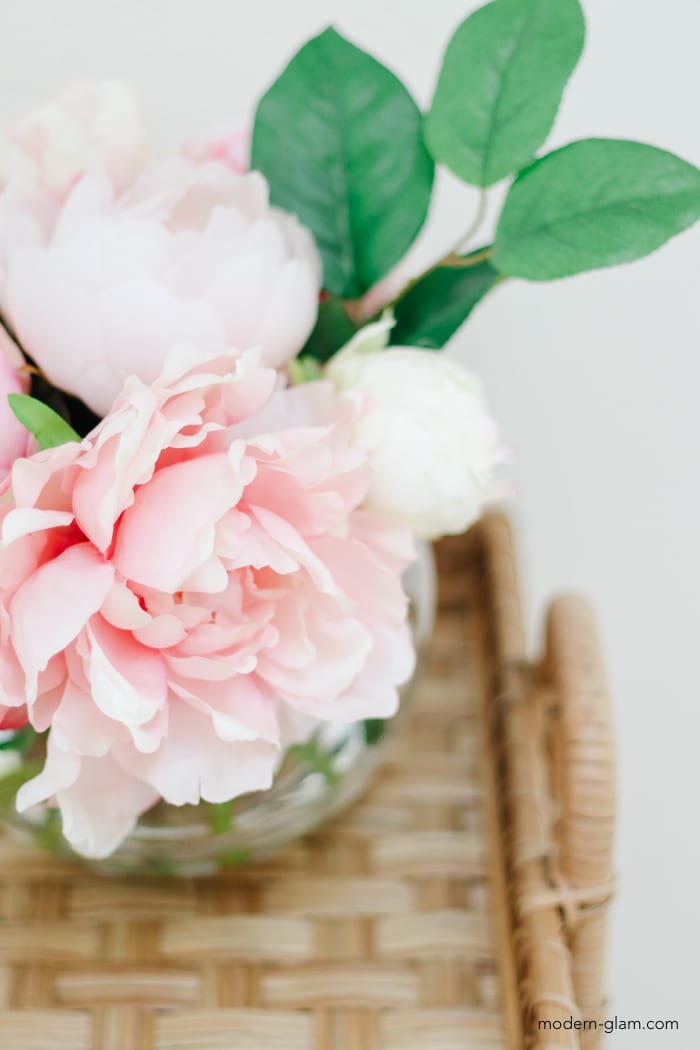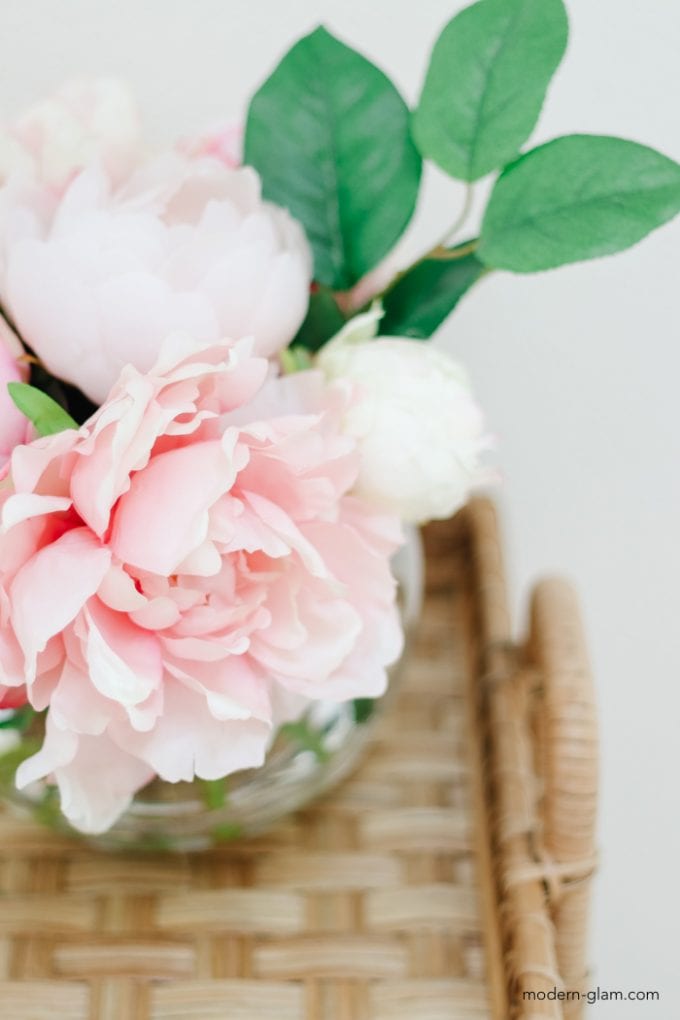 Here are some items you can use to decorate your bar cart as a side table:
Flowers
Stack of books
Candle
Lamp
Artwork
Picture Frames
Plants
Coffee Bar Cart Styling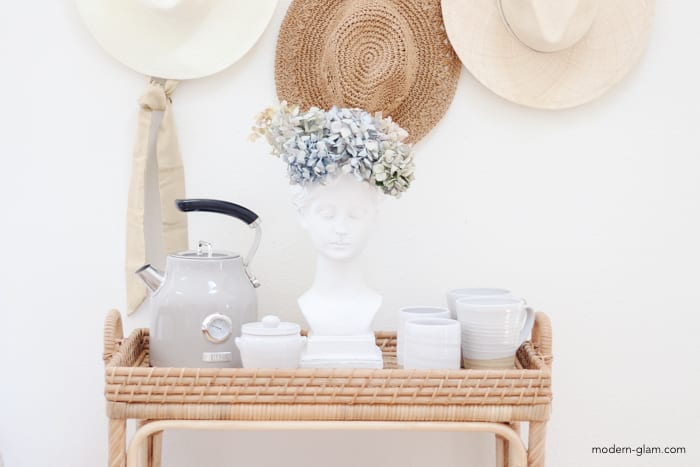 I love using my bar cart as an impromptu coffee bar. It really is the perfect setup. Grab your favorite mugs, coffee maker and turn your bar cart into a coffee bar!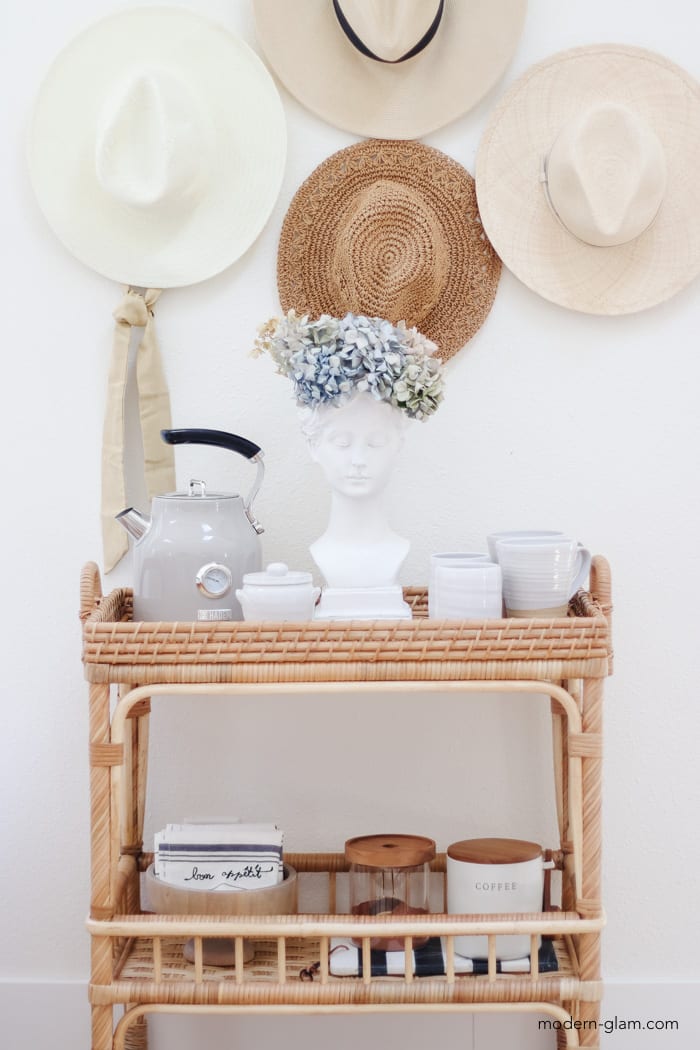 Here, I have set up this side cart as a coffee and hot chocolate bar. On the bottom shelf, I have some pretty napkins along with canisters filled with coffee and hot chocolate mix.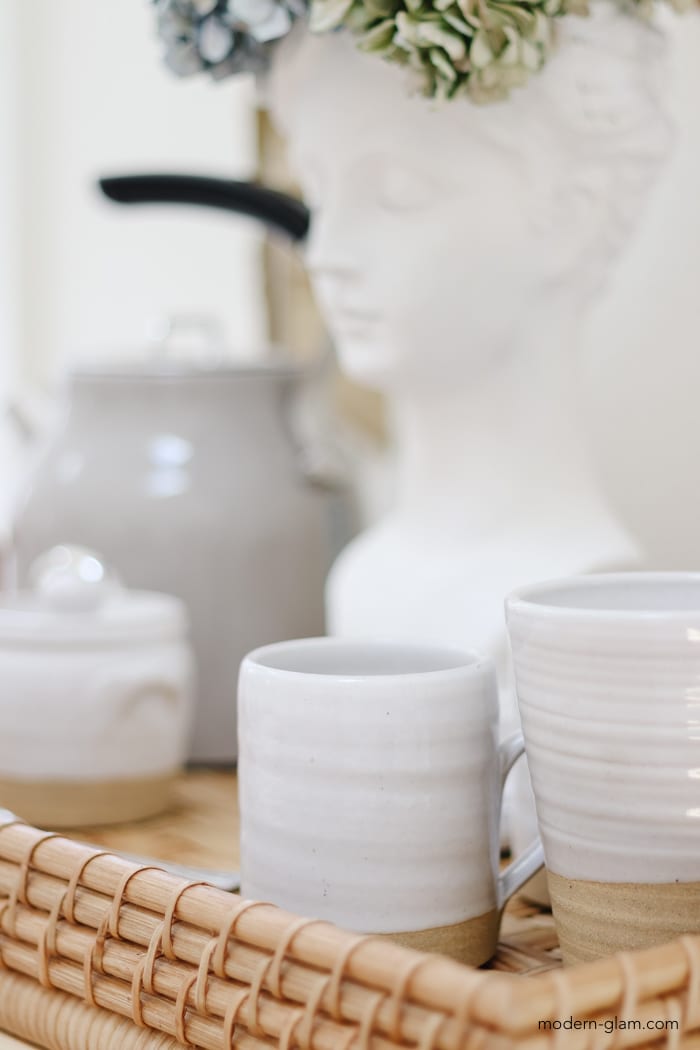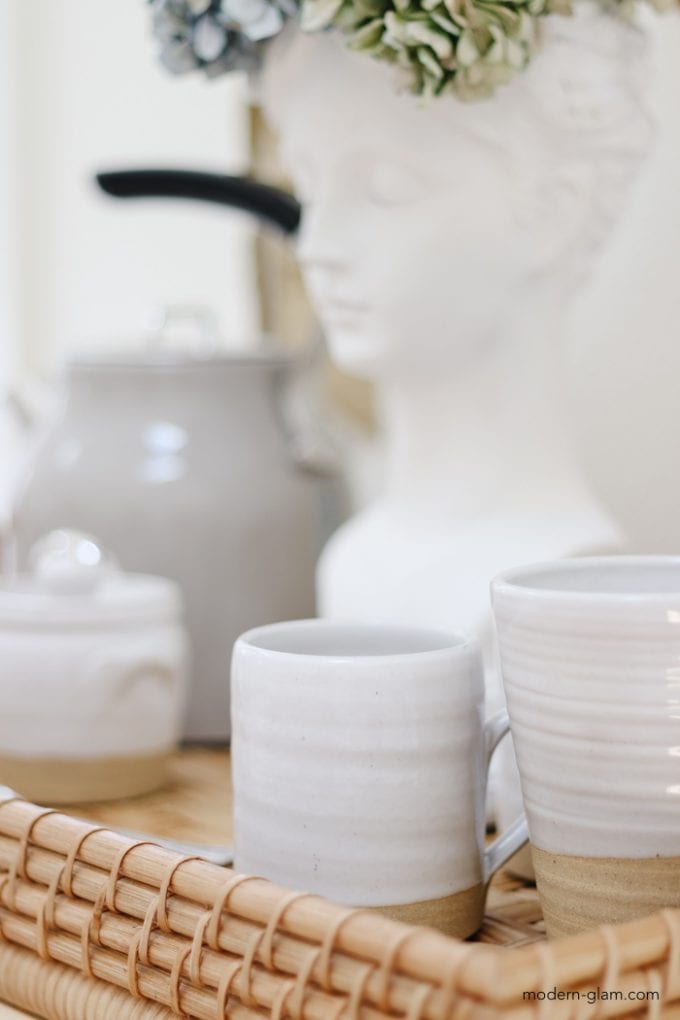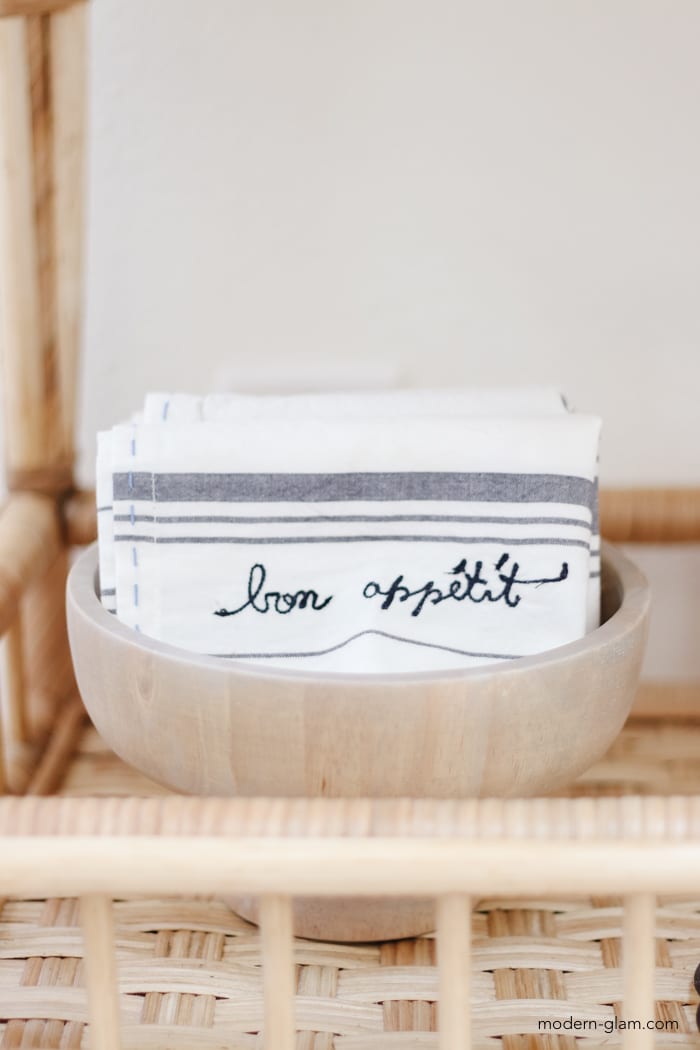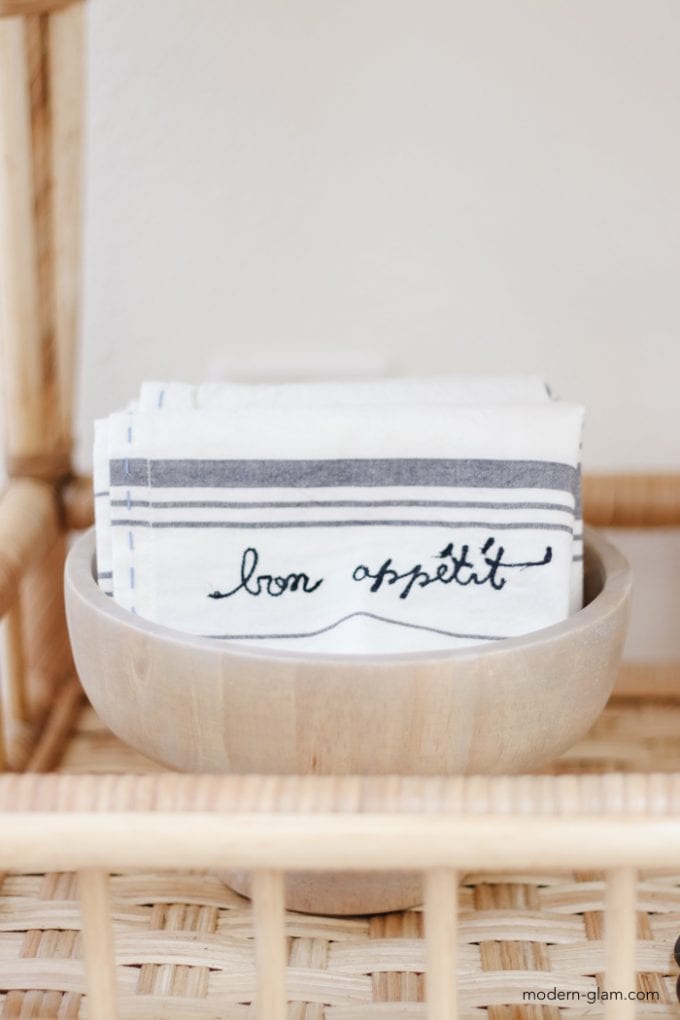 And on the top of the cart is everything else you need to make the perfect cup. Mugs, sugar and an electric kettle.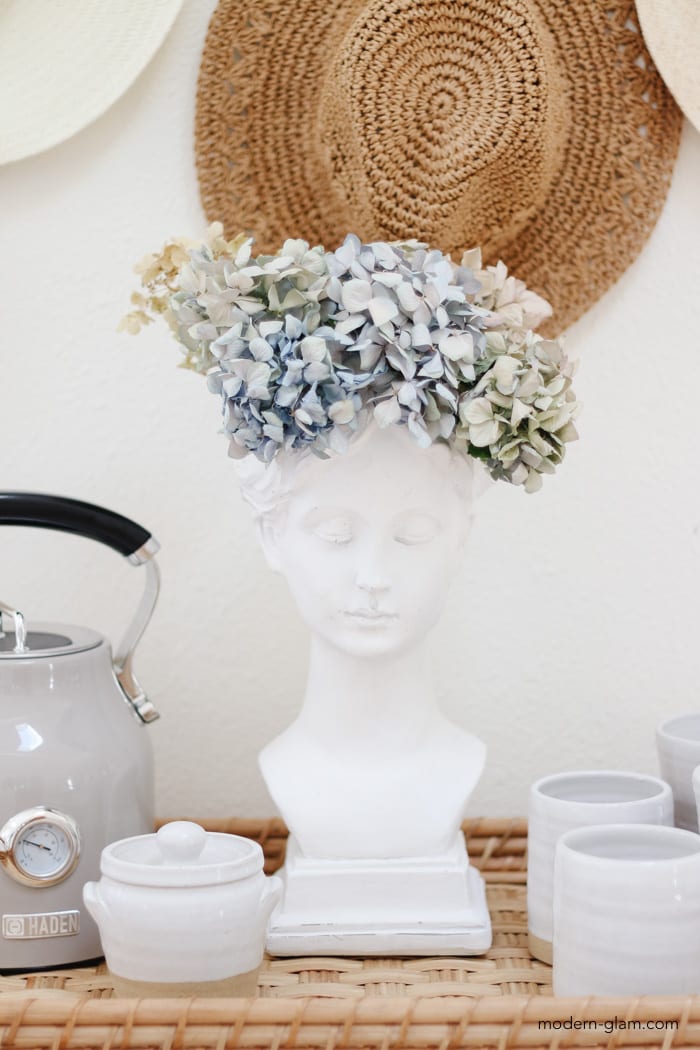 And how fun is this female bust vase with dried hydrangea stems as hair? My kids think it's too funny!
Items to style your coffee bar cart:
Coffee, Tea and Hot Chocolate
Coffee Maker
Electric Tea Kettle
Flavored Syrups
Honey and sugar
Milk or creamer
Spices (cinnamon, nutmeg and vanilla)
Mugs
Napkins, straws and spoons
Fresh flowers or plants
Non-Alcoholic Bar Cart Ideas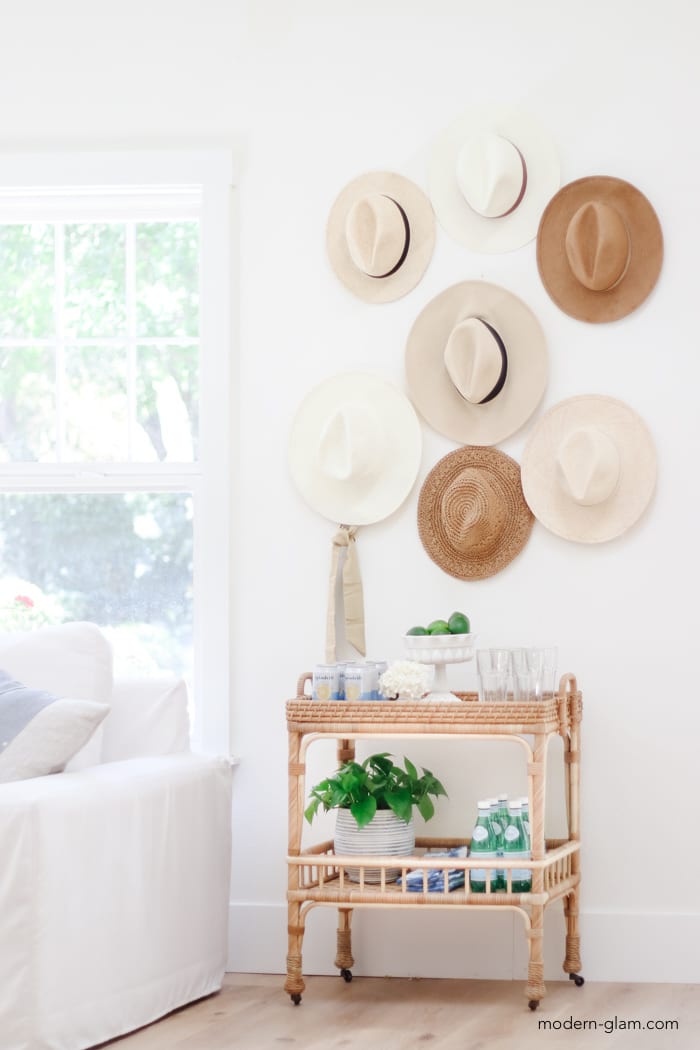 Lastly, if you are looking for ways to style a bar cart without alcohol, this idea is simple, but perfect for summer. Make a summer drink station!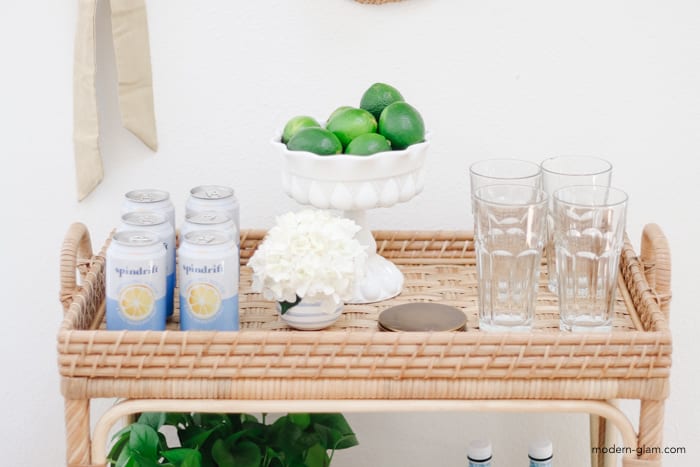 Everything you need for hot summer days. This is great for home entertaining as well. The next time you have friends over, turn your bar cart into a non-alcoholic drink station.
I would even move this whole setup outdoors for a fun gathering. The wheels on this side cart make it so easy to move around.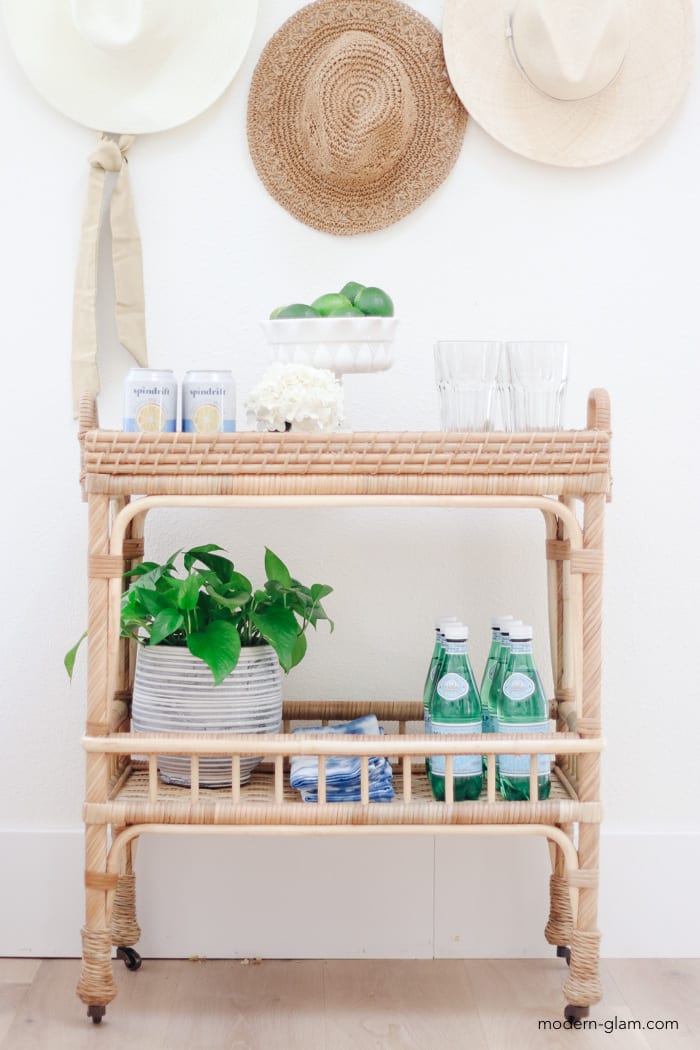 I placed some pretty glasses along with a stack of coasters, cans of our favorite soda water and a bowl of limes on the top shelf.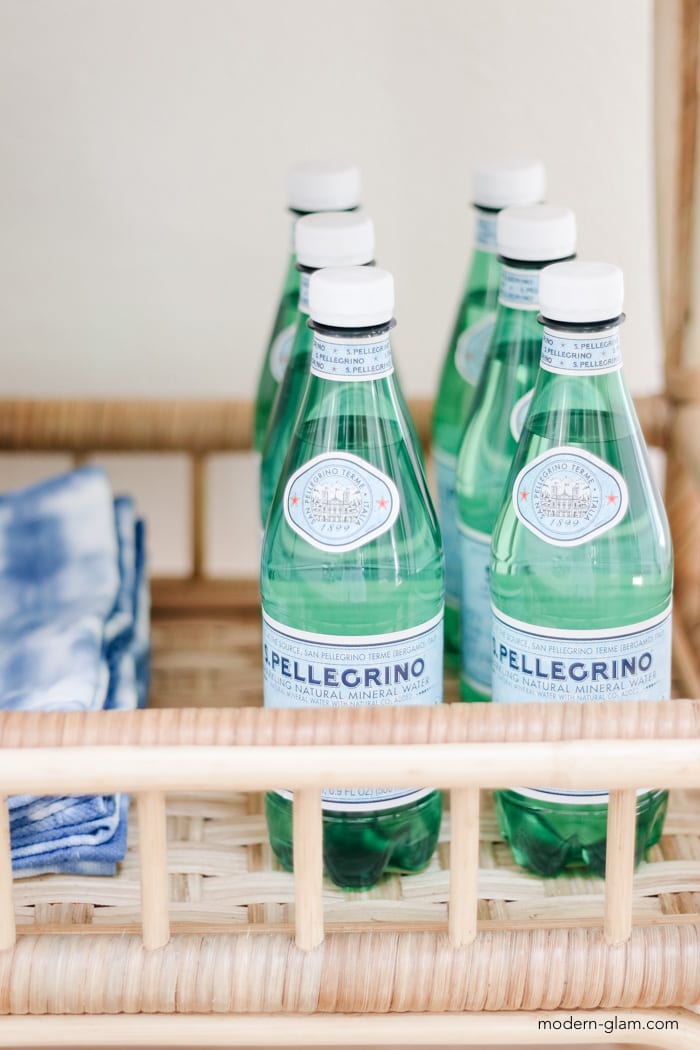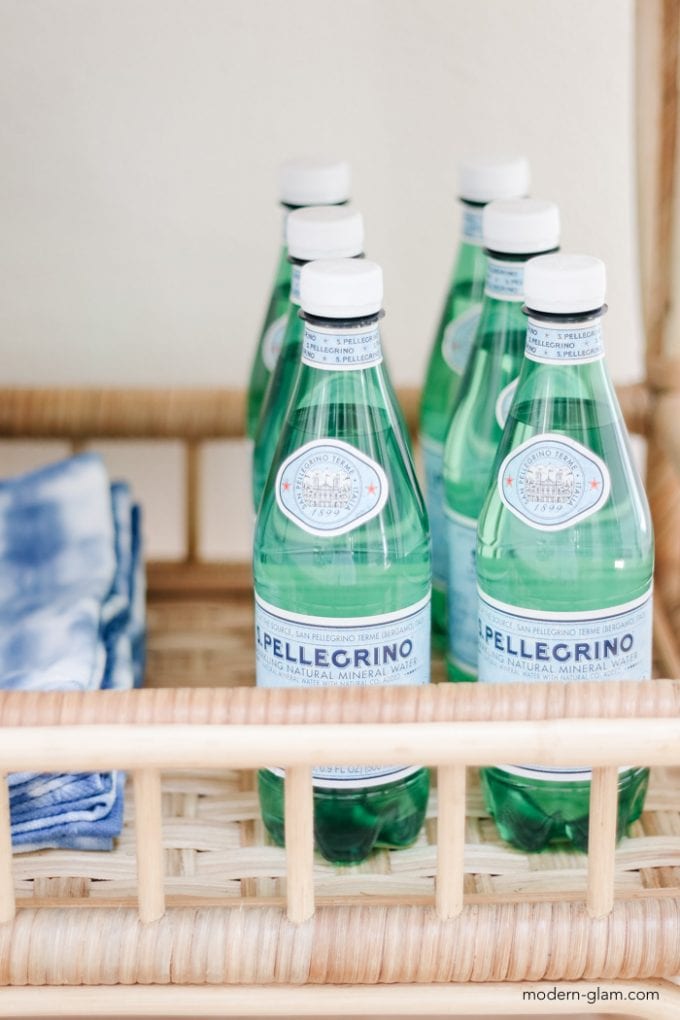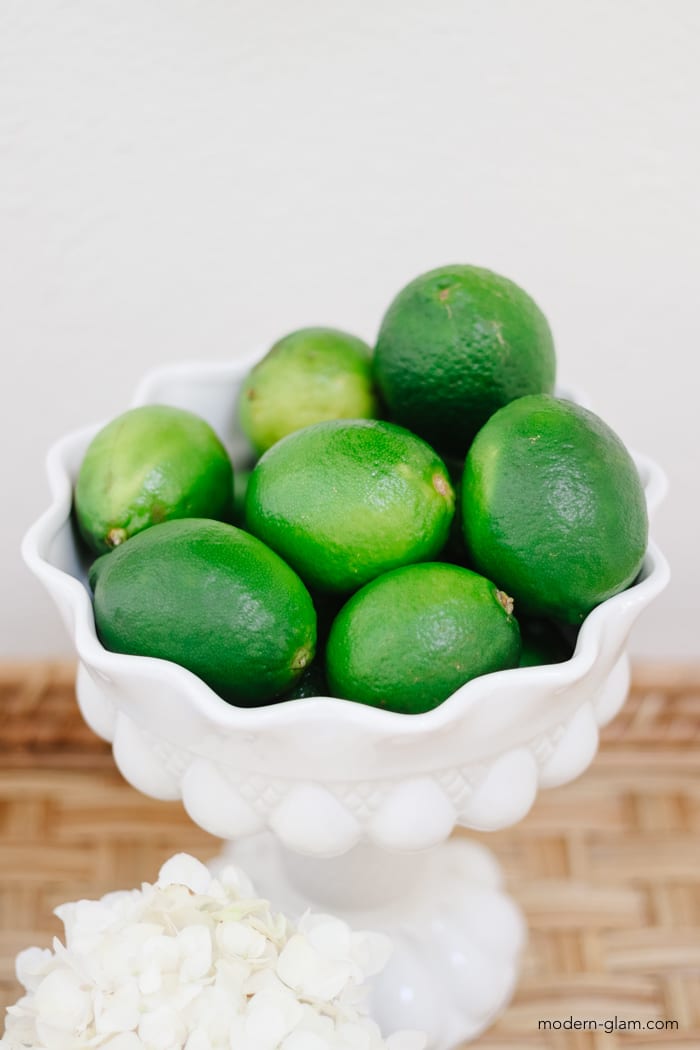 Below, a potted plant, some hand dyed napkins and some more fizzy water. You could add a bucket of ice for guests to add to their drink glass too.
What to Use For A Summer Drink Station:
Bucket of ice
Sodas, soda waters, flavored iced water
Glasses
Napkins and straws
Fresh lemons and limes
Flavored Syrups
Fresh flowers or plants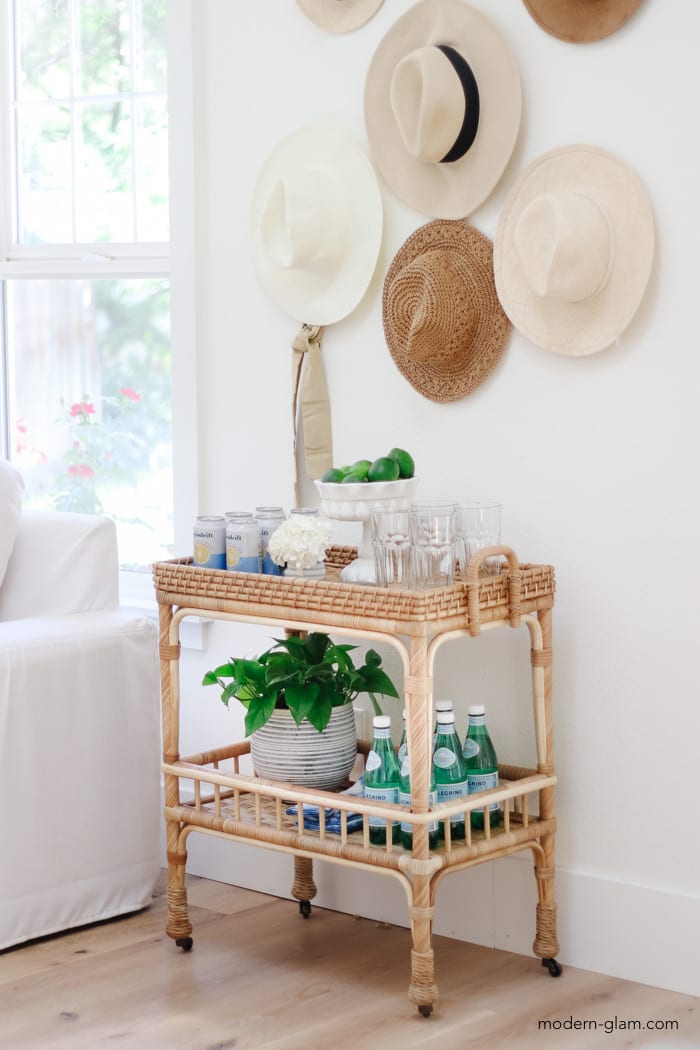 I hope this gives you some great ideas for how you can style your bar cart without using alcohol. There are so many options!
Shop Items Seen In This Post
Check out the images below to shop items shown in this post and be sure to let me know if you have any questions!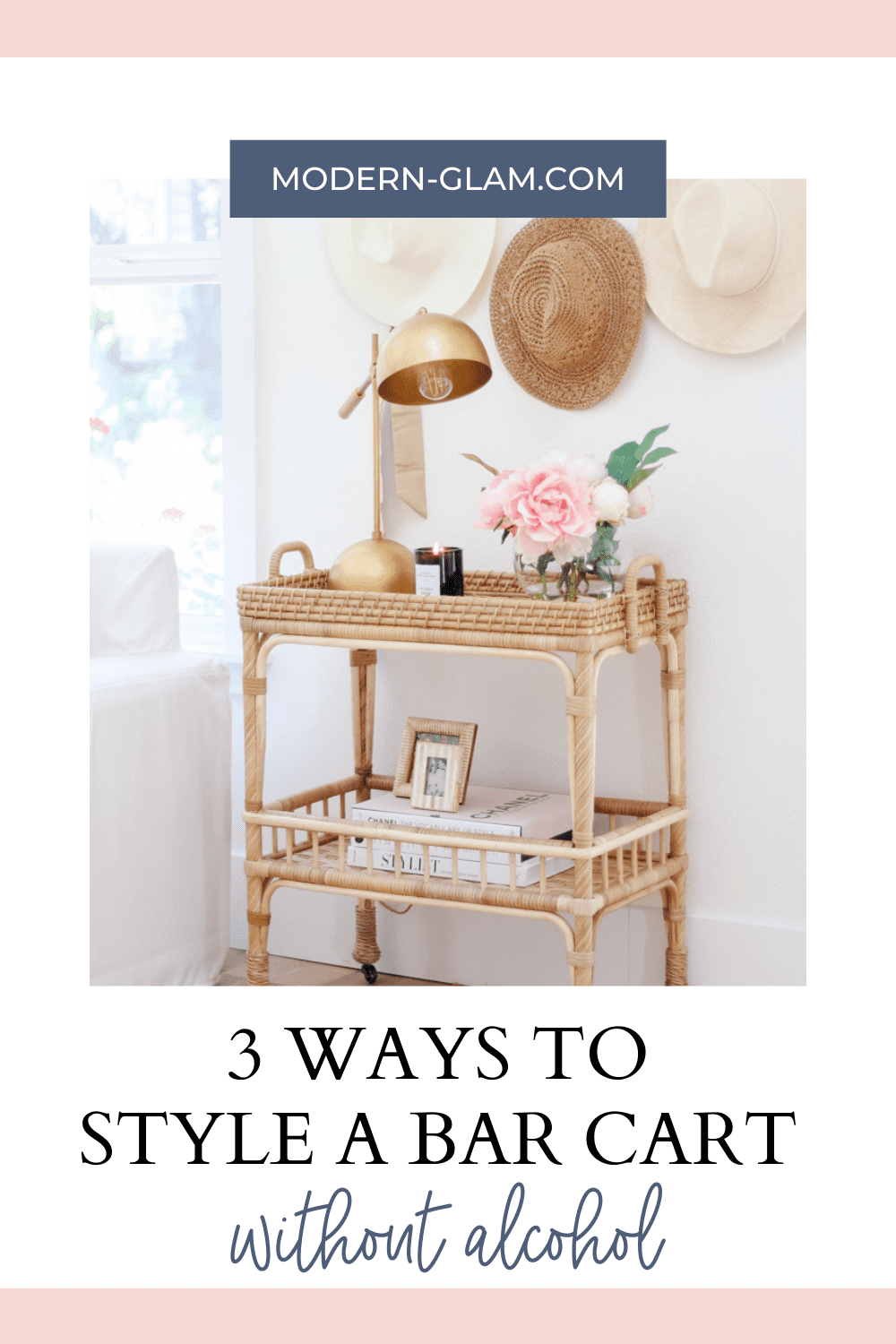 Other Bar Cart Ideas
I am no stranger to a bar cart – lol! Here are some other ideas that I have shared in the past for styling your bar cart.