Spaghetti Bolognese but make it healthy! This Whole30 Zoodles Bolognese is made with zucchini noodles and a rich meat sauce.

whole30 Zoodles Bolognese
Changing my diet and doing the Whole30 challenge has been amazing. By eliminating all the inflammatory additives and ingredients, my body feels amazing. Now, I don't consider myself an accomplished chef, but I can throw together a pretty delicious meal.
This Whole30 challenge has made me up my game in the kitchen. And one of my favorite indulgent meals is spaghetti bolognese. It is so rich and savory. A total comfort meal! So I challenged myself to make my favorite meal Whole30 compliant. Not only is this Whole30 Zoodles Bolognese as good as the original, you don't get that dreaded carb coma after!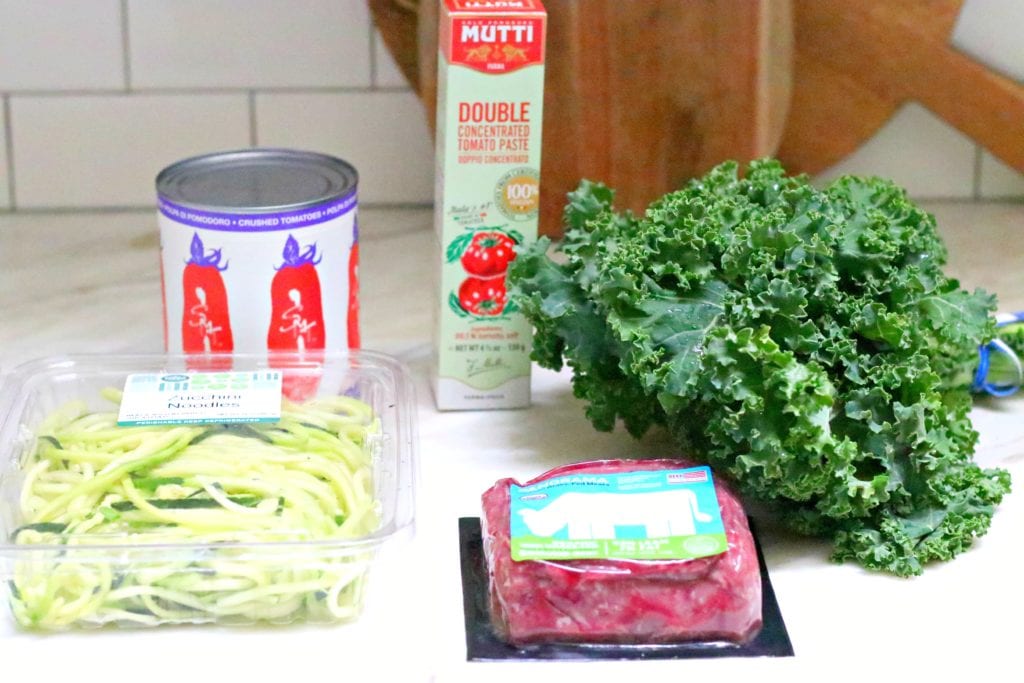 To create a rich a savory sauce for this Whole30 Zoodles Bolognese you need to start with good ingredients. Make sure you check your labels to see if there are any unnecessary additives.
The Noodles
To make your zucchini noodles (or zoodles) you will either need a spiralizer slicer or you can find them prepped in the produce section of the grocery store. To me, this is a total time saver. For the meat, I like to find the leanest ground beef possible. And use organic, free range if possible.
I added kale to this sauce to add more veggies to the mix. Chop the kale up nice and small and no one (not even your kids) will notice. I swear!
Whole30 Zoodles Bolognese Sauce
Once you have chopped your vegetables, it's time to make the Whole30 doodles bolognese sauce. Heat the olive oil in a large sauce pan. Next, add the onions and garlic to the pan and sauté for 2-3 minutes. Then, add the chopped kale and cook for 5 more minutes until wilted. Transfer to a plate.
Heat the pan again over medium heat and add the ground beef. Season with salt and pepper and Italian Seasoning. I like to season my ingredients as they go. I find that by adding salt while cooking rather than all at the end, brings out all the individual flavors better.
Brown the meat and then add back in the vegetables. To the meat and vegetables, add in the can of crushed tomatoes and 3-4 tablespoons of tomato paste. Let this heavenly medley simmer on a low heat for 20-30 minutes. Season with salt and pepper to taste.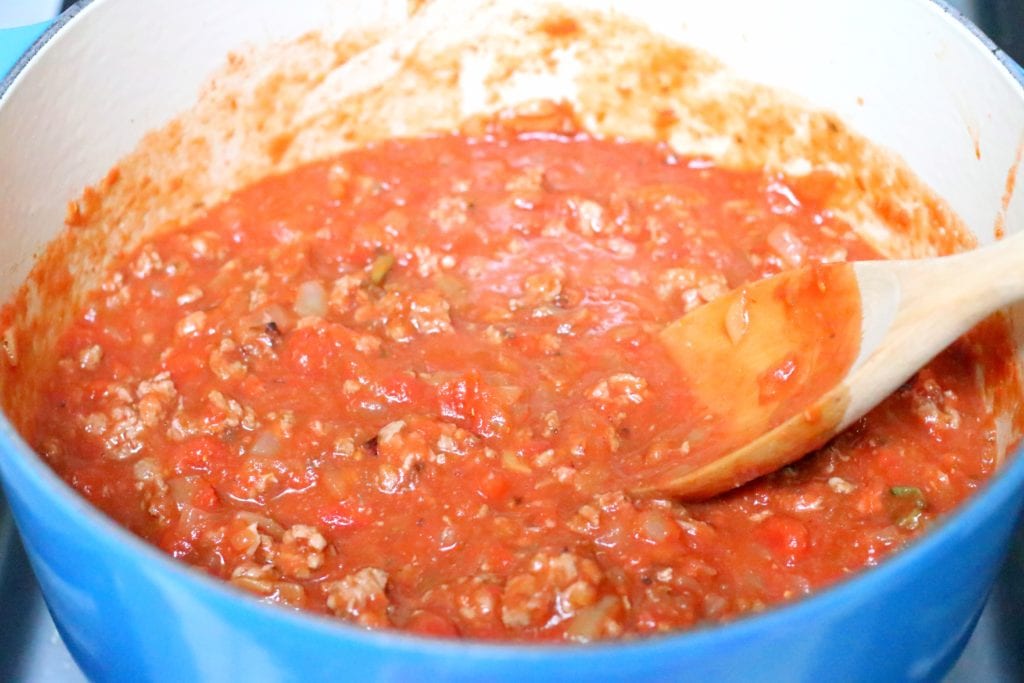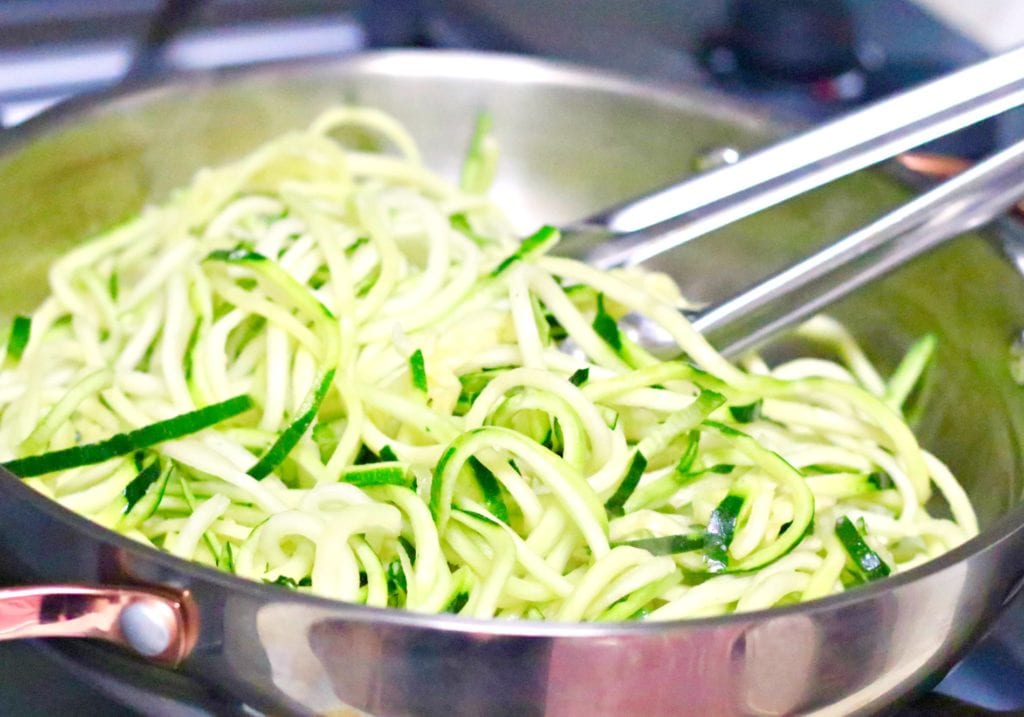 Meanwhile, heat a pan over medium-high heat. Add in the olive oil. Once hot, add the zucchini noodles. Do not salt them! This will draw out the moisture and make them soggy. The trick to cooking your noodles is to make sure they are al dente. Do not overcook them or you will be left with a limp, soggy mess! Cook the zucchini for about 5 minutes until they are softened.
Transfer the noodles to individual plates and spoon the rich and savory bolognese sauce over the zucchini noodles. Garnish with freshly chopped parsley.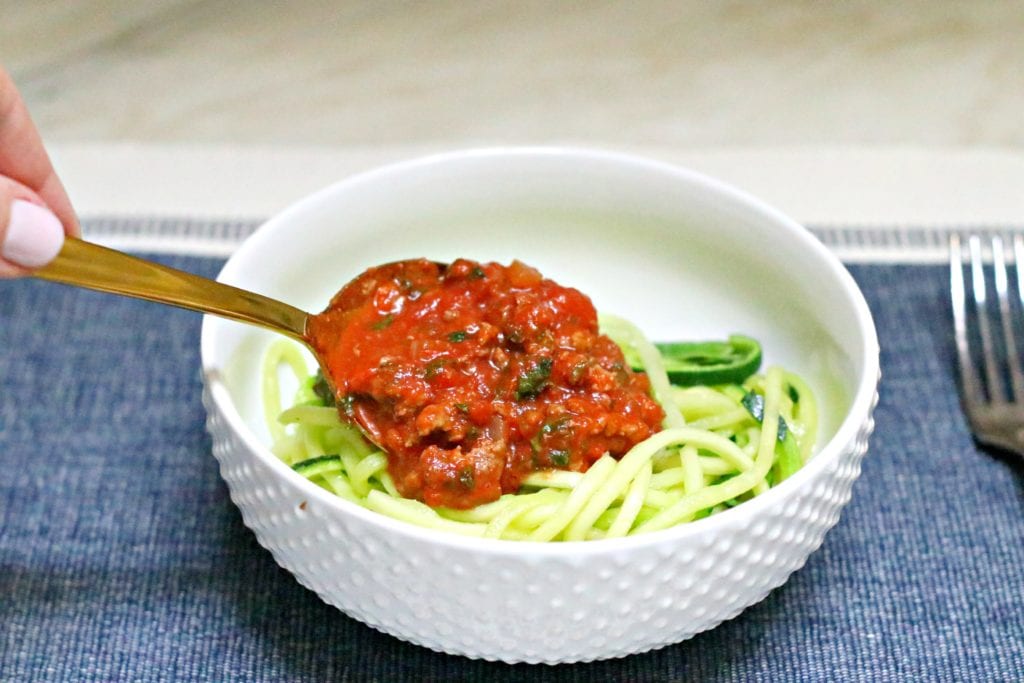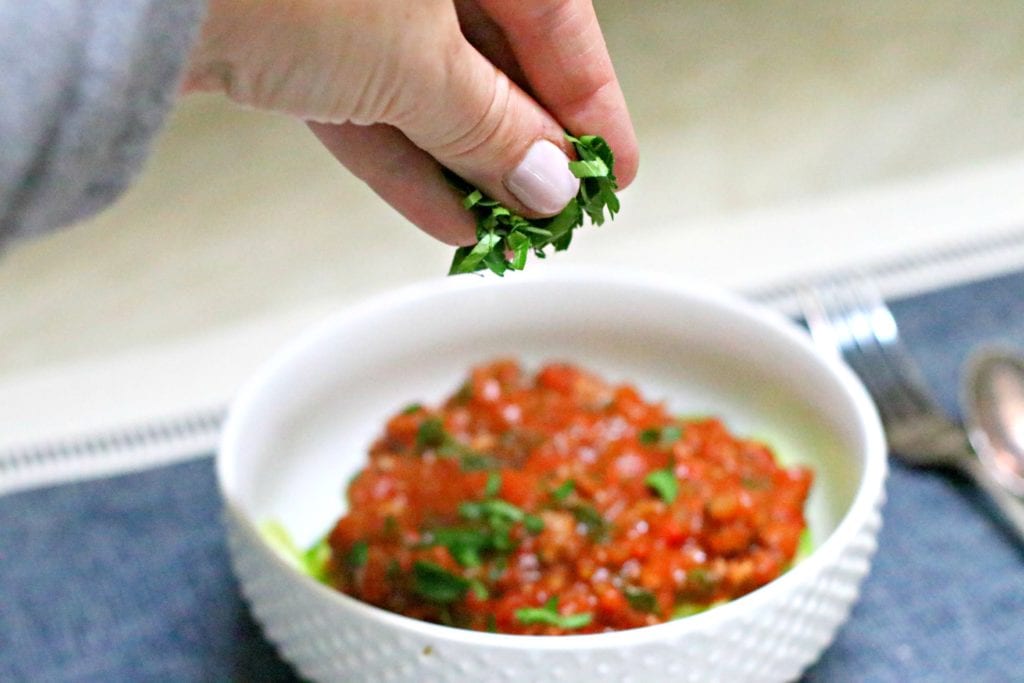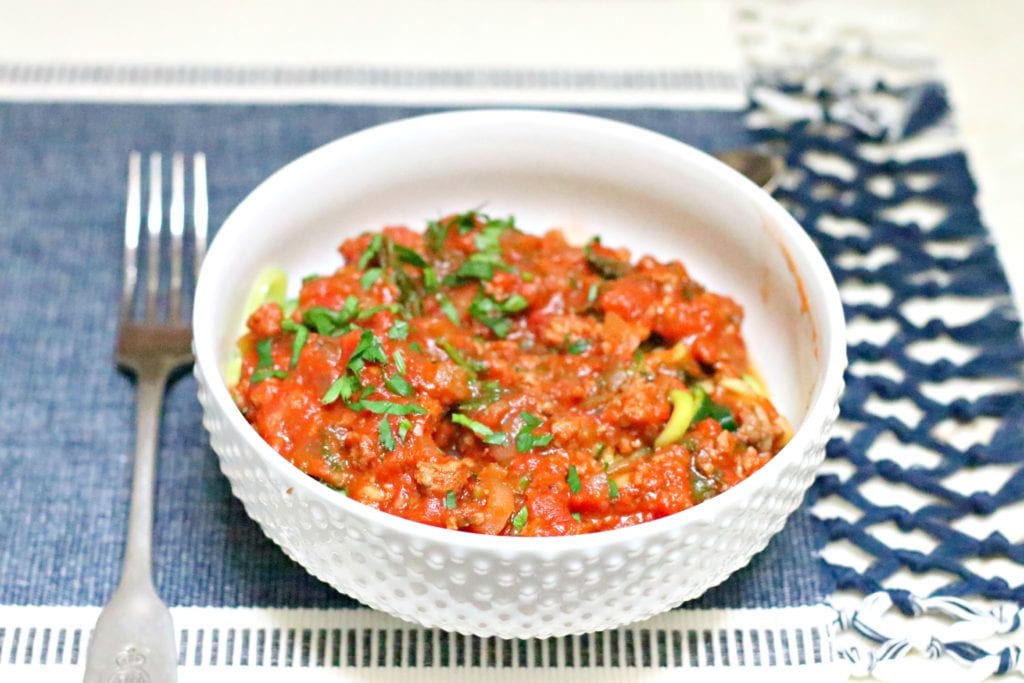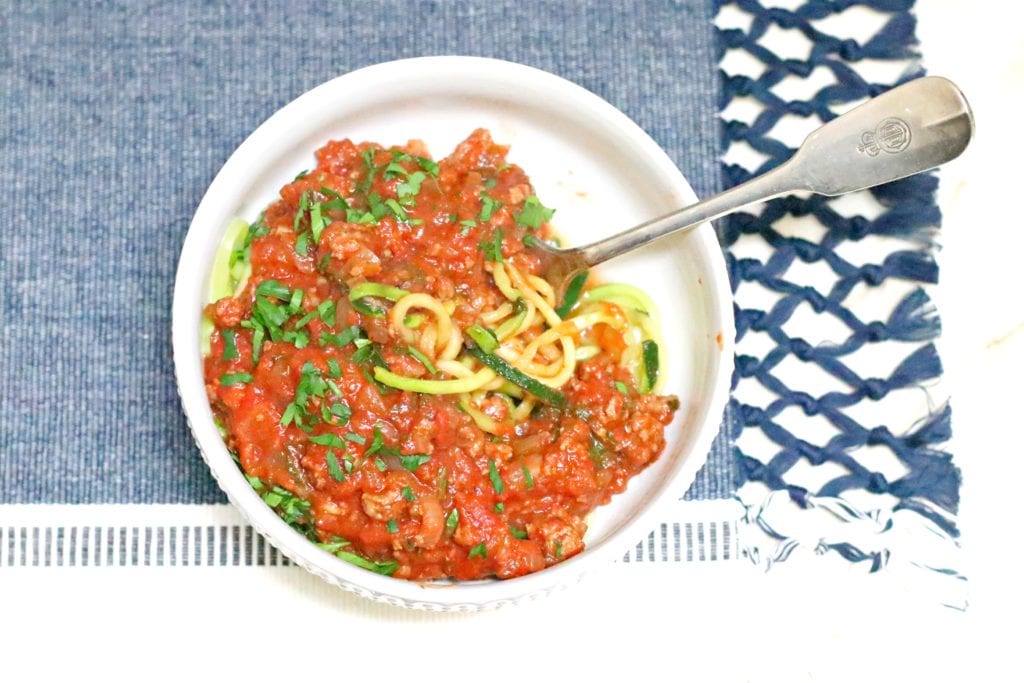 More Healthy Recipe Ideas
Recipe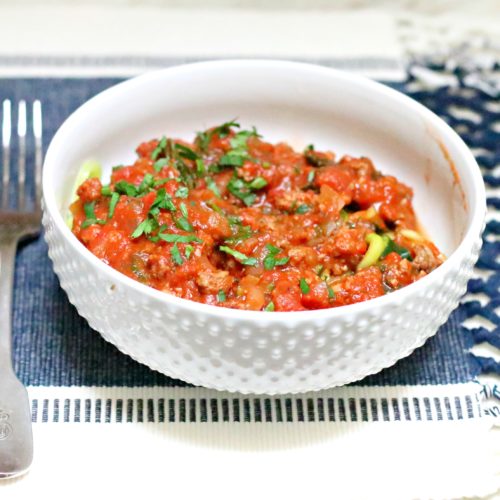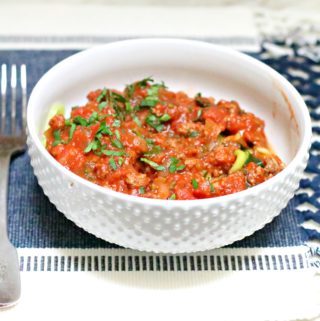 Whole30 Zoodles Bolognese
Ingredients
1/2

Onion

finely chopped

3

cups

Chopped Kale

2

cloves

Garlic

2

tsp

Italian Seasoning

1

28 oz can

Crushed Tomatoes

3

tbsp

Tomato Paste

14

oz

Zucchini Noodles

Olive oil

Salt and Peper

to taste

1

lb

Leanest Ground Beef

2

tbsp

Chopped Fresh Parsley
Instructions
Add 2 tablespoons olive oil to a large sauce pan set over medium heat. Once the oil is warm, add the garlic and onions and cook until the garlic is golden and the onions are translucent, about 3 minutes. Add in the chopped kale and season the mixture with a pinch of salt and pepper. Cook for 5 minutes more until the kale is softened. Transfer to a plate.

Add the ground beef to the pan and break the meat into small pieces while it cooks. Season with salt, pepper and Italian Seasoning. Once the meat is browned, add back in the sautéed vegetables.

Add the crushed tomatoes, tomato paste to the pan. Reduce the heat to low simmer, stirring occasionally, for 20-30 minutes. While the sauce cooks, make the zucchini noodles.

Add 1 T. olive oil to a large sauté pan set over medium-high heat. Once the pan is hot, add the zucchini noodles and cook them, tossing them constantly, for 2-3 minutes just until they're wilted slightly. Do not add any salt to the pant and do not overcook the noodles or they will be soggy.

When ready to serve, plate the zucchini noodles, top them with the bolognese and garnish with freshly chopped parsley. Serve immediately.