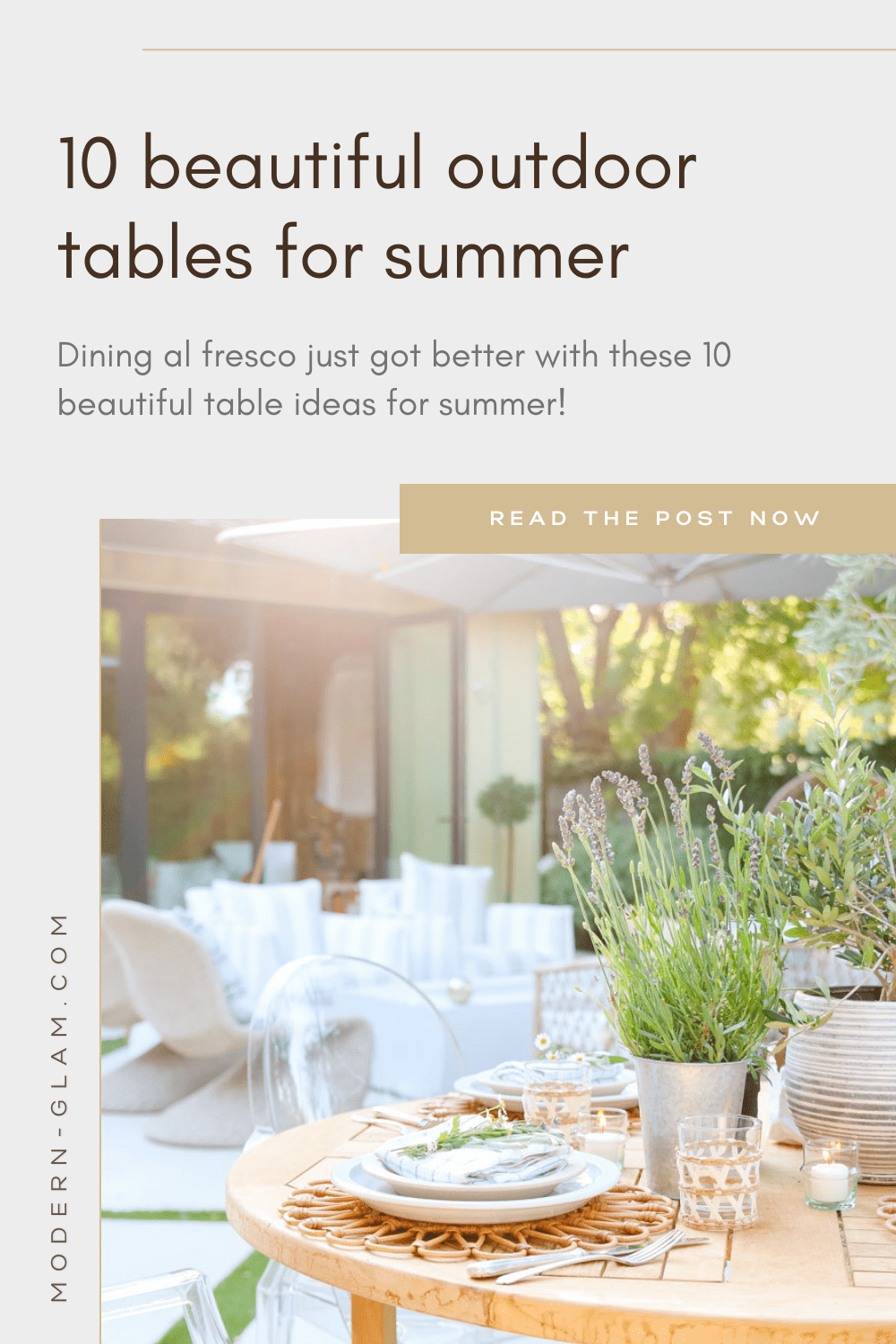 Come learn How To Set An Outdoor Table including easy outdoor centerpieces and quick setup for last minute get togethers!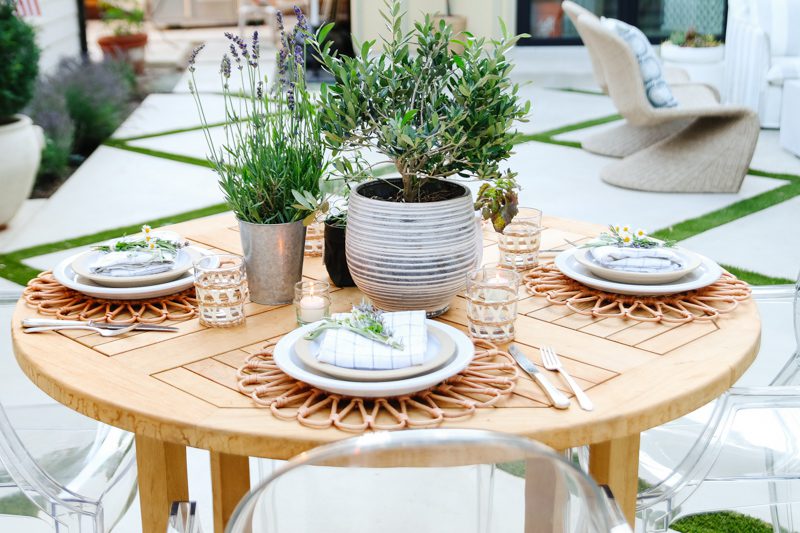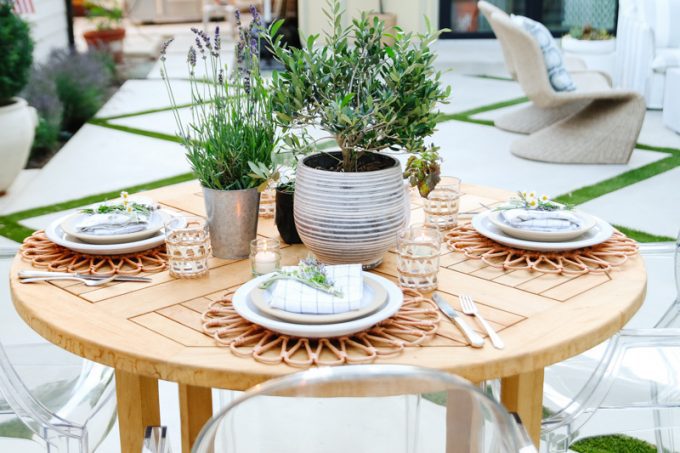 We have been remodeling our backyard for over 6 months and our patio is almost complete! I was so excited to set up this outdoor table for summer. And I can't wait to share with you my tips for making summer entertaining stress-free and simple.
How To Set An Outdoor Table For Summer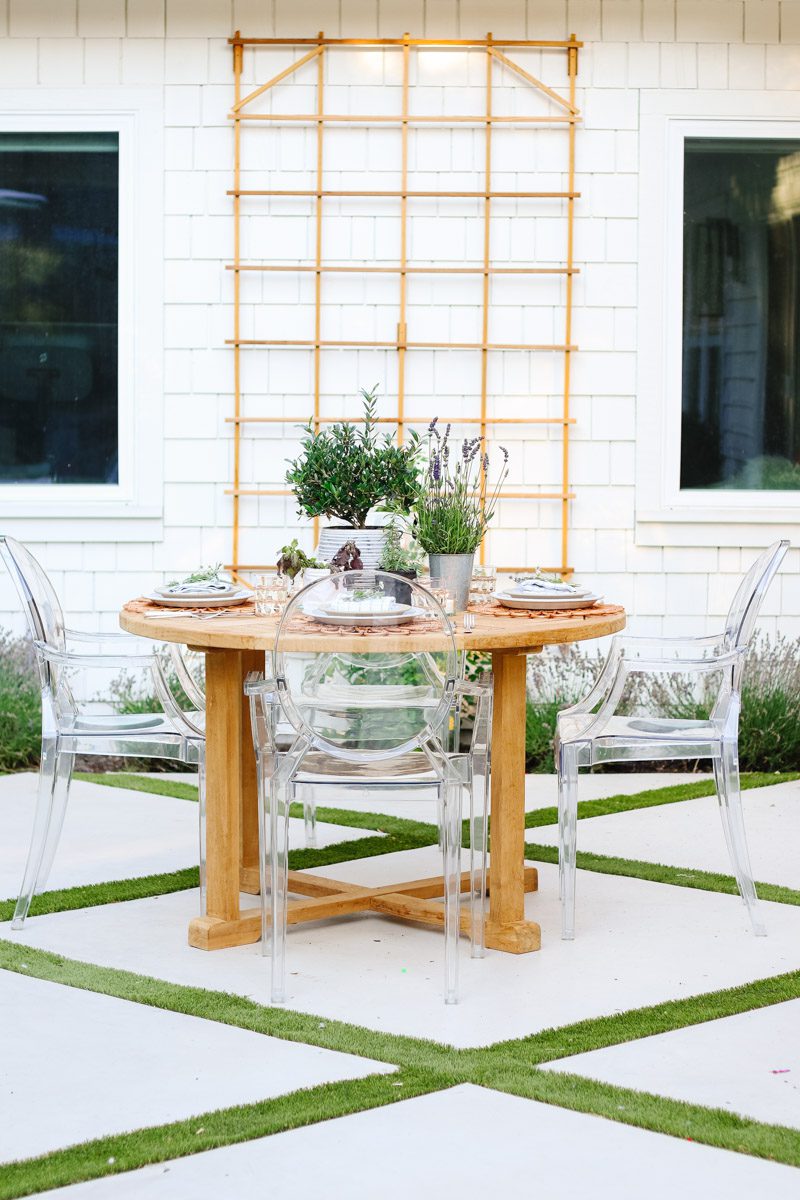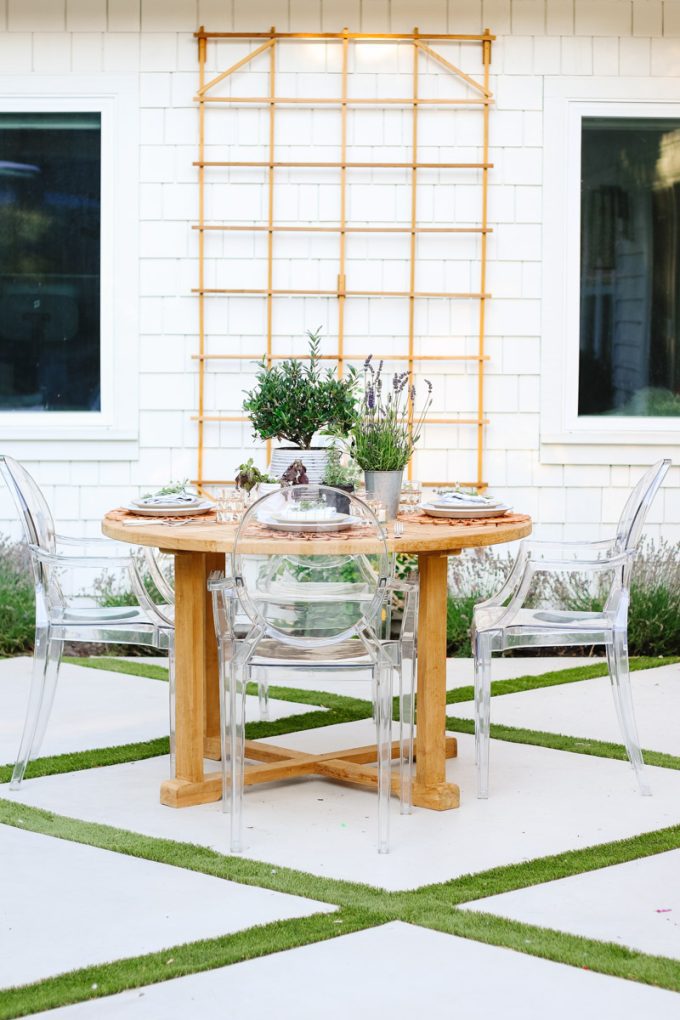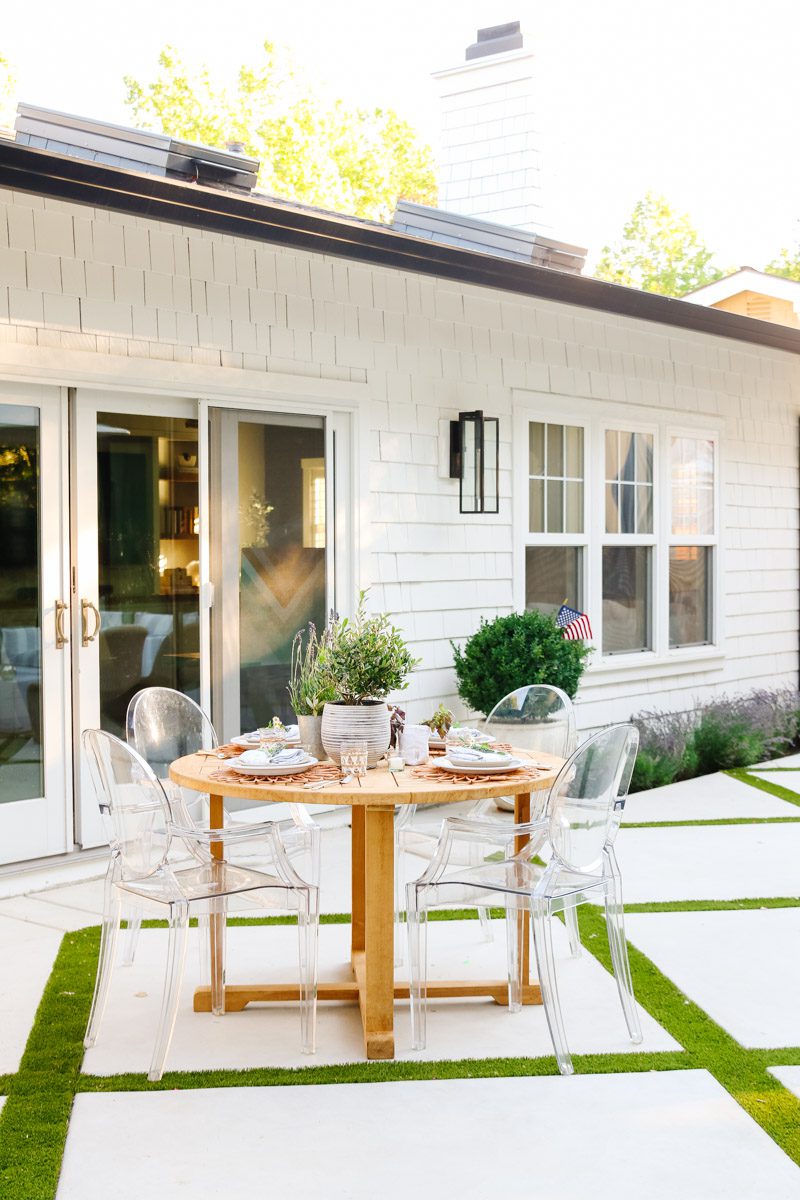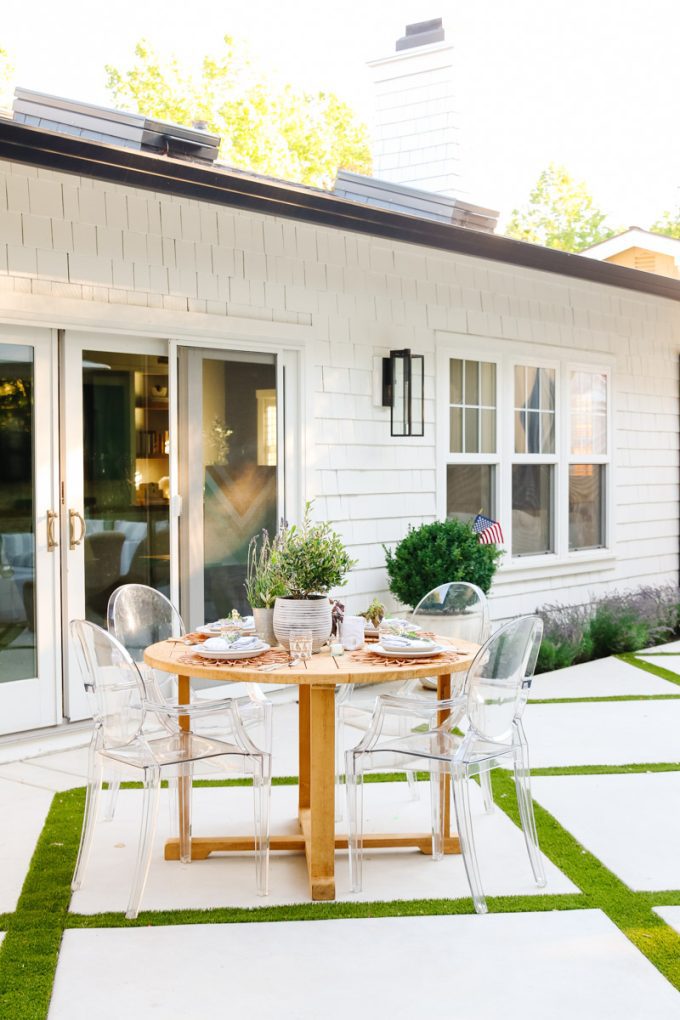 When summer is here, dining al fresco is one of my favorite parts. We just recently got this round teak table and I love eating dinner out here after the sun has gone down. And we are borrowing our indoor dining chairs until the ones we ordered for this table arrive.
Before we dive into all the details and tips for setting and outdoor table for summer, check out these ideas from my friends: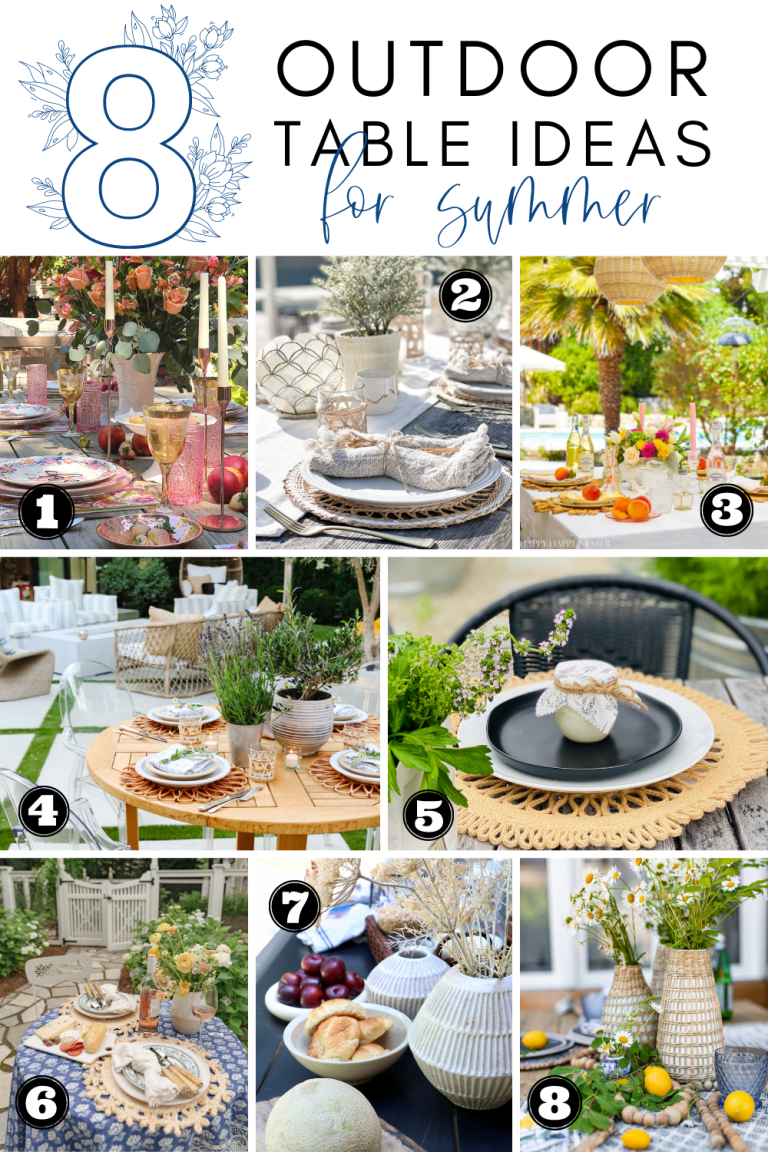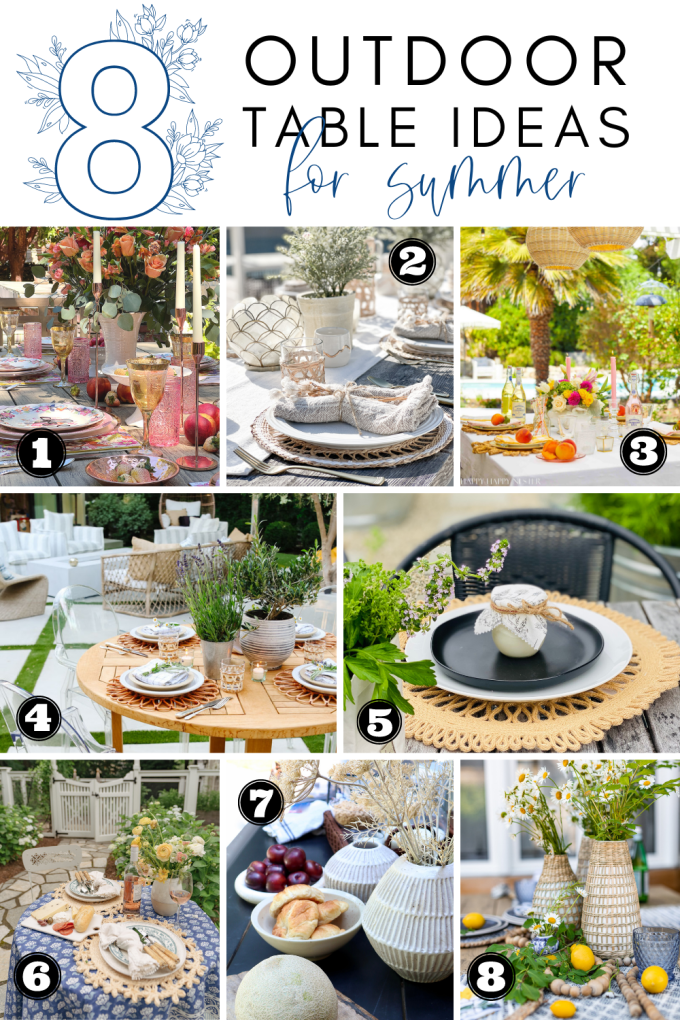 Tips For Setting A Quick Outdoor Table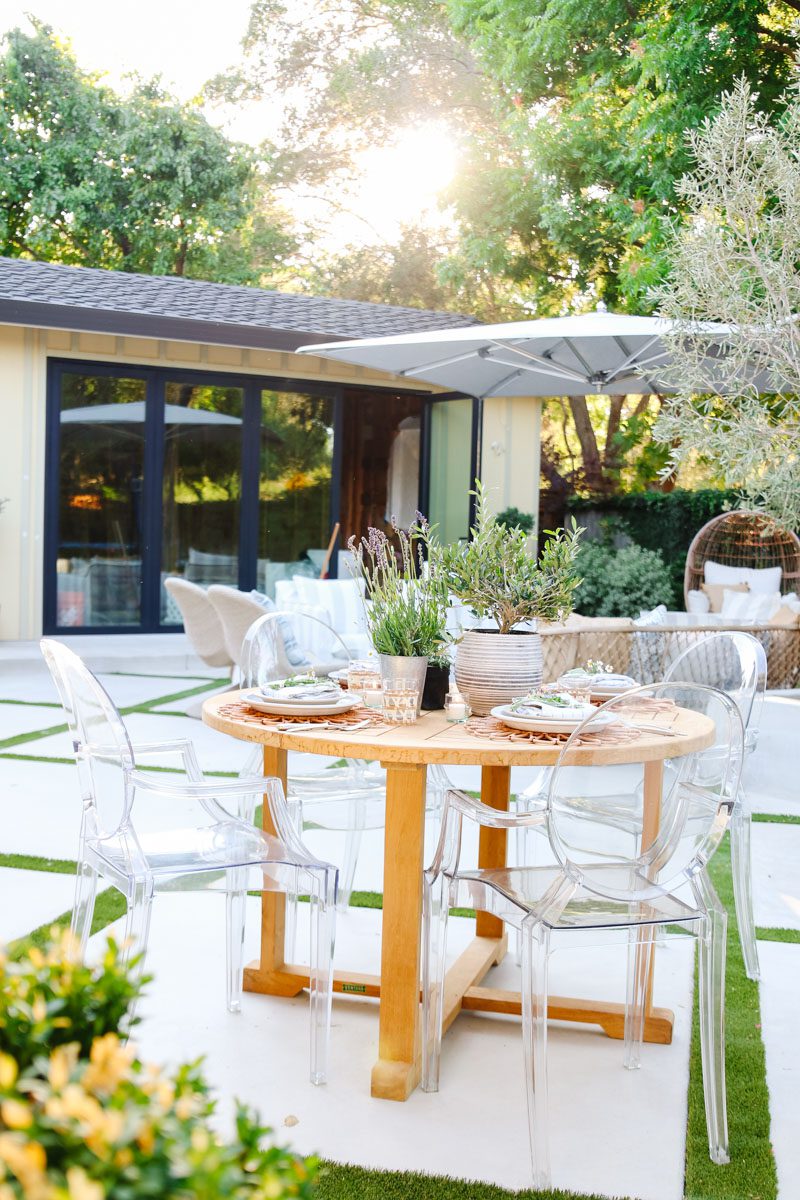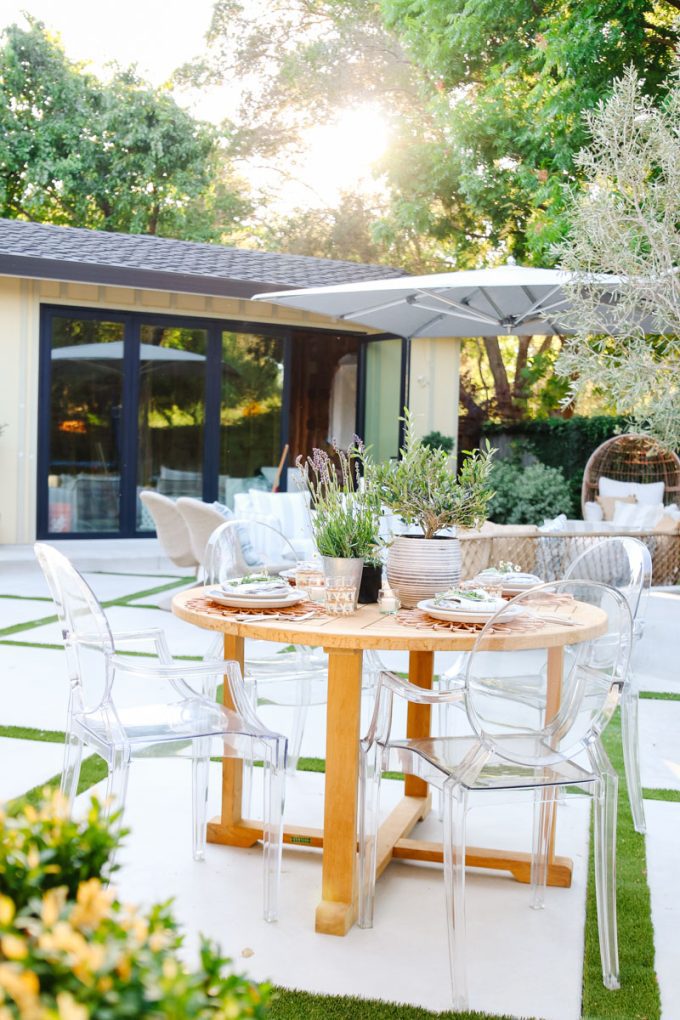 The key to setting a table outdoors is to make it simple and easy to put together. I keep a silverware caddy with utensils and a stack of dishes on a bar cart just inside our french doors. This makes setting the table faster and all dishes more accessible.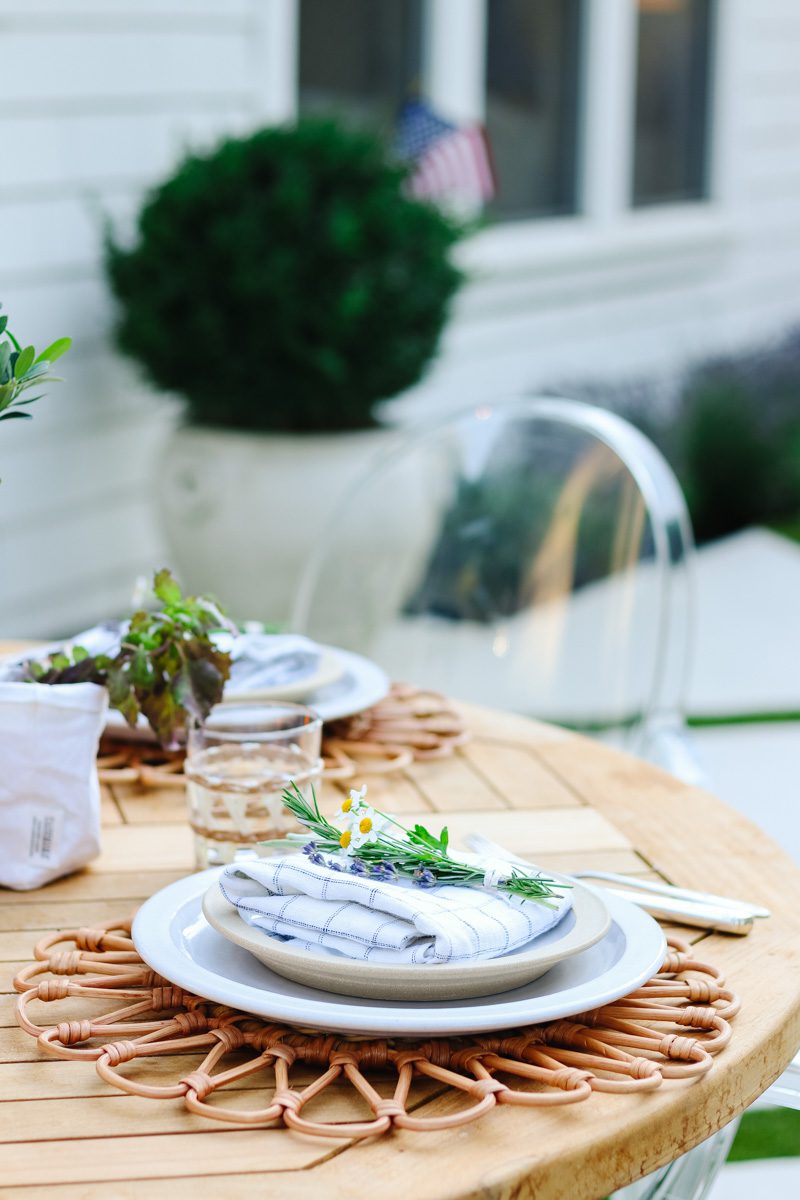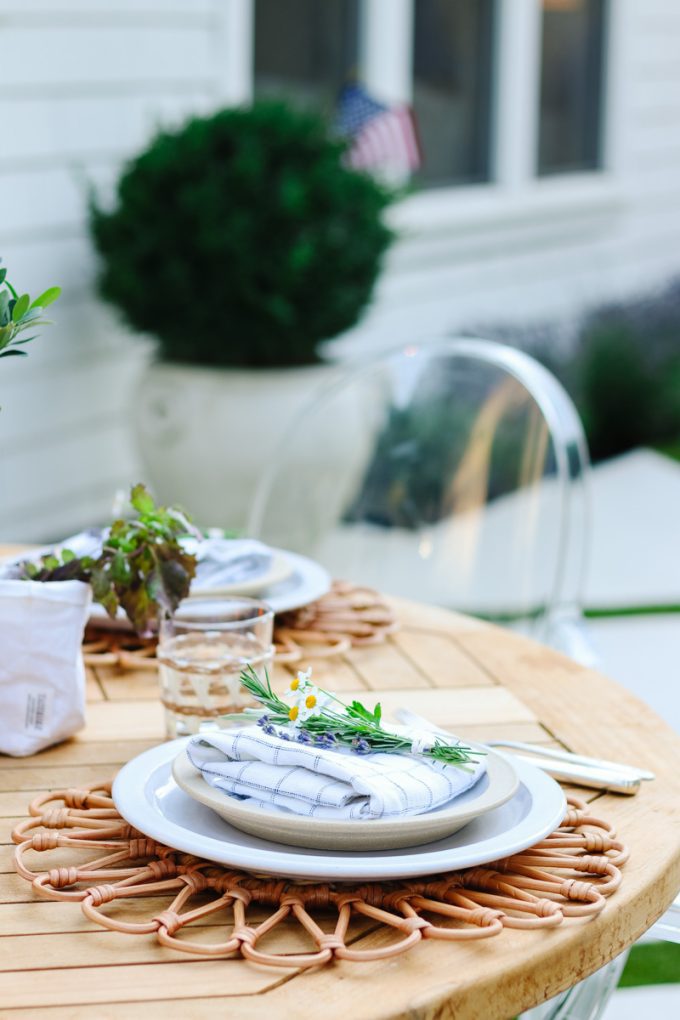 I am also trying to use linen or cotton napkins more regularly to be more environmentally friendly. Not only that, but those paper napkins tend to always blow away outside!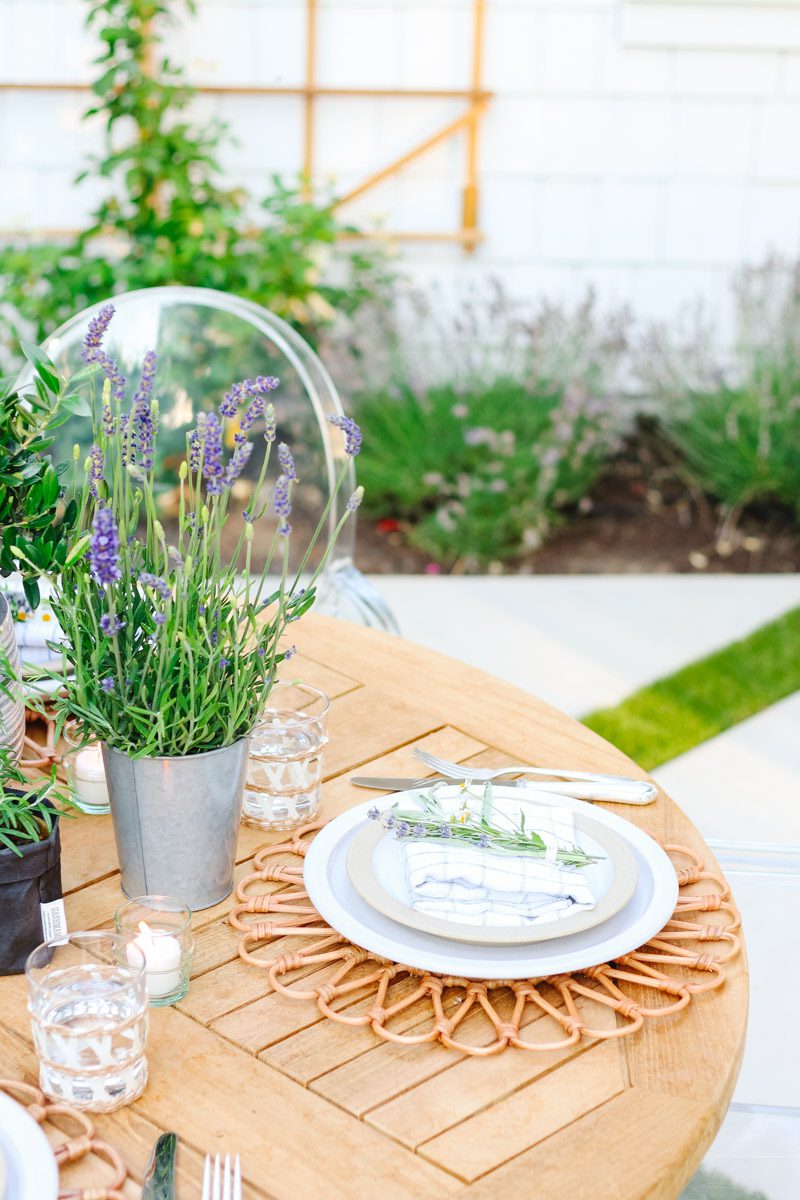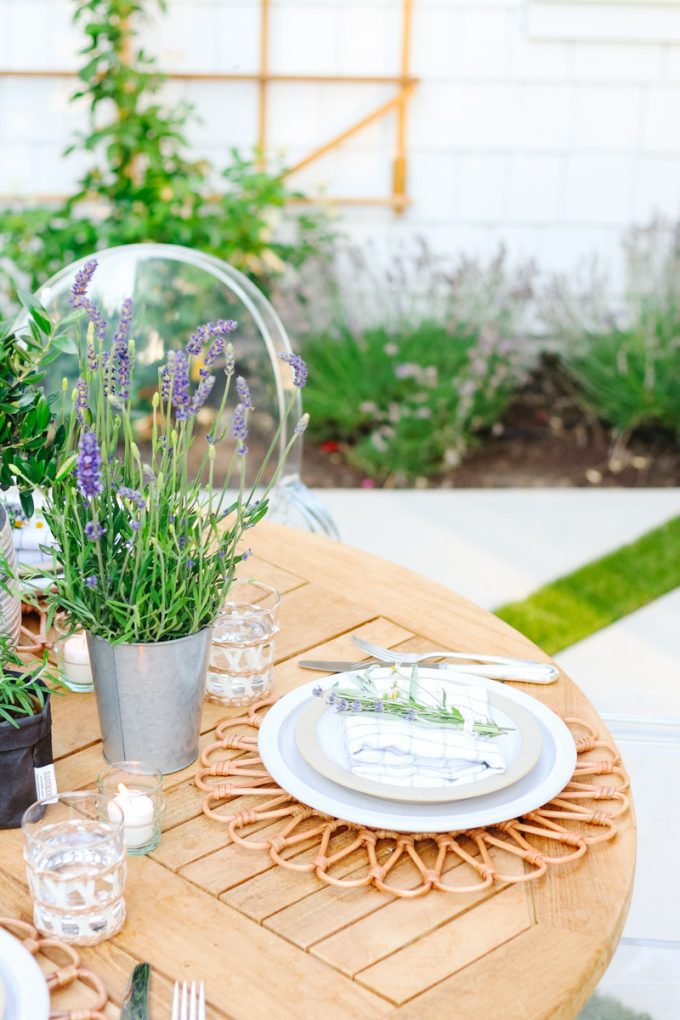 Having your outdoor dishes, cups, utensils and placemats close at hand and ready to go make setting an outdoor table easy and hassle-free. I even have my kids handle this part of the dinner prep!
What To Put In The Center Of An Outdoor Table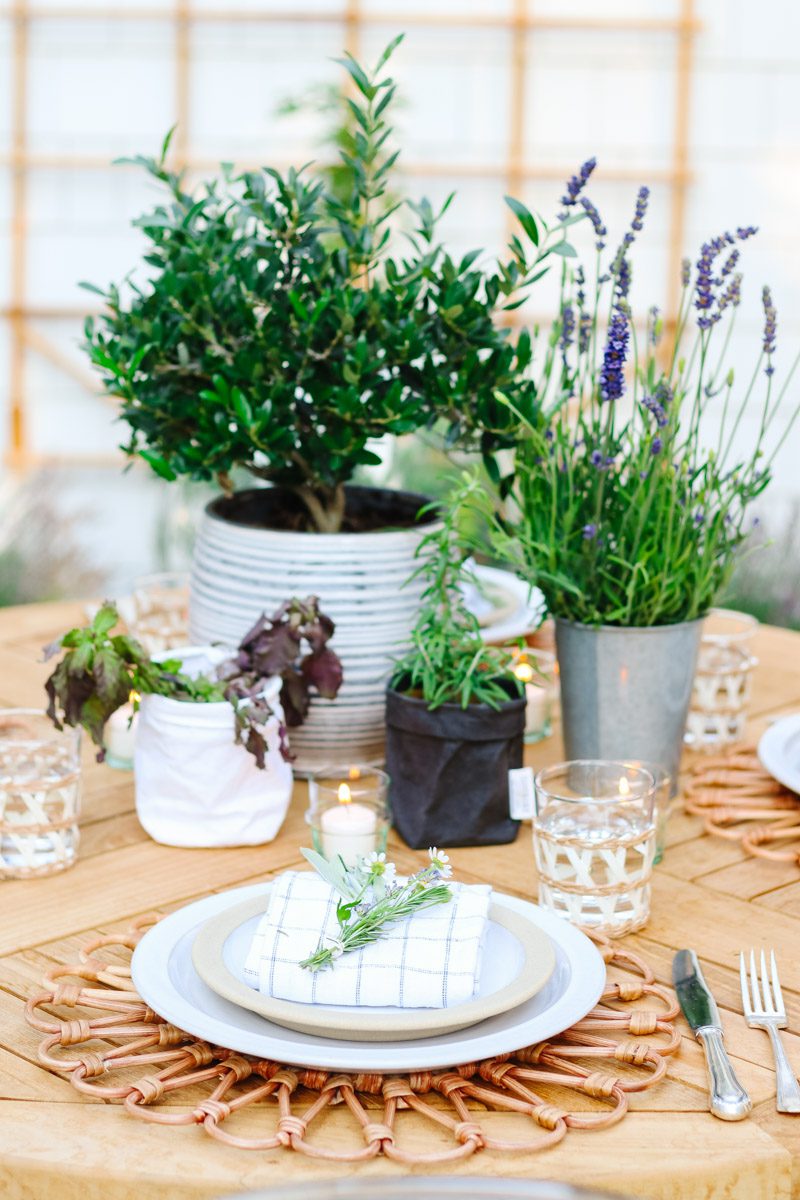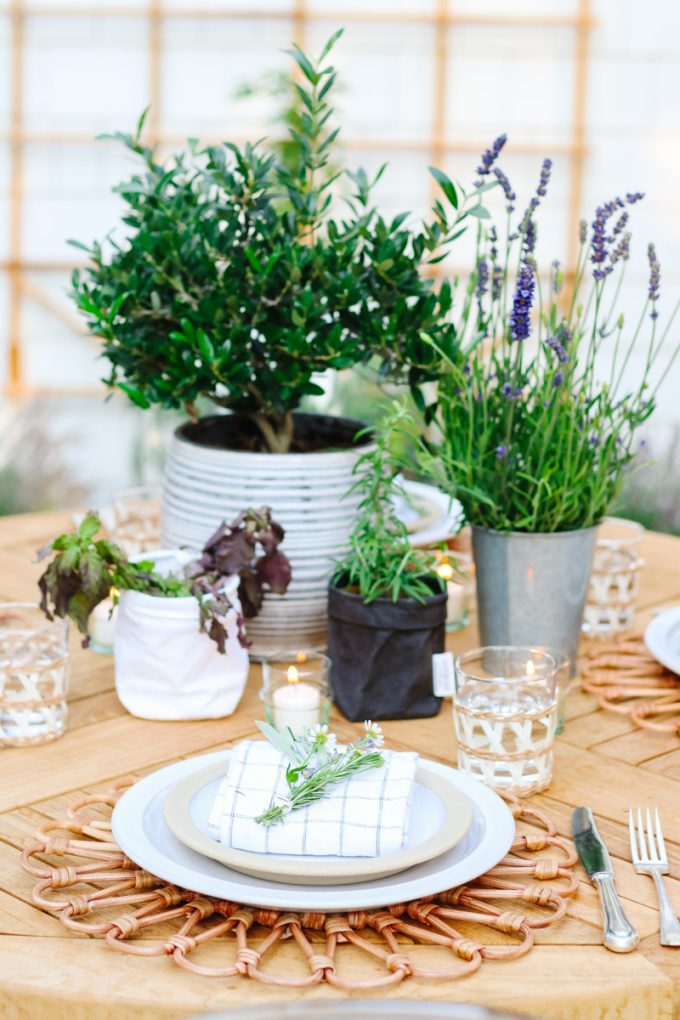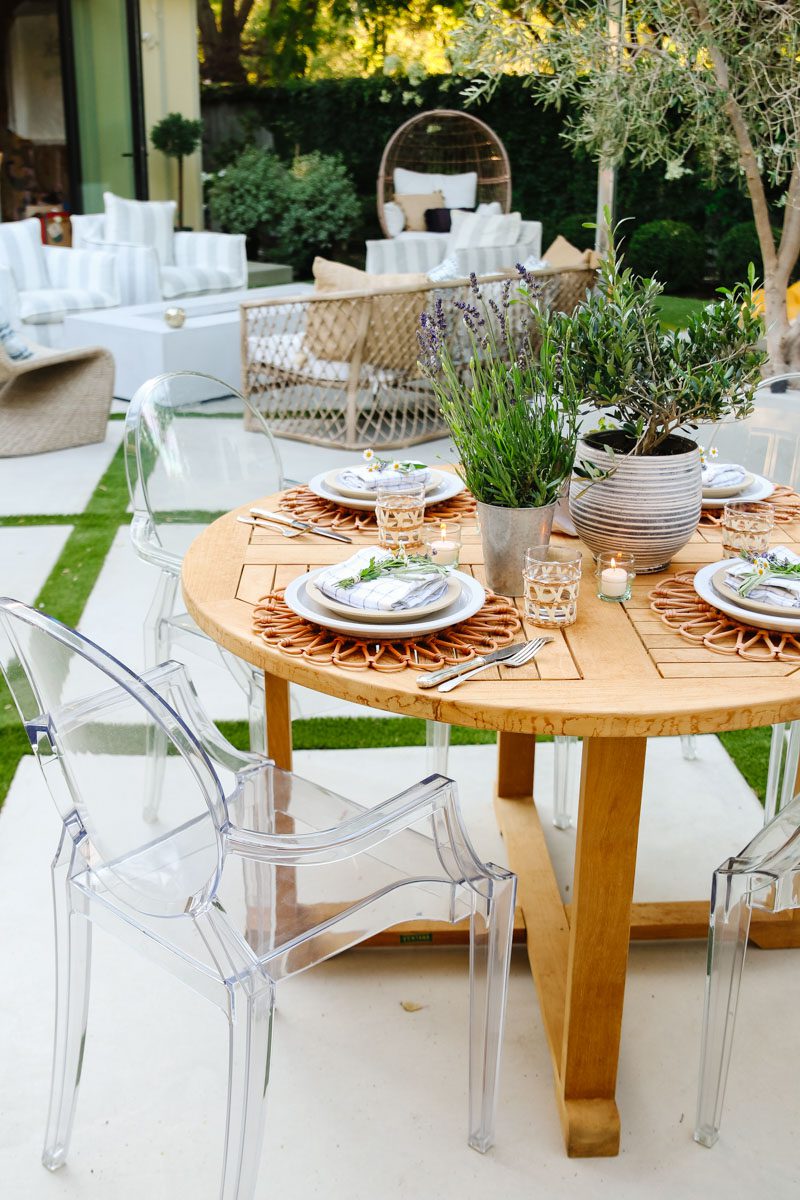 The beauty of dining outdoors during the summer is the abundance of natural beauty surrounding the table. The options for decorating the center of your outdoor table are endless.
Here are some easy ideas to decorate the center of your outdoor table:
A grouping of candles
Outdoor lanterns
A vase with fresh cut roses, flowers or greens
A cluster of potted plants (as I did here)
Easy Outdoor Table Centerpiece Idea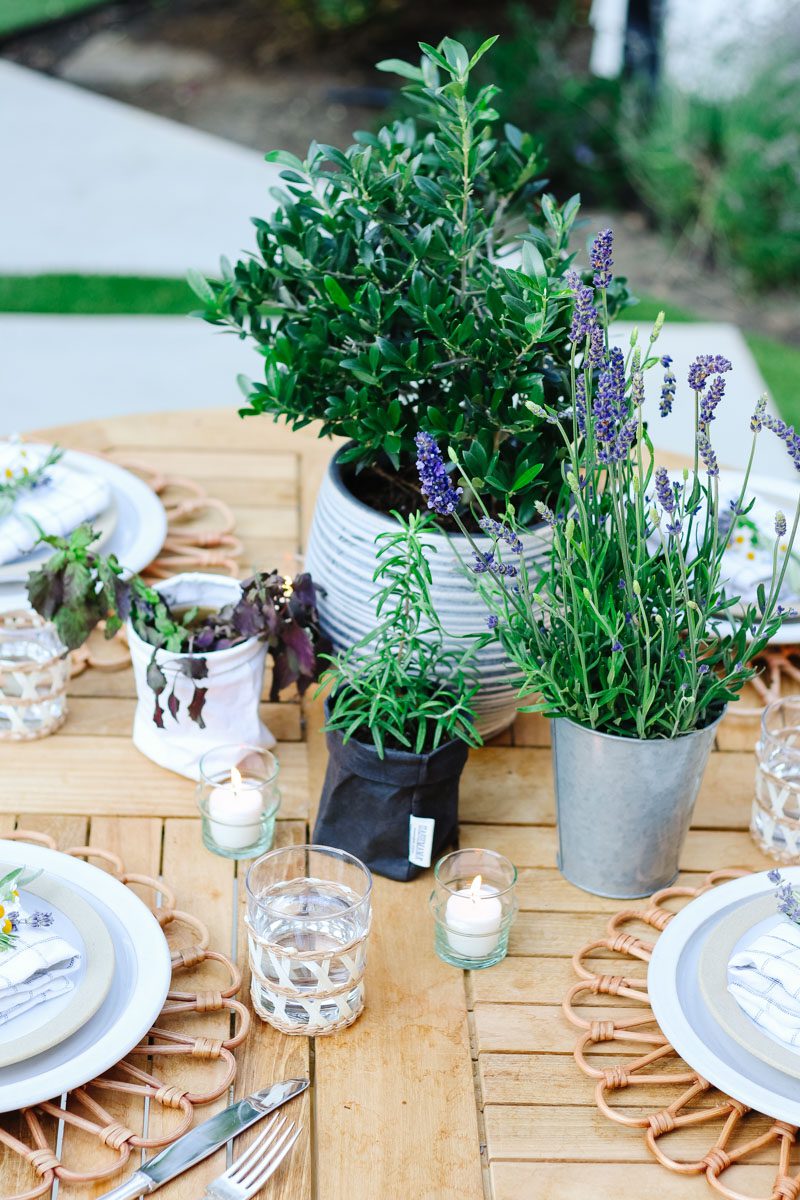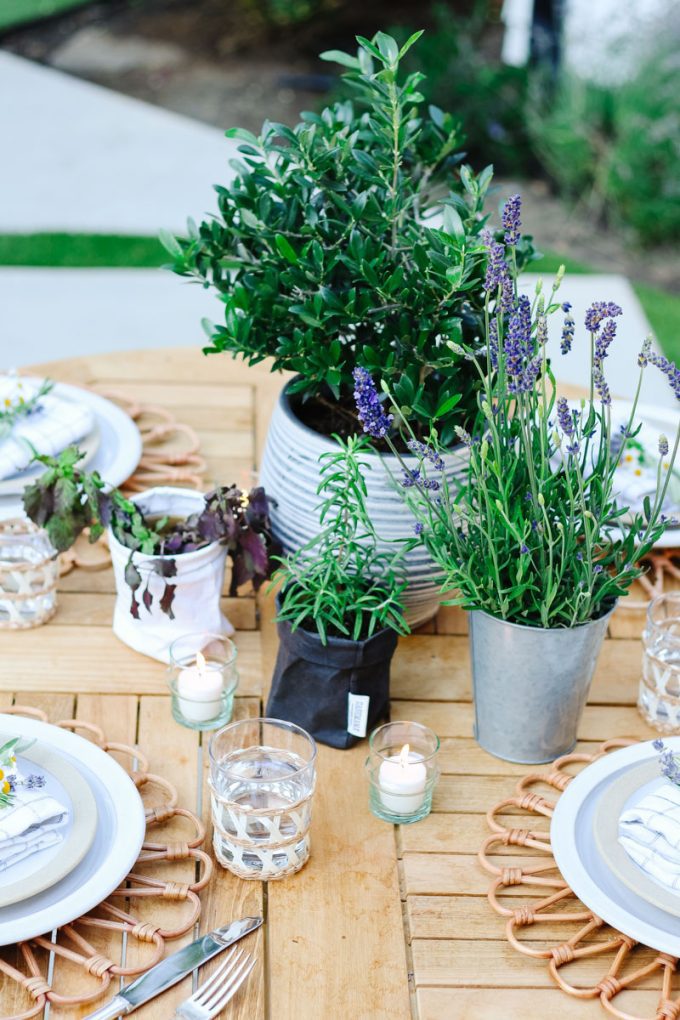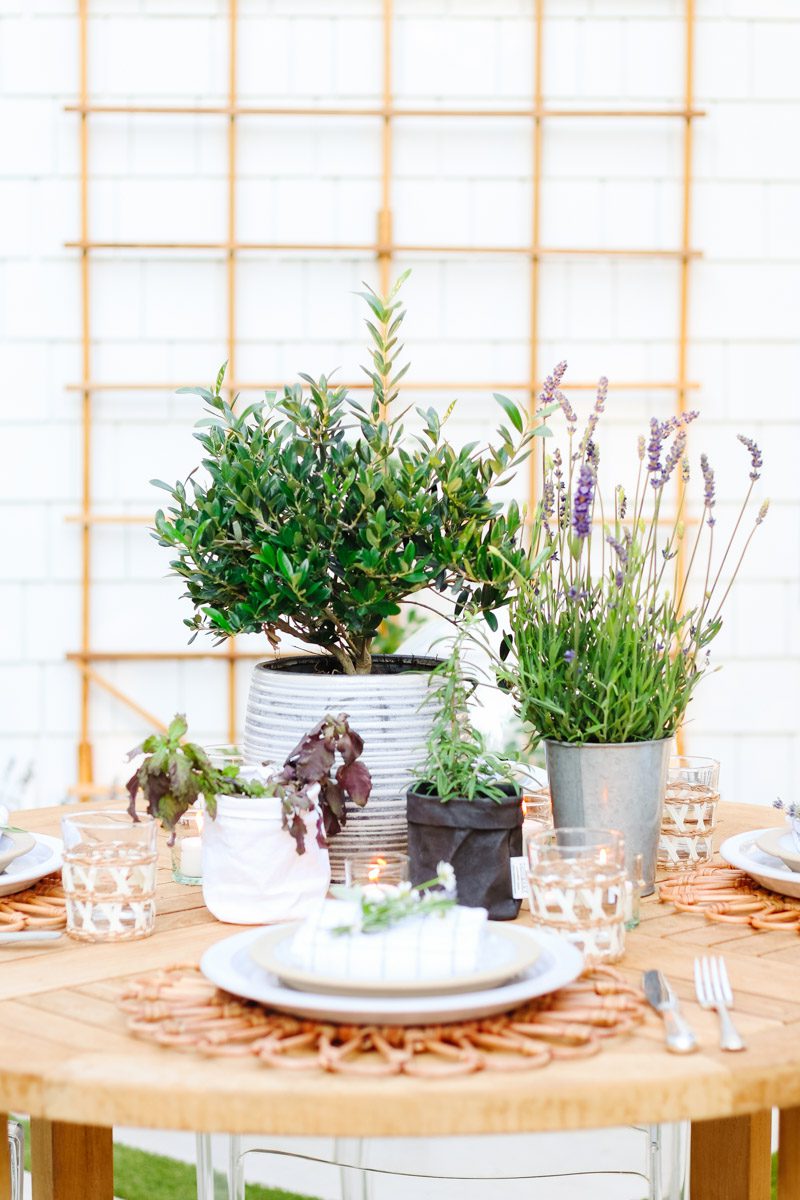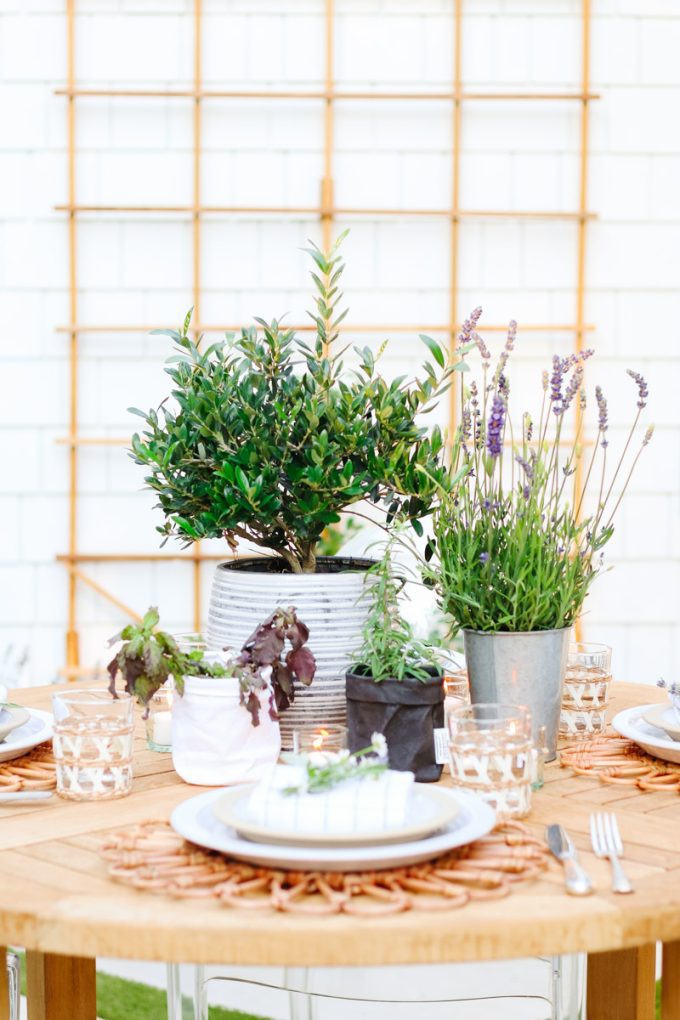 For this outdoor table, I was inspired by the garden. I placed a potted olive tree, English Lavender, and fresh herb pots in the center of the table.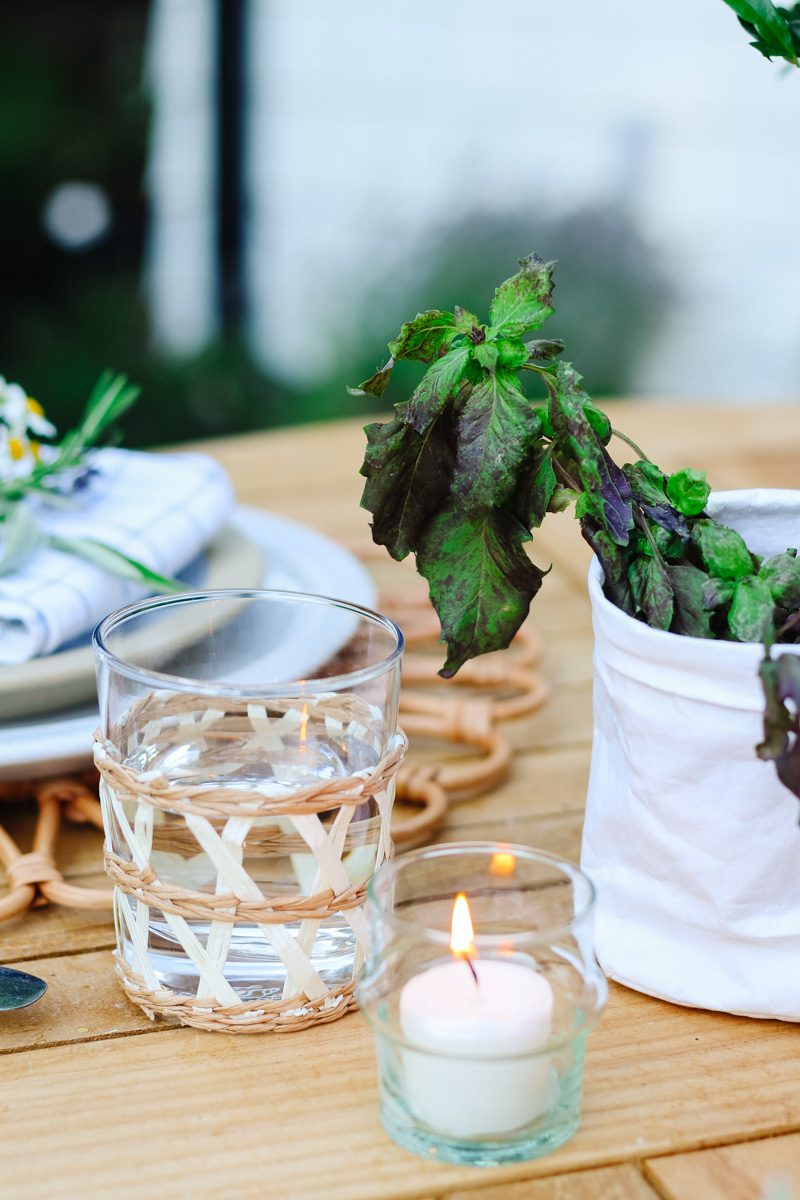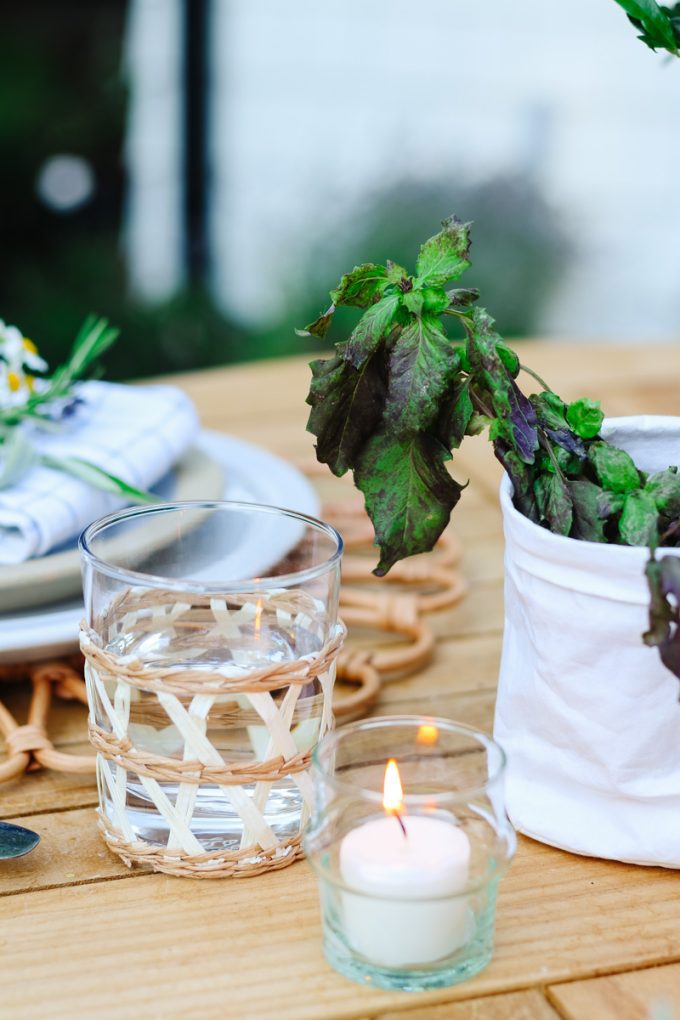 A few votive candles and this outdoor table centerpiece is fresh and easy to put together. Just grab some plants or herbs and the centerpiece will reflect the natural outdoor surroundings of your setting.
Outdoor Table Decorations For Summer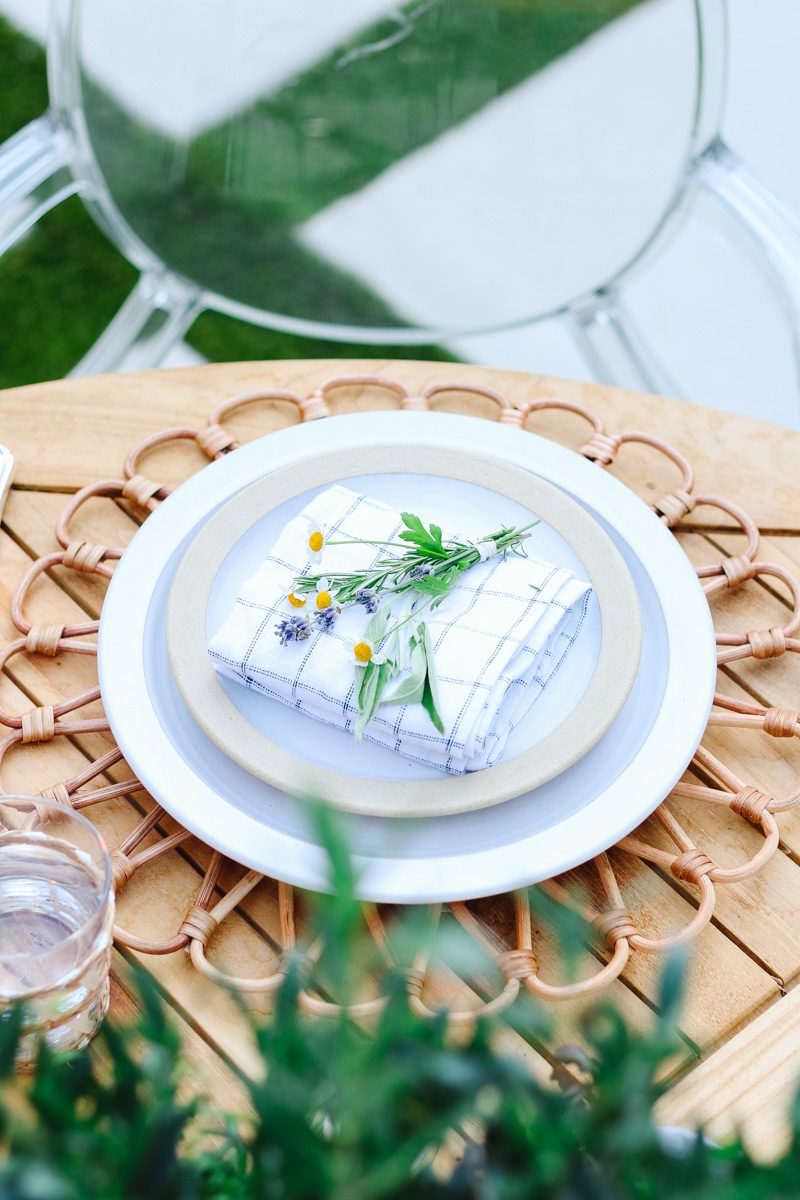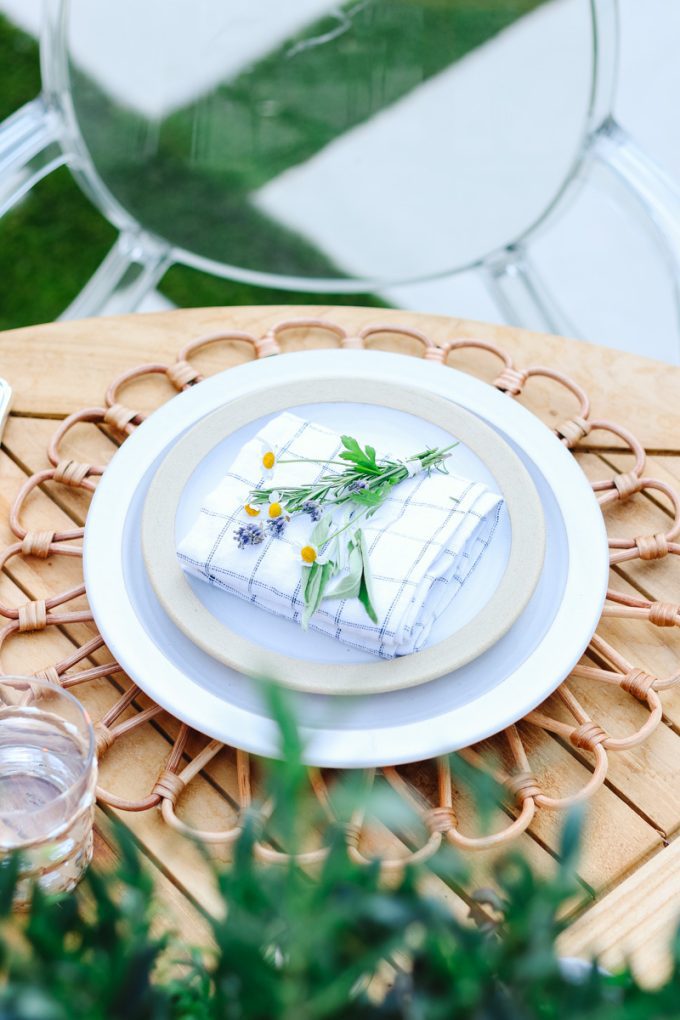 The best part of setting an outdoor table is the simplicity. Because you are dining outdoors, you have the natural beauty of your environment. The table setting itself can be relatively simple and require very little effort.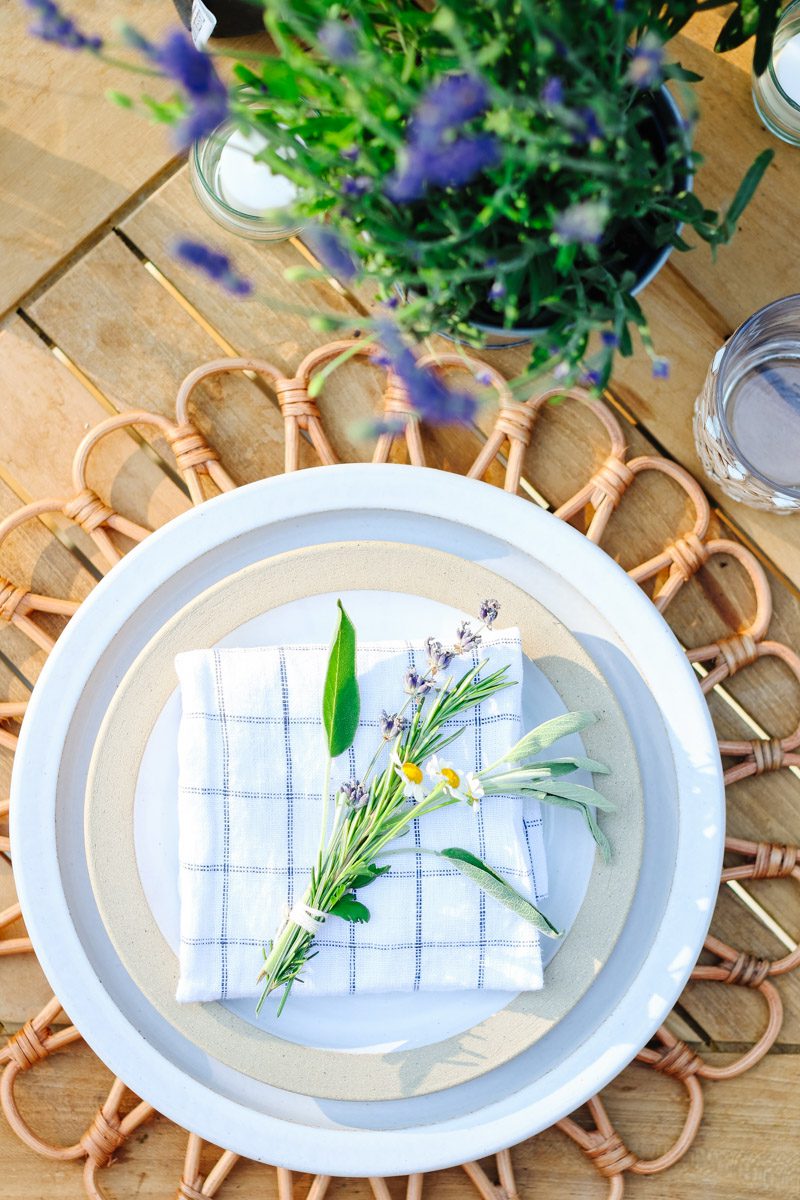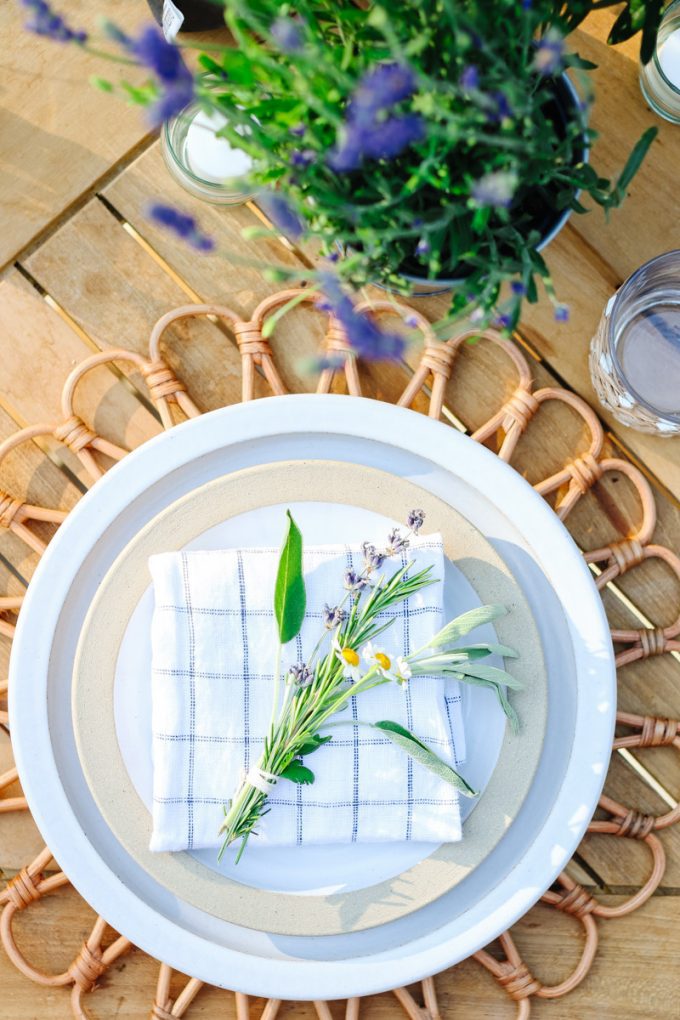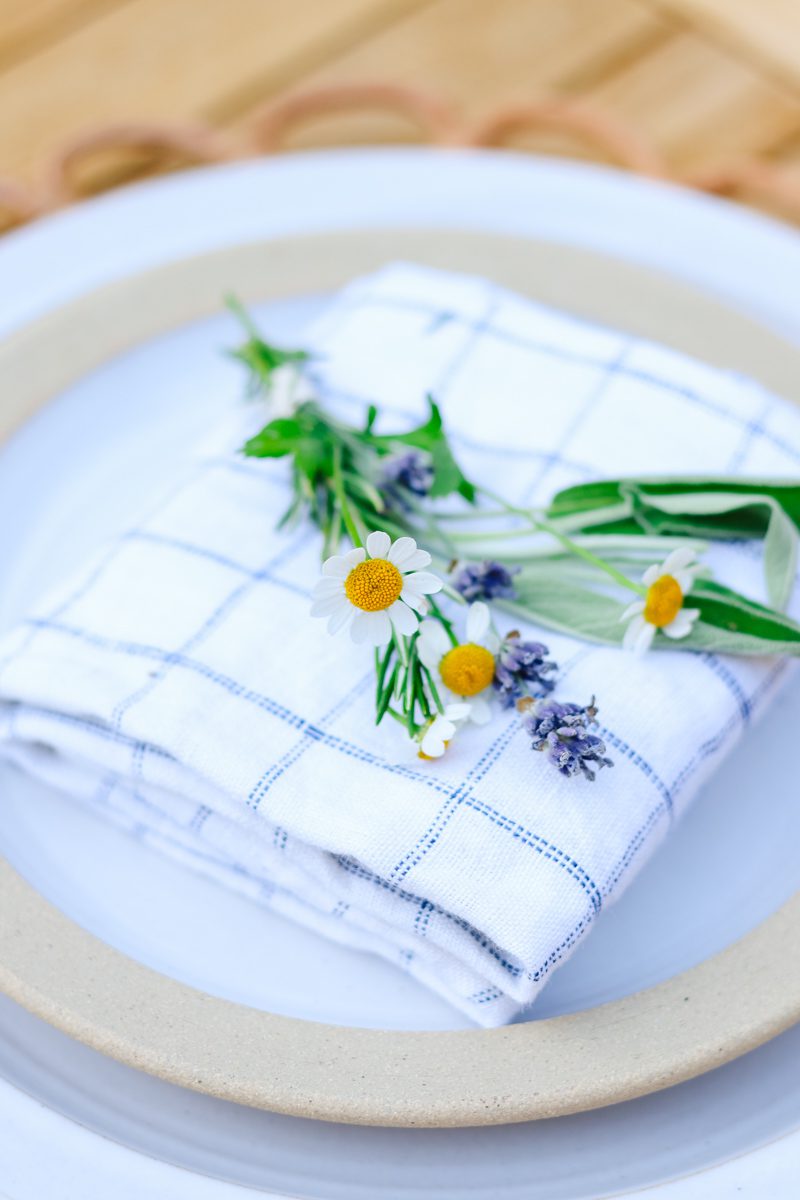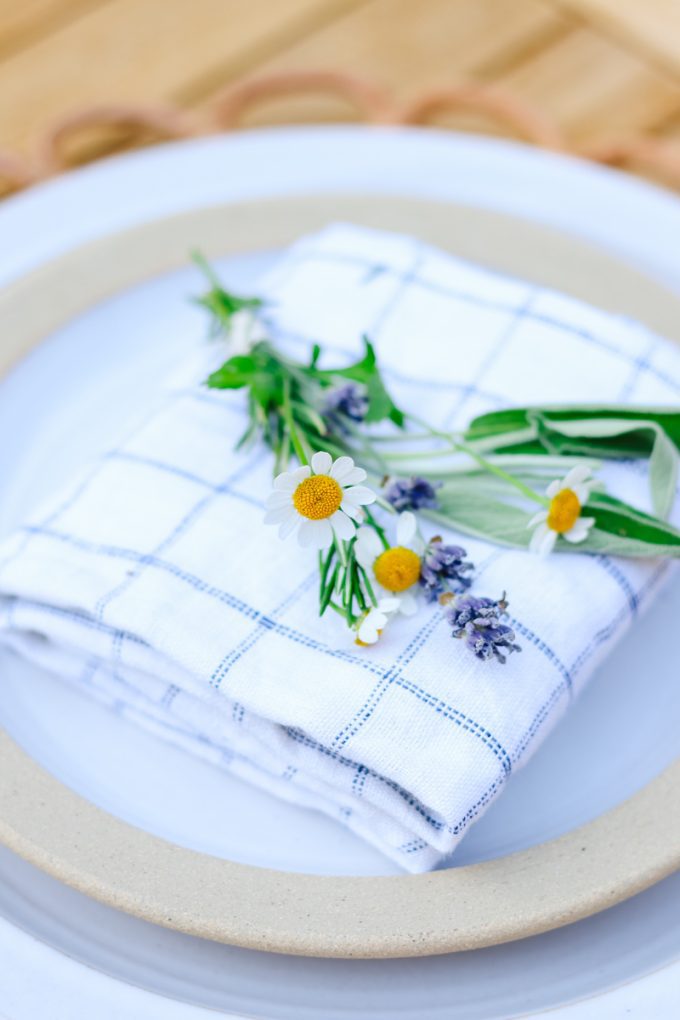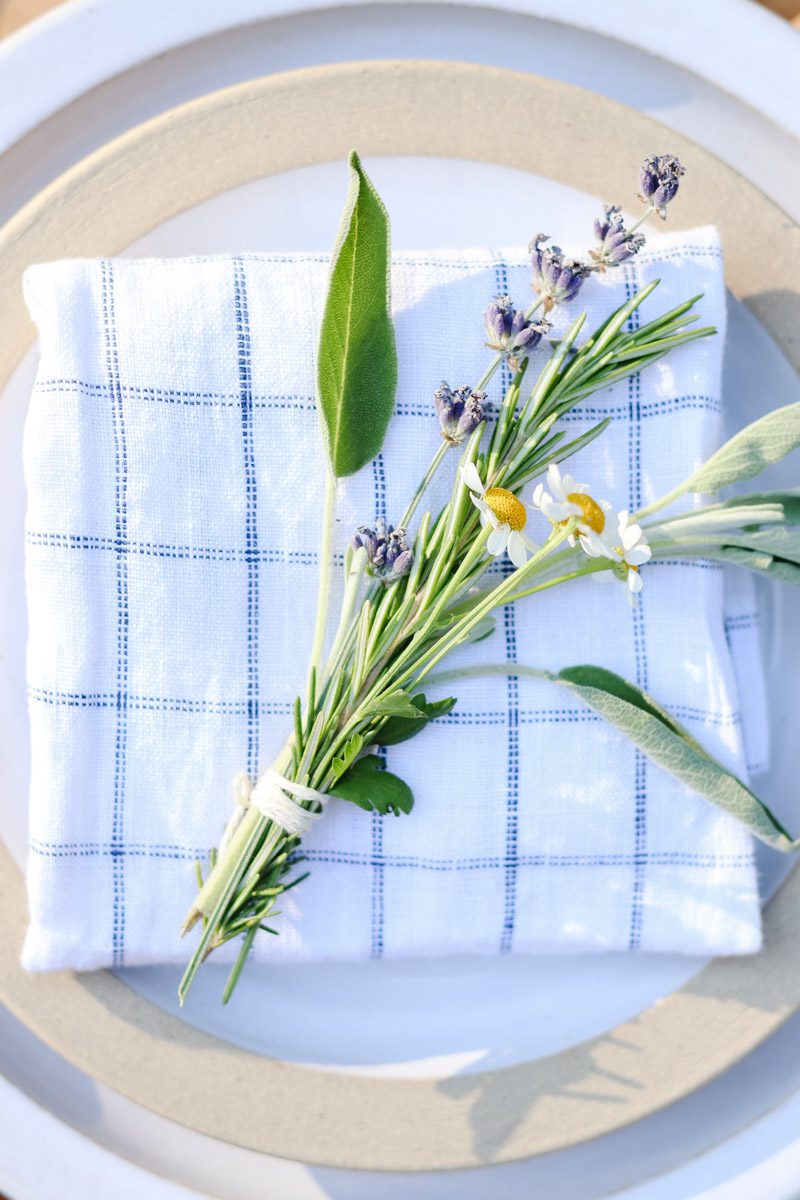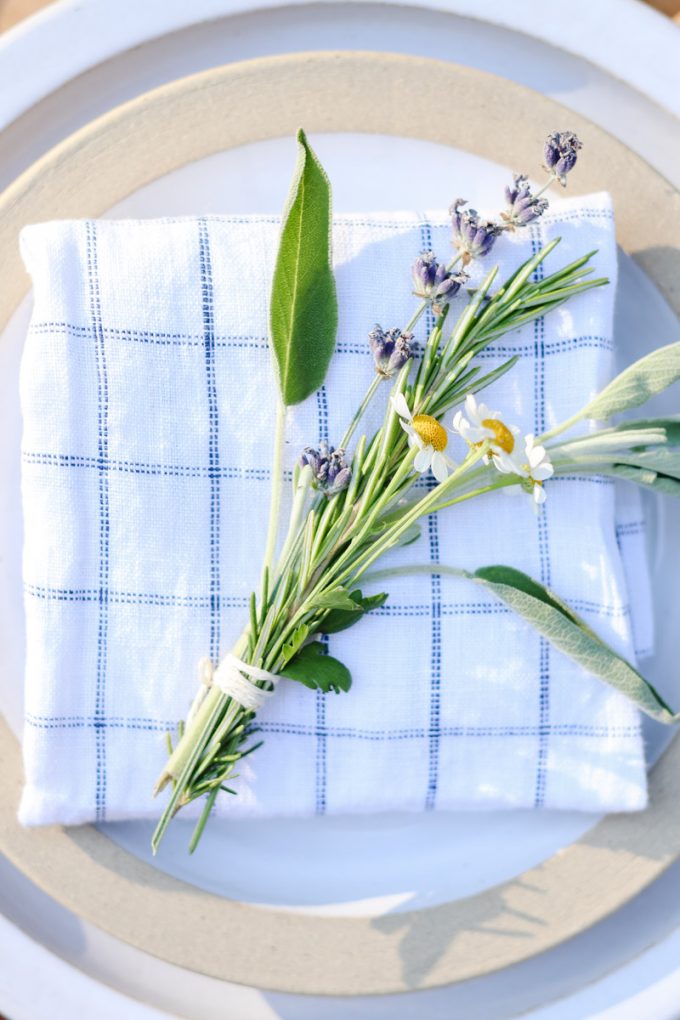 For this table, I used some woven rattan chargers, our go-to everyday dishes and pretty linen napkins. And adding to the garden feel, I topped each place setting with a bundle of fresh herbs and chamomile flowers tied with kitchen twine. Simple, unfussy, and beautiful too!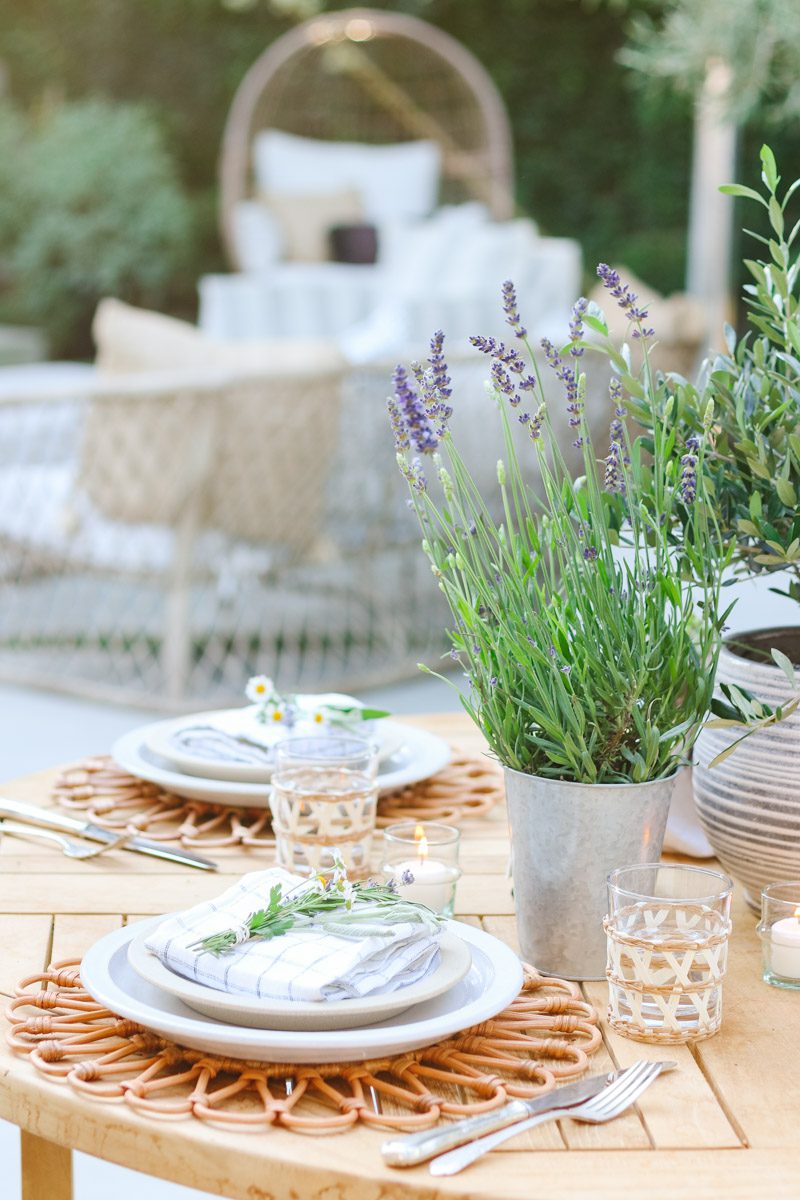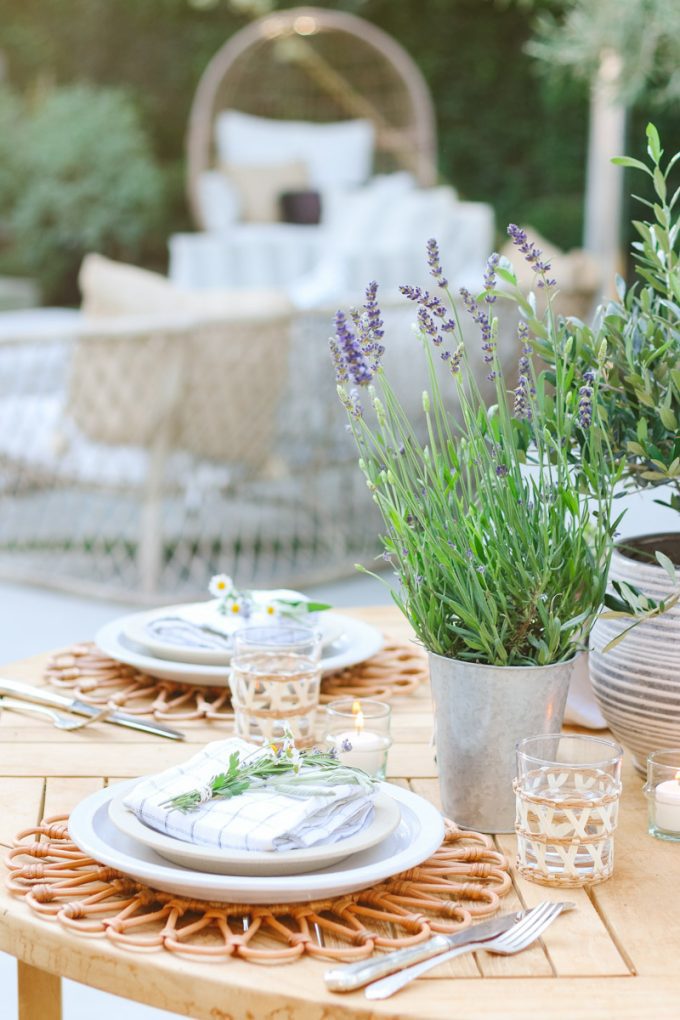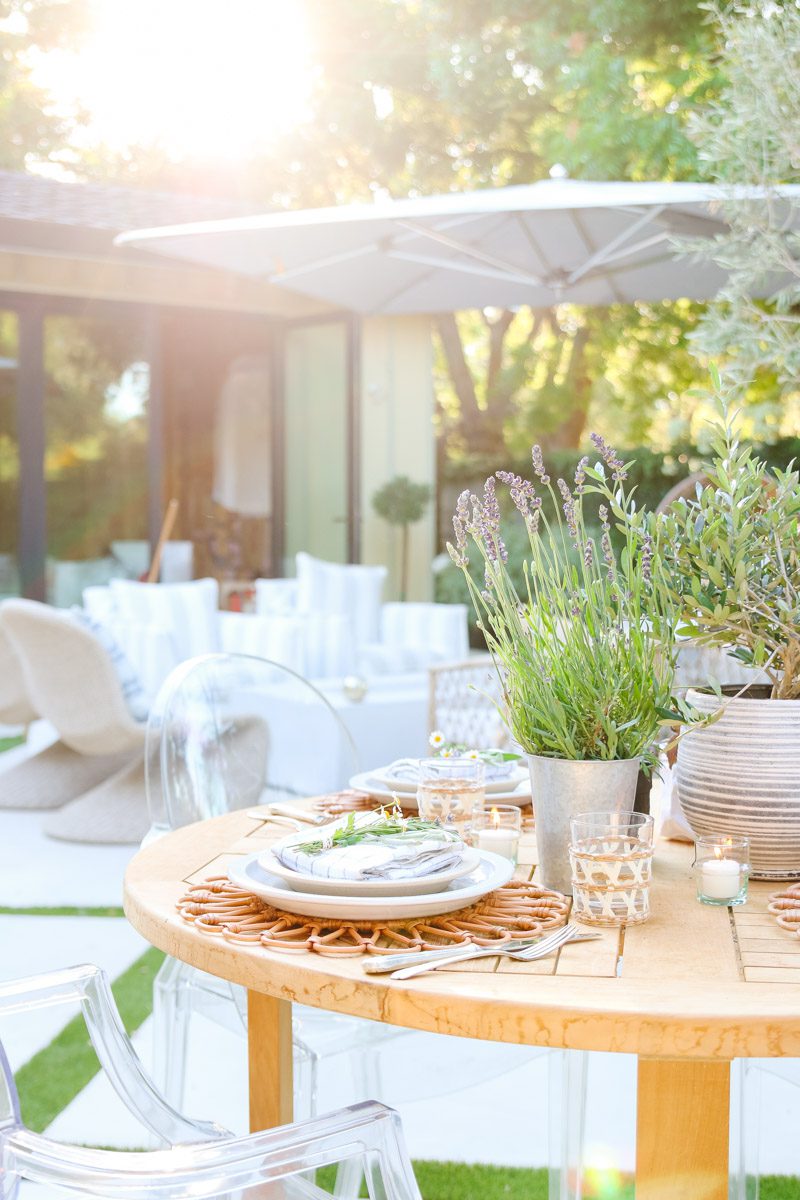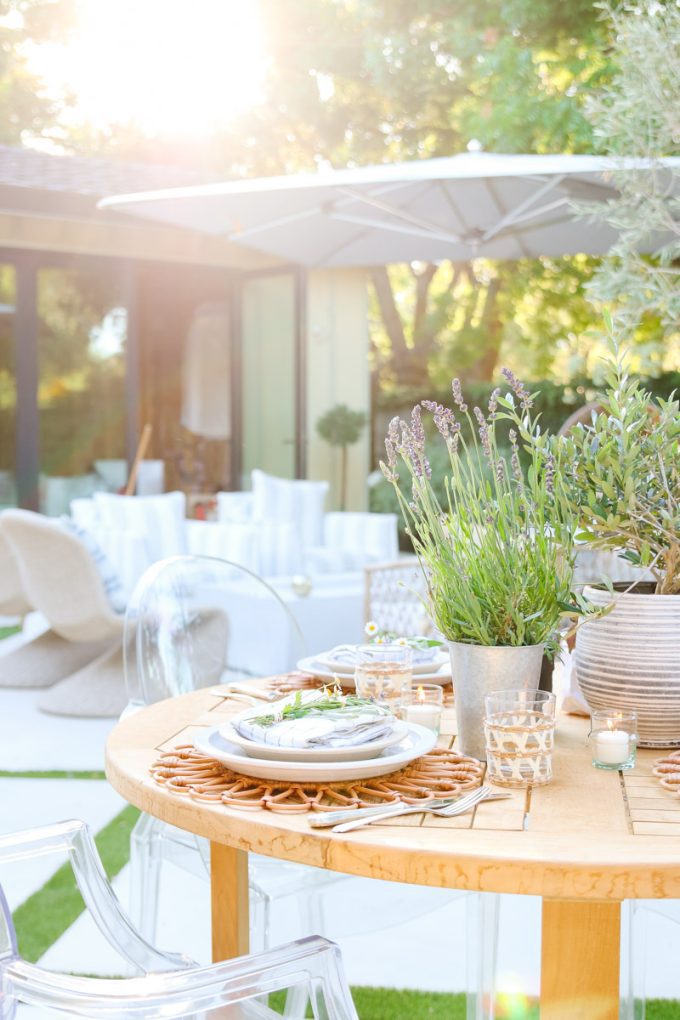 Summer Tablescape Sources

Summer Entertaining Ideas
Here are some summer entertaining ideas from the archives that will give you even more inspiration!