My daughter turned 7 this year and we hosted a girls pajama party to celebrate! This girls birthday party idea is perfect for 6 to 10 year olds that aren't quite ready to spend the night! Read more about this fun popcorn and pajama party.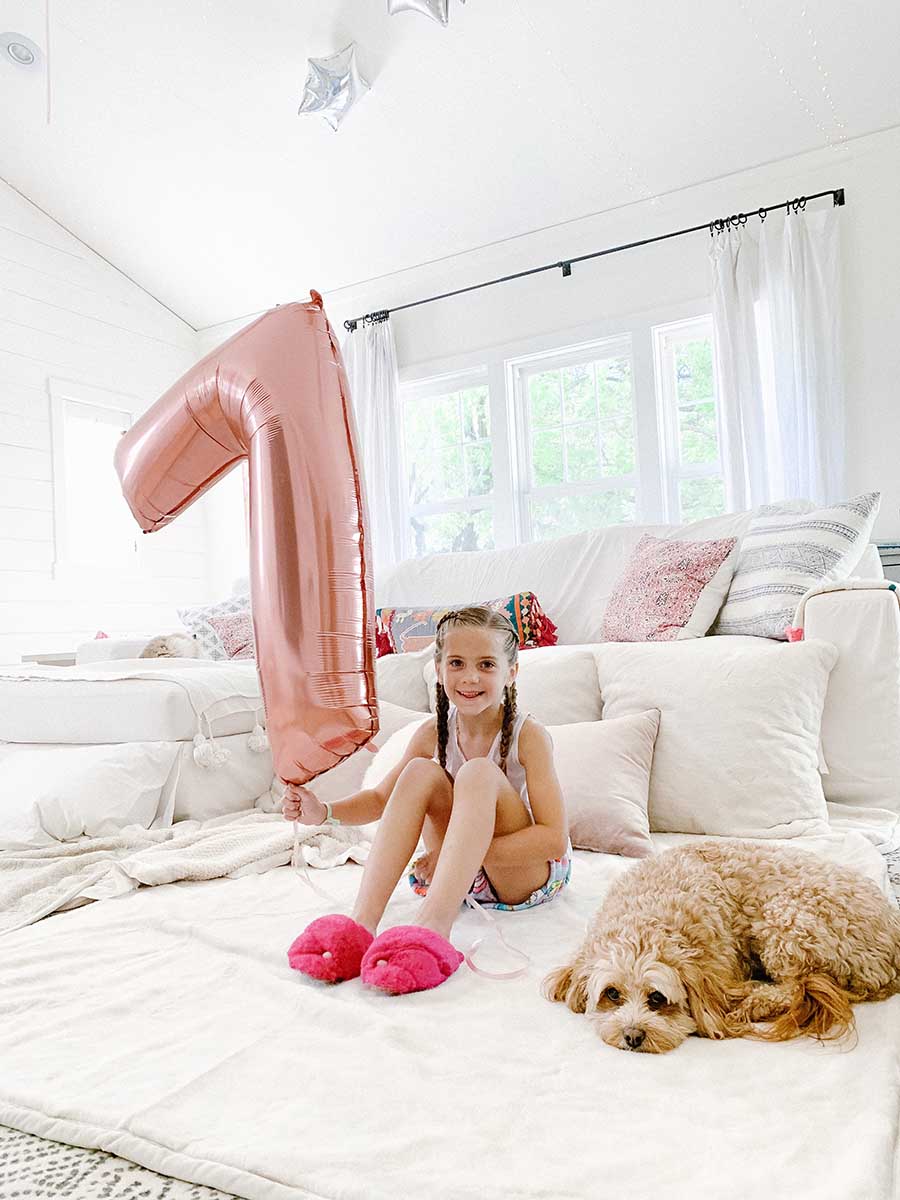 This girls pajama party is the perfect compromise of having all the fun of a traditional sleep over but without the sleeping over part. The girls had so much fun. Read on for all the details!
Popcorn and Pajama Girls Party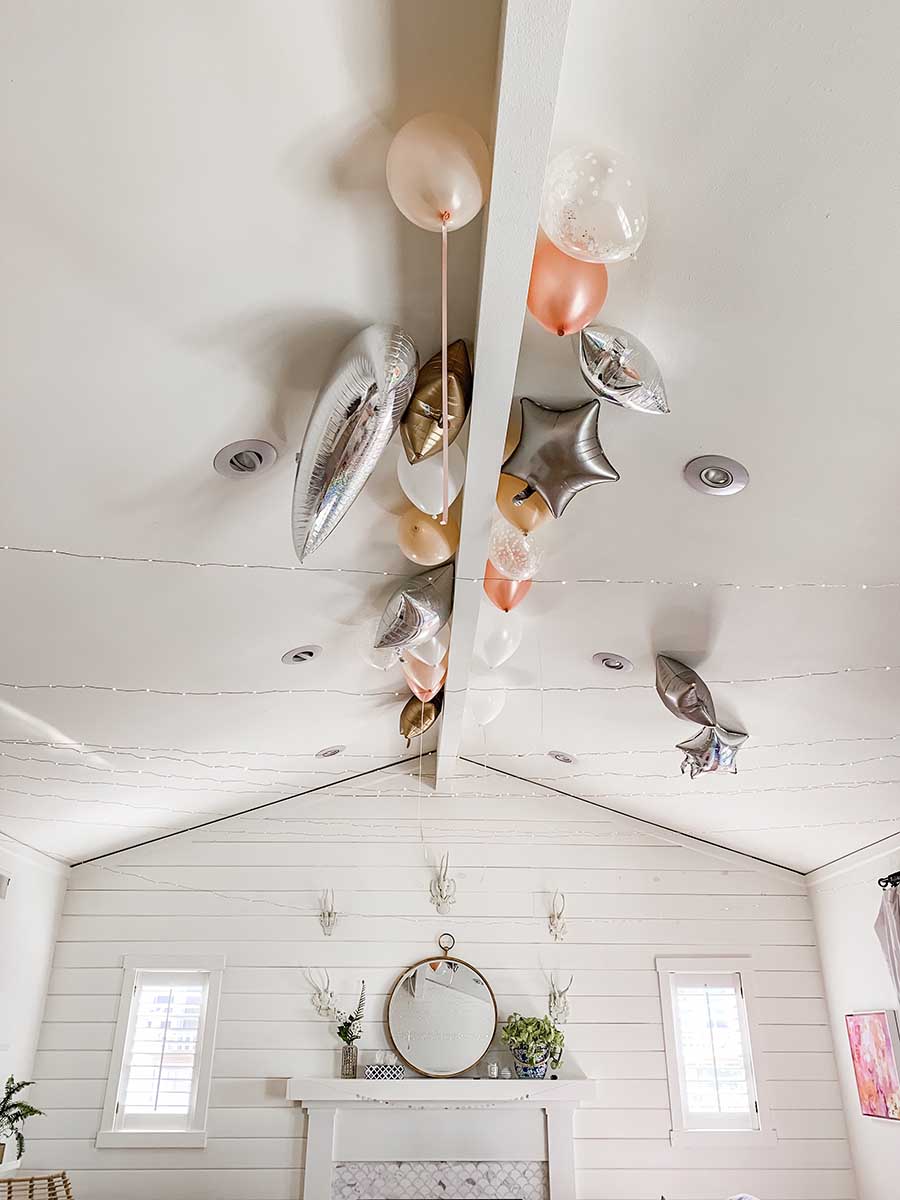 Seven year old girls are just too cute! They are still sweet and lovable but also independent and fiercely trendy. A non-sleepover slumber party is the perfect way to celebrate with a big group of girls. But you may be thinking: what do I do to entertain the girls during the celebration? I came up with the perfect plan for Charley's 7th birthday party.
Girls Pajama Party Decorations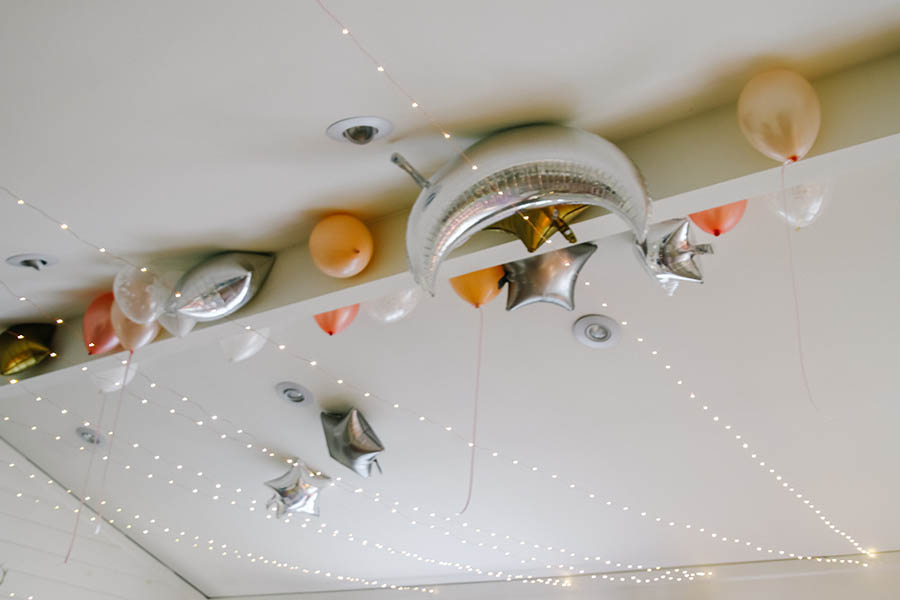 I wanted to create a dreamy scene for this girl's pajama party. I strung copper-wired LED lights across the room that created the perfect starry night sky. Then, I filled the ceiling with balloons. Rose gold, silver and gold balloons along with some helium stars and moons were perfect.
Girls Birthday Party Idea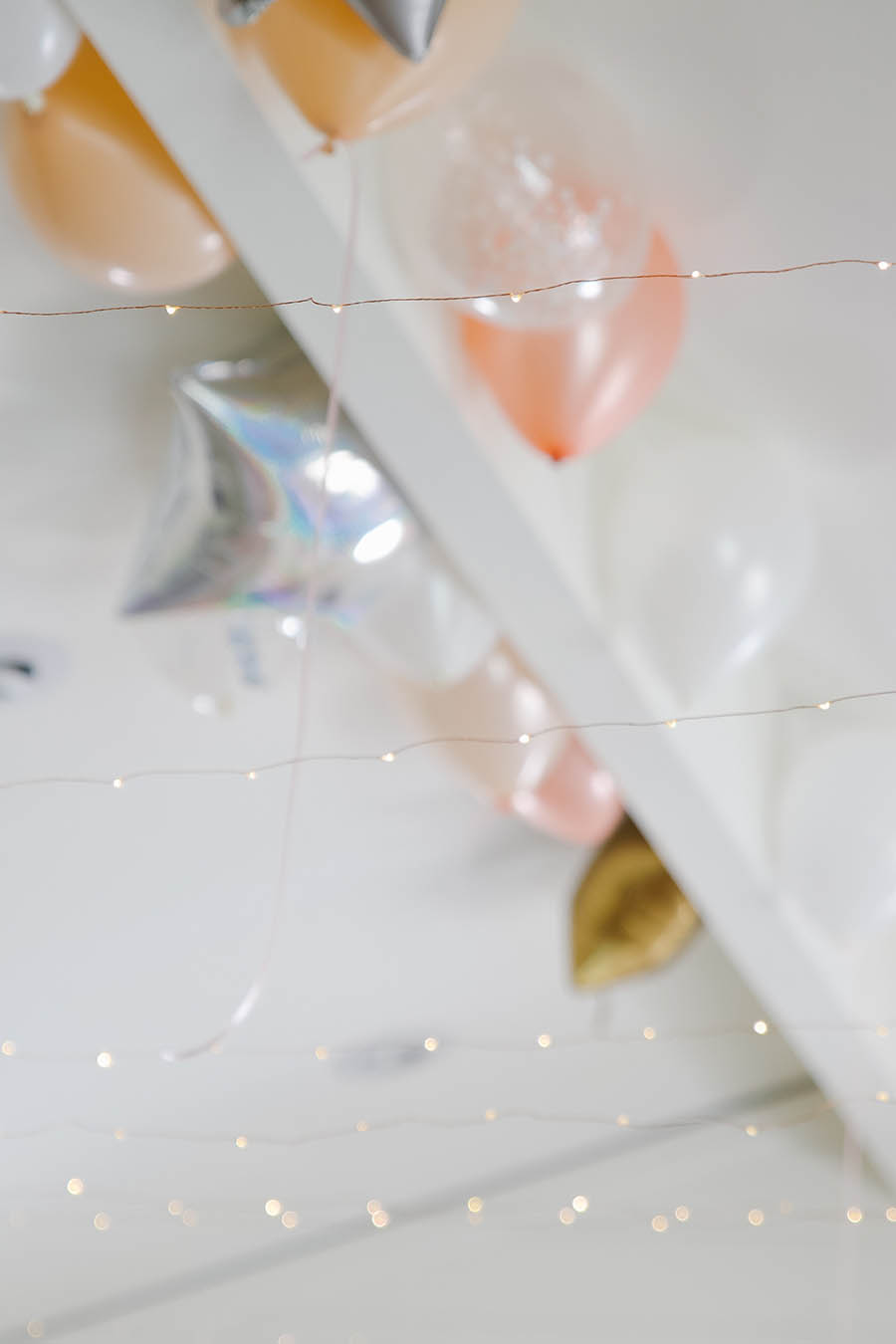 Be sure to check out these past girls birthday party ideas:
The party started at 6pm. Late enough that the party still felt festive and like an actual sleepover. Once all the girls arrived, I split them into teams of 3 and sent them on a nature scavenger hunt. They ran around the neighborhood with a list of items to find and a paper bag to gather them in. They had so much fun finding "a fuzzy rock" and "a broken stick". This also was a great way to break the ice and get some of their energy out.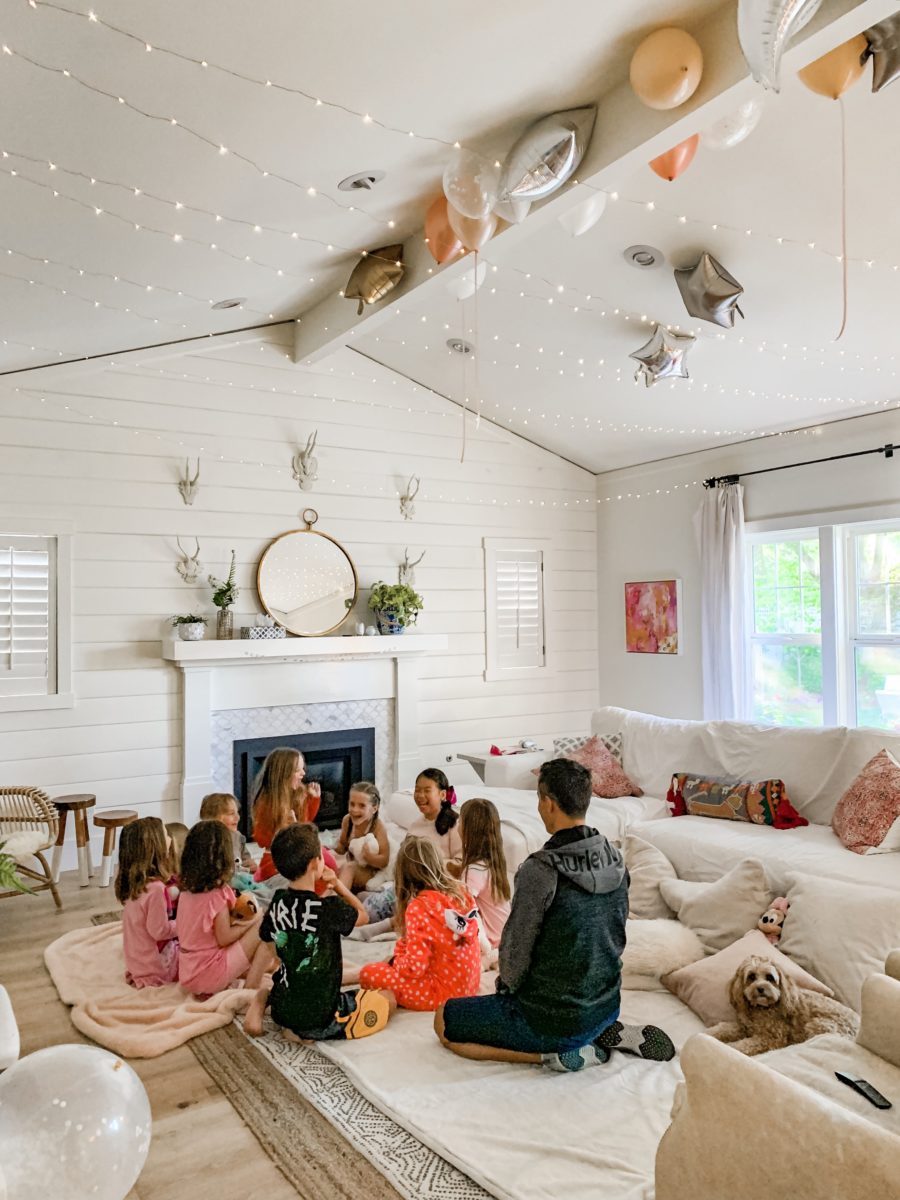 Once back at the house, the girls played a few rounds of telephone. This is a great game to play with a larger group. And the girls definitely got some of their giggles out with this one! Here are some other great girls pajama party game ideas.
Girls Slumber Party Game Ideas
truth or dare
mad libs
cootie catcher
spin the bottle – nail polish addition
scavenger hunt
telephone
How to do a girly sleepover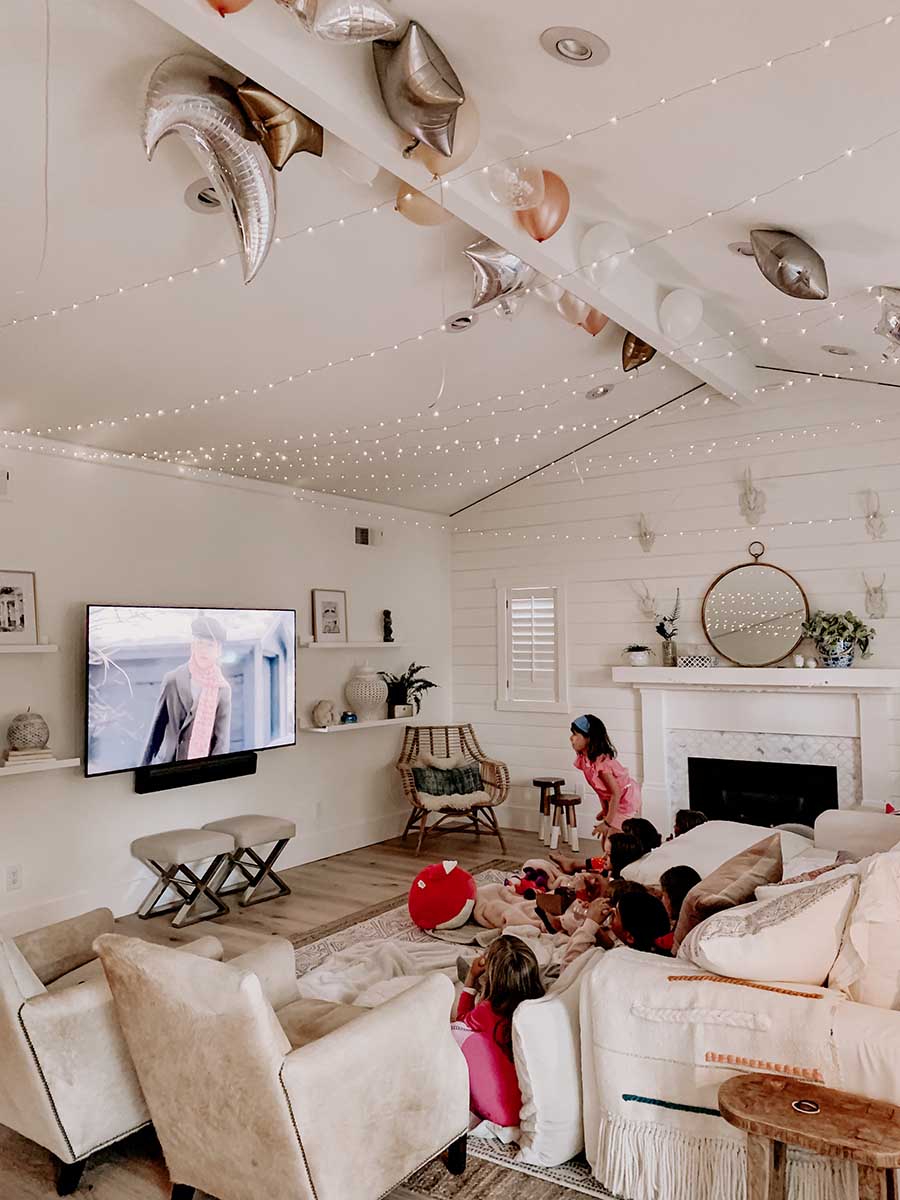 Next, the girls settled into a movie. I laid out lots of fuzzy blankets and pillows on the floor for their pajama party. Each girl was told to wear their pajamas and to bring their favorite stuffed animal. They got comfy on the floor and started to watch The Princess Diaries.
The starry sky was perfect for this girls pajama party. And it made the whole scene feel extra festive and dreamy.
While the girls watched the movie, I made them dinner and served them in the perfect take out boxes. It even had a holder for their drinks! All sources are linked at the end of the post.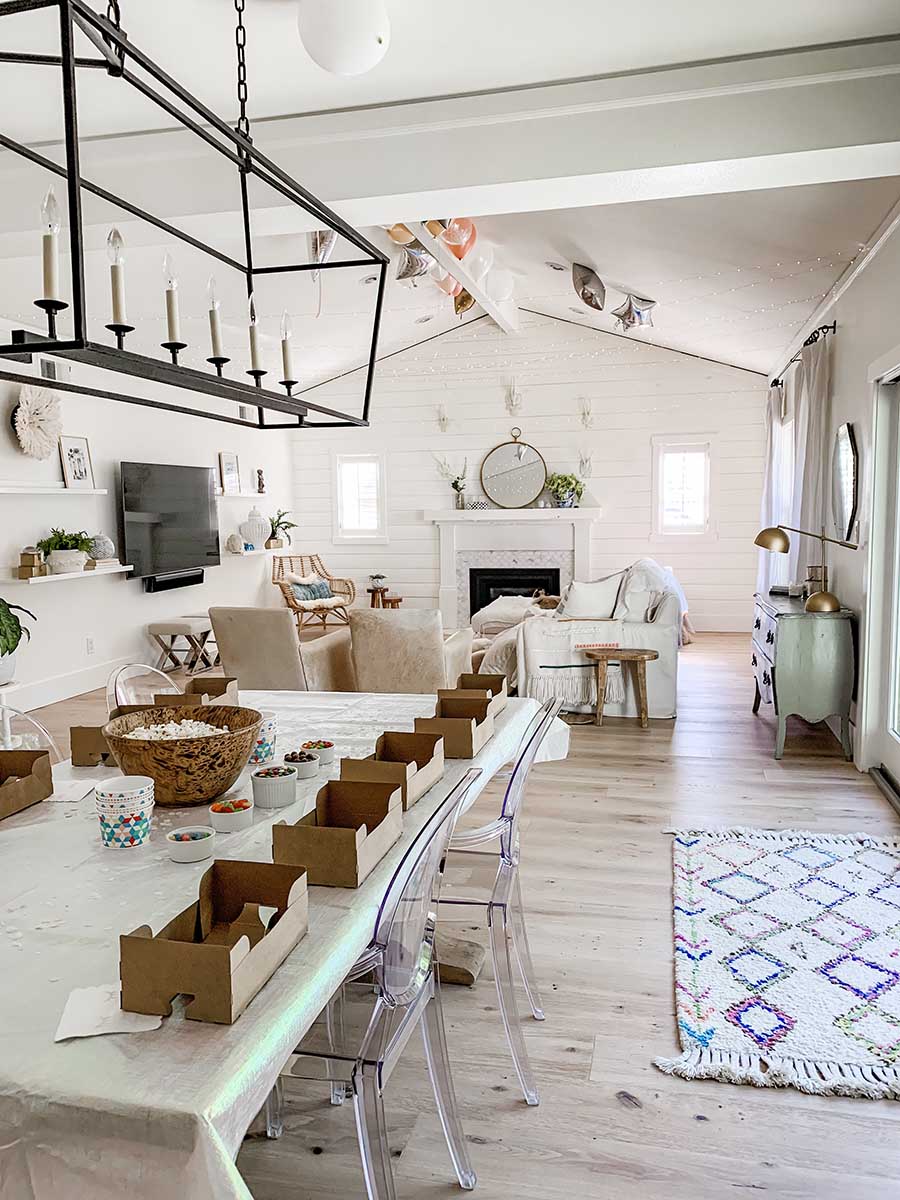 Halfway through the movie we took an intermission break and the girls visited the popcorn bar. I had freshly popped kernels in a bowl and the girls were able to make their creation with lots of candy and chocolate toppings!

This popcorn bar was a huge hit with the girls and they all loved creating their own mix. We ended the party at 8:30pm which was just perfect. The girls had a blast and were also ready to go home by then. Maybe next year we will try for a spend the night version…
Sleepover Party Favor Ideas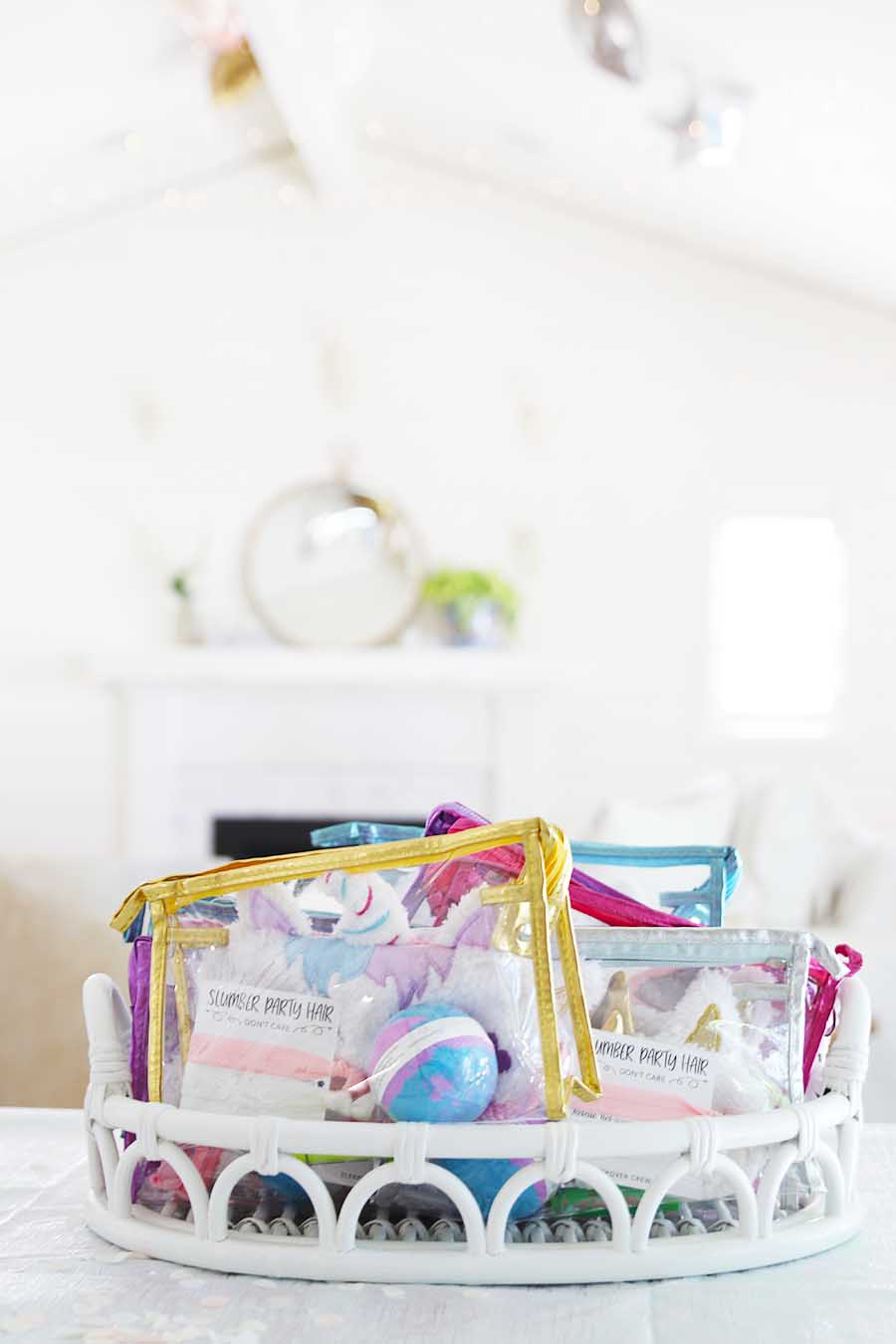 For Charley's pajama party, I put together cute party favors that played off the sleepover theme. I found these great cosmetic cases on Amazon that held all the items nicely. And I love that they can reuse the cases. Inside the zippered pouch we put:
sleeping mask
lip balm
nail polish
bath bomb
custom slumber party hair ties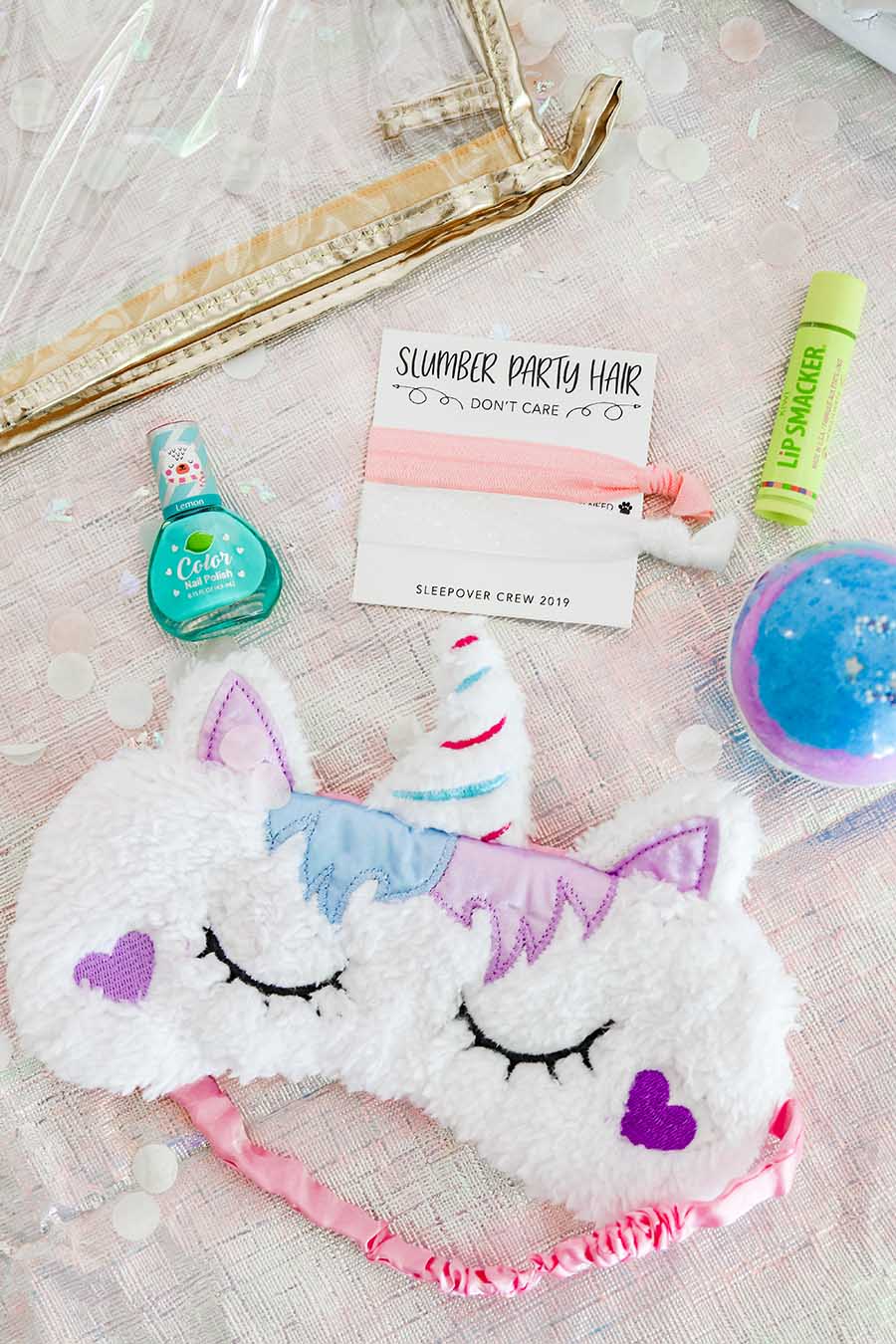 Other ideas you could use for a sleepover party favor include:
friendship bracelet kit
mad libs
custom tattoos
Girls Sleepover Party Sources