I'm happy to say that the Rainbow Kitty Party party was a huge hit with the little "kittens" and everything turned out so cute! I can't wait to share it all with you.

All photography by Wendy VonSosen Photography
And be sure to check out Charley's 6th Birthday Party: Rainbow Slime Party!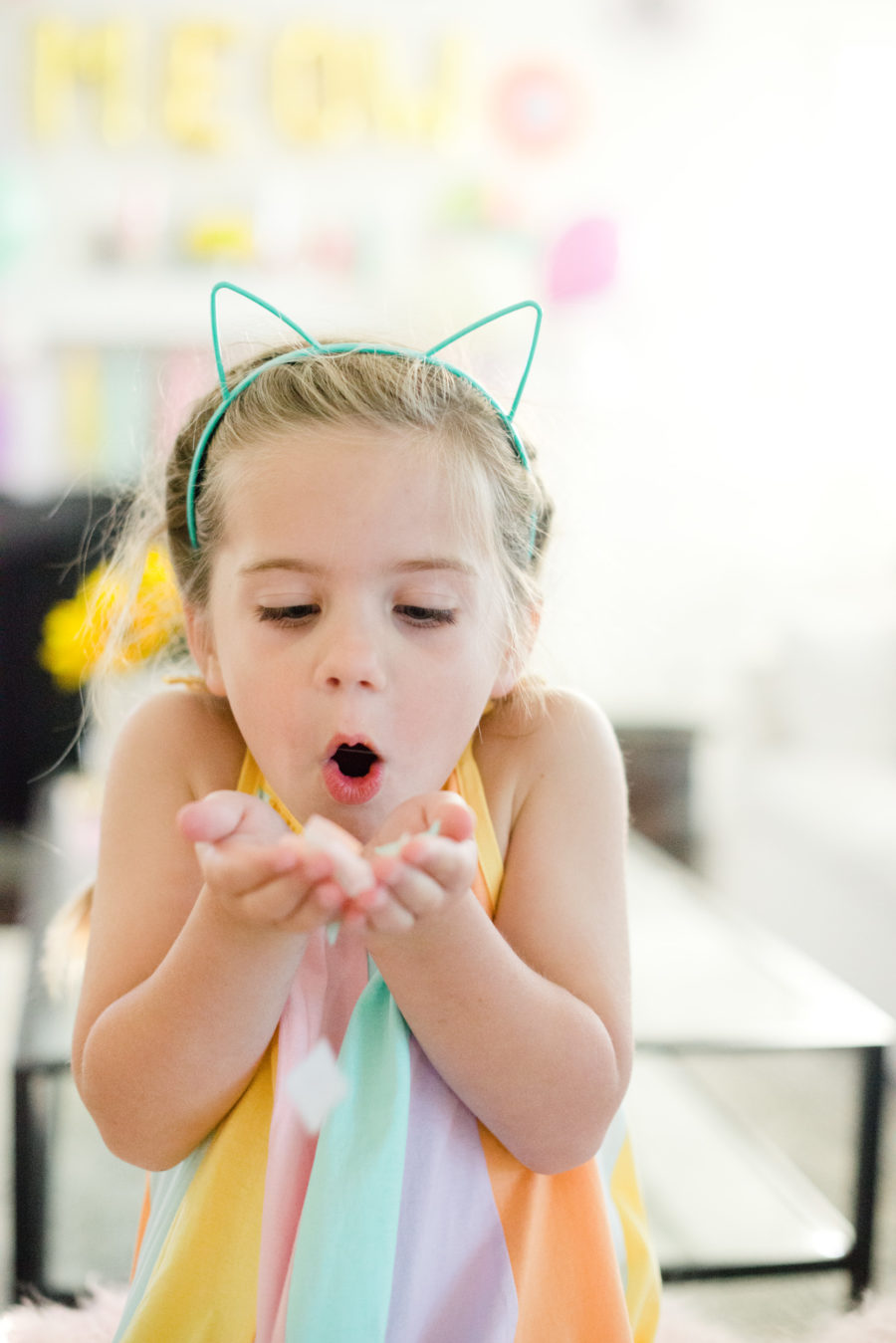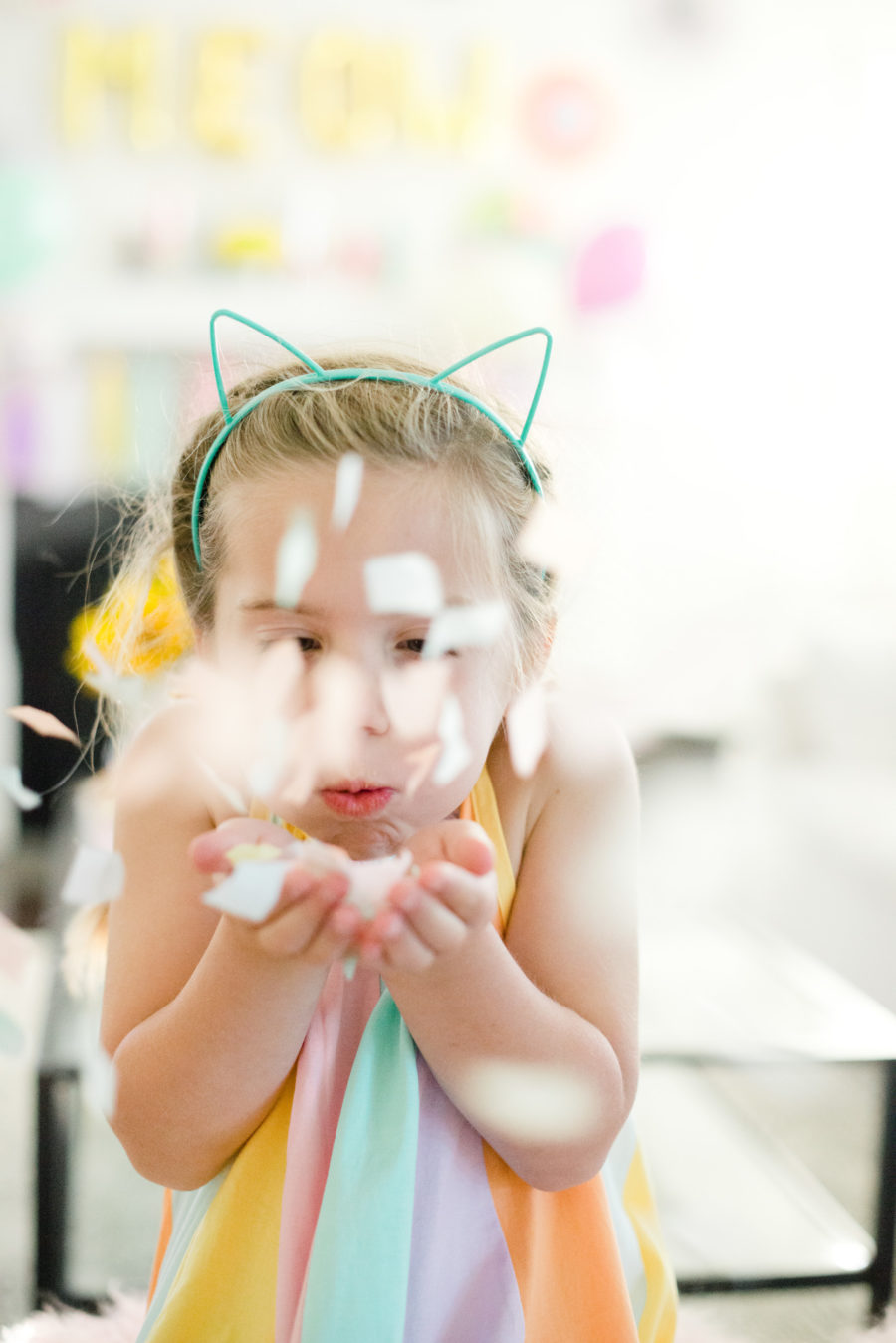 Rainbow Kitty Party
Designing this party was so nostalgic for me. As a child of the 80's I loved all things rainbow. My favorite characters were My Little Ponies, Care Bears and Rainbow Bright. So I was definitely in my element when Charley told me that she wanted to incorporate lots of rainbow colors and balloons!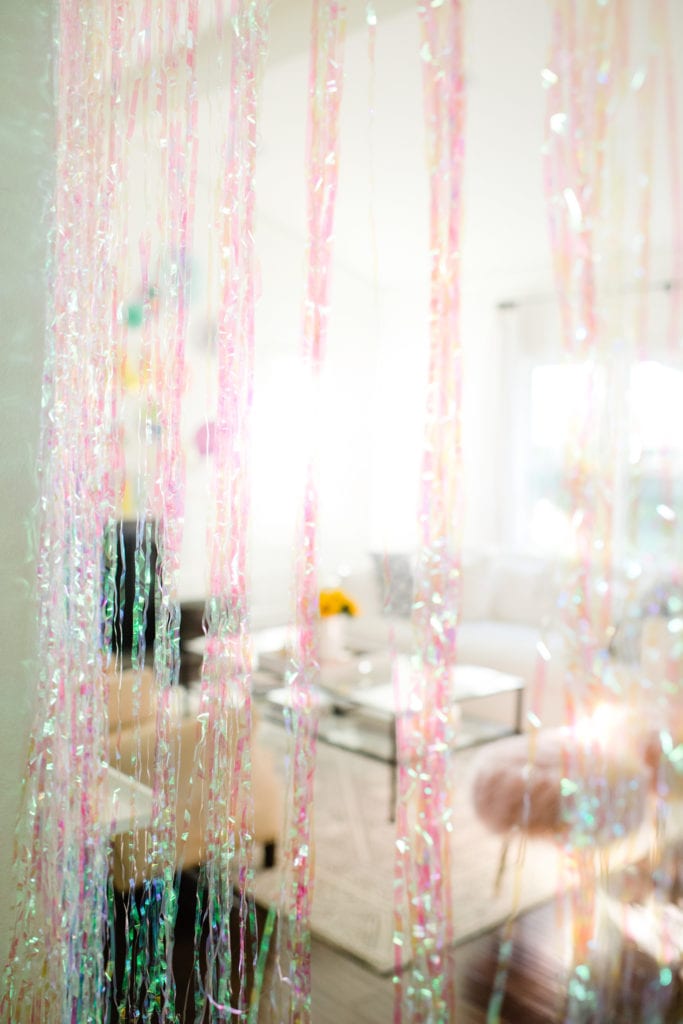 Rainbow Kitty Party: The invitation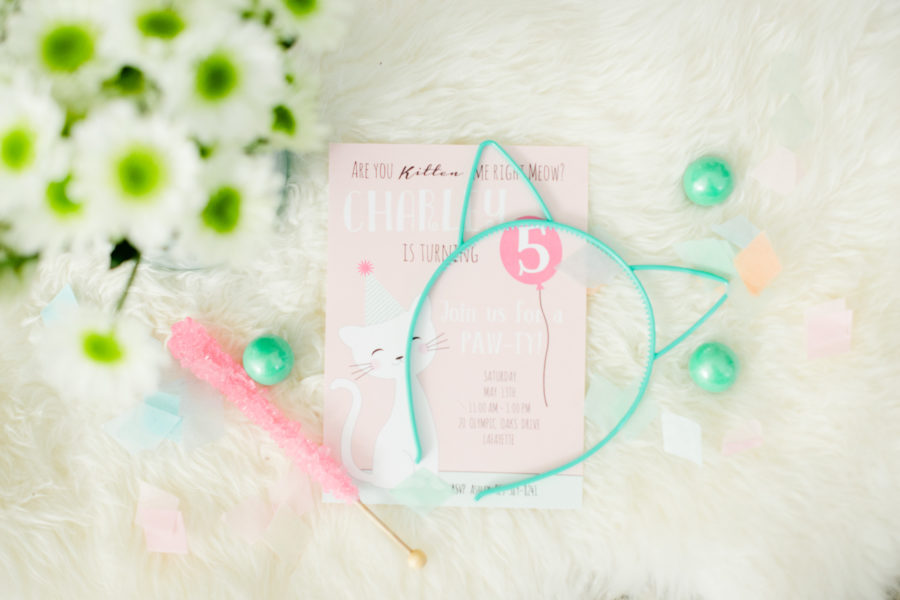 I found these cute invitations on Etsy. I love how they incorporate the pastel color theme and were so easy to order! The play on words is cute and fun for the parents to see. I was able to choose the colors that I wanted for the image so it was so easy to design according to your party theme!
Rainbow Kitty Party Decor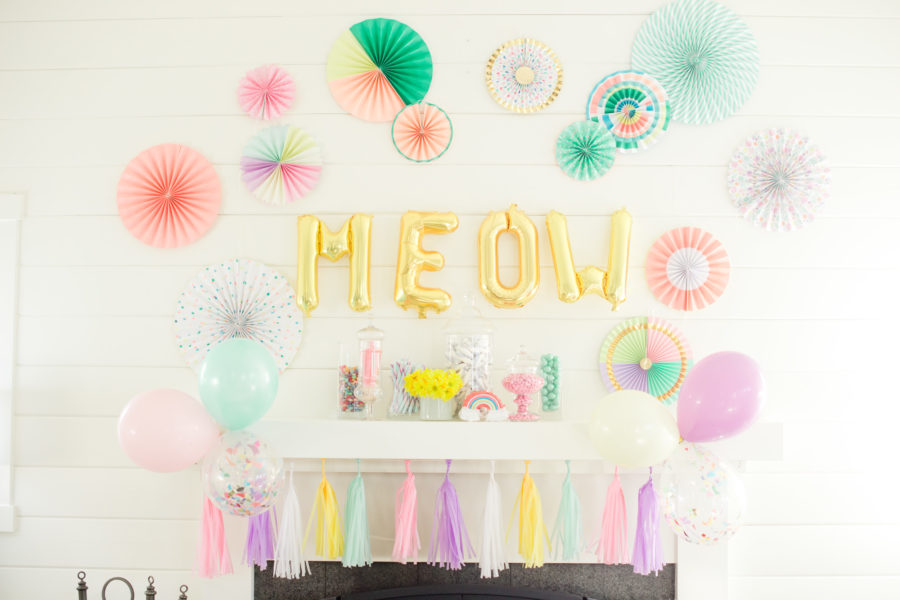 I took advantage of our giant shiplap wall and used that as a backdrop for this fun design centerpiece! I used these colorful fans and the gold "MEOW" letter balloons to add color to the room. The perfect addition for this cat birthday party!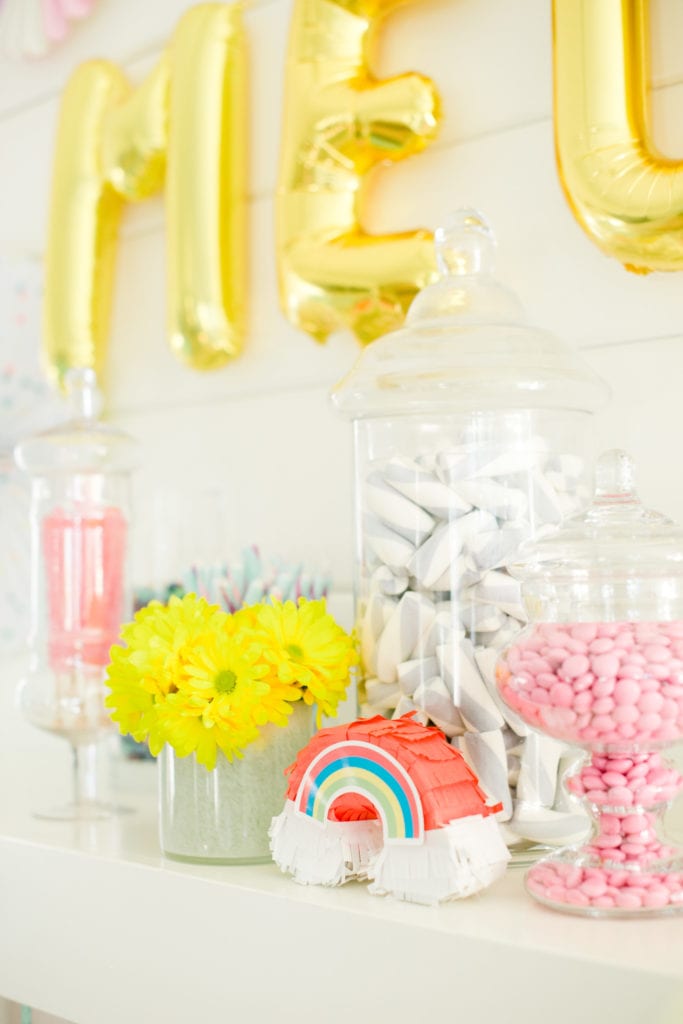 The fun candy display adds visual interest to the mantel. And the girls loved trying to sneak up there and get a handful, lol!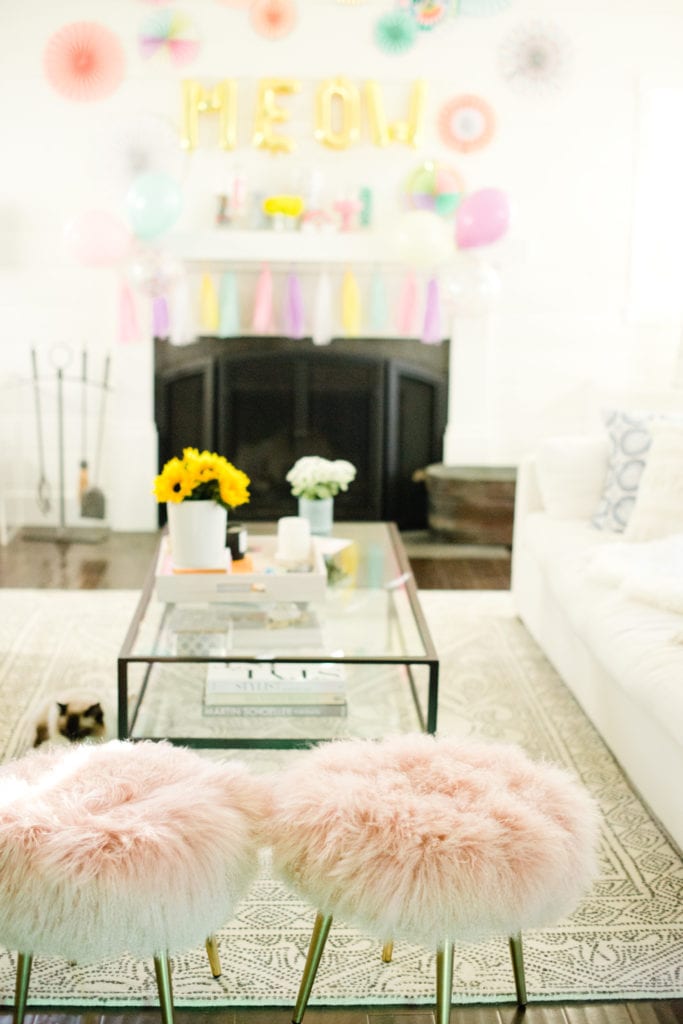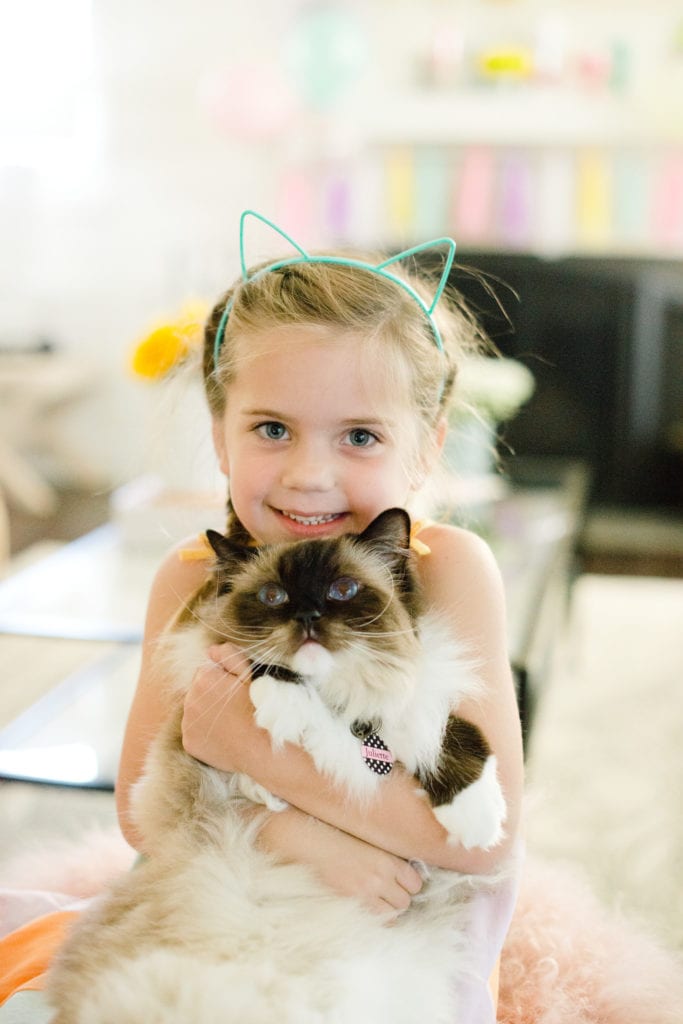 Rainbow Kitty Party Table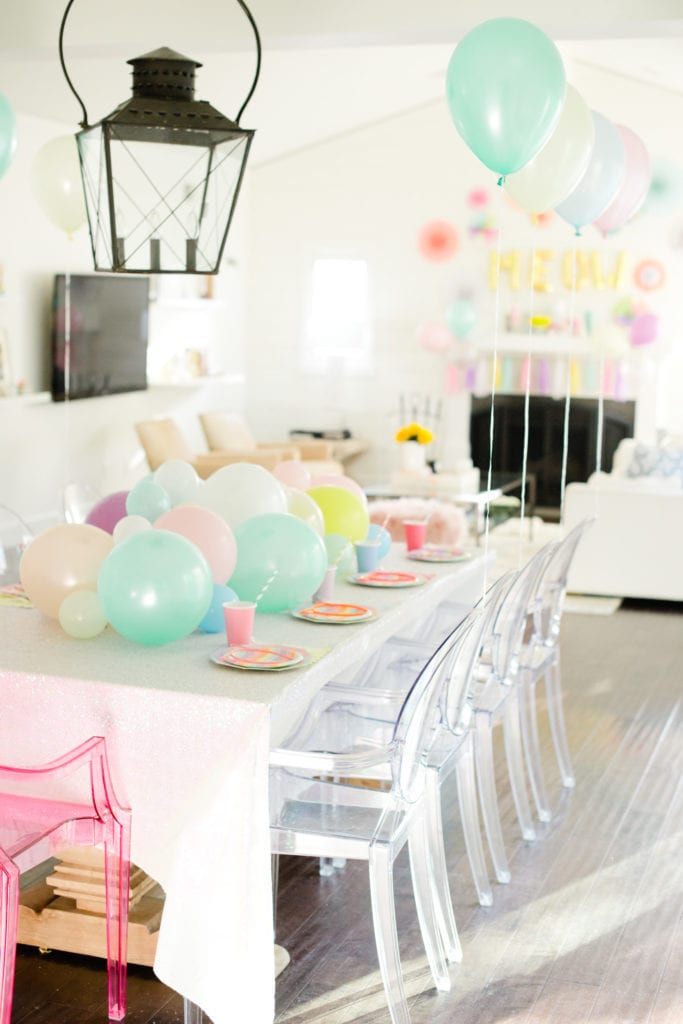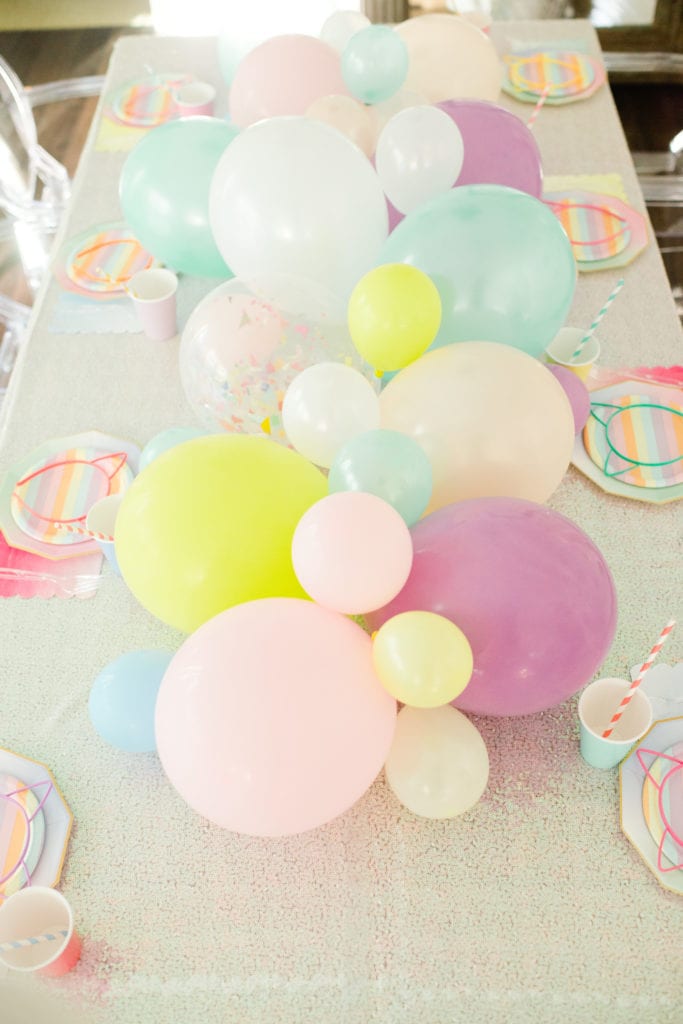 For the kids table I found this iridescent tablecloth on Etsy that was the perfect backdrop to all the pastel rainbow balloons and decor. My clear acrylic ghost chairs added to the airy feel of the party. And I borrowed my hot pink chair from my office for the guest of honor!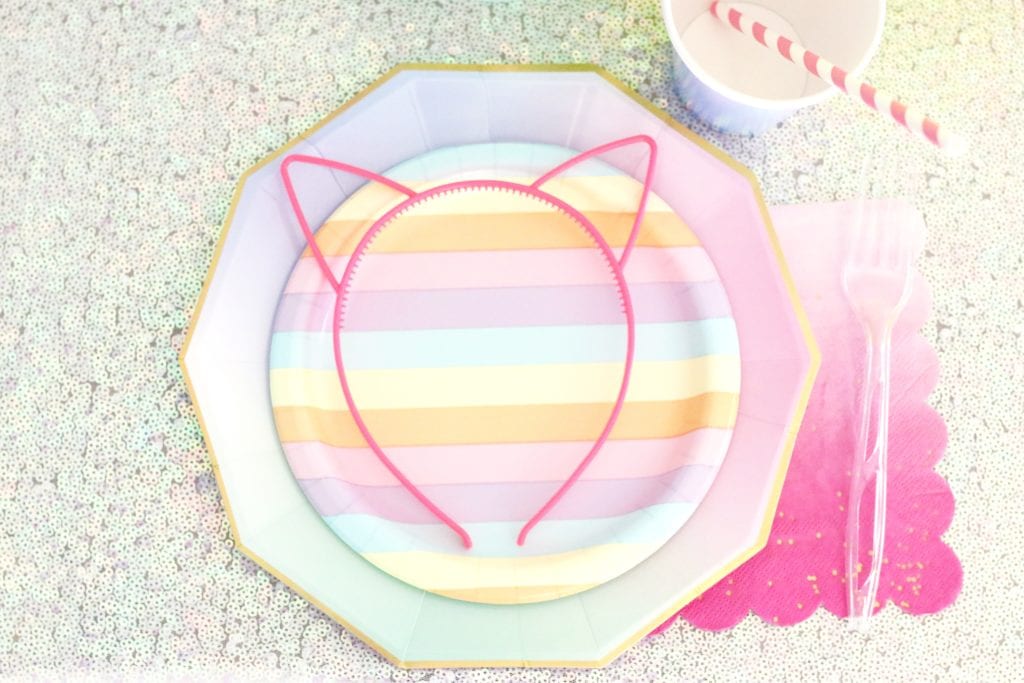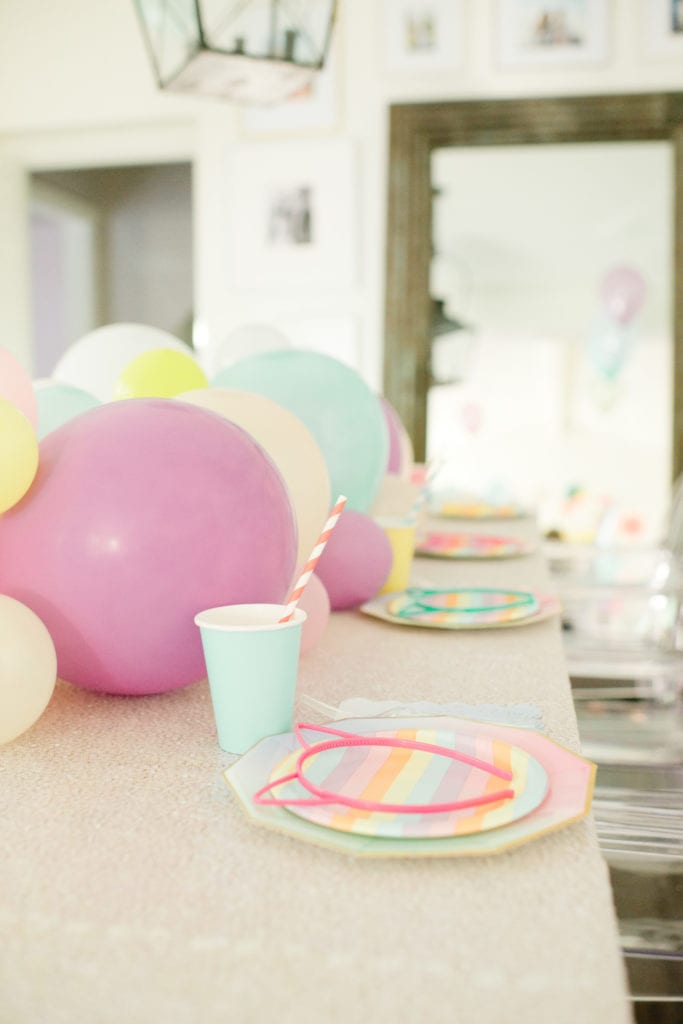 I used a mix of pastel rainbow plates and cups. And each girl got her own set of kitten ears! I think that was one of their favorite parts. It was so cute watching all those little girls running around with kitty ears on! The perfect accessory for this Rainbow Kitty Party!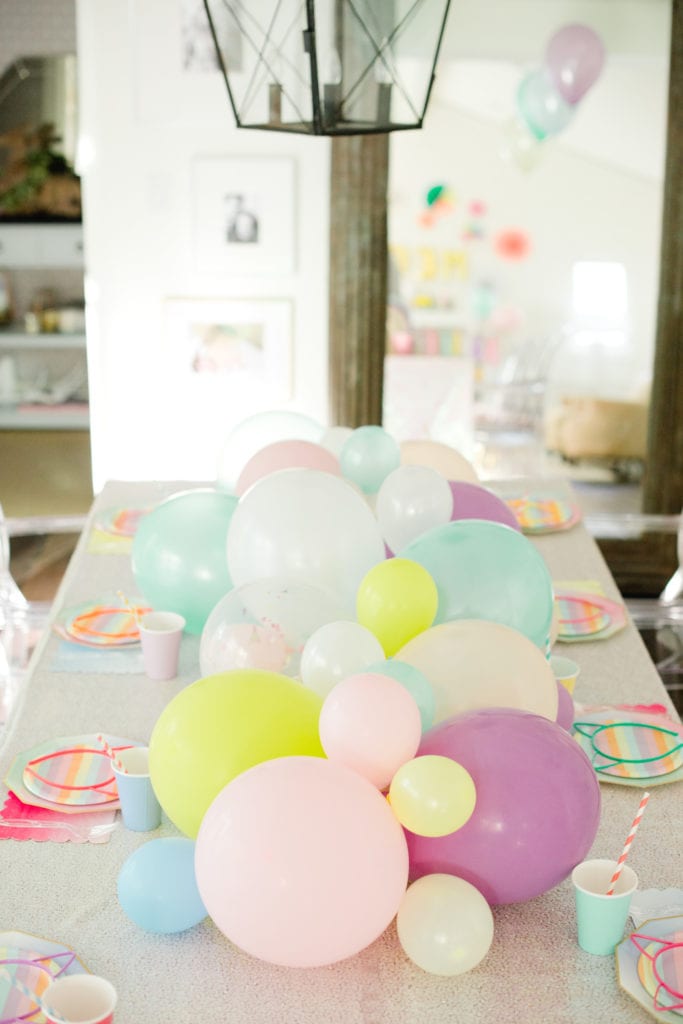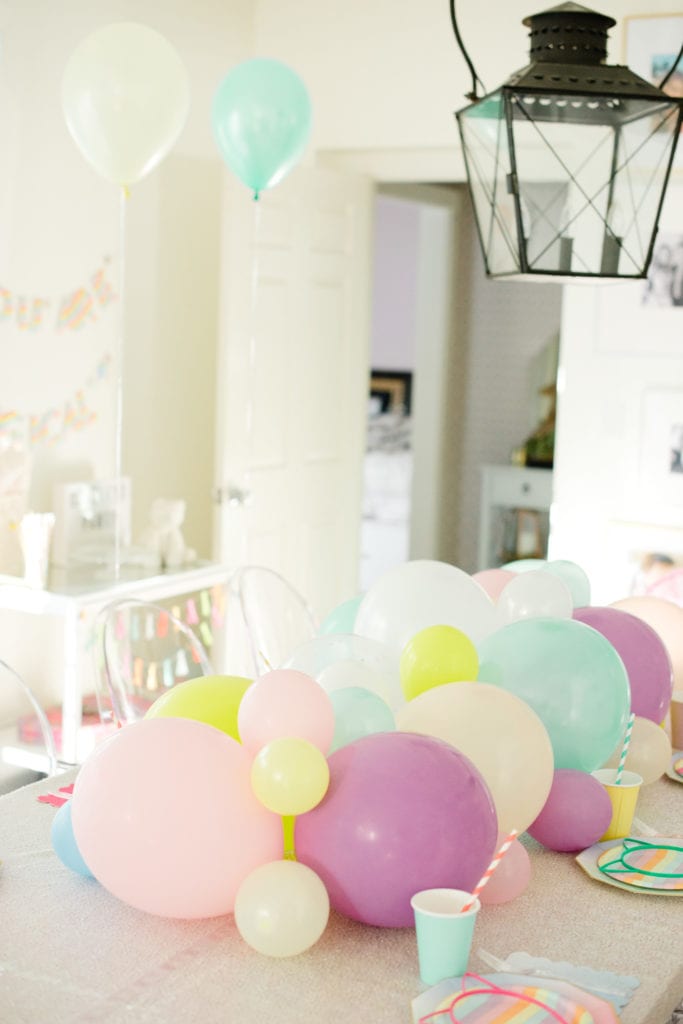 One of my favorite parts was creating this balloon runner centerpiece. I used over 60 balloons! The girls loved seeing the table filled with all the balloons.
Rainbow Kitty Party Cake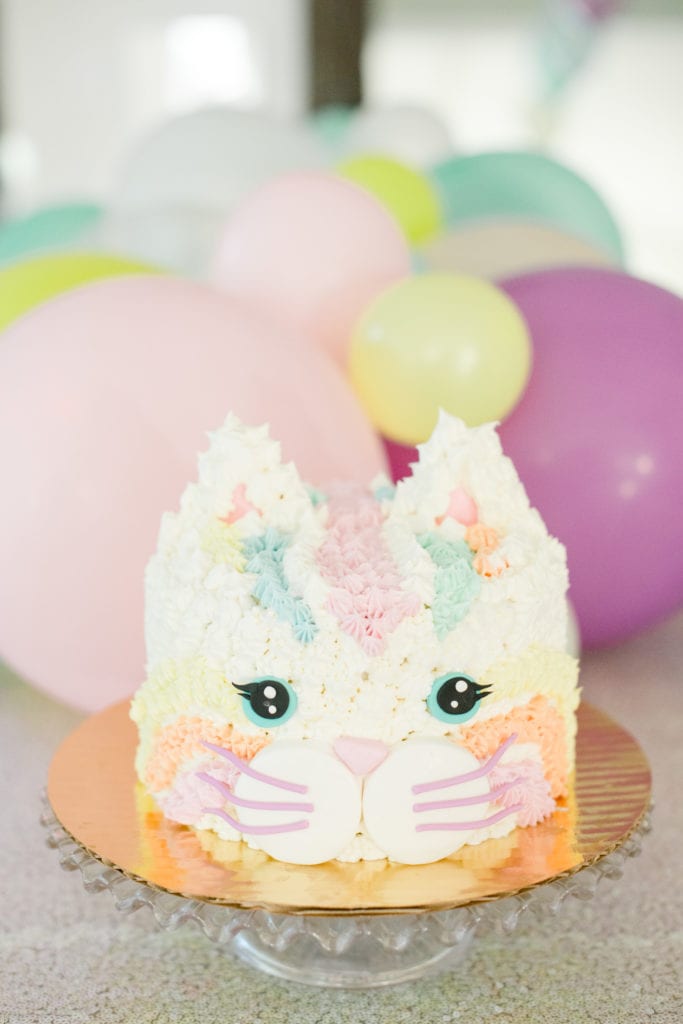 I found a local bakery, Pretty Please Bakeshop to create this amazing cake for her party. Not only is this the cutest cat cake I've ever seen, it tasted delicious too! They were amazing and incorporated the pastel rainbow theme into the frosting. So cute!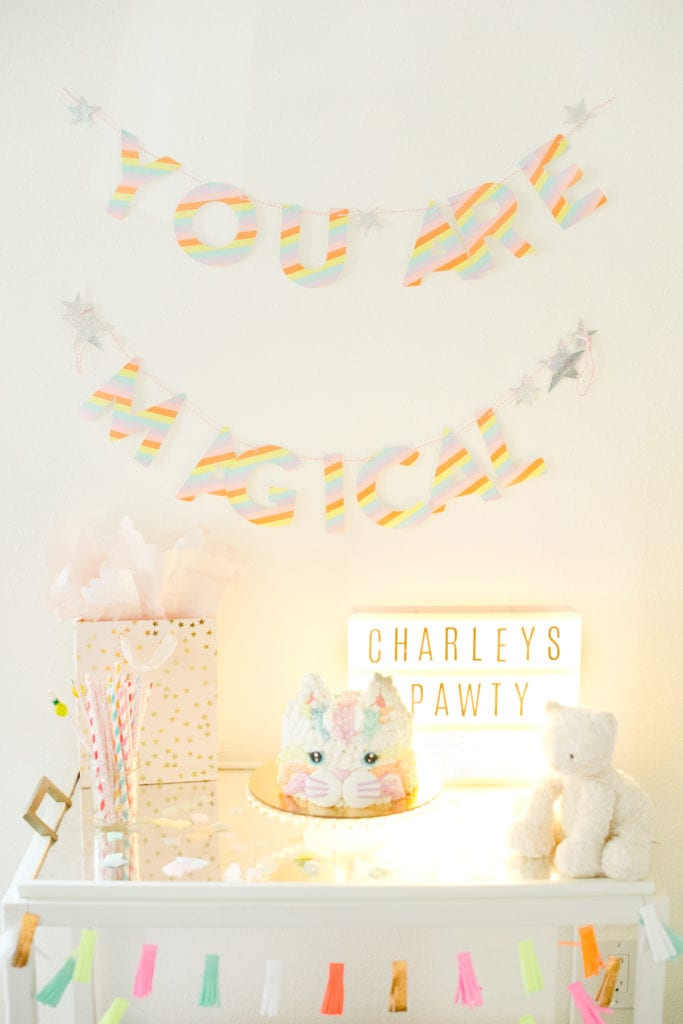 Cat Birthday Party Activities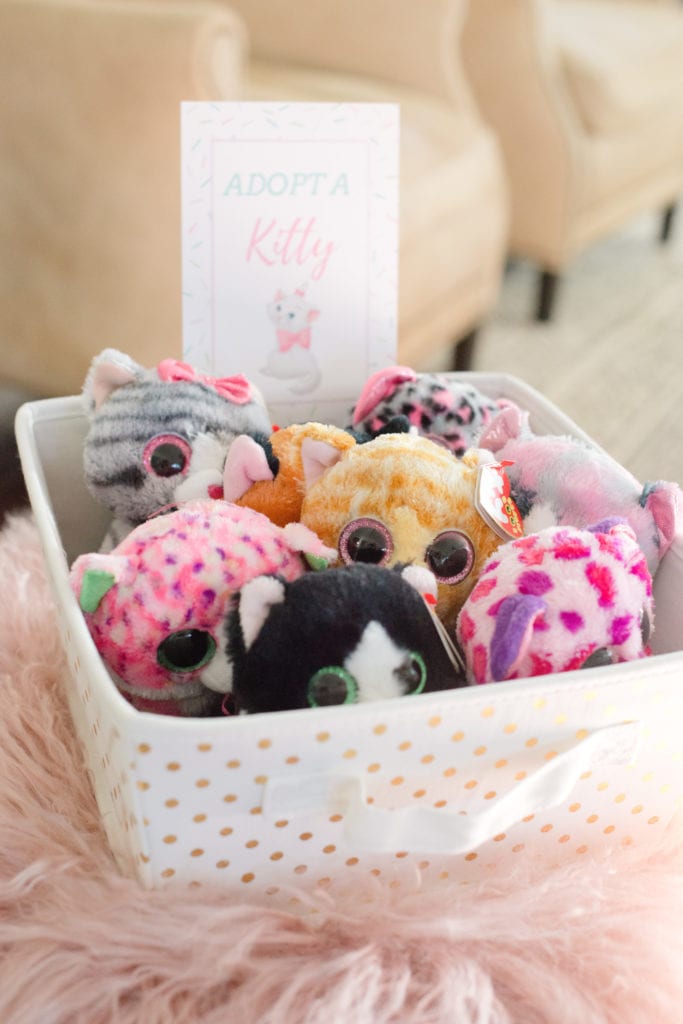 I created an Adopt a Kitty station for the girls to have something to do and also to have something to take home with them!
Charley is obsessed with Beanie Boos so I found all different kinds of Beanie Boo cats and used them for the adoption station. The girls were thrilled to be able to adopt and name their own kitty.
I also created cat collars out of some sparkly ribbon, velcro and a rhinestone charm.
Adopt a Kitty Activity
Check out the link for the free Rainbow Kitty Party Adoption Certificates and Signs at the bottom of this post!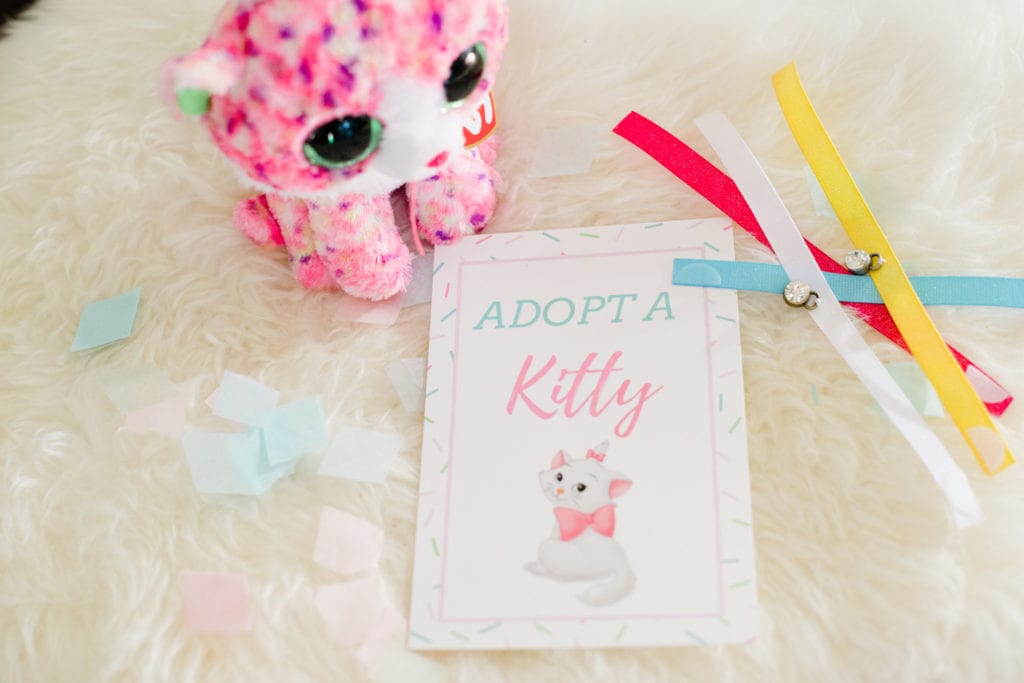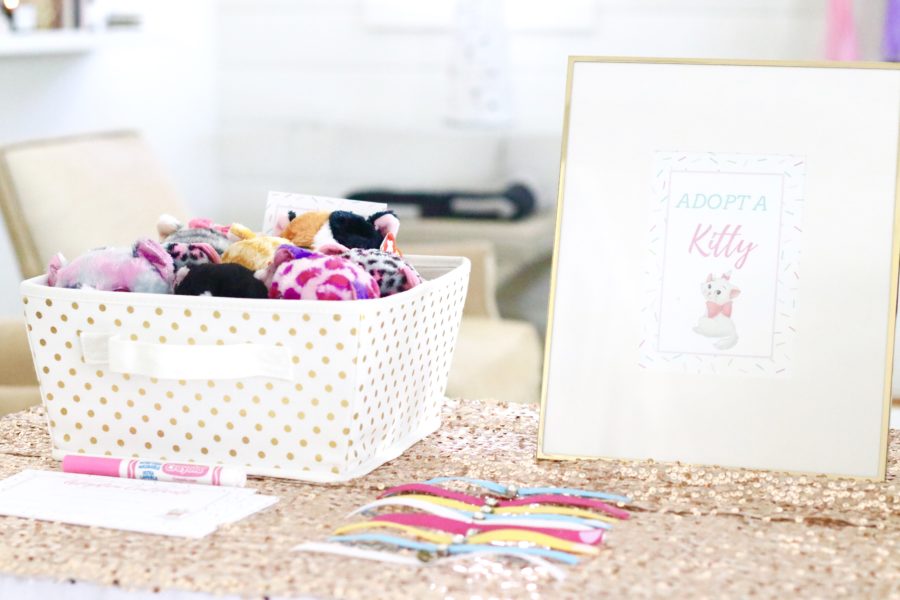 The girls had so much fun adopting their new kittens and playing with each other. They loved all the colors and kept comparing their favorites with each other. What a fun way to celebrate turning 5, right?!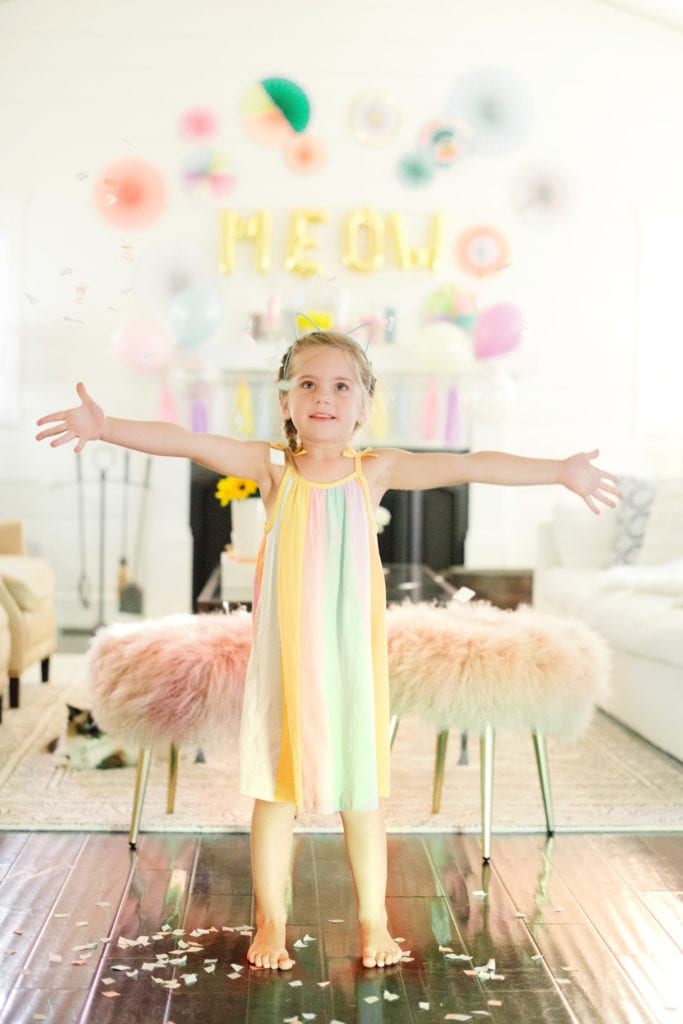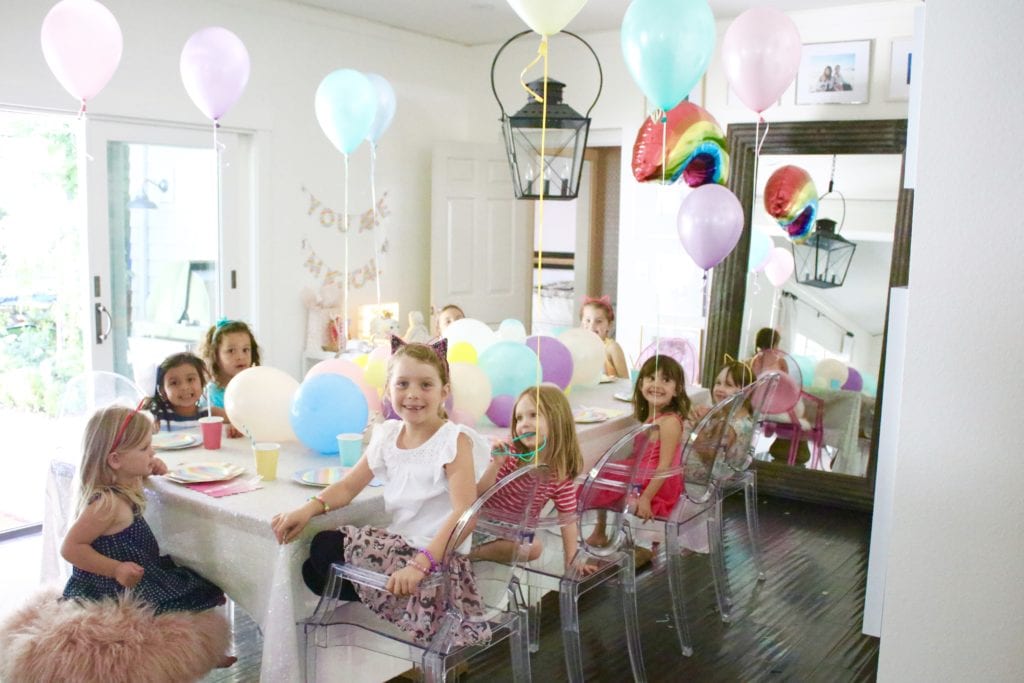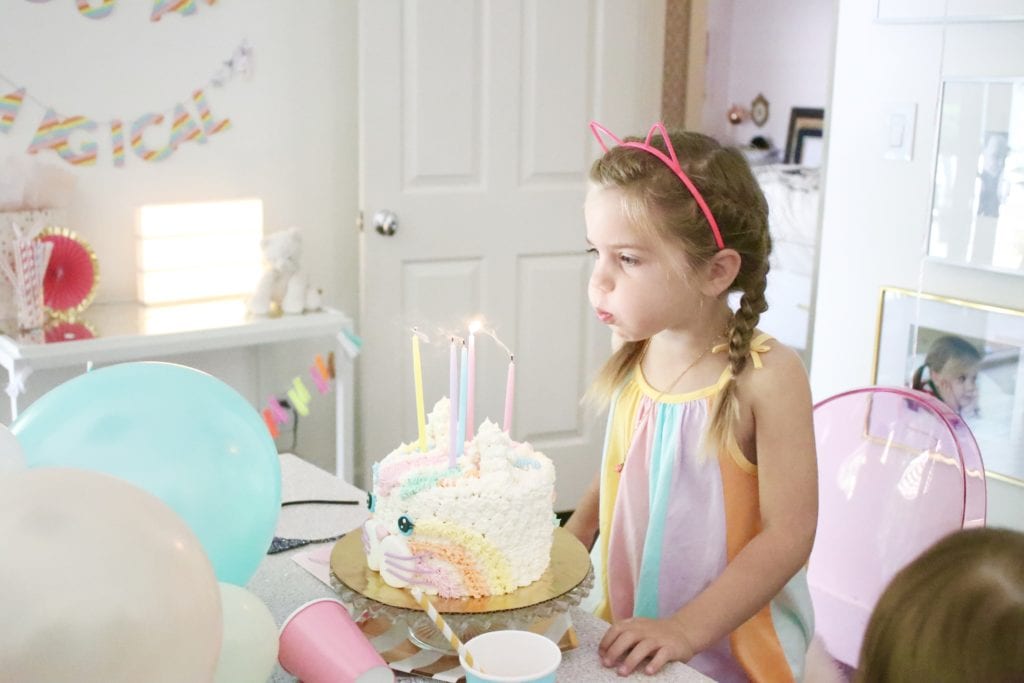 Adopt A Cat Free Printables
Check out this other great party idea: How to Host a No-Mess Slime Party!
pin it