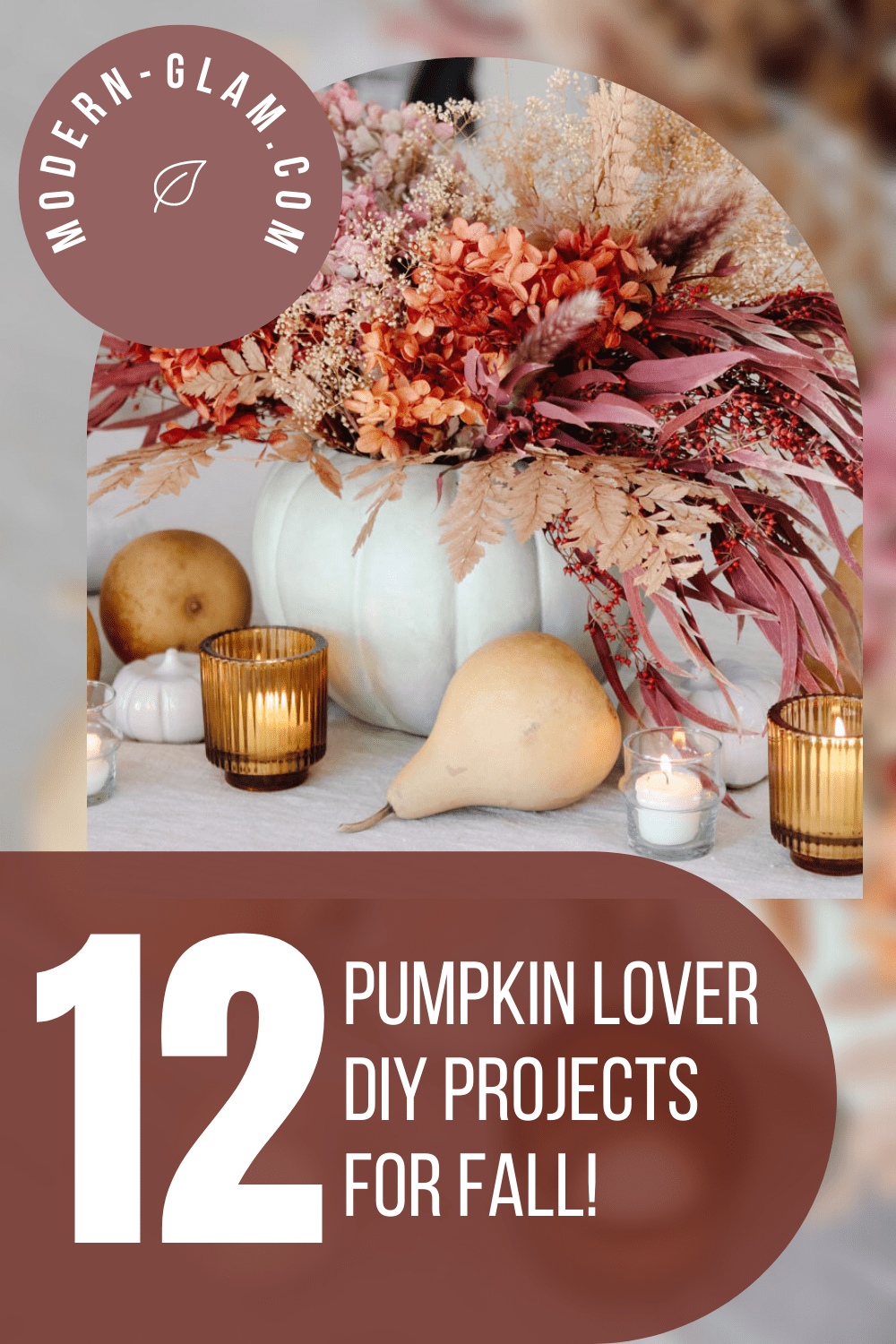 Learn how to make a pumpkin centerpiece with dried flowers for fall!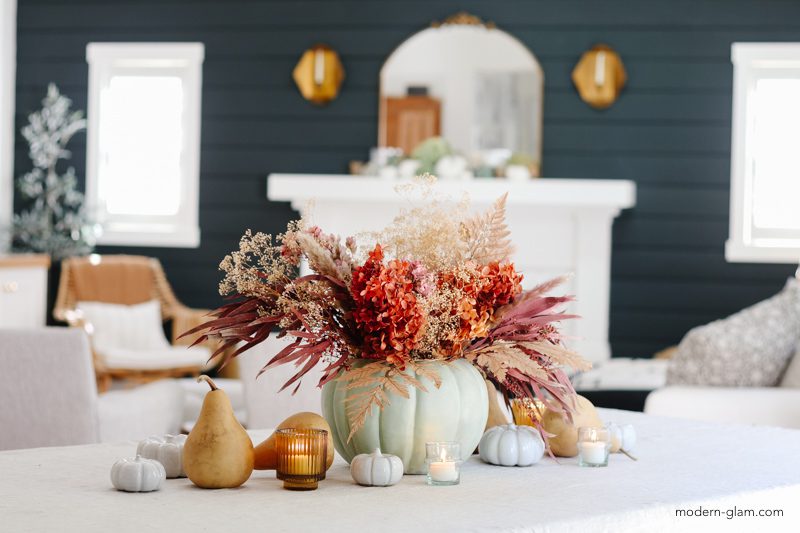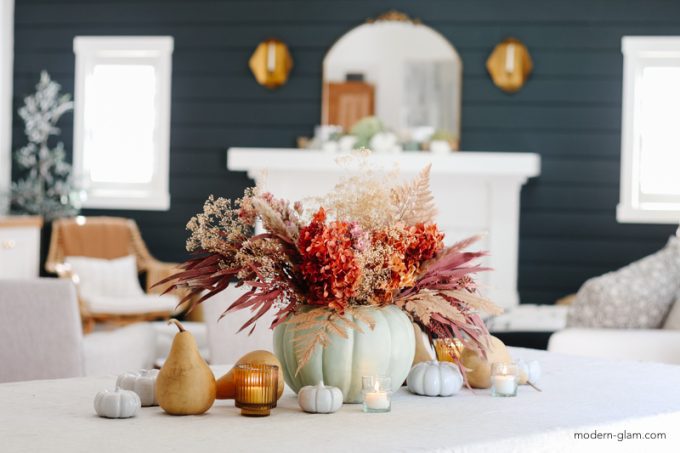 This DIY pumpkin arrangement will last you all season long. I'll share how I made it and link all the sources too.
Beautiful Pumpkin Centerpiece With Dried Flowers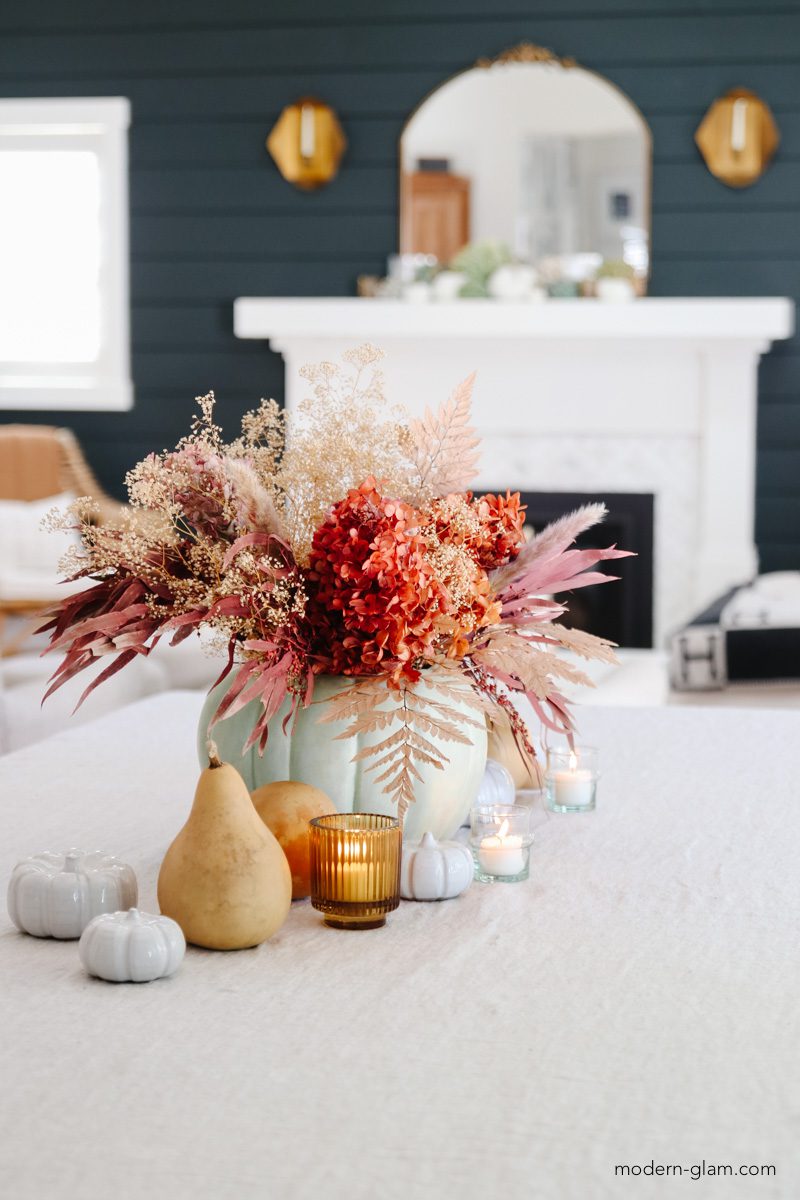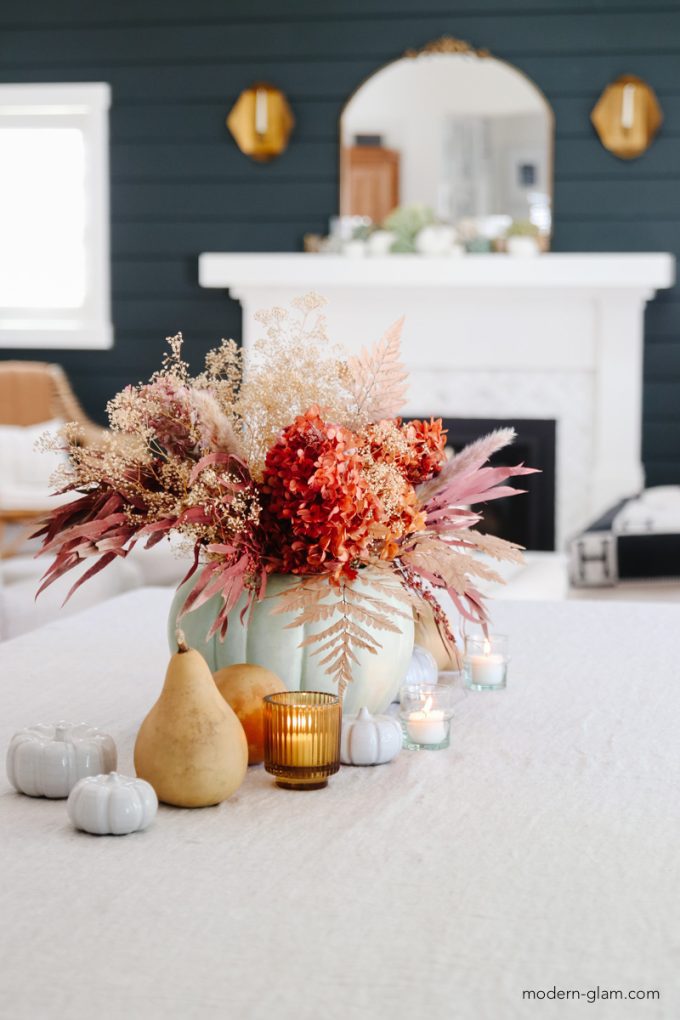 I'm sure you've seen those arrangements that have gone viral using a pumpkin as a vase. I love this idea. But I also love "fix it and forget it" projects. Fresh flowers seem to die before I even get to enjoy them. So, as fall comes around, my love for dried flowers really comes out to play.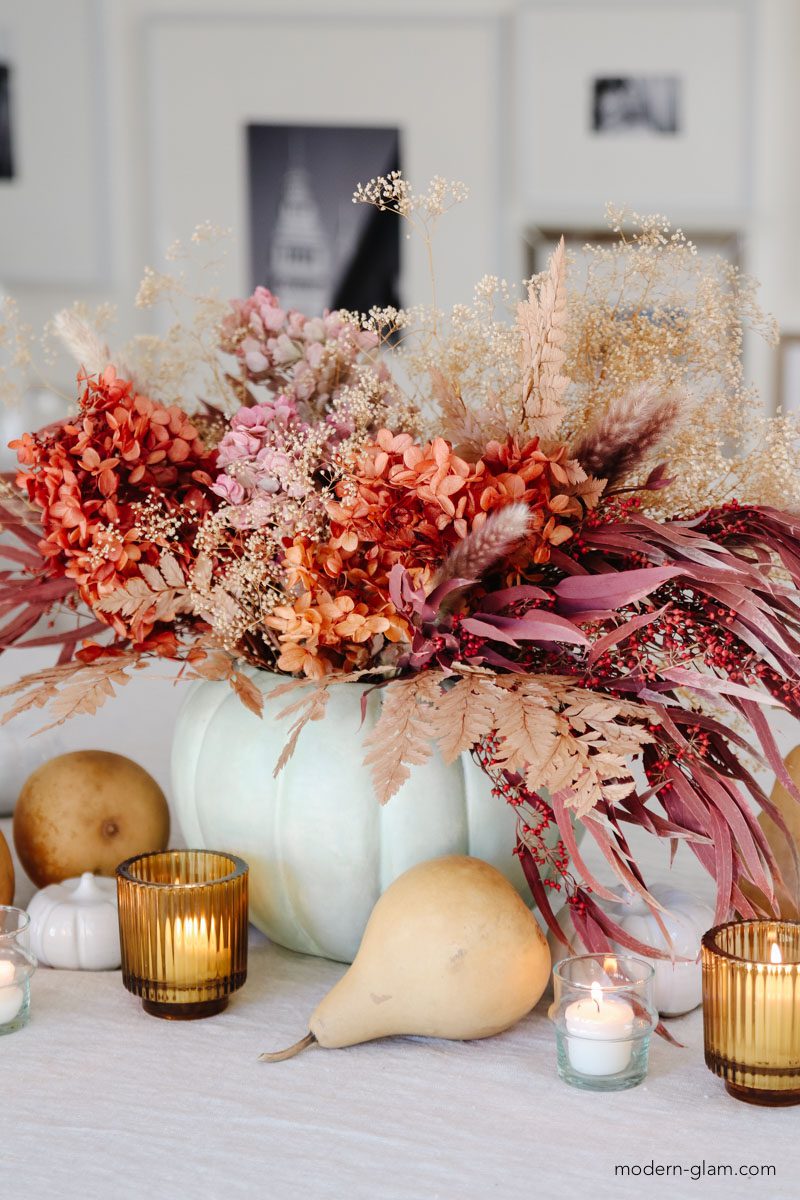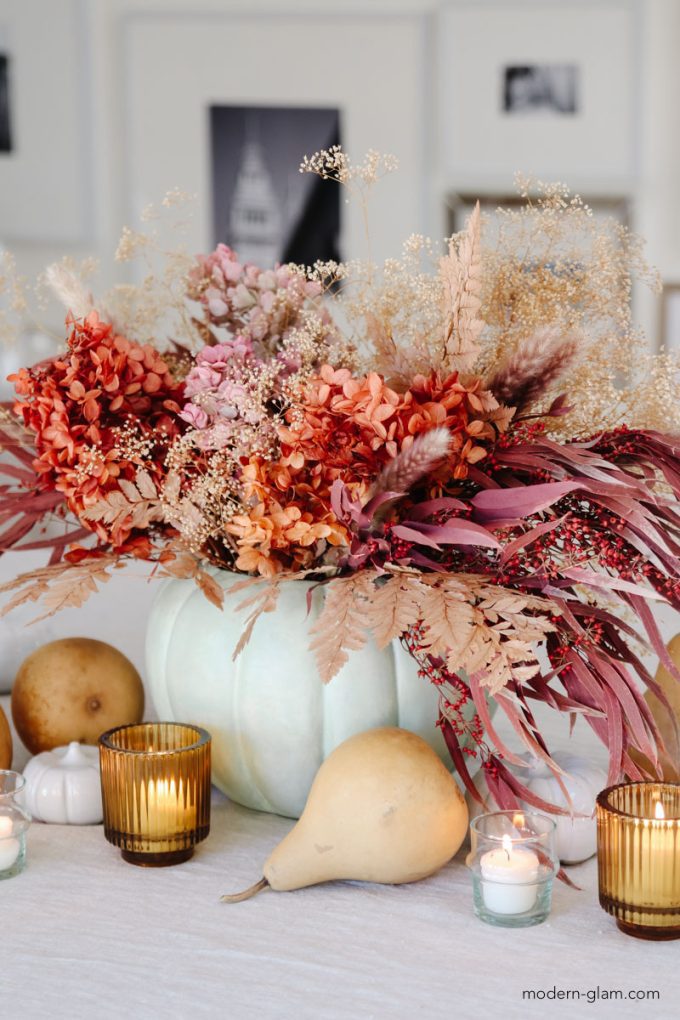 I made this pumpkin centerpiece using a ceramic pumpkin pot, dried flowers and preserved branches. All the feelings of fall in one cute little arrangement that will last me until the holidays!
How To Make A Pumpkin Flower Arrangement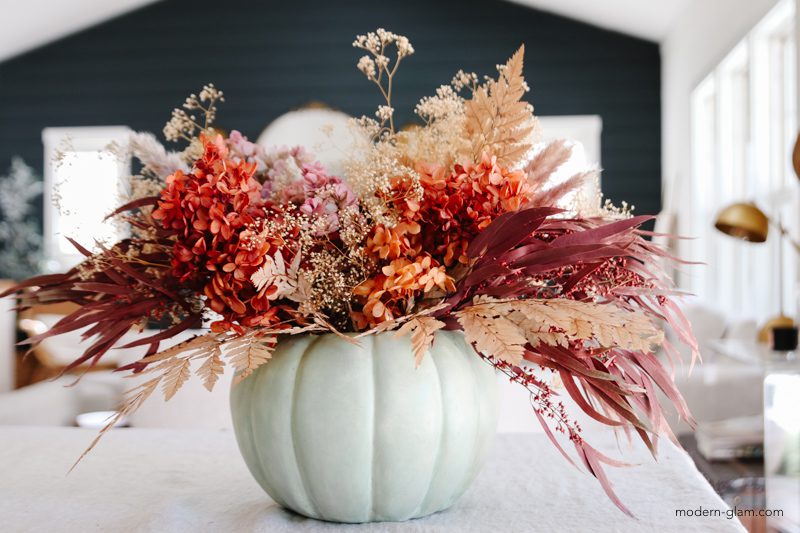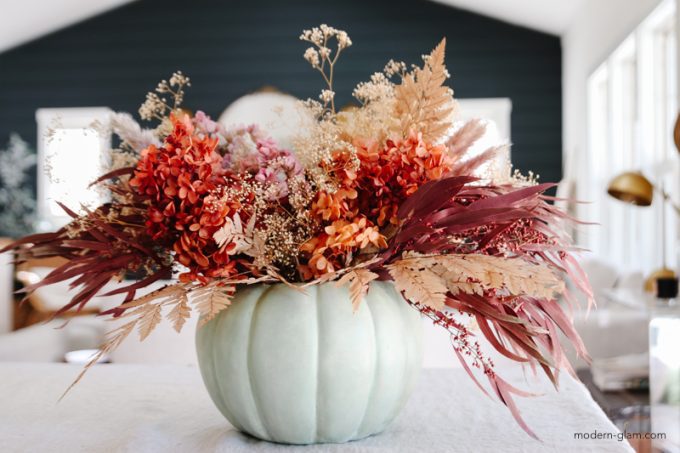 To make this pumpkin flower arrangement you will need a pumpkin for your vase and some dried flowers and branches. I chose this ceramic pumpkin pot. But you could also use a craft pumpkin that you can carve the top out of, or a fresh pumpkin.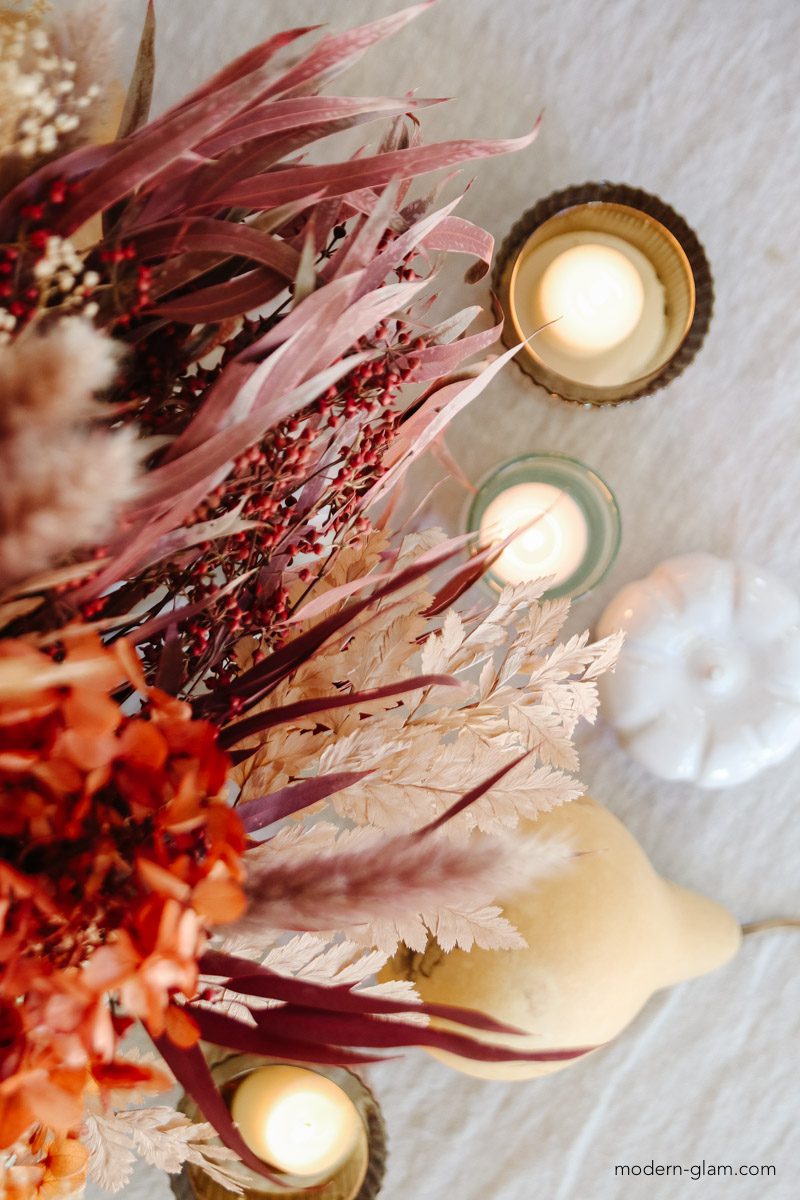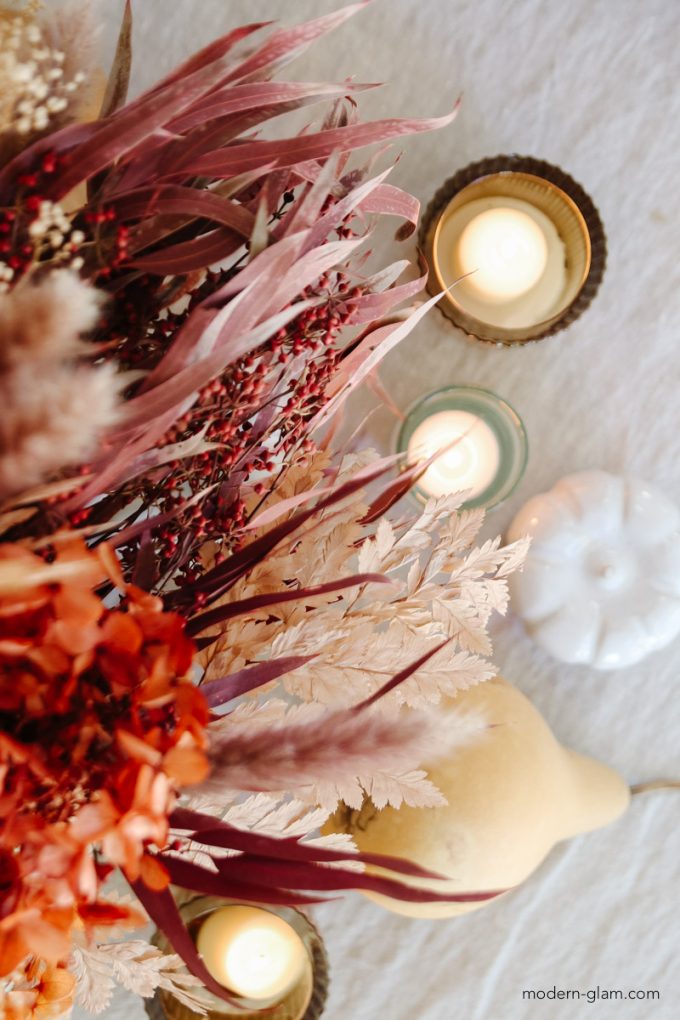 Since it is still August, there were no real pumpkins to be found at the time I made this cutie. So, a pretty ceramic pumpkin vase will do!
DIY Pumpkin Flower Arrangement Supplies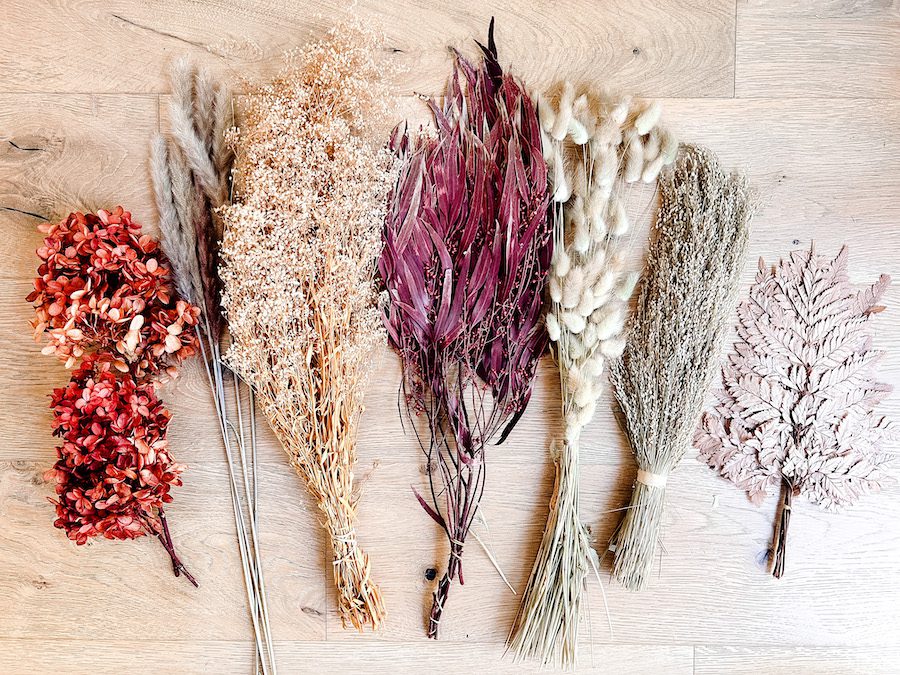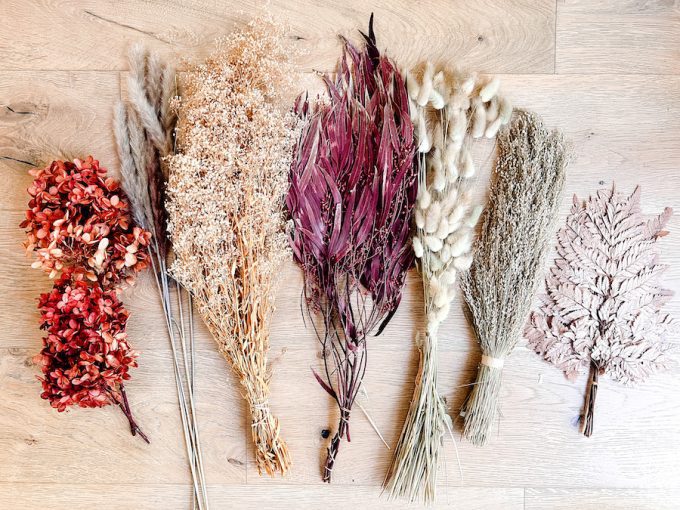 Here is everything you need to make this pumpkin centerpiece:
Dried Flowers (I used eucalyptus, baby's breath, hydrangeas, ferns, pampas grass, and bunny tails)
Pumpkin (fresh, craft or ceramic)
Floral foam

First, fill your pumpkin with some floral foam. This gives the stems something to stick into and stay put.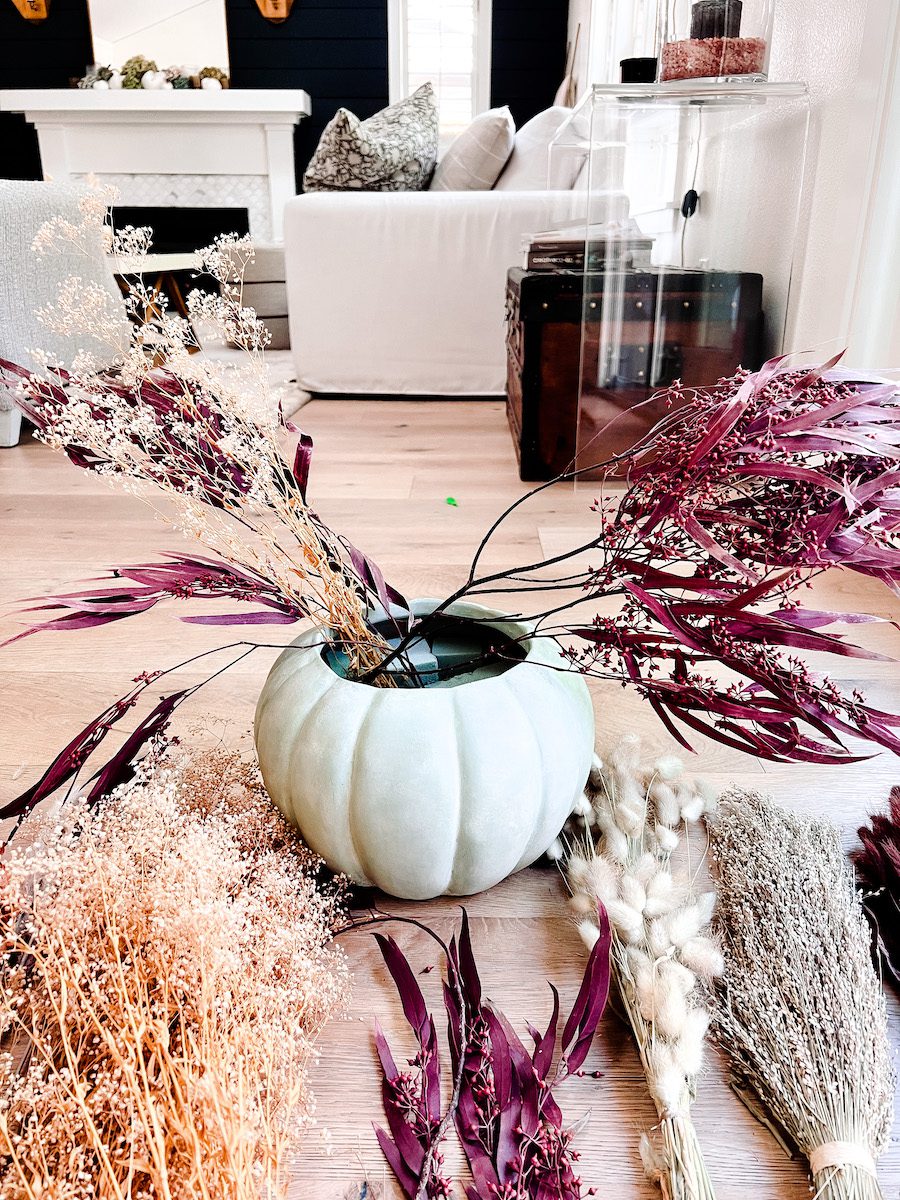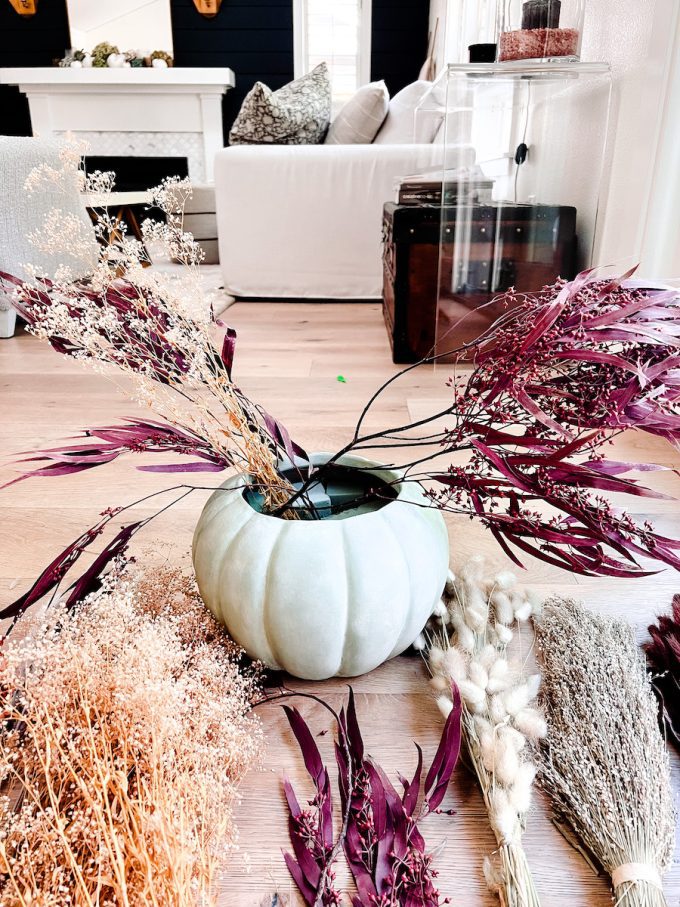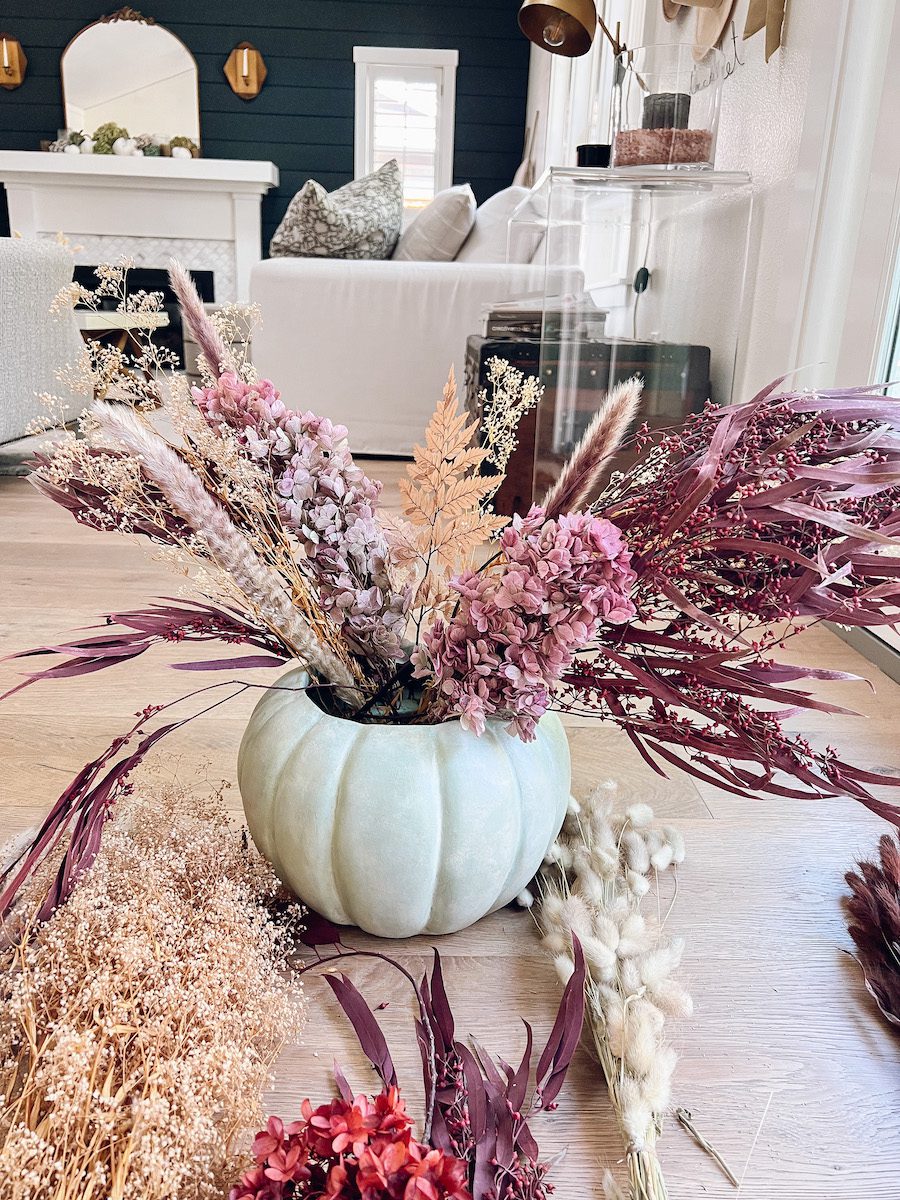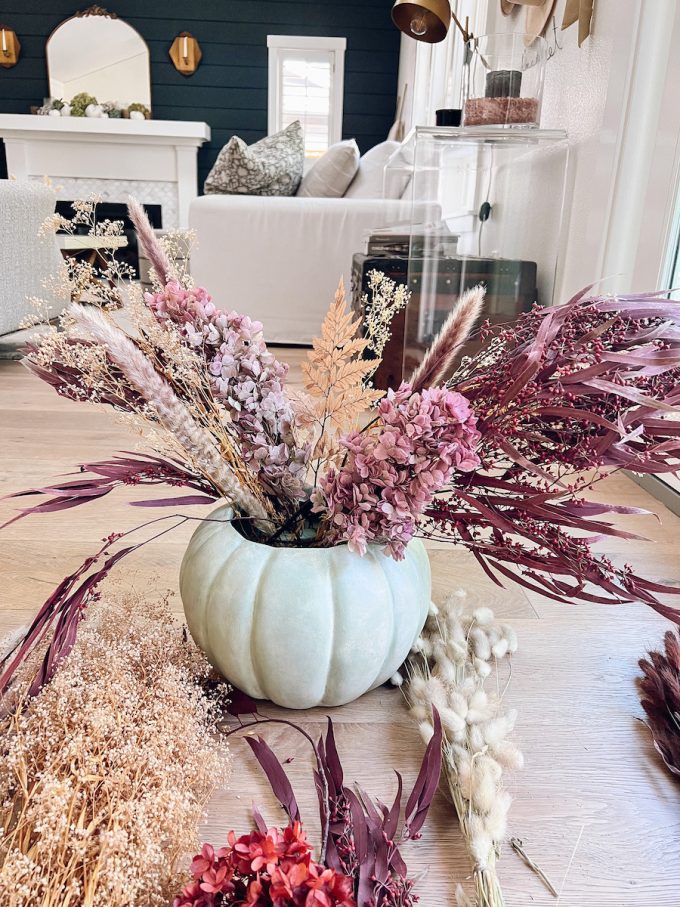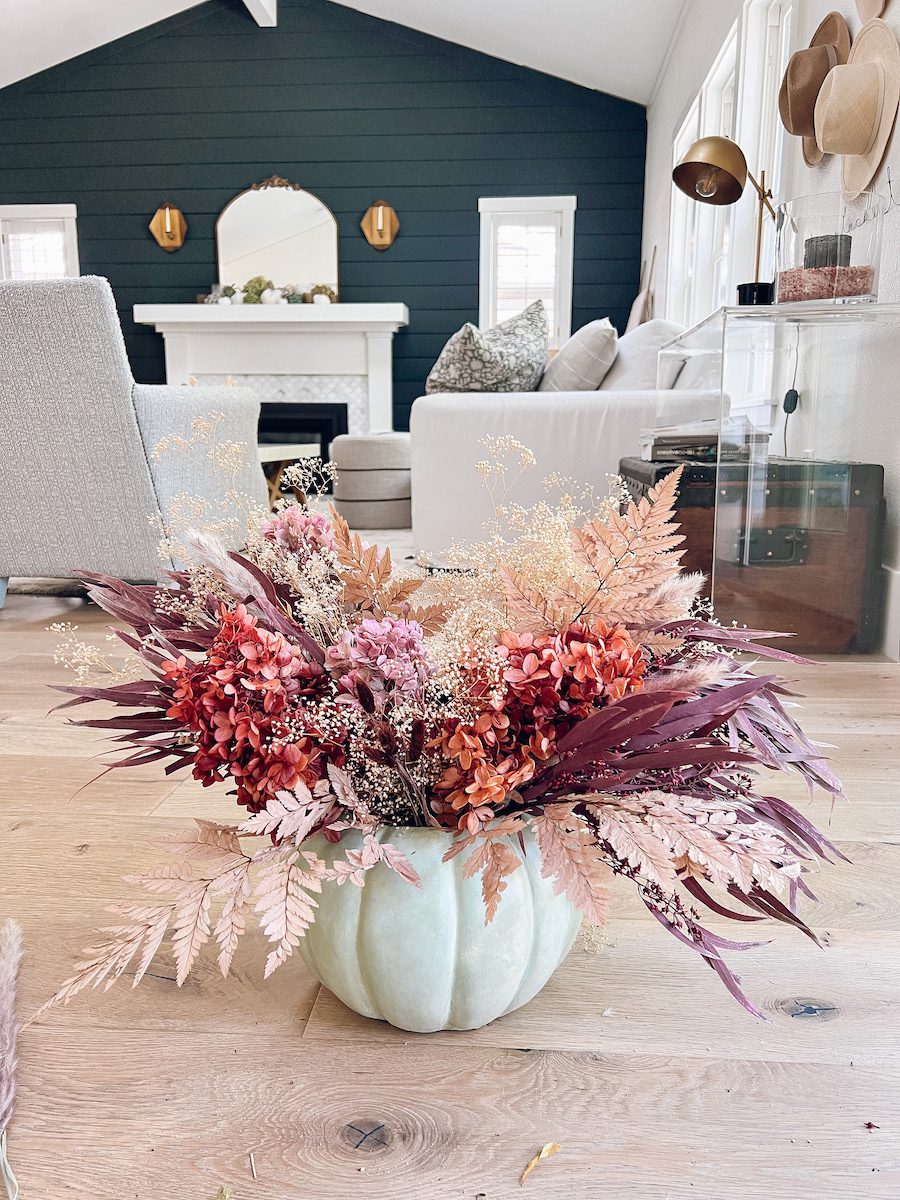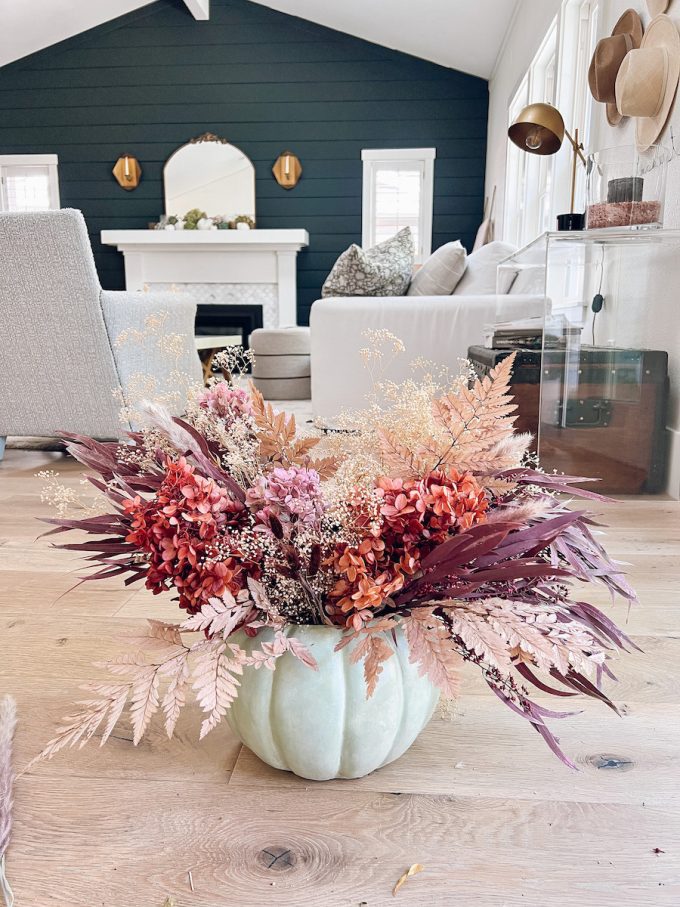 Next, start with the larger flowers and place them towards the back. Then fill in with smaller flowers and branches. I played with the arrangement until it felt right. Putting in, taking out and fussing with it until I was happy with the result.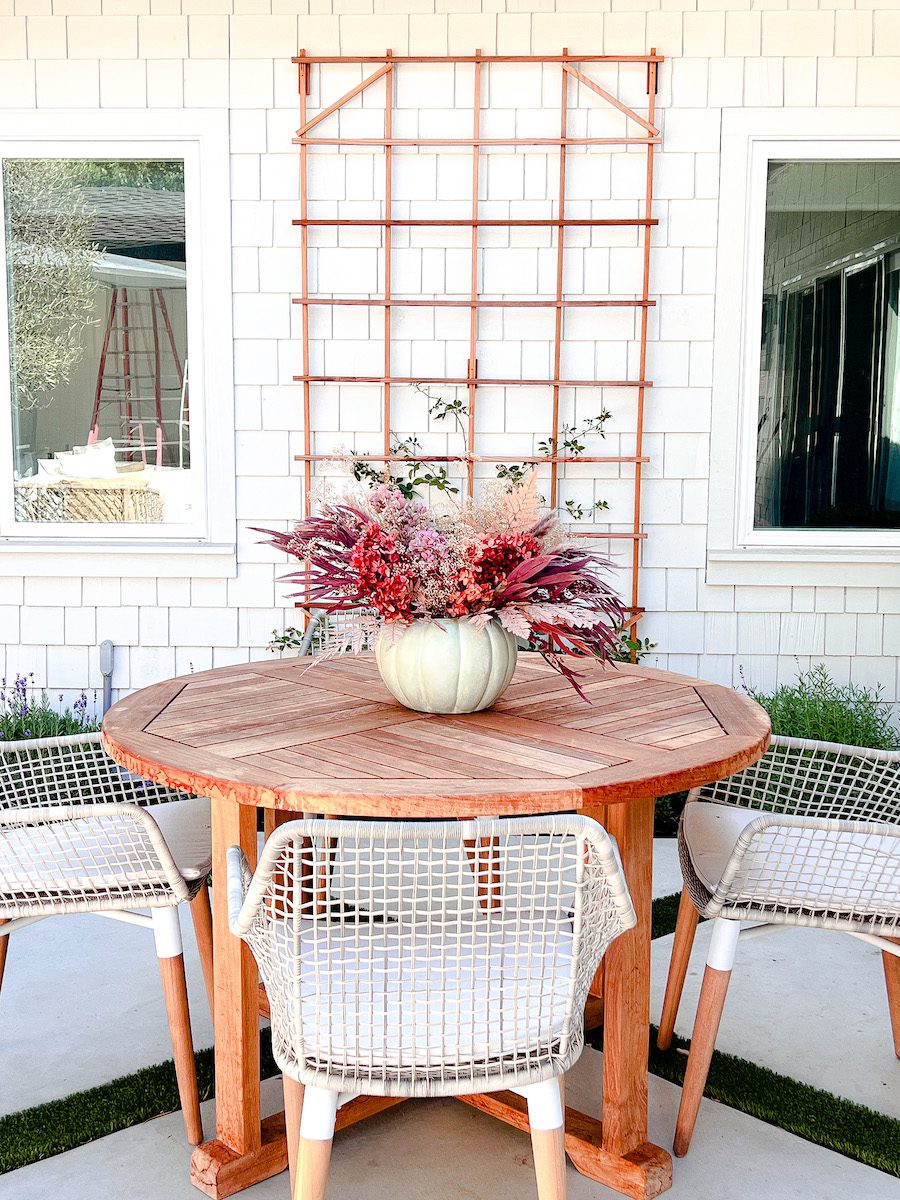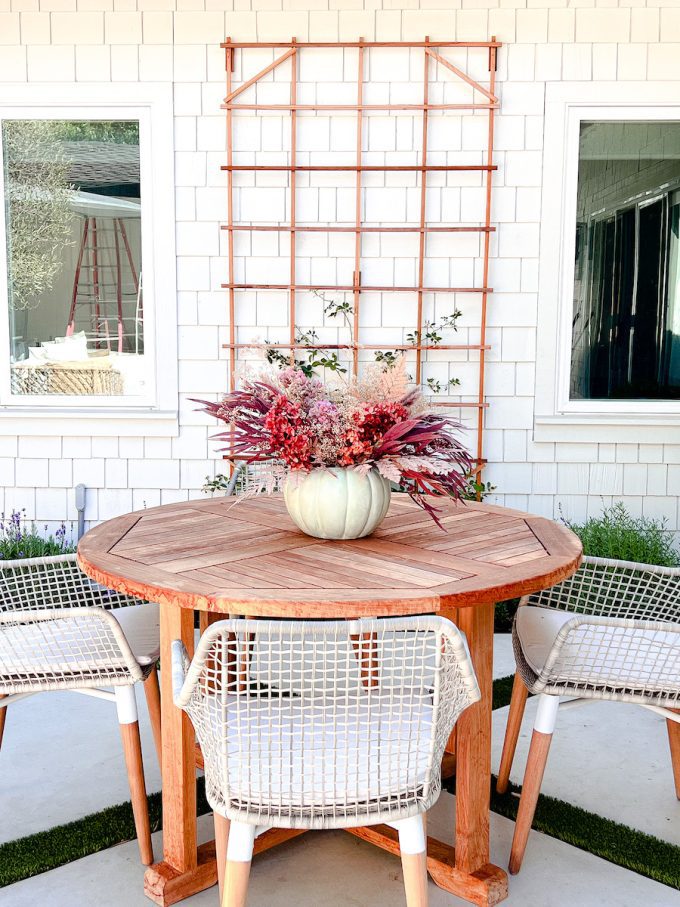 With the round shape of the vessel, I chose to arrange the flowers slightly wide and low instead of tall. I feel this gives the pumpkin centerpiece a little more whimsy and natural shape rather than the stems sticking straight up and out. But you do you and see what you love!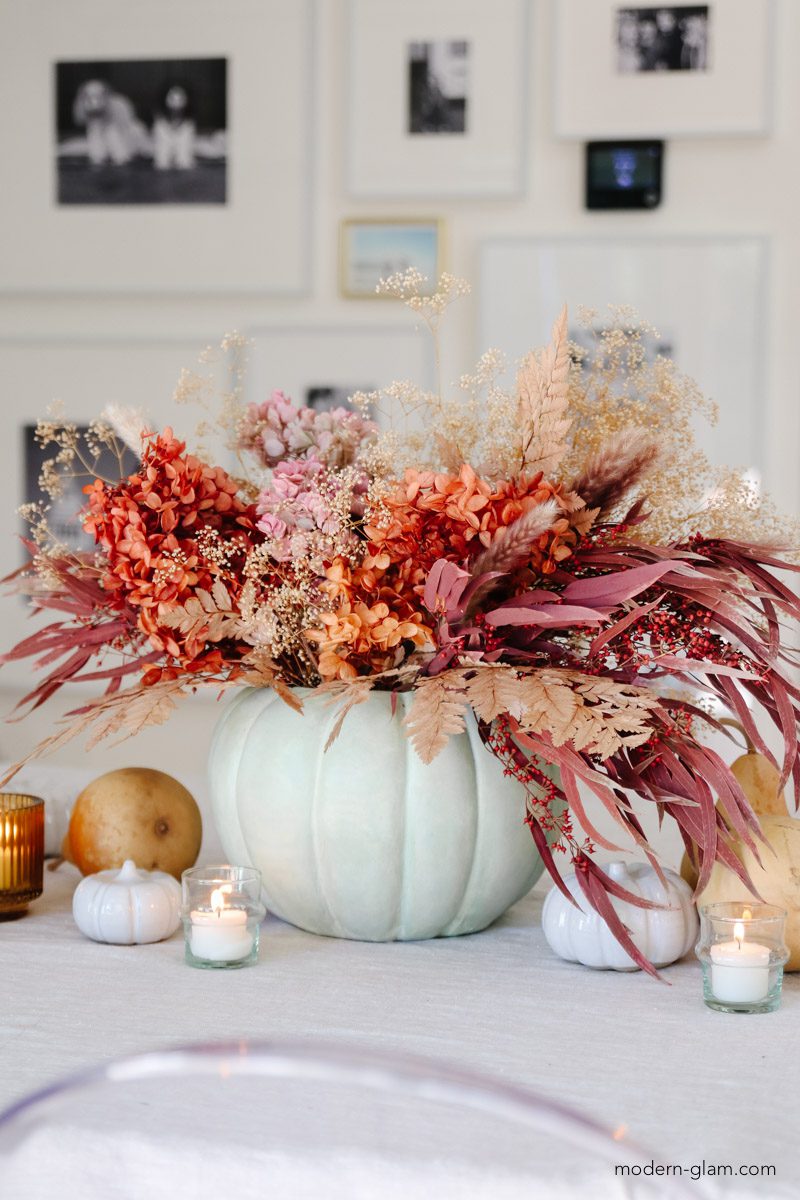 Be sure to check out my Dried Floral Arrangement from last fall that I absolutely LOVE!
How To Turn A Pumpkin Into A Centerpiece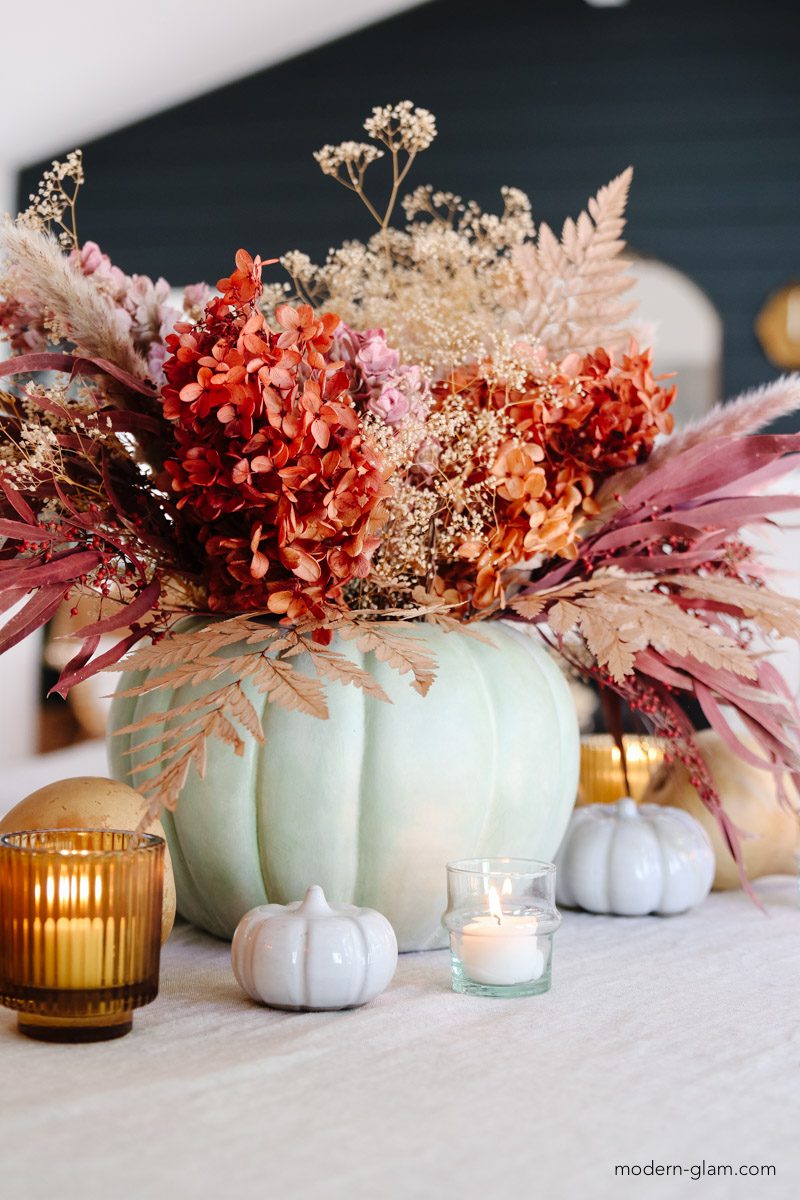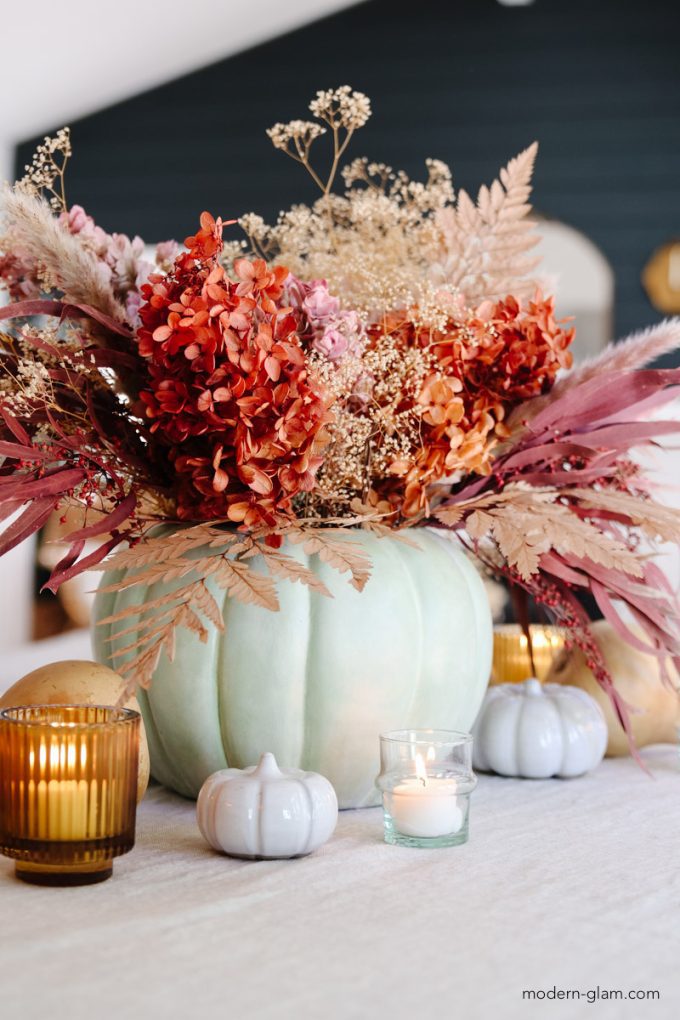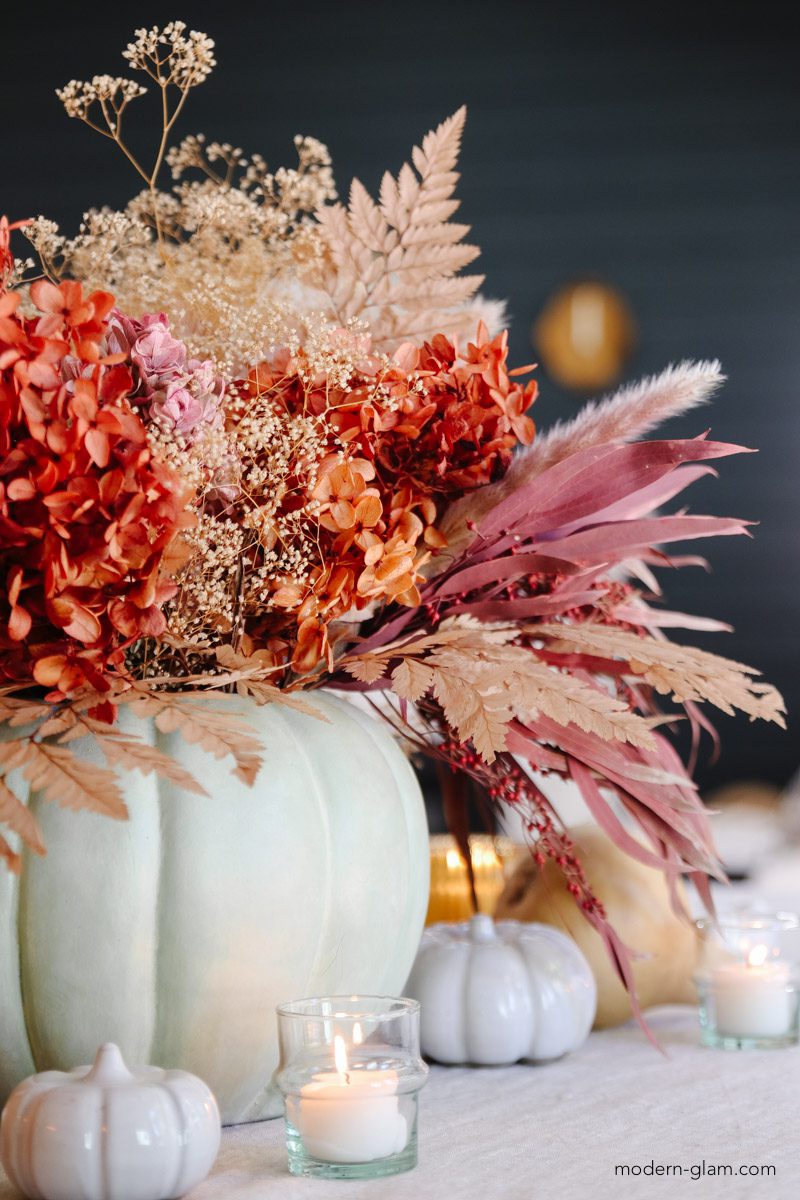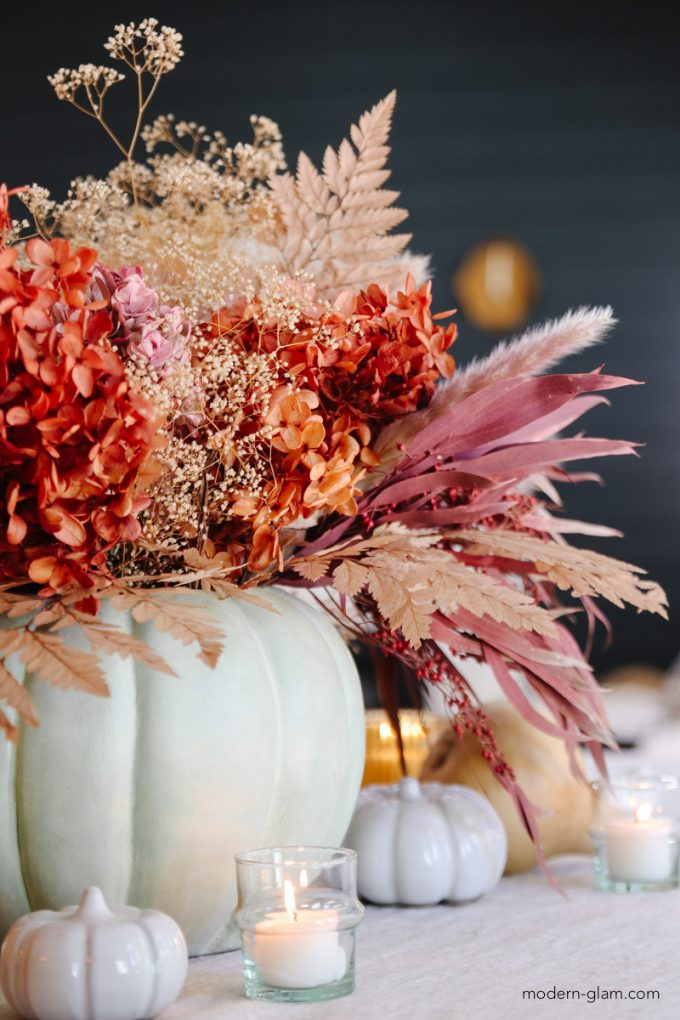 Now that you have your pumpkin flower arrangement all ready, let's turn this into a beautiful centerpiece for fall!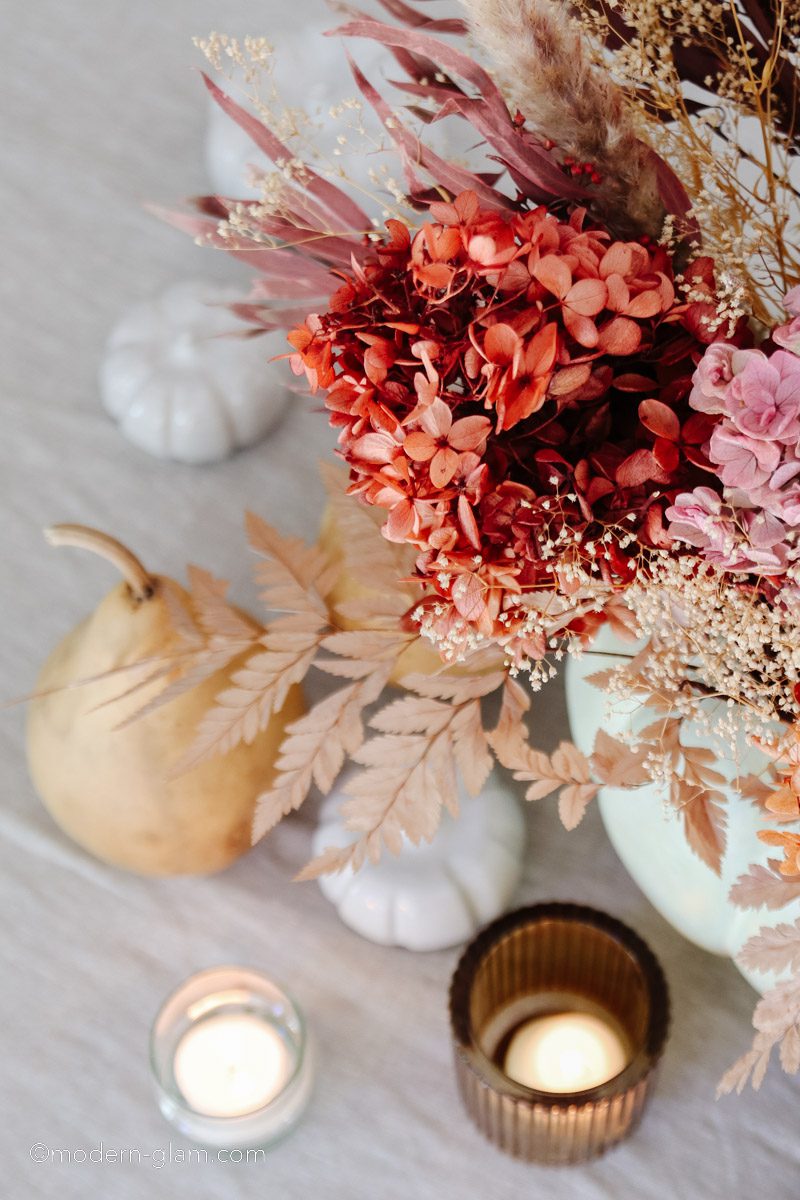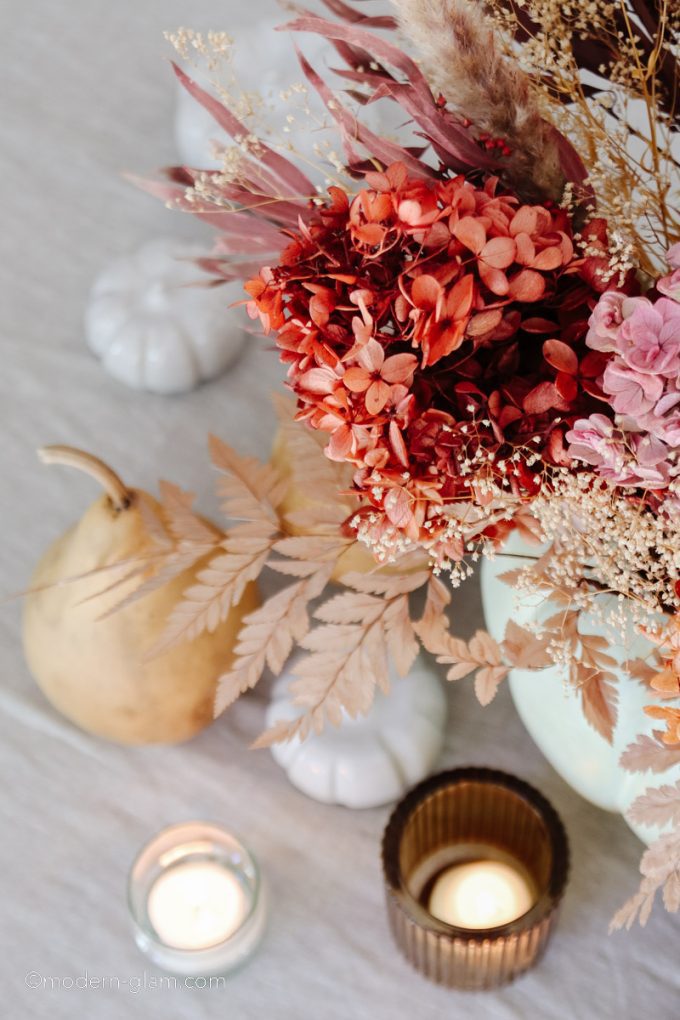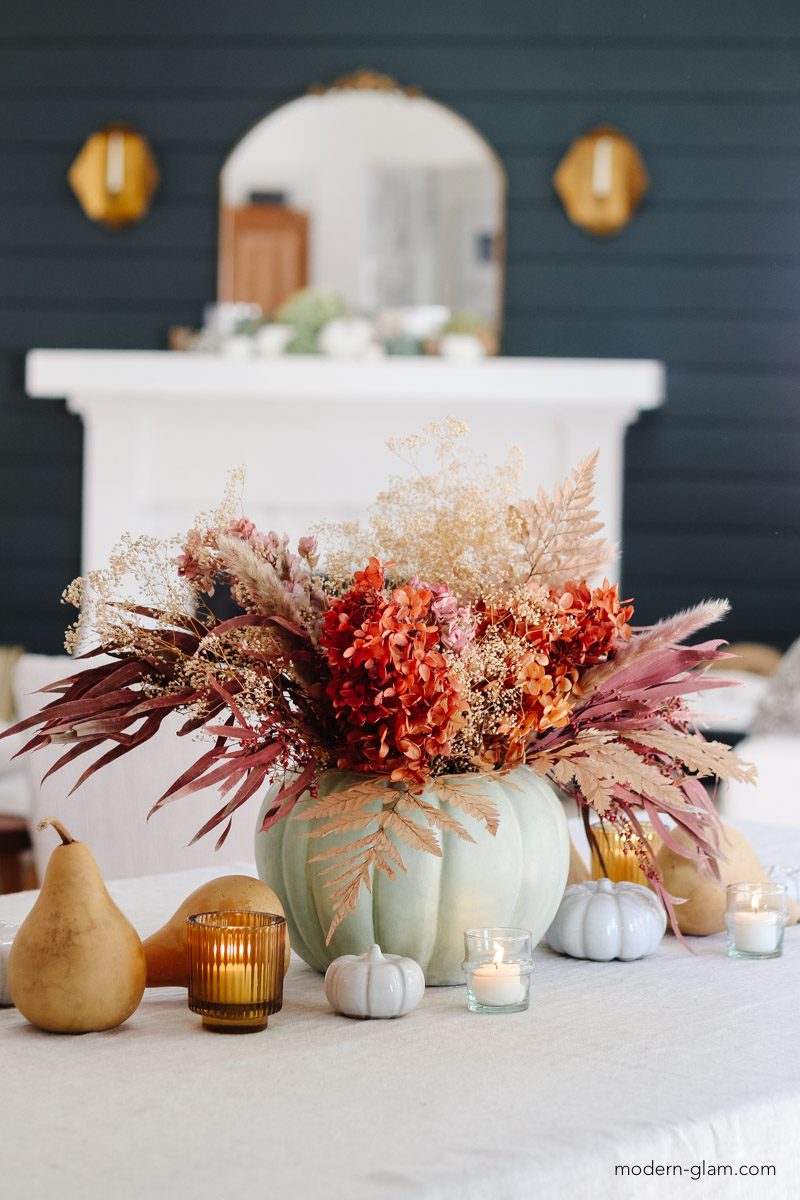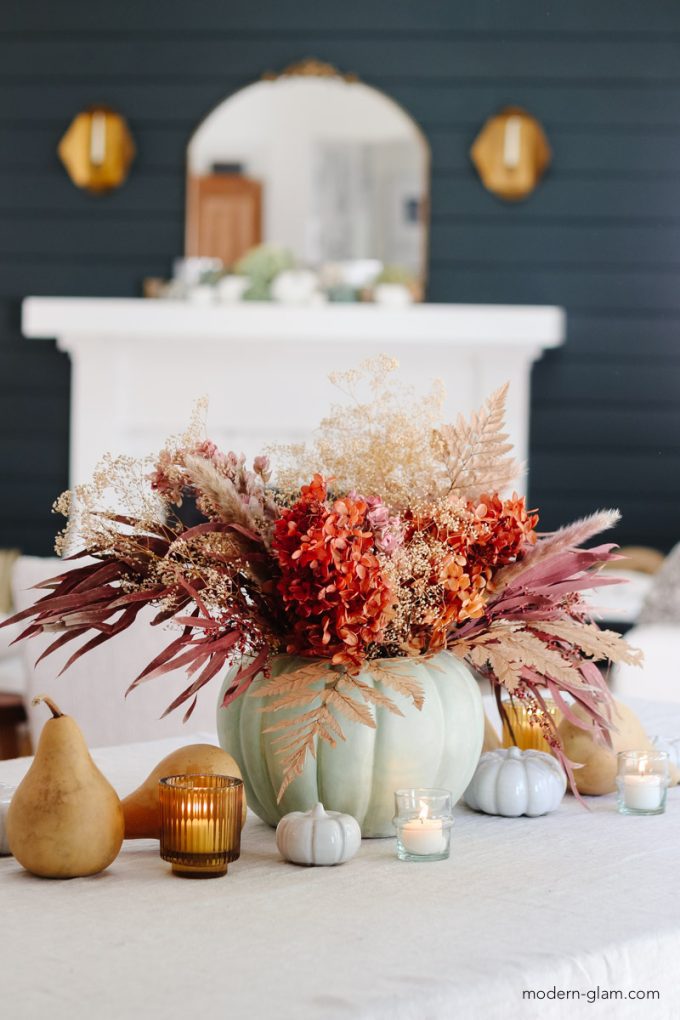 Place the arrangement on the center of the table and add some votive candles, small pumpkins and dried gourds. Scatter them around and underneath the centerpiece for a truly beautiful fall display. Enjoy!
Pumpkin DIY Ideas
My friends and I are sharing our favorite pumpkin DIY ideas today! Check them out and click the links to see more details! Happy crafting!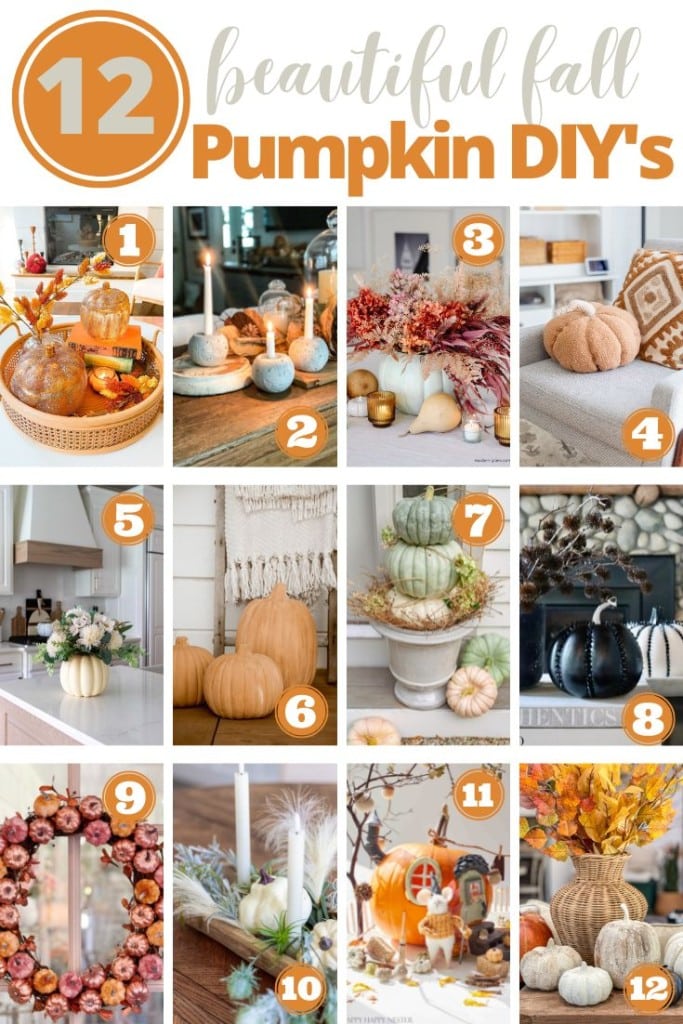 And I think You Will Love These Fall Ideas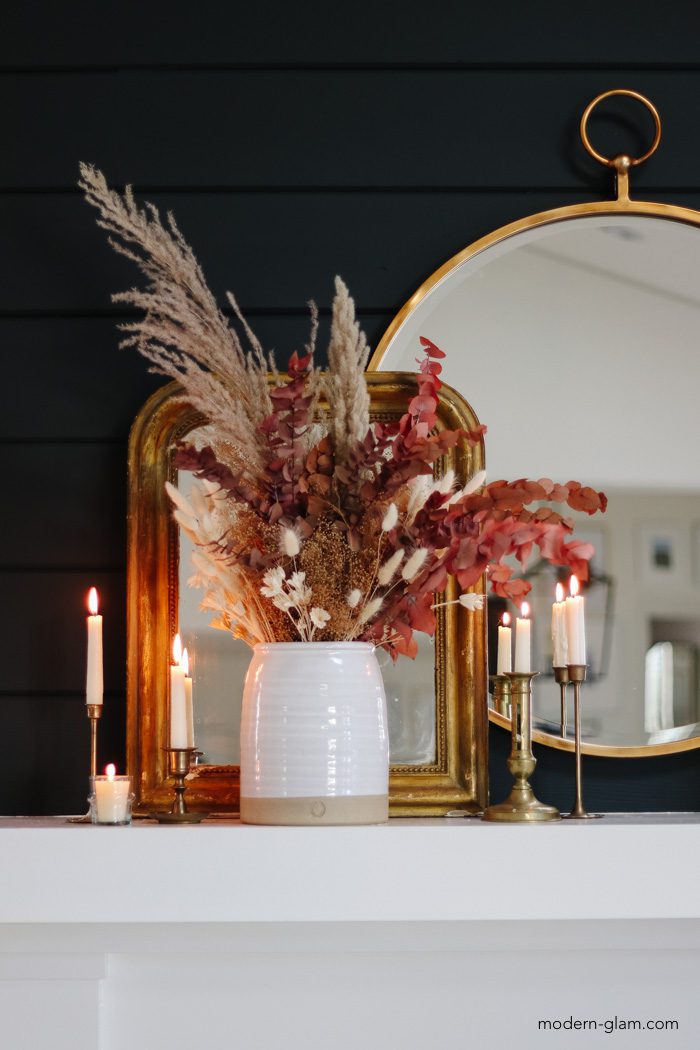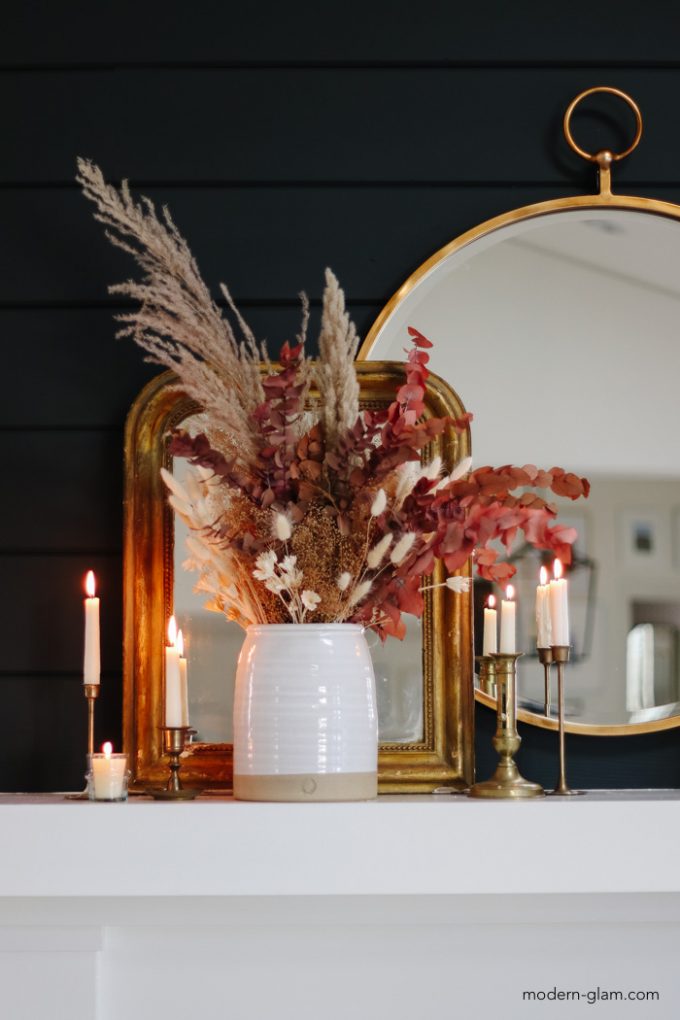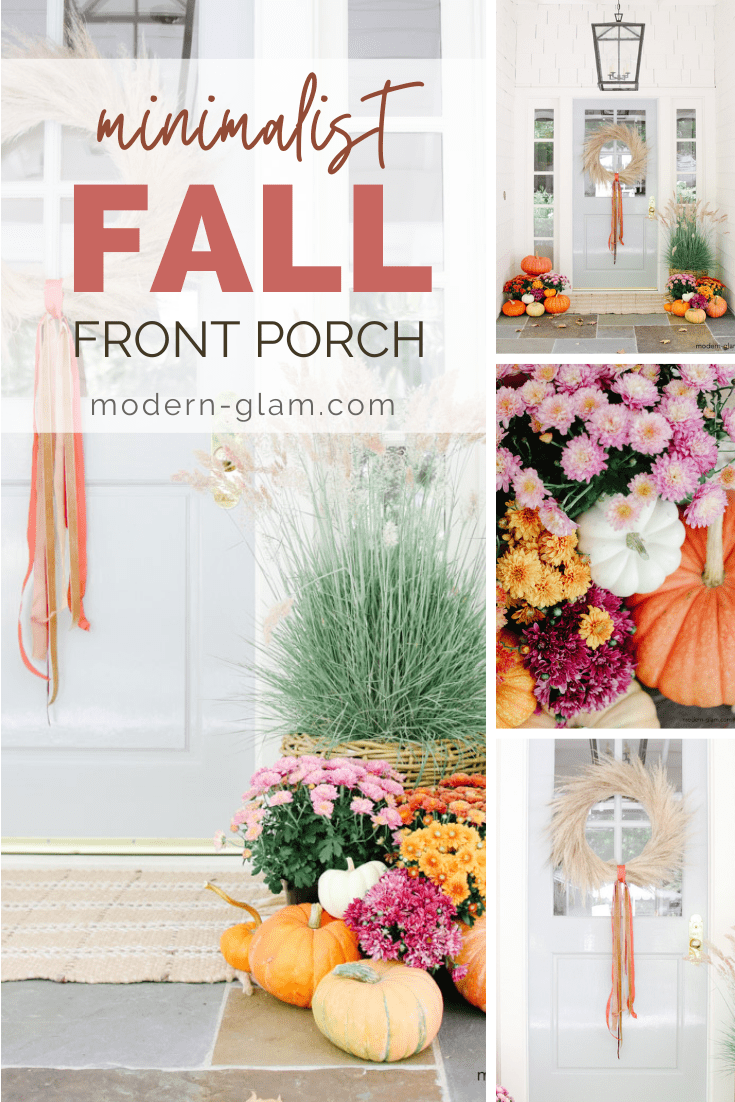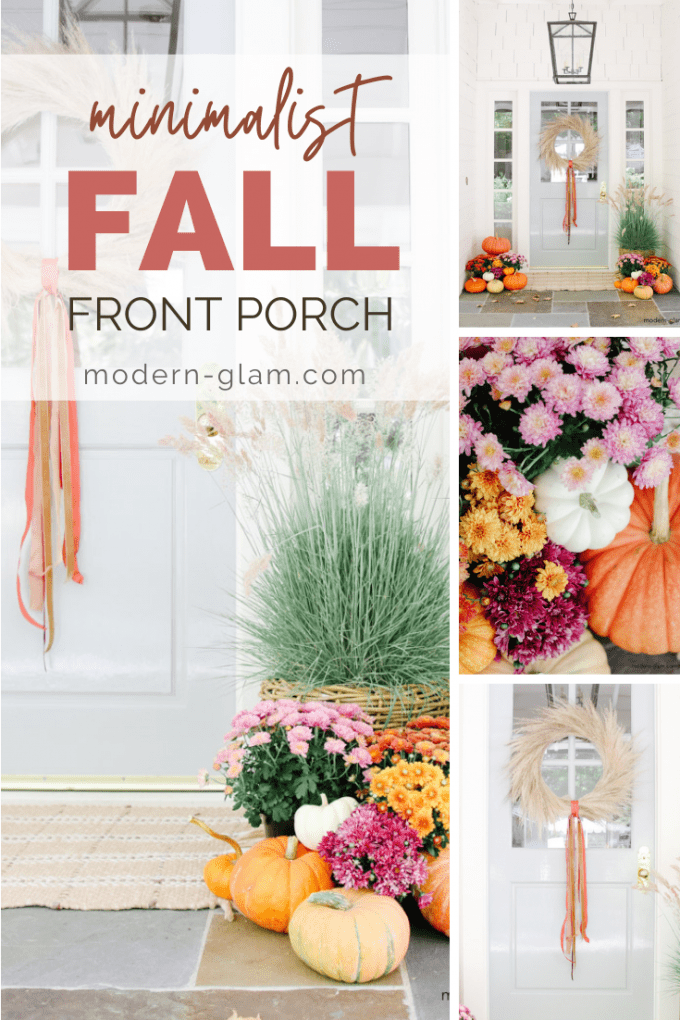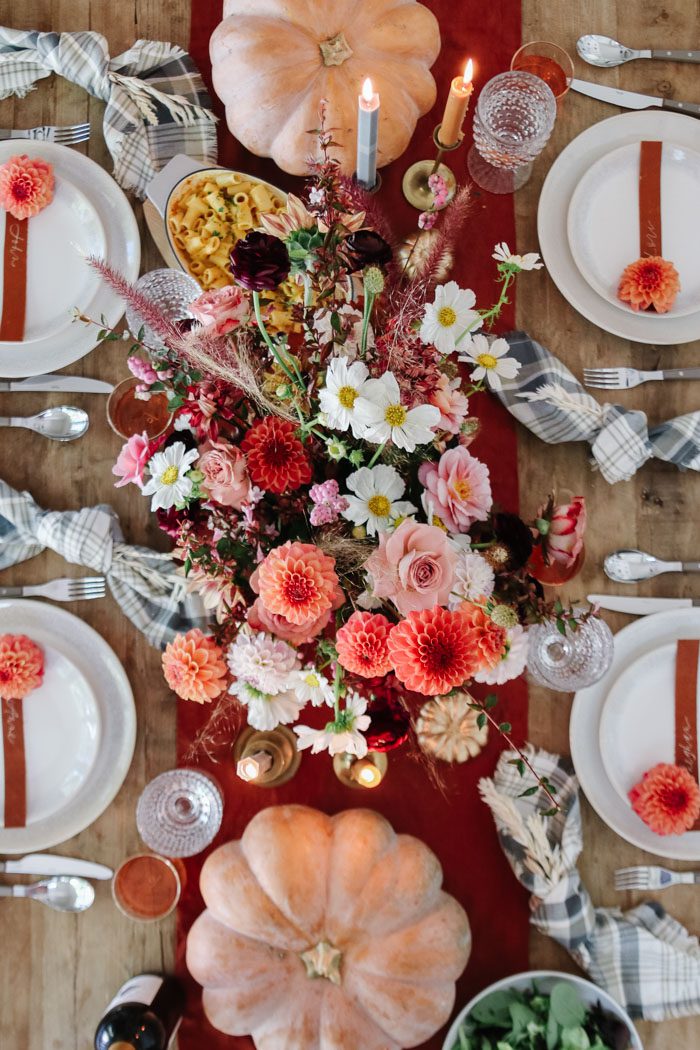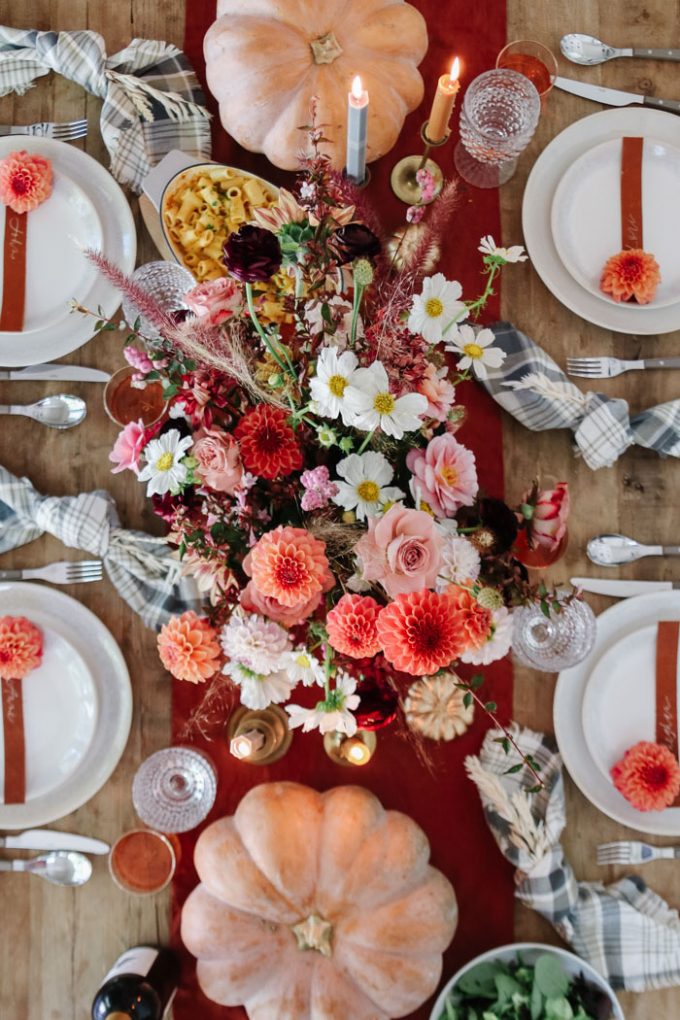 Let me know if you try any of these ideas. I love seeing your creations! Happy Fall!