This S'mores Dessert Charcuterie Board is perfect for summer. Check out how to put it together and I'm sharing my favorite unique s'mores combinations.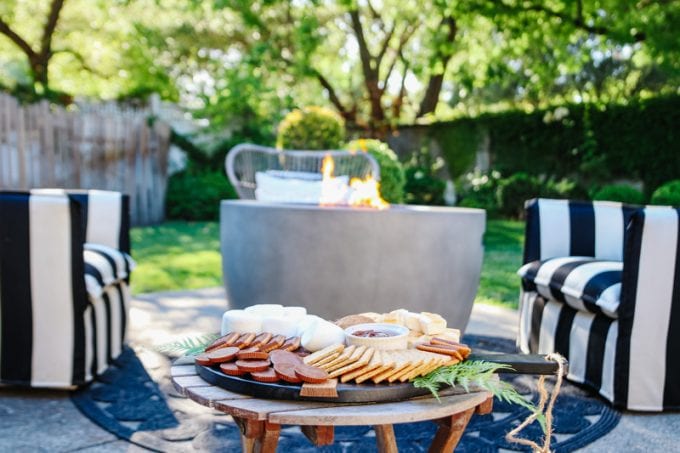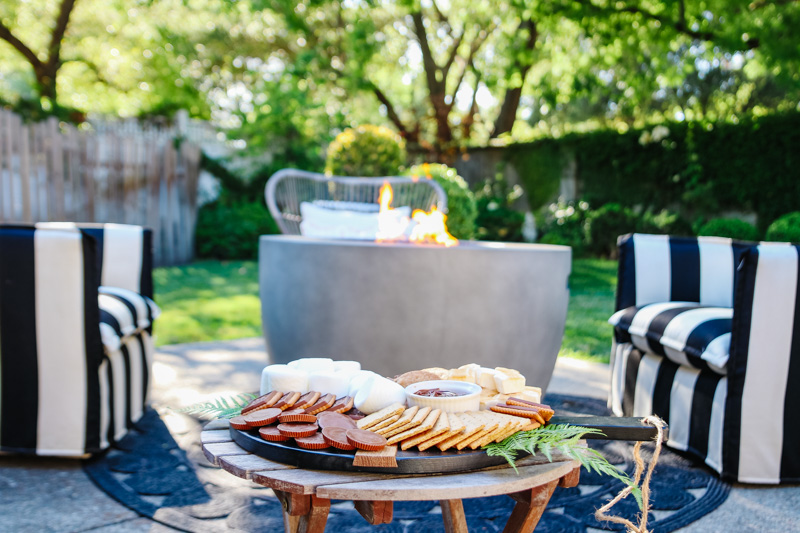 Summertime is made for s'mores. We have been spending a lot more time at home and outside around our fire pit in the evenings. My kids love making s'mores.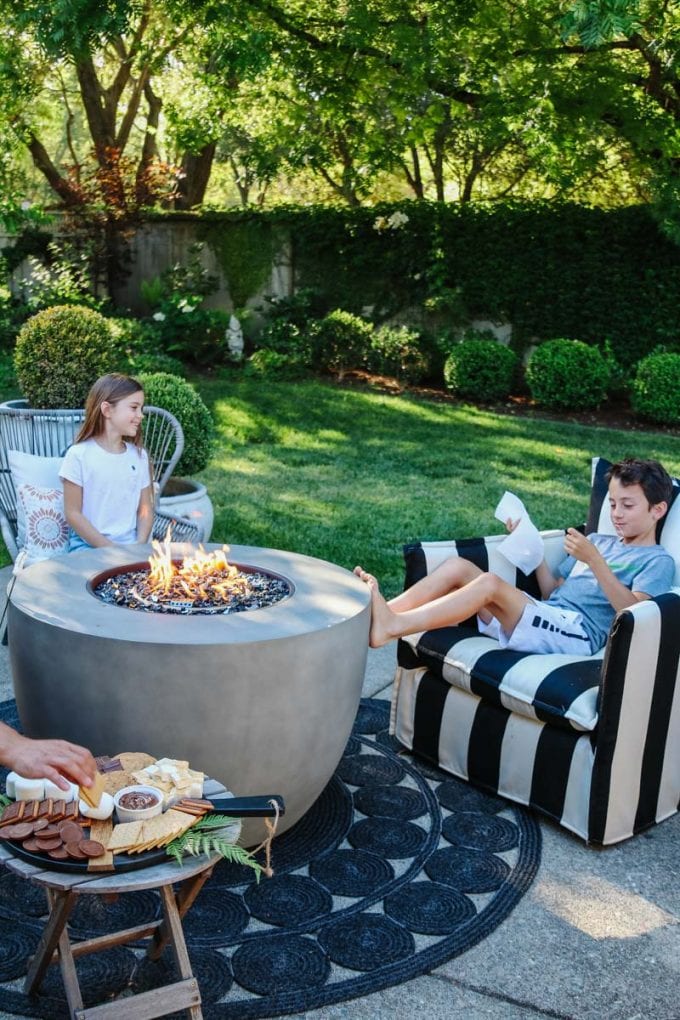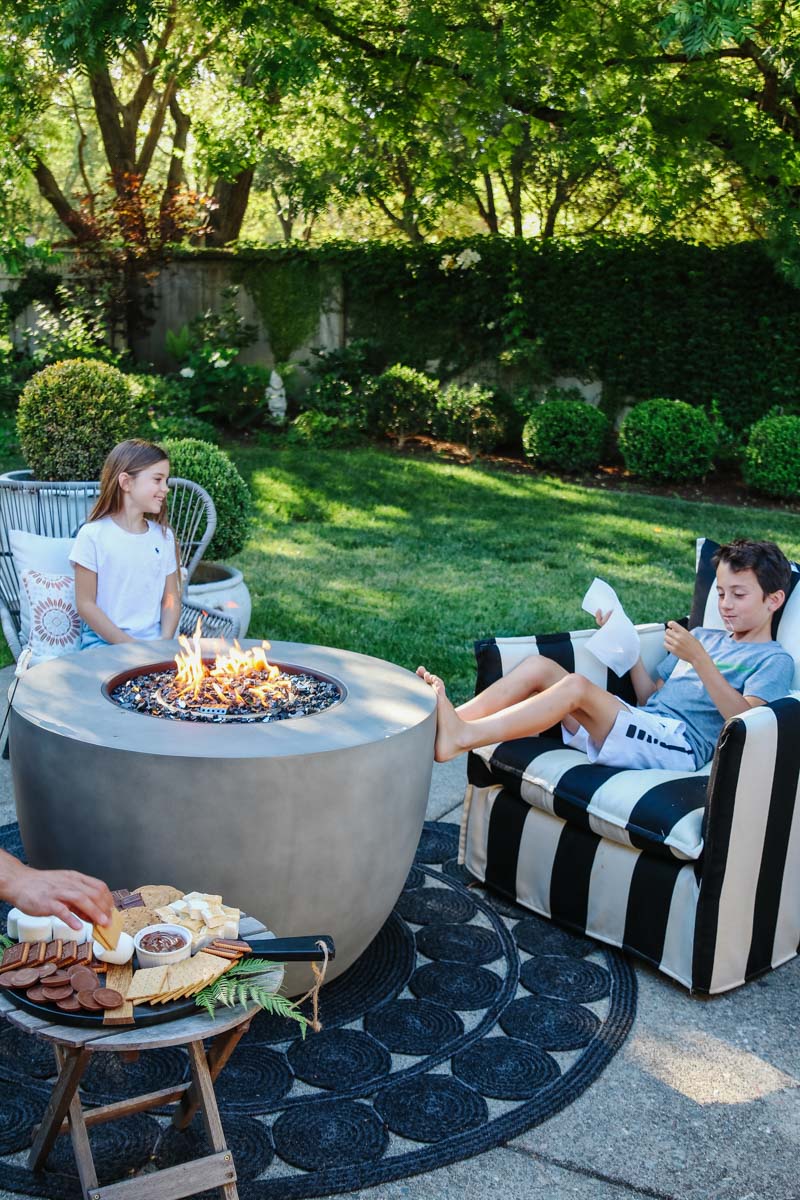 This beautiful s'mores dessert board is perfect for those evenings when we have friends over. And we have come up with some pretty fun and unique s'mores combinations as well! I'm sharing all the details with you today!
S'mores Dessert Board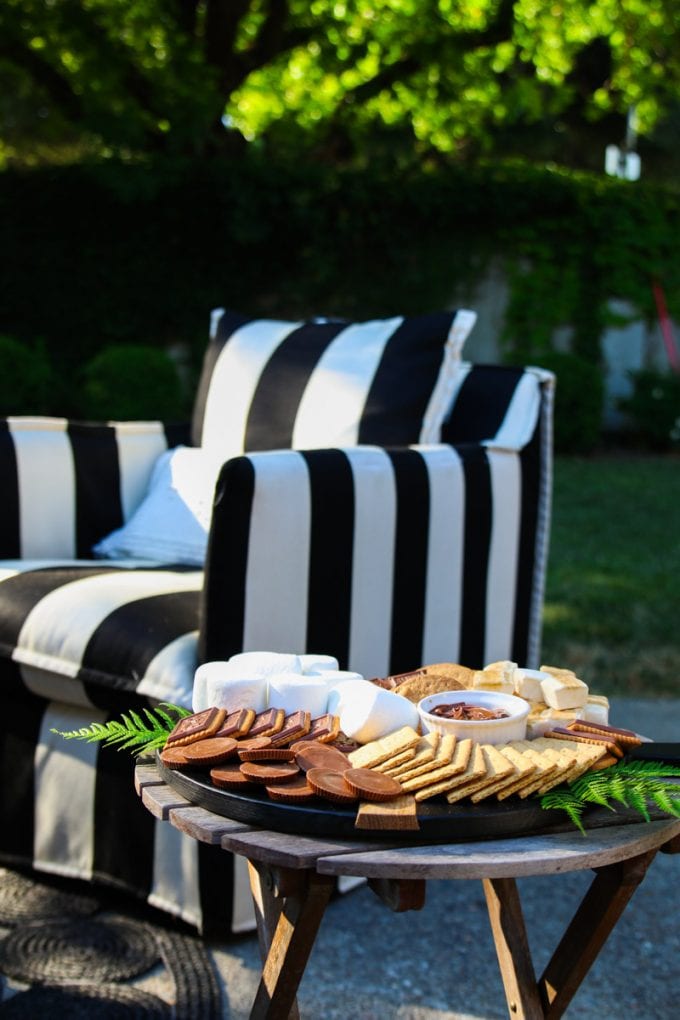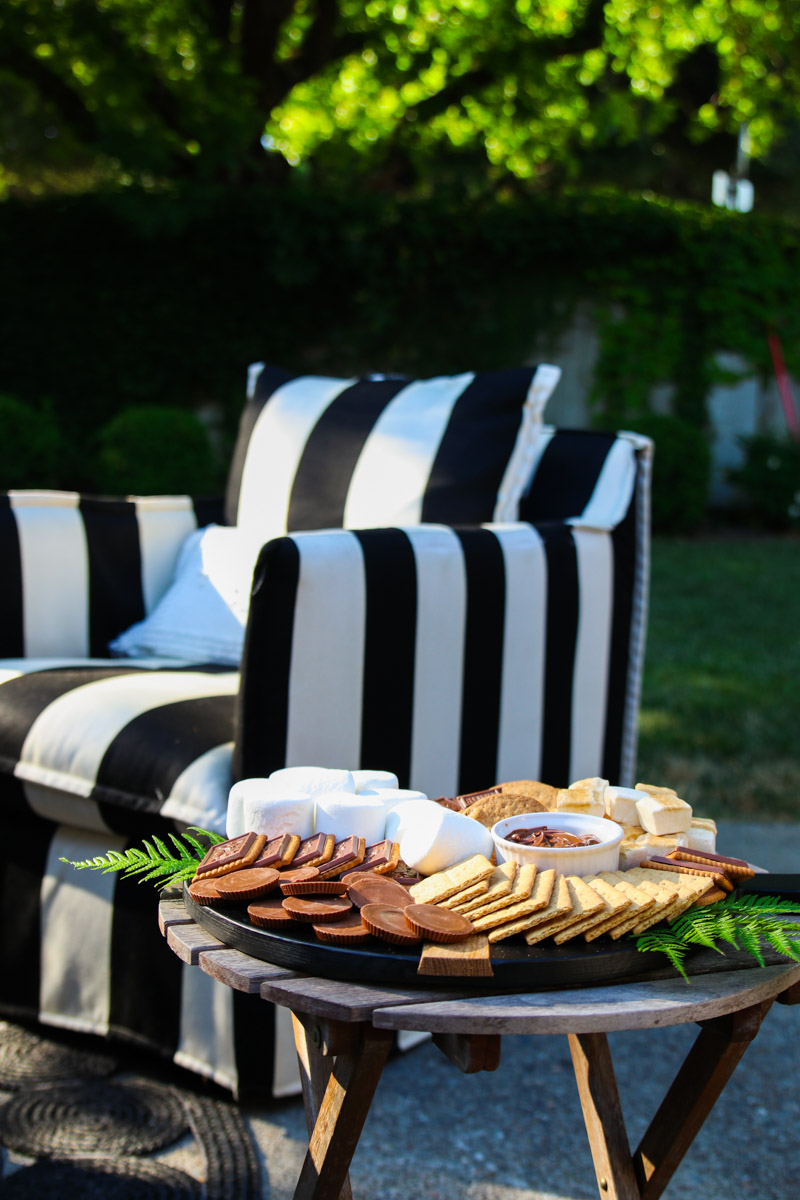 I think we can all agree that we are spending more time at home and we have had to get creative with how to entertain ourselves. Especially if you have kids.
Making s'mores is one of my kids favorite things to do in the evenings. And we have been doing it a lot! Since it has become a regular pastime, I have gotten creative with the arrangement and the combinations.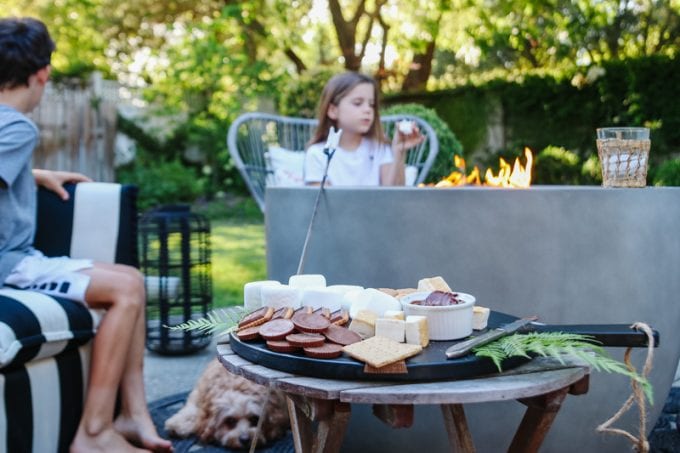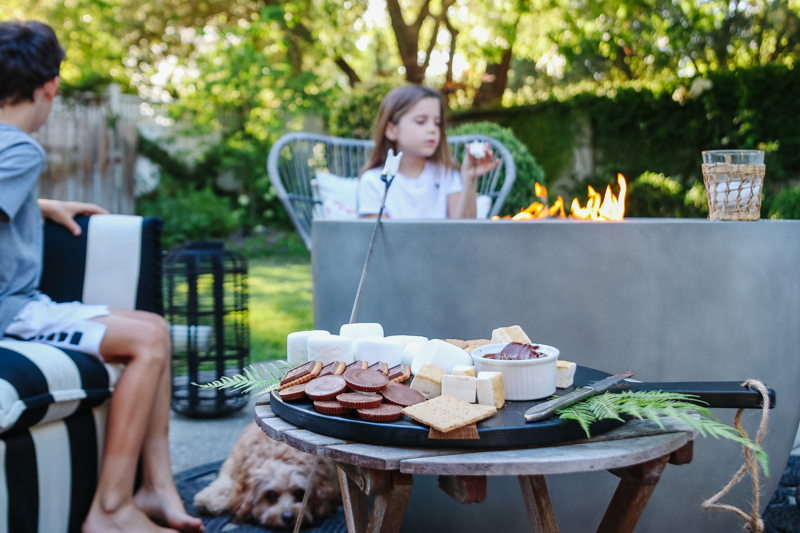 I love this s'mores dessert board. It's fun to put together and can be easily transported if you are headed to a friends house for dinner and dessert.
How To Assemble A S'mores Dessert Board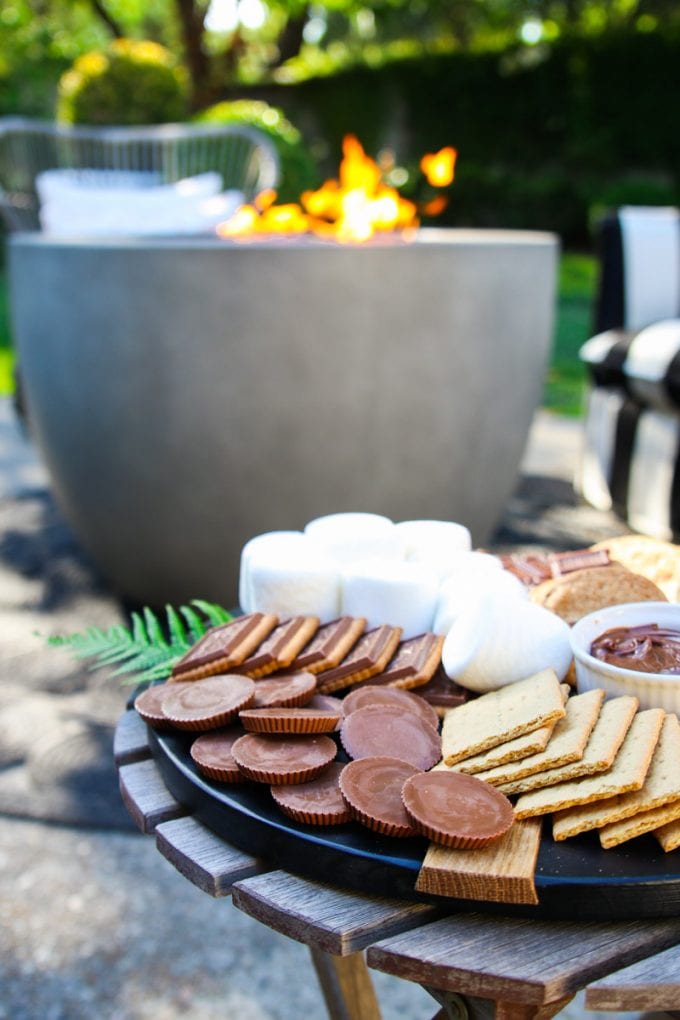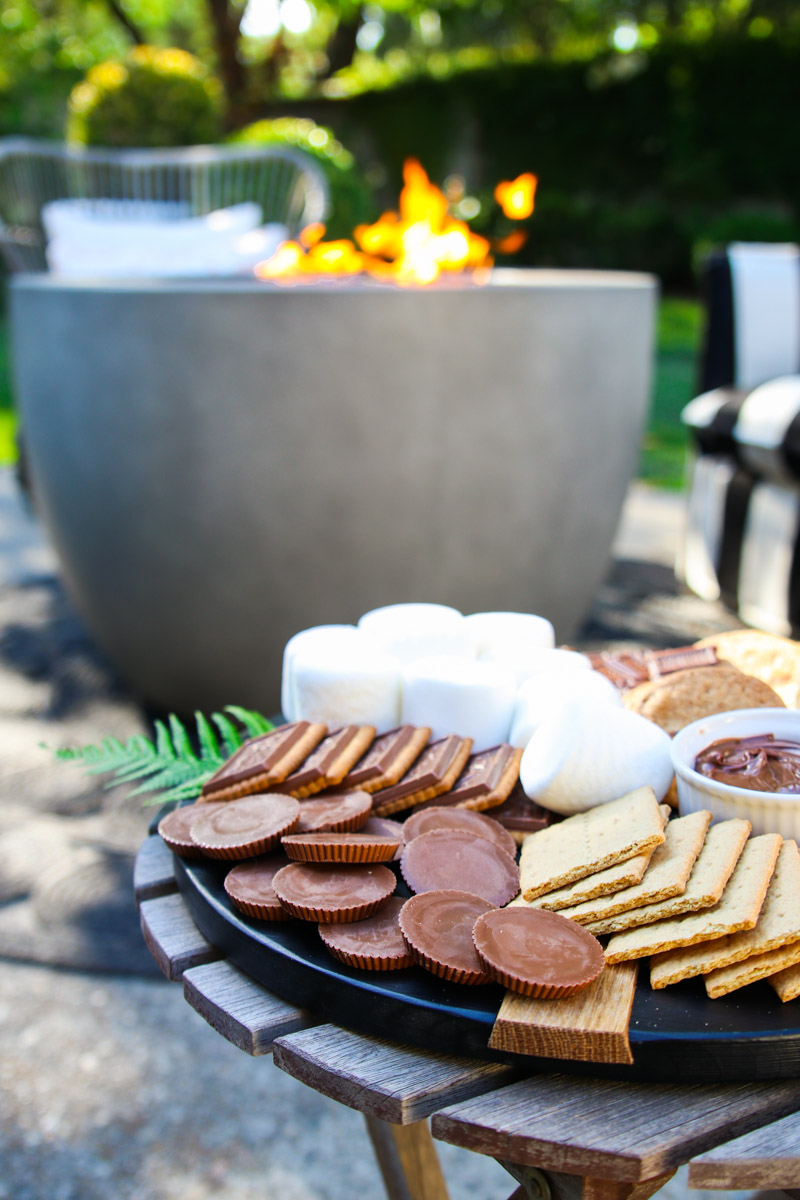 Putting together this s'mores dessert board is easy. And you can get creative with the ingredients or leave it simple. The beauty is in the arrangement and I'm going to share with you a few tips.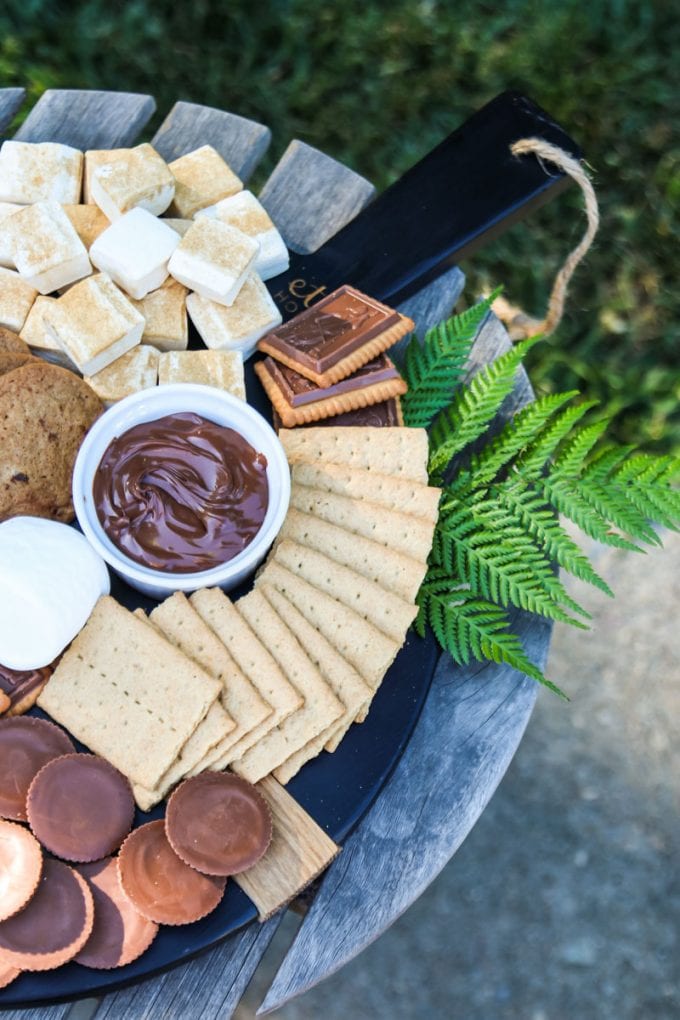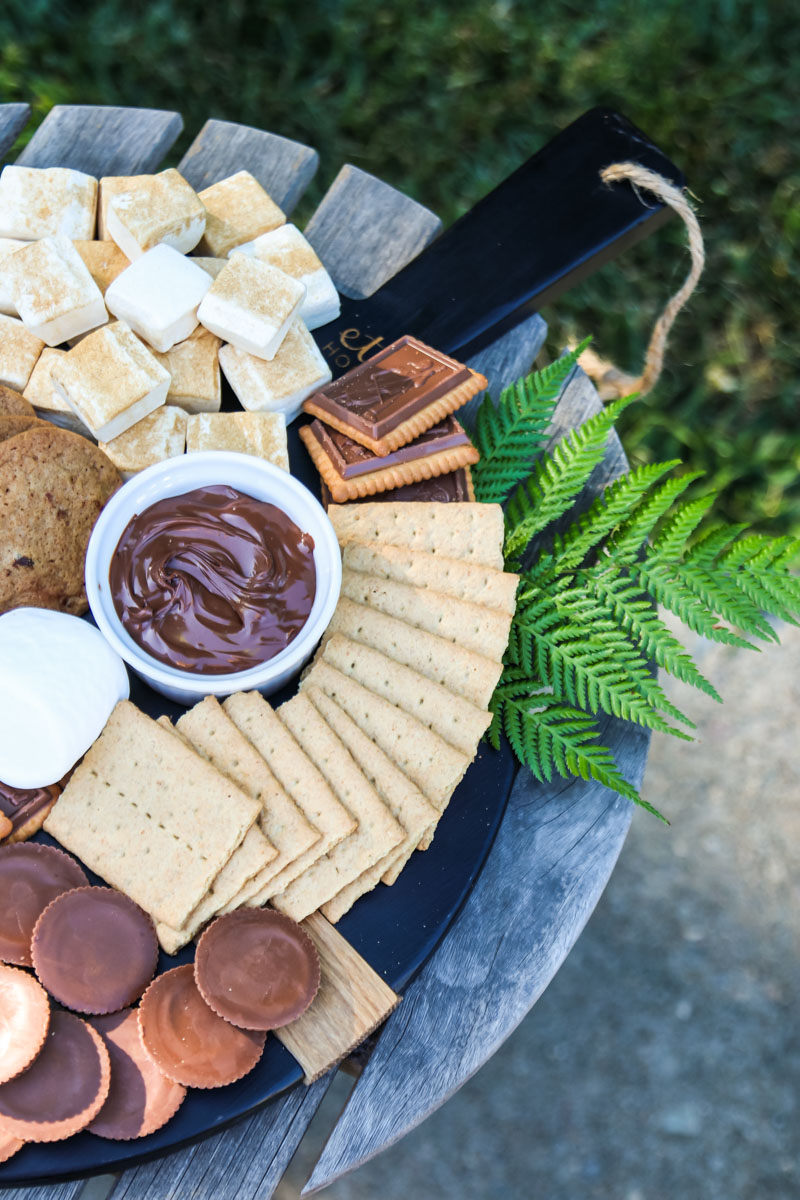 If you are working with a round board or platter, start in the middle. I placed a dish of nutella towards the center of the board and kind of spiraled the ingredients out from there.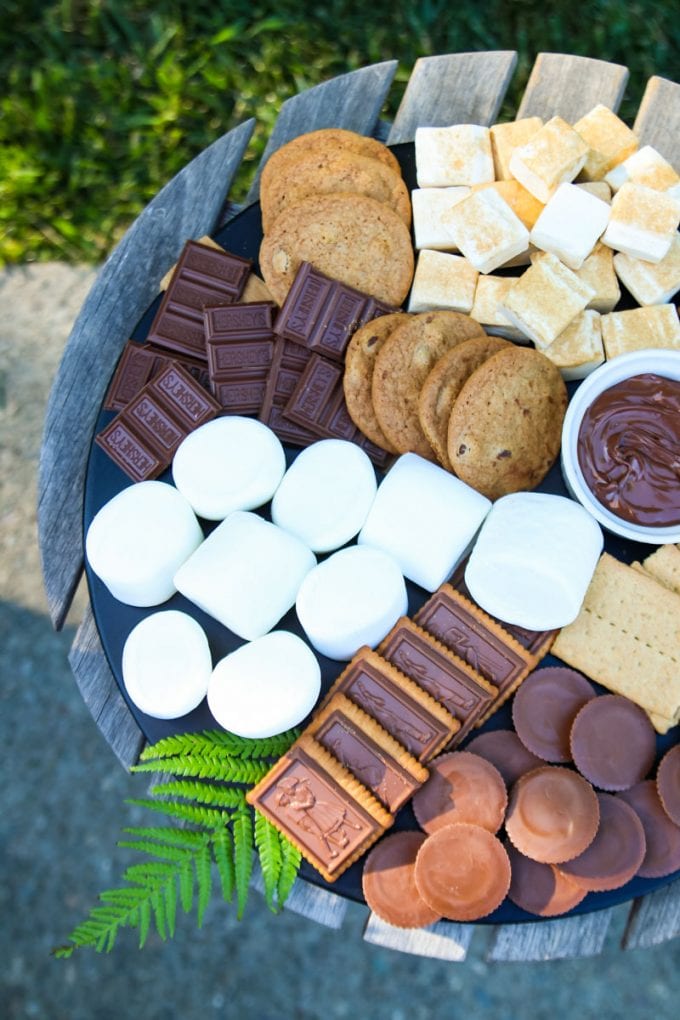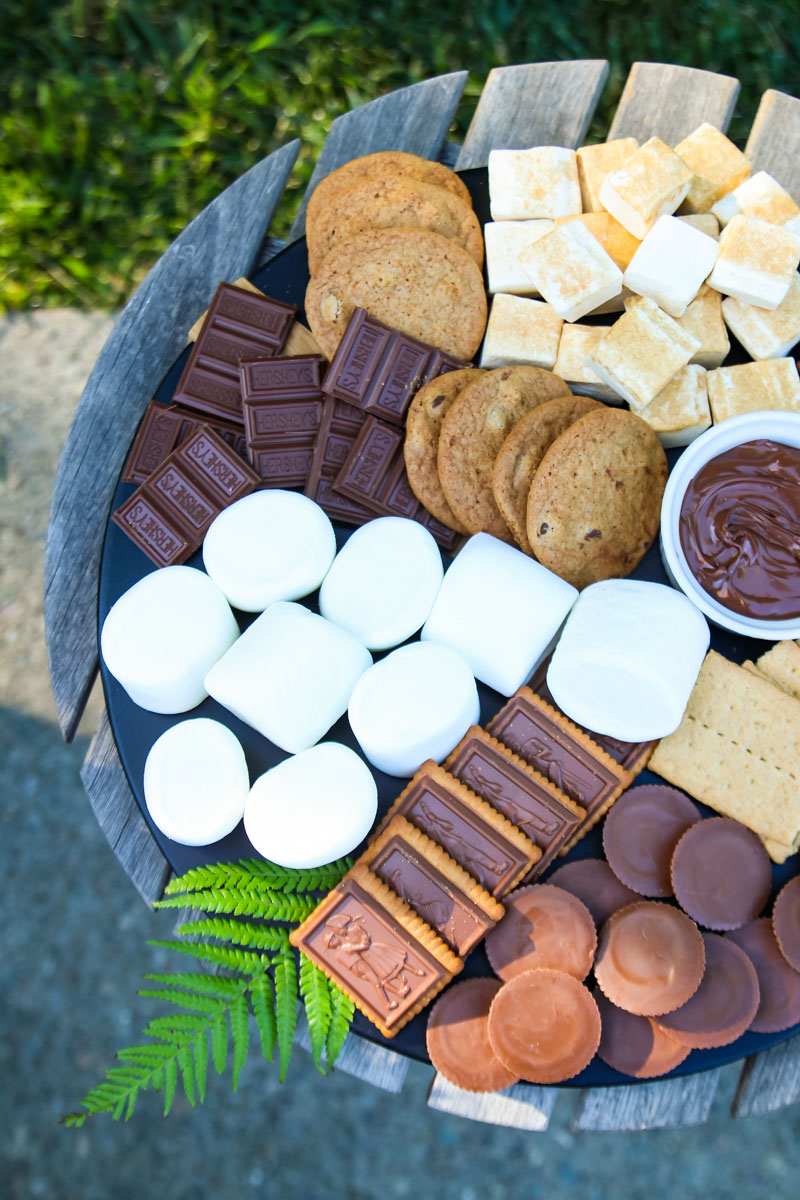 Place groups of ingredients together on the board, but split them up. So, I had two groups of each ingredient around the board. The cookies were in two different sections as well as the chocolate and graham crackers. This will add interest and allow you to fill in holes with more items.
And just like on my Christmas Cookie Dessert Board, I love to add some greenery. A cut cutting from the garden of one of our fern plants adds some life to this s'mores dessert board.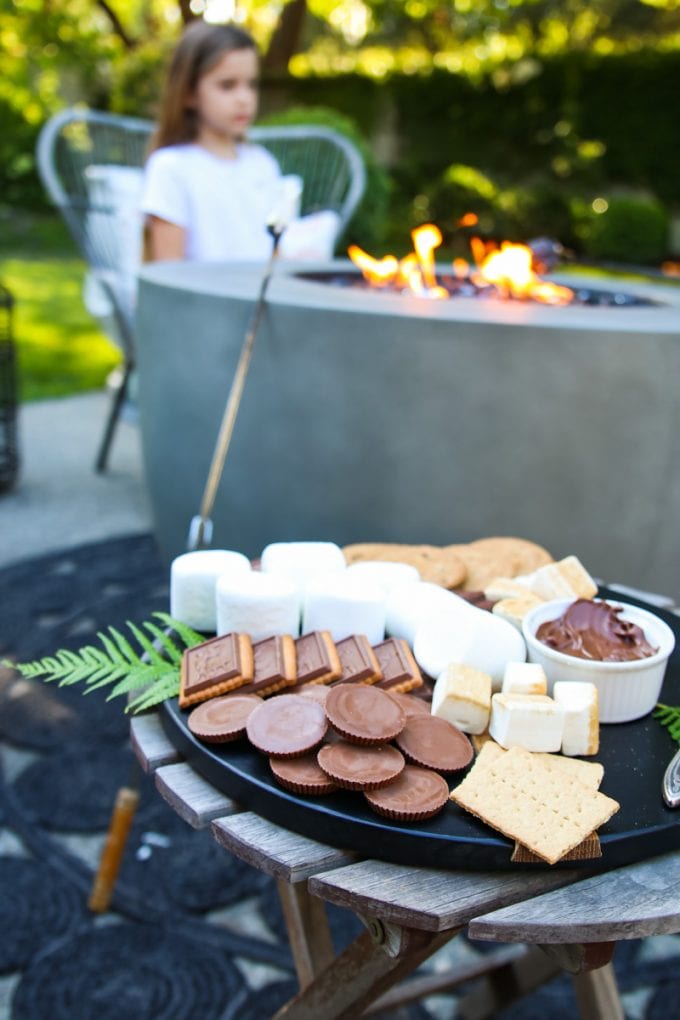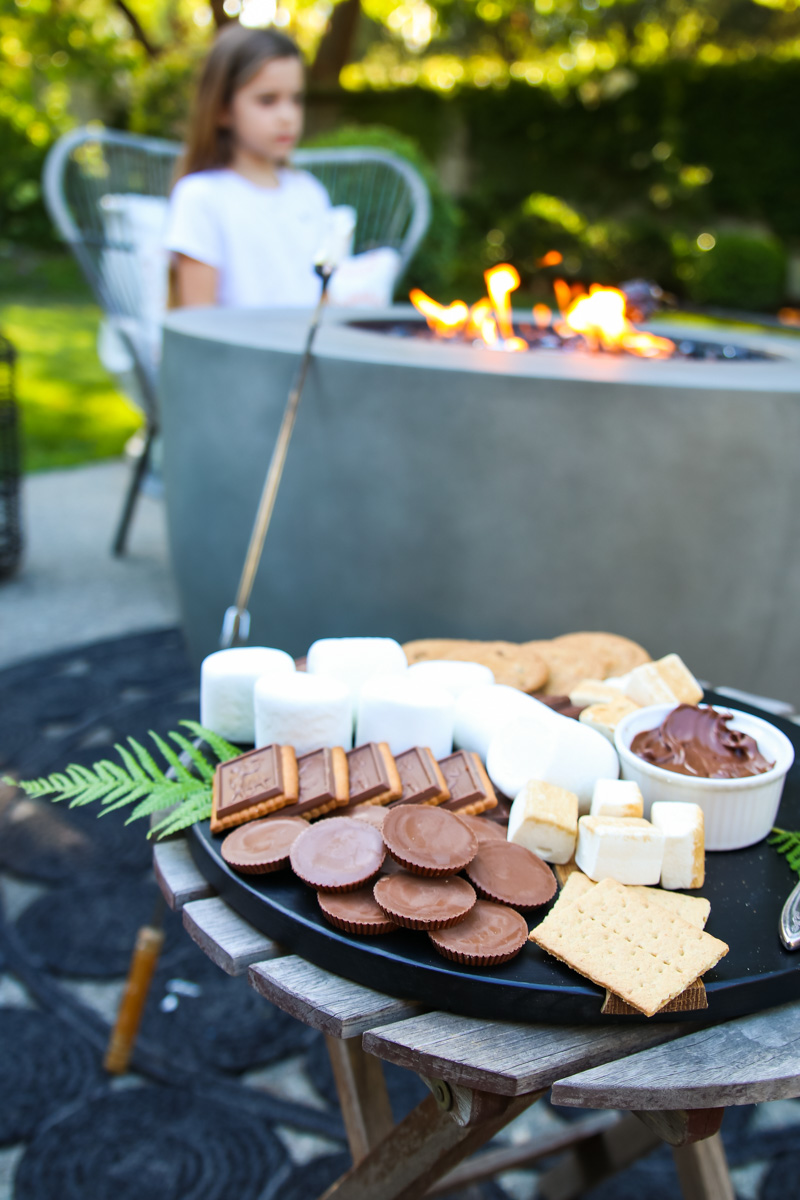 The most important advice I have is to have fun. Don't take this too seriously. Add the ingredients that your family loves so you have the perfect s'mores dessert board for quality family time around the fire!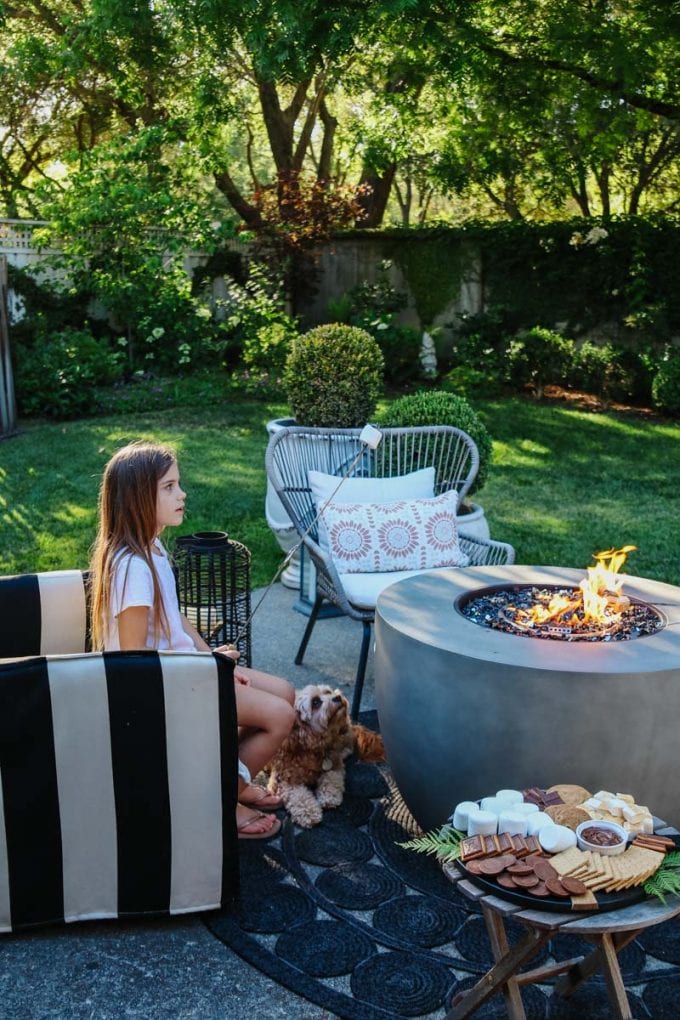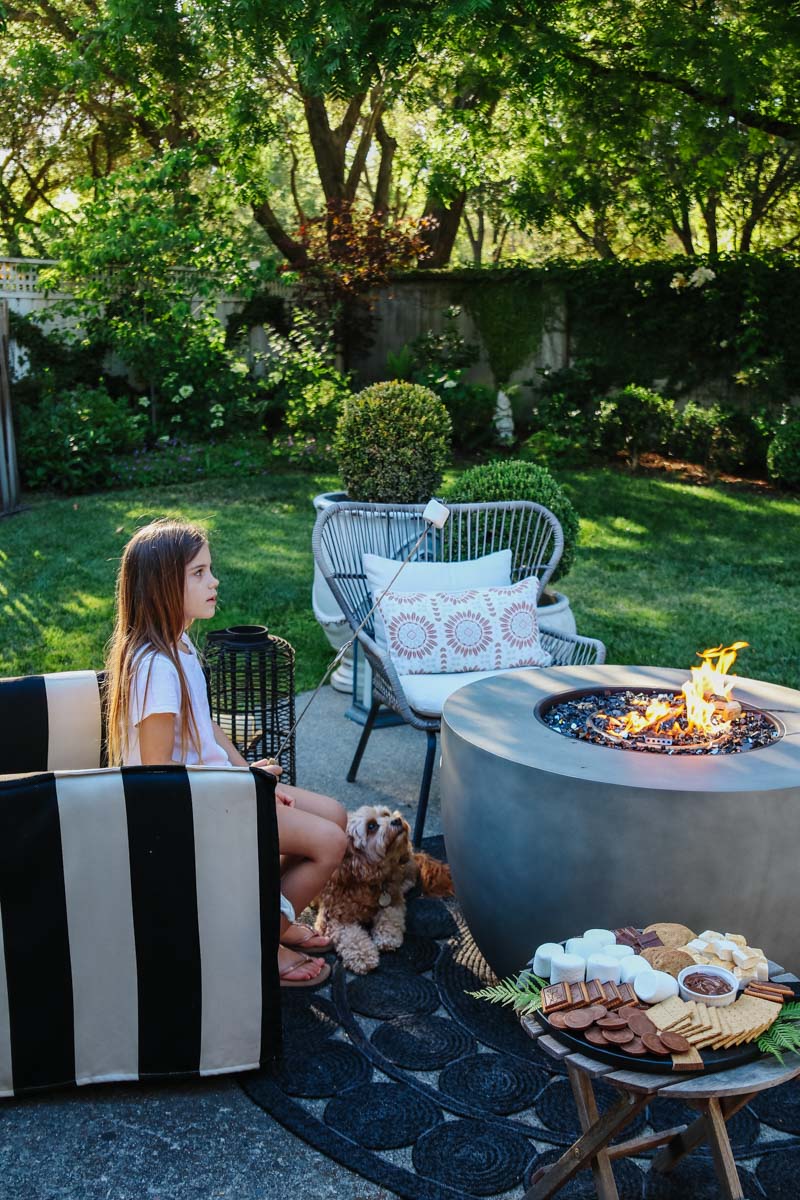 Read some of our favorite S'more combination below for more ideas.
Best S'mores Combination Ideas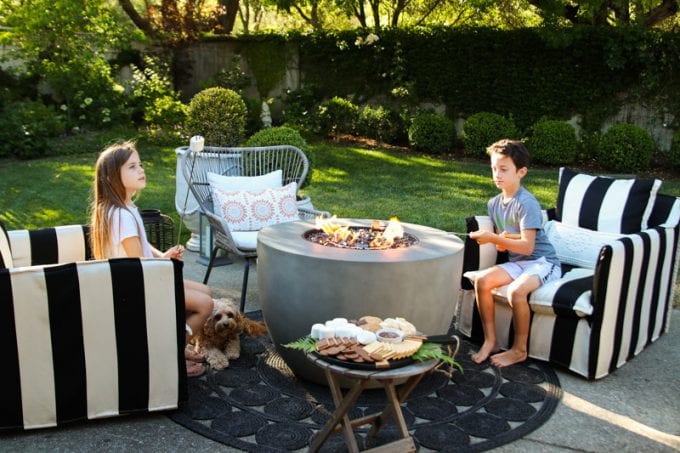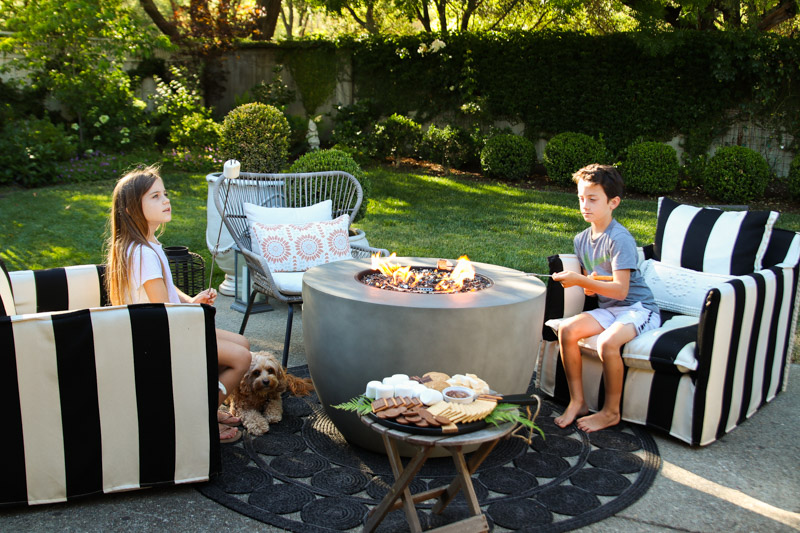 Here are some fun and unique s'mores combination ideas that we love that are perfect additions to your s'mores dessert board:
Chocolate Chip Cookie S'more Sandwich – roasted marshmallow between two cookies
Nutella S'mores – graham crackers spread with Nutella and a roasted marshmallow
Reese's S'mores – graham crackers, roasted marshmallow and a Reese's PB cup
Peppermint S'mores – graham crackers, roasted marshmallow and a York Peppermint Patty
Caramel Apple S'mores – apple slices with a roasted marshmallow and dipped in caramel sauce
S'mores Dessert Board Shopping List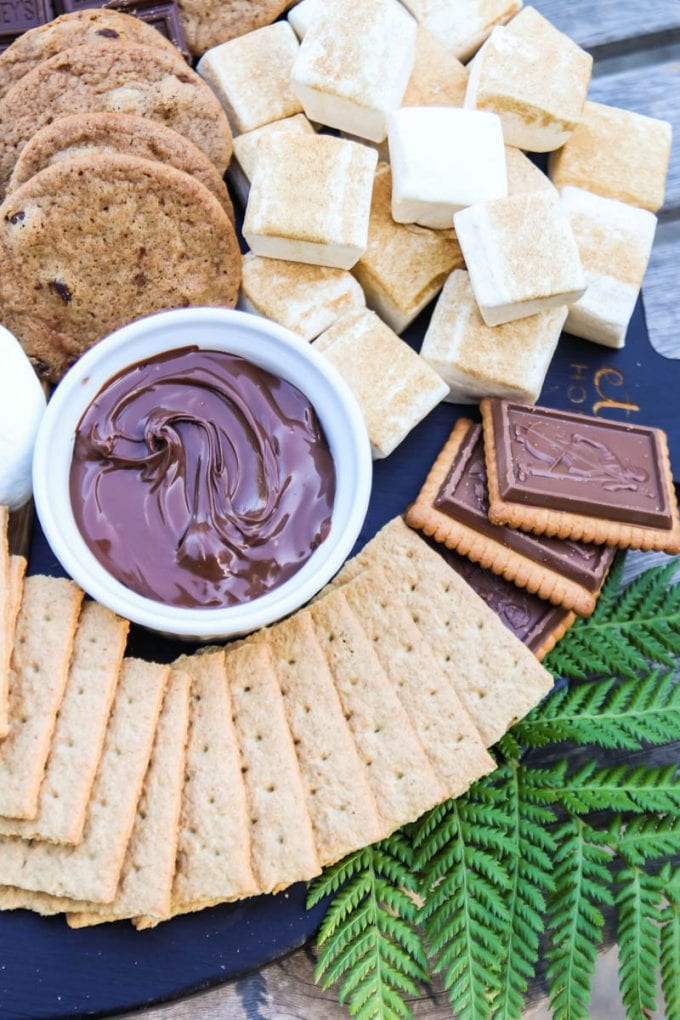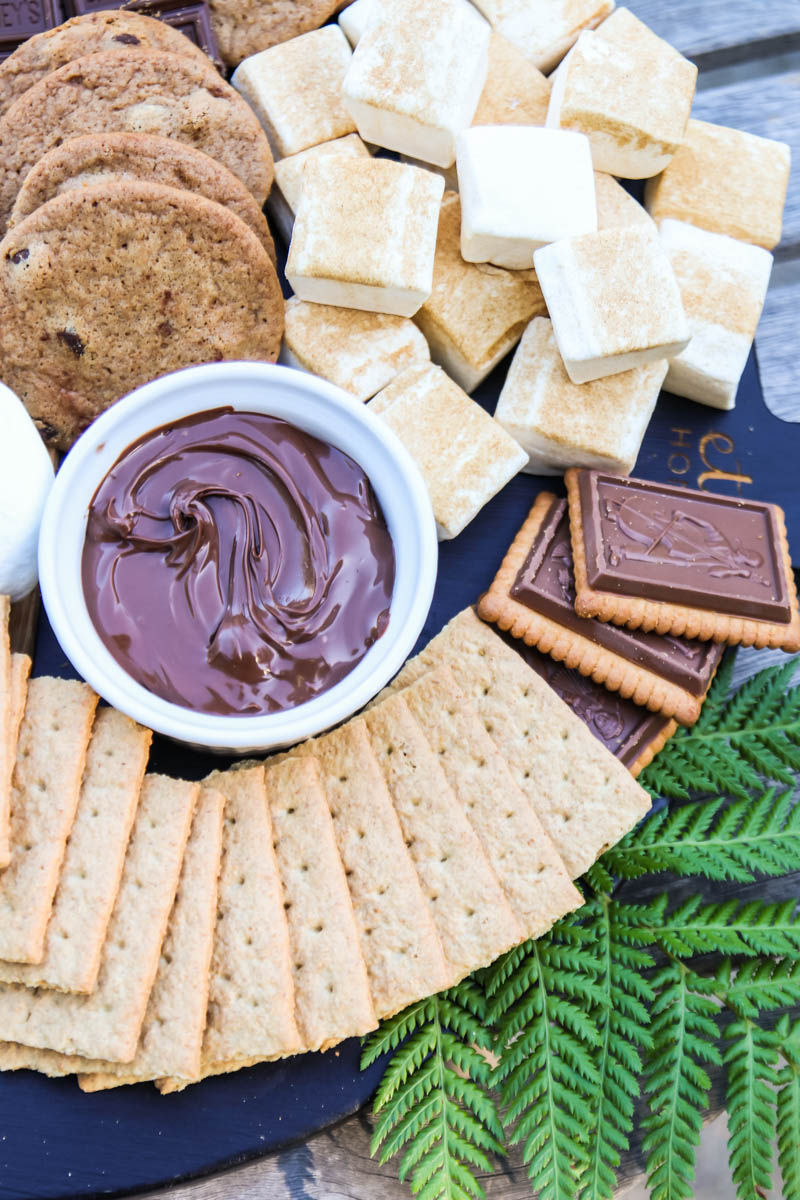 First we have to start with a pretty charcuterie board. I love these options: Charcuterie Boards.
Next, let's assemble the ingredients.
Graham Crackers. You can use any flavor. Honey, Cinnamon or even chocolate make for great s'mores!
Milk Chocolate Squares. Hershey's are classic or get creative with white chocolate, dark or my favorite, hazelnut.
Marshmallows. Jumbo, homemade, regular. The options are endless here!
Candy Bars. You could use Kit Kats or Reese's PB cups. I found a thin variety at the grocery store that was perfect for s'mores.
Cookies. We used our favorite Tate's chocolate chip cookies. A roasted marshmallow in-between is one of the best combinations in my opinion!
Dips. We loved using Nutella to spread on the graham cracker in lieu of chocolate. But you could also try caramel or berry jams too!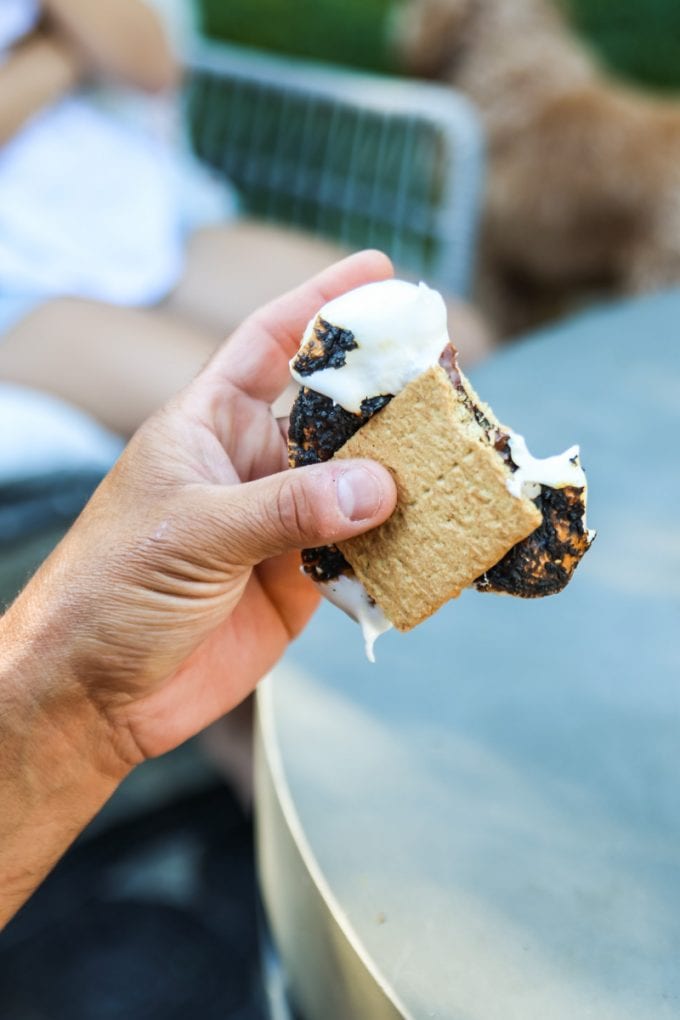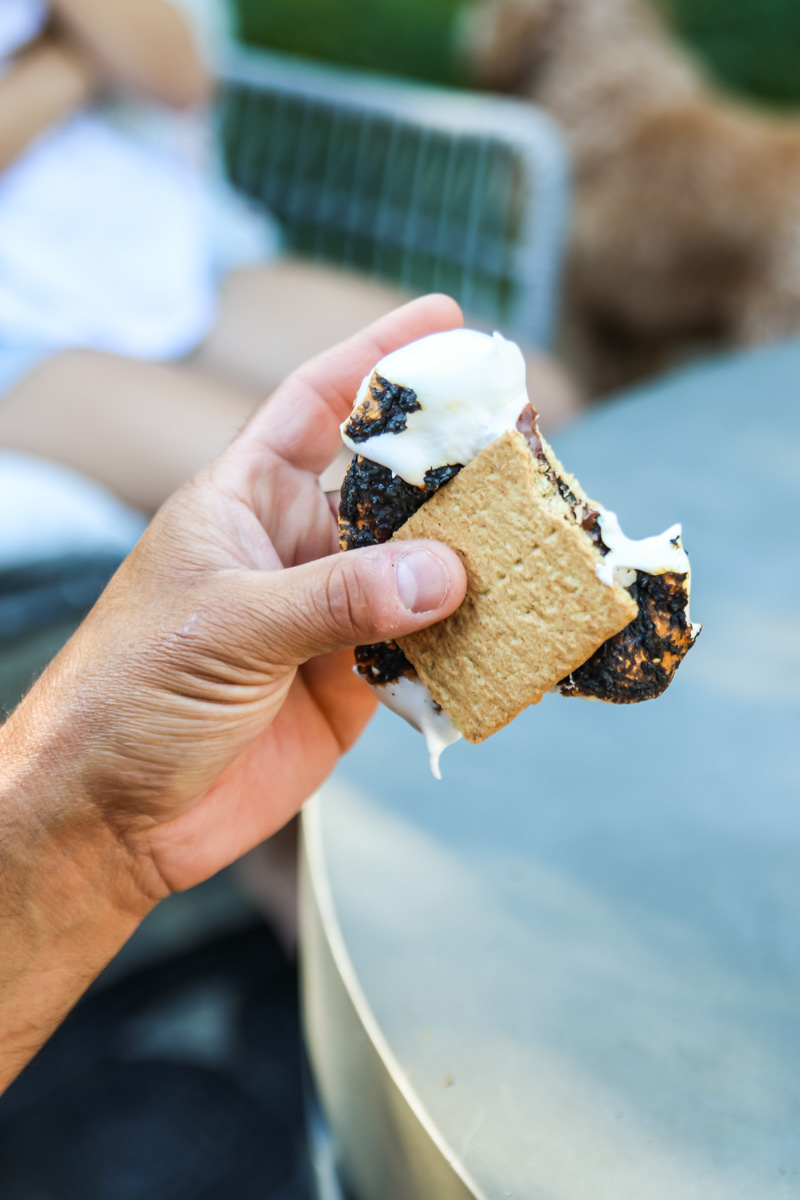 My Other S'mores Ideas
Because we do a lot of s'more making during the summer I have a few other ideas related to this s'mores dessert board.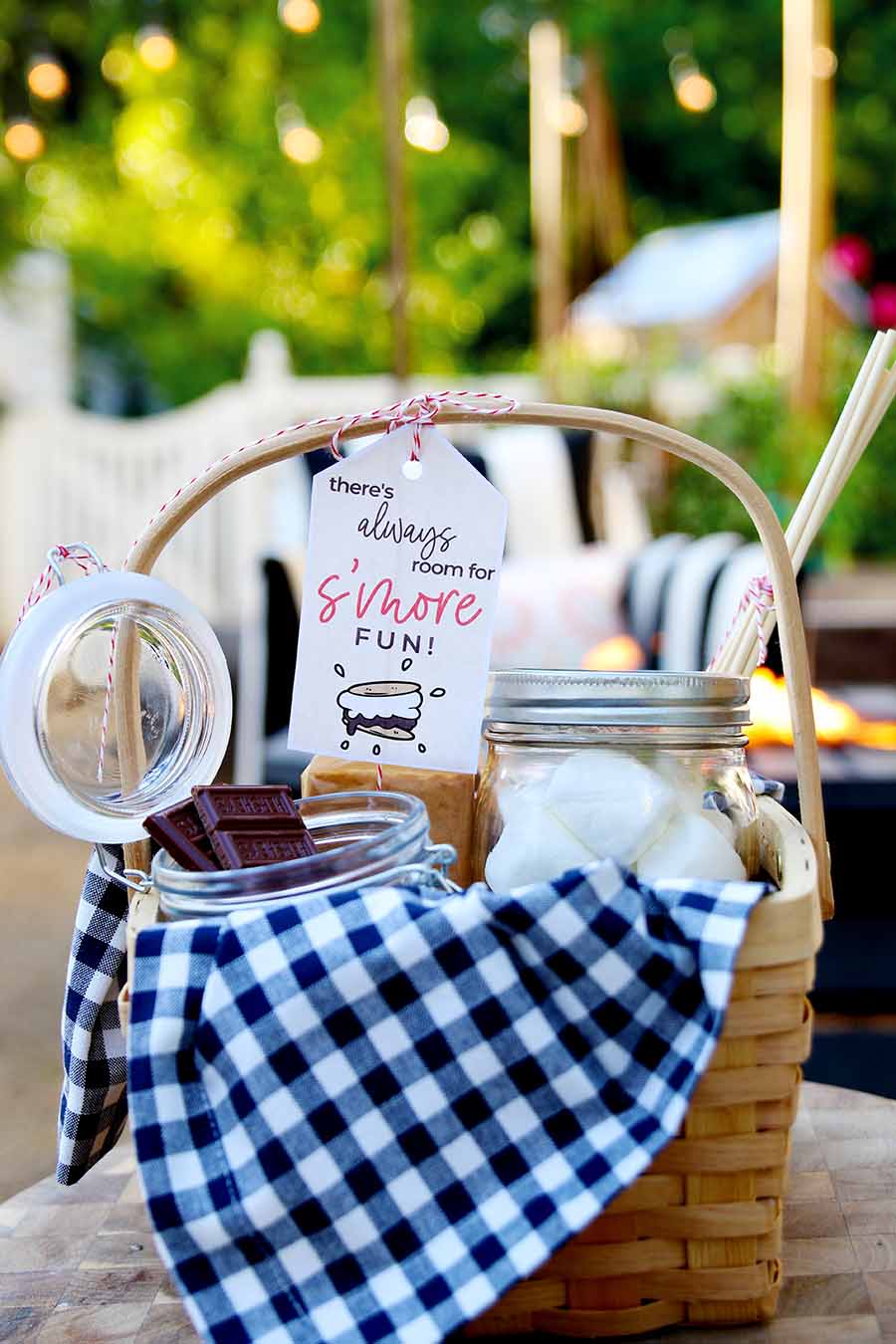 This S'mores Gift Basket is the perfect thing to bring to someone's house for dinner or to drop off for a friend's birthday! It includes a fun free printable gift tag as well.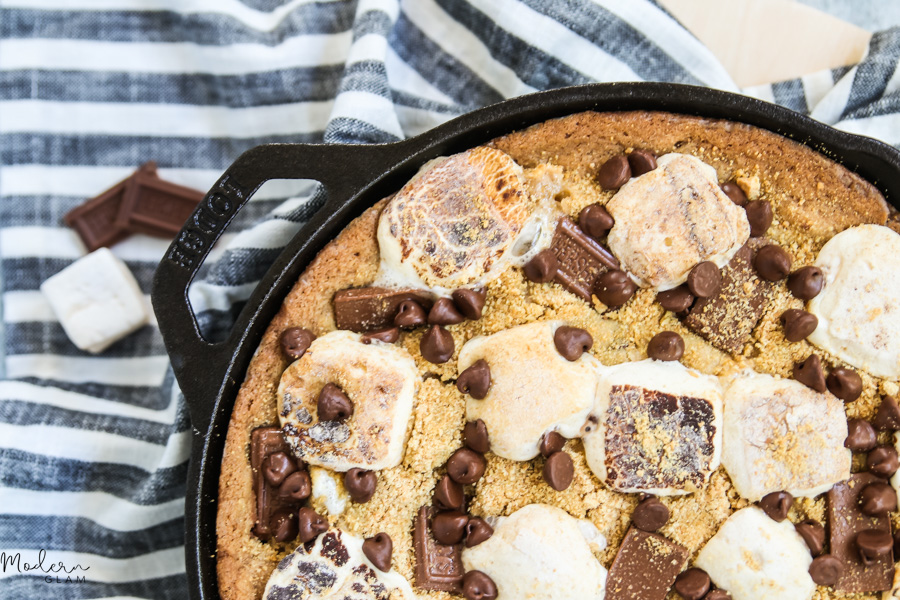 And this Indoor S'mores Skillet Cookie recipe is to die for! It's the easiest one dish dessert recipe that is sure to impress your guests!
Check out these Charcuterie Boards
If you love charcuterie and dessert boards as much as I do, check out these past posts.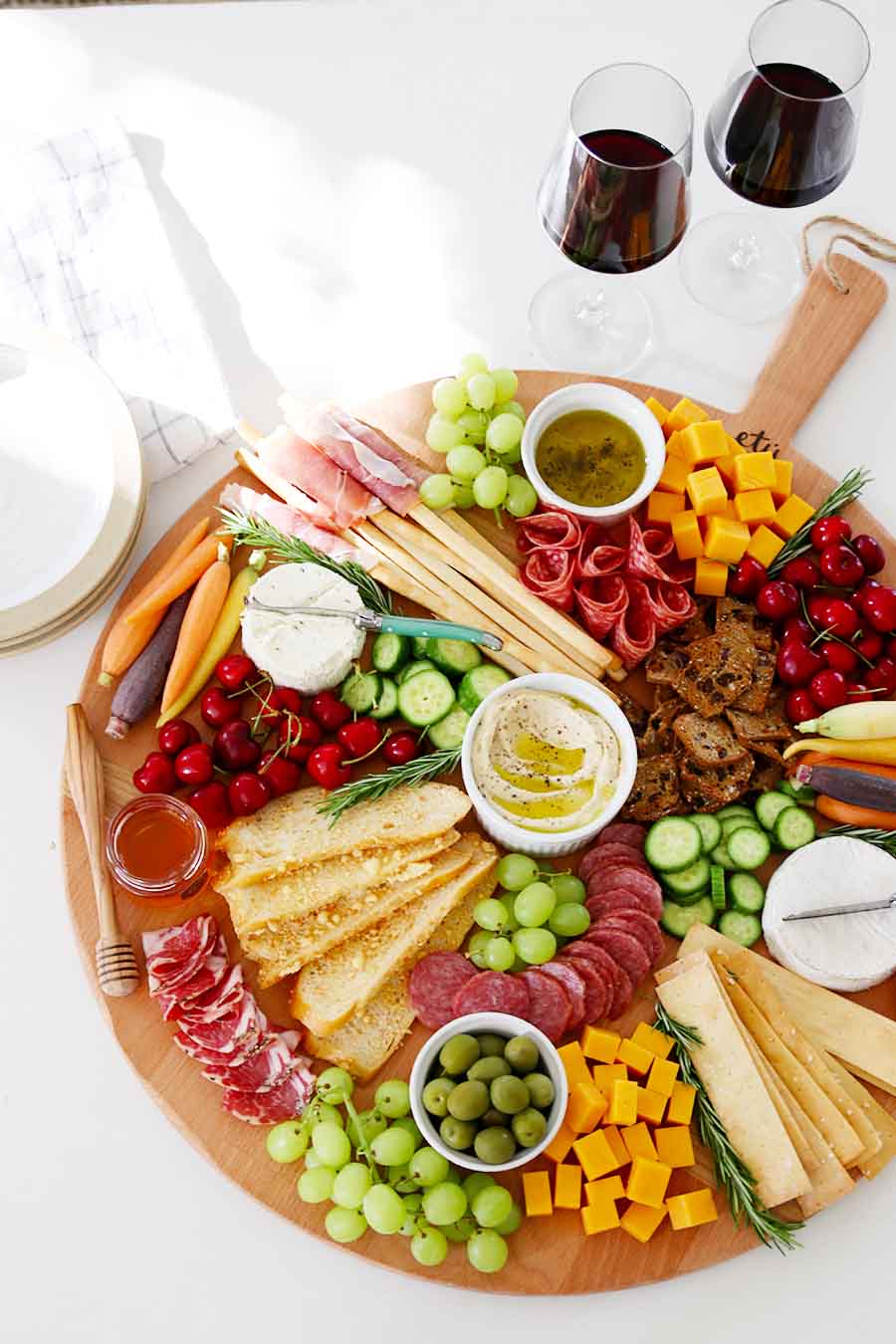 For this board, I used a variety of meats and cheeses and show you how to add variety with different shaped crackers and cheeses.

This Christmas Cookie Dessert Board was make almost entirely using cookies from Trader Joe's. Easy Peasy!
If you loved this s'mores dessert board, you will love how easy this Valentine's Day Dessert board is too!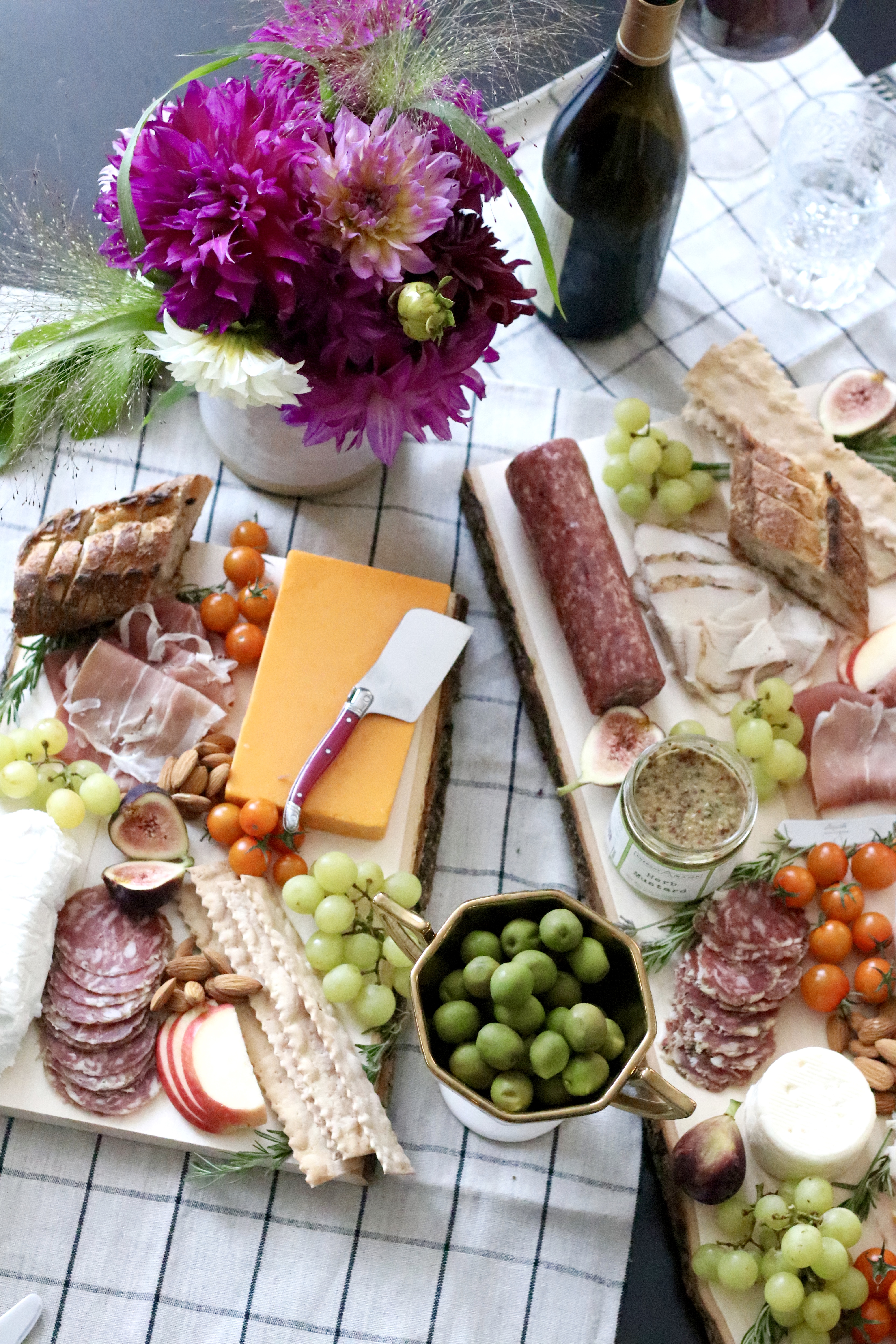 I love to put together a finely curated board and even have a handy guide including a shopping list in this post.
Now, check out these other S'mores Ideas that my friends are sharing today. Summertime is made for s'mores!
More S'mores Dessert Ideas

My Favorite Recipe for Marshmallow S'mores – My 100 Year Old Home
S'mores Bar Ideas Perfect for Summer – Twelve on Main
Gluten and Dairy Free S'mores Chocolate Chip Cookies – Zevy Joy
Outdoor Fireplace – S'more Time! – Dreaming of Homemaking

No Churn S'Mores Ice Cream – Jenna Kate at Home
S'mores Ice Cream Sandwich Recipe – Happy Happy Nester
A Grown Up Version of S'mores for the 4th of July – Most Lovely Things
S'mores Dessert Charcuterie Board – Modern Glam