Looking for some easy front porch decorating ideas? I am sharing some of my favorite spring and summer front porch decor ideas that are simple and make for a beautiful entryway.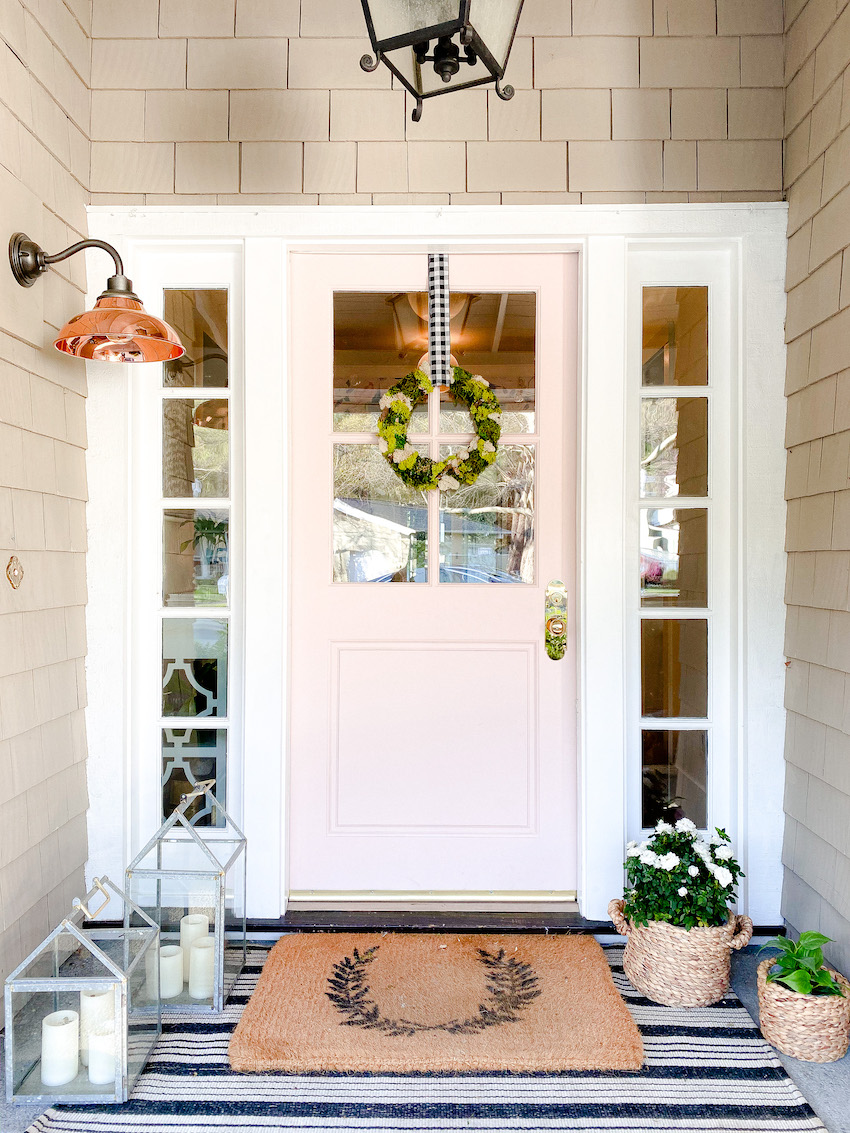 If the thought of decorating your porch makes you feel overwhelmed, I am here to help! I love to create a beautiful and welcoming entryway. And I am breaking down the steps so you can replicate any of these looks on your own!
Easy Front Porch Decorating Ideas
I've always said, your front porch and door and the first impression you give to your guests. So, make it a good one! And that doesn't' mean you have to go over the top.
By simply adding a wreath, a doormat and maybe a planter of seasonal flowers, you instantly up the curb appeal of your home.
Spring Front Porch Decor
Here are a few of my favorite ways to decorate your front porch for spring.
This year I kept things relatively simple. I used the same layered doormats that I've had for awhile now.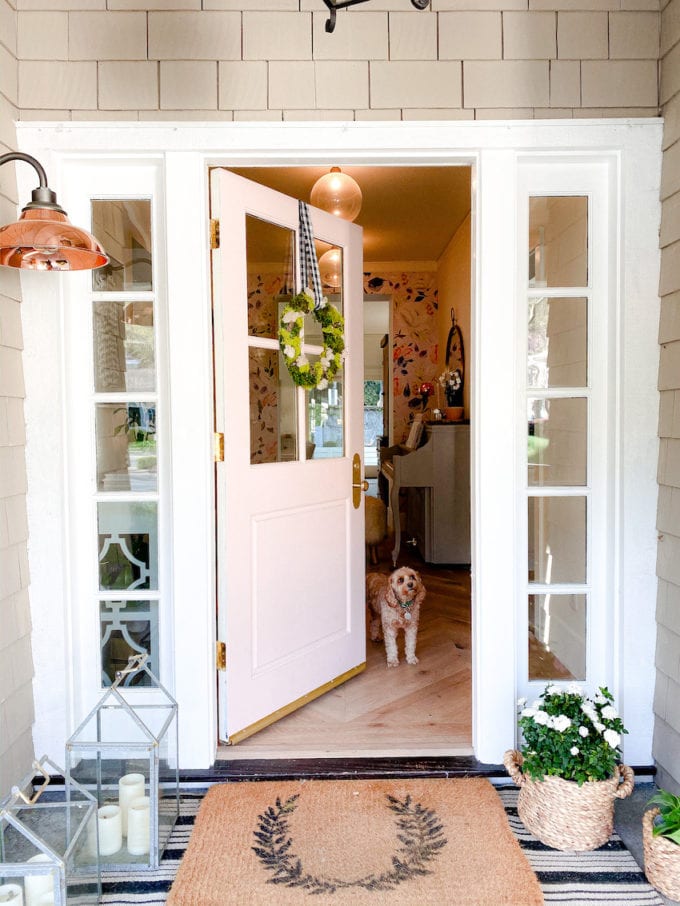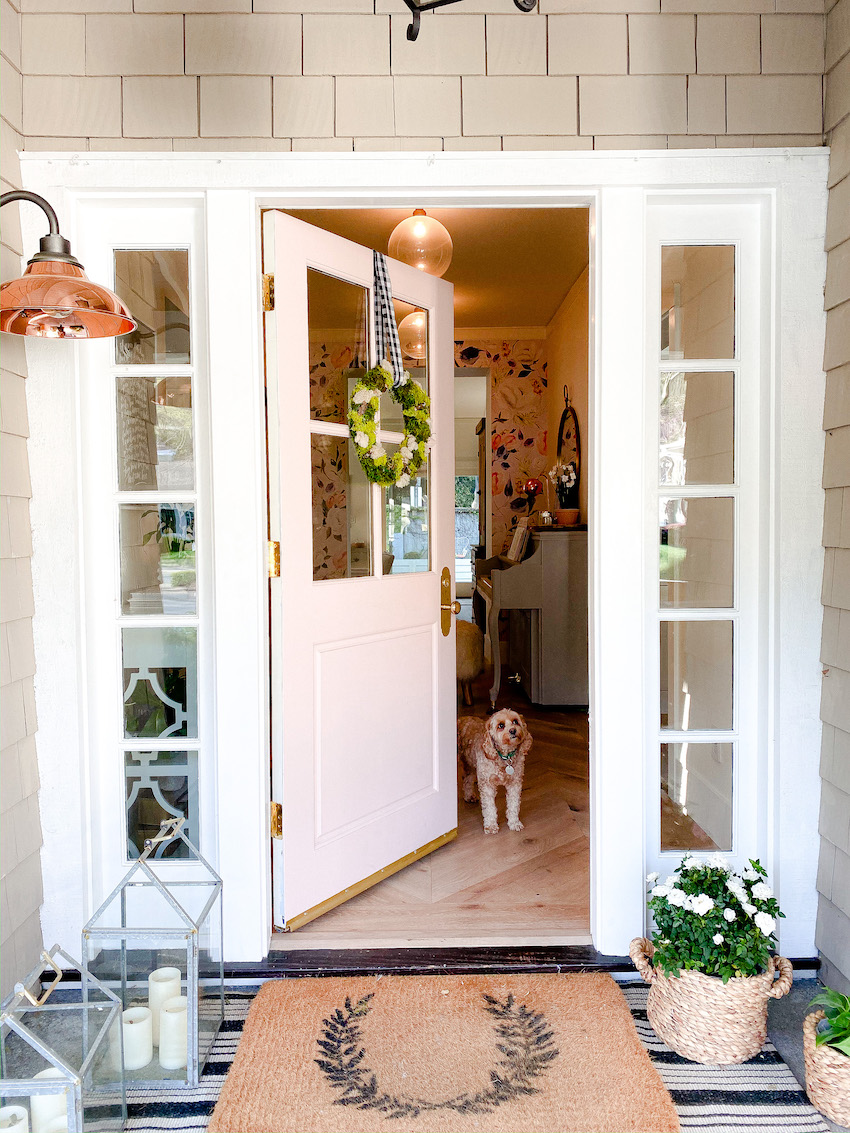 You can find all the details including sources in this post: Spring Entryway and Front Porch Decor.
A few woven baskets filled with roses and a pothos plant dress up the entryway and make for easy maintenance too!
Here is another easy front porch decorating idea for spring. This is from last year. And it shows how simply painting your front door a different color can make all the difference in the world!
My simple but stylish front porch from last year is filled with pretty blues and the easiest Spring Hoop Wreath DIY . Check out the post HERE!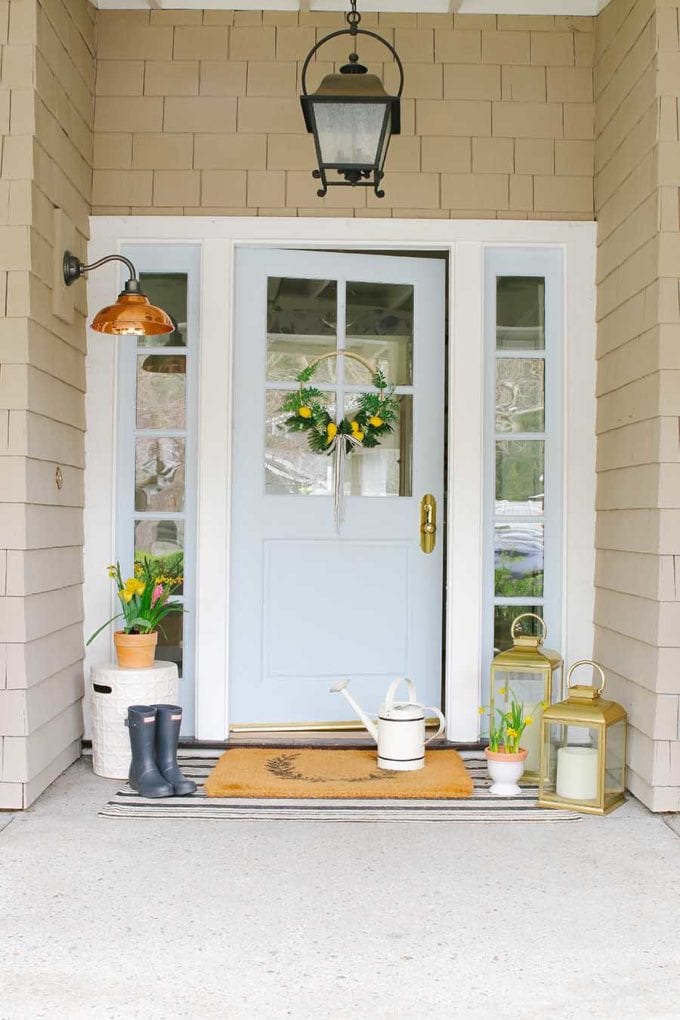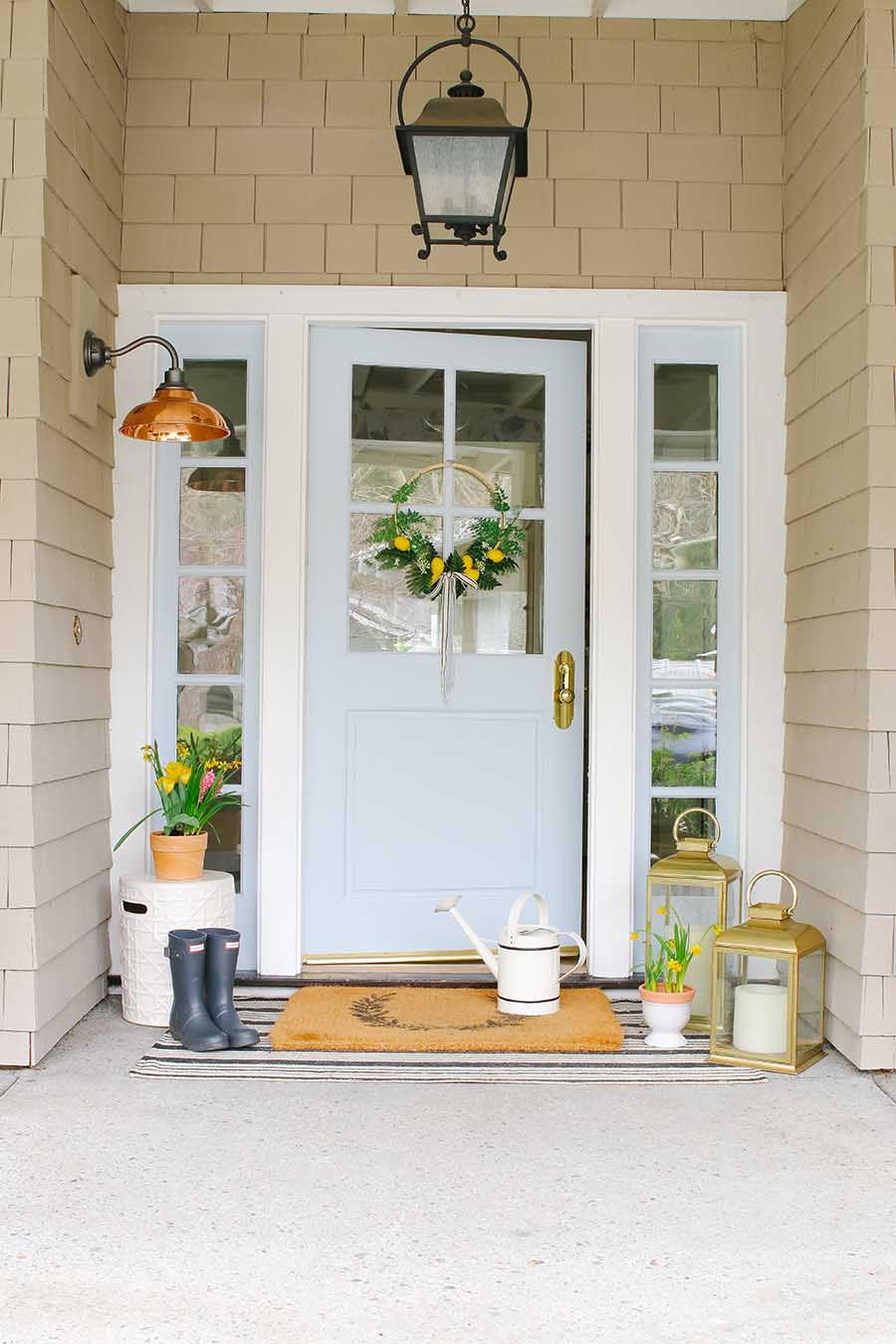 If you are interested in learning how to easily paint your front door, check out my guide: How To Painting Your Front Door in One Afternoon!
Front Porch Decor for Summer
Decorating your front porch for summer can look a lot like it did for spring. But, if you live anywhere hot like I do, the flowers definitely need to be changed out for something more heat tolerant.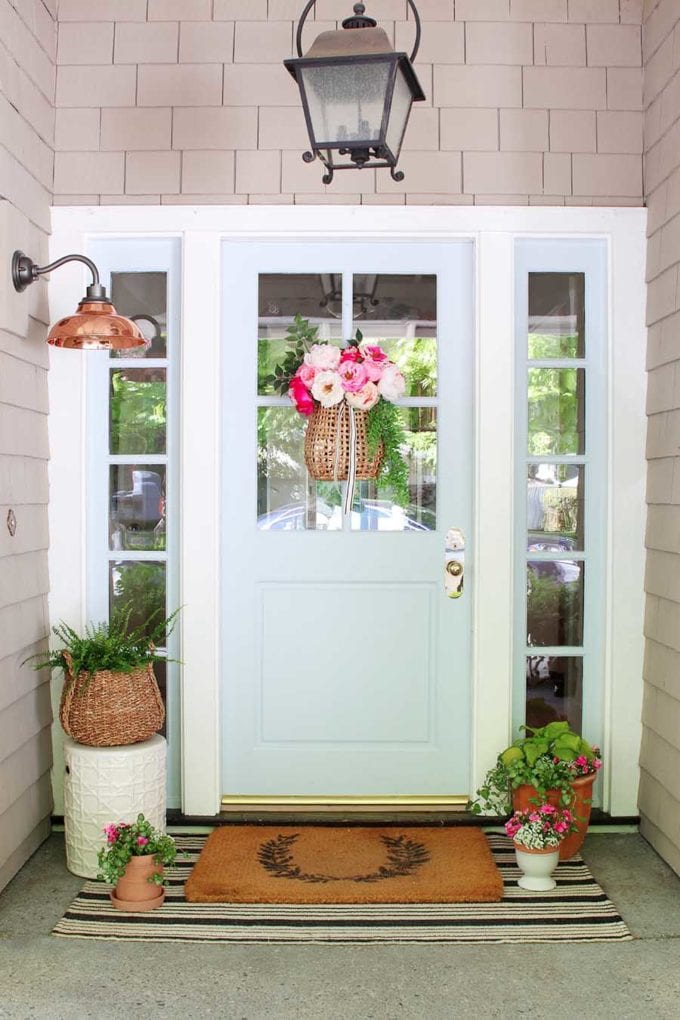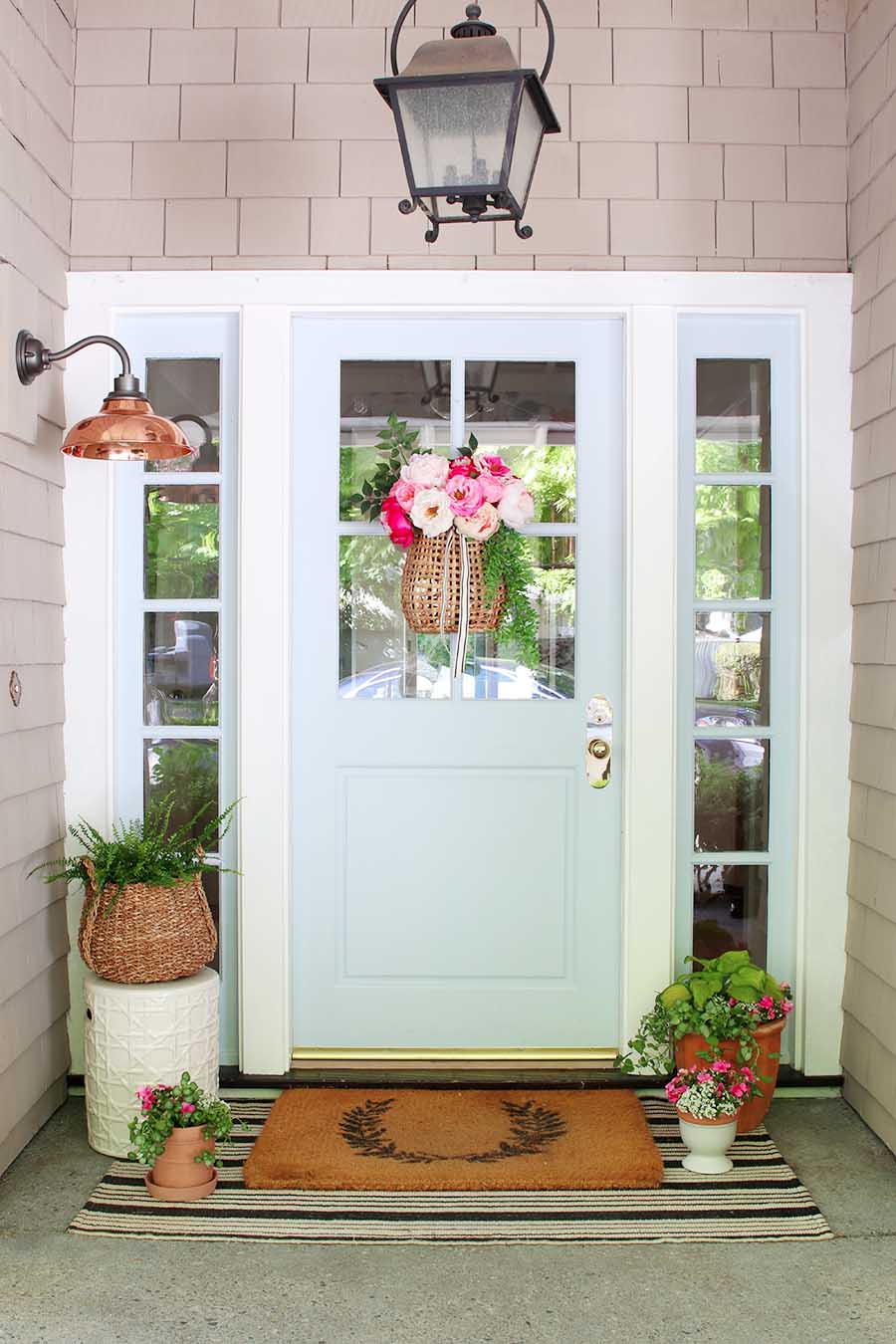 I like to use ferns, hostas and impatiens on my porch during the summer. They seem to like the shade and do pretty well!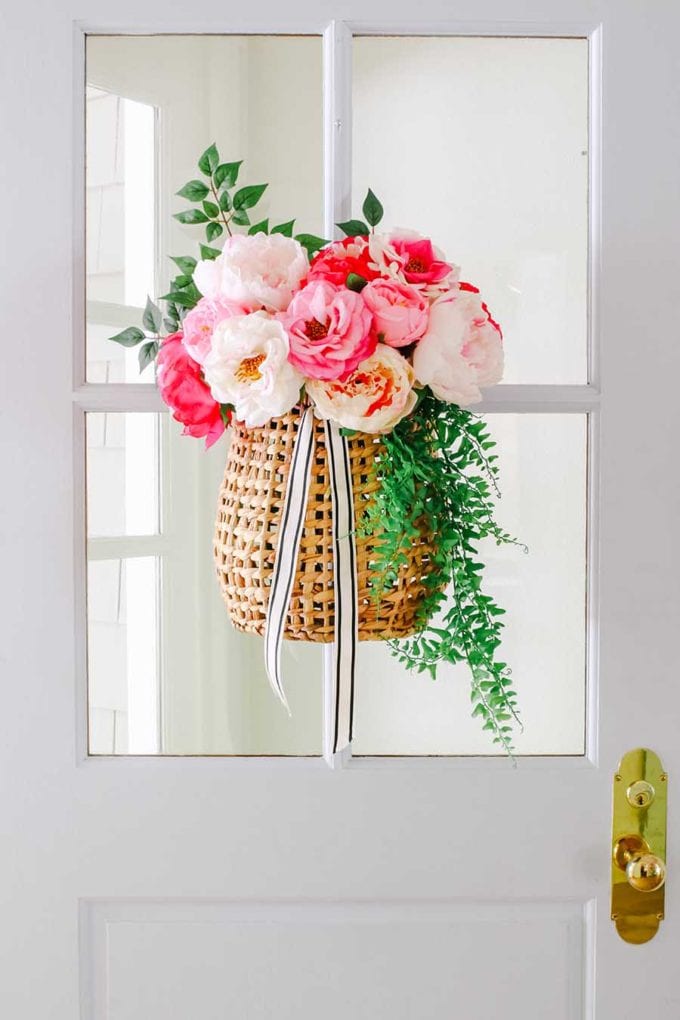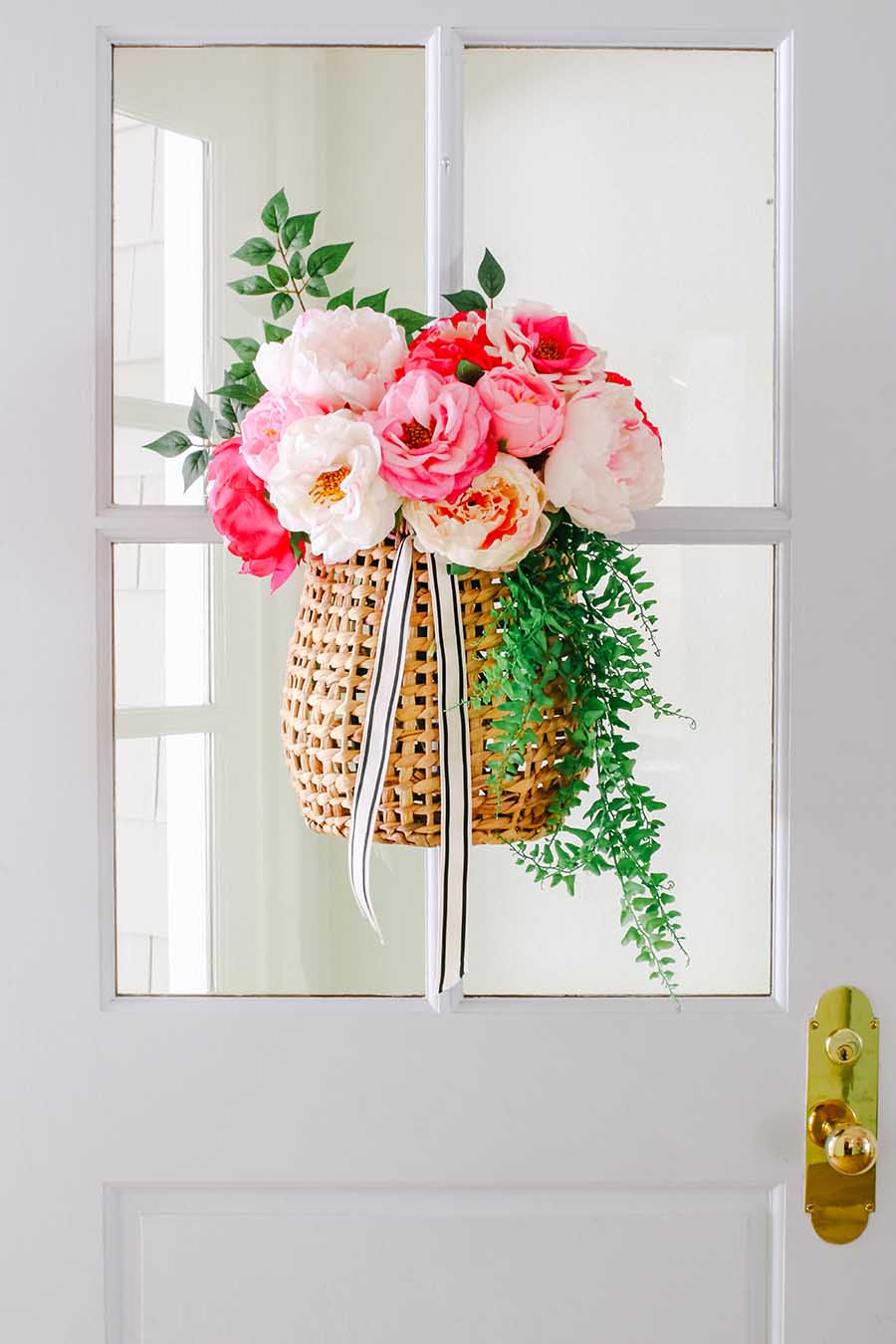 If you are looking for a beautiful wreath to add to your door for summer, this Hanging Basket Wreath is gorgeous. It is also one of my absolute favorite DIY's I've ever done. It was easy and makes such a big impact!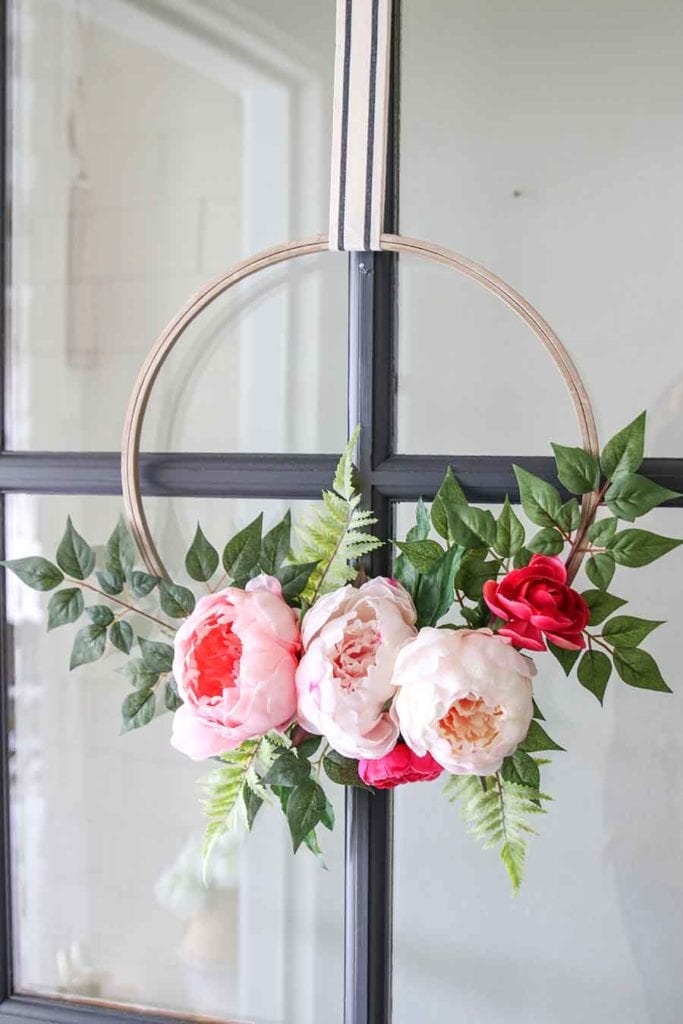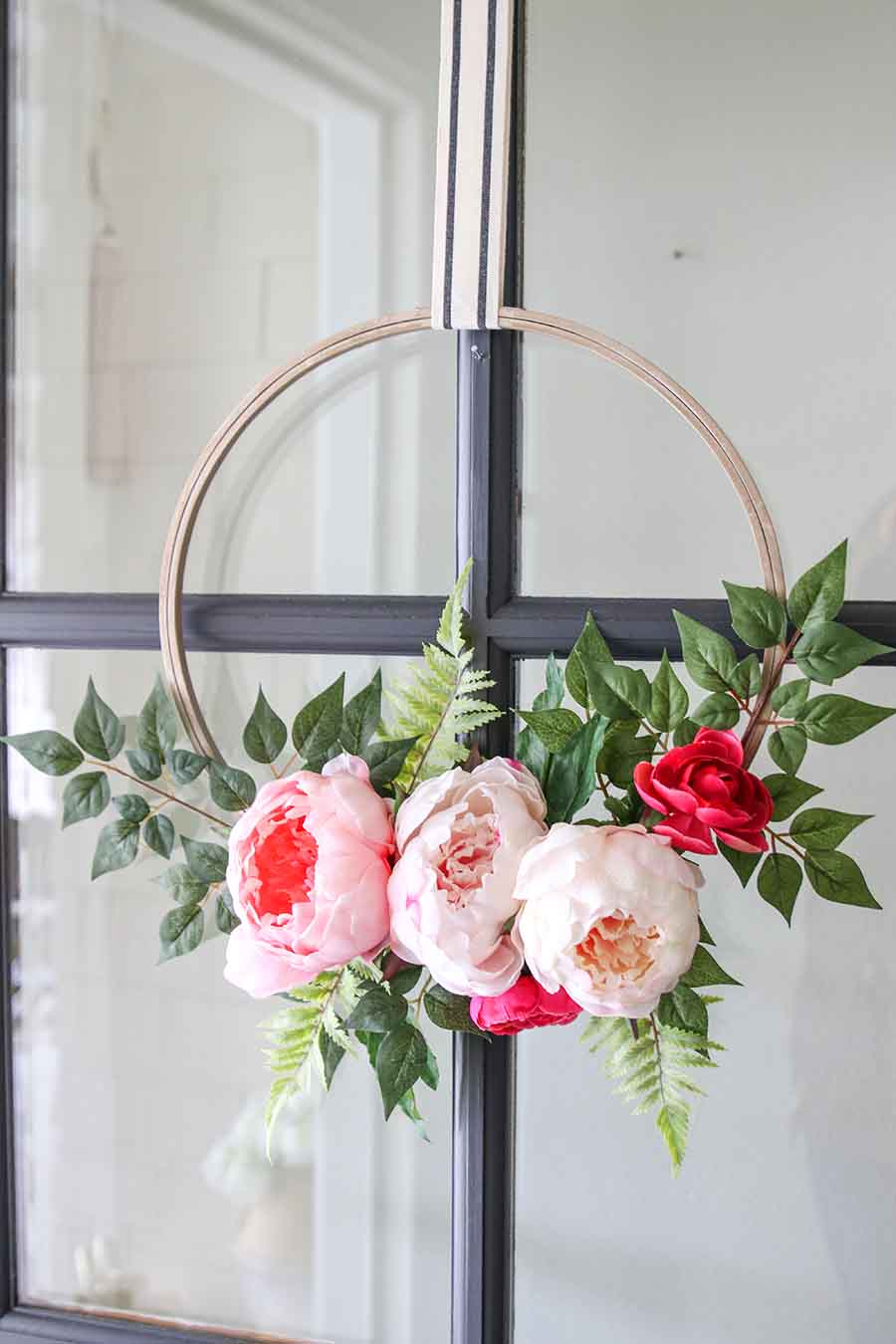 And if you love peonies, this DIY Floral Hoop Wreath is another great way to add some character and beauty to your front porch for summer.
How To Layer Front Door Mats
One of the easiest and most effective ways to make your front porch welcoming and inviting is to add a front door mat. And my favorite way to add some character is to layer an outdoor rug with a fun doormat.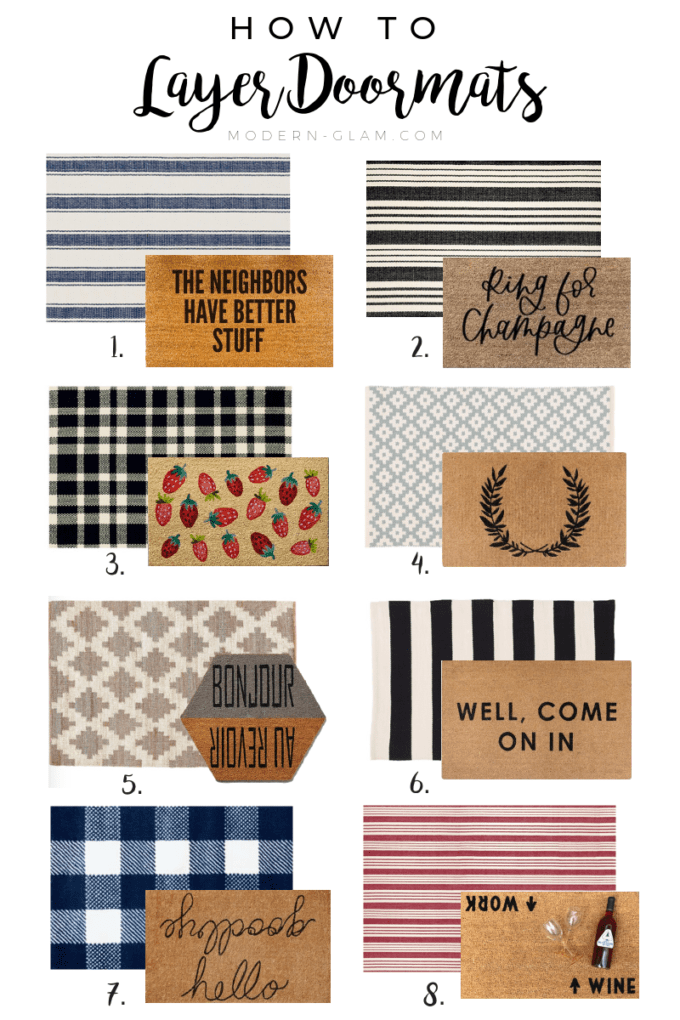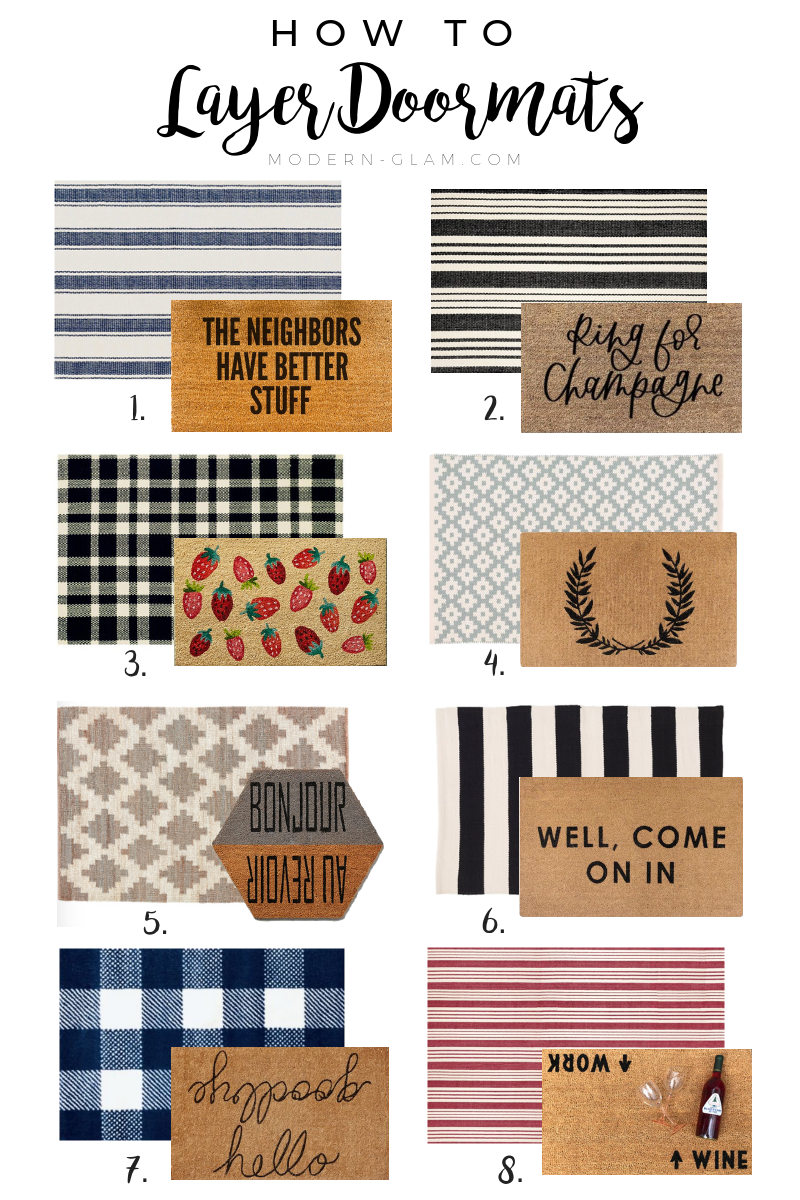 I have a great guide to layering doormats that shows you how to do it and offers tons of fun and playful ideas!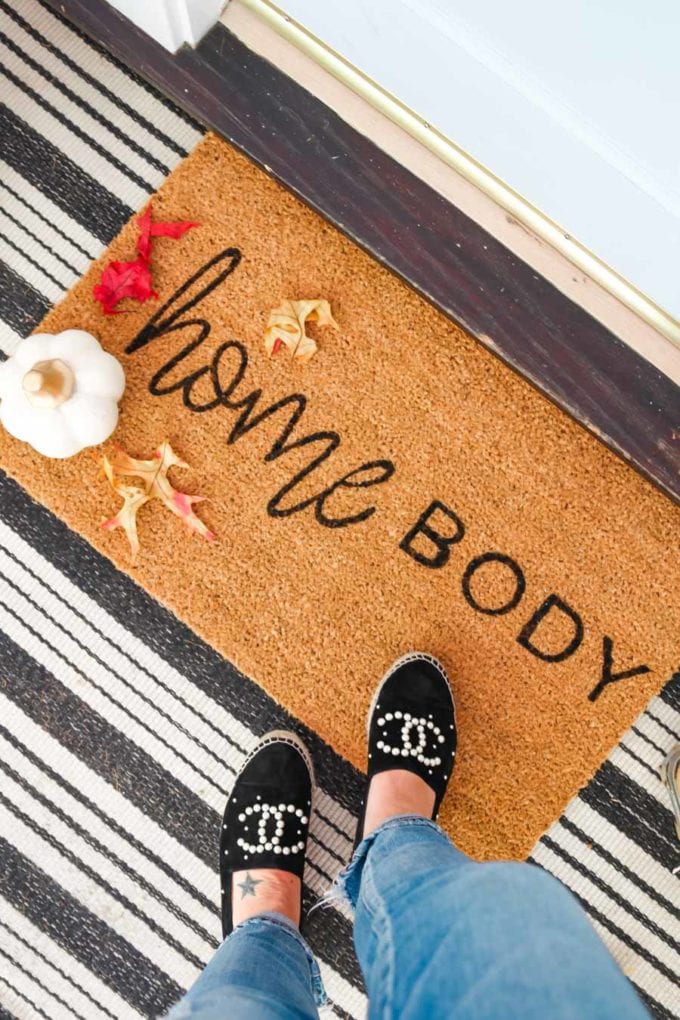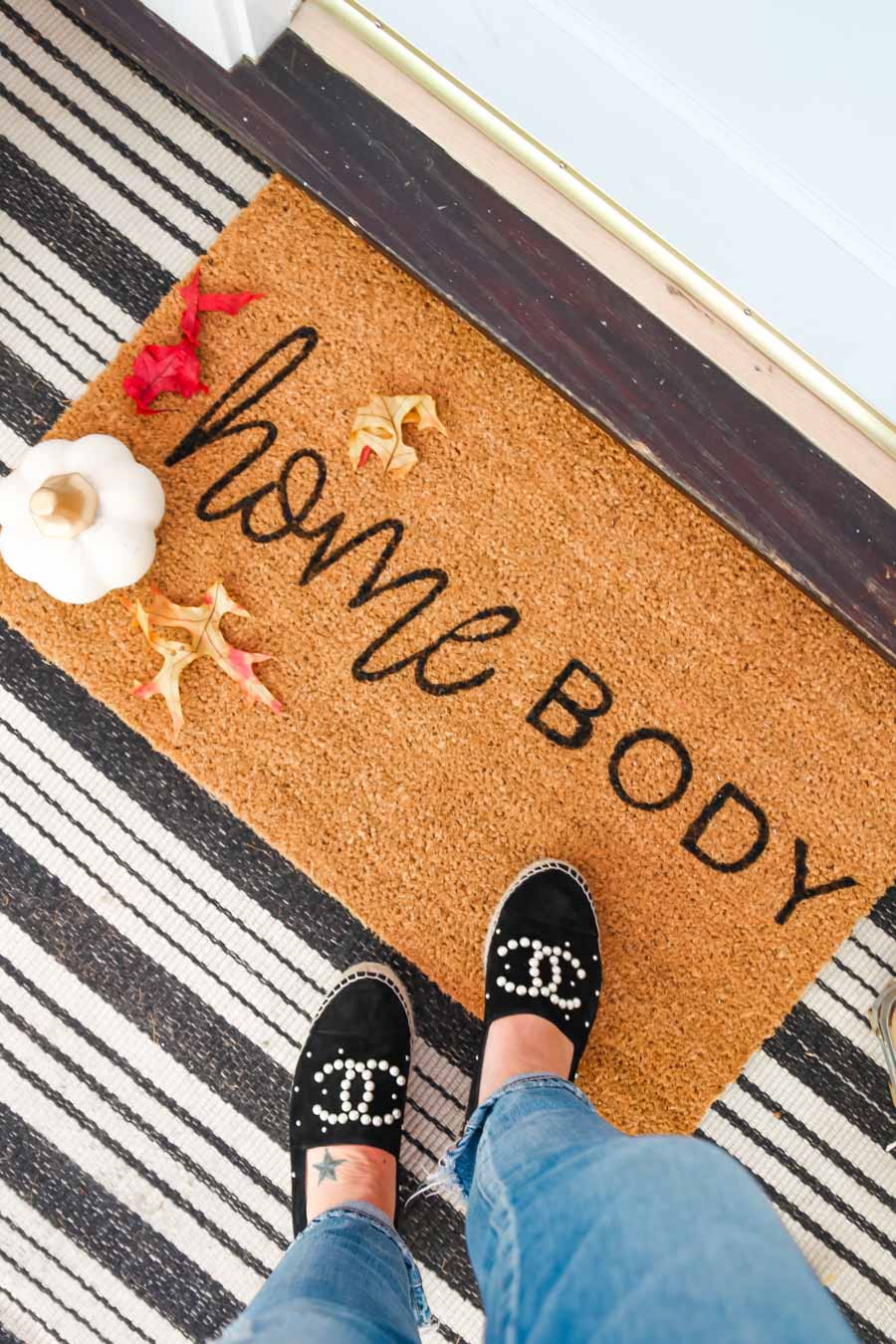 You may also want to make your own personalized doormat. I have a tutorial that shows you how – click HERE!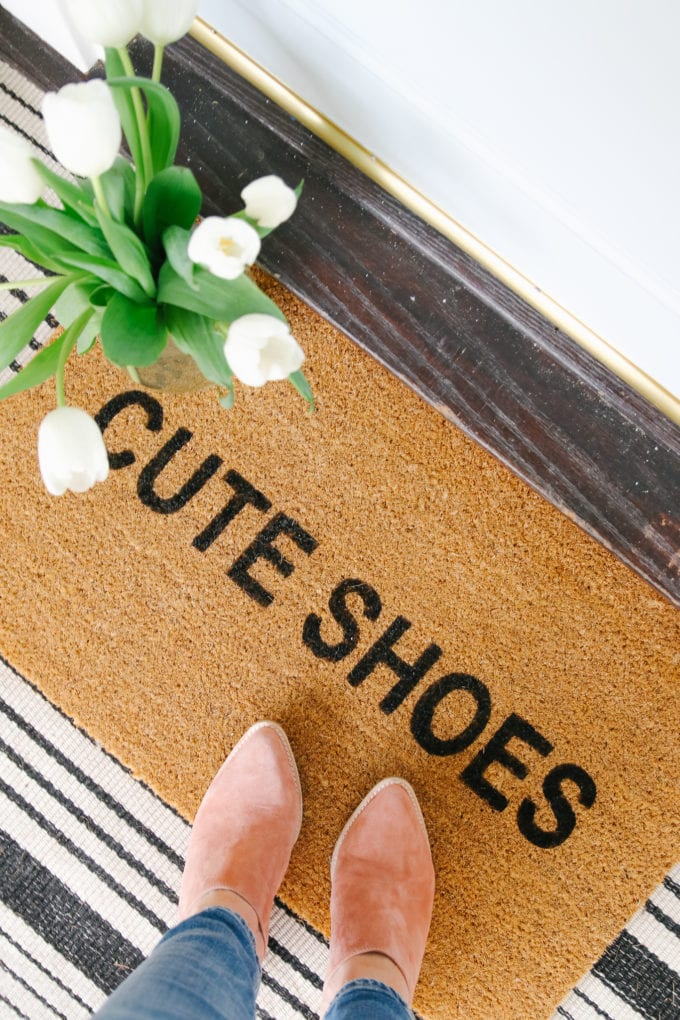 This Cute Shoes doormat is one of my favorites!
Ok, so hopefully that gave you a few easy front porch decorating ideas for spring and summer.
I also have a post that walks you through How To Decorate Your Porch for Every Month of the Year. Be sure to check that out. It is filled with all of my front porch decorating ideas!
And my friends are all sharing their beautiful porch decorating ideas for spring. Check out the link below each post. Have a beautiful day!
12 Porch Decorating Ideas

Easy Front Porch Decorating Ideas – Modern Glam // Spring Porch Decor Using Artwork – Twelve On Main // How To Create An Oasis On Your Deck – My Sweet Savannah

Spring Porch and Outdoor Decor – Finding Lovely // 5 Ideas for a Charming Front Porch – Art of Everyday Living // Summer Front Door Decorating Ideas – Inspiration for Moms

Easy Spring Umbrella Wreath – A Blue Nest // 5 Elements For A Welcoming Porch – The Handmade Home // Dollar Store Door Decor Lavender Stuffed Door Basket – The Happy Housie


Cheerful Pink Porch – Cassie Bustamante // Cheerful & Easy Spring Porch Decor Ideas – The DIY Mommy // Layered Doormats For Spring – She Gave It A Go
Pin It