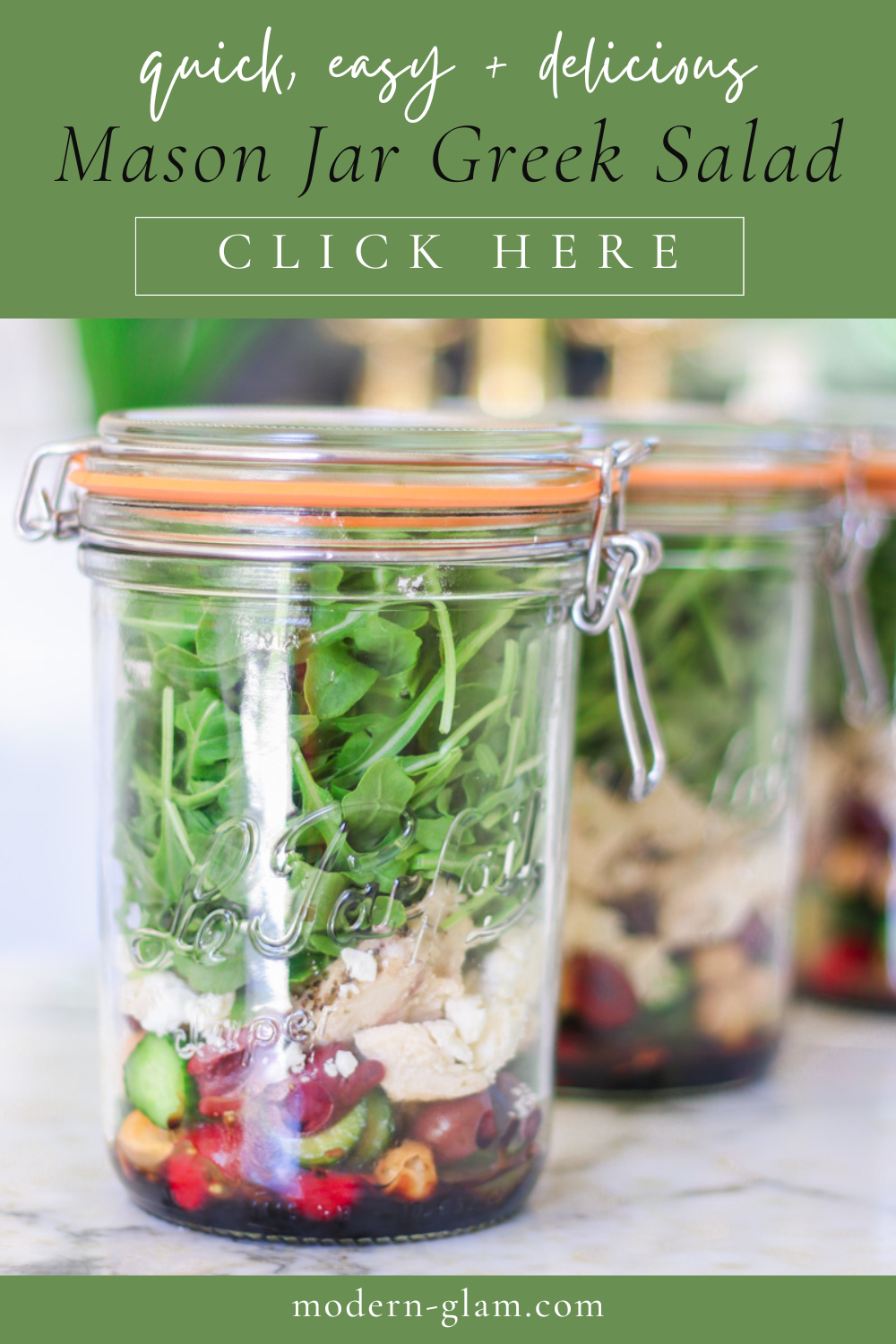 Mason Jar Greek Salad that can be prepped ahead of time and is perfect for on-the-go. I love this salad that is bursting with flavors and tons of nutrients.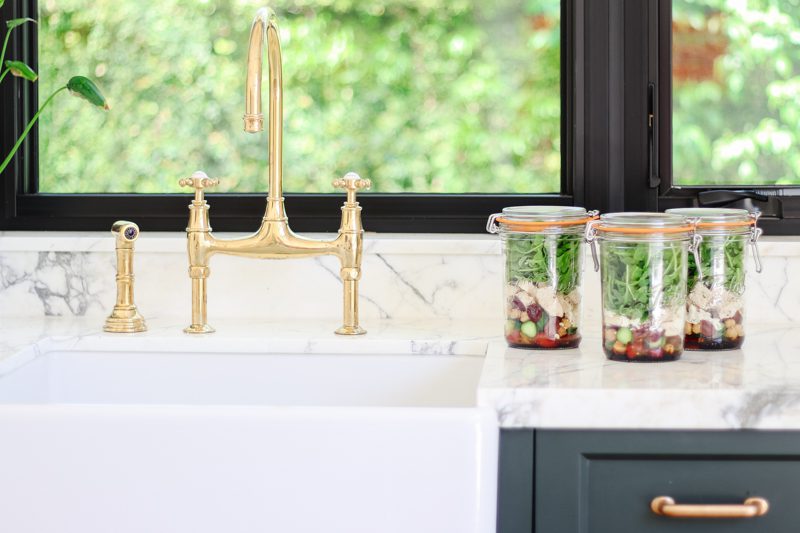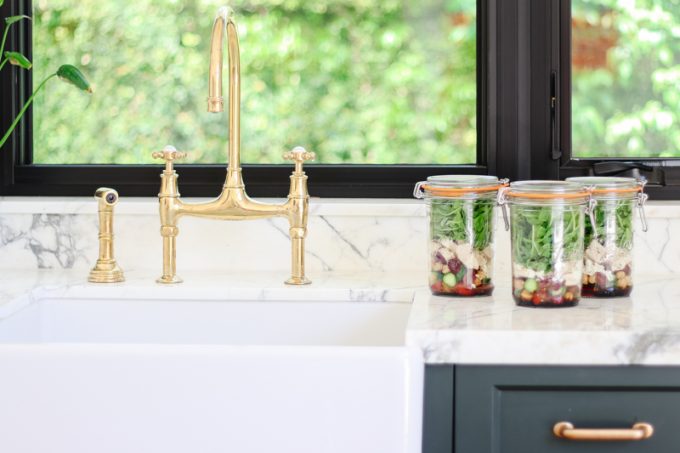 For the past month I have been making these Mason Jar Greek Salads to take with me to work. Not only are they satisfying, but they are loaded with veggies, protein and tons of flavor! They take just a few minutes to make.
Mason Jar Greek Salad Recipe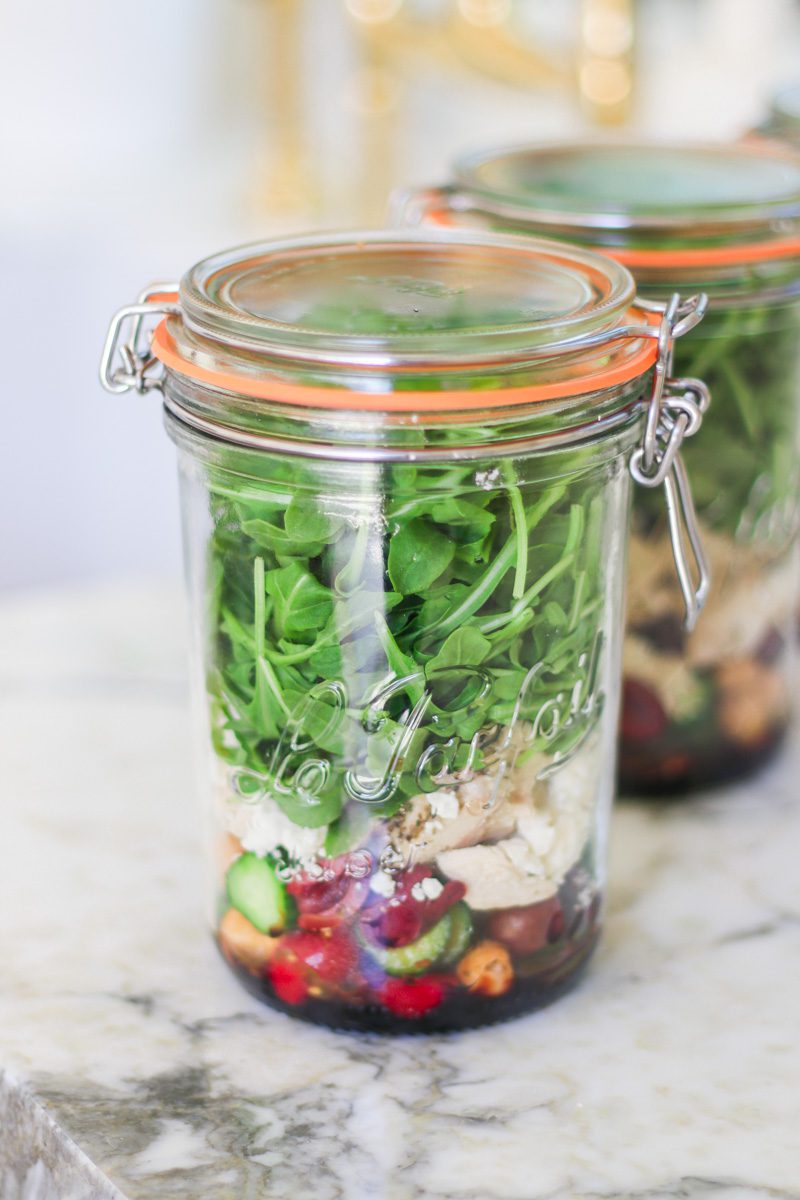 If you work outside the home, or have a busy schedule, you know how hard it is to pre-plan your lunch to make sure you aren't starving come dinnertime.
I have been making these mason jar greek salads for awhile now and I love the way they taste and how easy they are to bulk-prep. I make 3-4 at a time to last me most of the week. And I have even been making them on the weekends too. They are just that good!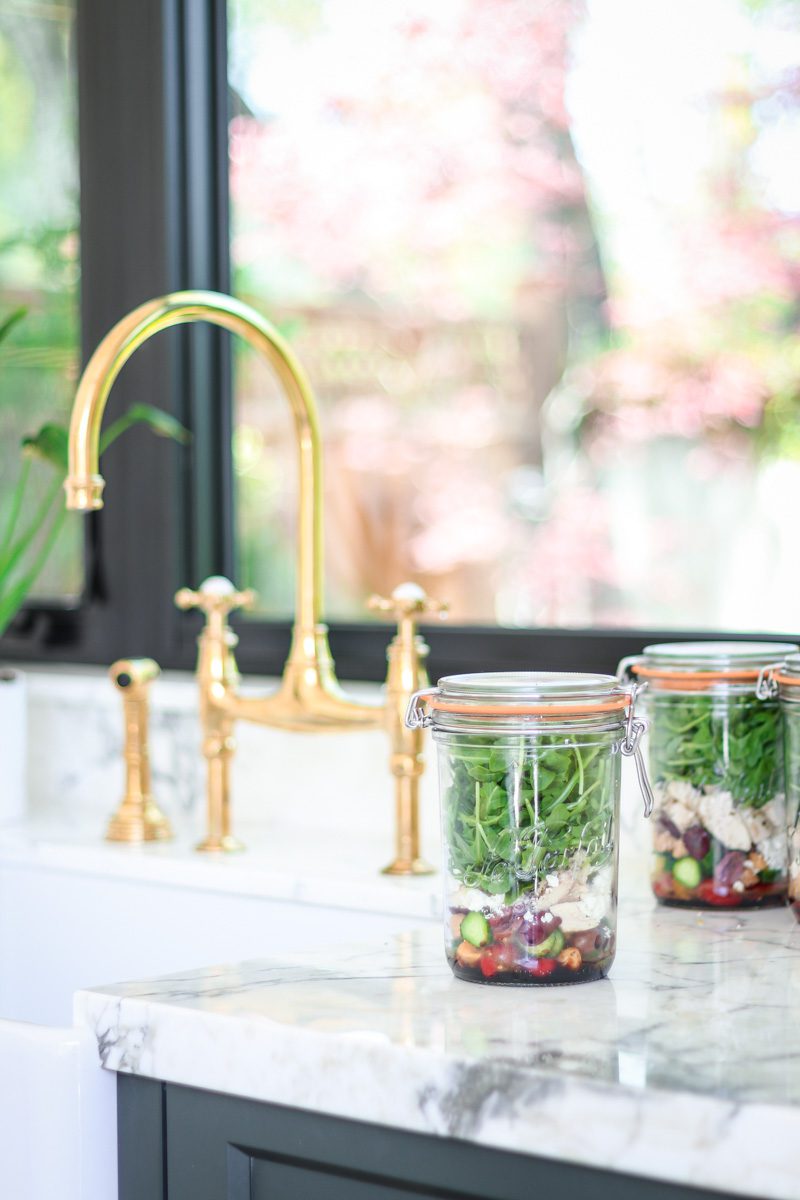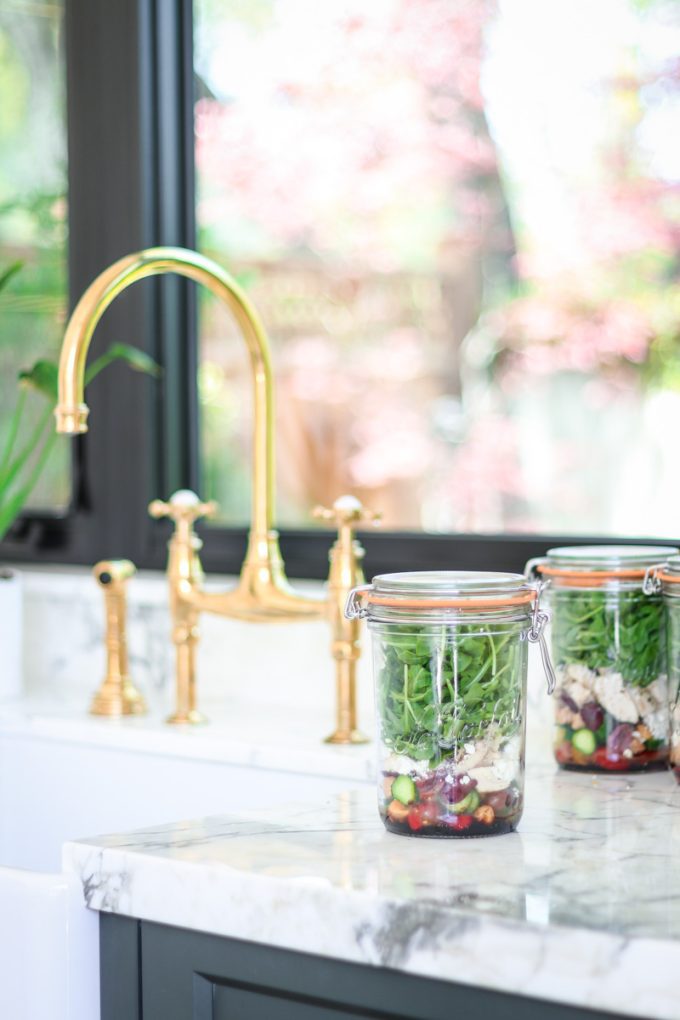 I found the perfect jars to fit a good size salad too. These jars seal tight and are durable and dishwasher safe. The opening is not like a typical mason jar. It is wide which makes eating this salad right from the jar so much easier.
Mediterranean Salad In A Jar Ingredients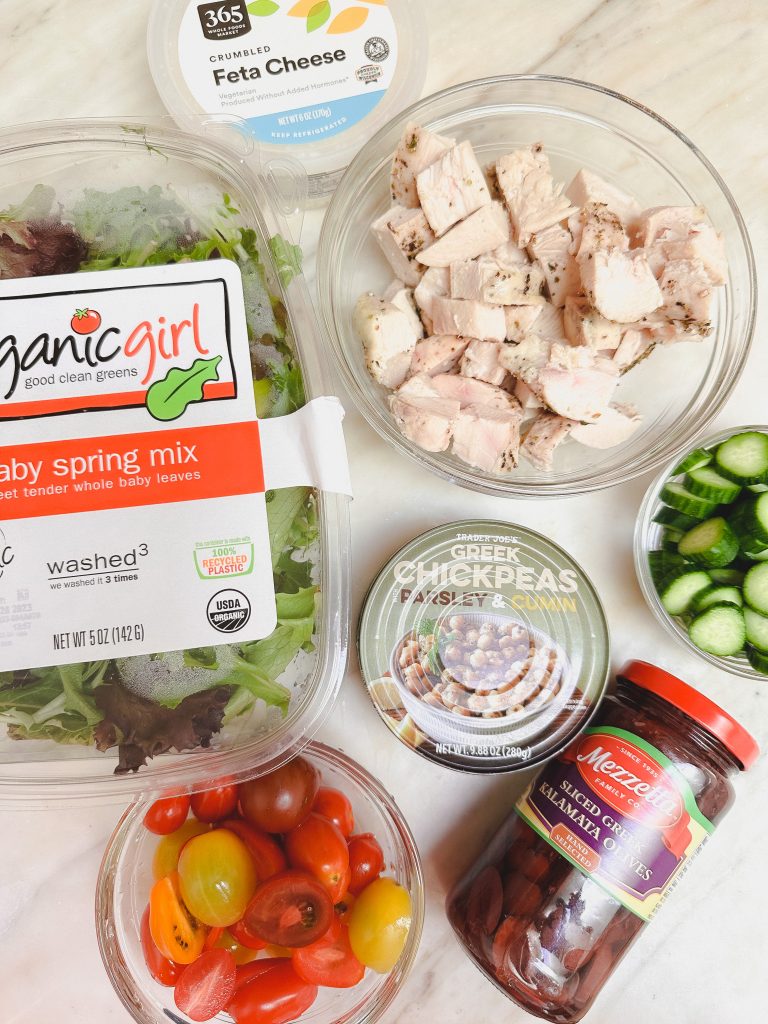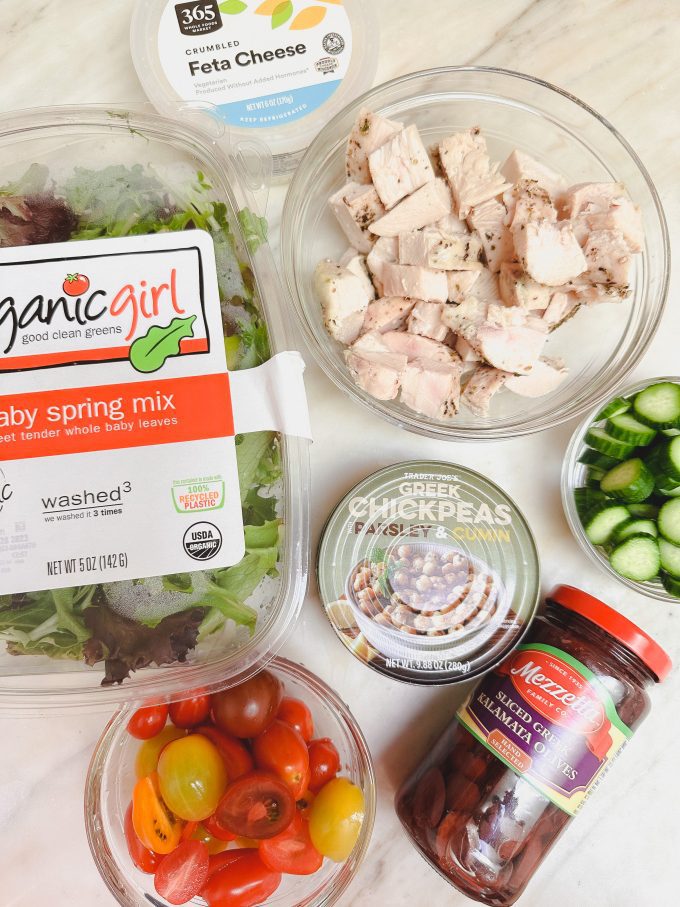 Now, you can totally customize your salad to fit whatever preferences you have. But I will share what I like to add to my mason jar greek salad.
Cherry Tomatoes
Cucumbers
Chickpeas
Kalamata Olives
Chicken breast
Feta Cheese
Balsamic Vinaigrette
Arugula or Baby Lettuce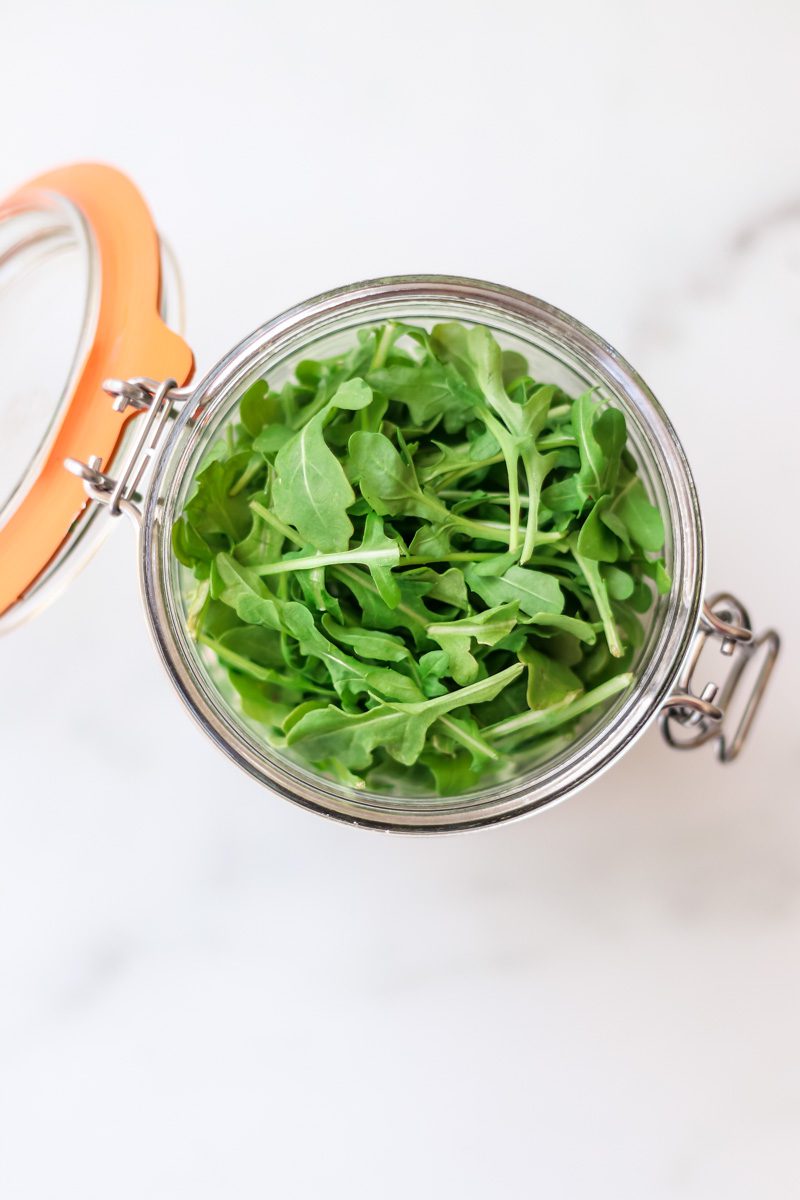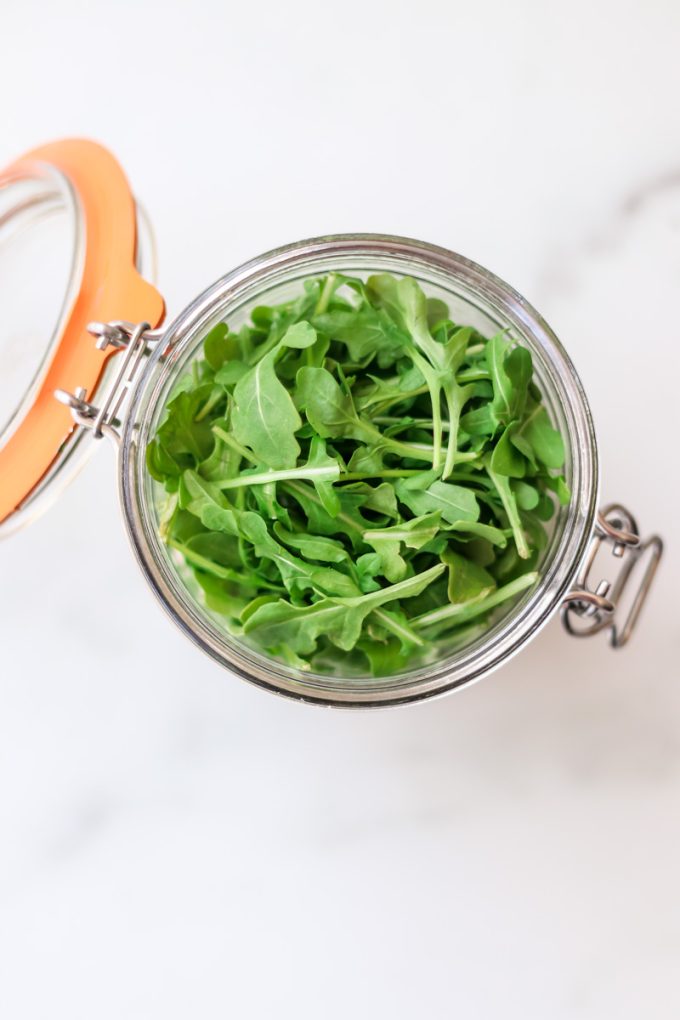 How To Make Baked Chicken For Salads
To make your own chicken for this salad, take 2 chicken breasts and toss them in olive oil. Sprinkle with salt, pepper and italian seasoning. Bake uncovered in a 375 degree oven for 25 minutes. Let cool, then slice or cube the chicken. Store in an airtight container in the fridge. These chicken pieces are perfect for salad or the kids lunches paired with hummus.
Easy Balsamic Vinaigrette Recipe
And my favorite balsamic dressing recipe is so easy. Add 6 ounces balsamic vinegar to 3 TBSP olive oil. Add 2 TBSP of dried Italian seasoning and a dash of salt and pepper. Mix well.
Mason Jar Greek Salad Recipe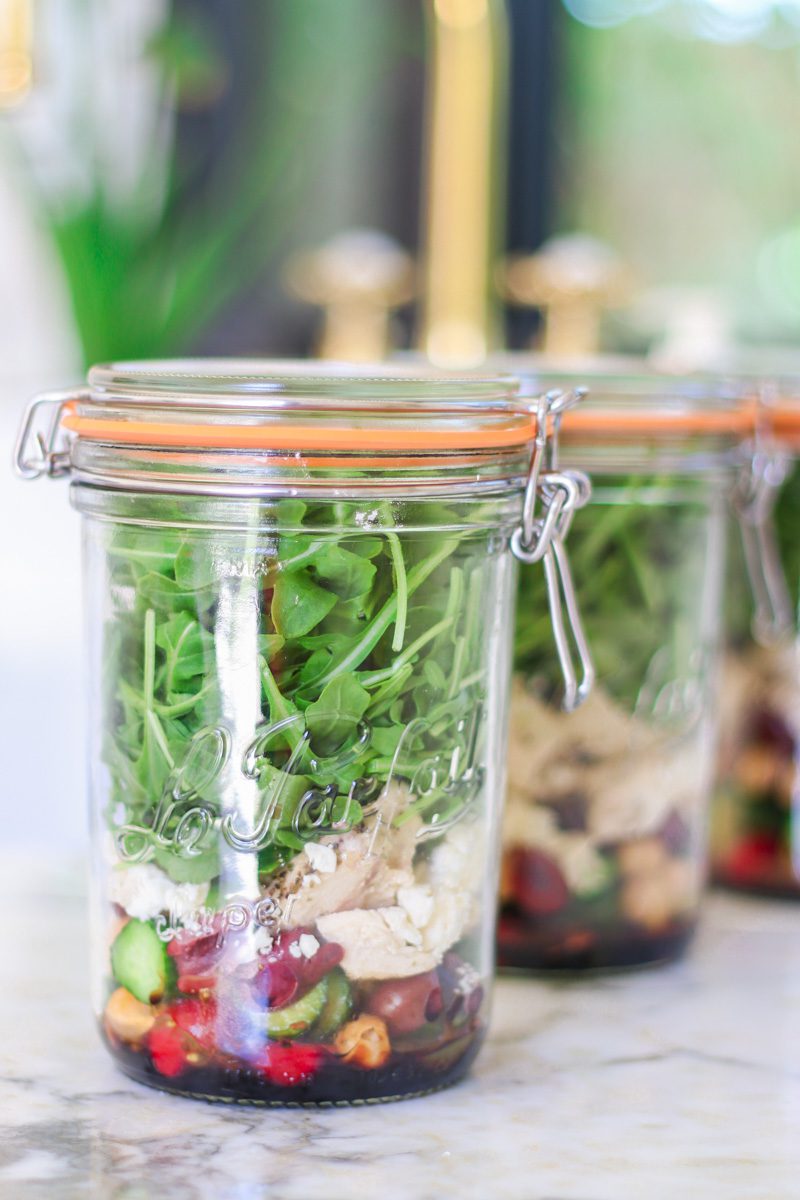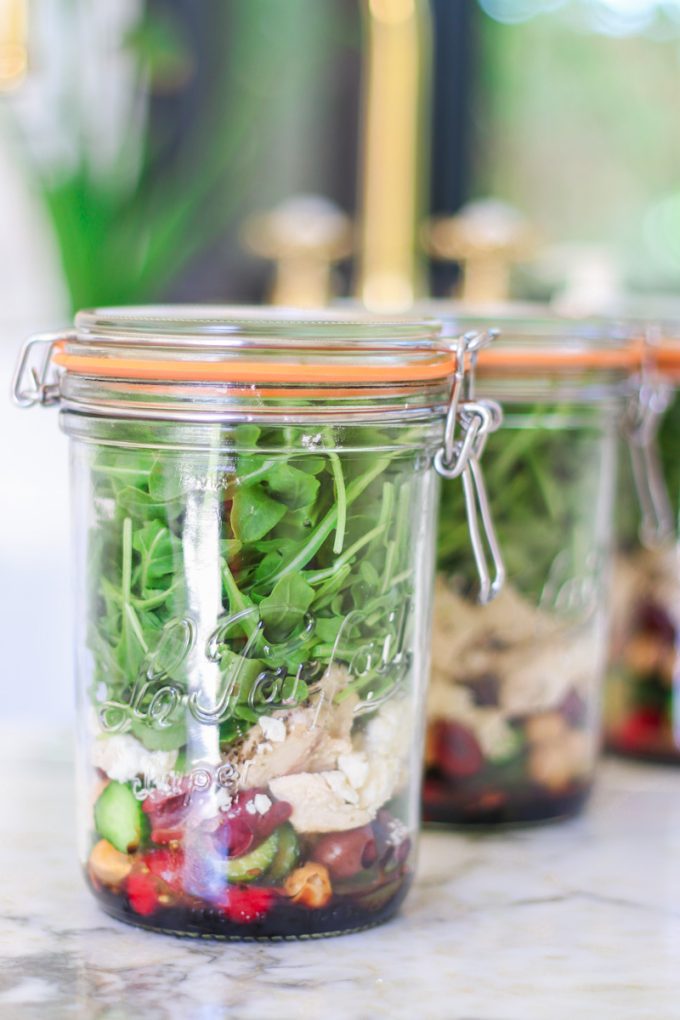 The key to making this mason jar greek salad is to keep the dressing on the bottom and layer the wet ingredients on top and finish with the lettuce. This way the lettuce won't get soggy. And bonus, the cucumbers and tomatoes get to marinate in the delicious dressing.
So, start by pouring in the desired amount of dressing. I have learned that less is more here. Maybe 1-2 TBSP of balsamic dressing is all you need. Then add your tomatoes, cucumbers, chickpeas, olives and feta cheese. Add your chicken on top of that and then finish filling up the jar with your lettuce.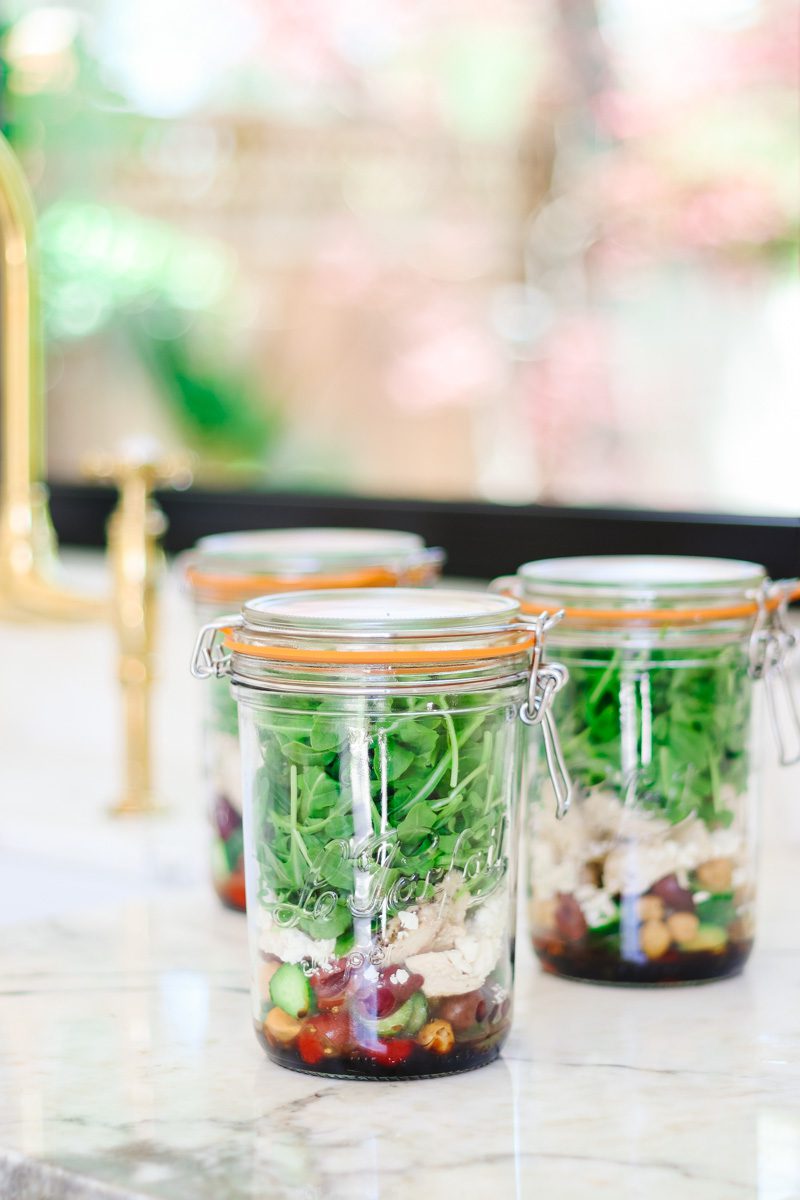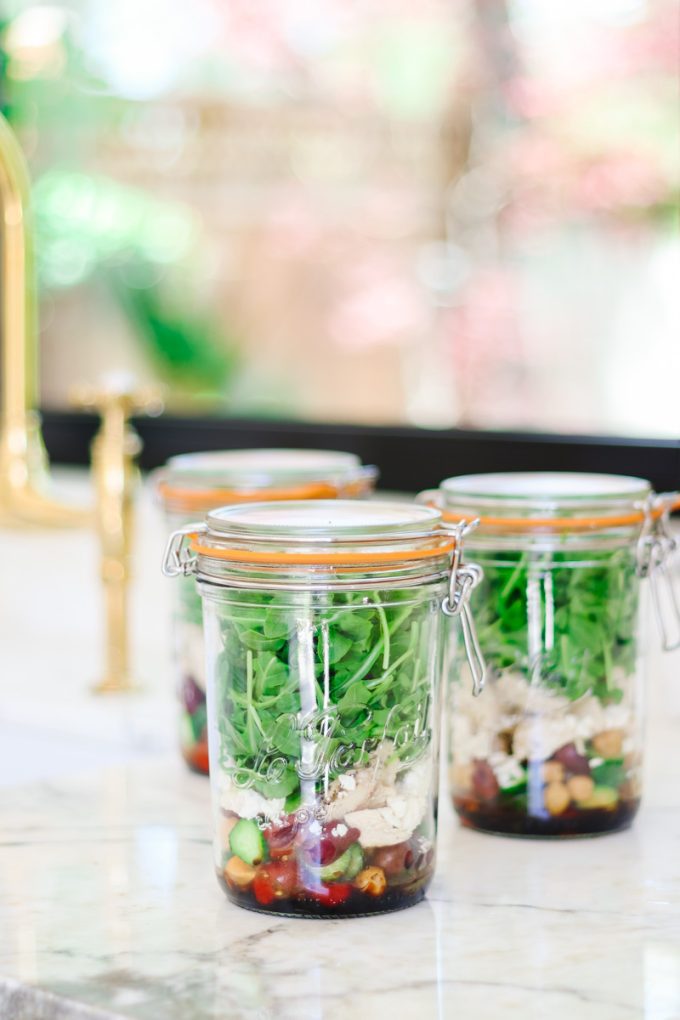 It's really that simple. Seal your jar and refrigerate until you're ready to eat your salad.
And when it's time to eat, simply turn the jar upside down (with the lid sealed) and let the dressing go through all the ingredients. Enjoy!
The Perfect Salad On The Go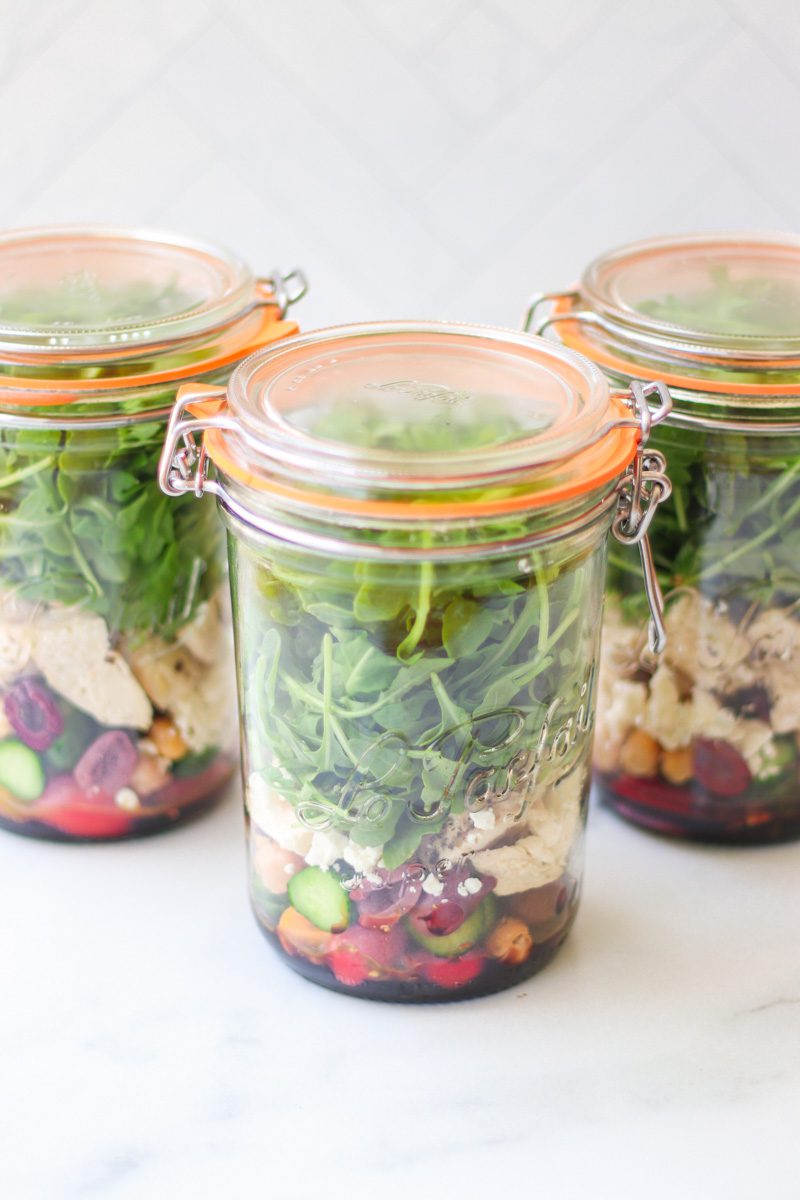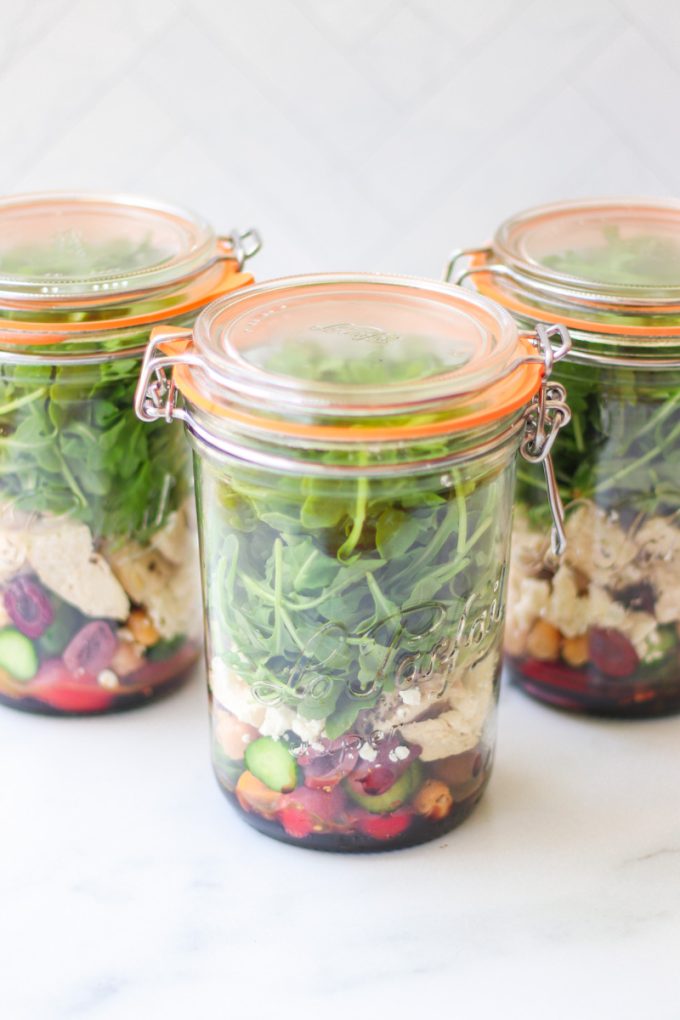 This mason jar greek salad is the perfect salad for on the go. It can be left at room temperature for up to two hours. So, grab your jar salad, a fork and you're good to go!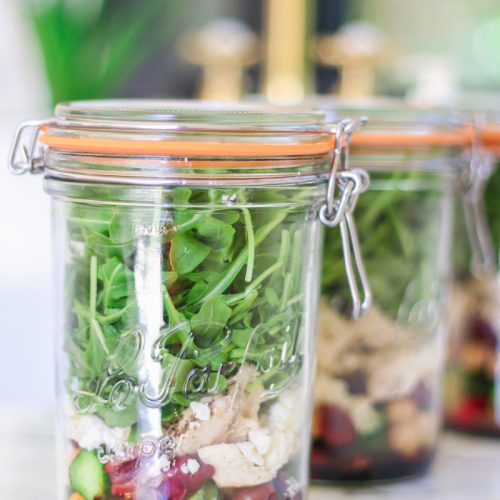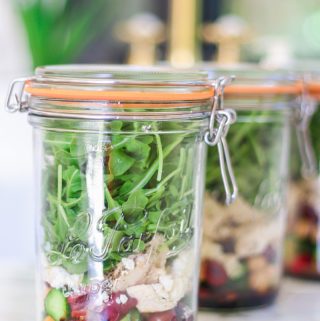 Mason Jar Greek Salad
Bursting with flavor, this mason jar salad is perfect for on the go or weekday lunches.
Ingredients
1

cup

baby arugula

1

tbsp

balsamic vinaigrette

1

tbsp

kalamata olives

1

tbsp

feta cheese

3

tbsp

chickpeas

2

tbsp

Cucumbers

2

tbsp

Tomatoes

1/2

cup

chicken breast

diced
Instructions
Using a wide-mouth mason jar, pour the vinaigrette into the bottom of the jar. Next, add tomatoes, cucumbers, chickpeas, feta cheese and chicken. Top with arugula or baby lettuce. Seal the jar and store up to 4 days in the fridge.

When ready to serve, place the jar upside down letting the dressing soak into the salad ingredients. Turn right side up and enjoy!
Notes
All measurements are approximate. Add as little or as much of each ingredient as you like.
Nutrition
Serving:
1
salad
Calories:
260
kcal
Carbohydrates:
13
g
Protein:
22
g
Fat:
13
g
Saturated Fat:
3
g
Polyunsaturated Fat:
1
g
Monounsaturated Fat:
2
g
Trans Fat:
0.01
g
Cholesterol:
63
mg
Sodium:
550
mg
Potassium:
562
mg
Fiber:
3
g
Sugar:
4
g
Vitamin A:
876
IU
Vitamin C:
9
mg
Calcium:
147
mg
Iron:
2
mg
More Spring Salad Ideas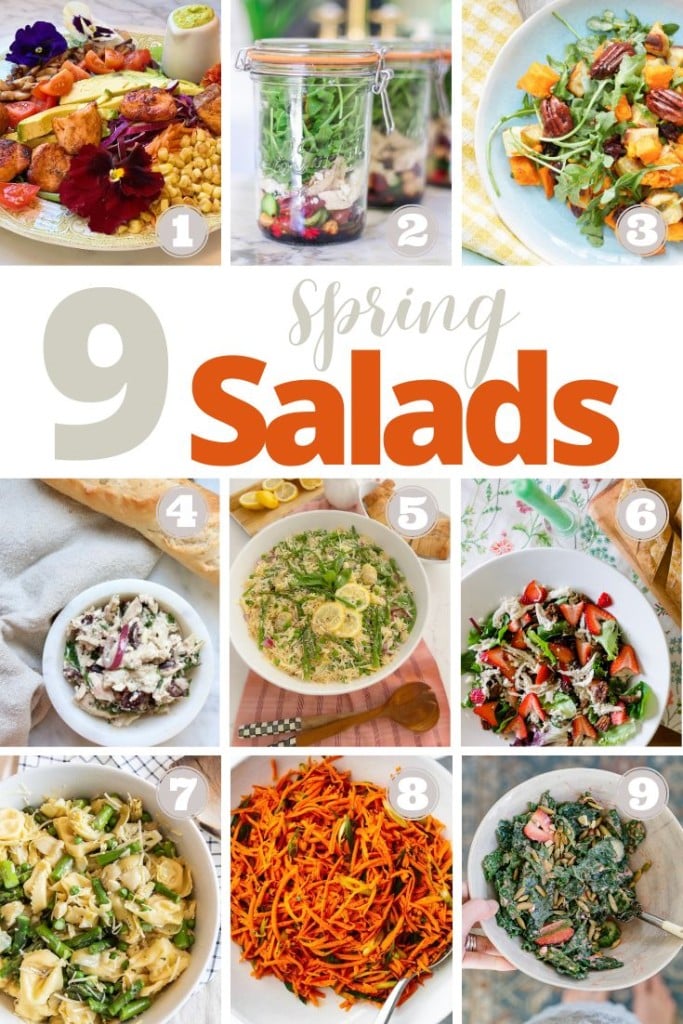 If you liked this Mason Jar Greek Salad, Check Out These Too!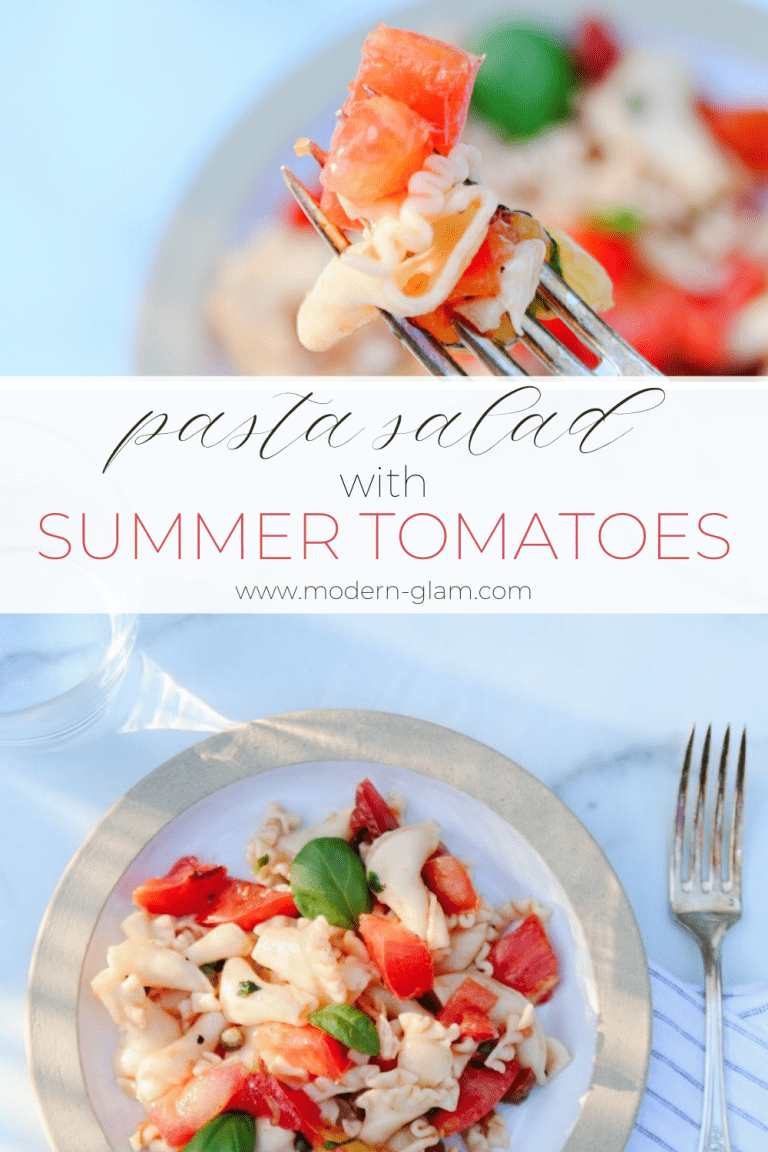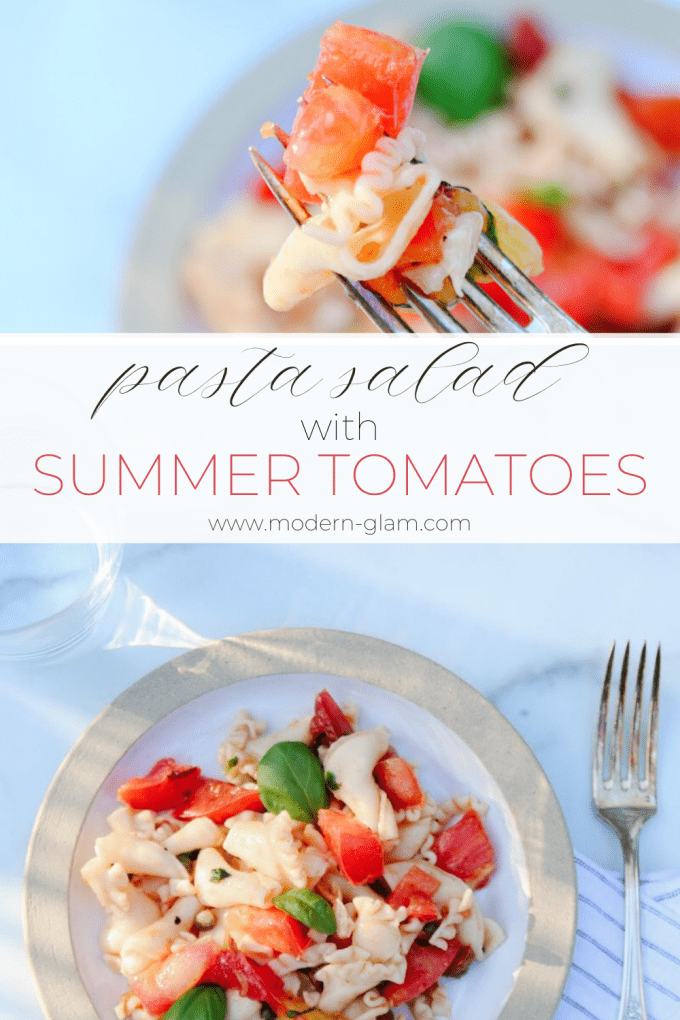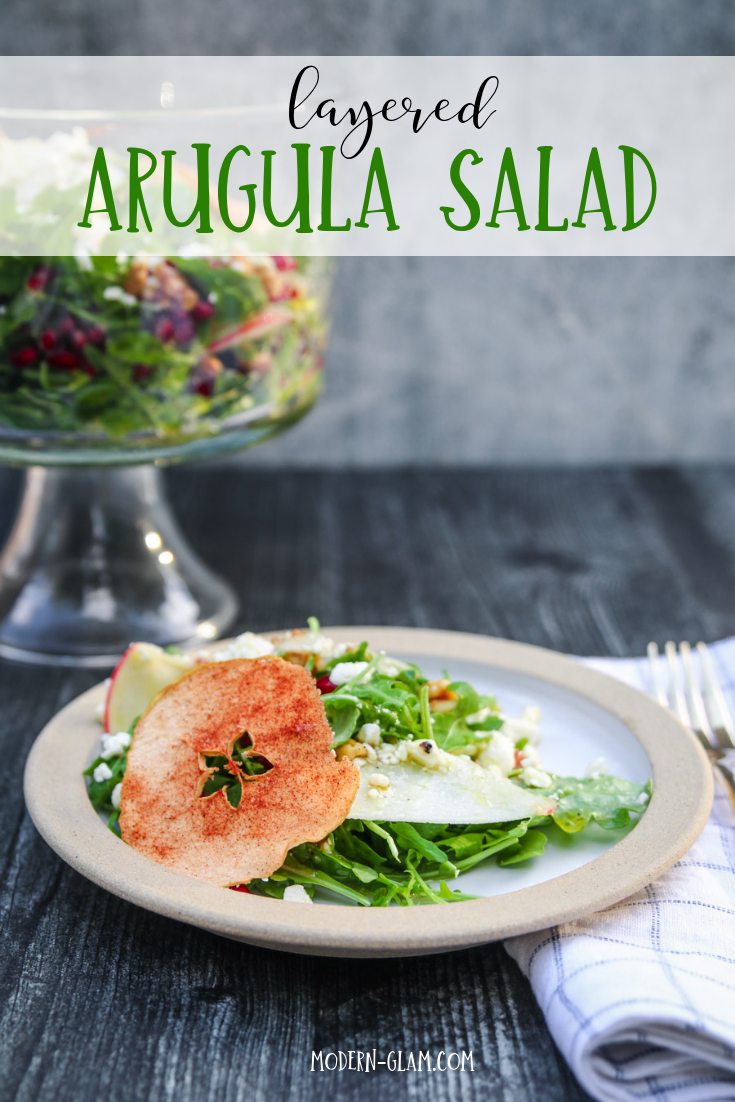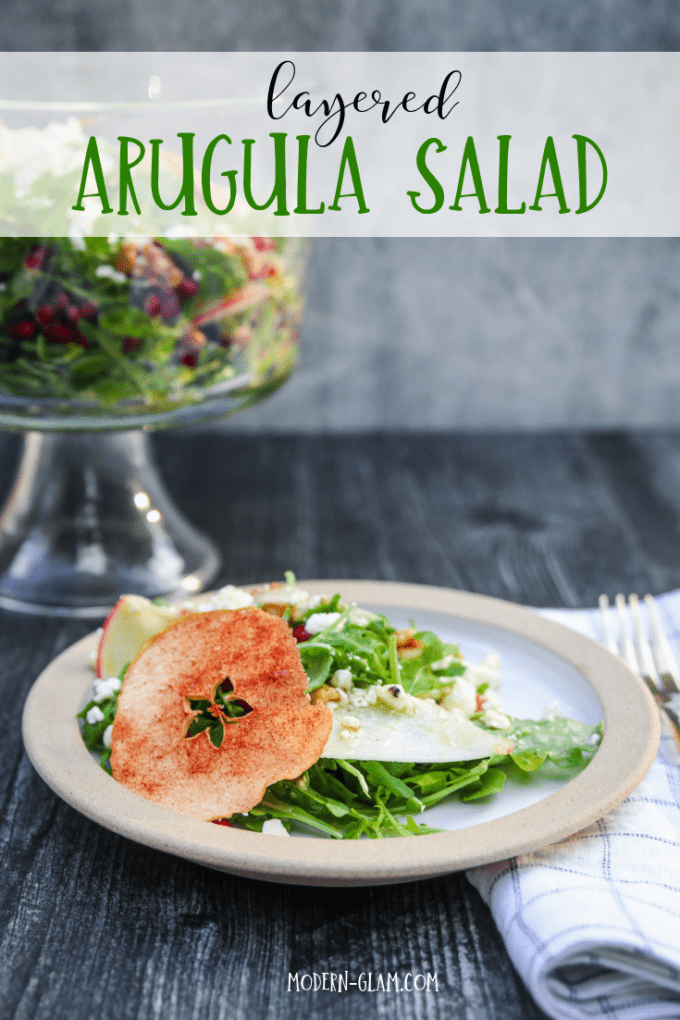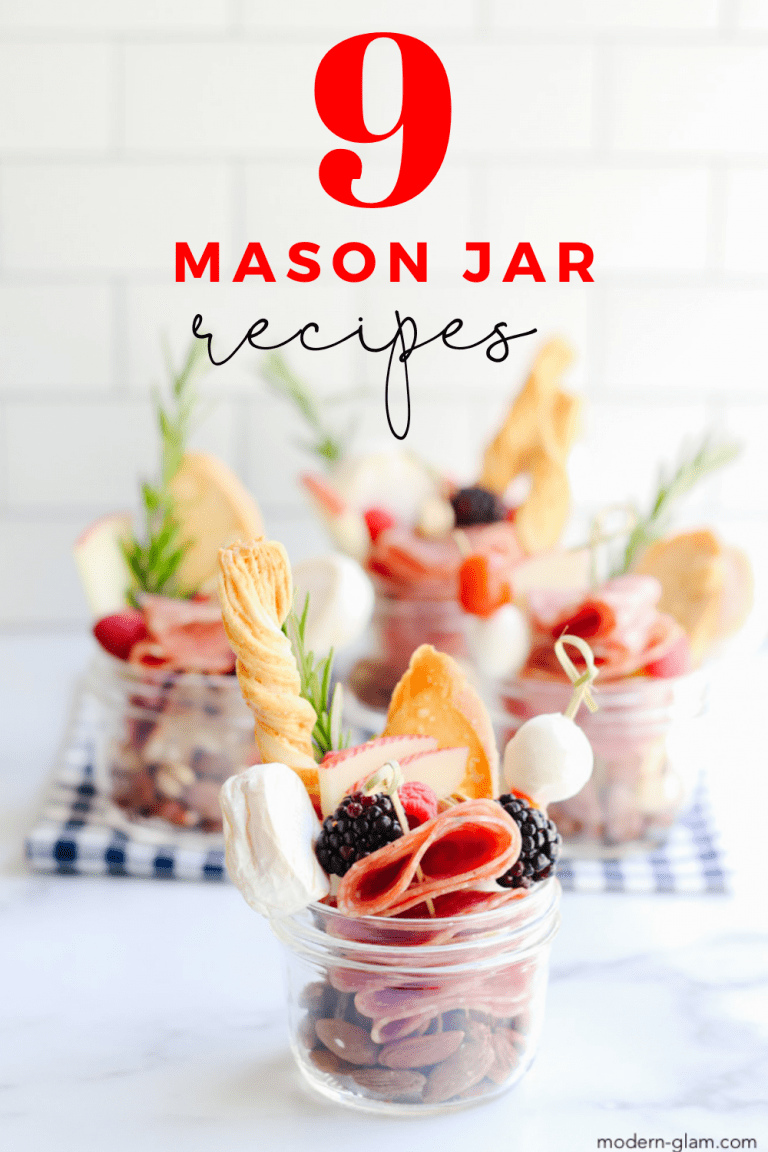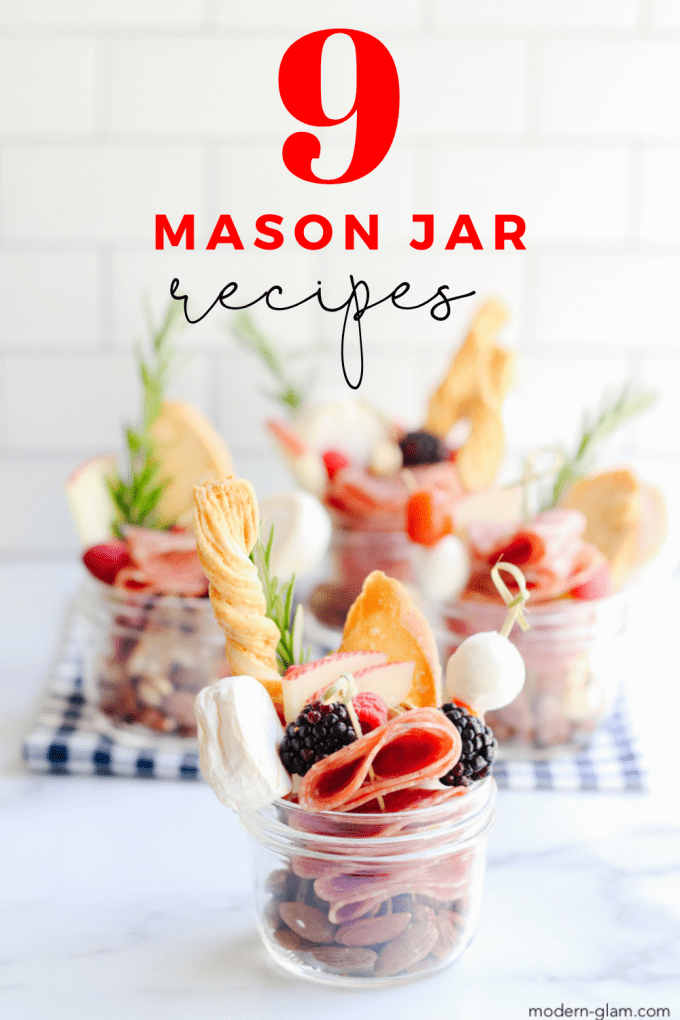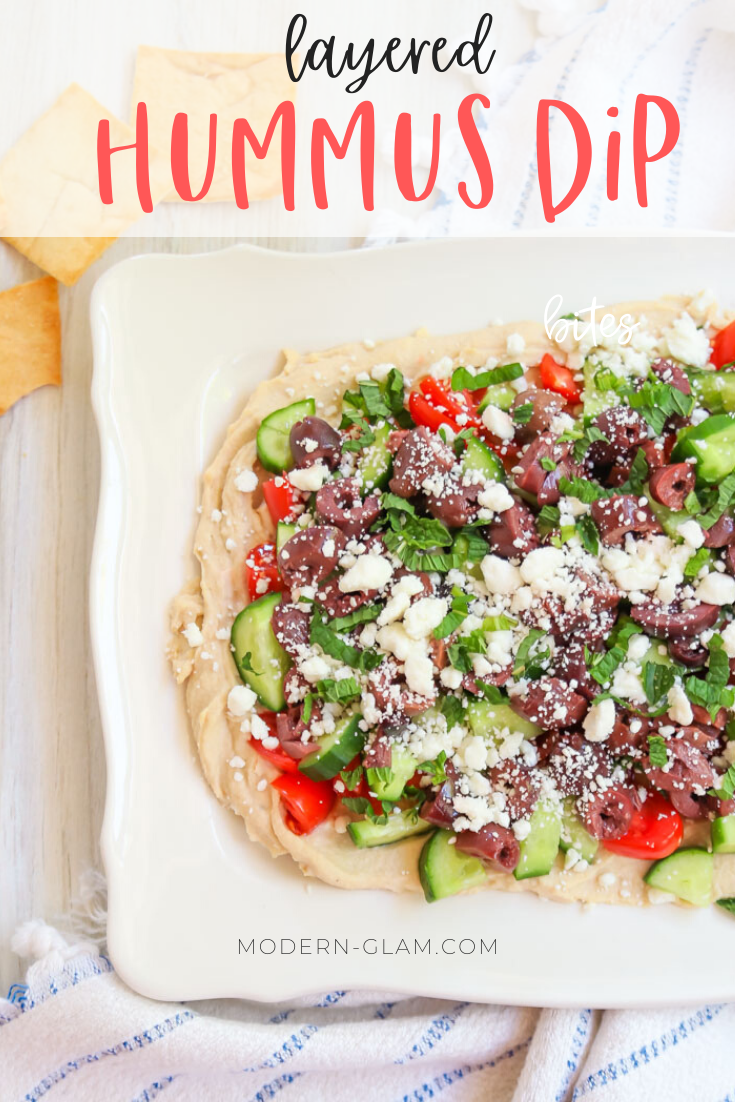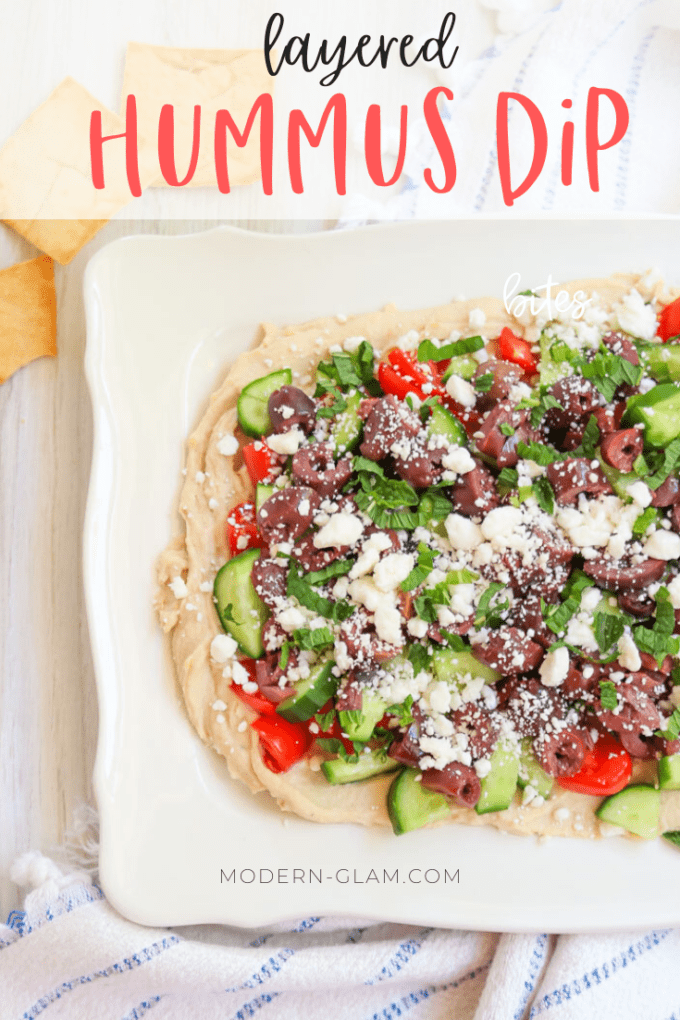 Save This Pin For Later
If you're like me, I love to save recipes for later inspiration. Here's a pin graphic you can save to one of your recipe boards. Enjoy!