This winter pom pom wreath is equally simple and cute. Its deliciously cozy vibes are sure to keep your home looking welcoming during the cold winter months. I can't wait to show you the simple DIY steps on how to make your own pom pom wreath!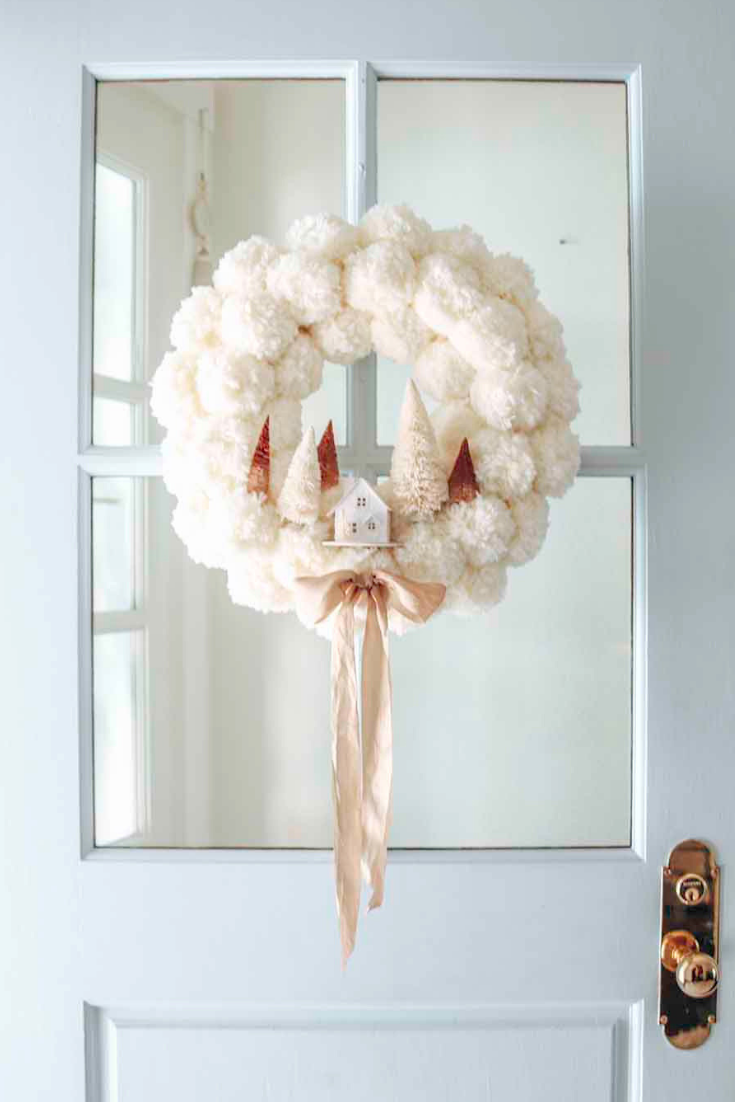 But first, let me show you these amazing winter wreath DIY ideas!
7 Winter Wreath DIY Ideas
I am joining 5 other friends that are also sharing these incredible winter wreath ideas. Check them out and be sure to visit the links for the full tutorials.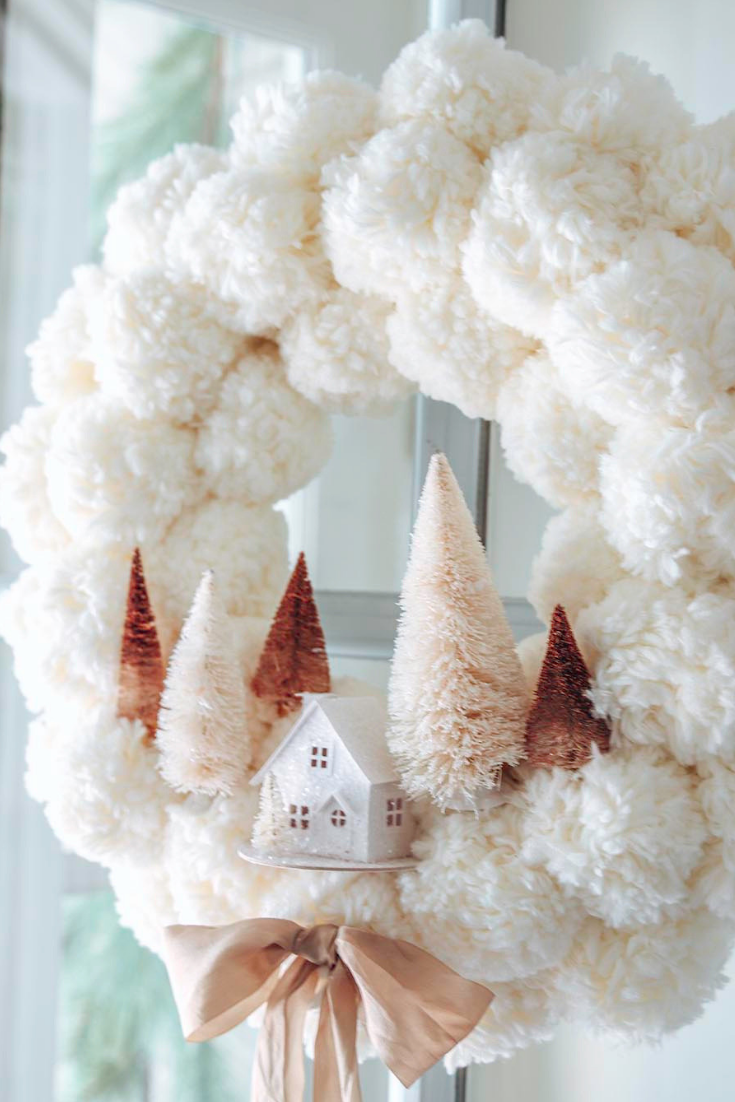 This winter pom pom wreath DIY was inspired by one that I have seen at Anthropologie. I love the look of the soft yarn and the cozy vibes that it gives.
Scroll to the bottom to get the full tutorial on how to make this winter pom pom wreath!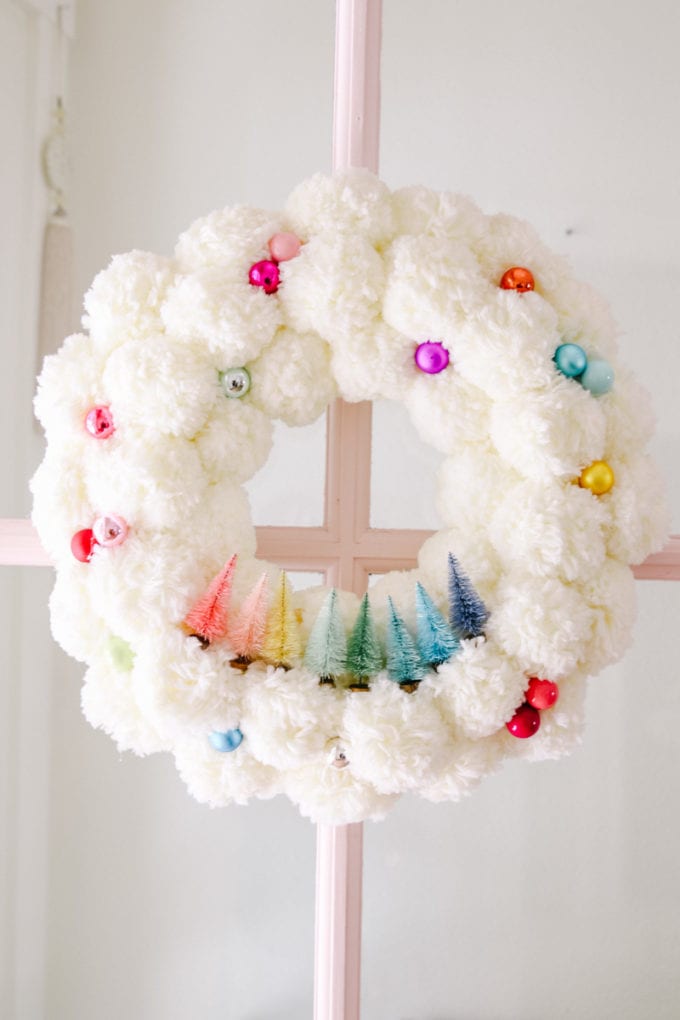 Update: I repurposed my Winter Pom Pom wreath and made this Rainbow Bottle Brush Tree Wreath! I love how colorful it is! You can read the full tutorial and get step by step instructions by visiting the post.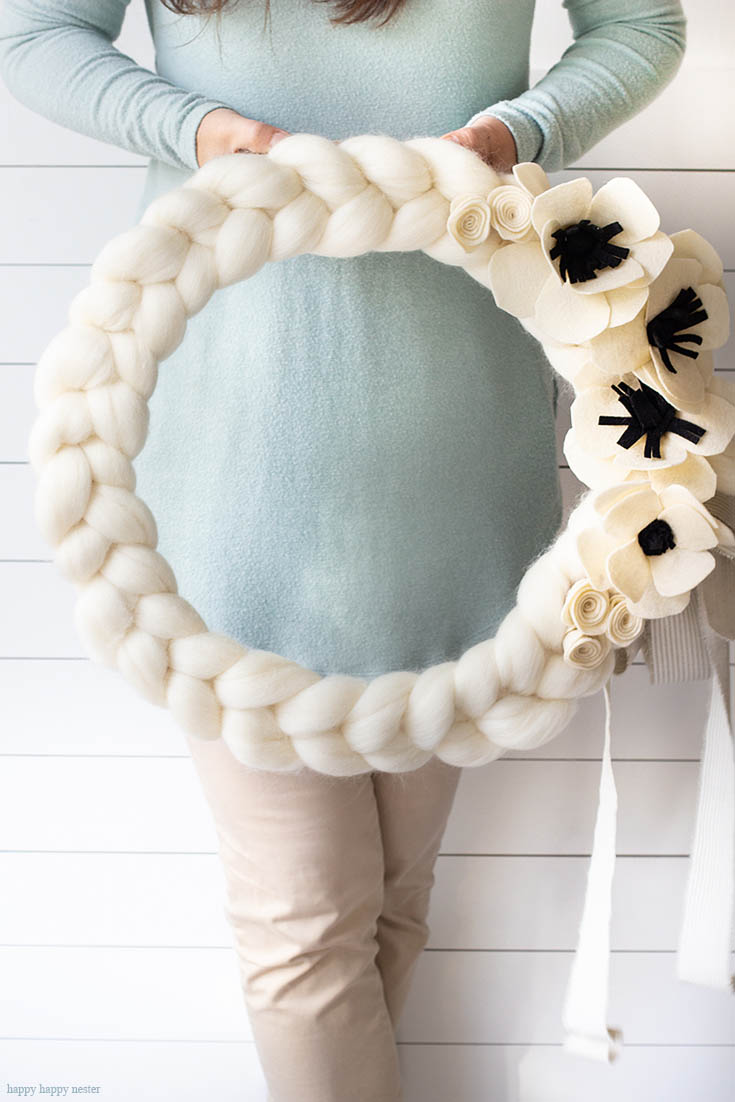 Janine is sharing this beautiful quick and easy Arm Knitted Wreath. I just love the simple colors and beautiful textures in this wreath. And it looks pretty simple to put together!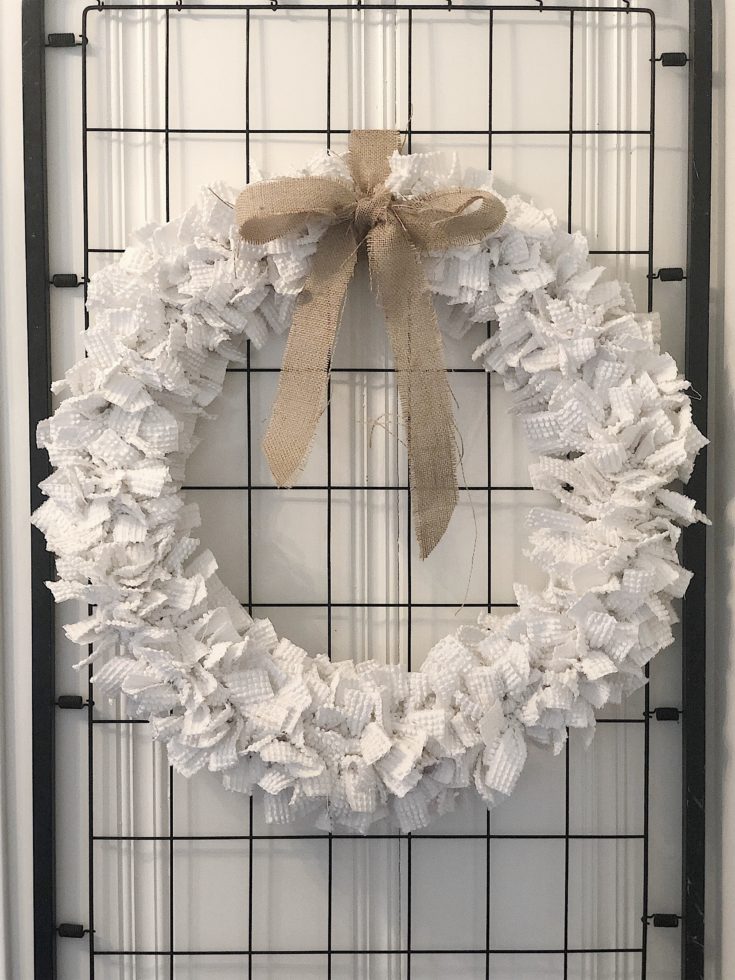 Leslie is sharing a full tutorial showing how to make a Chenille Wreath. What a fun way to transition out of holiday decor. I love the simplicity of this wreath.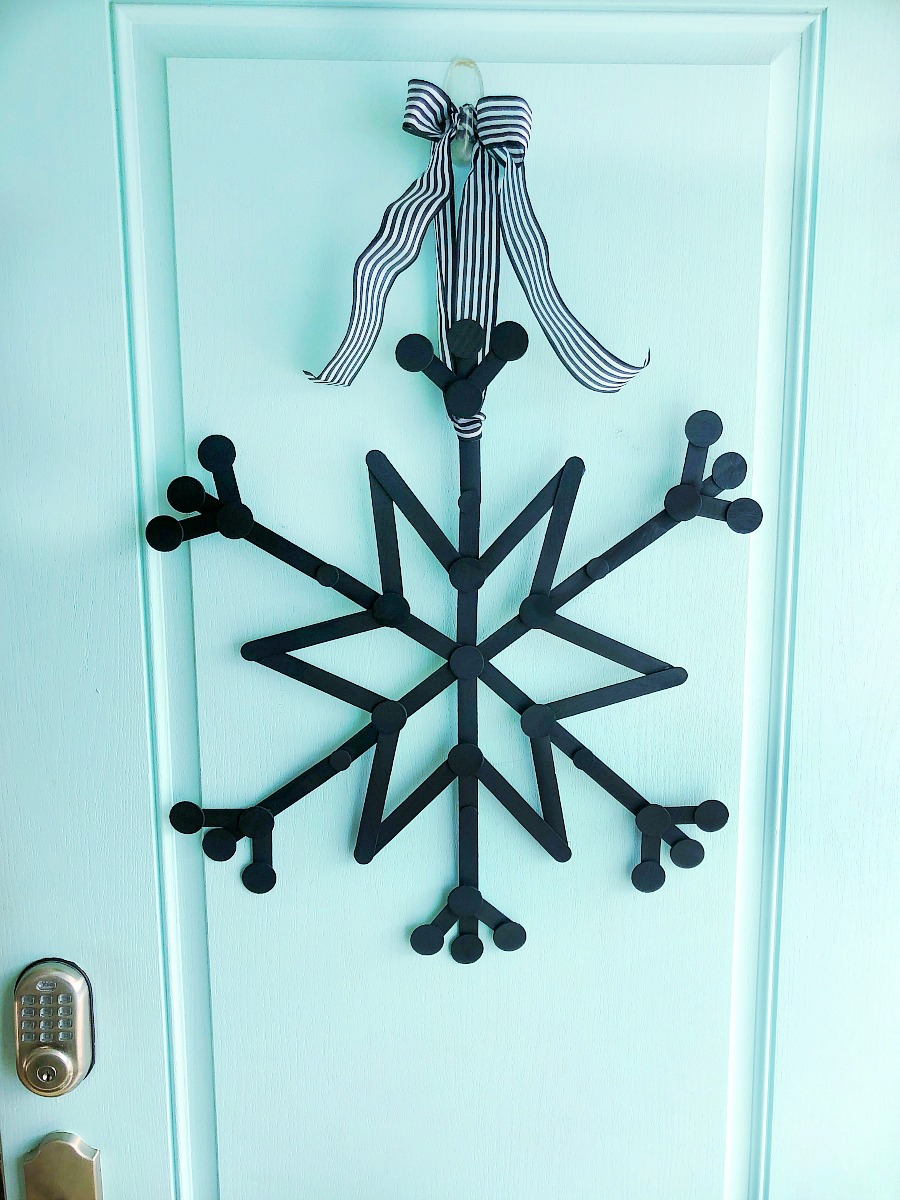 This Popsicle Stick Snowflake Wreath by my sister Jen is so fun and what a great winter craft to keep the kids occupied! I love the simplicity of this project!
This Tissue Paper Floral Wreath from Rhonda is beyond beautiful! I love the simple branches that remind us that it is still winter, but the promise of the pink blossoms keep it feeling light and bright!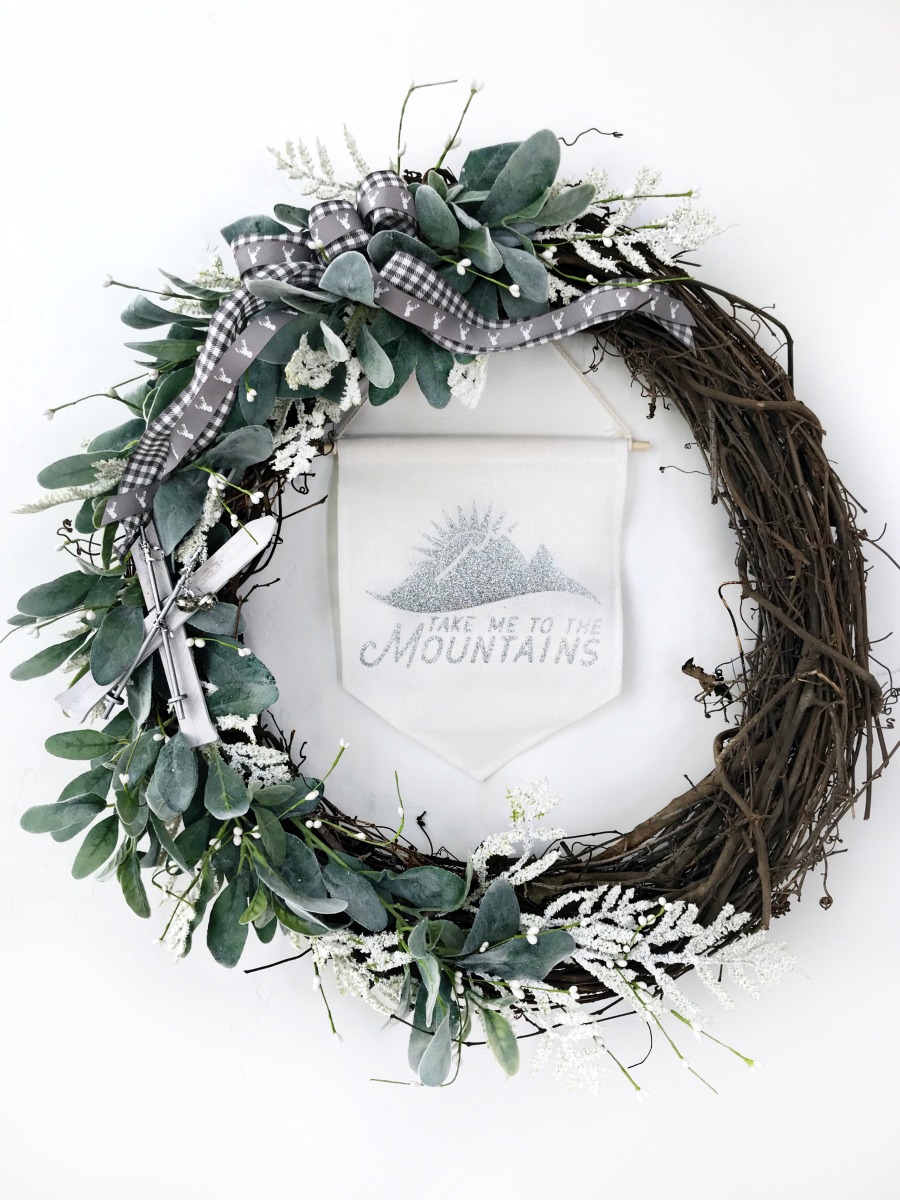 Tauni created this fun DIY Winter Wreath that is so perfect for the winter months ahead. I just love the sign and the cute deer-printed ribbon!
Winter Pom Pom Wreath DIY Tutorial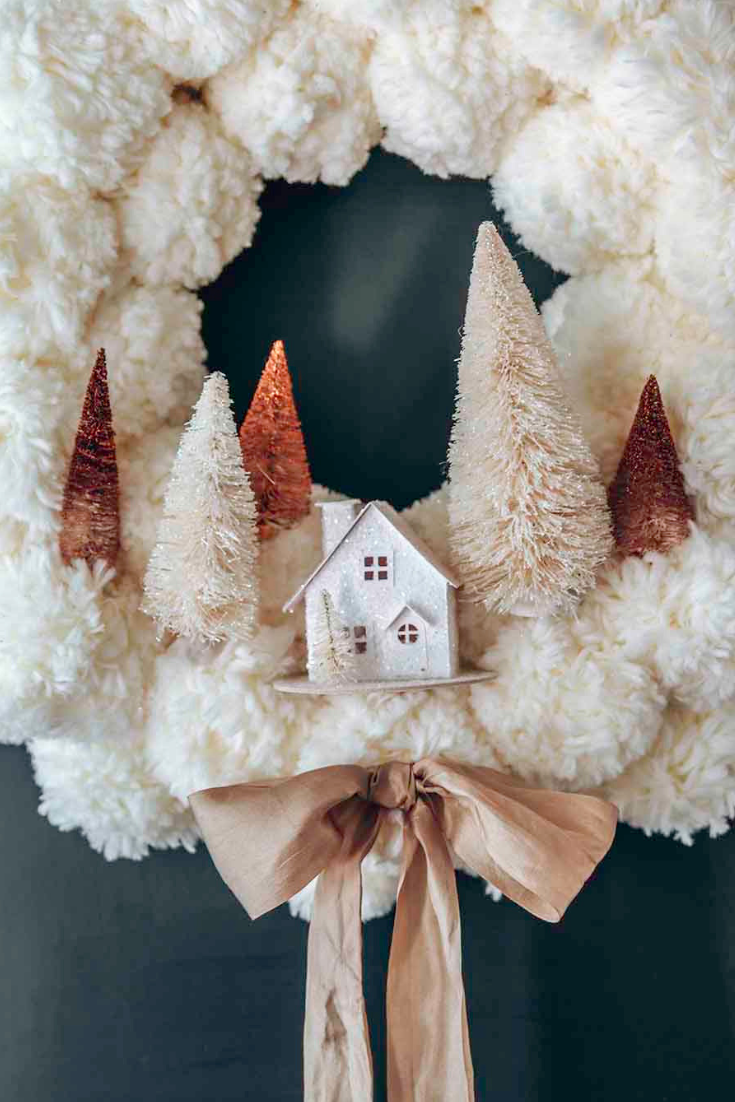 Now I can't wait to show you this winter pom pom wreath DIY! In 4 easy steps you can have a cute and cozy winter wreath to welcome visitors!
Winter Pom Pom Wreath DIY Supplies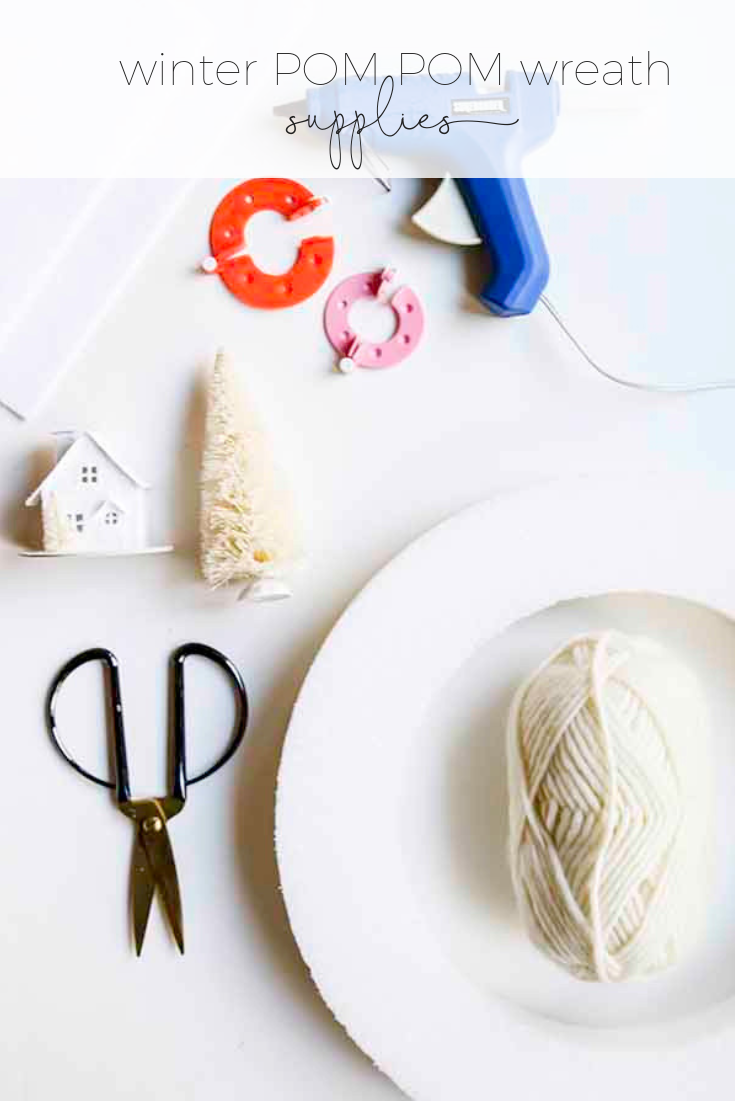 Pom Pom Maker
2-3 skeins of medium weight cream yarn
Scissors
16″ foam wreath form
3-4 sheets of white felt (8″x10″ each)
Bottlebrush trees
Vintage Putz house
Ribbon
Hot glue gun and glue

Winter Pom Pom Wreath DIY Directions
Step 1: Cover foam wreath form in white felt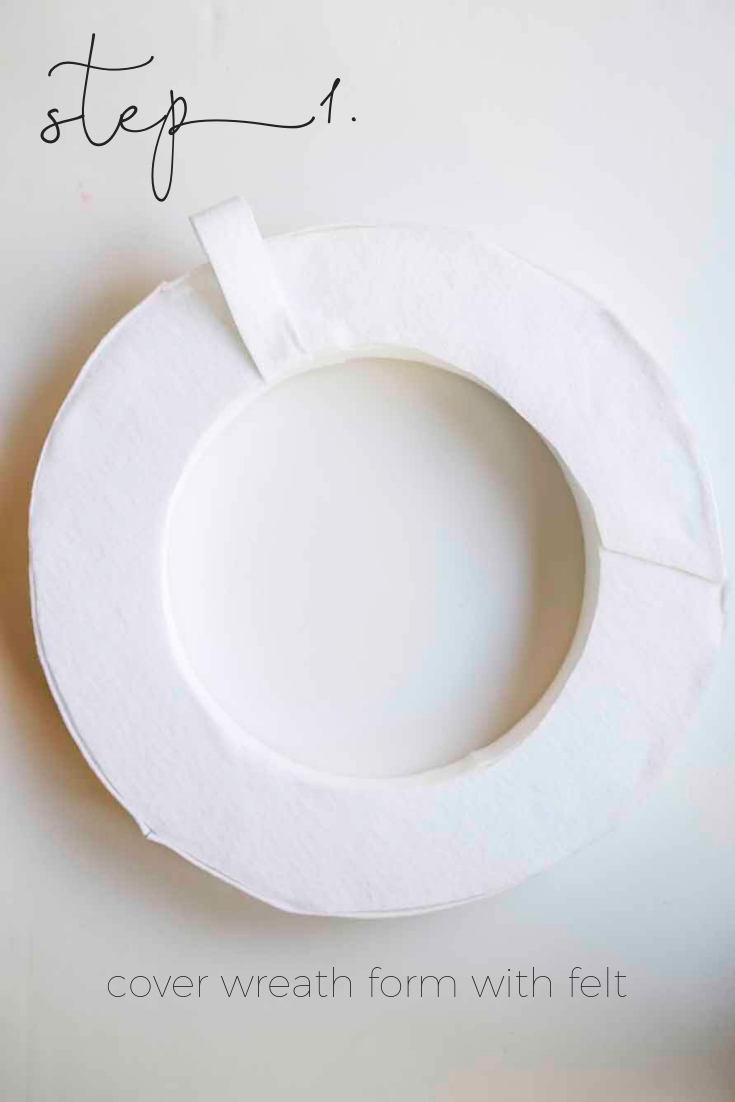 You will want to cover your wreath form in case any of it shows through the pom poms. I used the pre-cut 8″x 10″ sheets of felt that I found at the craft store. Cut the felt out and cover the top, bottom and sides of the wreath from with the felt. Use the hot glue to adhere the fabric to the wreath form.
I also cut a loop of felt and placed it on the back of the wreath for hanging. Keep the loop short and the pom poms will hide it when finished!
Step 2: Make yarn pom poms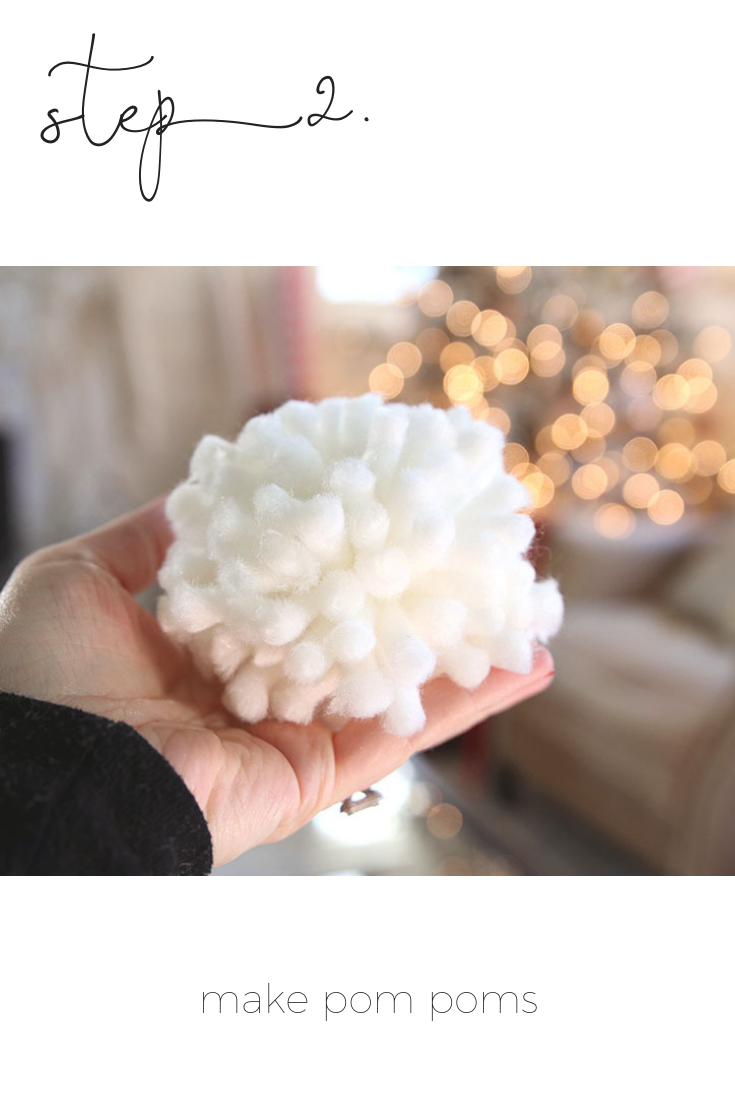 Now, start making your pom poms. This can take a little bit of time. So, turn on a movie and the time will pass in a flash! Each pom pom takes about 2-3 minutes to make. And depending on the size of your wreath, you may need up to 50 pom poms! My wreath used a 16″ form and I ended up using 41 pom poms.
Be sure to check out my full tutorial on how to make pom poms in my DIY Pom Pom Garland post.
And if you like the look of this wreath but feel like making all the pom poms is too much work, be sure to check out my Winter Village Wreath! Same look with less work.
Step 3: Attach Pom Poms to your wreath form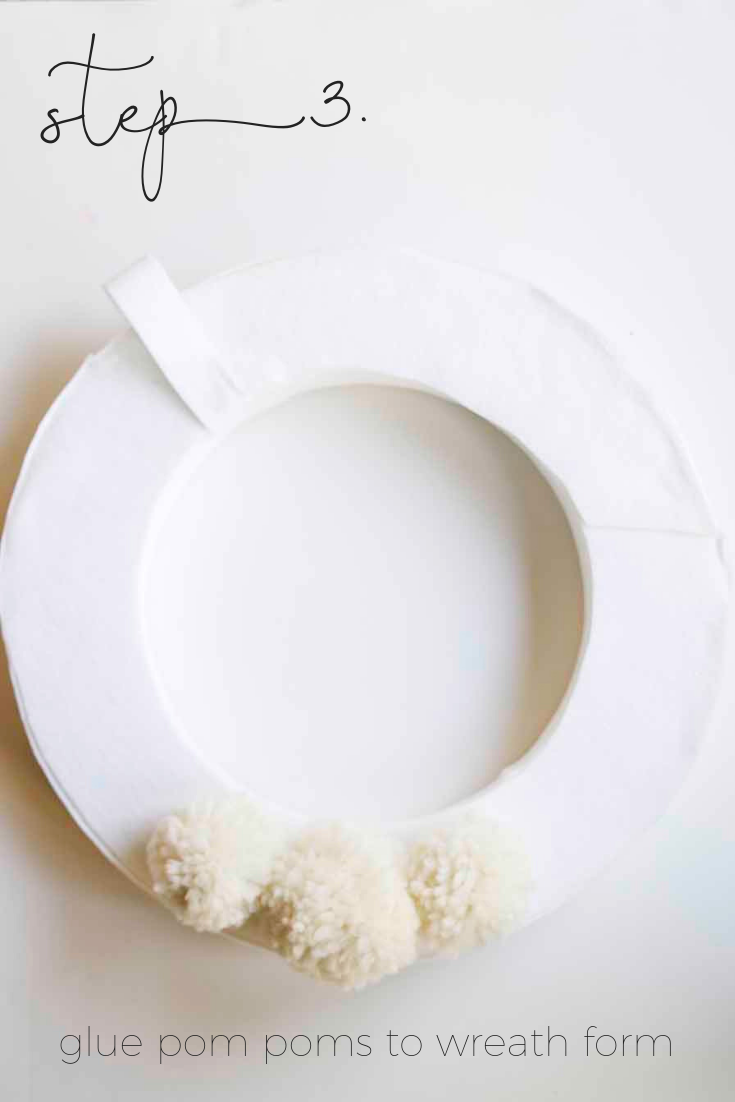 The next step is to begin gluing the pom poms to the wreath form. Using the hot glue, attach pom poms as close to the center of each one as possible. This will make it so they don't droop when hung up.
Start on the flat front of the wreath and then fill in with the inside and outside edges. There will end up being 3 rows of pom poms.
Step 4: Decorate your pom pom wreath with accessories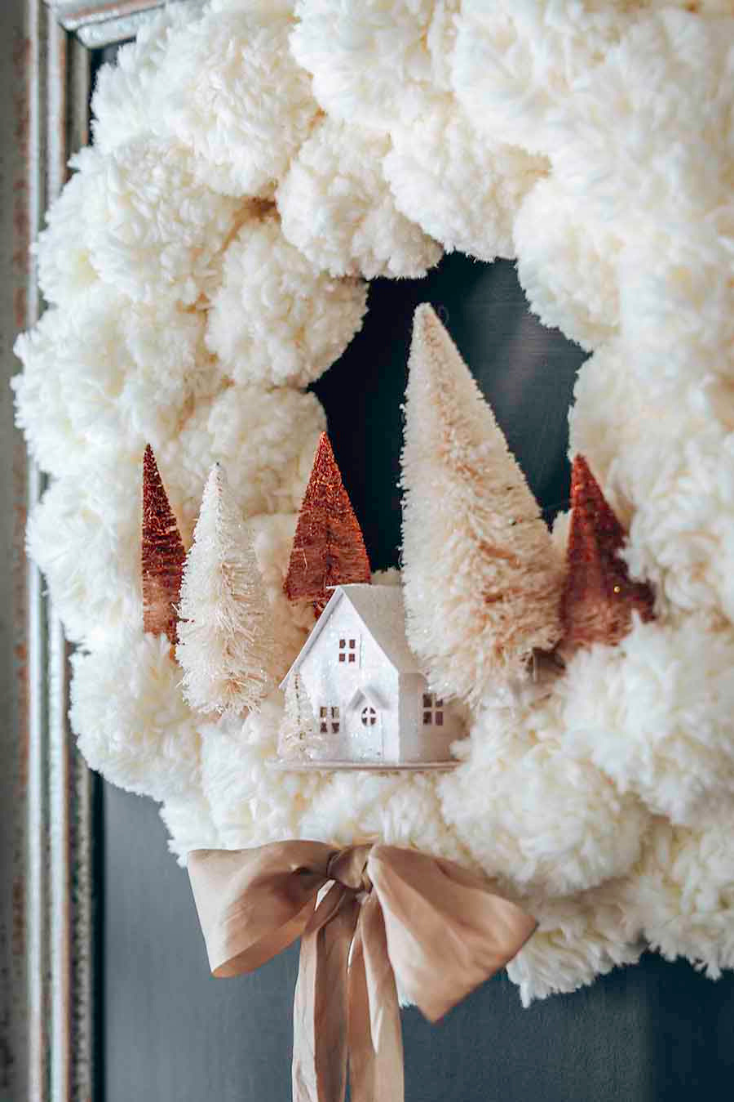 I wanted to create a welcoming and cozy winter scene on my wreath. I used one of my vintage-inspired Putz houses and a few bottlebrush trees. Simply glue the items in place. And finish with a pretty satin ribbon!
And if you are looking for another idea, check out my Bottle Brush Tree Christmas Wreath with Pom Poms! I repurposed this wreath and made a more colorful and holiday-ready version!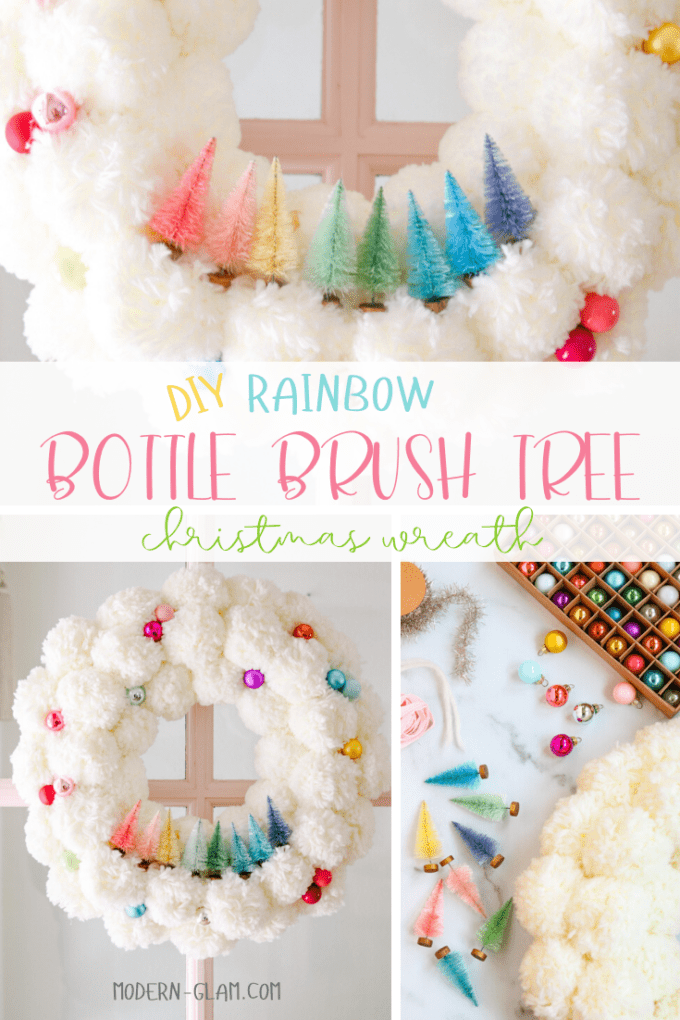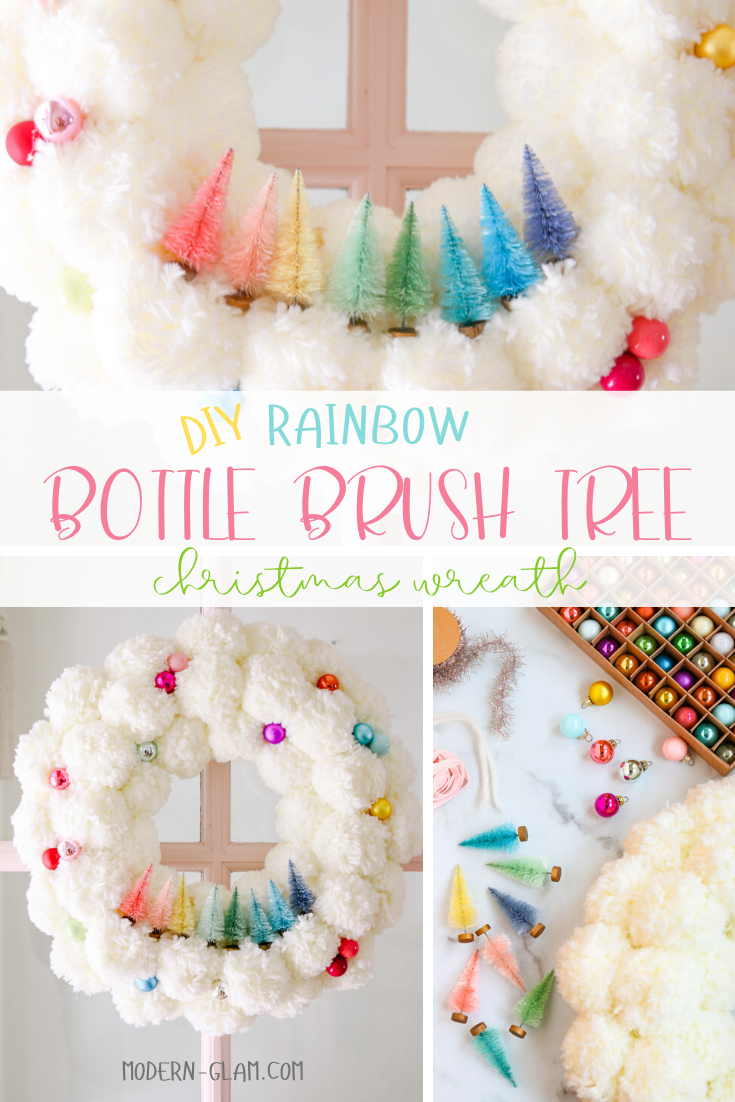 Pin it!