Thanksgiving means family, friends and good food and drinks. I love to serve cocktails to my guests, but I also like to offer a non-alcoholic punch as well. This Thanksgiving Punch is not too sweet and definitely tastes celebratory!
Jump to Recipe
Sparkling Thanksgiving Punch
I am hosting Thanksgiving this year. While I love to serve mimosas or something to kick off the holiday season, this year I am going to try something different. A non-alcoholic punch that is perfect for everyone on the guest list.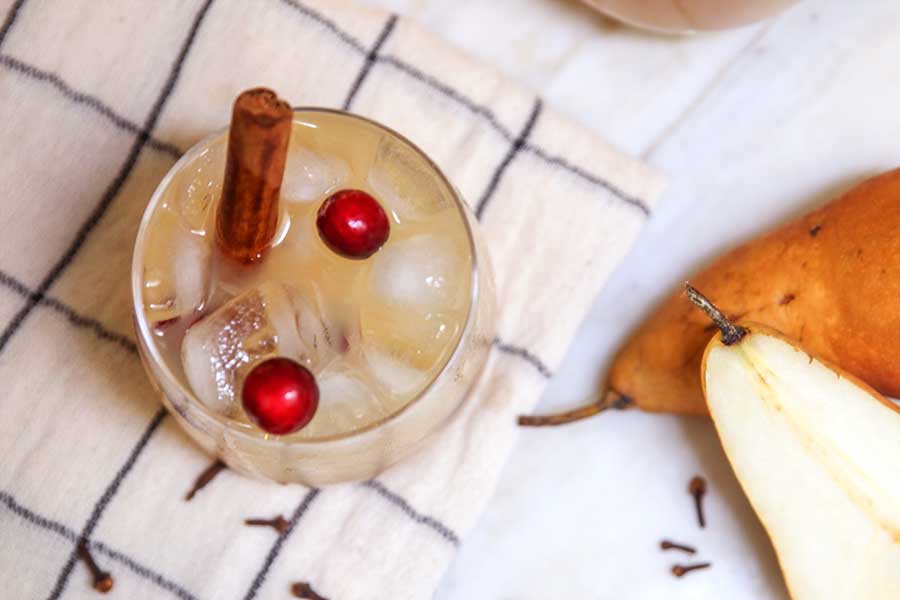 This sparkling Thanksgiving punch was a hit with my kids when I taste tested it this week. They loved the subtle sweetness and the sparkling fizz to this non-alcoholic punch.
Thanksgiving Dinner: Easy Hosting Tips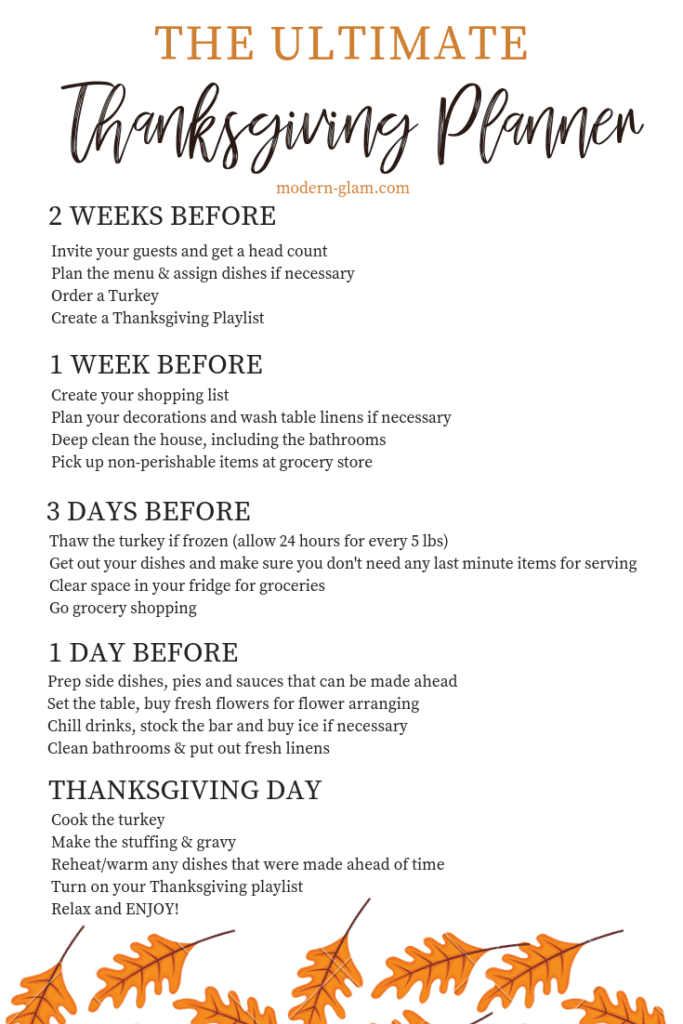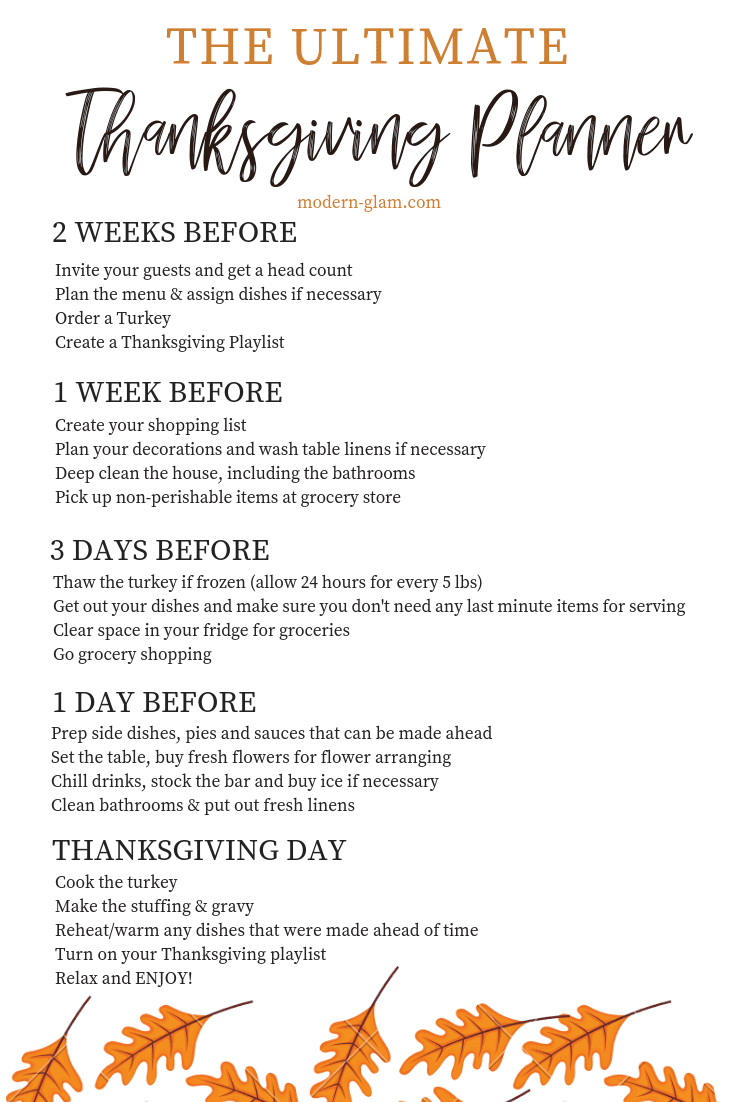 Check out my ultimate guide to hosting the Best Thanksgiving Dinner. This post is full of recipes, tablescapes, place setting and more! The best handy resource for Thanksgiving day including this planner that helps keep you organized!
And check out my latest Ideas For Your Thanksgiving Table and Thankful For Our Tribe free printable. Perfect for 2020!
Thanksgiving Punch for a crowd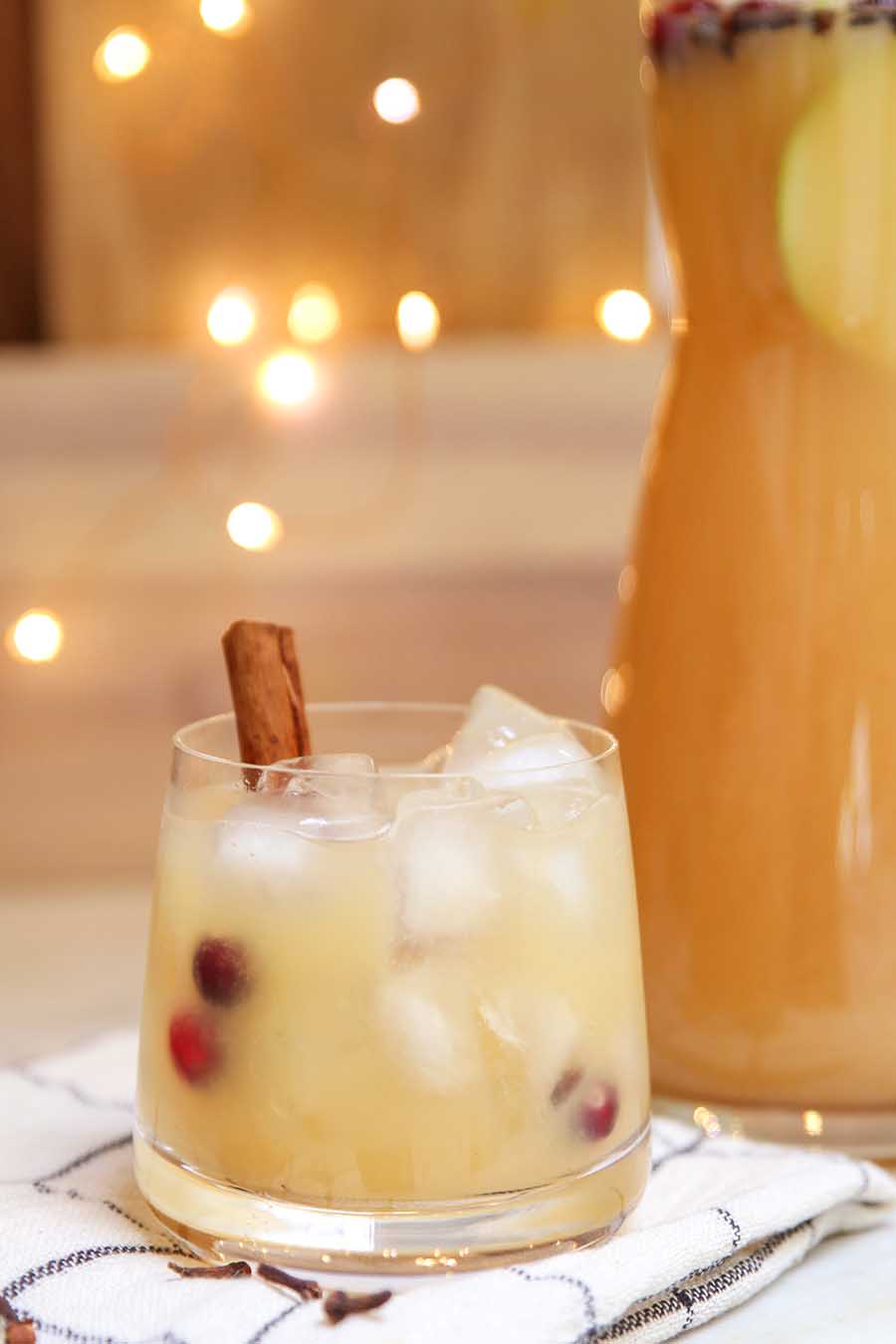 This Spicy Pear Punch recipe is perfect for serving at Thanksgiving and is easy to make a batch large enough to serve a crowd! The recipe below serves 6-8 people (depending on the glass size) but is easy enough to make larger batches.
You could make one big batch or make a pitcher for each table to serve along with dinner.
Is Ginger Beer Alcoholic?
Ginger beer is non-alcoholic. And maybe the name implies that it is a beer, but it is much like root beer. A sweet and slightly spicy carbonated beverage. So have no fear, this recipe is completely non-alcoholic!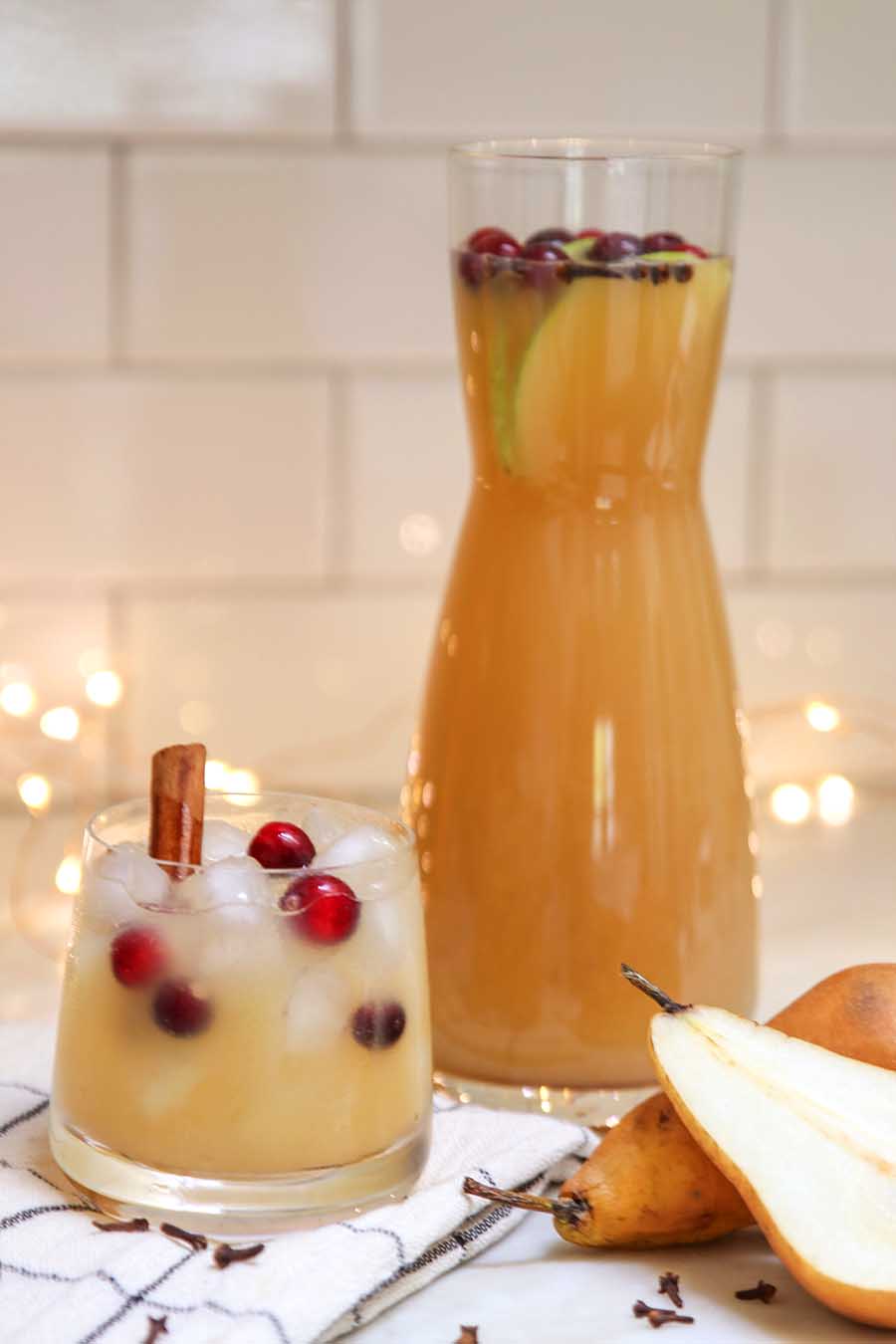 You can always sub in ginger ale for the ginger beer in this recipe, but ginger beer is less sweet than ginger ale and is slightly more spicy. The more intense flavors in ginger beer are perfect for this Thanksgiving Punch.
Ginger beer is most commonly used in Moscow Mules, which is alcoholic because of the added vodka to the recipe.
Non-Alcoholic Spicy Pear Punch Recipe
This recipe is simple to put together. And it takes less than a five minutes to mix together.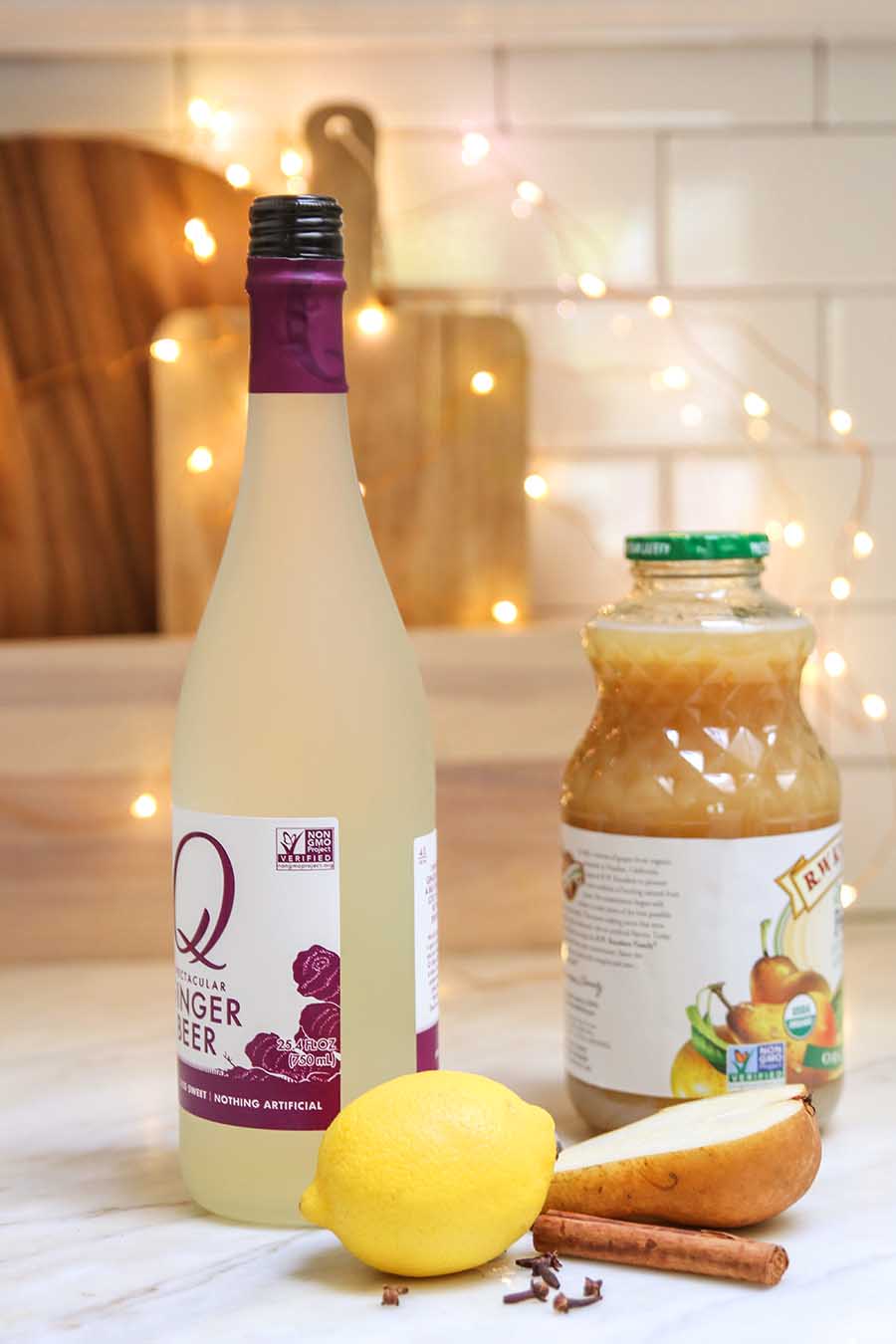 To make a pitcher to serve 6-8 people, you will use 2 parts ginger beer to 3 parts pear nectar with the juice of one lemon. Garnish the pitcher or each glass with cinnamon sticks, pear slices or anything seasonal. Serve over ice.
Recipe Variations
If you would like a slightly less sweet and sugary version, you could use equal parts seltzer water and ginger beer. So, 1 cup seltzer water and 1 cup ginger beer and keep the rest of the recipe the same. This will still have that ginger taste without as much sugar.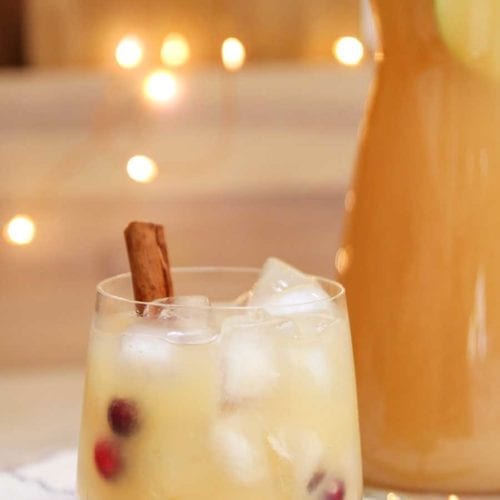 Thanksgiving Punch – Non-Alcoholic Spicy Pear Punch
A non-alcoholic recipe for Spicy Pear Punch
Ingredients
3

cups

Pear Nectar

2

cups

Ginger Beer

Juice of 1 lemon

Optional garnish: rosemary

cranberries, pear slices, cinnamon sticks, nutmeg
Instructions
Mix together pear nectar and lemon juice. Add ginger beer and stir to combine. Serve over ice in individual glasses.

Or mix all ingredients together in large pitcher. Add 3 cups of ice and serve.
My Favorite Thanksgiving Cocktail
And if you are looking for an alcoholic cocktail for Thanksgiving, check out my Fall Spiced Whiskey Sour. It has all of my favorite flavors!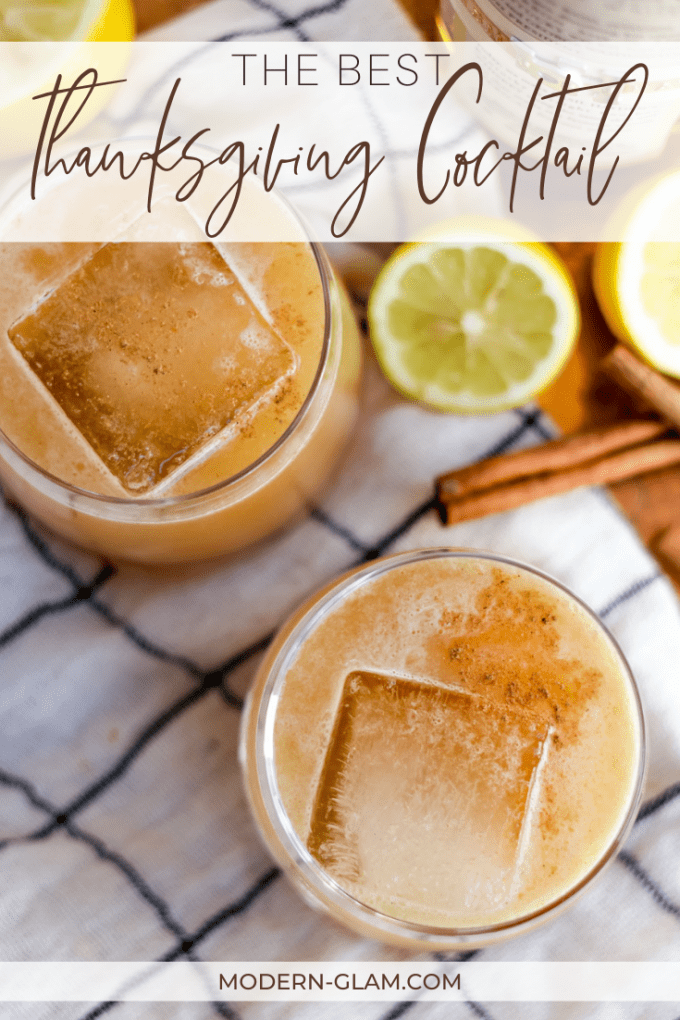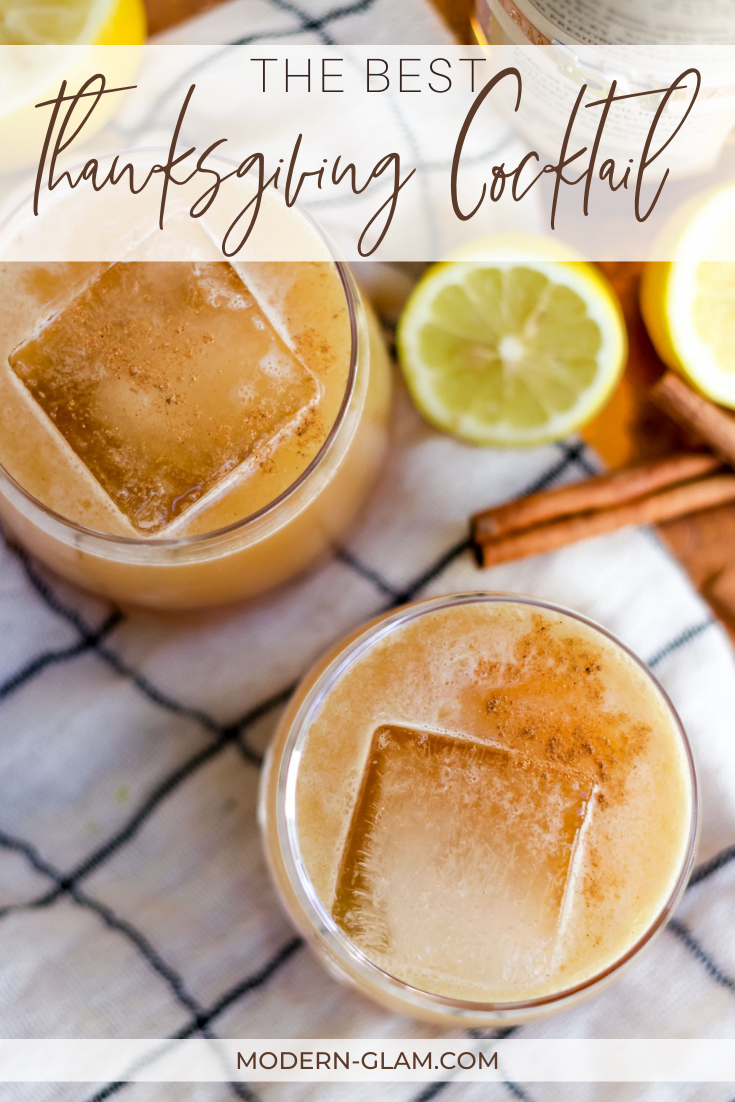 More Thanksgiving Recipes and Ideas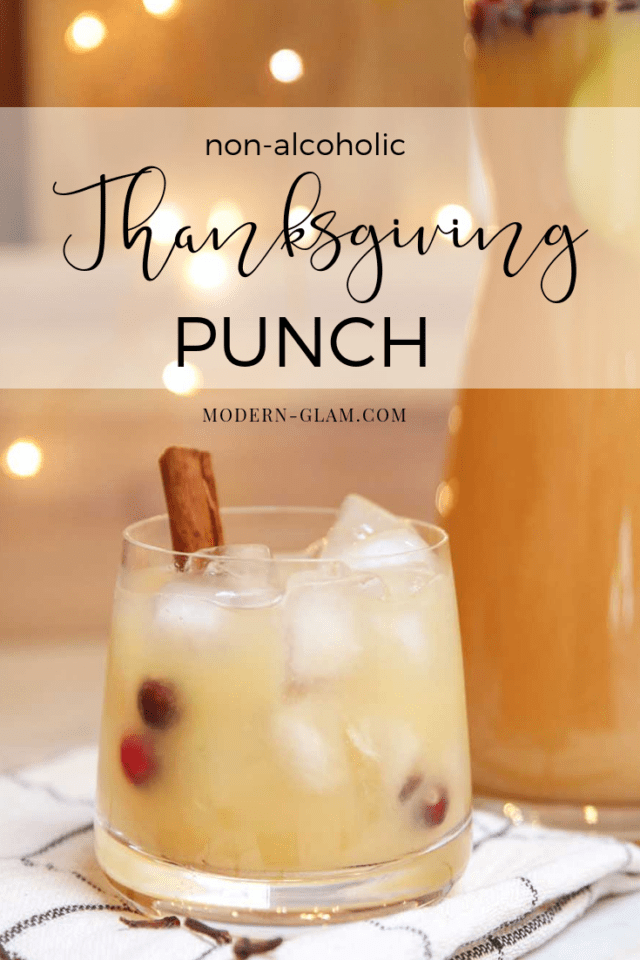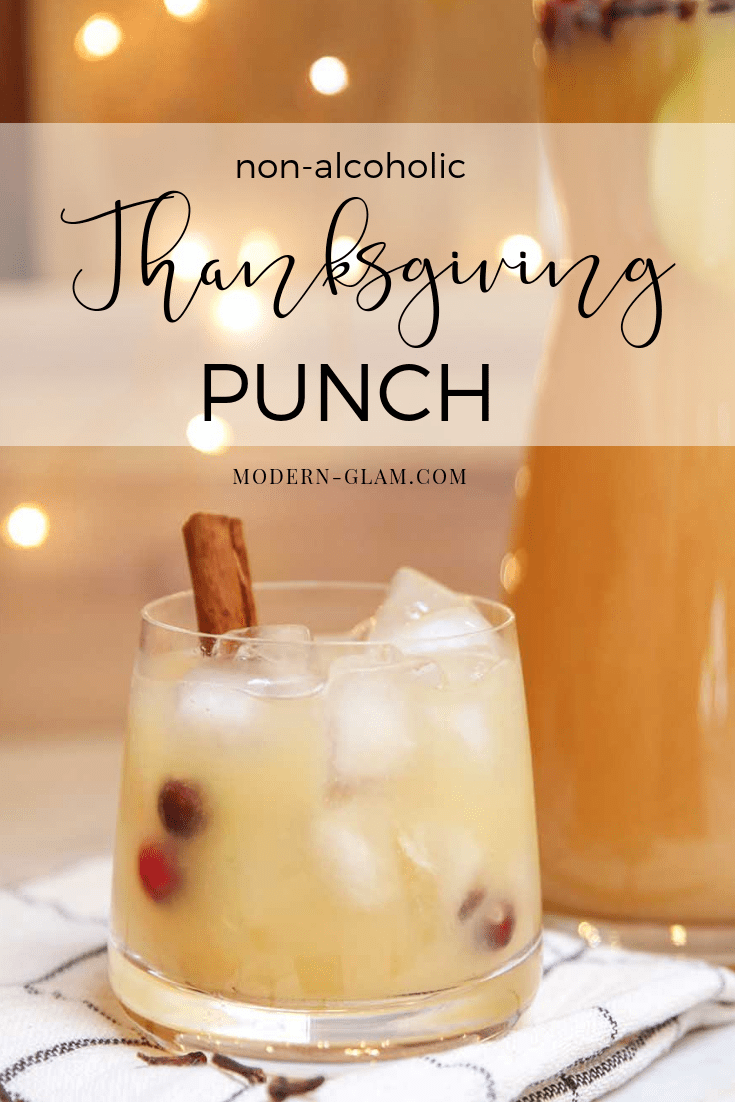 Cheers!